Announcements
If you're new to this blog, then read our guides to the basics: Skin (Part I), Skin (Part II), The Supernatural, Color Theory I, Color Theory II, Eyes, and Brushes.

Also, check out the blogsale.
Contents
· Perfume Notes: Guerlain Mitsouko

Favored

Art Tattler
the glamourai
The Non-Blonde
Perfume Shrine
Lisa Eldridge
Garance Doré
Smitten Kitchen
Into The Gloss
Grain de Musc
Lacquerized
Res Pulchrae
Drivel About Frivol
The Selfish Seamstress
Killer Colours
Bois de Jasmin
Glossed In Translation
Jak and Jil
Toto Kaelo
Worship at the House of Blues
I Smell Therefore I Am
Food Wishes
The Natural Haven
Messy Wands
1000 Fragrances
Moving Image Source
Wondegondigo
The Emperor's Old Clothes
M. Guerlain
Colin's Beauty Pages
Barney's jewelry department
Parfümrien
loodie loodie loodie
The Straight Dope
Sea of Shoes
London Makeup Girl
Sakecat's Scent Project
Asian Models
Ratzilla Cosme
Smart Skincare
Illustrated Obscurity
A.V. Club
Tom & Lorenzo: Mad Style
Eiderdown Press
Beauty and the Bullshit
La Garçonne
Flame Warriors
Everyday Beauty
Fashion Gone Rogue
Now Smell This
Dempeaux
Fashionista
The Cut
A Fevered Dictation
Nathan Branch
101 Cookbooks
Perfume Notes: Guerlain Mitsouko
by Dain
If we mortals could choose the manner of our deaths, mine would be to drown in Mitsouko, so much do I adore this perfume—any time, any where, exclusively, forever, and despite this avalanche of absolutes I still would not miss any others. This reaction is by no means universal, Mitsouko is a notorious contrarian; should it express antipathy for your skin, it is nothing but an acrid dust in a spice-filled air. Even for ardent fans it remains too elusive to circumscribe within the poverty of language, pin one descriptor on it, and the very opposite quality will inevitably surface.



Quiet, unfinished sublimity: Leonardo da Vinci, La Scapigliata (1508).


Widely regarded as the greatest perfume, ever, by the pundits, and worn by such notorieties as Charlie Chaplin and Ingrid Bergman, Mitsouko was born when Jacques Guerlain brightened the twilit depths of Coty Chypre with the creamy-yet-unripe peachy sillage of aldehyde C-14, transporting us, as if by magic, backwards an hour to the moment of sunset, for the moment safe from the demons that lurk at midnight. Nevertheless, in spite of all its historical grandeur, the first sniff may surprise you: there are no great discoveries, but instead a musty, muffled gesture to traditional aromatics, a succession of deflated expectations. Bitter, bright bergamot and bitter, dark oakmoss clearly bracket each end of Mitsouko like a set of quotation marks, but the text within is obscure, full of twists, and fraught with contradictions. In Mitsouko we find only bruised orange-blossom petals and the stunted rose, sick with the invisible worm. The famous peaches-'n'-cream centerpiece (C14 and vanilla), especially in this gourmand age, is far from the sun-ripened succulence of a perfect peach; instead, we find only winter fruit, hard and unappetizing under the supermarket's fluorescence (bergamot and mandarin), before skipping ahead to the leatheriness (vetiver, oakmoss, and sandalwood, and just a hint of patchouli) of dried fruit in the drydown. Its savors are accented with spices (clove, cinnamon, and nutmeg), but more pale than punchy. Holistically, in atmosphere and aroma, Mitsouko most closely resembles an old library—all dust and aged leather and the quietness of paper.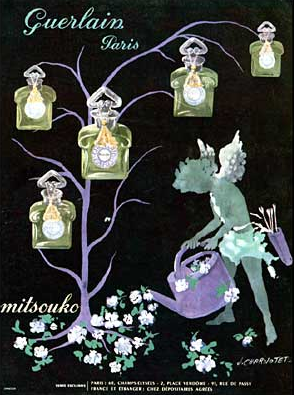 These are not exactly the olfactory evolutions to inspire confidence, and yet (for me at least) no perfume attains the sublime better, akin to that unbearable ache of sweetness that clings to the back of your throat when Milstein plays Bach. Though it strives for the seamless virtuosity of many of the classical icons, the greater part of the wonder is, O, how strange, how very strange is Mitsouko.

I wish to impress upon you, dear reader, a quality of solipsism to this particular perfume; it stands apart, more than it stands above. Other perfumes are aspirational, articulating glamours* to cloak the humble and mundane, by their very nature a kind of display. This is not to diminish their achievements; indeed it is nothing short of extraordinary how a bottle of perfume can transport us so vividly into such diverse avatarism—so what if it be illusory? But Mitsouko is not like this, it is not a sociable perfume, instead it personifies the eccentricity and reserve of a profound intelligence, a genuine introvert, completely caught up in an inner life that consumes all regard it might otherwise extend for social niceties, ultimately more interesting than attractive. It is a type not often seen, and therefore poorly understood, consequently Mitsouko proves an enigma, even though perfumes are generally a subject quite humid with poetry. It is a harmony of near contrasts—luminous yet mysterious, austere yet sensuous, opulent yet subtle, witty yet tranquil, elegant yet weird—which explains in part why it is so difficult to describe. Mitsouko is anti-perfume, an abstracted meditation on the art form itself, perpetually on the cusp of uttering something meaningful, but it ultimately shies away from proposing any conclusions that might provide an easy handle for easy understanding.

And yet, to intimate upon the enigma is insufficient; it seems to imply that peculiarity alone is responsible for its metamorphic brilliance. Because, believe it or not, Mitsouko is a skin scent—though rarefied, ambrosial flesh to be sure. The abstraction of form and its semantic enigmas encourage such a degree of impersonality in the perfume itself, that it becomes entirely personal to the wearer, not unlike the fashions of Martin Margiela, as opposed to the overt branding of Chanel. In all superficial respects Mitsouko is a failure: it fails to be pretty, it fails to be easy, and it even fails to be pleasant, but it does insist on a rapport, and ultimately, it becomes a conversation that only intensifies in intrigue and depth, until you entirely forget the initial disappointments, and discover that it was warm and radiant and alive all along.
"Is this the Region, this the Soil, the Clime,"
Said then the lost Archangel, "this the seat
That we must change for heav'n, this mournful gloom
For that celestial light? Be it so, since he
Who now is sovran can dispose and bid
What shall be right: farthest from him is best
Whom reason hath equaled, force hath made supreme
Above his equals. Farwell happy fields
Where joy for ever dwells: hail horrours, hail
Infernal world, and thou profoundest hell
Receive thy new possessor: one who brings
A mind not to be changed by place or time.
The mind is its own place, and in itself
Can make a heav'n of hell, a hell of heav'n."
–Book I, lines 242-255.
Paradise Lost, though splendid, does not lend freely to quotation, as much of its power derives from the amorphous quality of free verse, but this is easily its most famous and quotable passage. We do not begin, as one might expect, in the garden of Eden, but in Hell, with Satan, lately Luficer. In form at least, Satan fulfills the role of hero, the romantic rebel; the others are quite insufficient—the feebly uxorious Adam, the self-absorbed Eve, or even God, who bores—there is something admirable in such eloquent affirmation of his will over the very worst circumstances. But a more careful reader will discover inconsistencies: he is not human in a fallen world, but a consistent sinner who choose evil over God, and though that is the very definition of hell, flatters himself on his independence, since God has proved himself "now sovran" "supreme" by "force", disregarding that God has absolutely nothing to prove. The charisma of this speech demonstrates the allures of pure delivery, but when so divorced from purity of meaning, it represents in its very rhetoric the attractive nature of temptation. Not that Mitsouko is anywhere near so devious, this is just perfume after all, not a meditation on morality versus free will, but it employs a very similar tactic, in which the medium itself is employed to create an experience personal to the reader. It holds a mirror to the self, as truly the very best art always does, by amplifying the very substance of the soul, rather than functioning as an extra veneer for its surface. In sentiment, if less so in design, Paradise Lost also resonates with Mitsouko, the very last lines when Milton returns us to the tasks of the fallen world:
The world was all before them, where to choose
Their place of rest, and Providence their guide:
They hand in hand with wand'ring steps and slow,
Through Eden took their solitary way.
–Book XII, lines 646-629.
For are not chypres modeled on the aromas of a forest? I am sure if the Garden of Eden has a smell...

* In the Gaelic, "glamour" would have close associations with the occult, a witch's spell that covers the real form with the illusion of beauty (or vice versa). It is a word closely related to "grammar", eerily pertinent to our discussion of how the forms of art may can obscure the forms of substance, which I find to be the aesthetics behind both Mitsouko and Paradise Lost.

OTHER REVIEWS
Sakecat
Chandler Burr
Ayala SmellyBlog
Now Smell This
Glass Petal Smoke
I Smell Therefore I Am
Bois de Jasmin
The Scented Salamander
Pink Manhattan
Perfume Posse
Scentzilla
Basenotes
Makeupalley

Labels: bach, chypre, greta garbo, guerlain, jacques guerlain, john milton, leonardo da vinci, martin margiela, nathan milstein, perfume notes, william blake
9/17/2008 [2]
Subscribe to
Posts [Atom]. Or
follow on bloglovin'. If
you'd like to contact Dain,
feel free to email me.
I'm also on Pinterest.
Features

The Mnemonic Sense
Most Wanted
The Beauty Primer
Lookbook
Bestsellers
Consumer Diaries
Closet Confidential
On The Label
Beauty Notebook
The Hit List
Color Me In
The Makeup Artist
Wedding Bells
Globe Trotter
Desert Island
perfume notes
beauty notes
fashion notes
culture notes
minimalism
chypre arc
floral arc
fresh arc
masculines arc
gourmands
& orientals arc
Archives

August 2008
September 2008
October 2008
November 2008
December 2008
January 2009
February 2009
March 2009
April 2009
May 2009
June 2009
July 2009
August 2009
September 2009
October 2009
November 2009
December 2009
January 2010
February 2010
March 2010
April 2010
May 2010
June 2010
August 2010
September 2010
October 2010
November 2010
December 2010
January 2011
February 2011
March 2011
April 2011
May 2011
June 2011
July 2011
August 2011
September 2011
October 2011
November 2011
December 2011
January 2012
February 2012
April 2012
May 2012
June 2012
July 2012
August 2012
September 2012
October 2012
November 2012
December 2012
January 2013
February 2013
March 2013
June 2013
July 2013
Images

Photobucket