Announcements
If you're new to this blog, then read our guides to the basics: Skin (Part I), Skin (Part II), The Supernatural, Color Theory I, Color Theory II, Eyes, and Brushes.

Also, check out the blogsale.
Contents
· Consumer Diaries: October 2008

· The Library: The World as Meditation

· Perfume Notes: Hermès Hermessence Osmanthe Yunnan

· The Beauty Primer: Finish

· Beauty Notes: NARS Holiday 2008

· Most Wanted: Atlas Shrugged

· Lookbook: Red Lipstick

· Perfume Notes: Frédéric Malle Le Parfum de Thérèse

· Closet Confidential: Lingerie & Loungewear

· Beauty Notebook: High Drama

Favored

Art Tattler
the glamourai
The Non-Blonde
Perfume Shrine
Lisa Eldridge
Garance Doré
Smitten Kitchen
Into The Gloss
Grain de Musc
Lacquerized
Res Pulchrae
Drivel About Frivol
The Selfish Seamstress
Killer Colours
Bois de Jasmin
Glossed In Translation
Jak and Jil
Toto Kaelo
Worship at the House of Blues
I Smell Therefore I Am
Food Wishes
The Natural Haven
Messy Wands
1000 Fragrances
Moving Image Source
Wondegondigo
The Emperor's Old Clothes
M. Guerlain
Colin's Beauty Pages
Barney's jewelry department
Parfümrien
loodie loodie loodie
The Straight Dope
Sea of Shoes
London Makeup Girl
Sakecat's Scent Project
Asian Models
Ratzilla Cosme
Smart Skincare
Illustrated Obscurity
A.V. Club
Tom & Lorenzo: Mad Style
Eiderdown Press
Beauty and the Bullshit
La Garçonne
Flame Warriors
Everyday Beauty
Fashion Gone Rogue
Now Smell This
Dempeaux
Fashionista
The Cut
A Fevered Dictation
Nathan Branch
101 Cookbooks
Consumer Diaries: October 2008
by Dain
SNIFFING

I acquired some vintage parfum of Guerlain Chamade at some expense, but no regrets: absolutely drop dead gorgeous, the kind of olfactory epiphany that all 'fumeheads live for. I seem to favor green fragrances—chypres, green florals (narcissus, jonquil, and hyacinth are generally used, often with galbanum), and vetiver—oddly enough it's my favorite color. Plus, the bottle is so pretty, such a poetic take on the wildly beating heart.

WATCHING
I've been watching episodes of Daria through youtube. What a great show this is, in this age of The Hills only a handful of years later, it's almost a surprise to think that MTV ever, ever, ever made an intelligent show.

LISTENING


Physical Graffiti is classic rock's final heartbeat, before the 80s took over, though Red Hot Chili Peppers is a bit of a holdover. And no, Pink Floyd doesn't count, like Andy Warhol (pretentious ick, I only like that one song). Every song is good, but I've selected "The Rover" for your listening pleasure.

READING
I'm trying not to get sidetracked from my Most Wanted reading list, but I find all that self-conscious intellectualism to be a major drag (I particularly like 18th-century literature, or before), but at least I've read them all before. I still haven't selected one for the 90s—I could use a recommendation!—what do you think is the most emblematic, greatest novel from the 90s?

Otherwise, I had been reading Marcus Aurelius, that paragon of humility and good sense, but my friend has taken my copy of Meditations...

DAUBING

I received Becca Wild Orchid Creme Blush in a swap, and I am reminded, in spite of how it's unavailability, price, and teeny-tiny size, that this is my perfect blush—it's instantly flattering. Gah, intensely chapped lips: grabbed a tube of Nivea A Kiss of Moisture Essential Lip Care, just because it was there, during a cig run, and it's seriously fantastic. Plus, it comes in tinted (I also have the cherry) and sunscreen forms. It used to be available only in Europe; now it's in every drugstore. Also finished Avalon Organics Lavender Nourishing Shampoo, unfortunately gave me dandruff, to which I'm not normally inclined.

EATING

My father, who refuses to eat most of the non-Asian food I make and instead sups on the most fetid kimchi stews, will condescend to pot roast, indeed the slow aromas of it baking draw hovering crowds. Here's how:
1 large pot roast, the quality is not particularly important if you use an oven bag
1 packet Lipton Onion Soup Mix
2 tablespoons fresh tarragon, stripped from stems
1 dried bay leaf
2 teaspoons black pepper
2 cloves garlic, minced
½ cup red wine
Stab meat thoroughly with a fork, throw all seasonings together, willy nilly, with meat into an oven bag, marinate overnight if desired, preferably fat side down, cook for several hours at 350° in a generous pan. The resulting meat is so tender that it's almost too soft to slice. You can also chop some potatoes to cook with the meat, but I prefer garlic mashed potatoes or sweet soy-sauce green beans with rice:
3 lbs green beans, trimmed and halved if necessary
8 cloves of garlic, minced
½ cup brown sugar
¾ cup soy sauce
1 tablespoon butter or olive oil
pepper, to taste
1 tablespoon sesame seeds, optional
Unlike most treatments of green beans, you want the vegetable to absorb the sauce thoroughly, so toss ingredients together in a large pot, with an absolute minimum of extra fluids, and stir occasionally so it cooks evenly. Beans are done when the sauce begins to caramelize. Personally, I like to spoon the sauce on top of the beef. Drink with a good malbec.

WEARING

This may seem odd to you, but I'm not a big advocate of jewelry—love to look at it, but wearing it is such a hassle—so when it comes to personal wear, I tend to gravitate towards things that require no afterthought, i.e. a necklace I don't ever need to switch. I haven't even pierced my ears. Let's change this habit; I'm embracing earrings, starting this pair from J. Crew ($55). They're even more sparkly in person.

WISHLIST

I've been using the lip brush from the Shu Uemura compact brush kit as a detail brush, but I tried the Natural Brush 5R ($58) whilst playing around with eyeshadows, and it's superlative. It concentrates color as well as a sponge-tip but with ten times more precision, and practically applies smudgy liner for you, which is largely how I wear color anyway. Soon enough, it'll be mine. And I just love this little bag from A.P.C. Madras, it looks like a lucky vintage find: the rich violet, the quilting, the round shape, the corduroy. I'd have to buy it soon, though, before it sells out.

WRITING
In the interest of completing my first draft in a timely fashion, I may need to blog less frequently, especially because the pacing of a blog demands that I not post too many of the same kind in succession (lest it bore you, dear reader, to read the same subject again and again, I endeavor to mix it up). However, not very good for book-writing, when I should be sitting down and knocking a chapter in one go. Consequently, some of the features—The Beauty Primer, Closet Confidential, Lookbook—will not be continued here, except for a few already written. I really need to get them done, sorry!

Labels: apc, becca, consumer diaries, daria, eau d'italie, guerlain, j crew, led zeppelin, marcus aurelius, nivea, shu uemura, vero profumo
10/31/2008 [5]
The Library: The World as Meditation
by Dain
This is a little piece on a favorite poem by my favorite writer. If you like this poem, you should check out The Palm at the End of the End, a compilation of Stevens' best and most well-known works.



The World as Meditation
J'ai passé trop de temps à travailler
mon violon, à voyager. Mais l'exer-
cise essentiel du compositeur—la
méditation—rien ne l'a jamais sus-
pendu en moi... Je vis un rêve
permanent, qui ne s'arrête ni nuit
ni jour.
–Georges Enesco
Is it Ulysses that approaches from the east,
The interminable adventurer? The trees are mended.
That winter is washed away. Someone is moving

On the horizon and lifting himself up above it.
A form of fire approaches the cretonnes of Penelope,
Whose mere savage presence awakens the world in which she
dwells.

She has composed, so long, a self with which to welcome him,
Companion to his self for her, which she imagined,
Two in a deep-founded sheltering, friend and dear friend.

The trees had been mended, as an essential exercise
In an inhuman meditation, larger than her own.
No winds like dogs watched over her at night.

She wanted nothing he could not bring her by coming alone.
She wanted no fetchings. His arms would be his necklace
And her belt, the final fortune of their desire.

But was it Ulysses? Or was it only the warmth of the sun
On her pillow? The thought kept beating in her like her heart.
The two kept beating together. It was only day.

It was Ulysses and it was not. Yet they had met,
Friend and dear friend and a planet's encouragement.
The barbarous strength within her would never fail.

She would talk a little to herself as she combed her hair,
Repeated his name with its patient syllables,
Never forgetting him that kept coming constantly so near.

"The World as Meditation" is not the typical Stevens poem. This is not the small and unremarkable, emptied of conventional associations, as with "Sunday Morning". Nor is it the spare, stark simplicity of "The Plain Sense of Things". It is grander, though it retains the quiet austerity of all of Stevens' verse. There still remain the trademarks, like the juxtaposition of lucid statements of fact, and "the [poem's resistance of] the intelligence/ Almost successfully"—it is thus that the two stanzas in the center of the poem face each other, one inscrutable, the other the essence of Penelope's desires:
The trees had been mended, as an essential exercise
In an inhuman meditation, larger than her own.
No winds like dogs watched over her at night.

She wanted nothing he could not bring her by coming alone.
She wanted no fetchings. His arms would be his necklace
And her belt, the final fortune of their desire.
"The World as Meditation" reaches deeper into tradition than is Stevens' wont, but it is also foreign to us, temporally and spatially: the poem is luminous with the transparent light of Ancient Greece1, with names famous and legendary—this is not "clear water in a brilliant bowl,/ pink and white carnations." Nor does it remain isolate inside Stevens' mind, but extends further into the world of emotions, relationships, love, and people. Still, there is no sense that Stevens has become deviant and inconsistent; at the central core are the same themes he mulls over in all his works. Rather, it amplifies and adds polish to his philosophies, by placing them in a guise heretofore unseen. Stevens paints us a gentler image of Homer than is usually the result of reading Homer. Homer's Penelope is hard, icy, and suspicious, but Stevens' Penelope is a woman mellowed by sleep, made tender by love. There is, of course, a recognition of Penelope's inaccessibility to us, as modern readers, as Stevens expresses when he names her "savage presence" (line 6, "The World as Mediation") and "the barbarous strength within her" (line 21). From Homer's severe grandeur, Stevens chooses a smaller moment, and, instead of expressing triviality, it translates into a poem of unusual poignancy. While it is true that Stevens tends not to explore the nature of relationships with other people, few of our poets really do.

"Is it Ulysses that approaches from the east,/ The interminable adventurer?" (lines 1-2), a harmonious beginning, because, aside from the elegance of the verse, it places us immediately within the character, though we may not yet realize who she is. We are in a position to think what she thinks, feel what she feels, and sympathize. It is not off-putting or inscrutable like many of Stevens' opening lines, but rather an easy ingress into Penelope's world, "whose mere savage presence awakens the world in which she dwells" (line 6). For us, she "awakens" the Homeric world—marks it for us, places us there in a way we can comprehend. There are other props, too: the "cretonnes" (5), though anachronistic, refers to the tapestry she weaves in order to fool the suitors, the "form of fire" (5), perhaps an ether figure sent by the gods, or more likely, just the sun, and of course, the mysterious "the trees are mended" (2 & 10) and the "deep-founded sheltering" (9), which must be a reference to the marriage-bed of Penelope, carved by Ulysses himself out of the trunk of a great tree. This is where Penelope slumbers. Her universe, and therefore ours, is limited to this bed, but it is as rich and complex and moving as an epic battle, and in some ways, more important. Myth and legend are very well indeed, but that is not what drives Stevens to write, and, while the mythological references are indubitably present, they are subtle, hints to pin down a stable position for us, from which we might think comfortably, and understand.

Here is my translation of the quotation with which Stevens prefaces his poem:
I have spent too much time working with my violin, to travel. But the essential exercise of the composer—meditation—nothing has ever kept that from me... I live in a permanent dream, which does not stop night nor day.
At first, there seems to be no connection between Enesco's words and the poem, but Stevens has very cleverly embedded this quotation into his poem, particularly the words from the latter sentences. The vocabulary: "composed" (7), "essential exercise" (10), "meditation" (11), "night" (12), and "day" (18). The actions: Penelope echoes the "rêve permanent", as she lies dreaming of Ulysses, and, still dreaming, when she wakes. And at last, the semantics: the poem itself reverberates, with the "meditation" as the "essential exercise" of the "composer". But what does that mean?
There are more sets of vocabulary, besides those reminiscent of the Enesco quote. One focuses on creation and renewal—change, but positive change: "east" (1), "mended" (2), "winter is washed away" (3), "horizon... lifting himself above it" (4), "awakens" (5), "composed" (7), "imagined" (8), "meditation" (11). These words suggest the creative process that is poetry, the méditation necessary for any compositeur, but it has broader significance, the creative process that is living life, and loving others. Stevens does not believe in despair—"After the final no there comes a yes"—for there is enough to be found in the small happenings of life. It may be an internal méditation, usually the case with Stevens, or, as it is here, it may extend outwards. After all, are not our meaningful relationships—love, that is—a creative process too?
She has composed, so long, a self with which to welcome him,
Companion to his self for her, which she imagined,
Two in a deep-founded sheltering, friend and dear friend.
The making of the "self"—Penelope's, in this case—is in preparation for his "welcome", to be a "companion to his self for her". This méditation, this process, yields something—however small—worth living for. For Penelope, her rêve fulfills this purpose, and for us as well as Stevens, it is this poem.

Another message springs forth from this poem, especially once we have analyzed and understood lines 7-9. "Two in a deep-founded sheltering, friend and dear friend" (9): we know that the "deep-founded sheltering" is the bed of Ulysses and Penelope, but what does "two" mean, and "friend and dear friend", which comes up again in line 20? The "friend" must be Penelope herself—the "self" she has "composed"—and "dear friend" must therefore be Ulysses. In that case, the "two" would be the two of them together, the real and the imagined selves. This coming together, this blending, hints at a union between reality and imagination. So at last, let us return back to the beginning, the title: "The World as Meditation". If "as" is understood as equivalence:

| | | |
| --- | --- | --- |
| "The World | as | As Meditation" |
| reality | = | imagination |
| what is | = | what we create |
| past & present | = | future |
| the self | = | the other |
| "friend" | = | "dear friend" |
| Penelope | = | Ulysses |
| "friend" | = | "dear friend" |
| Penelope | = | Ulysses |
| old traditions in poetry | = | creating new poetry |
| Homer | = | Stevens |

If we take a Miltonic spin on it, reality is what God has created—"an inhuman meditation, larger than [our] own" (11), and imagination is what we create, "with wand'ring steps and slow" we take our "solitary way". Together, they constitute all of Creation. We see this more clearly later on in the poem:
But was it Ulysses? Or was it only the warmth of the sun
On her pillow? The thought kept beating in her like her heart.
The two kept beating together. It was only day.

It was Ulysses and it was not. Yet that had met,
Friend and dear friend and a planet's encouragement.
The barbarous strength within her would never fail.
It begins with an echo of the opening line, like the afterimage of a dream. In fact, this is when Penelope awakes, from a dream so intense that it "kept beating in her like her heart". The dream does not end, even though "it was only day": for "the two kept beating together". The "two" is repeated here again, though here it means her heart and her thought. Everything converges; imagination is as considerable, as essential, as reality; the two blend together into one dream: "It was Ulysses and it was not. Yet they had met,/ Friend and dear friend and a planet's encouragement."

If the creative process is méditation, and the rêve permanent is the creative result, then there is always reason to continue, no matter how unbearable the circumstances. If the object of her love is absent, then there is still her love. All is not lost, if you can create; imagination is the redemption of reality. Stevens has a kinder, more optimistic attitude towards change. He agrees with Shelley—"If Winter comes, can Spring be far behind?"—that one ought to look forward to the change after the change, that essential quality of hope. He understands that the very mechanism by which we "fall" is the same force that drives us to rise up again. "The final fortune of their desire" (15) may never be consummated, but "the barbarous strength within her would never fail" (21). for Penelope, Ulysses, the "interminable adventurer" (2), is always approaching but never there.
...But
She would talk a little to herself as she combed her hair,
Repeated his name with its patient syllables,
Never forgetting him that kept coming constantly so near.
Thus our poem ends. Penelope keeps her faith, she continues to hope, and she reminds herself of Ulysses in these little ways, but even if our attempts are feeble, ineffectual, they create something beautiful and worthwhile. We are only human, and we cannot achieve what we desire except rarely; though it may be ever "so near".

Labels: the library, wallace stevens
10/29/2008 [4]
Perfume Notes: Hermès Hermessence Osmanthe Yunnan
by Dain

J.M.W. Turner, Tintern Abbey (1794)



Jean Claude Ellena has his share of fans and detractors alike, but he's chosen his aesthetic—a stark, pared-down radiance—and is sticking to it, so critical polarization is inevitable. He is loyal to favored accords, too; lots of bitter citrus (Cartier Déclaration, Hermès Un Jardin Sur La Nil, Frédéric Malle Cologne Bigarade, YSL In Love Again), a bestselling tea (BVLGARI Eau Parfumée au Thé Vert), and a lesser-known osmanthus soliflore (The Different Company Osmanthus), all of which combine in in Osmanthe Yunnan, its proportions as well judged as a Kelly*. The taste of tea leaves, diffused through the perfect cup, provides a backdrop, a role uncannily similar to oakmoss' in a chypre, green and quite dry, but with a bland toasted-rice delicacy quite its own—its transparency fully satisfies the modern taste for subtlety. The murkiness of tea, ever so slightly smoky, is illuminated by a brief flash of aldehydes and a citrusy tang, not sustained long enough to feel sharp, just so that the first spritz feels delightfully refreshing, its luminosity held aloft by a milky cloud of osmanthus petals and the lingering afterimage of velvety apricot skin. The same structural triangle functions in Guerlain Mitsouko: dark and bitter oakmoss base, bergamot flash, rose and peachy lactone heart, only Osmanthe Yunnan substitutes novel, nontraditional accords (for all the consonance of ideas, they don't smell alike).

Normally, to describe a perfume as inoffensive is to damn with faint praise, and a full bottle is not unlike being caught in incredibly nice smalltalk without a single flight into despicable, despicable originality. But, suppose a sticky hot summer day, crowded office, incoming deadline, and a broken AC, what you need is something pleasantly discreet that also manages to lift your spirits: Osmanthe Yunnan! Somewhere between the two extremes mundane pretty and self-consciously unusual, this is somehow brilliant, which is rare, and yet entirely unaffected, which is even rarer.

OTHER REVIEWS
Bois de Jasmin
Perfume-Smellin' Things
Now Smell This
Would Smell As Sweet
Base Notes
Makeupalley

* In spite of my aversion to It Bags, I'll admit a beige lizard Kelly would be...

...fabulous.

Labels: hermes, jean claude ellena, jmw turner, osmanthus, perfume notes, tea
10/28/2008 [0]
The Beauty Primer: Finish
by Dain
In our discussion of tone, we've discussed how a color may be shifted to seem darker or brighter or more muted, but this only affects the base pigment. finish gives products an extra layer of complexity by adding an extra dimension on the surface, such as shimmer effects, which may or may not match the base. Again, these still lifes were taken from In Style's productfinder.

MATTE & VELVET & SATIN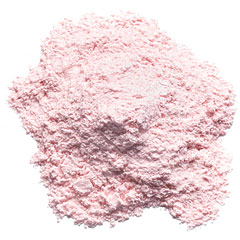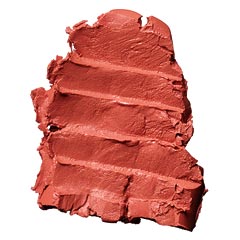 Above: Matte powder and some apricot lipstick with a velvety finish.

MATTE is the simplest of all: no shimmer, no shine, completely flat and unreflective. This is especially useful if you want to create a shine-free finish (as with face powder) or if you want to absorb light and create shadows (contouring). Any powder pigment might be matte, but at best, lipsticks and pencils, because they are creamier, will most likely have a VELVETY texture—mostly matte, but with a tiny bit of shine. This finish usually goes well with rich colors, like jewel tones. SATIN, as the name implies, is even shinier, close in finish to skin that is ideally neither too oily nor dry, so therefore highly desirable in a foundation or cream blush. It may even feature a subtle hint of iridescent to break up the sometimes stark effect of matte pigment.

CREAM & GLOSS & DEWY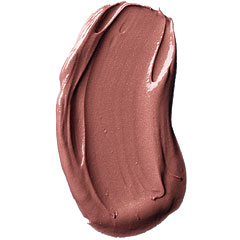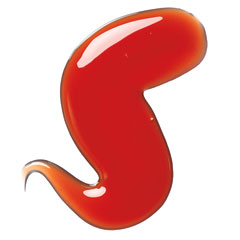 Above: a creamy, pigmented low gloss and a glassy, sheer high gloss.

CREAM is shinier than SATIN, with a rich, smooth, and slippery texture that makes it ideal for lipsticks. A foundation may impart a DEWY finish to the skin, which is helpful if the skin is very dry, though various multipurpose salves and face balms will do the same. Anything with a pronounced shine may be considered GLOSSY, though only a few products have that intense, lacquer-like, glassy patent sheen save lipglosses and topcoats for the nails. Pigment tends to diminish while shimmer intensifies, the shine, so many lipglosses, you will find, tend to be both sheer and shimmery.

PEARL & SHIMMER & FROST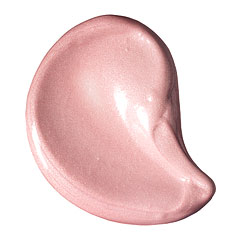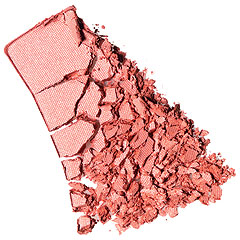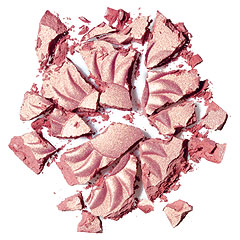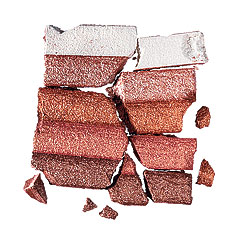 Above: Shimmers in increasing intensity, from a subtle pearl, a soft shimmer, a more pronounced shimmer, to sparkly frost.

SHIMMERS are really an umbrella category for all sparkly particles*, and are responsible for a variety of exotic effects. Basic shimmers are generally differentiated by size, from PEARL's imperceptible sheen to the sparklers in a FROST, just visible to the naked eye. Larger shimmer particles do have a greater visual impact, but much depends on concentration and contrast: if the product is pale, sheer, and well mixed with matte pigments, then its shimmer level is relatively subtle, while a deep, richly concentrated frost will capture all the light it can. A soft shimmer is probably the most flattering finish for eyeshadows in particular, especially if more than one color is combined for prismatic complexity, but as with any extreme, a strong frost should be approached with caution lest it look too otiose, and its soft, creamy texture tends to be more likely to crease, flake, and migrate into fine lines.

*There are other, more infrequent words to describe shine, nearly all of them have "gl" in them from some old Germanic derivative: glimmer, glint, gleam, glitter, glisten, glossy, glassy, glitz, glaze, glow. Not all of them are associated with shimmer, just shine.

METALLIC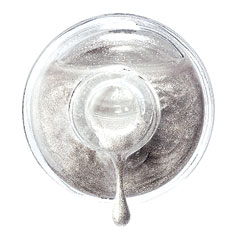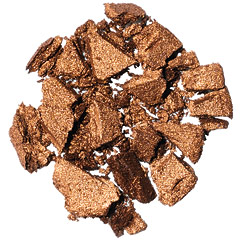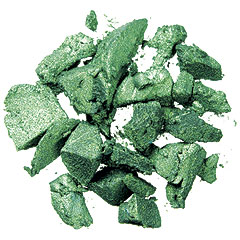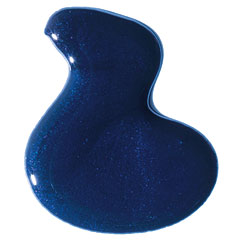 Above: silver, bronze, sea green, and a blue-lit amethyst.

METALLIC is pure shimmer, a foil-like effect that is as light-reflective as MATTE absorbs light, which is why many metallics take the name of metals: gold, silver, bronze, pewter, platinum, copper, brass. Other colors, too, can be metallic, like the sea green above, very akin to jewel tones. For the most part, metallics are found among eyecolors, but nailpolishes and lipcolors can be metallic too. Metallics may appear to resemble FROSTS, but the particles must be mostly uniform in size and color to qualify as a true metallic, to apply very smoothly across the skin for an even shimmer, whereas frosts can be more diverse in size and color, breaking up the light—the difference between polished metal and a disco ball. You could say that a metallic is essentially the most concentrate form of shimmer.

IRIDESCENT & HOLOGRAPHIC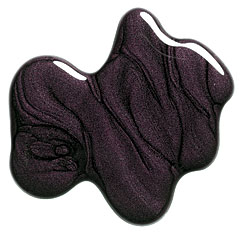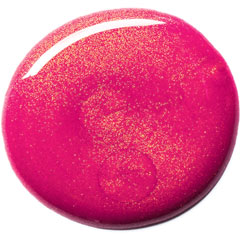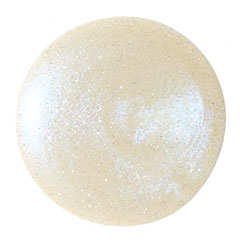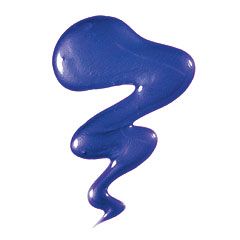 Above: a lavender-pewter iridescence brightens blacker depths, gold adds dazzle to fuschia, a ghostly blue tint adds interest to white, and an ultraviolet light shines on a cobalt blue.

Usually, the shimmer particles do not differ very much from the base shade, but on occasion, a product takes advantage of the possibility for a stark contrast. In this case, the shimmer seems to float above the base pigment like the sheen of oil on a watery surface, shifting its hue according to the angle of light. When the contrast is subtle, either because the shimmer is fine or the colors are similar, this is known as IRIDESCENCE, a more extreme example might be described as HOLOGRAPHIC, such as a blue that shifts to green with a gold sheen over it, like a peacock's tail.

GLITTER & SPARKLE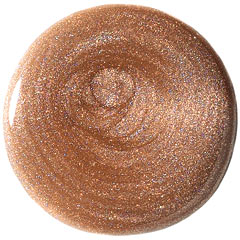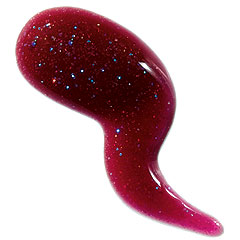 Above: a golden, sparkling champagne and a translucent merlot flecked with blue-violet glitter.

SHIMMERS can be ostentatiously shiny indeed, but even the coarsest particles in FROST should stop just shy of visibility, until you get quite close. Once they are readily visible flecks, they are better termed as SPARKLE, or if they are even coarser, GLITTER. They may differ visibly from the base shade, or they may simply lend excitement to a functional neutral like beige, but they are tricky to wear because they can go on gritty or choppy, and because of their size, do not stick well to the skin. A creamy base of some sort is recommended to capture all the sparkly bits.

Labels: the beauty primer
10/26/2008 [0]
Beauty Notes: NARS Holiday 2008
by Dain
NARS Holiday 2008 collection, shown from left to right. Night Life Single ($22): add light and shimmer to your lids with this ultra-festive silver shadow infused with silver particles. Silent Night Single ($22): gild your eyes with this new shadow enhanced with flecks of gold. Super Orgasm Blush ($25): NARS takes the classic Orgasm Blush to the next level with this new favorite. Richly concentrated and enhanced with more intense golden flecks, this blush is sure to become a staple in your makeup bag. Orgasm Nail Polish ($16): complete your holiday look with this new shade of polish in the classic peachy pink an golden shimmer hue. All Night Long Lip Gloss ($24): impart color and shine to your lips with this new semi sheer dusty raspberry shade. Jolie Poupee Duo Eyeshadow ($32): chic and compact, this new eyeshadow boasts shades of vibrant violet and pearlescent purple, the ultimate for creating a bold eye for the holidays. (The Multiple shown above is actually slated for Spring 2009, and does not yet have a name.) Canaille Lipstick ($24): the ultimate in chic, this satin lipstick is now available in a shade of shimmering mahogany.


NARS International Make up Director Ayako created this look shown on model Guinevere van Seenus at left: beautiful, porcelain skin with a soft gold eye and sheer lips, all framed beneath a strong, powerful eyebrow.

FACE
• Apply NARS Firming Foundation with finger tips to entire face
• Use NARS Concealer to cover any imperfections
• Apply NARS The Multiple in Orgasm to apple of cheek and blend with finger
• Apply NARS Powder Foundation with NARS Botan Brush for a smooth finish

EYES
• Apply NARS Single Eyeshadow in Silent Night to entire lid with NARS Eye Shader
• Use NARS Duo Eyeshadow in Mediteranee (burnt orange side) to line upper and lower rim
• Use NARS Large Domed Eye to highlight brow bone with NARS Single Eyeshadow in Edie
• Coat top and bottom lashes with NARS Mascara in Black Orchid
• Apply NARS Single Eyeshadow in Bali with NARS Brow Shader to fill in brows
• Use NARS Eyebrow Pencil in Ipanema to shade entire brow

LIPS
• Apply NARS Lipstick in Canaille to fill entire lip
• Layer with NARS Lip Gloss in Triple X

Here are some close-ups of Super Orgasm and Jolie Poupée: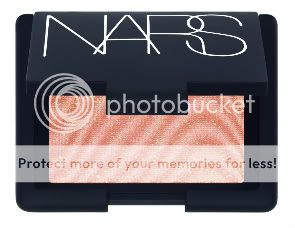 Personally, I find these shades a trifle repetitive, a very esoteric look but not much substance. Return to us, François Nars, from your desert island!

Labels: beauty notes, nars
10/25/2008 [0]
Most Wanted: Atlas Shrugged
by Dain
In many respects, Ayn Rand comes across as a rather disturbing personality. This is a woman, after all, whose ego has its own school of philosophy, and some are apt to criticize objectivism as an elaborate justification of conservative values (I still remember a New Yorker cartoon that caricaturized her with a bling-worthy dollar-sign chain around her neck), for Rand is past mistress of rhetoric, as any enthusiast of Aristotle should be (this is a man after all who could argue his way out of a noose after killing ten babies). Consequently her portrayal of the "thinkers" is as majestic as watching a top predator in action, while those who envy their talent do all they can to hinder and harm the progress of the world, and still seek to feed off others' energy like so many parasites*. And she is hardly the first writer to have had political sympathies to the right, from Hobbes' Leviathan to Modernism's grand patron, Ezra Pound, whose fascist activities during the war later had him tried for treason (which he eluded by pleading insanity). So in spite of Rand's forceful insistence on the fitness of her own worldview (contrary to widespread evidence that entropy is the prevailing state of the universe), her gorgeous erudition, the insane, terrifying online fanbase, and the length and heft of this her magnum opus, the most striking aspect about reading Atlas Shrugged is its personal—not political, not philosophical—impact. Rand is not so wholly preoccupied with the method of expression as so many writers are, indeed, I suspect she might feel a sort of impatience with either kind: the methodologist (Joyce, Camus) whose approach is entirely cerebral and the expressionist (Faulkner, Woolf) whose technique can be coarse. And believe it or not, for all her arrogance, she has no great interest in displaying her erudition, it's fueled entirely into shaping her example, the world she creates in the novel—and this softens the blow, hit very, very forcefully indeed, of her ideas.

Indeed, what Rand seeks to answer throughout Atlas Shrugged's many pages is the question that all writers seek to answer, the "incomprehensible", "ceaseless uneasiness" that the world isn't right, why men are unhappy, and it would be a discredit to Rand's clarity of observation to simplify her merely as an ultra-conservative: she's extremely accurate, most people are stupid, it's a fact almost as incontrovertible as death. You don't need to be a businessman in order to be frustrated by ineptitude, the same "fits of tortured longing for a friend or enemy with a mind better than [your] own", the same "bored indifference" towards most people, and such feelings would only treble if you were trying to run a multimillion-dollar company. Anyone with any degree of talent, who only expects a glimmer of intelligence if not necessarily downright radiance, but discovers only "resentment [with] such an odd, evasive quality", will find that Dagny Taggart is an easy figure for empathy.

Believe it or not, Atlas Shrugged reads rather like a romance novel—there's a lot of sex in it—and it has such a quality of wishful thinking to its violence that, though many feminists have criticized the "rape" elements in Rand's depictions of sex, especially in The Fountainhead, I can't help thinking these are Rand's own fantasies. It would make sense; many strong personalities like to be dominated in sex, as taboos always provide an opportunity to explore reversals. So while the novel enfolds, with agonizing slowness, the mystery behind John Galt, and Rand's thesis that the Movers should be completely unhindered by less productive members of society in order to ensure the happiness of all, and that to cut down the harmful maneuvers of the Looters and Moochers all the Movers should go on strike, it's set to the tempo of Dagny's quest for the perfect man. Not that she's promiscuous, far from it, she only sleeps with three men, sometimes with many years intervening, and only because they are highly intelligent, worthy men themselves, and sex is presented as the natural outcome between two (heterosexual) equals, dissociating itself from the convention that it is an indulgence of animal instincts. This is in contrast to the entirely empty, meaningless, unpleasurable sex that occurs between individuals who are petty. All of which is not to imply that Atlas Shrugged is in any way sappy or ribald, but all the same, for a woman notorious for her political philosophy, it is surprisingly lacking in polemic—at least until the very end, when we finally meet John Galt. Indeed, politics clearly disgust Rand, though it's difficult to understand why (for me anyway) money doesn't disgust her as well, because the two seem so intricately related, especially that they are both symbols of power. But I suspect that Rand enjoys taking an unusual stance; most artists crave freedom, not power.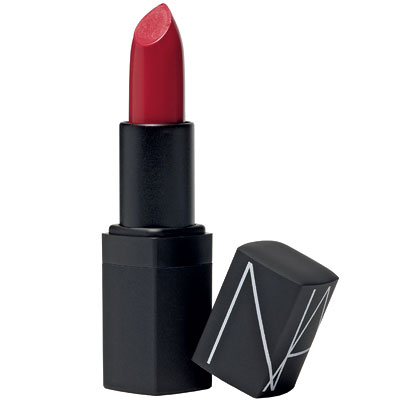 We wouldn't be doing full justification to the 50s without red lipstick, and my personal favorites are NARS ($24)—yes, the semi-mattes are a little dry, but only if you've been trained on mooshy gushy sugar-spun glosses—you don't want high pigment to wander. There's a shade for everyone, from vividly orange Heat Wave to the dark, exotic wine of Scarlett Empress, but I think the classic bright Red Lizard (shown above) and the deeper brown red of Shanghai Express are the best places to start.


Fur is, like red lipstick, an archaism to many eyes, with an guilt complex added (if, I think, rather selective in its condemnation). All the same, this little cape from Lanvin ($12,033) makes a sumptuous topper for your evening gowns—another retro affectation.


Dior's New Look from 1947, with its trim, high waist and full-full-full skirt made from scandalous amounts of material, may be the ultra-feminine silhouette that most defines the 50s, but has now become such a prom-dress cliché. But this Alexander McQueen gown seems better suited to a gothic romance than high school, with plenty of black lace to break up the froth of innocent tulle.


Marilyn Monroe's favorite fashion were her beloved Ferragamos, but she wasn't the only one—Audrey Hepburn, Judy Garland, and Ingrid Bergman were also great fans. You may not be able to get your shoes custom-molded to your foot as they did, but you can still indulge in a classic pair of their iconic Ribes ($480).


Finish off this patrician fantasy with cascade of iridescent opals from Mallary Marks ($3656) at each ear—completely devastating but not at all stuffy.

* Both videos are from a documentary that ran on the Discovery Channel called Planet Earth.

Labels: alexander mcqueen, ayn rand, elvis presley, judy garland, lanvin, mallary marks, most wanted, nars, salvatore ferragamo
10/23/2008 [9]
Lookbook: Red Lipstick
by Dain

Above: Sasha Pivovarova in Giorgio Armani Armanisilk Reds Ad.


Perhaps nothing quite matches the drama of classic red lipstick. Smoky eyes may smolder on every starlet, but red lipsticks are more primitively sexual. Anthropologists have suggested that red lips are evocative of the blood rushing to the labia, an exaggeration along the lines of Chinese foot-binding or the neck rings of Myanmar, though perhaps less extreme. The effort—leaves behind traces everywhere, requires precise application and constant touching up—required should be considered part of the appeal of red lipstick, a concession to formality. It is a little bit sad that this great piece of makeup is now considered retro or eccentric.

THE BASICS
flawless face If you have any ruddiness on the skin, it will be exaggerated by red lipstick. It is imperative, therefore, that the skin be free of blemish. Foundation, concealer, and powder are all recommended (or some combination thereof). When it comes to blush, I like a bit of highlighter for the subtlest glow, but a very soft, clear pink is also flattering. If you are tan or very warm, and have chosen an orange- or coral-red, bronzer also makes a beautiful option. Recommended products: NARS Multiples.


the perfect red Above is an example of cherry red; it is bright, but also the most classic, the most neutral. If you have not found your perfect red yet, I suggest Bésame Red Velvet—a touch of rose (but not fuschia) softens what is bright—the most universally wearable red I have ever set eyes on, without prevarications into sheer. A warm red is especially flattering on a redhead; it should have a little orange and a lot of brown, and brick reds know no greater expression than Sue Devitt Great Australian Bight. Cool reds especially flatter pale brunettes, I have a personal love for the dramatic blue-red of NARS Scarlett Empress. I think a brighter red better suits blondes: Lipstick Queen Red Sinner is for you. If you do not have the precision to apply straight from the tube, you may need to resort to a lipliner and lip brush.


what to wear on eyes It should go without saying that red lipstick requires a fairly minimal eye. You can experiment with color to some degree—a rich indigo looks lovely with a raspberry red stain, an antiqued olive is a beautiful counterpart to a glossy coral red—but you do run the risk of looking messy. But, to leave the eyes entirely naked is a failure of balance; it looks a bit stark to my eye. I suggest, rather, tasteful, subtle enhancement. The most classic is black liquid (or these days, gel) liner, as seen in the image above. It is graphic, but clean, so it does not overburden the eyes, though it may cross somewhat into the overly retro. Another option is a wash of icy white or champagne (seen below, with cool red lips), with mascara, which emphasizes the standoffish quality of red lipstick, fit for a Snow Queen. But my favorite method is a haze of medium shadow, because it adds balance without making a big statement. Warm reds look best with gold when the lipstick is darker, as in the example below, for brighter reds, amber is especially beautiful. Cool reds are easily complemented by pewter or dove grey. For the least competition, a matte taupe is perfect, as at the top. And do not forget due justice to your brows—no less classic—but so important it's never retro.
Warm red (forgive the inferior scan, the original is brown-toned, not berry-toned) with gold eyes, makeup by Troy Surrat for Elle October 2006. Is it not absolutely perfect?


Above: From a very old issue of Elle (probably going back to 1997 or something), a cool red looks solemn, rather than vampy, when paired with icy shadow and clear pink blush.

Labels: besame, giorgio armani, lipstick queen, lookbook, nars, sue devitt
10/21/2008 [3]
Perfume Notes: Frédéric Malle Le Parfum de Thérèse
by Dain

Noses are not often the most salient aspect of a perfume—though the character of a writer or musician often enters a discussion of their works, quite a few people believe that Giorgio Armani makes his own fragrances—and with the exception of a few legendary names such as Jacques Guerlain or Ernest Beaux that are thrown into high relief within the circles of 'fumeheads that proliferate on the internet, perfumers toil in quiet anonymity. As a remedy, Frédéric Malle offers Editions de Parfums, throwing the spotlight on the creative minds behind perfumes by offering them total artistic license; Malle is only the publisher, though he's a sharp editor too. The result has been consistently excellent perfumes, from the exacting verisimilitude of Vétiver Extraordinaire (Dominique Ropion) to painterly abstractions like L'Eau d'Hiver (Jean-Claude Ellena), combining the modern taste for transparency with intelligent design, not always apparent at first sniff. Edmond Roudnitska's Le Parfum de Thérèse remains the house's only posthumous release, and because of its relatively antique origin in the early 50s, when it was reserved for his wife's exclusive use, it has a slightly vintage (but not old-fashioned) feel, especially in its mossy suede-like depths.

With Diorissimo and Eau Sauvage, which Michael Edwards names a "miracle of balance" in an interview with Basenotes, Roudnitska helped to usher in an age of fresh simplicity in perfumery, and true to type Le Parfum de Thérèse is not one of those perfumes that announces your presence as you walk into a room. It shares the quiet splendour of Guerlain Mitsouko, but much more fruit than chypre, takes on a youthful vivacity that makes me think of the tan, lissome legs of Brigitte Bardot
in a carelessly languid, barefoot saunter. But this is not your Sephora's fruity-floral, the glow of peachy lactone, brightened unto incandescence with juicy tangerine, honeysweet melon, and the candied effervescence of violet, is thrown boozily together like fine sangria. Unlike the more ozonic, crisply hesperidic Diorella, Le Parfum de Thérèse is quite opulent beneath its mouthwatering surface—a chilly haze of grey pepper and rose, a thinly synthetic raspberry, lushly indolic jasmine, spiced plums and cedar, sueded vetiver—and yet in spite of its complexity not the least bit histrionic or oppressive, thanks to Roudnitska's lifelong interest in unsaturated, weightless olfactory expression.

To my nose, this is the ultimate fruity fragrance, not sharp or artificially saccharine, but the true, lush aroma of perfectly ripe melons, nature sweet. But be warned, its longevity is at best two or three hours.

OTHER REVIEWS
SakeCat
Bois de Jasmin
Perfume-Smellin' Things
I Smell Therefore I Am
Sweet Diva
Now Smell This
For The Love of Perfume
Fragrance Bouquet
Ayala SmellyBlog
Legerdenez
Base Notes
Makeupalley

Labels: brigitte bardot, chypre, edmond roudnitska, frederic malle, jasmine, melon, perfume notes
10/20/2008 [2]
Closet Confidential: Lingerie & Loungewear
by Dain
If you are ready to shop beyond the industrial ladyslings at Victoria's Secret, I hope this guide proves useful. Expensive lingerie may seem a unnecessary frivolity, given that it remains entirely few to all but the select few, but I find rather more savor in hidden luxuries myself, as opposed to, say, a Very Conspicuous Bag. All the same, this is not a comprehensive guide; I have skipped over some well-known labels entirely, such as Agent Provocateur, Damaris, I.D. Sarrieri, and Strumpet & Pink.

Remember, the only way to judge a bra is to wear it.

REASONABLY PRICED (below $75)

Cosabella makes very functionally minded (read: invisible under clothing) lingerie that combines simplicity with comfort. Calvin Klein is not only widely available, but there's a combination of intelligent design and aesthetic detail that makes them widely appealing. Le Mystère is a French brand rather more difficult to find, but not without its share of devotees. Elle MacPherson's delightful but affordable lingerie (as a whole the most expensive among these lines) is enjoying meteoric rise in popularity. There's something for everyone from Huit, whose offerings range from the resolutely functional to wildly imaginative.

MID-RANGE ($100-$300)

La Perla is perhaps one of the better known luxury labels, an impressively prolific Italian brand with a decidedly smoldering sensuality.


From the very beginning of his career, Andrés Sardá, whose designs Jacqueline Kennedy wore in the 60s, emphasized the equal importance of elegance and comfort in addition to functionality.


Myla's combination of fine materials with cheeky British humor effects everything from teasingly transparent chiffons for sultry summer nights to rich jewel-tones for a luxuriant Hollywood boudoir, and their bi-annual sales are the absolutely the best bargains for quality lingerie.

EXTRAVAGANT ($300-$1000)

Most luxury labels tends towards fantastical creations, but Eres offers instead demure, clean constructions for the satisfaction of the minimalist who still demands the very best.


Nobody makes more charming or expensive lingerie than Carine Gilson, every stitch and fiber exquisitely crafted by hand, typical French extravagance, as delicate and fragile as spider gossamer.

PERSONAL
Here is what works for me:
black lace bra Support is not really an issue for me, so I eschew bulky padding as much as possible (underwire alone is quite sufficient), but functional black, even in sumptuously sheer, artisanal lace from Carine Gilson ($288), is the most versatile of bras—not the universal recommendation of dumpy, staid, seamless nude. It does not become dingy, so demands less frequent washing (which will damage your bra), its obviousness under sheer tops is too purposive to seem like accidental exposure, plus it is quite sexy and sophisticated en solo: qualities that nude bras do not share.

black cotton panties For the same practical and aesthetic reasons.

fun, frivolous, and decorative set You can't just live on one bra, but the second can be a little less practical, from delicate powder pinks and ivories to lurid red and leopard satins.

silky, barely there slip Chemises may seem high maintenance, but I find that airy, second-skin silk is actually much less restrictive than pajamas, which end up hot, sweaty, and bunched up by morning. All the better that slips are prettier; pajamas are really better as loungewear than sleepwear.

extra layers A featherweight, supersoft silk/cashmere (a 30/70 blend is ideal) sweater adds just the right amount of warmth, but doesn't constrict or scratch. If that's enough, and houses do get chilly in winter, I throw on my trusty ole ratty robe that I got from Target—in college, I got into such a habit of taking my morning smoke in it that it never fails to get a exclamation, "That green robe!"

vanity stockings No longer required for decency's sake (though they do let you cheat with shaving), stockings and tights have become something a peripheral accessory, to lend seasonal longevity to summer dresses or sex up an otherwise staid outfit (what could be more seductive than a garter belt?). Inspired by Patsy Stone, I got a pair of sheer black stay-ups from Wolford, unbeatable for durability, comfort, and sheer diversity of options. They slim the legs; always a great thing!

FURTHER READING
Faire Frou Frou
La Petite Coquette Blog

Labels: andres sarda, calvin klein, carine gilson, closet confidential, cosabella, elle macpherson, eres, huit, la perla, mimi holiday, myla
10/18/2008 [6]
Beauty Notebook: High Drama
by Dain
I got the inspiration for this look while listening to a song by Mos Def and Talib Kweli:
High drama, got the hit show on TV
Perfection of life that you see is 3D
It ain't really you and it ain't really me
Perception is stronger than fact, ain't it right?

A dramatic look needs better skin than usual, so I tried the Mud Mask ($45), expecting rather little. I have rather little faith in masks as a whole, at best they brighten temporarily and at worst they dry the hell out of my skin, depending on whether they're intended to hydrate or detox. But unlike most masks, this never really dries out, and yet it seems to pull clogs to the surface for easy extraction. It doesn't eliminate congestion, but it helps with the subsequent removal, normally a difficult feat for my fine pores. This is the first mask I've ever tried that actually "does" something.


As ever, certain constants remain: undereye concealer, defined brows, and black mascara. If you would like details, check out Color Me In.

I love a great red lipstick at any time, so I picked Shanghai Express ($24) for the centerpiece, but its deep, pigmented berry-blue tones are also very much on trend—though it seems rather warmer when photographed. A red lip tends to exaggerate imperfections in the skin, but instead of heavy, obliterating spackle (try tinted moisturizer if you still need coverage), I have elected for the South Beach Multiple ($37), an amber-hued apricot shimmer with a delicately silvered sheen, that imparts a softening glow which does not compete as blush might. In spite of its apparent warmth, it manages to flatter even my cool-tones-only skin. For the eyes, the best accent for a dramatic lip are soft washes, like these candied pastels from the Sugarland Duo ($32): an apricot sparkler that closely echoes South Beach (indeed, I recommend layering the two, as the powder can go on a little choppy) and an orchid shot through with golden iridescence that shifts from lavender to rose gold depending on the angle. Very pretty duo, if a little too warm for me, though the shimmers are not quite so complex, I prefer Heaven.


Above: details of the lips and eyes, I've done half apricot and half orchid on the lid.


If you're somewhat less than wild about its darksome drama, I have found that Shanghai Express turns into a fantastic red-rose stain very easy to wear, there's further versatility to recommend it: layer a peachy-golden gloss for a gorgeous redcurrant lip (I've used South Beach here). It is probable that it's a lipstick only for cool-toned complexions, but how can you not love a product that yields three great looks?

Again, I've used South Beach, which in spite of the obvious shimmer in the tube adds a subtle radiance (not a copper glitter) to my cool skin, but since the lip is considerably softer, I was more comfortable pairing it with a deeper eye, by layering the Night Flight Single ($22) over MAC Powersurge Eye Kohl, which doesn't show (it's used primarily as a base). This is the only product that I would recommend without reservations, though so very, very pretty in the pan. While Sugarland can go on a little choppy, at least the apricot sparkle, it's fine once you layer, while Night Flight doesn't show in spite of using a pencil as a creamy anchor for the cobalt sparkles. I'd blame my poor photography (I hate to use myself as a model—look at how cross-eyed I am!), but...


Even in the closeup, there's not much to see, and it doesn't really show in real life either. The lips, however, are a great success.

Labels: beauty notebook, mos def, nars, talib kweli
10/17/2008 [2]
Subscribe to
Posts [Atom]. Or
follow on bloglovin'. If
you'd like to contact Dain,
feel free to email me.
I'm also on Pinterest.
Features

The Mnemonic Sense
Most Wanted
The Beauty Primer
Lookbook
Bestsellers
Consumer Diaries
Closet Confidential
On The Label
Beauty Notebook
The Hit List
Color Me In
The Makeup Artist
Wedding Bells
Globe Trotter
Desert Island
perfume notes
beauty notes
fashion notes
culture notes
minimalism
chypre arc
floral arc
fresh arc
masculines arc
gourmands
& orientals arc
Archives

August 2008
September 2008
October 2008
November 2008
December 2008
January 2009
February 2009
March 2009
April 2009
May 2009
June 2009
July 2009
August 2009
September 2009
October 2009
November 2009
December 2009
January 2010
February 2010
March 2010
April 2010
May 2010
June 2010
August 2010
September 2010
October 2010
November 2010
December 2010
January 2011
February 2011
March 2011
April 2011
May 2011
June 2011
July 2011
August 2011
September 2011
October 2011
November 2011
December 2011
January 2012
February 2012
April 2012
May 2012
June 2012
July 2012
August 2012
September 2012
October 2012
November 2012
December 2012
January 2013
February 2013
March 2013
June 2013
July 2013
Images

Photobucket