Announcements
If you're new to this blog, then read our guides to the basics: Skin (Part I), Skin (Part II), The Supernatural, Color Theory I, Color Theory II, Eyes, and Brushes.

Also, check out the blogsale.
Contents
· Consumer Diaries: November 2008

· Most Wanted: The Edible Woman

· Beauty Notebook: NARS Divine

· Desert Island: Music

· Fashion Notes: Fall 2008 Shopping List

· Perfume Notes: Ormonde Jayne Ormonde Woman

· Notes: November Is The Cruellest Month

· Culture Notes: Self-Conscious

· Most Wanted: On the Road

· Lookbook: Roses and Sugarplums

· Perfume Notes: Guerlain Chamade

· Closet Confidential: Casual Pants

· Beauty Notes: Shu Uemura Compact Brush Set

· Beauty Notebook: Mistura

Favored

Art Tattler
the glamourai
The Non-Blonde
Perfume Shrine
Lisa Eldridge
Garance Doré
Smitten Kitchen
Into The Gloss
Grain de Musc
Lacquerized
Res Pulchrae
Drivel About Frivol
The Selfish Seamstress
Killer Colours
Bois de Jasmin
Glossed In Translation
Jak and Jil
Toto Kaelo
Worship at the House of Blues
I Smell Therefore I Am
Food Wishes
The Natural Haven
Messy Wands
1000 Fragrances
Moving Image Source
Wondegondigo
The Emperor's Old Clothes
M. Guerlain
Colin's Beauty Pages
Barney's jewelry department
Parfümrien
loodie loodie loodie
The Straight Dope
Sea of Shoes
London Makeup Girl
Sakecat's Scent Project
Asian Models
Ratzilla Cosme
Smart Skincare
Illustrated Obscurity
A.V. Club
Tom & Lorenzo: Mad Style
Eiderdown Press
Beauty and the Bullshit
La Garçonne
Flame Warriors
Everyday Beauty
Fashion Gone Rogue
Now Smell This
Dempeaux
Fashionista
The Cut
A Fevered Dictation
Nathan Branch
101 Cookbooks
Consumer Diaries: November 2008
by Dain
DAUBING


Ok, so all the anti-aging copy behind NARS Potent EFA Cream ($70) is a lot of hooey, and it's more expensive than I personally like, but my skin is drying out to the point it hurts to touch it, and this is positively pneumatic: the skincare equivalent of a down jacket. It won't be any use in warmer months, but you've got to love the airtight packaging (why didn't anyone think of this before?), so you don't need to worry about it turning funky by the time next winter comes around.

Two shades in particular have captivated me recently: Chanel Rouge Allure in Attitude ($30) and NARS Underworld Duo ($32). Attitude is much warmer than my wont, a complex, muted-for-everyday, sunset red, but it's incredibly wearable all the same. The formula is sumptuous (at that price, it should be!) and long-lasting, and you've got to love the chic packaging. Otherwise, I've developed quite a habit for blue eyeliner, especially the petrol shade in Underworld, that lovely lavender chrome-like finish, which comes out better when layered over eye pencil.

EATING
When I have work: gin & tonics. When I don't have work: coffee. Yes, something seems to be reversed, doesn't it? It was a clear sign to quit. And now I feel fifty pounds lighter.

WATCHING


Myrna Loy is so adorable, is she not? There's quite a few witty dames from those days, and quite a few more glamour girls, but she manages both intelligence and sex appeal without going overboard—hence, "the perfect wife". I've been enjoying her performances in The Thin Man, some of the other Thin Man movies, Love Crazy, Mr. Blandings Builds His Dream House, I Love You Again, and The Bachelor and the Bobby Soxer.

READING
The Complete Poems: 1927-1979 by Elizabeth Bishop, small portions of an old favorite for days crowded with busy nothings. The deceptive simplicity (the mark of all good writing) expands every so quietly—marvelous, radiant, and sensitive.

WEARING

Breaking in my new flats from J. Crew (about $80, final sale), now sold out. I figure the Manolos will last for years, but you've got to replace flats now and again, because they see more wear and tear. The poor girl's version of Lanvin.

LISTENING


I guess it's a sign that I'm about to leave the ranks of the young when I find myself gripped by nostalgia—for 90s music—I'm a 90s child—I must have been twelve when "Your Woman" by White Town came out. Hey, at least I didn't pull Alanis or Nirvana on you.

SNIFFING


I've become a serial dabber of Guerlain Vol de Nuit parfum, which I acquired a few months ago, but it didn't really feel right until the drear, bitter days of November. It's absolutely perfect now.

WISHLIST


Ok, I think a few more months and my hair will be long enough to donate to charity. Then I'm gonna dye it purple-blue, like Shakira's wig in this video. Yeah, you didn't know that was Shakira, did you? I wouldn't have guessed it. She's much better in Spanish; less obviously Kermit the Frog turned skank. But who knows... I suspect that bleaching black hair, then dying it might be a mountain of effort, and I do so like to be lazy.

Labels: chanel, consumer diaries, elizabeth bishop, guerlain, j crew, myrna loy, nars, shakira, white town, william powell
11/30/2008 [7]
Most Wanted: The Edible Woman
by Dain
I adore Margaret Atwood ungrudgingly, primarily because she shows what it means to be an intelligent woman, that uneasy and inexplicable thing, beginning with The Edible Woman, which Atwood herself described as "protofeminist". It's a label liable to invoke visions of angry polemic, of girls bitching, but contrary to expectation, Atwood's social critique is entirely on mute, as if language itself conspires against the feminine condition. Marian senses a nameless frustration all around her, but it is so pervasive it cannot be pinpointed, so primitive it cannot be expressed. Even in the dystopic horror of The Handmaid's Tale, in which declining birth rates have turned women into chattel, all outrage is blanketed by an impenetrable silence. Such is the consequence of millennia of suppression; we do not even know how to state a claim for freedom.

Life appears to be going well for Marian. She is a college graduate, and consequently scored a nice, if boring, job doing market research, sandwiched between the bottom floor, where the uneducated women go, and the top, where men do all the thinking. She has a successful and handsome, if boring, boyfriend, Peter, who is ruled by an all-too-common instinct for machismo. Together, he and his friends had made a vow to eternal bachelorhood, but as each and every one announces his engagement, Peter freaks out, and he applauds Marian for not being one of those girls who push commitment on the poor men. As it turns out, this is how Marian herself likes it. When his best friend marries, and Peter is the last bachelor left standing, he makes an about face and proposes, but Marian can sense the coming of doom, even though she cannot even comprehend why she should feel that way, as if her mind rejects the possibility. While getting a drink with friends, Peter gleefully recounts a bloodthirsty story about gutting a rabbit, Marian, though normally quite in control of herself, so identifies with the victim, that she begins to break down, her awareness entirely dissociated from the instincts of her body:
After a while I noticed with mild curiosity that a large drop of something wet had materialized on the table near my hand. I poked it with my finger and smudged it around a little before I realized with horror that it was a tear. I must be crying then! Something inside of me started to dash about in dithering mazes of panic... I slid out of my chair, trying to be as inconspicuous as possible, walked across the room avoiding the other tables with great care, and went out to the Ladies' Powder Room. Checking first to make sure no one else was there—I couldn't have witnesses—I locked myself into one of the plushy-pink cubicles and wept for several minutes. I couldn't understand what was happening, why I was doing this; I had never done anything like it before and it seemed to be absurd. "Get a grip on yourself," I whispered. "Don't make a fool of yourself." The roll of toilet paper crouched in there with me, helpless and white and furry, waiting passively for the end.
Marian continues to behave, inexplicably even to herself, like prey. She runs away from Peter and must be chased down by her friends, and later tries to hide herself under the bed, and always she seems surprised by her own behavior. Slowly, she begins to reflect on what is really bothering her:
My resentment at Peter for letting me remain crushed under the bed while he moved up there in the open, free air, jabbering away about exposure times, started me thinking about the past four months. All summer we had been moving in a certain direction, though it hadn't felt like movement: we had deluded ourselves into thinking we were static... However it had left me in a sort of vacuum. Peter and I had avoided talking about the future because we knew it didn't really matter: we weren't really involved. Now, though, something in me had decided we were involved: surely that was the explanation for the powder-room collapse and the flight. I was evading reality.
The metaphor is quite literal. Peter is free, while she is crushed beneath a weight from which she cannot shift—how much simpler it is to be a man—but even here, she cannot comprehend the truth. After all, she accepts him... After the engagement sinks in, the novel shifts into the third person, slightly clumsy to my ear, but it underscores the subjection of Marian in part II of the novel. To her horror, she finds herself incapable of eating, first meat, then eggs, then dairy, and so on. She's the edible woman, so she empathizes with all other prey, until finally she can eat nothing at all. It is impossible for her even to recognize her problem. After all, marriage is the ultimate end for a woman, and Peter is something of a catch. The alternatives are unappetizing. There's Clara, a school friend, now now perennially pregnant, prone with exhaustion from her chaotic household. And there are the "office virgins", in particular the desperate husband-hunter Lucy, who insists on going out to lunch in fancy restaurants in order to catch a suitable man, dressed to the nines, and ends up cottoning onto Peter. And Ainsley, the most vocally "liberated" woman and Marian's roommate, is also pushy, hypocritical, calculating, and selfish, leaving the reader with a uncomfortable sense of ambivalence.

Between these options, Marian is trapped. Then she meets Duncan—and I'm not sure what to make of Atwood's tendency to use illicit affairs as revelatory devices—the eccentric, intellectual, hopeless Duncan, who is perhaps very much like Peter in how he treats Marian, with a clear difference: he doesn't pretend that he's right. And Duncan is stuck too, a grad student who realizes how fruitless and "stale" his endeavors as a "slave in the paper mines". He describes the situation: "Once I went to the zoo and there was a cage with a frenzied armadillo in it going around in figure-eights, just around and around in the same path... They say all caged animals get they're caged, it's a form of psychosis, and even if you set the animals free after they go like that they'll just run around in the same pattern... Words are beginning to lose their meanings." And yet he is able to talk about the nature of his imprisonment, as Marian cannot about hers, and she "marvels" at "all this talking, this rather rather liquid confessing". It's not really love between them, it's more as if she yearns for Duncan's instinct for the explicit, something she fears to do herself, though he warns her that "hunger is more basic than love." Frustrated with the awkward situation of lovemaking, she regards Duncan's naked body:
At this moment to evoke something, some response, even though she could not predict the thing that might emerge from that seemingly passive surface, the blank white formless thing lying insubstantial in the darkness before her, shifting as her eyes shifted trying to see, that appeared to have no temperature, no odour, no thickness and no sound, was the most important thing she could ever have done, could ever do, and she couldn't do it. The knowledge was an icy desolation worse than fear. No effort of will could be worth anything here.
But Duncan might as well be a blank page, and Marian's silent scream is that she will never find her voice back.


In my mind, the 70s are still ostensibly liberal-minded, especially in terms of the feminist movement, but with all that 60s philanthropic fervor blunted into self-improvement (a recognition of leftist hypocrisy perhaps?). In that spirit, the substance of this Kimberly McDonald necklace ($54,890) is definitely earthy, but otherwise it couldn't be further from low-maintenance—this is glamour, full stop.


This Martin Margiela ($845) tunic is so perfectly attuned to the 70s that it might not surprise you to learn that it is in fact a replica of a vintage piece, singled out by Margiela's faultless eye. The floaty drape perfectly balances the fussy precision of pleats, in such a sunny coralline hue that one can almost smell the tequila and pool water.


With such a vivid sartorial statement to follow, I struggled to find something other than the predictable white-jeans-plus-loud-accessories ensemble. Then I chanced upon this dress from Vena Cava ($211), and nearly laughed aloud from the sheer vulgar cheek of it, and the 70s are known for pornographic film. I'd never have the audacity to wear it alone, but it might peek out from beneath that semi-sheer veil of pleats for some subdued bad taste.


Brighter shades look especially rich with a tan, but the very, very worst makeup faux pas is (no pun intended) is without a doubt flat and orange skin, topped by heavy black liner. Ick, it makes my stomach turn. Dr. Hauschka Translucent Bronzing Concentrate ($34.50) imparts a delicate sunkissed glow that's miles away from a fake bake.



Manolo Blahnik Sedaraby ($499) exudes pure Miami-bound pin-up allure without making the obviously retro gesture of the platform espadrille.


WATCHING It's wonderful to see how films evolve from the stiffly classical heyday of the 40s, into something like Annie Hall, which freely references itself and plays with its own parameters.
LISTENING There's still plenty of rock echoing around, but "September" is so delightfully kitsch. Was disco the birth of pop music?
READING Just read it. And then read it again. I'm on my fifth turn.

Labels: diane keaton, dr hauschka, earth wind and fire, kimberly mcdonald, manolo blahnik, margaret atwood, martin margiela, most wanted, vena cava, woody allen
11/28/2008 [8]
Beauty Notebook: NARS Divine
by Dorothy
I have, up to now, resisted NARS duos. For one thing, although beautiful, they're not cheap; for another, I only really got "into" eyeshadow a couple of years ago. Even now, I usually wear a highlight, some eyeliner and mascara, and a wash of neutral shadow (NARS Cairo is my current favourite), nothing beyond that.

Upon seeing the Divine duo ($32), a silky dark chocolate matte shadow paired with a highly pigmented, balls-out fuchsia, my first thought was "What am I supposed to do with this?" A friend suggested full-out, John Cameron Mitchell in

Hedwig and the Angry Inch

, drag queen makeup, which I have concluded I don't know how to do. Another friend, a bona fide eyeshadow junkie, said "Well, whatever you do, don't put it on your lower lids. I speak from experience."

It must be obvious by now that Divine takes me out of my comfort zone. No makeup routine that involves shocking pink eyeshadow is ever going to look natural, but when I applied the shocking pink as a wash and blended the chocolate shade into the crease, I was surprised at how well it worked.



This is me in Divine (please forgive the silly face, you wouldn't believe how hard it is to take these photos), brows pencilled in, concealer applied under the eyes and everywhere I have a tendency to redness, powder, but no blush, as I didn't want the colour to compete with the shadow. On the lips, I applied just a bit of a sheer chocolate/berry shade (Lipstick Queen Saint Berry), mostly for definition.

Although this is not a look to combine with a bare face, it turns out the fuchsia in Divine is beautifully judged, its undertones balanced between purple and red, so it does not make the wearer look sickly or tired. Combined with an eyeliner in a deep purple (I used MAC's Fluidline in Macroviolet) and black mascara, it actually makes green eyes "pop". I will not be changing my daytime routine, but I think I may pull this out for parties.






On the left, a close-up. I've applied Divine fairly lightly because that's my style, but the effect seemed to me like a soft echo of early '80s makeup, with its exaggerated crease definition, so I tried a heavier application:









(Ignore the hair; it does whatever it wants, I'm sure you'll read more about that.) The camera washes things out, but perhaps you can see the basic effect. I think it still works, although I doubt I would ever wear this heavy an application; it still looks like makeup and not pinkeye or a bruise, which was really my major concern with fuchsia eyeshadow.

Now I am lemming other NARS duos, which cost the earth up here in Canada. Oh dear.



I love the vague grottiness, cheek and bad taste of music videos from the early '80s. I initially thought of Cyndi Lauper's video for "Girls Just Wanna Have Fun", but, you know, everyone's seen that.


Labels: beauty notebook, nars, tracy ullman
11/27/2008 [4]
Desert Island: Music
by Dain
Seriously, these are the three different kinds of contemporary music: whiny indie crap, sexy pop crap, and rap crap. Obviously, some of it's ostensibly not crap, but they still fall into these generic categories, do they not? Heavy metal may be an exception. Just a little visual delectation before we launch into my personal Desert Island playlist, which is featured at right. Many of these songs are mnemonic notches along my (rather) short life.
Castles Made of Sand – Jimi Hendrix In my opinion, Hendrix matches Mozart in sheer musical virtuosity, in the sense that he seems to pluck melody out of thin air—watch his live performances, he never plays the same thing twice—entirely organic in its quality.
Enjoy the Silence – Depeche Mode I really don't like 80s music; I don't care how influential Madonna and Michael Jackson were, or how cool their videos were, the music is... bad. This is the only exception. It preoccupied my immediate circle second-semester senior year, with our futures looming before us, and I always think of one girl whose sister committed suicide and she, never quite stable to begin with, tried to burn the house down. This song was a lesson to us neurotic, self-absorbed, volatile youth.
Shadowboxer – Fiona Apple Tidal, as a whole, is a fantastic album and I highly recommend it, especially if you've got a girlfriend confounded by love, but I particularly enjoy the blues-inspired feel of this song. Hard to believe Apple is only 19 when it came out; her lyricism is masterful, poetic.
Nowhere Man – The Beatles My favorite Beatles song, 'nuff said.
Guillotine (Swordz) – Raekwon (feat. Inspectah Deck, Ghostface Killah, The Genius) Basically a Wu-Tang song, in case you thought all rap was trashy and vulgar, there's some excellent, powerful work out there, though you're often required to search underground.
Lady Midnight – Leonard Cohen This is the song I'd play at my wedding, though I'll admit that marriage is the furthest from my mind, because, though there are songs without number about love, this is the most natural portrait of the complexities of the heart: "She said, dont try to use me or slyly refuse me,/ Just win me or lose me,/ It is this that the darkness is for."
Beetlebum – Blur Most people believe, though it has never been verified, that this song is about Albarn's girlfriend's problems with heroin. Classic 90s flavor to it, though I've really only gotten into Blur now.
(Reach Out) I'll Be There – Four Tops Because Motown is plain awesome; it makes you feel chipper and you can't help singing along.
Mad World – Gary Jules Absolutely the most depressing song ever, but lonely, world-weary sounds are second only to love songs in ubiquity, and this is so glorious raw in its unhappiness.
Ring of Fire – Johnny Cash It's a study in contrasts. The relentless mariachi backdrop is so blisteringly cheerful, but the lyrics are essentially a concise description of hell, which sometimes love is: "The taste of love is sweet/ When hearts like ours meet/ I fell for you like a child/ Oh, but the fire went wild."
Cry Me A River – Justin Timberlake If I ever meet "J.T." in person, I'd like to punch his smug rat face, but he's a consummate performer, and I always think that it's actually very difficult to sell yourself to that degree. This is a good song, maybe because there's actually some genuine emotion behind it.
Strange Fruit – Billie Holiday Hooray for Billie Holiday! She didn't have to sing about heartbreak, you could just hear it in her voice.
Parallel Universe – Red Hot Chili Peppers I drove my family nuts in high school because I kept Red Hot Chili Peppers on constant repeat, and I still think this is their best song, before everything begins to sound like a rehashing of "Scar Tissue". You can sense how happy Frusciante and Flea are to play together again; that guitar and bass line is plain surreal.
Take A Walk On The Wild Side – Lou Reed I once shared a cab ride with a big, friendly driver who sang along to this song. Ever since, it never fails to amuse. "And the colored girls go doot dooroot doroot..." Hahaha.
No Surprises – Radiohead I sometimes don't understand everything Radiohead does musically, but there's no doubting their greatness. Here they've taken the most mundane topic in indie music, the deadening blandness of suburbia, and fashioned a totally unique sound out of it.
To Zion – Lauryn Hill Pretty much everything Lauryn Hill touches is good, but this is unusually beautiful, about Hill deciding against an abortion, and finding the greatest joy of all in her son. It's a kind of love you rarely discover in music, and really we ought have more of it; nobody is more important than mothers.
The Wind Cries Mary – Jimi Hendrix My favorite song, period.
Sullen Girl – Fiona Apple Too much Fiona Apple? Never! This song is about being raped when she was twelve—an experience I could never imagine explaining in words, much less with so much eloquence.
I Put A Spell On You – Screamin' Jay Hawkins This is the original, later covered by Nina Simone, Creedence Clearwater Revival, and Marilyn Manson, to name a few, but I think it's the coolest, strangest version.
Jealous Guy – Elliot Smith Speaking of covers, it's rare to meet a good Beatles (well, technically Lennon) cover, even though the catchy simplicity of the music tempts many. But I daresay I like this even better than Lennon's original.
Commissioning A Symphony In C – Cake There's a sardonic quality to Cake I always like. Who else would write a song about Beethoven, and from such a bizarre point of view?
All Blues – Miles Davis My experience with classical is somewhat limited to the usual suspects, but I listen to rather a lot of jazz. This just sounds like summer, in the city, people taking things easy outside, the smell of barbecue.
Closer – Nine Inch Nails "What do you think is the most vulgar song?" I once asked a friend of mine. "Uhh," she replied, "My neck my back lick my pussy and my crack." "What about 'Closer'?" "No, that's 'I want to fuck you like an animal, there's a simile in it."
In The Aeroplane Over The Sea – Neutral Milk Hotel I always strive for the most eclectic mix possible, and this could not be a more abrupt shift from the previous song: the sweetest, most sincere of love ballads.
Paint It, Black – The Rolling Stones Those relentless sitars, going faster than you can keep up, it really does feel as if you're going mad.
The Origin Of Love – Hedwig and the Angry Inch This song is based on Aristophanes little speech in Plato's Symposium, though he's portrayed as rather facetious. Such a good movie, if you haven't seen it, you should. Plus, it has the best makeup ever.
Los Angeles, I'm Yours – The Decemberists A lyrical, witty backslap at Hollywood.
(Sitting On) The Dock of the Bay – Otis Redding Sad, beautiful, and very much underappreciated.
Hello, I Love You – The Doors This list just wouldn't feel complete without a Doors song, especially this one: "Sidewalk crouches at her feet/ Like a dog that begs for something sweet/ Do you hope to make her see you fool?/ Do you hope to pluck this dusky jewel?".
Walk Away – Christina Aguilera As you may guess, I am not a fan of pop, but let's put one straightforward diva performance in there, shall we?
Have You Ever Seen The Rain? – Creedence Clearwater Revival A clean slate, to lift the most pensive, tortured spirit; I always think of setting off on a new adventure on the open road, leaving the burdens of money and memory behind.
Local God – Everclear Another random favorite from high school, which my best friend and I would always crank up high and scream out the lyrics. Ironically, the song makes fun of being young and stupid.
Mercedes Benz – Janis Joplin Truly, I wish I could have hung out with Janis; she seems just plain awesome. I sing this song while I'm work. It seems appropriate somehow.
Summertime – Sublime The quintessential relaxed, California sound. I must have four versions of "Summertime", but Bradley gives the classic a bitter twist all his own.
You Never Give Me Your Money – The Beatles Sadly this hits very close to home.
That's it! If you've made thus far, I thank you.

Labels: desert island
11/24/2008 [2]
Fashion Notes: Fall 2008 Shopping List
by Dain
I am a strangely disinclined consumer these days (perfumes excluded), and in any case the fashion industry has lost much of its pretensions towards a collective consensus so that one cannot say that any one thing is a "must-have"—not that you are in the habit of slavish trend-whorism, dear reader. But I like to pick five more directional pieces each season, though I have to admit, I'm at a point where I am content to wear what I already own.

THE INVESTMENT

Usually my first instinct each season is to pin down a great dress, then the rest of my sartorial concerns somehow just fall into place. The one that really captured my imagination was this sex-sex-sexy (yet not slutty) number from Narciso Rodriguez, from the first I saw it in Vogue, and since then it's been seen on Charlize Theron as well. Not that I could afford it, but I'm keeping my eyes peeled for something slinky and dramatic in the back like this, maybe in nude or something flashy like cobalt, because the only black I wear, ever, is mascara.

SOMETHING(S) NEW

I've never taken to watches, but I've been late a couple of times so I may spring for a nicely chunky men's watch as a remedy. While I can't quite afford a Hermès Grand Arceau, Emporio Armani ($275) offers the same rich chocolate, oversize face for us lesser mortals.


Normally I depend on pastels the way many do on black, so to break from my habits, if just a little, I've let myself get caught up by the autumnal shift to jewel tones. I too have bought one of these J. Crew Cambridge Cables ($59.50), in a vibrant berry. I'll pair it with equally bright bottoms: slouchy sapphire cords and a full red skirt.


I've never been boot girl, but I might have to change my habits for Manolo Blahnik Pascales ($1495): absolute perfection. Leopard's definitely racy for me, but it hardly seems to matter when it comes this boot. That said, I already own a pair of boots, almost new, in a much more sober slate suede. I'll give those a spin around.

DREAM LIFE

I'm still hoping to treat myself to a fancy chemise such as this one from Guia La Bruna ($865), but cripes, that is one expensive nightie.

Labels: fashion notes, giorgio armani, guia la bruna, j crew, manolo blahnik, narciso rodriguez
11/22/2008 [4]
Perfume Notes: Ormonde Jayne Ormonde Woman
by Dain
The Unicorn in Captivity (1495-1505).


I sometimes find the inclination for exoticism in contemporary niche perfumery, like oud or fig or burnt rubber, slightly contemptible, a strategy not when movies use sex and violence in place of plot. So like any jaded sample whore, I approached the hyped-up Ormonde Woman with not a little suspicion—come on, hemlock?

I am delighted to tell you, Ormonde Woman is as wonderful as it is unique, an exponentially difficult feat, especially in this industry where everyone copies each other, first to source a note yet unexplored, then to restrain it enough to ensure it does not take over. Though I am generally averse to violet's sugary preciousness, even in the masterful Bois de Violette from Serge Lutens, here its daintiness offsets perfectly the sinister character of black hemlock, the poison the condemned Socrates drank, ah, it broods and bewitches all at once, like the fairytale before it was cleaned up, the kind where the babes in the wood die and the prince rapes the sleeping beauty and Hans the Hedgehog is shoved behind a stove for years because his parents are ashamed of him. Ormonde Woman smells like wild violets under the damp shade of an evergreen forest, but around this core interaction between magic and mystery, a subtle spice-herb accord of cardamom, coriander, grass, vetiver, sandalwood, and amber fills in the blank spaces between these perfectly aligned contrasts, as richly embroidered as a medieval tapestry. Sometimes, as Jacques Guerlain well knew, exoticism is just what the nose craves, only Ormonde Woman doesn't take me to the Orient, or sunny places near the equator, but someplace darker and cooler, springtime in Scandinavia.

OTHER REVIEWS
Bois de Jasmin
Perfume-Smellin' Things
Now Smell This
Pere de Pierre
Ambre Gris
Basenotes
Makeupalley

Labels: hemlock, ormonde jayne, perfume notes, violet
11/19/2008 [3]
Notes: November Is The Cruellest Month
by Dorothy
Yes,

pace

Eliot, it is.

It is pretty much endless stress, is what it is, endless paper-writing and exam panicking and what on earth did I do with my October, I swear I saw it somewhere, and also it's cold and grey and it rains too damn much and did someone say it was snowing yesterday? Goddammit, not yet.

Accordingly, since I lack the mental space to come up with a coherent post, here are a few unrelated things I've gone nuts for lately:




I tried DHC's Deep Cleansing Oil in the summer and thought "hmm, nice, but I could probably just as well use regular olive oil." Except...not. Regular oil is so much messier, is the problem, and doesn't rinse clean the way this does (yes, this goes on like olive oil, but rinses very clean; such a great gimmick). I gave in and bought a full-size bottle; it takes 1-2 pumps to wash my face and the 70ml bottle ($11) lasted me about three months, so the 200ml bottle ($24) should last me quite some time. It does not "deep cleanse", but it cleanses, much better than Cetaphil in my opinion, and without stripping. This is a cult beauty product that deserves a bigger cult.




Dain sent me a sample of Frédéric Malle's Vétiver Extraordinaire, and I have a crush. It's clean, warm, dusky, fresh, without the citrusy-sweet topnotes of Guerlain's Vetiver. I am happy to wear it myself, but if I smelled it on a good-looking man, I think I might swoon. Alas, it costs the earth and I lack a man to whom I might apply it. Another time.




I bought NARS's Velvet Matte Lip Pencil in Forbidden Red a while back and then didn't wear it, since I lack the courage to wear red lipstick all the time. Also, it smudges easily on first application, which led me to think it was a smudgy product. No. Once it sets, it stays put for hours, through multiple alcoholic drinks (

ahem

), through pretty much anything except excessive lip-licking or greasy food. It is fantastic.

Forbidden Red is a brick red, best suited to people with warm undertones like mine, but of course NARS makes other colours. I need another red like...well, I

don't

need another red, but I kind of have my eye on Walkyrie.

Labels: dhc, frederic malle, nars, notes
11/18/2008 [3]
Culture Notes: Self-Conscious
by Dain
Today, I would like muse over a subject that is very personal to me, and especially confusing. These paragraphs have some serious flow issues, you'll have to forgive me, but I'm just jotting down the thoughts as they occur.

Vanity is a queer thing, not least because within such an extremity of self-regard is gross blindness. This may seem disingenuous coming from someone who writes about beauty products, but for the longest time I was never aware that people judge you by your looks. To this day, I don't quite fully understand it, though my friends assure that "there's nothing to get". "Well," I counter, "if there's nothing to get, then what's the point?" "There is no point," is the exasperated answer. "How can there be value without meaning?" by then an apostrophe to an empty room. To define: vanity is the extreme of self-consciousness, but a little is normal, as most people are self-conscious, and healthy, because looks are the basis on which most people operate, when it comes to social interactions. Roll your eyes at such an obvious fact, but it was a quite the discovery for me.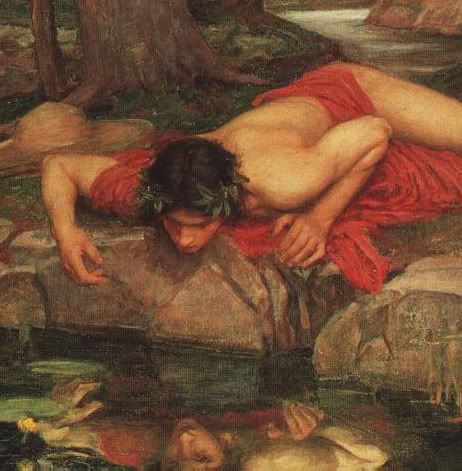 I've always loved this myth.


I got into makeup in my early teens, I was a regular on Beauty Buzz, Face Online, and The Lipstick Page in those early years when the internet was only for nerds. My mother was in a car accident, and it was one way for me to recede into a private world where objects, unlike the broken heart that sat in the center of my family yawning open for all the world to see, were beautiful, manipulable, concrete. It is for this reason I've never gotten a manicure, why my ears aren't pierced, why I've always rejected braces, and why I cut my own hair: I have absolutely no interest in looking good in the eyes of others, all the aesthetic pleasure and mania for control is entirely defeated if someone else does it for me. Sometime ago, my friend Monique let slip the assumption that I judged people by what they wear, and as she knows me very well so god knows that is probably what everyone else believes, and I was so startled—I never do that—I judge people initially on conversational skills, because if I must grab at something immediate and superficial, wit is often a good indicator of personality, because intelligence needs to be cultivated, and whether they seem fake or genuine, and unfortunately most people fail on both counts, especially if they are good looking. Any halfwit could explain why looks are unreliable. After all, only a few have the kind of looks that inspire extreme, automatic responses, and most of us hit an indifferent point somewhere in between. Beauty may be objective (symmetry and good skin primarily), but attraction is a matter of infinite complexity, dependent on qualities as varied as sense of humor or homosexuality. Besides, quite a few gorgeous individuals have the personality of rancid peanuts, while, as the saying goes, unattractive people have no choice but to be nice. To give an extreme example, it's apparent that very many celebrities are downright horrid. I'm not saying I can act or sing, but even if you are very good it is not that great an achievement. There's a reason why Shakespeare is the upper limit of measure for drama; you need great depths to bring words like that to life. All of these are excellent reasons, but unless there is a remarkable lack of common sense in the world, which may indeed be possible, they are clearly insufficient, because people still do judge others on appearances. Beauty is immediate, it requires no prior acquaintance with the individual, and in the absence of other elements of attraction, looks are perhaps the easiest way to assess a stranger. Never before has society encouraged such heights of laziness, and I speak as a very lazy individual myself. There's a common myth that technology is this solid indication of human progress, but really it's nothing more than a proliferation of conveniences, all of which come at a price, and humanity is not a bit closer to the secret of happiness. Beauty is the lazy man's indicator of worth, while on the other hand, it takes at least two years before one can claim to understand a person's character. Looks are so limited in scope, I've always bypassed them entirely and instead sought interesting people and have striven to be interesting myself. When it comes to friendship, this has proven an excellent policy, though it helps that I don't require a gaggle of gorgeous, fabulous individuals around me at all times, i.e. I don't give a fig for popularity. But when it comes to romantic/sexual encounters, it just doesn't really work, very much to my chagrin.


Much to my astonishment, I am evidently very pretty. There I am on the side with an absolute minimum of makeup. My hair, easily my best feature, is pulled back as much as possible. I've got a doll's face, down to the vapid look in the eyes. Honestly, I tell you, I had no idea it mattered; my introversion is really that severe. And this in spite of a consuming obsession with beauty products and constant, minute use of a mirror; the closest I came to any degree of awareness is when I kept hearing a persistent refrain, that girls had unrealistic expectations of body image because of what they saw in magazines, and I would think, "I don't see the big deal. I'm not saying I look like Gisele Bündchen, mind, but I've got no serious complaints." Surface values have never mattered to me, whereas if anyone dares to call me boring or foolish, I will burst into tears on the very spot—I get upset if I even imagine that people think I'm stupid. All this time, I have labored under the kind and lovely delusion that intelligence matters, and being largely inexperienced when it came to men, it wasn't until a couple years ago I realized it is perhaps better to be retarded, so long as I was cute—it's been a traumatic revelation (almost as bad as the one I had after reading Ulysses so carefully and realizing that erudition ruins natural talent). Dear reader, I could not be shallow if my life depended on it, and I know it seems like boastfulness, but it seems wrong to be shallow, and worse still, that women are perpetually and pervasively and primarily evaluated for their looks. Silly of me to imagine that ideas were important. It is not my nature to pay attention to people, much less seek attention, and even to this day I have to exert myself not to shut down completely from nervous discomfort when I realize what's going on. Unconsciously, I have developed an alienating sang-froid exterior: friends have told me that it was a year before I started greeting them at school, that I was a little scary because I didn't speak at all, and the most consistent feedback of all, that I'm "mysterious", which I interpret as a euphemistic version of weird. I really cannot pretend a damn thing, especially inane enthusiasm. Sometimes these all these frustrations tempt me to cast off the world entirely, become a hermit or something, but I am doomed by a rapacious libido: I love sex, nor am I picky, well out of the market for a boyfriend, would rather taste what's out there. Only... I've got no game, or I'm ill-suited to this atmosphere of self-promotion.

I suppose speaking about these things so openly is a sign of vanity. Well, I am learning to be self-conscious; I hope I understand it soon. I'd love to assign my lack of self-awareness to curmudgeonliness, which is kind of cool, but I'm afraid there's something wrong with me, like my head's just always in the clouds. If only I were more hip or something.

Labels: culture notes, john williams waterhouse, philosophy
11/17/2008 [10]
Most Wanted: On the Road
by Dain
I was once assigned On the Road twice in one semester, which ought to signify a little this book's status as a generational cliché. More important figures than my professors, like Bob Dylan, cite Kerouac as a profound influence on their lives, as its emphasis on an existence that strives to be independent of a society that demands a brain-dead conformity anticipates many of the basic attitudes of the 60s (though some, such as Kerouac himself, would point out that hippies are themselves an example of braindead conformity; ah well, liberalism is no guard against stupidity). Not that such ideas are new; On the Road draws from the tradition of the picaresque hero popular in the Eighteenth Century, when print literature was born, and much of its inherent social criticism derives from the cynical values that inform the Twentieth, but its credo of free living, infused with jazz, sex, drugs, and underground (sometimes criminal) culture, hit the public consciousness at just the right time, when a nameless unrest was beginning to percolate within the ranks of the youth.

All throughout, On the Road is refreshingly seedy—no high, elevated romances for the Ivory-Tower crowd—extended routs with drugs, sex (both men and women), and open socialization with minorities. The prose is apparently spontaneous in its mannerisms, that disjointed texture that marks the influence of earlier experiments with stream-of-consciousness and, in Kerouac's case, improvisational jazz. The novel recounts Kerouac's real-life experiences with Neal Cassady, among other friends like Ginsberg, over a period of seven years, and though popularly regarded as a glorification of itinerant rebellion, its joie de vivre ultimately deteriorates into effete selfishness, without the "quick succession of busy nothings" (Austen) that masks a more dependable, settled existence from the final futility of life. Unlike another cult figure, Ayn Rand, who writes fairytales in which talented, intelligent individuals are best and know best, only to be held back by envious mediocrities, one departs from Kerouac with an unsettled feeling of helplessness, the more unsettling because it is more plausible to imagine human potential squandered, the same outraged spirit behind the Civil Rights movement, rather than its inevitable, inexorable triumph that empowers the fantasies of the smug, plasticine 50s. In spite of the novel's constant movement, On the Road is never in the pursuit of a purpose, and in spite of the allures of transgression, nobody is happy with the life he leads, not even the charismatic Dean Moriarty. "We are all lonely and sad, I most of all", whispers the unspoken feeling within Kerouac's bruised heart, and yet he yearns for something other than the numbness of conventional life:
The only people for me are the mad ones, the ones who are mad to live, mad to talk, mad to be saved, desirous of everything at the same time, the ones who never yawn or say a commonplace thing, but burn, burn, burn, like fabulous yellow Roman candles exploding like spiders across the stars, and in the middle, you see the blue center-light pop, and everybody goes ahh...
Are Kerouac and his friends no-good bums and low-lifes? Certainly, yes. Are they more in tune with the quick, fleeting heartthrobs that measure out our lives? Probably. Are they silly and childish, unwilling to shoulder the burdens of resignation that truly mark adulthood? Yes. But, ill at ease with resignation, lest the job, the wife, two kids, the dog, and the house in the suburbs, is nothing more than a false notion of happiness, will they ever give up the search, whatever they are searching for? No, regardless of idiom, it is this same happiness without answer that we all seek.


The smaller the bag, the lighter your mind: house your worldly goods in Alexandra Cassaniti's backpack ($320), so charmingly schoolgirl but still all grown up. This particular print is sold out, but the fall model is coming out soon.


As Arabella on The Lipstick Page pointed out to me, the 60s are really divided in terms of fashion. The first half echoes the chic of previous decades: Audrey Hepburn and Jackie O. (need I say more?). The second half, as a reflection of the social tumults that left America questioning the definition and execution of citizenship, is marked by the advent of casual clothes. In short, the jean, such as this flawless pair from Acne ($270).


To top your jeans, something just as easygoing, no? The beauty of a t-shirt is that you don't need to make them different, they just gotta look different—that's America for you (from Fords to iPods). What's cool about Threadless is that they take the work of diverse artists, such as this Sinister/Dexter ($18) print, from perky, cute humor to the disturbing and abstract, and place them on American Apparel tees. There's hundreds of them, but I find this one as clever as it is pretty.


Beauty has a habit of shadowing fashion, and just as the rules of dressing relaxed in the 60s, so too did the rules of coiffure (beehives aside). Since the Romans, ladies had their hair done and topped with a cunning hat, but now, Lady Godiva notwithstanding, they could leave it loose and free. Long hair requires above all a good conditioner, and lots of it, but I'm tempted to return to the earth-goddess aroma and strangely nutritive Nature's Gate Herbal Hair Conditioner ($31)—a full gallon! Just a little more expensive than gas these days...


It wouldn't to hurt to throw on just a little chic, though. A coat doesn't fuss up a casual outfit, as even the most demure heels might, but it does pull it all together. And while you're at it, why not make it mod? Opening Ceremony's ($575) lightens the retro touch by giving it a little cape-like volume.


WATCH Originally I resolved against using a film for these that I had already chosen for my Desert Island picks, but I. just. love. this. movie. Funny, because I don't care for Kubrick otherwise, in spite of his Very Important Works throughout the 60s. James Mason and Shelley Winters are really actors of the old school still—honestly, Winters pretty much makes this movie tick.
LISTEN Unreasonable to expect me to choose just one song from the 60s, so let's just cut the Gordian knot: "Wind Cries Mary" is my favorite song, period, regardless of time, genre, or artist. For its mellow, poetic beauty.
READ Personally, I am one of those who find On the Road silly, but that may be because I have had to read it as often as I have. There is a recent version that is a transcription of the original "scroll", with much more sex (apparently, I've no interest in reading it) and all the real names still in it.

Labels: acne jeans, alexandra cassaniti, jack kerouac, james mason, jimi hendrix, most wanted, nature's gate, opening ceremony, shelley winters, stanley kubrick, threadless
11/14/2008 [2]
Lookbook: Roses and Sugarplums
by Dain

Color scares some people, who feel that the apparent presence of makeup instantly labels them as trashy and shallow, though... there's a certain irony to so much self-consciousness. But here is a classically pretty affair, sure to please even the most color-phobic, and unlike neutrals, not likely to run any dangers of washing you out. There's a reason why pink is the common shade in the cosmetic world, for it meanders free and easy all over the face with great effect—lips, cheeks, and eyes—the rare color capable of doing so without impunity. Pretty in pink, as they say, an eternal flatterer that picks up the natural tones of the skin. It need not be bright and glaring like fuschia, beige and brown subdue it pleasantly unto something rather near to a neutral: rose. If you've got warm skin, throw a little peach into it, and if cool, berry. Allover pink, as shown above, makes the face glow with a diffused warmth, without shimmer or tans. Recommend products: pinks are everywhere, so I shall divide them according to creed then color.
LIPS Lipstick Queen Saint Rose perfectly embodies pink's demure-but-lovely character.
BLUSH Most blushes are pink in some respect, from the very bright and pure of NARS Desire to the watered-down brown-rose of MAC Mocha.
EYES For the rich but subtle eye shown above, try a glimmering rose like NARS Nepal as a soft wash across the lid, then tap a little plummy chocolate pigment, like Trish McEvoy Deep Aubergine Definer, into the lashline (or sweep a lighter brown into the crease), and finally to highlight, MAC Yogurt. Variations make it fun: a touch of gold adds a little more flavour, the rose makes a lovely backdrop for vivid liners, such as violet or olive, while silver and navy transforms pink from sweet into something very sleek indeed.
Of course, if your complexion is rather darker, and pinks barely make a statement on your skin, go for the more substantial counterpart in plum, which does for dark skin what pink does to lighter colorings.


Sugary plums used to a similar effect on darker skin, in this case the flawless Naomi Campbell in François Nars' Makeup Your Mind, whose green eyes are benefited even further by the presence of plum. Notice how the makeup is not exactly striking, in that it draws attention to itself, but she seems to glow. Recommended products: this kind of masterful blending is the product of many shades, since deeper skin tones can play with a greater variance, such as the use of a metallised pink along the inner corner of the eye to pick up the somber tones of the grey-plum on the outer, but here are all tried-and-true plums:
LIPS I'm rather fond of Cover Girl Wine Shine TruShine for both the dark and fair.
BLUSH Becca Lotus Creme Blush is simply gorgeous on deep skin.
EYES MAC Trax is a classic if there ever was one, but I'd more likely pair it with black liner on darker complexions, with a gentle silver to highlight, and NARS Caravaggio Duo makes a brighter eye.
Labels: becca, cover girl, lipstick queen, lookbook, nars, trish mcevoy
11/09/2008 [0]
Perfume Notes: Guerlain Chamade
by Dain

Odilon Redon, The Cyclops (1914).


For years, I've been searching for hand-marbled cahiers from G. Lalo, a Parisian paper company that makes the best, subtly textured laid-finish paper for fountain pens, and finally sourced it and bought all six colors in one go. You know that feeling when you open to the first blank page of the notebook on the first day of school? Multiply it tenfold, and you'll approximate my delight when I finally got my hands on those marbled cahiers—like something out of the 19th century. However diffuse and untidy the ultimate contents of those pages, at least there's that initial moment of anticipation when all that lies beyond is colored with adventures unforeseen. Or imagine, if you will, Dorothy stepping out of her grey-tone Kansas farmhouse into a radiation of technicolor wonders, only to yearn for drear old home. That is essentially the trajectory of Chamade, perhaps the most youthful of the great Guerlains, a nervous optimism not unlike those lines from "You Never Give Me Your Money"—Out of college/ Money spent/ See no future/ Pay no rent/ All the money's gone/ Nowhere to go.../ ...But oh that magic feeling/ Nowhere to go/ Oh that magic feeling/ Nowhere to go/ Nowhere to go!


Chamade eschews the traditional hesperidic top for an opening so creamy smooth that it recalls the bland, regular beauty of a marble statue, staring emptily behind an impenetrable complexion. Such apparent simplicity may initially seem like a departure from the house's baroque signature (Shalimar is essentially Versailles in a bottle), but then, sparked by the salty tingle of blackcurrant and rose, the statue flickers into life. I am reminded of Hitchcock's talent from extracting frustrated lust from the most angelic of heroines (Joan Fontaine, Ingrid Bergman, Grace Kelly)—marvels on film, but sometimes their stature as goddesses trained* made them less than realistic as women—without losing any of the stately mannerisms of divinity. Underscored by the verdancy of galbanum, Chamade's transformation is agonizingly slow, buffered by a yellow streak of ylang ylang and the pillowy pneumatics of jasmine, a gentle descent into territories rich and strange: the lush hyacinth heart, a dense, hypnotic green floral (not the lilacky smell of the actual bloom) that radiates outward with tremendous calm. By the time the resinous aroma of sandalwood, spicy and soapy at once, like green incense burning in a Japanese temple, makes its presence known, Chamade has taken on the complex and mellow hue of living flesh, before it finally yields, body and soul, with a soft kiss of vanilla.

Other perfumes orbit closely around its gravitational pull, though Chamade itself takes its cue from the green chypres. Diptyque has desaturated the rose-blackcurrant-galbanum combination into cologne-like crispness in L'Ombre Dans L'Eau. Annick Goutal Grand Amour and Parfums de Nicolaï Le Temps d'Une Fête bear a closer resemblance to the original—the flat-chested sister and an infusion of sweet, golden sunshine, respectively. Even the latter day Gucci Envy might be construed as an abstraction into artifice beyond art, formed of indestructible plastic rather than marble. But Chamade, with sandalwood providing a bass line to hyacinth's soaring melody, outshines them all with a depth, opalescence, and evolution entirely its own. I've compared recent and vintage parfums, and am sorry to say that the recent formulation is sharp and bitter in the top notes, though otherwise it is still recognizably Chamade.

OTHER REVIEWS
Mr. Guerlain
Bois de Jasmin
I Smell Therefore I Am
The Non Blonde
Now Smell This
Pink Manhattan
Sweet Diva
Base Notes
Makeupalley

* I've always maintained that Hollywood is the myth-making instinct in human nature turned into a business.

Labels: alfred hitchcock, g lalo, guerlain, hyacinth, jean paul guerlain, odilon redon, perfume notes, the beatles, the wizard of oz
11/08/2008 [9]
Closet Confidential: Casual Pants
by Dain
They may shield our nakedness from the harsh elements of the world, but for the most part, clothes play a decorative role. Nevertheless, some pieces in your wardrobe are pure workhorses, and nothing is better suited to that task than the casual pant, whether it is worked in denim, chino, or corduroy—comfortable and sturdy cotton fabrics that will meet the demands of everyday life with ease. You may indeed be past mistress of orange pants, and if that is the case, do not derail your habits for my advice, but for most women, who may be a little less ambitious in their color choices, it is wise to invest in at least two pairs in a versatile neutral that suit you best: black, grey, navy, white, brown, olive, or beige. Darker shades are of course more practical, as they will resist staining the better, and constant washing ruins a nice pair of pants speedily (I always wash mine inside out, on cold cycle, and allow to air dry). Ideally, it should be such a shade that poses no great challenge in terms of mixing and matching, to take the guesswork out of everyday dressing.

There is another reason in favor of neutrals—anyone who's ever shopped for jeans and pants knows the difficulty of sourcing the perfect fit—once you find it, you might as well stick with that particular label, and while an exotic color may be discovered indiscriminately, it may not always be readily available from a particular source. The perfect fit should not gap at the waist, drape snugly over the butt, not pinch at the crotch or constrict along the thigh (though jeans tend to be tighter than other kinds of pants), and the length should be fitted for flats, not heels—these are pants to run around in. It's worth spending a little extra, to ensure not only a perfect fit now, but so it lasts, which is not the same thing, though it may not be wise to get too carried away—unlike a dress, you'll need to replace them after a few years.

THE JEAN

The humble jean has lately skyrocketed into a hot commodity, and the sheer proliferation of "artisanal" labels (and their prices) can be dizzying, and to confound the matter, you may wear your denim in any style you please (except, maybe, pleated). If you are uncertain which look is your own, or if you are not too particular, a low-waisted (not too low) bootcut in a dark denim is the most universally flattering, as shown above. But one need not be entirely left-brained about it; here's a paradigmatic example of perfect fit from top-of-the-line Acne ($270), but so 70s retro (high-waisted flares) it's almost groovy, were it not so refined. Marginally less expensive, with a fit to satisfy women as picky as Anna Wintour, there's always J. Brand for your perusal, though I am inclined to suspect a similitude in most of the better known brands. Aficionados claim, however, that the zenith of denim is A.P.C.—and considering the superlatives that populate the fashion industry, I was ready to be skeptical—but now that I have a pair of my own (in mint!) I can affirm the hype, ironically it is the lack thereof (as really the jean ought to be, as the ne plus ultra of casual, low-maintenance clothing): resolutely unfashion-y, comfortable enough to sleep in, and best of all, 100% cotton, so they'll last years once broken in, unlike the instant gratification of stretch denim elsewhere.

THE CHINO

Everyone loves the comfort of a favorite pair of denim, but I prefer navy chinos, not a whit less versatile than jeans and quite as durable, but with the looser fit of a trouser. Plus, chinos look infinitely more polished as default bottoms—poised exactly between dressed up and dressed down to function as both—and in a dark, somber hue (nary a pleat in sight) are miles away from the staid prep classic. Sometimes, I think people gravitate toward jeans because they don't really know what else to wear, but in fact, if you're at a loss for a reliable pair of pants, a perfectly fitted pair in grey works on everyone and with everything—the grise éminence of your closet.

I'm a big fan of J. Crew's chinos: very flattering and multiple lengths and colors, and they don't fall apart in a year like GAP.

THE CORDUROY

There are, of course, a variety of textiles out there. Loose, sea-salt white linen may be pleasant for late brunch on the piazza under the Mediterranean sun, but it's not very practical if you haven't got a good maid, you know. Corduroy is a great deal more practical, cozily soft and a hint of retro, plus they only get softer with time. Just make sure the wale is pin-thin and the fit is very exact (similar to a chino), so it looks refined, rather than dowdy, though corduroys are ultimately somewhat casual.

But then, none of these pants are really for dressing up, they're more for kicking back and being a little relaxed about your clothes, though some girls like to pair heels with their jeans for going out, but to me that looks a little silly.

PERSONAL
It'll take a while to wear mine out, but here's what I've got...
ROUGHING IT For the most "off" days, when I know I'll be getting real dirty, or want to take it very easy indeed, just one pair of jeans: A.P.C. 70s Jean in mint green, though I wear so many pinks I sometimes look like a berry.
EVERYDAY STAPLES Chinos in grey and corduroys in a deep, violet-tinged sapphire, from J. Crew. These two shades match almost every top I own, whether I need something very, very neutral or with a subtle kick.
WHAT I CRAVE


A slim white jean, ever so chic for summer. Not practical, but... such a lovely idea.
It's tempting to buy lots of jeans, but no more than six pairs of casual pants are really required for rational happiness. Myself, I find that only two see consistent use, even though I own more, because if the pants flatter you and match most of your clothes, then you gravitate towards them until they're too soiled for wear. After all, if you're too conscious about them, the clothes are no longer so casual. Ask yourself, do I really need so many? Whether it's GAP or Balenciaga, or two or twenty, what makes or breaks a pair of pants is whether they look great on you, and whether you can live in them: it's easy to switch a few tops around a single bottom, after all.

Labels: acne jeans, apc, closet confidential, j brand, j crew
11/05/2008 [6]
Beauty Notes: Shu Uemura Compact Brush Set
by Dain

Sets and palettes are very pleasing to the eye, but it is rare that I'd buy or recommend one. It is very difficult to find one in which all the shades are wearable, and if they are, they tend to be bland and boring. Even less likely is the probability that each and every product is extraordinary. I have palette prejudice, I am a set bigot, probably I am just picky to the point of anal retentive. So when the SA flagged me down with this set at Barneys, I huffed, "I just want the LIPSTICK and BLUSH BRUSH!" I never bought that particular brush (Shu Uemura 20) and lipstick (Chantecaille Saturn), because I wandered to the shoe department and lost track of all else.

I had read in Allure's Best of Beauty about the 13G shadow brush. It is wide with a pointed tip, made out of beautiful black and amber striped squirrel hair. "Squirrel hair!" says my sister. "They comb the squirrels," I added hastily, "no animal is harmed in the process." We sniggered over a factory of Japanese women combing a bunch of pampered squirrels. It is really a beautiful brush, and I expected to get no end of use from it. I did not, sucker I am. It is too big, too soft, and yet the hairs are rough. Better for blending, but since when do I need a blending brush in the first place? So, I put 13G up for swap and went to the Shu Uemura boutique to get the fabled 10. Much better, but the ferrule was loose, and I had to come back.

The SA seemed embarrassed that such a thing could happen to a Shu Uemura brush (the gold standard of brushes), and promptly found me another. She paused, and lifted up the set. It was $55, my lone eyeshadow brush was $67. She explained its virtues (I did need that new blush brush still), and again, I was skeptical. Wouldn't the blush brush be too small? No, it is larger and fluffier than the NARS I am currently using, and it never flops around the skin, but spreads well for a spectacular diffusion of pigment that will cut down on blending. Modeled on the 20, but with deliciously soft goat hair. The next brush is a synthetic concealer brush, and I didn't think it would be useful until I remembered I might want to try the dense, pigmented MUFE Lift Concealer soon, and that this would come in very handy. It can be also used for many other things, especially creams. Then came the 10 I wanted, a little squatter but just as versatile in firm, precise kolinsky sable. Use the flat side for washes, the tip for smoking out liner, and if you are deft and desperate, the side will function as a crease. Next came the 6M lip brush, but I figure I know how to put lipstick on by myself by this point. Point concealer? Hm, I rarely break out. Precision detail shadow? Yes, that might work nicely.*

It is a perfect set with perfect brushes, though it would have been even nicer with a liner brush. All the Shu Uemura brushes in this set are of the highest quality, with beautifully tapered bristles that ensure no harsh edges, so you don't waste time blending. The brushes are exquisitely soft on the skin, and yet they are precise. It is hard to describe. They glide over the skin, instead of just flopping a bunch of bristles onto it. It is almost an organic reaction to the contours of your face. I suspect that is what makes Shu Uemura brushes so superior, not only the quality of the hair and construction, but the way they behave with pigment on the face.

Comes in a sleek black pouch for $55, separately, they would cost much more. They are compact, but not minuscule. Available everywhere Shu Uemura products are sold, but it is a Holiday 2007 Limited Edition, so buy now if you are interested. (They seem to have plenty in stock, however.)

* Though now I think the 5R would work much better. The lip brush is ever so slightly scratchy at first, though being natural hair, considerably softens with use.

Labels: beauty notes, brushes, shu uemura
11/03/2008 [1]
Beauty Notebook: Mistura
by Dorothy
I must confess that I've never been a fan of multi-purpose products. I'm used to powder blushes and eyeshadows and creamy lipsticks; I don't like having to mix things. I've been playing with the NARS Multiple in South Beach lately, but most of the time I use it on my cheeks. So when I read about Mistura, I was very skeptical.


Mistura's 6-in-1 Beauty Solution is a fine, mineral-based pressed powder sold as a replacement for/alternative to not only blush, bronzer and eyeshadow, but also foundation, concealer and lipstick. At left, the open compact (which, as you can see, has a mirror). It retails on the Mistura website for $36.99 (I assume that's in American dollars, although Mistura is a Canadian company).

Mistura is sold as "one shade for all"; however, the colour is not far off the blush shades I usually wear, a warm, tawny pink-brown. The Mistura website claims that it "adjusts" to your skintone, but it's far from the first cosmetic touted that way, and in my experience, those claims are usually too good to be true. Hence, I'm not sure Mistura would flatter those with cool undertones. Perhaps it's sheer enough to work.

Because of the warm shade (somewhere between blush and bronze), the sheerness and the fine shimmer, Mistura certainly would work on a variety of warm and even neutral skintones; it will add colour to pale faces and highlight darker ones. Can it really do more than that, though? I was skeptical about the "6 in 1" claim, but gave it a try:


On the left, I am freshly showered, in all my makeup-free glory. Oh, the glamour. (Apologies for the weird faces; it's really hard to do these photos). As you can see, I'm rather shiny, I have some redness, and I have pronounced dark circles under my eyes (somewhat obscured by the flash; it was a toss-up which to show you, the circles or the shine, since I usually wear makeup to deal with both).

I normally wear, at a minimum, brow pencil, undereye concealer and powder.

On the right, brow pencil, black mascara, and Mistura, used on eyelids, as blush, mixed with gloss for "lipstick", and brushed all over the face. As usual, the photo washes out the intensity a bit, but the difference is indeed subtle. I do look a bit more alive and awake in the second photo, which may be all you want if you're into minimal makeup.

As a colour cosmetic, Mistura's very good. I'm not convinced that the colour adjusts to every individual skintone (how would it even do that?), but it's very sheer and subtle. As a blush/bronzer, it's excellent for warm skintones like mine; the colour is natural and flattering, and the shimmer adds light without being glittery or obtrusive. It makes a flattering, subtle eyeshadow, especially for blue or green eyes. Even mixed with gloss or balm, it feels a bit powdery on the lips, which bothers me, but might not bother everyone; certainly, the shade is pretty, a shimmery peach-pink.

I can't see Mistura working as a concealer for any but the subtlest flaws. It's more of a highlighter, disguising minor flaws by reflecting light off them. As you can see, it didn't do much for my undereye circles. Likewise, it tones down shine, but doesn't eliminate it. If you were blessed with relatively shine-free skin, or you like the glowy look, that might be okay; personally, I think I need something heavier-duty.

So, is this a real 6-in-1 product? In my opinion, no. But I have been using it as a blush lately, and if I ever find myself looking particularly sickly this winter, I shall use it to restore some of the colour to my face.

Labels: beauty notebook, mistura
11/02/2008 [3]
Subscribe to
Posts [Atom]. Or
follow on bloglovin'. If
you'd like to contact Dain,
feel free to email me.
I'm also on Pinterest.
Features

The Mnemonic Sense
Most Wanted
The Beauty Primer
Lookbook
Bestsellers
Consumer Diaries
Closet Confidential
On The Label
Beauty Notebook
The Hit List
Color Me In
The Makeup Artist
Wedding Bells
Globe Trotter
Desert Island
perfume notes
beauty notes
fashion notes
culture notes
minimalism
chypre arc
floral arc
fresh arc
masculines arc
gourmands
& orientals arc
Archives

August 2008
September 2008
October 2008
November 2008
December 2008
January 2009
February 2009
March 2009
April 2009
May 2009
June 2009
July 2009
August 2009
September 2009
October 2009
November 2009
December 2009
January 2010
February 2010
March 2010
April 2010
May 2010
June 2010
August 2010
September 2010
October 2010
November 2010
December 2010
January 2011
February 2011
March 2011
April 2011
May 2011
June 2011
July 2011
August 2011
September 2011
October 2011
November 2011
December 2011
January 2012
February 2012
April 2012
May 2012
June 2012
July 2012
August 2012
September 2012
October 2012
November 2012
December 2012
January 2013
February 2013
March 2013
June 2013
July 2013
Images

Photobucket