Announcements
If you're new to this blog, then read our guides to the basics: Skin (Part I), Skin (Part II), The Supernatural, Color Theory I, Color Theory II, Eyes, and Brushes.

Also, check out the blogsale.
Contents
· Consumer Diaries: December 2008

· Perfume Notes: Another 2008 Retrospective

· Perfume Notes: 2008, A Retrospective

· Perfume Notes: Chanel No. 5

· Most Wanted: The Giver

· Lookbook: Snow Queen

· Perfume Notes: Millot Crêpe de Chine

· Beauty Notebook: Dr. Hauschka

· The Mnemonic Sense: Evolution 4.0

· Beauty Notes: "Polaroid Party"

Favored

Art Tattler
the glamourai
The Non-Blonde
Perfume Shrine
Lisa Eldridge
Garance Doré
Smitten Kitchen
Into The Gloss
Grain de Musc
Lacquerized
Res Pulchrae
Drivel About Frivol
The Selfish Seamstress
Killer Colours
Bois de Jasmin
Glossed In Translation
Jak and Jil
Toto Kaelo
Worship at the House of Blues
I Smell Therefore I Am
Food Wishes
The Natural Haven
Messy Wands
1000 Fragrances
Moving Image Source
Wondegondigo
The Emperor's Old Clothes
M. Guerlain
Colin's Beauty Pages
Barney's jewelry department
Parfümrien
loodie loodie loodie
The Straight Dope
Sea of Shoes
London Makeup Girl
Sakecat's Scent Project
Asian Models
Ratzilla Cosme
Smart Skincare
Illustrated Obscurity
A.V. Club
Tom & Lorenzo: Mad Style
Eiderdown Press
Beauty and the Bullshit
La Garçonne
Flame Warriors
Everyday Beauty
Fashion Gone Rogue
Now Smell This
Dempeaux
Fashionista
The Cut
A Fevered Dictation
Nathan Branch
101 Cookbooks
Consumer Diaries: December 2008
by Dain
WATCHING


I am entirely obsessed with the 1941 version (the Bogart one, dur) of The Maltese Falcon. I may have watched it a hundred times this month, possibly. I'm less than fond of Mary Astor (though I suppose she's supposed to be annoying), but everyone else is so top-notch. I particularly adore Peter Lorre. I don't know why I'm always so fascinated by bit players.

WEARING

When I was in school, people just wore sweats all the time, whether to dinner or class, and I made a point to traipse around in heels and dresses. But lately I've really taken to this one from Vanessa Bruno Athé ($109), with enough clever details to make it chic, rather than sloppy, like the uniform of an off-duty ballet dancer. I'm also piqued by the sweater cum tunic cum dress ($318). As someone quite petite, I don't care for the long silhouette, but it might work with a belt, and it looks cozy enough for home and yet not so laidback I can't wear it outside. I may take advantage of the sales at APC, however, instead.

READING
Perhaps as an unconscious antidote to the hardened machismo of The Maltese Falcon, I took comfort in Sense and Sensibility, and occasionally The Handmaid's Tale, which is as feminist as all get-out.

I am sometimes ashamed to admit how much and how often I enjoy Jane Austen. She's frivolous, a fact that that froth of wit does not hide, a fact that she candidly admitted herself. And her views are conservative, a prude through and through. And then there is the fact that guys loathe Austen, unless they study literature as a profession. I sometimes wonder, as someone who has spent more time thinking about books than about people, why we waste our time in the search for purpose of design in literature. When I read a character as splendid as Elinor Dashwood, that is more observation than design, an artist's ability of perception and representation, not an intellectual's monument to his own mind.

Really, what a splendid character Elinor Dashwood is, perhaps I think the kind of person Austen herself aspired to be, whose high standards are rewarded, which I sometimes understand as wishful thinking on Austen's part. She puts up with everyone else's shit, even that sniveling bitch Lucy's. While Marianne suffers, visibly, cruelly, selfishly, and demands our sympathy, we've all been screwed over by a charming but worthless guy, it's nothing out of the ordinary. Elinor is sometimes accused by Marianne of being unfeeling, but she suppresses her emotions because her natural instinct is a selfless concern for others, she doesn't complain because she spend her time listening, and truly, it's a thankless task. She's no less in love than Marianne, and in fact, all that the sisters suffer, Elinor suffers first, and Marianne follows, as if Austen wishes to demonstrate how Marianne's attitude of sensibility is not the more profound for all its exhibitionism. Elinor's experiences are far more poignant, more morally complex. This is, in part, why Austen rewards Elinor with her first love, while Marianne must settle for a second, a fate that many readers have objected to, but which, I am sure, Austen felt was poetic justice. Elinor, who always makes herself secondary to others, should get her first, while Marianne, who puts herself first, must learn to be second.

SNIFFING


I'm surprised to say that Chanel No. 5 has really hit the perfect note this December. Not that it's surprising, like Shalimar it's quite the festive thing for the holidays, but it's surprising that I've come to like it—aldehydes and I are not ready friends, given my predilection for quiet fragrances. But I've got some vintage extrait (found on Ruby Lane for $30), and I've been enjoying it tremendously.

I've also really liked Givenchy III, of which I obtained a vintage sample from a kind POLer. The vintage is closer to Catherine Deneuve but less sweet (an improvement, in my book), an exquisite balance between powder and sweat, flowers and spice, and juicy fruit notes that's cut with the green, green glory of oakmoss, not in the modern strategy of contrast, but so that no one note dominates. The reformulation/rerelease, which goes for about $85, is much more soapy, closer to YSL Y. Either way, both are soft enough for the office but complex enough to delight the fumehead's heart.

EATING

God I crave coconut shrimp.

DAUBING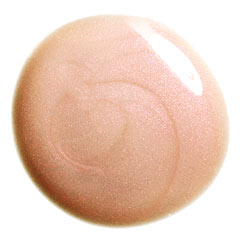 I must have the worst nails on the planet, but you can't mess up Sally Hansen Quartz Chameleon Salon Nail Lacquer ($5.99): it's nude and it's sheer, with a bit of iridescence for interest. It's certainly an antidote to all those dark shades.

I've been using Dr. Hauschka products with some hit-or-miss success; most of the products are excellent, I just don't know if I'd continue to use them on my own steam, except for The Cleansing Cream, my favorite product. If you're curious about the line, I highly recommend the Daily Face Care Kit ($20.95).

I finally got my hands on a bottle of Nature's Gate Herbal Hair Conditioner again, and ack, they've changed the fragrance! It was bound to be divisive (some people hate it), but I thought it was the most fabulous earth-goddess scent; now there's something weird, artificial, and candied about it. It is light enough to be, as I once imagined, a good CO wash, though very much on the heavier side. My hair is so long, however, I like the idea of anything that encourages sebum. I've also been using Bumble & Bumble Dehydration Therapy Complex instead of my usual PHYTO 7. Per use, it's cheaper, but it's not as effective. Actually, it would be nicer if it didn't promote tangling of the damaged ends. When it runs out (might take most of the year), I think I'll switch to Dr. Hauschka Neem Oil.

WISHLIST

I don't need them, just got a new pair of flats, but what an eyeful from Lanvin ($461).

Labels: bumble and bumble, chanel, consumer diaries, dr hauschka, givenchy, jane austen, lanvin, margaret atwood, nature's gate, sally hansen, the maltese falcon, vanessa bruno
12/31/2008 [14]
Perfume Notes: Another 2008 Retrospective
by Dorothy
Unlike Dain, I

was

an ignorant fragrance noob before this year, and in many ways still am. Blogging about perfume has been not so much an effort at educating other people (who am I to do that, after all?) as a record of my own enthusiastic yet clumsy explorations. For other, more seasoned entries, read Dain's entry here, or check out the other Retrospectives:



1000fragrances
Ars Aromatica
A Rose Beyond the Thames
Bittergrace Notes
Grain de Musc
I Smell Therefore I Am
Legerdenez
The Non Blonde
Notes From the Ledge
Olfactarama
The Perfume Shrine
Savvy Thinker
Tuilleries


For years I wore single-note fragrances, if anything: most of these are now of little interest to me, although I retain a soft spot for Demeter's

Gin and Tonic;

it smells like Christmas at my grandparents' house, when my martini-drinking grandfather was still alive. My first "proper" perfume, a couple of years ago, was Tocca

Stella

, an uncomplicated thing despite the list of notes -- aquatic topnotes, musky drydown, orange, orange, orange. It claims to be blood orange, but for the real bitterness of blood orange one has to go to something like Fendi's much-mourned

Theorema

-- of which I just tracked down a full bottle (yes!).

Much of what I've learned has come directly from Dain, although I've also done plenty of lurking on the sites linked above.

What amazes me at the end of this year is how quickly the nose develops when you start smelling a lot of scents. After six months of exploration, I can now detect the orange in

Organza Indécence

; Bulgari

BLV Notte

, which I adored on first sniff, so much that I considered buying a full bottle before my mini was empty, is now oppressively sweet and heavy; I use words like "animalic" and "vetiver" with something approaching confidence, which I would not have done a year or even eight months ago.

Anyway, enough babbling; here is my Top Ten of 2008, the perfumes that I either fell hard for, learned from, or both.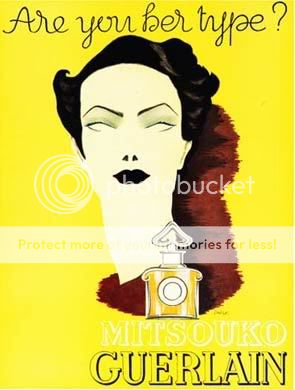 1.

Mitsouko.

Funny that even in this 1938 ad, Mitsouko is presented as something rather harsh, haughty and forbidding (if I read the image right), because it has never struck me as a difficult perfume. Mitsouko was what gave me an inkling that fumeheads might be on to something, since before that, almost everything smelled unpleasantly "like perfume" (read: alcohol and fake flowers) to me, and I imagined nothing complex would ever work on my skin. I put on a sample of the EDP, thinking "this is interesting, but not for me", and then, a couple of hours later, spontaneously noticed that I loved the way I smelled.

Mitsouko is an odd thing on me, chameleon-like, sometimes hinting at white flowers, sometimes at spice cake; usually it's recognizable as Mitsouko, though, a spiced-peach glow, the light that shines through autumn leaves in the late afternoon, in perfume form.



2.

Bandit.

On my skin, Bandit EDT is indeed (as Luca Turin calls it) a "dark and fresh" fragrance, reminiscent of under-lit streets and deep green leaves after an evening rain, no flowers, no fruits, no sugar. Bandit says "do not fuck with me." Bandit is really the ideal thing to wear out to small-town bars where unattractive and overly persistent frat boys follow you around; Bandit makes me feel like I can kick ass. Bandit might also be the first perfume I encountered that truly was not sweet.

3.

Tabac Blond.

I have only a decant of the extrait, but I think this is the sexiest perfume I own; I'm sharp-nosed and flat-chested, cleavage-in-a-bottle scents like Fracas make me feel silly, but Tabac Blond is dark, warm, a bouquet in a leather-bound study, half-hidden in a cloud of cigar smoke. Alas, it has apparently been messed with so much that even the recent version I like may be gone any minute.

4.

Theorema.

I still have an affection for gourmands; they work well on my skin, unlike most fruity florals, which tend to become loud and aggressive, projecting syrup for miles. Theorema is that marvellous thing, a grown-up gourmand, bitter orange, nutmeg and cream; why,

why

was this ever discontinued?

5.

Iris Poudre.

I thought I disliked aldehydes. I was wrong. Hell, I thought I disliked perfumes that smelled "like perfume", and I was wrong about that too. Probably the most "traditional", "ladylike" fragrance I've fallen for, so far.

6.

Songes.

I loved this on first sniff, but was sure I would tire of it. I haven't. It's sweet, yes, but it has complexity and balance; vanilla, banana, dark chocolate, and that full, blooming jasmine over all. My favourite comfort scent, by far.



7.

Bois des Îles.

I haven't had the greatest luck with Chanel scents; so far, they've all had a forbidding smoothness, too perfect, too luxurious, nothing to reach out and grab me. Bois des Îles is the exception; it is so strongly, recognizably sandalwood that the aldehydic touches are decorative rather than definitive; Tania Sanchez described it as being like No. 5's brunette sister, and I think she hit the nail on the head. It hints at gingerbread in the drydown. I could wear this all winter.

8.

Vétiver Extraordinaire.

Swoon. The most dusky, fresh, woodsy vetiver, without the fresh citrus-y touches of Guerlain's; I'd happily wear this myself, yes, but on a man it would be absurdly sexy.



9.

Une Fleur de Cassie.

I have a huge crush on the Frédéric Malle line; I've yet to smell one of these I disliked, and several of them (as you see) I adore already. To me, this one smells like a young cousin to L'Heure Bleue; that same almost-edible floral sweetness, lightened, freshened, and utterly radiant. It's nearly impossible for me to describe Une Fleur de Cassie; it's more of a chord than a succession of notes.


10.

Lolita Lempicka.

A certain lack of taste on my part? Maybe. But my skin seems to absorb most of the Angel-like super-sweetness in this fragrance, leaving only licorice, 7-Up fizz, baked apple, and a touch of salt. I couldn't decide on first wearing whether I loved this or hated it. Now I'm confident: it's love.




What next? I have entered a masculine/unisex phase; I love

Le 3ème Homme

and wear it frequently, Caron's

Pour Un Homme

has persuaded me that I actually do like lavender, and Dain has promised to send me a decant of my other Guerlain love-at-first-sniff,

Jicky.

Also, I think I shall have to buy a bottle of Mitsouko at some point; I've found a Canadian distributor I like (Enchante Perfumes) and I'm very tempted by the tiny bottles of parfum.

Labels: annick goutal, caron, chanel, fendi, frederic malle, guerlain, lolita lempicka, perfume notes, robert piguet
12/29/2008 [2]
Perfume Notes: 2008, A Retrospective
by Dain
In some ways, perhaps everything I have sniffed belongs in this article, because I've only become a fumehead for this past year. So, my picks are admittedly those of a neophyte, but if you've abandoned the idea of a signature scent and don't know where to begin, I'll make some attempt to summarize my trajectory to earthly nirvana. Please read the other submissions, including Dorothy's on this one, on these other excellent blogs.



1000fragrances
Ars Aromatica
A Rose Beyond the Thames
Bittergrace Notes
Grain de Musc
I Smell Therefore I Am
Legerdenez
The Non Blonde
Notes From the Ledge
Olfactarama
The Perfume Shrine
Savvy Thinker
Tuilleries


REVELATIONS OF 2008

In high school, my signature was Givenchy Organza Indécence, a sort of vanillic orgasm with honeyed depths. Much to my delight, it's got something of a cult following these days. But, I can't bear to be in the same room with it now. Gourmands are that which we cut our teeth on. But no longer. The sweet stuff equals instant headache for me now, though I still enjoy Guerlain L'Heure Bleue and Frédéric Malle Une Fleur de Cassie and little whiffs of Serge Lutens.

Not that I was an ignorant noob, exactly. For the longest time all I ever wanted, perfume-wise, was a bottle of ultra-exclusive Serge Lutens Tubéreuse Criminelle, which is relatively advanced compared to the average consumer.
I knew I liked tuberose, after having worn Michael Kors successfully to its very dregs. I tried, and failed, at Robert Piguet Fracas. (Perhaps it would be wise to try the parfum, which is likely to wear more closely on the skin.) And I discovered that I don't particularly care for loud, florid perfumes. Now that I have the coveted bell jar, I find, considering the ridiculous ordeal required, I'm not sincerely interested in a repurchase. It also seems I've graduated from flowers, as well. Because to paraphrase Chanel, why bother with anything less than proper perfume? Given a choice, I'd rather wear Guerlain Après L'Ondée, which is only a faint floral echo (of YSL Paris), and Guerlain Chamade, which is only technically a floral, but the fact of sniffing reveals something vaguely but very green, with strong oriental tones. Florals, I find, tend to play up conventionally feminine roles, so they have social functions for me: pretty but inoffensive Après L'Ondée to an interview, whereas a date might call for youthful, fresh-faced, girl-next-door Chamade.

And as it turns out, I'm all about the green. When I discovered Michael Edwards' wheel, I had to laugh out loud at the absurdity of it. Practically all of my favorites fall neatly into one category: aromatic woods/vetiver? check. oakmoss/amber? check. dry woods/leather? check.


Why these fragrances in particular? Gourmands and florals may have conventional appeal down pat, but I admire chypres for their intelligence, and identify with their introversion. The luminous wit of Guerlain Mitsouko has become the favorite of favorites, which, coming from a fumehead, is like a lover of literature saying that they like Shakespeare. But intelligence has many aspects, you know. There's the monastic tranquility of Frédéric Malle Vétiver Extraordinaire, a vetiver of incomparable polish, the wordly luxuriance of Chanel Cuir de Russie, a suave combination of leather and iris.


And then there's cynicism, the bitchy, darker, more aggressive half of introspection, actually far easier to pursue. Once I realized that I'd grown tired of the mass appeal of gourmands and florals, weird, transgressive, jolie laide perfumes drew my attention initially, not chypres. Musks got me nowhere, what with anosmia to the synthetics (Serge Lutens Muscs Koublaï Khan smells like NOTHING, I'm serious), while the raunchy fullness of civet is usually buried by a deluge of gourmand notes (Guerlain Jicky is a good example), and clean musks are plain nasty chemicals, laundry detergent. I had better luck with spices, but in deference to conventional tastes were highly dosed with sweet, Shiseido Féminité du Bois, for example. It was Caron Coup de Fouet that finally offered sufficient fire, that hyper-eugenol, peppery carnation. That ought to have clued me into YSL Opium, which eclipses Coup de Fouet entirely, but its overly commercialized reputation turned me off. Fool!
How could I have ignored Opium? As it turns out, it's perfect: sexy, because it's so spicy, languid, because it's drier than sweet (compared to something like Shalimar), but thanks to a blank, hard core of soap, the composition doesn't fall apart. Then there were the black, gender-defiant leathers, in the vein of Robert Piguet Bandit and Caron Tabac Blond, but in spite of their reputation, the very ladylike and proper Cuir de Russie is much more satisfyingly leathery. I mean, if you're going to wear something surreal and aggressive, and I speak to you, animalics, spices, and leathers, why not go all the way? Otherwise, it's nothing more than a posture. It wasn't until I met Vero Profumo Onda, which I still hope to own, that I met the perfect sinister, macabre, black perfume.

In an odd way, Onda and Opium play a social role, too. Après L'Ondée could not be more a marked contrast to Onda, but while one says "yes, we can!" and the other, "fuck you", they're kind of opposite reactions to the same question. Likewise, if Chamade is what I'd wear on the first date, Opium comes out for the third. Who says the superficial cannot be revelatory? The unconventional could perhaps be construed as the social instinct turned selfish. And what does my taste reveal about my character? As much I'd like to sneer at idealism as a gesture reinforcing conventionality, and as much as I'd slaver over any posture of unconventionality, is it really me? As it turns out, it's the neutral, quiet, thoughtful perfumes that win out for me.

Finally, my latest discovery, which has taught me to try, and try again, and keep always an open mind: Chanel No. 5. Though it took the extrait to get me. And in the cycle of eternal return that is any obsession, we've come back to florals.


LIST FORMAT

Ah, this is delicious. Certainly superior to other things I've sniffed. I wonder why. Corresponding fragrances for me: Givenchy Organza Indécence and Michael Kors.
What is this that I like? Vanilla? Tuberose? Maybe there are other perfumes with these notes worth exploring. Better, even. Ooo, who's Serge Lutens? Corresponding fragrances for me: Robert Piguet Fracas and Serge Lutens Tubéreuse Criminelle.
Overdose. Hm, sweet stuff kind of sickens me. Hm, florals don't offer up much substance. I want something less obvious. The bizarre, the intellectual, the niche beckon. I have discovered the world of chypres, leather, animalics, and spices. Samples and decants proliferate. Corresponding fragrances for me: Guerlain Mitsouko, Chanel Cuir de Russie, Frédéric Malle Vétiver Extraordinare.
The most important lesson of all: wear perfume for oneself, not for others. Forget that "which perfume do men find most sexy?" crap!
Settle within boundaries. Don't jump at a new release, just because it's new, or features some exotic note. Nor should I get carried away by reputation and snobbery. Sometimes, a commercial bestseller has good reason for its popularity, and sometimes those that have acquired cult status are not what you might imagine them to be. Corresponding fragrances for me: why did YSL Opium languish in willful obscurity?
Who says the superficial cannot be revelatory? About human nature, about our own natures. Corresponding fragrance for me: Vero Profumo Onda, a marvel, but how/when/why would I wear this? Still want some.
Never give up on any juice. Keep an open mind, regardless of anything other than what lies right before your nose. Wear it on skin, try different concentrations, and seek out fine vintages. Corresponding fragrance for me: Chanel No. 5.
THE FUTURE


Annick Goutal Encens Flamboyant: It's about time I found an incense I really like! Not a floral-incense like Chamade or Caron Parfum Sacré. Normally, incense is so rich and heavy, but Encens Flamboyant is as weightless as smoke. Plus, that smoky iteration of the girly flacon is so appealing.
Serge Lutens El Attarine: Someone explain to me why the Paris exclusives are so superior to the export line? Serge Noire? Ick. El Attarine. Weird, but sublime. Leather and apricots. Kind of an orientalized version of Theorema, perhaps. Not much chance of my getting my hands on this though.

Guerlain Djedi: Just want to try it.
Robert Piguet Fracas and Guerlain Shalimar: Things that haven't worked for me before that might be worth revisiting in parfum concentration.
Frédéric Malle Un Lys Mediterranée: What I want for the warm weather, since I've got Eau de Guerlain to cover my (very rare) cravings for citrus. Though Donna Karan Gold is very similar and... much cheaper.
Guerlain Parure: Why did they discontinue this? It makes Le Parfum de Thérèse look gauche in comparison. And what an astoundingly gorgeous bottle (shown at left). I'm not into anything remotely fruity, but I'd buy Parure simply for the bottle.

Labels: annick goutal, caron, chanel, frederic malle, givenchy, guerlain, il profumo, michael kors, perfume notes, robert piguet, serge lutens, shiseido, vero profumo, ysl
12/29/2008 [6]
Perfume Notes: Chanel No. 5
by Dain
Jacques-Louis David, The Coronation of Napoleon (1806).


People are apt to complain about Chanel No. 5. It's too big, too recognizable, it's kind of the Tracy Lord of scents, caught right between the grand and the grandiose. You'd have to be gauche not to admire No. 5, but secretly you might resent its hard, perfect glamour. It's been a bestseller for 90 years, known in the vernacular as "le monstre". If you read reviews on No. 5, the most salient refrain is that label—"old lady", or "vile old lady", or occasionally a euphemism, "timeless". And, in a way, it's true. No. 5 hardly conjures up the playful vision of Estelle Warren's youthful vivacity or even Carole Bouquet's sultry whisper: "Tu me détestes n'est-ce pas? Dis-le... dis-le que tu me détestes." (Let us not speak of those awful, awful Nicole Kidman advertisements.)




But then, perfume is above all aspirational. Most people wouldn't know an aldehyde from a hysterectomy, so in part those miraculous sales depend a great deal on No. 5's reputation: the Chanel name, because Marilyn Monroe wore it to bed, and maybe your mother or grandmother wore it out to parties, No. 5 clinging to her furs. But in spite of its ubiquity, historical iconicity, and cultural status, anyone who expects a mere perfume to catapult them into the heights of glamour, to become one of those girls in the commercials, is liable to be disappointed. Aspiration plays tricks on those who know, too. Ernest Beaux's overdose of aldehydes may have been revolutionary in 1921, but by now there's so much in its wake, you can hardly see No. 5 for all the turbulence. So many perfumes smell of aldehydes, in fact almost all of them do, that fumeheads, who often pride themselves on tacking a course to unknown lands, draw a disappointed blank—they complain it smells too "perfumey", old-fashioned at that. We cannot ignore these prejudices in a discussion of No. 5, but as I sniff at my vintage extrait, I am struck, to put it as simply as possible, by its beauty. What other imperative matters?


Its heart is so lush and fine, the parfum features true jasmine de Grasse and rose de Mai (shown at left), from Chanel's own fields in the south of France. The resulting bouquet is well balanced, but the heady, indolic character of jasmine is perhaps more prominent than the salty austerity of rose, because the supporting notes cast a warm glow on the whole: a candied floral top of neroli and violet (the latter, I am guessing, is C12), the tropical humidity of ylang ylang, and a sumptuous vetiver-amber drydown, supplemented by creamy sandalwood and a hint of animalic musk. What makes No. 5 tick, however, is that slug of aldehydes that hits you straight from the bottle, which according to Elena's sagely informative discussion on aldehydes are of a specific kind and quantity. The effect of aldehydes is not unlike that of a bottle of champagne, what Jimmy Stewart calls "Cinderella's slipper" (hic!): the powdery, pearl-like, waxy texture, the volume of its sillage, a scintillation of candlelight gleaming off endless silver. Like other successful ventures, No. 5 has a string of direct imitations—the floral clarity of Jean Patou JOY, the downy softness of Lanvin Arpège, the fantastically warm, woody tones of Caron Nuit de Noël, Guerlain Véga and Liù, orange-tinged and austere, and even Chanel's own flanker, Eau Première, less floral with a high, metallic powderiness—these are all excellent perfumes, but the original stands head and shoulders above them all, the smell of pure, invulnerable charisma. If Napoleon were alive today, and sexism didn't enforce such rigidity of habit, he'd carry off Chanel No. 5 to perfection.


I've long resisted Chanel No. 5, because neither a floral bouquet, and certainly not one that features jasmine, nor strong aldehydes really appeal to my personal taste. But while the EDP is hardly a pale rendition, the parfum is revelatory, a glorious skin scent that banishes the trace of harsh, urine-like indoles that mark the EDP. Stylistically, the infamous aldehydes remove No. 5 from the raw, natural beauty of Caron Bellodgia, which smells exactly like a Provençal flower market, but in the parfum at least, the quality of jasmin de Grasse (shown at right) is not the least bit obscured, just abstracted. A dab of Chanel No. 5 transports you into a world free from the taint of cynicism, which, in my view, is the idea behind a floral perfume in the first place, like some magic universe populated by fantastic heels that never, ever hurt, that instant transformation of the ordinary to the regal. Is this an alchemical subterfuge? Most assuredly. Is it also a carefully designed, tightly controlled propaganda machine that uses imagery like Marilyn Monroe or Catherine Deneuve to boost sales? Absolutely. Is it accessible and easy to wear? Surprisingly, no. And not in that elusive, intellectual way of Guerlain Mitsouko, but more akin to a tiara: Chanel No. 5 seduces the inner princess in all of us.

OTHER REVIEWS
Now Smell This
Basenotes
Makeupalley

Labels: aldehydes, caron, chanel, ernest beaux, guerlain, jacques-louis david, jasmine, jean patou, lanvin, napoleon bonaparte, perfume notes, roger vivier, rose, the philadelphia story
12/28/2008 [2]
Most Wanted: The Giver
by Dain
I couldn't say what might be the best or most emblematic novel of the 90s; it is perhaps too soon to tell. Ideas are powerful, but they permeate the public consciousness with agonizing slowness, and to pick out the novel that personifies a decade and anticipates the attitudes to come is difficult in retrospect, but even harder when the time is too present to now, even though the 90s are the only decade with which I have any personal experience. So I've simply chosen one that almost everyone reads, Lois Lowry's dystopic vision of the dangers of conformity. It's a short book that's targeted at middle-schoolers, so the symbolism is rather heavy: eyes signify the next Receiver of Memory, the women who are treated like queens whilst fertile then abandoned as soon as they've vomited out enough babies from their vaginas, the way the red sled opens Jonas to the world of the senses. And yet The Giver works on the reader slowly. At first, Jonas' world seems like a paradise, devoid of ugliness and pain, of hate and war, of prejudice and greed, and without anything to signify time or place, so that it also feels comfortable and familiar. This has been accomplished by a relentless, bland strangeness; everyone is genetically engineered to look alike, and troublesome individuals are "released", which we eventually understand is euthanasia. All the members of the society are kept entirely ignorant of mankind's complex, violent past, except for the Receivers of Memory, who alone know of the reality of this falsely created, tightly controlled existence, and this is the job to which Jonas is assigned. As Jonas learns the truth behind their society, he is rightly horrified, not only by the evil that pervades history, but also how conformity has blocked all the great and wonderful experiences out of human possibility, and his resolve to save the unwanted infant Gabriel, designated to be released because he won't stop crying, largely indicates his resolve to change the world, his choice in favor of a human experience that mixes pleasure and pain to one that cannot recognize truth, freedom, and individuality. The Giver's ending is ambiguous, Jonas and Gabriel bike out into the cold and are soon exhausted, but Lowry has written a couple of sequels, neither of which I have read, that further details their adventures.

Want to check out the other decades?

The minimalism that dominates the 90s is all about silhouette, but this Stella McCartney sweater dress($896) demonstrates how texture can add an extra dose of emphasis to the lines of an otherwise simple shape, and who doesn't enjoy a little winter white on a chunky knit, especially with a Diesel's lingerie-inspired, grungey tie-dyed slip dress ($139) underneath? (Oh, the 90s.)


Since minimalism depends on a simplicity of line, its textures should always feel luxurious. Slim, walkable, and completely pared clean of any unnecessary details, these timeless boots from A.P.C ($680) counters practicality with sumptuous chocolate leather.


A sort of refined, organic variation on the classic rapper aesthetic of a chain for bling, I absolutely love the simplicity of wearing no other jewelry but this Lucifer Vir Honestus Micro chain ($4740). (I really, really want this.)


Bobbi Brown is the queen of the 90s, and her eponymous brand (one of the first makeup artist lines) has certainly burgeoned since the days she set out with ten lipsticks in naturalistic hues. If you're looking for just a taste of her unfussed, pretty-girl aesthetic, consider the Mauve Face Palette ($55); its shades, tied together with a great blush (Brown is, as I am, a proponent of the instrumental status of the right shade of blush), will look great on a wide variety of colorings.


Would any analysis of the 90s be complete without a touch of logomania? We've still got the occasional It-Bag, but the fashion elite have finally begun the exodus towards the land of milk, honey, and self-conscious anonymity. But somehow, perhaps because of cleanliness of this outfit, this iconic Gucci bag ($750) feels timelessly smart. It probably helps that this is most likely a 70s reference, unlike the multicolored Murakami LVs. Plus, the bag picks up on all these soothing, muted neutrals.

Labels: apc, bobbi brown, fight club, gucci, lois lowry, lucifer vir honestus, mos def, most wanted, stella mccartney, talib kweli
12/27/2008 [5]
Lookbook: Snow Queen
by Dain
Like any other mode of consumption, makeup tends to fall into accustomed grooves, which have been documented by the classic Lookbooks. Outside of, say, magazines editorials, these are the looks most frequently worn and used, because women prefer to look like themselves, albeit a dream self, even when it comes to dramatic looks like red lipstick, rather than let the makeup take over. Inexorably, however, we must inevitably consider experimentation with exotic looks, but let us start with a baby step, the eyeshadow equivalent to nude lips. Alternatively, if the idea of an exotic, dramatic lip intimidates you, blank shadow provides a fresh, simple counterpoint that's easy to master.



While white is undeniably a very clean look, to my eye it is quite a bold, striking one, much like the title. So fresh, after two endless decades of smoky eyes parading down the red carpet. What makes this look work: there is no sparkle just a subtle shimmer like fine satin, concentrated on the inner corner of the eye but elegantly faded elsewhere. It is also delicately edged with black, so it avoids looking messy—black lashes, black liner—but no liquid drama, instead the almost old-fashioned softness of powder, applied closely, densely, serving as an outline, no more. The perfect product? NARS Pandora Duo, though I prefer the soft, lavender-tinged ivory in Tokyo.

The look above employs a soft golden pink lip, like Guerlain Kiss Lipstick in Rose Malicieux, but if you prefer a strong lip, balance the blank lightness up top with a semi-sheer berry like Chantecaille Titan, or give it a graphic punch with magenta. Reds of any description would also be suitable, if more conventional. A milky peach would be very soothing on a warm complexion, plummy violet on an olive one, and of course, as the picture suggests, pink is failsafe for cool skins. As for blush, just the barest hint of pigment is sufficient, just enough for a wintry glow, because a strong flush is likely overwhelm the delicacy of the look. But no bronzer, and absolutely do not attempt on a fake tan; this would look strangely muddled and off-putting on the healthy haze of a tan.

If you are very pale, white may not be so different from your skintone to effect the proper drama on its own, in which case I do suggest sparkle, such as Shiseido Whitelights Hydro-Powder or Urban Decay Polyester Bride. But on dark skin, white may be a little too dramatic, in which case a beige might do—not silver, which has a mood all its own—beige will evoke that strange blankness far better on deep skin.

Labels: chantecaille, guerlain, lipstick queen, lookbook, nars, shiseido, urban decay
12/25/2008 [0]
Perfume Notes: Millot Crêpe de Chine
by Dorothy
I haven't posted in nearly a month! I plead law school exams. Now that I am done trying to wrap my head around

lex loci solutionis

, coverture, and the "kiddie tax", I can happily return to frivolities for a while.

One of Dain's marvellous series on perfume is called "The Mnemonic Sense", and indeed, one of the most enjoyable things about this newfound perfume habit of mine has been attaching names to memories. My father's female colleagues wear Coco and Chanel No. 19; Angel brought back vivid memories of high school; Poison is the unmistakable scent of office parties. I recently bought a mini of Jean Patou Cocktail (sadly discontinued), opened it, and was transported back to my grandmother's closet.



When I smelled Y by Yves Saint Laurent, I was immediately reminded of my mother, so strongly that I was sure she had worn it at some point in my childhood. When I asked, I found out she had never worn it; the perfumes she mentioned wearing were Jean Couturier Coriandre, which has apparently been reformulated, and Millot Crêpe de Chine, discontinued in 1968 and since re-launched by Long Lost Perfume.

My mother seldom wears perfume or makeup; aside from a fondness for L'Occitane, she isn't really interested in cosmetics at all. I buy my mother's stocking stuffers every year and I have bought her a small bottle of the re-launched Crêpe de Chine EDT, which I could not resist sniffing before I wrapped it. (My mother doesn't read this blog.) Although I can't compare it with the original, this is a recognizably old-fashioned scent; sparkling bergamot and orange rapidly give way to a velvety soft, powdery rose on a dusky woods base that reminds me of Habanita's. I smelled it and thought, of course my mother liked this. It's politely soft-spoken, classic, a scent for feminine introverts, and like Y, it's youthful (my mother must have worn it as a teenager, after all) without being sugary or childish. If Chanel No. 5 is a black sheath dress, this might be a soft green one.

To me the current Crêpe de Chine is a little too well-mannered; I prefer the slight sharpness of Y, the bitterness of Bandit, the spicy glow of Mitsouko. In context I suppose it isn't surprising; I'm quite similar to my mother, but I've always been more impulsive, more opinionated, sharper-tongued and hotter-tempered -- more than my mother was at my age, as she recalls. Amusing that our taste in perfume should follow.

More on the scent (vintage and re-release):

Now Smell This
Basenotes
Bois de Jasmin (brief mention)
Perfume-Smellin' Things (brief mention)
Makeupalley

Labels: long lost perfume, millot, perfume notes
12/24/2008 [0]
Beauty Notebook: Dr. Hauschka
by Dain

Much appreciation for the folks at Dr. Hauschka for sponsoring this Beauty Notebook.

This is a brand, among the few, that has made a significant impact on the way I think about beauty, on how important it is to take care of the skin, not by spending hundreds of dollars on the next great miracle, but by doing it the old-fashioned way, with a lot of respect. It's called skincare, after all. In this respect and many others, Dr. Hauschka is a conscientious company, long before it was trendy to be green. Each product is made with the utmost care, from ingredients grown organically on their farm in Germany or fair-trade shea butter or argan oil, and the company gives back to charity. The aromas are consequently somewhat queer, like fermented botanicals, but personally I like them; they smell naturally and honestly acquired, rather than dosed with synthetic perfumes. You won't see results right away, but if you know anything about skincare, you know that's often not very reliable. The products are quite basic if slightly unusual, but more importantly, they work with the skin rather than against it. The number of celebrities who use Dr. Hauschka is appalling: Lauren Bacall (!), Kate Moss, Brad Pitt, Cate Blanchett, Jennifer Aniston, Keira Knightley, Cher, Annette Bening, Kirsten Scott Thomas, Mira Sorvino, Daria Werbowy, Emily Watson, Jerry Hall, Helena Christensen. Considering that this is a line that doesn't advertise itself a glamour-brand, we can surmise that performance, which matters most to people who essentially live or die by their skin, is what wins out.

All the same, I've never really taken to Dr. Hauschka, though the Facial Toner and Lip Balm are the best on the market; after playing with samples, the creams were disappointingly inelegant, and I was allergic to the almond meal in the Cleansing Cream. Yet I find myself drawn to Dr. Hauschka again and again, hoping that its intelligent strategies will someday click for me. There's no playing up to oil or wrinkle phobias, and the emphasis is on good, precise cleansing that balances the skin, while moisturizers play a minimal role. Indeed, Dr. Hauschka recommends not using a cream at night, to give the skin an opportunity to "breathe" and purge itself of toxins, that the lack of moisturizer encourages sebum production, which I tried for a week and gave up—my skin is just too raw in winter to go without.

It's a bit of a frivolous extra, but the uplifting aroma of really fine lavender and the water-softening properties of the Lavender Bath ($29.95), just a couple of drops in a basin of warm water, is a lovely way to begin your skincare routine.

The Cleansing Cream ($23.95) is perhaps the linchpin of the Dr. Hauschka regime. It is a paste formed on almond meal, water, oils, and botanical extracts fermented in natural (ethanol, not isopropyl) alcohol. Mixed with a little water, the almond-meal turns magically creamy on the skin, which you "press and roll" onto the skin, and the stuff sucks up oil, dirt, and loose flakes which rinse away with water. A selective exfoliant, in other words, a subtle and supremely gentle purification for skin too sensitive for AHAs or scrubs. I've tried to make my own, since I go through a single tube much too quickly for comfort, but the resulting formula was so active I broke out in hives. Along with DHC Deep Cleansing Oil, this is one of the best cleansers on the market, especially for congestion and oil imbalance (the DHC is more makeup-removal oriented). Alternatively, you might prefer the Cleansing Milk ($33.95), a somewhat more standard lotion cleanser marketed as a makeup remover. It's chock to the brim with healthy, soothing ingredients (anthyllis extract, jojoba oil, bentonite, and fermented grain extract), and I like to massage a dollop onto dry skin and wait a bit for it all to absorb, like a cleanser-mask, which helps the Cleansing Cream slough off the nasties better, with plenty of slip when used on damp skin. As a makeup remover, it's only so-so. Though they are intended for different use, I think the Cleansing Cream is the superior product.

Normally, I will have nothing to do with toners, they seem quite useless, but I do enjoy using the Facial Toner ($31.95). It's just a little witch hazel and anthyllis extract in a mixture of water and alcohol (again, ethanol not isopropyl), with a lovely smell that oddly inspires more positive feedback from those around me than all of my perfumes put together, plus, it comes in a spray bottle so you needn't waste any on cotton pads. If I recommend a toner at all, it is always this one.

That's pretty much it. Dr. Hauschka's got a slew of moisturizers tailored to a range of skin types, but they essentially recommend this routine for all and sundry, with moisturizer almost an afterthought. I ended up picking the new Rose Day Cream Light ($39.95), an elegant-textured cream that absorbs readily (unlike the original, which tends to sit atop the skin) and leaves a matte finish. The smell is such a lovely, sweet rose, and one tube reportedly contains a full thirty of them (!). There's also much else going on: sesame seed oil, alcohol, marshmallow extract, rose water, rose extract, anthyllis extract, apricot kernel oil, sweet almond oil, cetearyl alcohol, bentonite, avocado oil, beeswax, wheat germ oil, lecithin, rose hip extract, and rose flower wax. Unfortunately, this is not the most appropriate seasons for anything termed "light", not for my parched skin, but it's still an excellent product for normal and combination skin that tends towards dryness.

Finally, it's important to note that the products work in tandem, with your skin and with each other, which is what Dr. Hauschka describes as holistic skincare. This is not entirely designed so that you feel required to buy the whole line, but because the whole regime hinges on what I call "oil therapy", which maintains that the proper amount of oil is imperative for healthy. The botanicals make your skin look bright and healthy, but the real magic is in the oil balance. If you have oily, congested skin, this may seem like madness, but in fact, a clogged pore is caused by an agglutinization of excess dead skin cells with oil. On this premise, many use use harsh scrubs that dry out the skin, which impairs the performance of the skin, and the skin reacts by the overproduction of sebum. Trying to conserve my tube of Cleansing Cream, I tried to restrict my use to once every few days, and noticed that my skin has becoming more congested. I realized then why Dr. Hauschka hadn't really worked for me before: the Cleansing Cream is crucial, it gently purifies the skin, while the oils go to work rebalancing sebum production, and together, over a long period of time, they loosen longstanding congestion.

Labels: beauty notebook, dr hauschka, skin
12/23/2008 [4]
The Mnemonic Sense: Evolution 4.0
by Dain
Perfume wardrobes evolve as we go; an olfactory education is like any other, it demands passion, time, good directions, common sense, and a little money, in about that order of importance. There's an initial period of ignorance, then an epiphany, usually a gourmand, accompanied by strange visions flickering on the inner black of the eyelid, which, like the taint of experience, never will leave you, so you might as well embrace it: you discover white florals, detect the rhythmic beat of amber behind orientals, then converse with the austere, intelligent chypres, and... it never really ends.

I have a weird complex when it comes to "stuff", though. In spite of a decided weakness for objets d'art, I'll admit I lack the collector's spirit, the lone exception being NARS duos. In fact, I loathe clutter. No matter how beautiful, how rare, how inexpensively acquired, anything that just gathers dust is useless junk, inescapable evidence of failed consumerism. It's difficult to assess what you will in fact need and use, but luckily, native arrogance preserves me from that consumer trap: you can't buy confidence. So, at present nine or so perfumes contend for permanent positions within my fragrance wardrobe—yes, nine—more juice than honest need, but enough for variety's sake. Besides, I'm so picky, o, about everything, there wouldn't be so many that will win out at the end in the first place. I haven't made any attempt to be comprehensive, since I'm not one to wear citrus, only that each and every one have a distinct and individual character, since you don't want them to overlap. All the same, I daresay there's a certain congruence between them, but I'll be damned if I know what it is. There's a certain amount of symmetry, though imperfect, that hints at my desire to avoid redundancy. The first three on the list are fresh-textured and more conventionally sociable, while the last three are quite dense with a far darker attitude. Après L'Ondée is perhaps the most universally pleasing of perfumes, even those who dislike perfume, whereas Onda is the one most likely to antagonize. When I go out, I'll likely wear Tubéreuse Criminelle or Opium, but one is come-hither while the other is more of a mind-fuck. The three perfumes in the center, Mitsouko, Chamade, and Cuir de Russie, are especial favorites (green floral, chypre, and leather). Mitsouko is the closest thing to a signature scent I have, while the other two provide alternatives more optimistic or pessimistic as the mood dictates.

I don't know how to figure Vol de Nuit, Parfum Sacré, and Jicky into the schema, so this remains a work in progress.


When a quiet, inoffensive perfume is more desirable, what the French call bon chic bon genre, I find myself drawn to Guerlain Après L'Ondée, a fragile, dawn-like core of heliotrope delicately embroidered with violets, roses, and carnations. Such delicacy is never in any danger of overwhelming its wearer and her surroundings, and yet its wistful charm refuses to turn stale. Instead, it only grows increasingly delightful with every wearing, truly the hallmark of any perfume worth keeping, in spite of initial disappointments. Après L'Ondée captures that shift in temperature, believe it or not, after a rainstorm, especially after a sludge of oppressive weather.

OTHER CONTENDERS: Narciso Rodriguez, Hermès Osmanthe Yunnan, Hermès Eau de Merveilles, Guerlain Chant d'Arômes, but let's be honest, I like Après L'Ondée best; some perfumes pay it homage, but nothing comes remotely close.


Normally, I revel in complexity, but perhaps because of vetiver's unspoken presence in most every great perfume, I don't mind when simplicity gives this grise éminence its full due. There's something truly wonderful about the tranquil purity of Frédéric Malle Vétiver Extraordinaire, like the peal of morning bells in a sleepy little town. This is full-frontal vetiver, in all its spicy-bitter-verdant-nutty glory, a fuzz of grey pepper and a handsome undercurrent of dry, blond woods. For all its spartan outlines, Vétiver Extraordinaire is a true gentleman, its manners polished to perfection by cashmeran (nude, not naked), and its crisp, stern presence that makes it a lovely alternative to colognes on sticky summer days.

OTHER CONTENDERS: Dior Eau Sauvage, Guerlain Eau de Guerlain, and Guerlain Vetiver, but you know, I am not fond of the bitter quality of hesperides, which feature abundantly in all three, but of course, Guerlain's Vetiver is far cheaper.


A lush floral, especially in white, is conventionally pretty, as much a part of the arsenal of feminine flirtation as a pair of heels, a liberal spritz to make male eyes roll back in their heads. It doesn't always have to be as sultry as my favorite thus far, Serge Lutens Tubéreuse Criminelle, a sort of latter reinterpretation of Fracas, perhaps the paramount exploration of the tuberose's toxic allure, I could certainly conceivably wear something lighter and more innocent. Ideally, I want something accessible (as opposed to the gymnastics required in obtaining a bottle of Tubéreuse Criminelle) and not too expensive; though I'm usually not a floral girl, I go through a good one quickly, and I'd hate to hoard.

OTHER CONTENDERS: Caron Bellodgia, Houbigant Quelques Fleurs, Lubin Nuit de Longchamp, Guy Laroche Fidji, L'Artisan Parfumeur La Chasse Aux Papillons, L'Artisan Parfumeur Eau de Liane, Shalini, Robert Piguet Fracas, Fréderic Malle Carnal Flower, Estée Lauder Tuberose Gardenia, Guerlain Mahora, Annick Goutal Songes, Montale Jasmin Full, Etat Libre et Orange Jasmin et Cigarette, Serge Lutens A La Nuit, Serge Lutens Sarassins, Serge Lutens Un Lys, Donna Karan Gold, Parfums de Nicolaï Eclipse, Diorissimo. So many options, some sniffed and some unsniffed and even some removed from the list, but I'm especially inclined towards Bellodgia—pretty but not boring, clean but not prudish.


Guerlain Chamade is officially the only Guerlain I fell in love with at first sniff, which is obviously no final indicator, since the house dominates my list. The serenity of green florals, underscored by the deep, meditative calm of sandalwood—my preciousss. The dense, opalescent heart of hyacinth is closer in spirit to chypres than florals, and provides a youthful, more free-spirited alternative to Mitsouko, the perfume I love best. What makes Chamade so remarkable, other than my natural affinity to anything green, is its evolution: a gradual yielding, a cold, blank, creamy surface that flickers slowly into the hue of living flesh.

OTHER CONTENDERS: A green chypre like YSL Y or Givenchy III might be nice (and cheaper), if the supply of vintage Chamade runs dry, though there a couple of other hyacinth-based scents out there—Annick Goutal Grand Amour, Gucci Envy, Parfums de Nicolaï Le Temps d'Une Fete—but they lack the depth and intrigue of Chamade. Fréderic Malle Lys Méditerranée may also be another option, though it's got a definite summery feel.


The Greek word ποιεω merely means "to make, or do", as generic a verb as one can imagine, but its nomen agentis, which remains relatively undisturbed in English, has a very specialized meaning, the most rarefied form of creativity: poetry. The ancients believed that inspiration was some seven-foot tall, white-armed goddess sneaking up behind you and breathing some of her essence into your grosser mortal soul, which is why epics still plead "sing to me, o muse", and to put it simply, Mitsouko is the bottled effluvium of that divine inspiration, still redolent with ambrosia and decaying paper. As a perfume, it is quite pale and unfinished in aspect—unripe peaches, bland spices, faded flowers, the strange and musty oakmoss character—and by nature, deeply introverted, the secrets of its heart shuttered from the world. Like all old gods Mitsouko demands human flesh, but on the right skin it blooms into a quiet, witty luminous chypre that is, simply put, the best perfume ever made.

OTHER CONTENDERS: Are you kidding? Mitsouko and Mitsouko and Mitsouko. Next time, I'll upgrade to parfum.


The glory of the house of Chanel is sadly lost on me, because its signature aldehydes lend an extroversion that sits uncomfortably on the skin—and I am no extrovert. But two in particular I especially enjoy as palate cleansers: Estée Lauder's White Linen, which is to aldehydes what Opium is to spices, the logical extreme, and Chanel Cuir de Russie, which balances aldehydes' characteristic radiance with the luxurious gravitas of iris and leather. The contrast is effectually a mixture of the familiar and unfamiliar, like the way that a foreign accent rasps subtly on the ear. Like Chamade, Cuir de Russie often serves an alternative to my favorite Mitsouko, but with a dark, moody mien of incomparable elegance.

OTHER CONTENDERS: Perhaps the aforementioned White Linen or Chanel No. 19, but who do I kid? I just love leather, and prefer Cuir de Russie's birch-tar-based leather to the quinoline-based leather of Bandit and her descendants.


In my mind, gourmands are closely related to orientals, though one comforts and the other disturbs. When I first acquired my bottle of Guerlain L'Heure Bleue, I was yet unready to appreciate it, trained on the simplicity of Givenchy Organza Indécence, the world's most mouthwatering, over-the-top vanilla. Nowadays, gourmands pile knee deep, from the seminal Angel to Aquolina, and in particular, the fine work Chris Sheldrake has done for Serge Lutens has furthered the gourmand considerably as a serious genre. However, since my days with Organza Indécence, I have acquired a distaste for the sweet stuff—I prefer to avoid smelling of tangible objects, from flowers to baking brownies—but I enjoy L'Heure Bleue's equivocations between the edible, a praline-rich sweetness tinted with anise, and the inedible, a mass of fussy, old-fashioned florals (violets, iris, rose, jasmine, tuberose, etc.). Oddly enough, it blooms particularly well in the heat.

OTHER CONTENDERS: Serge Lutens Rahät Loukhoum, Serge Lutens Chergui, Serge Lutens El Attarine, Serge Lutens Ambre Sultan, Fendi Theorema, Caron Farnesiana, Guerlain Attrape-Coeur, and Frédéric Malle Le Parfum de Thérèse but it'd probably fall between L'Heure Bleue and Frédéric Malle Une Fleur de Cassie, I'm leaning towards the latter because I hear L'Heure Bleue has been sadly reformulated.


Spices lend an intensity to a composition, in the same way that emotional excitement heightens an experience, but what is unusual about YSL Opium, though an essay on spices to the extreme, is a peculiar languor. Consequently, this is pure decadence, but not the wild, messy, panty-flashing, coked-out kind of incendiary, but a tightly controlled smolder: a eugenol-laced carnation provides the foundation for clove, coriander, cinnamon, pepper, plum, sandalwood, and other resinous balsams, its sweetness balanced by a characteristic toxicity. Luckily, I'm too young to associate Opium with all those who overdid it in the 80s, my first conscious social memory is smelling Burberry Brit everywhere, so to my nose it offers a fresh dose of wickedness amongst all the gourmand fruity-florals that typify commercial perfumery these days.

OTHER CONTENDERS: Caron Poivre or Coup de Fouet, but they're rather more expensive than the EDT of Opium, and not so full in form.


Finally, something truly bitchy and weird. Most of my perfumes tend towards the aloof, even the floral has an element of difficulty to it, but Vero Profumo Onda takes it over the edge into perversity. I love leather in all its forms, but this definitely a feral, whip-lash kind of leather than the proper, proper Cuir de Russie, like a modern Lady Macbeth dressed in black leather, with a soupçon of spices on the finest vetiver and patchouli. Onda is ever so earthy and animalic, but very strong, so it doesn't just smell like Caddy Compson's soiled underpants, but as legendary nose Guy Robert described Bandit, a "beautiful but brutal" perfume that takes no prisoners. I need a bottle, but ouch, $235 is hard to swallow. I hope Vero Profumo someday makes an EDP.

OTHER CONTENDERS: Guerlain Djedi, Caron Tabac Blond, Montale Oud Cuir d'Arabie, Amouage Homage Attar, and Amouage Dia. Robert Piguet Bandit might be a good idea, but I don't get much leather from it.

Labels: chanel, frederic malle, guerlain, serge lutens, the mnemonic sense, vero profumo, ysl
12/22/2008 [2]
Beauty Notes: "Polaroid Party"
by Dain
Diane Sawyer once famously remarked that the experience of sitting before the great Kevyn Aucoin, "you [felt] like the friggin' ceiling of the Sistine Chapel". And indeed, the late master is better known for his ability to transform a woman's face, often obliterating the features with thick cream makeup and loving redrawing every contour. Armed with pigment and brush, Aucoin was the reigning king of fantasy, as opposed to the more down-to-earth, real-girl beauty of Bobbi Brown, or the meticulous veil of glowing sheers that is Pat McGrath's signature. His hand, as critics were quick to point out, was heavy.

The other day I happened upon this article from the September 2001 issue of Allure, published very close to his untimely death. The model was his assistant, and they'd been up since five in the morning for a photo shoot, but still they went ahead with this mini-makeover almost sixteen hours later. (Click for fullscreen.)



What struck me, other than how prettily it all turned out, was how these are techniques and products that might be used on any face, every face. It's not about the latest trends; in fact, it has almost nothing to do with all the catty accouterments that surround makeup at times: how it is sometimes more about being glamourous and cool and hip to the latest and greatest, the right brand. Let's face it, this is only powder and greasepaint. A great new lipstick makes a woman happy; it's hardly the basis for an ego trip, but nevertheless all joys are poignant, no matter how small. In a way, I think Aucoin understood that about women, that ours has been a history of glorifying these small joys, and why not? What's so great about the big ones? It also makes me think, as I write about beauty (with excruciating, agonizing slowness), what it's all for: to help people, I guess. I'm sick of seeing all this crap in magazines and of the way these products exploit people's insecurities, and this would all stop if people would stop to think about they are actually buying. But look around you in the beauty blogosphere. People buy into it, most of the time.

Here is how the look is constructed, step by step. Aucoin doesn't explain everything as technically as I will, since his instincts are born from practice rather than analysis, but the reasoning is ultimately similar.
STEP 1 An open mind. "I think the number one (emotional) disease we suffer in America is fear of what others think. Being who you are is more important than having people like you.

STEP 2 Concealer applied selectively, under the eyes and whatnot. Pat into skin with ring finger, the one of least pressure.

STEP 3 Avoid foundation if at all possible. A lot of people confuse foundation as something that improves the skin. In fact, its purpose is to hide bad skin, while it is skincare that improves the skin (and that imperfectly). The weakest parts of the face have undergone the concealer treatment, so chances are, the rest of your skin doesn't need that much coverage. If you've got severe breakouts, rosacea, and the like, it's probably not a good idea to aggravate things with makeup. A little powder, applied with a sponge (better control), gives the skin a light, even texture and subtly diffuses imperfections, without smothering the skin as even a tinted moisturizer does.

STEP 4 Brows, penciled in and swept with brow gel. It's a step people often forgo, especially if the hair is dark. It's like wearing pants that fit badly, yes, you could do it, all your life if you wanted to, and you would not suffer for it, but...

STEP 5 The eyes are a combination of luminescent brown eyeshadow (I know Aucoin used Vincent Longo Sweet Dreams, I'm partial to Chanel Safari) that's swept thickly around the eye for depth and a plum-brown liner on the inner rims, which Aucoin explains gives more warmth to the eyes than brown or black. The important things to look for here are: high pigment, smooth texture (for blendability), and a soft, tapered brush that ensures no harsh edges. Since my eyes are small and my hair black, I usually use a smudgy eyeliner instead (MAC Teddy Eye Kohl), with creamy black liner for the inner rim. In either case, the look is soft, with pigment concentrated on the outer corners (a shimmery highlight in the inner corners may be added as well).

STEP 6 Mascara, in eggplant. I am not a redhead, so I use black.

STEP 7 A rosy shade of blush, very similar to my own NARS Desire, that flickers up the cheekbone and disappears into the temple, and a touch of pigment on the chin as well. (Aucoin was the one who taught me that people don't just blush on their cheeks, and once I tried, he's right, it looks so much more natural.) People tell you to smile and throw a lot of pigment on the "apple" of the cheek, but if you do it along the cheekbone, it provides a subtle contouring effect. Makeup artists are split into the schools of "blush first" and "blush last". The former is if you want to do as little as possible; sometimes you throw on blush and that's all you need. The latter is if you have a look planned, and you don't want to apply too much blush initially by mistake, but rather intend to gauge the amount according to your needs.

STEP 8 "Pink-gray-red lipstick: Gray? Yes! I sometimes mix natural lip colors with a silvery gloss to give them a sophisticated edge."
And that, as they say, is putting your best face forward.

Labels: allure, beauty notes, color me in, from the scrapbook, kevyn aucoin
12/20/2008 [0]
Subscribe to
Posts [Atom]. Or
follow on bloglovin'. If
you'd like to contact Dain,
feel free to email me.
I'm also on Pinterest.
Features

The Mnemonic Sense
Most Wanted
The Beauty Primer
Lookbook
Bestsellers
Consumer Diaries
Closet Confidential
On The Label
Beauty Notebook
The Hit List
Color Me In
The Makeup Artist
Wedding Bells
Globe Trotter
Desert Island
perfume notes
beauty notes
fashion notes
culture notes
minimalism
chypre arc
floral arc
fresh arc
masculines arc
gourmands
& orientals arc
Archives

August 2008
September 2008
October 2008
November 2008
December 2008
January 2009
February 2009
March 2009
April 2009
May 2009
June 2009
July 2009
August 2009
September 2009
October 2009
November 2009
December 2009
January 2010
February 2010
March 2010
April 2010
May 2010
June 2010
August 2010
September 2010
October 2010
November 2010
December 2010
January 2011
February 2011
March 2011
April 2011
May 2011
June 2011
July 2011
August 2011
September 2011
October 2011
November 2011
December 2011
January 2012
February 2012
April 2012
May 2012
June 2012
July 2012
August 2012
September 2012
October 2012
November 2012
December 2012
January 2013
February 2013
March 2013
June 2013
July 2013
Images

Photobucket