Announcements
If you're new to this blog, then read our guides to the basics: Skin (Part I), Skin (Part II), The Supernatural, Color Theory I, Color Theory II, Eyes, and Brushes.

Also, check out the blogsale.
Contents
· Perfume Notes: YSL Opium

Favored

Art Tattler
the glamourai
The Non-Blonde
Perfume Shrine
Lisa Eldridge
Garance Doré
Smitten Kitchen
Into The Gloss
Grain de Musc
Lacquerized
Res Pulchrae
Drivel About Frivol
The Selfish Seamstress
Killer Colours
Bois de Jasmin
Glossed In Translation
Jak and Jil
Toto Kaelo
Worship at the House of Blues
I Smell Therefore I Am
Food Wishes
The Natural Haven
Messy Wands
1000 Fragrances
Moving Image Source
Wondegondigo
The Emperor's Old Clothes
M. Guerlain
Colin's Beauty Pages
Barney's jewelry department
Parfümrien
loodie loodie loodie
The Straight Dope
Sea of Shoes
London Makeup Girl
Sakecat's Scent Project
Asian Models
Ratzilla Cosme
Smart Skincare
Illustrated Obscurity
A.V. Club
Tom & Lorenzo: Mad Style
Eiderdown Press
Beauty and the Bullshit
La Garçonne
Flame Warriors
Everyday Beauty
Fashion Gone Rogue
Now Smell This
Dempeaux
Fashionista
The Cut
A Fevered Dictation
Nathan Branch
101 Cookbooks
Perfume Notes: YSL Opium
by Dain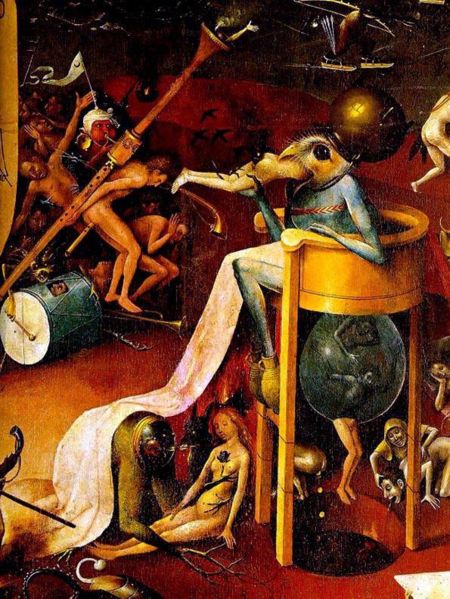 Hieronymous Bosch, detail from right "Hell" panel in
The Garden of Earthly Delights (1503-1504).


It's a slippery slope into hell. One rotten, ill-judged misstep and there you are, watching Odysseus in a wreath of flame, or in the case of the 'fumehead, doomed to read Luca Turin raving on loop about some olfactory gem that's been discontinued since the days of the October Revolution—we claim a fate akin to that of Tantalus. Many perfumes tempt us with forbidden fruit, but a few, like Opium, cut the bullshit and coy hints and transport us directly into the heart of the inferno, and, as befits the devil, perhaps mankind's most stylish invention, it's done with perfect éclat.


In many ways, Opium is more extreme than the gold standard of orientals, Shalimar: the spices are spicier, like film dialogue that positively crackles with wit*, though this is not the brave, naked blaze of the more frenetic Caron Coup de Fouet (the screwball comedy to Opium's film noir). The cacophony of notes is almost a deafening assault: pepper, orange (I sometimes enjoy a touch of Theorema with this), coriander, cloves, carnation, lesser amounts of jasmine and rose, plum, cedar, patchouli, and the balsamic resins of oppoponax, myrrh, sandalwood, and benzoin. Far from downplaying the smoldering opulence of the eugenol-rich carnations and cloves, Opium's intensity takes on the quality of hyperbole, in a way that feels distinctly macabre, with a sillage that takes no prisoners. Such calculated aggression cannot be but a deliberate distancing from the Bianca-in-L'Air-du-Temps ideology of pale, obedient, demure, passive, simple, angelic, silent femininity; this is Katherina's reasoning that the best defense is a good offense, and heavy-hitting spices run a similar risk of coming off as angry and incoherent, which may explain why they tend to sell poorly on the open market. Lest they collapse from their own weight, spices require a solid foundation, traditionally the fleshy contours of amber and vanilla. But though Opium takes full advantage of the mysterious, seductive appeal of spices, it is only lightly sweetened, to smooth its many complicated angles, not to provide architectural support. Consequently, it should be a total mess, ready to cave in at the advent of a soft footfall.

Far from it. This is strong perfume for a strong woman, which somehow retains its sarcastic, angular carnality without making apologies (an extra spoonful of sugar). The secret, as it turns out, is a huge slug of fragrant soap, a pristine inner core of lily of the valley, easy to miss in the chaos, invisible wires that perform a miracle of suspension. Yes, Opium is big, bad, and gorgeous, but she's also got a brain, hidden behind her spare flesh like a spine, that's what makes her so dangerous.

OTHER REVIEWS
Perfume Shrine
Ayala Smellyblog
Perfume-Smellin' Things
Basenotes
Makeupalley
Fragrantica

* Ok, how bizarre is this coincidence? I've linked Bogey to Jicky, and that too features a garden of earthly delight as its visual reference. It wasn't intentional, I swear.

Labels: bosch, carnation, caron, guerlain, jean-louis sieuzac, lauren bacall, orientals, perfume notes, the taming of the shrew, ysl
2/07/2009 [5]
Subscribe to
Posts [Atom]. Or
follow on bloglovin'. If
you'd like to contact Dain,
feel free to email me.
I'm also on Pinterest.
Features

The Mnemonic Sense
Most Wanted
The Beauty Primer
Lookbook
Bestsellers
Consumer Diaries
Closet Confidential
On The Label
Beauty Notebook
The Hit List
Color Me In
The Makeup Artist
Wedding Bells
Globe Trotter
Desert Island
perfume notes
beauty notes
fashion notes
culture notes
minimalism
chypre arc
floral arc
fresh arc
masculines arc
gourmands
& orientals arc
Archives

August 2008
September 2008
October 2008
November 2008
December 2008
January 2009
February 2009
March 2009
April 2009
May 2009
June 2009
July 2009
August 2009
September 2009
October 2009
November 2009
December 2009
January 2010
February 2010
March 2010
April 2010
May 2010
June 2010
August 2010
September 2010
October 2010
November 2010
December 2010
January 2011
February 2011
March 2011
April 2011
May 2011
June 2011
July 2011
August 2011
September 2011
October 2011
November 2011
December 2011
January 2012
February 2012
April 2012
May 2012
June 2012
July 2012
August 2012
September 2012
October 2012
November 2012
December 2012
January 2013
February 2013
March 2013
June 2013
July 2013
Images

Photobucket