Announcements
If you're new to this blog, then read our guides to the basics: Skin (Part I), Skin (Part II), The Supernatural, Color Theory I, Color Theory II, Eyes, and Brushes.

Also, check out the blogsale.
Contents
· Consumer Diaries: September 2009

· Perfume Notes: Frédéric Malle Vétiver Extraordinaire

· Culture Notes: The 90s Redux

· The Beauty Primer: The Canvas (Brows)

· Fashion Notes: Fall 2009 Shopping List (Dain)

· Fashion Notes: Fall 2009 Shopping List (Dorothy)

· Fashion Notes: Fall 2009 Shopping List (The Kindly One)

· Perfume Notes: L'Artisan Parfumeur Premier Figuier

· Fashion Notes: Essentials

· Culture Notes: The Weaker Sex

· Lookbook: Gothic Berry

· Perfume Notes: Guerlain Eau de Guerlain

· Beauty Notes: The Face Shop

· Beauty Notes: Jojoba Oil

Favored

Art Tattler
the glamourai
The Non-Blonde
Perfume Shrine
Lisa Eldridge
Garance Doré
Smitten Kitchen
Into The Gloss
Grain de Musc
Lacquerized
Res Pulchrae
Drivel About Frivol
The Selfish Seamstress
Killer Colours
Bois de Jasmin
Glossed In Translation
Jak and Jil
Toto Kaelo
Worship at the House of Blues
I Smell Therefore I Am
Food Wishes
The Natural Haven
Messy Wands
1000 Fragrances
Moving Image Source
Wondegondigo
The Emperor's Old Clothes
M. Guerlain
Colin's Beauty Pages
Barney's jewelry department
Parfümrien
loodie loodie loodie
The Straight Dope
Sea of Shoes
London Makeup Girl
Sakecat's Scent Project
Asian Models
Ratzilla Cosme
Smart Skincare
Illustrated Obscurity
A.V. Club
Tom & Lorenzo: Mad Style
Eiderdown Press
Beauty and the Bullshit
La Garçonne
Flame Warriors
Everyday Beauty
Fashion Gone Rogue
Now Smell This
Dempeaux
Fashionista
The Cut
A Fevered Dictation
Nathan Branch
101 Cookbooks
Consumer Diaries: September 2009
by Dain
LISTENING


I swear to god, this song follows me everywhere, but it's real infectious. It has not even the barest scrap of talent to offer, and it makes absolutely no bones about its premise: sex, sexy, sexed up women. In leather hot pants. Grinding, not even suggestively, but actual thrusts and orgasm faces. And yet, it is fun, is it not? It's just so thoroughly and unapologetically skanky, and you've got to admire, on some level, people who stick to their choices. It somehow grates worse when someone is fake and affected, and it's a life decision that you believe in yourself. There's even a dirtier version, but I find it rather less enjoyable; it's not even good soft porn.

DAUBING

For some unfathomable reason—perhaps the atmosphere of conformity in Korea —I've been more willing to experiment with color, especially in the form of red lipstick. But on days when I simply want to look polished, a smoky whisper of MAC Teddy, which makes my dark eyes glow, with a smudge of rich, blunted silver from Dior to edge around the outer corner of the eye. Conventional wisdom might claim gold a more flattering candidate on Asian coloring; here is yet more evidence to the contrary. I can certainly wear shades infused with gold, the gilded peach in the same Dior quint makes a fantastic palliative against the skin-unfriendliness of the coolest shades, but I haven't met the straight gold for me yet.

Thanks to Dorothy, I've been introduced to Beauté stains. The shade Flouron is a tinge too warm on my skin, but not so off I cannot wear it (perhaps a new lipstick might help), and the formula is a fantastically indelible (through the worst summer heat and humidity) gel, though you must blend quickly and deftly an exact amount of product or be stuck with the jester's proverbial makeup.

WEARING
I've gone down a size-and-a-half in weight, not through any design, but from stress and work-related starvation (I don't have time to eat during the summer, much less blog), and none of my pants fit anymore. I prefer skirts, but you can imagine the inconvenience, especially once it grows too cold; I've so long been in the habit of hunting down the most flattering cuts and drapes that walking around in a bad fit makes me feel positively queer. I've finally remedied the situation with a pair from the Vanessa Bruno outlet, a crisply seamed, straight-leg wool flannel in a navy so dark it approaches midnight, what the French usually call "marine". They're quite elegant, especially with ballet flats.

READING

Erich Auerbach's Mimesis, borrowed from another teacher at work, literary criticism at its finest.

SNIFFING
For the past four months, the folkloric Chant d'Arômes, shifting between cream (aldehydes) and yellow (honeysuckle, rose), has been my steadfast companion at work, substantial but not boring, and yet not so overbearing in its personality that I must follow its lead instead of the other way around (which is fun sometimes, but you don't always want to channel Fracas even if it flatters you). My bottle is almost done, and I'm intending another Jean-Paul Guerlain, Parure, to take its place for the cooler months. Like Chamade and Chant d'Arômes and Vetiver and Eau de Guerlain, the underlying presence is verdant (one wonders about JPG's favorite color), but the uppermost layers take on the shades of a fine sunset: gold, orange, rose, plum.

A woody perfume to fill out my perfume wardrobe, but which?—maybe Tauer L'Air du Désert Marocain, maybe Serge Lutens Bois de Violette, maybe Parfum d'Empire Wazamba, maybe Chanel Bois des Îles, maybe 10 Corso Como—any suggestions?

WATCHING


Anne sent me this clip, "les crabs depressifs", and it only seems to get better every time I watch it.

EATING

I don't mind Korean food, but I grow tired of it. I can't help missing real potato chips, the fragrant, yeasty smell of fresh baked bread (I haven't found good bread here; the flavour is too "cute") topped with pungent cheese, the cuisine south of the border (Mexican, Argentinian, Brazilian, Caribbean fusion), ahh... and I'm really miffed about missing Thanksgiving this year. The one Korean dish that never loses its savor is probably ssam, grilled portions of meat, a spoonful of rice, and a dollop of fermented soy-bean-curd sauce (a flavour entirely unique to Asian cuisine, mixed with green onions, apples, red pepper, and honey), all wrapped in lettuce or more exotic leaves like sesame (ggennip) and others I cannot identify.

WISHLIST

Of all the things I left behind, a perfectly matured bottle of No. 5 parfum, an exquisite gold-toned oriental rug, all my books, what I miss most is the Gilbraltor Goblet, which I found on clearance years ago at Target for $3. It holds fountain pens and Shu Uemura makeup brushes in one convenient place, reducing the clutter on my desk considerably.

As with the pants, a new bra is one consequence of unanticipated weight loss. I'm particularly particular about lingerie, however, and nothing suitable has yet hoved into view. Minimum requirements: lace, dark fabric (I'm thinking of purple, instead of my usual black), no padding, demi-cup, underwire. I always end up distracted, viz. Carine Gilson Intemporelles Celadon.

Labels: beaute, brown eyed girls, carine gilson, christian dior, consumer diaries, erich auerbach, guerlain, jean paul guerlain, mac, vanessa bruno
9/30/2009 [6]
Perfume Notes: Frédéric Malle Vétiver Extraordinaire
by Dain

Caspar David Fredrich, Large Enclosure Near Dresden (1832).


The perfect vetiver sits at approximately the same position among masculines as the perfect rose—an incomparably attractive aroma in nature—disappointingly flat on the skin—a clean vegetable lucidity that meshes poorly with our animal equivocations. It works on some, not on others. That does not stop people from trying, however, and judging by the number of roses and vetivers out there, there is a substantial market for them as well. The sum effect never reaches the expressive heights of complicated constructions like Bandit (which has both rose and vetiver), but by embracing legibility, a vetiver does not demand you conform to its personality as Bandit might. And it is such a pleasant, down-to-earth personality; if you like the stuff, there's no greater eau fraîche around: clean, suave, but graceful in its manners, old-world charm but with a modern outlook. The character of vetiver is so distinctive that, unless playing its perennial supporting role in the drydown, it must be reviewed in terms of other vetivers, but this is also true of the soliflore.


A guy I once dated once told me that the best restaurant he had ever been to was a steak house in New York. "A steak house," I returned, "what's so special about that?" But he was adamant, "It's difficult to do a simple thing, really well." This is what Vétiver Extraordinaire offers: a simple thing, done really well. A fuzz of grey pepper and ozonic notes (I get karanal) accents the opening, though the effect is not so humid as The Different Company's Sel de Vetiver, just the mist that suffuses the cobblestone streets of a sleepy little village at dawn, which clears with the peal of morning bells, signaled by a flash of bergamot, though not with the hespiridic force of Guerlain Vetiver, which veers into citronella for some. And then, full-frontal vetiver: "There goes the baker with the tray, like always/ The same old bread and rolls to sell." It is as crisp and green as vetiver should be; the smell of moral clarity, shooing away moths and straying men. Unlike the chocolate-animalic eroticism of Serge Lutens Vetiver Oriental, or the nuttiness tonka bean and coriander in Hermès Vetiver Tonka, or the firelit smoke of Chanel Sycomore, Ropion eschews any counter to vetiver's bitter herbaceousness. Instead, he makes it drier, with an angular accord of woods, mostly cedar, and billowing mushroom-like note from the cashmeran. The transition into the drydown is so just and so coherent that we don't realize that we've left the relentless quotidian of the little town behind, and entered an enchanted forest where Dans Tes Bras lurks in his lonely castle.

OTHER REVIEWS
Perfume-Smellin' Things
Aromascope
Sakecat
Perfume Shrine
Les Tuileries
Sorcery of Scent
Now Smell This
Smellyblog
The Non-Blonde
Perfume-Smellin' Things
Pere de Pierre
Basenotes
Makeupalley
Fragrantica

Labels: cashmeran, caspar david friedrich, cate blanchett, dominique ropion, frederic malle, pepper, perfume notes, vetiver
9/29/2009 [0]
Culture Notes: The 90s Redux
by The Kindly One
As a belated response to Dain's 90s playlist, I wanted to create my own playlist of songs I enjoyed from the decade. The 90s are the first decade I was old enough to fully appreciate and remember; as a result, I spent the majority of this decade thinking the 90s were the only right way to go. Well, this is true and it isn't. The 90s certainly brought about the cultural relevance of rap, the rise of Radiohead, and Nirvana Unplugged. They also brought about Haddaway, Aqua, and boy-pop. The music gods, sometimes so generous, they give until it hurts.

Below is a pretty accurate list of what we were all listening. It's mostly in chronological order, though there might be discrepancies, as I compiled it from memory. I also gave some thought to arranging like a CD, and hopefully it has the variations in mood that any good CD has. Enjoy.



Labels: culture notes, music
9/28/2009 [0]
The Beauty Primer: The Canvas (Brows)
by Dain
Attraction is an extremely complicated business. People grope for physical characteristics such as long legs and big eyes and large breasts and long, silky hair—and yes, these are readily attractive—but attraction also encompasses phenomena as diverse and poorly understood in all their complexity, from clothing style to homosexuality, neither of which have much to do with biological reproduction. Beauty, however, is objective. Take any face famous for its beauty; almost always its proportions are not only symmetrical, but match those of the golden mean, or φ, 1.168—a mathematical exactitude that seems to defy the individuality of the human face. Like good skin, a largely symmetrical, perfectly proportioned face is pretty much impossible to fake, except through surgery or the contouring hand of Kevyn Aucoin. But brows help.

There's no denying that brows are tricky business. A few people require no shaping, no definition whatsoever, just as some need no foundation. Sometimes, the makeup techniques offered by print magazines, who need only concern themselves with two dimensions, disregard the third dimension. You cannot do so with the brows, which must work in tandem with the planes of your face in order to fit the individual asymmetries and proportions, which demands an intuitive sense of what will flatter each and every face. Here are two less normative brow shapes:
On the left, the intensity of Maria Callas' features is balanced with an equally strong brow, which would easily overwhelm a more delicate face. On the right, Lauren Bacall's square, sharp bone structure is well matched by an angular brow.

If you are a novice, by all means, get them professionally done, but if you're determined to do it yourself, here are some basic guidelines, using this image of Christy Turlington as reference.
Though magnificent, her face is actually known for its (if extremely slight) asymmetries, so haphazardly chosen brows do not necessarily suit even a supermodel. What matters here is that they fit her face, even if the arches do not exactly match. When shaping your own brows, always be conscious that brows are never, ever isolated elements from the rest of your face. They cannot be forced into shapes beyond their abilities, no matter your zeal. If you keep that in mind, by stepping back to observe the overall effect on your face after every few plucks (a magnifying mirror is best avoided during shaping, as it is easier to lose your sense of how the brow you're your face), then you avoid many of the worst mistakes: overplucking, a "comma" effect, like two tadpoles above your eyes, harshly filled in brows, brows too far apart or too close together, and brows that do not extend past the outer corner of the eyes.
The first step is to invest in a good pair of tweezers (Tweezerman Slant Tweezers are widely available and easy to use), as waxing or threading are best left to administrations of professionals. Pluck by grabbing the hair by its base, rather than by the tip, which may break.
To shape your brow, you will need a mirror, a regular writing pencil, tweezers, a dark eyeliner pencil (for marking purposes), and possibly a white eyeliner pencil if you are particularly unshaky. The brow should start approximately one pencil-width from the inner corner of the eye. The arch should reach its highest point where the pencil crosses the brow when you have aligned the pencil to the tip of your nose and the pupil of your eye (staring forward, see red line above). The brow should end approximately where the pencil crosses the brow after aligning the pencil, again, between the tip of the nose to the outer corner of the eye (see blue line). Mark these three key points with the dark eyeliner pencil. Fill in an arch, contrasting the dark pencil with negative space marked by the lighter pencil, if necessary. Stand back. Does it fit your face?
If your face is long, a straight brow, with a minimal arch, will help widen the face. If your face is round, then conversely, you will want as high an arch as possible. A square face shape benefits from an angular shape. A heart-shaped face looks good with a rounded curve. But I personally think bone structure, rather than face shape, is a more reliable guide. Follow the natural curve of the brow bone, and you can't really go wrong.
Thickness is a matter of taste, but a strong brow is best for big, strong features, delicate brows with small, delicate features.
If you have close-set eyes, start the brows slightly further apart; if you have far-set eyes, start them slightly closer together. But be very, very careful. Brows that are too close-set or too far-set look really funny. The distance between your eyes is perfectly proportioned if the space between them is equal to the length of your eye.
Those who find the first plucking excruciating would do well to remember that the second plucking is comparatively painless. Usually, weekly maintenance is required, unless you are particularly bushy.
Not everyone, at this point, needs a product to fill in their brows. If you do, three options are open to you. When it comes to the pencil variety, I like Kevyn Aucoin Precision Eye Definer and Shu Uemura Hard Formula, but the ideal brow pencil is waxy rather than soft like eyeliner, so that it will apply lightly and keep a fine point, with shades that are dilute and drab, and with the exception of black hair, a shade or two darker than your haircolor. Powders give a softer but denser look, better for uniform, overall coverage—both Anatasia and Laura Mercier make good ones, though I frankly don't see the virtue of offering two shades—a stiff, angled brow like Shu Uemura 6OB is required for application. Layering powder over pencil is a technique that heightens intensity (if your brows are essentially nonexistent), and improves longevity. Finally, I find that clear mascara is a nice touch, even if the hairs are not particularly unruly, it somehow seems that much more groomed.

If your bone structure is softer and less distinctive, the flatter the arch will necessarily be, and the more definition (in terms of arch emphasis) you will require. If your features are small and delicate, then less definition (in terms of thickness). In this sense, perhaps Asian faces are the most difficult when it comes to brow techniques. Not only is the arch inclined to be flat, but the hair grows messily (plucking is necessary), but sparse (so is a brow filler), and so straight that the hairs point in all sorts of directions (plus brow gel).

Labels: anastasia, kevyn aucoin, laura mercier, shu uemura, the beauty primer, tweezerman
9/28/2009 [3]
Fashion Notes: Fall 2009 Shopping List (Dain)
by Dain
For some reason, I'm not in a terrific froth to buy things. Mostly, I'm focused on quality basics, of a certain degree of streamlined, highly integrable basics that flatter the figure. It's a great deal less colorful than my wont, but I'm pretty sure I'd be in full warpaint-style red lipstick for balance.

INSPIRE

I toying with some idea that I will be elegant this fall in whisper-thin cashmere, eschewing my usual print-heavy antics for the simplicity of winter white, though . I've always loved this shot mimicking Tonne Goodman's style in the August 2008 issue of Vogue, and while I may not lay my hands on the exact same Inhabit Cashmere Stretch Turtleneck ($288), I like the tension between the utter lack of skin with extreme body-consciousness (a well built torso has always been a strong point for me). Though cozy, it's highly layerable, especially under a fantastic coat or jacket.


With such a hellish work schedule, which at times doesn't give me leeway to eat, I've lost an almost freakish amount of weight, and none of my pants no longer fit. I've got my eye out for a gorgeously draping navy pinstripe, as seen in this image by Garance Doré, maybe these Margiela ($330) (though they don't ship to South Korea? odd). I've always dressed very feminine, but I've lately been hankering to traverse into menswear, probably as a bid to differentiate myself from the frilly, mini-skirted Korean women with hooker shoes. If not, a plaid skirt might do, to top off my Roberto del Carlo suede boots, which I hope to wear out this fall.

INVEST

I've got my eye on this vintage Courreges bag ($179), and I'm pretty sure I'll buy it. There's a subtle, schoolgirl charm I like with bags from the 70s; they're casual and easy to wear with almost everything, in strict defiance of the overstyled, overhyped accessories of today.

SAVE

My most cherished fall purchase thus far has been a double-strand, seed-pearl choker with crystal-studded pendant, with matching earrings, handmade from this vintage shop I frequent on Garusogil. For a necklace and earrings, the price was absolutely reasonable, about $100. It's a little primly feminine and ornate, but I like that in my jewels, especially when it comes to pieces near my face. Above is a filler image, until I can get one taken of my own, which is not nearly so impressive.

DREAM

Luxury is not always attentive to functional concerns, but this jacket from Vanesso Bruno ($1310) is somehow striking and unusual enough to feel like the very-special-purchase that it is, but thoroughly respectful of reality. For me, the litmus test of a great coat is that you may wear it alone and still seem fully and competently dressed. You don't see anything but stockings here, and yet it's equal to many an outfit.

Labels: courreges, fashion notes, inhabit, martin margiela, vanessa bruno
9/25/2009 [2]
Fashion Notes: Fall 2009 Shopping List (Dorothy)
by Dorothy
I don't feel a great urge to shop this fall. I've become a little more experimental with makeup, especially since I started blogging about it, but as far as clothing goes, I've settled into a groove. But I recently moved to a town with lots of little boutiques, many of which showcase Canadian designers, and I find that hard to resist.

Fashion right now is a bit of a mixed bag for me. Voluminous styles, chunky knits, and long tunics overwhelm my frame, and anything without a defined waist makes me look dumpy. I live in one of the student ghettos here in Halifax and have been picking up ideas from the East Asian students in my building, many of whom seem to have mastered the art of wearing slouchy clothes on a petite body. The secret seems to be wearing very fine, drapey fabrics, and making sure that everything fits in the shoulders.



I recently bought this high-waisted skirt from Allison Wonderland on sale; while it's technically a summer item (that fabric reminds me of seersucker), I expect to be able to wear it for the next couple of months. It's a good way for me to wear volume, since the waist is clearly defined. The pleats and pockets are beautifully placed, and the dark grey makes it suitable for fall.



Another end-of-summer sale item: Odd Molly's Love A Lot blouse in ivory: a swingy, hippie-ish shape that I normally would avoid, but in such a fine, soft fabric that it works, even under sweaters and jackets.



The cotton cardigans from Kersh look boring, but I love this modified V-neck: it flatters more than a standard crewneck without flashing a lot of skin, and the cut is fitted without being tight. They're about equivalent to Gap sweaters in quality and price, and they come in a huge variety of colours. I own three of them (albeit with full-length sleeves, not the 3/4 sleeves pictured here), in black, teal, and plum.


The problem with living in ballet flats is that it makes you incredibly lazy about shoes: anything more complicated than a slipper starts to feel like too big a hassle. Still, I shall need some not-too-casual flats to wear once it gets too cold for ballet flats, and I think I'll look for some oxfords. I love the perforations on this Stuart Weitzman pair, but Zappos seems to have sold them out. The search continues.




And now, a fantasy item: I love trench coats and I cannot find one that fits. They're usually too big and too stiff and balloon out over my hips, which looks stupid. This A.P.C. trench probably would not fit me (unless their 34 is particularly small, I suppose) and is way out of my price range anyway, but I love the colour, so much nicer on me than a standard khaki, and the subtle herringbone print.

Labels: allison wonderland, apc, fashion notes, kersh, odd molly, stuart weitzman
9/25/2009 [3]
Fashion Notes: Fall 2009 Shopping List (The Kindly One)
by The Kindly One
As with most things I do, I've taken the charge to compile a fall shopping list less literally and more conceptually. Rather than specific items I intend to buy, my list focuses on the overall idea of what I want to purchase. I can get bogged down quickly in trying to find the "perfect" item, whether it be in clothing, makeup, decorating, whatever. While it's nice to find clothing that fits and flatters, obsessing to the inth degree on fit, fabric, and whether the item looks just like Ashley Olsen's (and makes me look like Ashley Olsen) isn't healthy or necessary. Clothing either fits or it doesn't, and beyond that, the thing is to find those things that make you smile and feel more like yourself when you put them on. The following are a list of items that have always flattered and made me smile and that I hope to find again.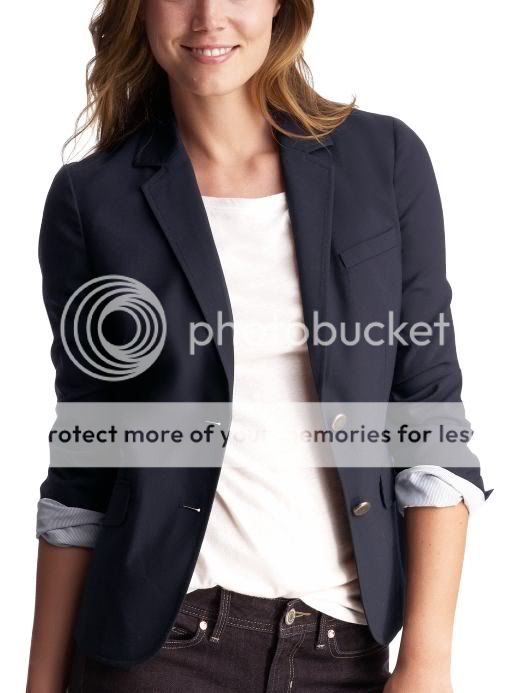 I tried this shrunked blazer on at the Gap and was amazed at how well it fit. Generally their clothes don't fit me - too baggy, too bulky, too much of an "American cut" (as if Americans have weird bulges and sags randomly popping out of their bodies). Regardless, this blazer avoids the typical Gap fit pitfalls. It's cut narrow to the torso, nicely giving my narrow shoulders definition without overemphasizing them (see: every Balmain collection). It falls square at my hip and looks good buttoned and unbuttoned, which I find remarkable rare in jackets of any kind. The catch? The Gap in my area didn't have my size, and I'm not too much of a blazer fan. So instead of reverting to my usual obsessing over trying to find another perfectly fitting blazer, I'm going to take this as inspiration: With a whole lot of effort, it is possible for me to find flattering jackets. I hope to carry this enthusiasm all the way into finding a jacket that fits and works for me.




I cannot be bothered to wear jewelry. I just don't like the weight of it, and I have so many skin sensitivities that it's easier to bypass wearing it in the hopes of staving off an allergic reaction. While I could try harder to work with jewelry, at some point you have to accept your limits. It just isn't a priority for me, no matter how dressed up I'm meant to be. However, I can always work a great scarf and often do, hence the inspiration taken from Ashley Olsen (back) in a scarf over her evening wear. It's easy enough to tell, even from this distance, that it's quite a posh scarf. As such, it works with her outfit, maintaining its general air of luxury and minimal elegance. It's now a fashion goal of mine to find an oversized, really nice scarf that can work on the level of evening wear. This excites me to a degree that could never possibly be matched by a fine jewelry purchase, plus this choice of accessory is far more "me" than jewelry.



I've been on the lookout for a great pair of knee-high boots for years. I'd like something a bit strappy like this. Essentially, when I find the right pair of boots, I'll know them when I see them. In addition to these, I'm pretty open to lace-up boots and very minimal pairs. Just no cowboy or motorcycle boots - the soles just kill me.



I'm also on the lookout for a very nice, nicely fitted "background" sweater, like the one Ashley Olsen wears here. Again, I'm open to a variety of options. Rather than finding a particular type of sweater, I'm more interested in finding a neutral sweater in a soft knit and texture (no ramies, no cable knits) that skims the torso, fits well, and serves as a nice, basic grounding piece for jackets and scarfs. It sounds simple. I am having a hell of a time acheiving this feat. There are masses of "basics with a twist" out there - sweaters with empire waists, puffed sleeves, strategic cutouts. However, try finding a simple, straight-down-the-line basic (even more difficult, one without animal fibers) and it's like looking into the abyss.



Here's how much I dislike wearing jewelry: should anyone ever propose to me, I don't want an engagement ring. Call me naive, but the engagement is enough, thanks. Jewelry would not help me to seal the deal.

The only jewelry I can stand to wear is a watch, without which I feel naked and lost. I've worn watches since I was six years old. I am used to having them to fiddle with and distract me. They are the only type of fine jewelry that excites me and catches my attention. My particular favorite is the Movado Museum style, black dial with gold detailing. This manages at once to be both a very posh looking watch and to blend into the background. It screams luxury, not bling. As such, it wouldn't be out of place with a laidback outfit or something a bit more posh, such as the elements laid out in the post. Worn oversized, I think it could even serve as a great offkey bracelet with evening wear, and unlike a diamond choker, chandelier earrings, or a cuff bracelets, I'd actually wear it. While I can't say I need a watch - I have two as it is - one this nice would allow me to incorporate jewelry to the limit of my interests and keep evening/party outfits from looking quite so bare.*

*Of course, these reasons are just conceits. I really just want a nice watch in black and gold. Desire: it is what it is.

Labels: ashley olsen, fashion notes, gap, movado, shoes
9/25/2009 [2]
Perfume Notes: L'Artisan Parfumeur Premier Figuier
by Dain

Gilbert Arthur Hill, Santa Barbara Mission (1924).


Pretty much everyone seems to know Premier Figuier—that it was composed by the fumeheads' darling, Olivia Giacobetti, that it is the first fragrance to feature fig, the meticulous balance attained between fruit and sap-rich leaves and wood to convey the tree entire—but somewhat to my astonishment, there are only a handful of reviews. Though the house has been more slavishly monitored since the appointment of Bertrand Duchaufour as head nose, it is sometimes disregarded as "niche lite", compositions too pretty or simplistic to draw those who hunger for exoticism. And yet, it would be safe to submit, the impact of L'Artisan Parfumeur is as significant as the groundbreaking innovations of Coty, the conscientious branding of Chanel, and the streamlining of Roudnitska. When Jean Laporte conceived L'Artisan Parfumeur in 1976, the concept of "niche", which differentiates itself from mainstream fine fragrance (some legitimately, some spurious), was unknown.


Like most houses, L'Artisan Parfumeur offers its fair share of crowd pleasers, blurry but ultrafeminine florals like Drôle de Rose and La Chasse aux Papillons, but it also pioneered the niche standard of marrying two unexpected, but sneakily complementary, accords: Mûre et Musc, for example. Then there are the compositions that seek to bring into the realm of abstraction smells encountered in the reality, common enough practice nowadays, especially in niche perfumery, for its novelty to have faded. L'Artisan Parfumeur usually jumps the narrow gap into gastronomy, from Tea for Two (chai tea beside a cozy fire) to Vanilia (vanilla ice cream and cotton candy at a fair ground) to Dzing! (a leatherbound book with age-soft pages), often with a touch of surrealism to transcend the wearer into the realm of experience, rather than a direct quotation of smell. As Chandler Burr reports, when Premier Figuier had just come out in 1994, it would draw comments such as, "When we came out with Premier Figuier, it was extremely strange... One day I walked by a girl... and she said, 'C'est merveilleux! You smell like a tree! I want some.'"

Premier Figuier is, indeed, unusual. It seems to fall somewhere between tart fruit, akin to citrus, and green perfumes, while offering territories of refreshment claimed by neither, an eau fraîche from another plane. But it is strange, not in the manner of Mitsouko, which smells like nothing but itself, but because it is so literal, nearing the visceral: the taste of a ripe, succulent fig, underscored by the milky sweetness of coconut milk and almond. But before Premier Figuier veers into too much literalism, it stops by the tree entire, like one of those Picasso nudes in which all the angles (and naughty bits) are exposed at once: the sap, the leaves (galbanum), the bark (sandalwood), even a hint of flowers. Though quite the individual, it's not insistent the way the Comme de Garçons are; first and foremost it makes pleasant and easy company for the day.

OTHER REVIEWS
Memory and Desire
Bois de Jasmin
Pink Manhattan
Blogdorf Goodman
Fragrantica
Basenotes
Makeupalley

Labels: audrey hepburn, coconut, fig, gilbert arthur hill, l'artisan parfumeur, olivia giacobetti, perfume notes
9/23/2009 [2]
Fashion Notes: Essentials
by Dorothy
I've been silent on this blog for ages, I realize. I recently moved from the student-hating student town where I went to law school to the much larger, friendlier student town of Halifax, Nova Scotia. I am still delighting in Halifax: the salt and pine in the air (it helps that I don't live near where the sewage filtration plant failed), the density, the friendliness, the cafés, the bookshops, the bus system that actually sort of works.

I frankly suck at minimalism: I can't resist colour, pattern, texture, subtle variations on the same themes. I wish it were otherwise, because I do think minimalism is a better way to go, but I'm not there yet. But there is nothing like living without the bulk of one's belongings for a week to figure out what one really needs.




SHOES





I bought my Repetto ballet flats last year; I think I got them for about $70 USD on eBay, which delighted me as they retail for at least twice that in Canada. Repetto ballet flats are classic (even clichéd), of course, but oh my, they deserve to be. I have lived in mine all spring and summer. They are supremely soft, and they work with almost everything. (This is a moment in fashion, of course; ten years ago I would have thought flats looked terribly dowdy with skirts.) Wearing these feels like walking around town in bedroom slippers, which means no arch support, but that hasn't bothered me. I really need to get them re-soled, but am not sure when I'll be able to do without them for that long.




JEANS




Oh, jeans. I have too many pairs of jeans. I would hang on to them, but I put on a bit of weight over the past year and that extra inch on my hips has rendered my smaller jeans...wearable, but not comfortable. Jeans should be comfortable.

I grew to like skinny jeans; I found them charmingly gamine, and since I am quite thin, my thighs aren't so much bigger than my calves as to throw the look off. But the moment has passed. I am keeping the jeans that are still comfortable -- a pair of super-soft Adriano Goldschmieds in a summery medium wash, bought on sale last year, and I still love my J Brand Love Story jeans; the bell bottom amuses me. (Please don't mention Paris Hilton.)




ONE BAG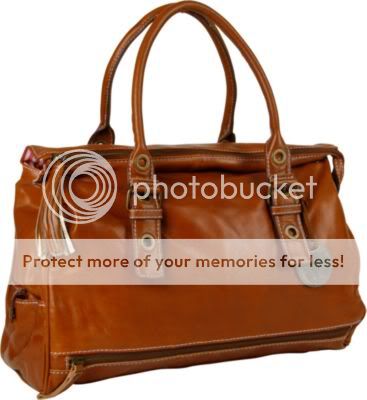 This -- a Tabitha Quinny bag -- may be the best impulse purchase I've ever made. During a trip to the U.K. two years ago, I happened upon this in an Oxford accessory shop and fell in love with it. It was more expensive than any purse I'd bought to that point (£175, as I recall), and I felt a bit unhinged as I laid down my credit card, but since then I have hardly used any other bag. I've come to realize that soft brown leather bags are very versatile: since they match almost nothing, they go with everything. The Quinny is made of decent quality leather, tricked out with lots of pockets and lined with an amusing pink-and-white stripe. I can't use this for very formal or businessy events, but for everything else, it's ideal.

Labels: adriano goldschmied, j brand, minimalism, repetto, tabitha
9/20/2009 [0]
Culture Notes: The Weaker Sex
by Dain
"I have an idea that the phrase 'weaker sex' was coined by some
woman to disarm the man she was preparing to overwhelm."
&nbsp &nbsp &nbsp–Ogden Nash


It's taken a few months for my first superficial impressions of Korea to pass. Perhaps the most pointed revelation has been that, nurture, it seems, surpasses nature, and I am almost completely Western, to the point that I find myself continually baffled by cultural mores here. Mired in this particularly status-conscious, superficial part of Seoul (Gangnam), where vanity is a lifestyle (fake bags and fake noses), I could hardly be expected to give any comprehensive account of Korean culture, only within the context of this very small world I've been living in. This is not intended to be a treatment of Korea, or Korean women in general, but a portion of those who have fallen under my observation.


Because of my background and education, I've only been exposed to women of great intelligence, character, and independence. They may neurotic, with egos only marginally less than mine, but they know what their future holds. Marriage is not a question of security, but self-fulfillment. But in Korea, though sexual roles are changing rapidly, it is still the principal concern for women. Professional women cannot expect to make much; as of 2007, $25,662 per year is the average salary, and women on average make 38% less, or approximately $15,910 per year, according to an OECD report (the US currently reports a 19% discrepancy). I was, of course, aware of the sexual inequity in Korea; it was perhaps my greatest aversion to coming here. As it turns out, the worst sexism manifests not in the men, but women. In my hakwon, there is a strict hierarchy of importance, each clearly differentiated by wage. At the very bottom, the TAs, who run around taking attendance and checking homework and making copies at 5000 won an hour (about $4.18). Next, the staff, who are paid a monthly salary of approximately 2,500,000 won (about $2000). The directors, who run the place, make rather more, though I am not privy to that particular information. They certainly make less than the teachers, who average between 5,000,000 to 10,000,000 won per month (about $4100-$8300) during the summer session.

These four groups are, for the most part, strictly divided from each other. It's not merely a matter of who goes to lunch with whom, entire patterns of behavior are differentiated—but only amongst the women. The teachers tend to be western or extremely westernized, so you wouldn't find much to strike your instinct for exoticism among them, though there are certainly some queer personalities among them; only one teacher, hired on short notice to fill an absence, and therefore more Korean than western, seemed genuinely off to me. She was complaining about how one of her students would tease her by flattering her, "O teacher, you are so beautiful, just the sort of girl I want to marry," and though she tried to stress the disrespect, you could tell she was extremely pleased with herself. I remember sitting there, thinking, "For christ's sake, lady, your student is twelve." The directors comport themselves with rather more dignity, as they are older and have a more permanent stake in the company. Though most are men, quite a few are women, and they seem quite strong. It's hard to acquire a sense of personality; as is proper, they keep that out of work.

You start to see the degradation in self-respect immediately with the staff. They take their jobs seriously enough, though competence is somewhat lacking. But they seem to have come to terms with their limited prospects, almost to the point of being blasé about their inferior position in Korean society. "So what," returned one with whom I've become friends, "Korean men will buy you presents and take you out to nice restaurants." Once I related my concerns over sleeping with an engaged guy, and she outright laughed at me, telling me just to be "cool" about it. When I informed her my trouble was that he had admitted feelings for me, she was astonished he would do such a thing. To give her some credit, she seems to enjoy, and agree with, my occasional feminist rampages, such as self-respect is just the beginning for any woman who expects to get ahead in life.

Then, there are the TAs, whose conduct is disgusting to me I sometimes cannot see straight. With no economic incentive to take the job seriously (it once took me twenty minutes to get lined paper for an exam), they treat the place like a coffee shop, for flirtations and jangnang, which roughly translates into "silliness" but doesn't convey how it is an established cultural phenomenon. I quote you, verbatim, "Hongshiljangnim, yeojahlul joowahhamyunun gwulyunhaeyaji!" or, "Hong-staffhonorific, if you do like women, then you should get married!" Oh my god, the husband hunters—that's an extreme example, but you can always tell, they deliberately pitch their voices cartoonishly high and open their eyes as round and innocent as possible. Once, I was lunching in a restaurant, with two groups of women on either side. And yet, I automatically categorized one group as ajjuma (tough, intimidating older married women) and the other as "not" ajjuma. In annoyance at one group, I turned on my iPod—and then I wondered why—the two groups were similar in age. And I realized that one group talked primarily in those squeaky voices, and I realized that the voices were a marker, a cultural signifier, that telegraphed, "I'm not married! I'm cute and innocent and non-threatening because I'm only SIX YEARS OLD! MARRY ME!" I've been told to be tolerant, these TAs are young, and they come from rich families, as if it's some kind of excuse for being so trashy. And yes, trashy is the correct terminology here. They may be playing the virginal rather than slut card, but they're deliberately cheapening themselves just to appeal to men. It's not much different from the Western style of fake boobs and bleached blonde hair and too much Escada perfume and black eyeliner.



Such has been my reality this summer session. It seems bleak. And yet, you need only consider Anne, who is far more assimilated than I, to realize it's just how some women behave. But Anne also has culture and intelligence, which only reinforces my belief that these contemptible behaviors arise from an inherent disregard for human potential of women, for which the readiest solution is economic equity. It's also important to recognize how peer pressure in Korea is so much more intense; individuality is even perceived as a kind of selfishness. And yet, this also seems self-defeating. If I've learned anything about men, it's how quickly and easily they grow bored, and yet Korean women all dress the same, act the same, talk the same, and even sport the same face (plastic surgery), not because they are themselves the same individual (on the contrary, in one-to-one interactions, no two people are alike), but because they feel they must be that way. But one must assume that Korean men are simply starved for variety.

Labels: asiatica, culture notes
9/16/2009 [0]
Lookbook: Gothic Berry
by Dain

A colorized (unfortunately) glamour shot of Lauren Bacall.


When it comes to dramatic lips, red may take the lion's share of glamour, and fuschia and coral may brim over with cheer, but for outright, ladylike sophistication, you can't beat a berry lipstick. Unless sheered down into a glossy stain, in which iteration it seems to channel an air of romance, it telegraphs unapologetic high-maintenance. What man, unless he were very stupid, would take one look at Lauren Bacall, and imagine he'll emerge unscathed?


The principles behind all looks based around dramatic lips remain consistent for berry, plum, burgundy, wine, and purple shades: good, clear skin and lips regular in shape and size. Indeed, such considerations are even more crucial, since these shades are not bright, but dark, and if not deftly handled, will result in a tired, drawn look; just take a gander at the model at right. It may serve on the runway, but that lipstick, with the unfortunate choice of powdery mustard swathed around the eyes, lends her complexion a sickly, waxen cast.

Consequently, choosing the perfect undertone and intensity for your coloring should be your first priority. Like reds, to which berries are closely related, the ideal shade is highly depending on individual coloring, and presumably if you wear reds well, you may have good luck with berries—perhaps even better, if you have olive tones to your skin. On a naked face, it should brighten, in spite of its depth, and double well as a sheer stain. A true berry is a composite of red and blue, and tend to favor the cool-complexioned, but many are suffused with rich brown hues for more universal appeal. These brown-berries, or cloves, as I like to call them, are better suited than true wines and plums to those who favor coral or peach blushes; if you are very warm, the best option may be downright chocolatey. Two softer berries, intermediate in depth but still quite rich, that may be excellent places to begin are Kevyn Aucoin Enchantaberry and Lipstick Queen Berry Sinner. Myself, I've got my eye on Shiseido's Perfect Rouge in Gilded Wine. The intensity will, again, depend on coloring. A berry that's practically gothic on the very fair would barely show on a darker skin tone, behaving more like a pink. That does not mean that one must abide by an exact increment of intensity, only be wary that beyond six shades deeper (I'm personally very fond of Besamé Noir Red myself), shades will be by nature that much harder to pull off.

If you find yourself stymied by the agony of choice, remember, it's just lipstick. In the words of Pat McGrath, "Just blot, darling." Unless the undertone is really off for your coloring, practically all berries can be sheered down into a subdued state.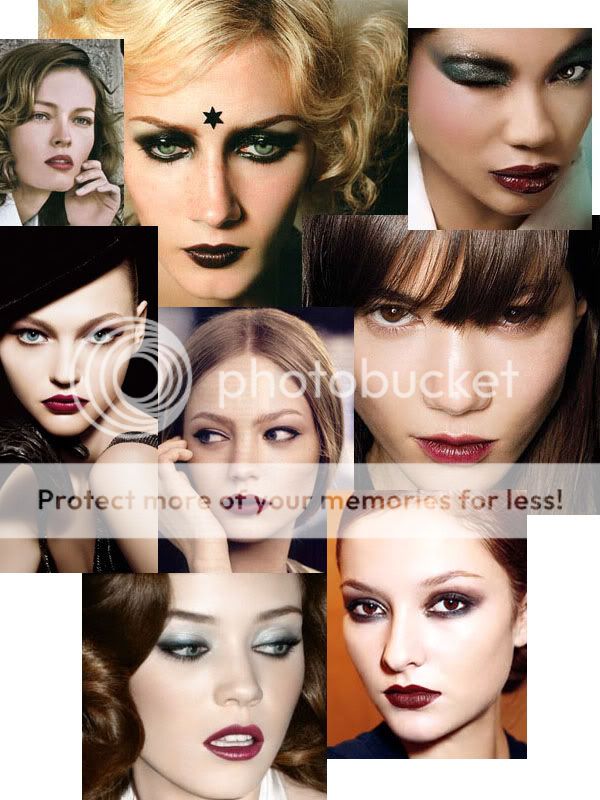 As for what to pair with your berry, wine, burgundy, clove, chocolate, purple, or plum lipstick, your options are fairly open. A softer hue, or a sheer, can adorn an essentially naked face (top left, center right). The most vivid contrast, however, needs equally strong balance on the eyes, lest the lips come off too stark—few faces, however, can handle makeup at such intensity (top center, top right). If your berry is a more normative wine-red, then smoky eyes, to reinforce the innate sultriness of your lipcolor, seems to be an able and willing option (center left, bottom left, bottom right). As for me, I'm particularly fond of a rich berry lip with clean, winged black eyeliner; you don't need anything else, just two dramatic statements in perfect tandem (dead center).


With deeper shades, it is absolutely imperative to exfoliate the lips, for the pigment will cling to flakes. Soften them further with eye cream (not lip balm, which is greasier). If you tend to bleed, then a lipliner is advisable, and for controlled, precise coverage, a lip brush may be an aid, as well. Like red lipstick, berry is high-maintenance, but the overall effect is cooler, less greedy for attention, and rather luxurious. And judging from the Chanel Noirs Obscurs Winter 2009 collection (shown above), as well as every fall collection out there now, it's the emerging trend of the season.

Labels: besame, chanel, kevyn aucoin, lauren bacall, lipstick queen, lookbook, shiseido
9/12/2009 [7]
Perfume Notes: Guerlain Eau de Guerlain
by Dain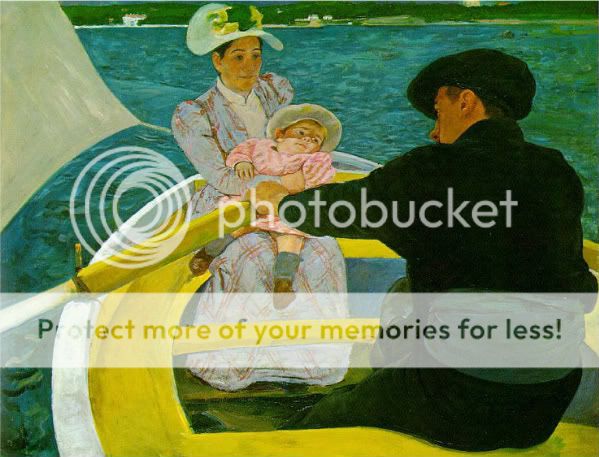 Mary Cassatt, The Boating Party (1893-1894).


The antique formula (1709) of the cologne*, the Gallicism for kölnisch wasser, is not a terribly complicated thing: hesperidic essences, laced with aromatic herbs. Citrus notes are infamously fleeting, so modern colognes are often grounded with clean musks, vetiver, sandalwood, or oakmoss, but even that is only delaying the inevitable; most tend to last no more than twenty minutes to an hour, depending on the liberality with which you spritz. Many start out as masculines, like Christian Dior's classic Eau Sauvage, but the fresh, exuberant appeal of the cologne, the ultimate eau fraîche, draws many women, too, and regardless of gendered origins, pass into the realm of the unisex.


The cologne projects a perennial vigor, the characteristic twang of citrus bringing with it, wherever it goes, the sense of fresh air, sunshine, and immense well-being. The variations tend to be subtle, shifting elements and emphases—the crushed soap and leaves in Thierry Mugler Cologne, the savory richness of tea leaves in L'Occitane Thé Bergamote, the lime-focussed Hermès Eau d'Orange Verte, the meaty, almost sweaty, chypre undercurrent in Lancôme Ô de Lancôme—and yet these distinctions never truly alter the cologne's distinctive character. (Contrast, for example, the variety manifest in the equally venerable formula of the chypre: Bandit and Mitsouko, though structurally akin, have personalities entirely their own.) The perfect cologne, like a favorite pair of jeans, is largely a matter of perfect proportions and solid construction rather than stylistic excitement. In that sense, Eau de Guerlain, with its more recent competitor Eau de Cologne from Chanel, will stand as the platonic ideal. Compared to most Guerlains, Eau de Guerlain is the soul of simplicity, and yet its composition is so balanced, so suave, and surprisingly deep for a cologne, as if the house's sophisticated aesthetic has merely been relaxed rather than abandoned. The tart juices of lemon and bergamot are never too sweet, never too sour—dry, yet bracing. The accents are restrained, you must sniff throughly to detect them: the mint adds a tingle, the basil a vegetative heat, the jasmine a delicate floracy, the carraway some muted spice, and below it all, a rich drydown of sandalwood-tinged vetiver, so that even when the citrus has faded away, Eau de Guerlain retains a mannerly presence. For all the solar notes, it never bids for your attention, not even a quietly voiced bon mot, but listens calmly and thoughtfully, as if what you have to say is important. Like all good listeners, it is easy to dismiss, easy to take for granted, but when the world is grown too much, too full, the clarity of Eau de Guerlain shines through.

OTHER REVIEWS
Now Smell This
Monsieur Guerlain
Pere de Pierre
Basenotes
Makeupalley

* For the purposes of this discussion, I am not using "cologne" as shorthand for "masculine", but as a scent family.

Labels: basil, bergamot, gary cooper, guerlain, jean paul guerlain, lemon, mary cassatt, mint, perfume notes
9/09/2009 [3]
Beauty Notes: The Face Shop
by Dain
Pretty much anything you'd ever want to buy, except perhaps Frédéric Malle, is available in Korea. For a price of course, because the export tax is ruinous. Anything manufactured within Korea, however, is dirt cheap. Among the homegrown brands, I've grown particularly fond of The Face Shop, which has branches all throughout Korea, in Lotte department stores, even the subway. The prices are comparable to the drugstore, so given Korea's slavish regard for brand names, my coworkers tend to sneer at the stuff, insisting that it only works for me because I'm young—the same kind of sentiment that drives this SA from hell. Not all the lines are so worthwhile, but the Eco-Therapy line offers formulae equal to any: cleanly built basics with a minimum of nasties, i.e. no parabens or mineral oil, but there's still borderline ingredients like capric/caprylic triglyceride. They use bamboo or birch sap instead of regular water, a nice touch.

There are two Eco-Therapy lines, the original, called Extreme-Moisture, and a richer, "anti-aging" spinoff that goes under the name Super-Repair. The Extreme-Moisture variant is sold in the US, exclusively at Walgreens, though for some reason it's known as Eco-Vert instead.


My introduction to the Eco-Therapy line, and their bestseller, was of all things, a toner: the Extreme-Moisture Tonic with Essential (10,500W for 145 mL, $19.99 for 4.9 oz). The Seoul summer is unbearably sticky, and I needed something light to mop up the grime. I had bought some cheapie foam cleanser when I was stuck in Jeonju with no skincare, and they were generous with samples (they always are, in Korea). Mostly, the samples are indifferent, but I was surprised by this toner—it's possibly the nicest toner I've tried. The scent is refreshingly light and clean. A layer of palm oil sits up top, so the bottle must be shaken for a brief period of emulsification, and the high concentration of humectants makes it very gentle and mild on my sensitive skin, for which the cotton pad provides ample exfoliation (look ma, no scrub!). On the really hot days, it's enough hydration for the day.
INGREDIENTS
Bambusa Arundinacea Stem Extract, Betaine, Dipropylene Glycol, Glycerin, Glyceryl Polymethacrylate, Propylene Glycol, Grapefruit Fruit Extract - Citrus Paradisi, Sodium Hyaluronate, Palm Oil - Elaeis Guineensis, Hydrolyzed Viola Tricolor Extract, Thyme Flower/Leaf Extract - Thymus Vulgaris, Rosa Gallica Flower Extract, Rosa Damascene Flower Oil, Eucalyptus Globulus Leaf Extract, Anthemis Nobilis Flower Extract, Horse Chestnut Seed Extract - Aesculus Hippocastanum, Black Currant Leaf Extract - Ribes Nigrum, Lavender Flower Extract - Lavandula Angustifolia, Padina Pavonica Thallus Extract, Sodium Carbomer, Fragrance, Disodium EDTA.
Intrigued by the success of the toner, I looked into the moisturizers, of which there are several (lotion, cream, gel-cream, serum). The sales girl assured me that the lightest of them was the Extreme-Moisture Essential Serum (14,900W for 40ml or $24.99 for 1.35 oz), and indeed, this stuff hits that desirable point between water-light texture and quickly penetrative, but intense, hydration. There's a brief stickiness from the sodium hyaluronate, but I think it rivals Vichy's Aqualia, which is three times the price in Korea, without the silicones. I don't know if it does anything exactly, so I'd place it below Jurlique Herbal Recovery Gel in my affections. My skin does look great, but it's not picky, so long as it's well hydrated, inside and out. You can feel the moisture sinking into your skin the moment of application, and continued use leaves slakes the most dehydrated skin of its thirst, leaving that bouncy, plump, well hydrated feeling. And yet it disappears into the skin with a minimum of residue, which makes it ideal during the summer, and it'll add a nice "boost" of moisture beneath a more protective moisturizer come winter.
INGREDIENTS
Bambusa Arundinacea Stem Extract, Betaine, Butylene Glycol, Dipropylene Glycol, Glycerin, Sodium Hyaluronate, Padina Pavonica Thallus Extract, Thyme Flower/Leaf Extract - Thymus Vulgaris, Hydrolyzed Viola Tricolor Extract, Rosa Gallica Flower Extract, Rosa Damascena Flower Oil, Eucalyptus Globulus Leaf Extract, Anthemis Nobilis Flower Extract, Horse Chestnut Seed Extract - Aesculus Hippocastanum, Black Currant Leaf Extract - Ribes Nigrum, Lavender Flower Extract - Lavandula Angustifolia, Grapefruit Fruit Extract - Citrus Paradisi, Caprylic/Capric Triglyceride, Ammonium Acryloyldimethyltaurate/VP Copolymer, Hydrolyzed Lupine Protein, Hydrogenated Lecithin, Sodium Carbomer, Argania Spinosa Kernel Oil, Fragrance, Disodium EDTA.
I did try one item from the Super-Repair line, the Lip & Eye Balm (14,900W for 30 mL), which is not sold in the US. Unlike the other two products reviewed here, it's quite unctuous in texture, like a luxurious Aquaphor. As far as I'm concerned, eye creams have no intrinsic virtue; pretty much all you can do is slather on the richest formula you can stand, to keep the thin, fragile skin supple. Compared to Badger Evolving Balm, my previous go-to, the Lip & Eye Balm is less emollient and penetrates surprisingly well for its weight. All the same, you must apply sparingly (my skin is now normal instead of dry, perhaps in winter it'll drink this stuff up) and allow a few minutes for it to sink in if the intention is to wear makeup. It makes a nice lip balm under lipstick as well.
INGREDIENTS
Birch Sap, Glycerin, Caprylic/Capric Triglyceride, Trehalose, Cyclopentacyloxane, Cetearyl Alcohol, PEG-75, Cyclohexacyloxane, Glyceryl Stearate, Rapeseed Oil, Damask Rose Oil, Ginseng Extract, Rosemary Leaf Extract, Purslane Extract, Sapindus Extract, Camellia Seed Extract, Cluster Pine Xylem Extract, Lysium Chinense Miller Extract, Kochia Scoparia Schrader Extract, Lotus Leaf Extract, French Rose Extract, Chamomile Flower Extract, Brown Algae Thallus Extract, Willow Herb Flower/Leaf/Stem Extract, Gentian Extract, Lavender Flower Extract, Blackcurrant Seed Extract, Eucalyptus Leaf Extract, Chestnut Extract, Mango Seed Butter, Caffeine, PEG-100 Stearate, Glyceryl Caprylate, Cetearyl Olivate, Sorbitan Stearate, Batyl Alcohol, Stearic Acid, PVP, Squalene, Caprylyl Glycol, Tocopheryl Acetate, Butylene Glycol, Dipotassium Glycilysate (???), Stearyl Glycyrrhetinate, Disodium EDTA, Fragrance.
The Face Shop is seriously underappreciated. All of these products, are designed well from top down: formula, scent, packaging, performance. And though the stuff is cheap, a little goes a long way. It's a great source for basic skincare, and there really isn't any other kind.

Much thanks to Anne for helping me translate these ingredient lists!

Labels: beauty notes, the face shop
9/05/2009 [1]
Beauty Notes: Jojoba Oil
by The Kindly One


Having wavy, thick, course hair, I've spent a considerable amount of time trying to find products that can manage and improve the health of my hair. Very little works. Too many products are drying and, promises of manageability aside, I refuse to heat-dry and -style my hair. It takes enough work to make it healthy. I don't want to add more work to offset damage.

After finally giving jojoba oil a try, I've found that it works quite well to provide definition, softness, and manageability to my hair. Jojoba oil works by coating the hair, smoothing the surface and reducing surface friction/frizziness. In turn, my waves lose some of their blockiness and looks more defined. My hair feels softer, as well, due to the oil coating my hair.

However, jojoba oil isn't penetrative. Instead, it works something like silicone to coat the hair, preventing moisture from entering or leaving the hair shaft. This means that whatever positive effects are gained from jojoba use go down the drain, literally, when you shower. I've found no cumulative effect from jojoba use, either in terms of hair health or hair dryness. For all its similarity to silicones, it doesn't dry out or damage my hair the way silicones do.

Due to the success of this trial, I'm interested in trying other types of oils for my hair, particularly coconut and avocado, as these could potentially lead to healthier hair. However, this is no looking a gift horse in the mouth - I'm just pleased to have (finally) found an inexpensive option for keeping my hair healthy.

Labels: beauty notes, jojoba oil
9/01/2009 [3]
Subscribe to
Posts [Atom]. Or
follow on bloglovin'. If
you'd like to contact Dain,
feel free to email me.
I'm also on Pinterest.
Features

The Mnemonic Sense
Most Wanted
The Beauty Primer
Lookbook
Bestsellers
Consumer Diaries
Closet Confidential
On The Label
Beauty Notebook
The Hit List
Color Me In
The Makeup Artist
Wedding Bells
Globe Trotter
Desert Island
perfume notes
beauty notes
fashion notes
culture notes
minimalism
chypre arc
floral arc
fresh arc
masculines arc
gourmands
& orientals arc
Archives

August 2008
September 2008
October 2008
November 2008
December 2008
January 2009
February 2009
March 2009
April 2009
May 2009
June 2009
July 2009
August 2009
September 2009
October 2009
November 2009
December 2009
January 2010
February 2010
March 2010
April 2010
May 2010
June 2010
August 2010
September 2010
October 2010
November 2010
December 2010
January 2011
February 2011
March 2011
April 2011
May 2011
June 2011
July 2011
August 2011
September 2011
October 2011
November 2011
December 2011
January 2012
February 2012
April 2012
May 2012
June 2012
July 2012
August 2012
September 2012
October 2012
November 2012
December 2012
January 2013
February 2013
March 2013
June 2013
July 2013
Images

Photobucket