Announcements
If you're new to this blog, then read our guides to the basics: Skin (Part I), Skin (Part II), The Supernatural, Color Theory I, Color Theory II, Eyes, and Brushes.

Also, check out the blogsale.
Contents
· Consumer Diaries: November 2009

· Beauty Notes: A Manifesto Against Clé de Peau

· Lookbook: Green With Envy

· Fashion Notes: The Versatile Handbag

· Culture Notes: Channel Surf (Anne)

· Culture Notes: Channel Surf (The Kindly One)

· Culture Notes: Channel Surf (Dorothy)

· Culture Notes: Channel Surf (Daïn)

· Fashion Notes: Affordable Shoes

· Perfume Notes: Chanel Pour Monsieur

· Beauty Notes: Fuss Free

Favored

Art Tattler
the glamourai
The Non-Blonde
Perfume Shrine
Lisa Eldridge
Garance Doré
Smitten Kitchen
Into The Gloss
Grain de Musc
Lacquerized
Res Pulchrae
Drivel About Frivol
The Selfish Seamstress
Killer Colours
Bois de Jasmin
Glossed In Translation
Jak and Jil
Toto Kaelo
Worship at the House of Blues
I Smell Therefore I Am
Food Wishes
The Natural Haven
Messy Wands
1000 Fragrances
Moving Image Source
Wondegondigo
The Emperor's Old Clothes
M. Guerlain
Colin's Beauty Pages
Barney's jewelry department
Parfümrien
loodie loodie loodie
The Straight Dope
Sea of Shoes
London Makeup Girl
Sakecat's Scent Project
Asian Models
Ratzilla Cosme
Smart Skincare
Illustrated Obscurity
A.V. Club
Tom & Lorenzo: Mad Style
Eiderdown Press
Beauty and the Bullshit
La Garçonne
Flame Warriors
Everyday Beauty
Fashion Gone Rogue
Now Smell This
Dempeaux
Fashionista
The Cut
A Fevered Dictation
Nathan Branch
101 Cookbooks
Consumer Diaries: November 2009
by Dain
WATCHING


Next to Gilda, the throbbing manipulations of Closer seem positively amateurish. The script reeks of film-noir clichés, but the actors make it come alive all the same. It's no difficult task to believe that Rita Hayworth could inspire such a frenzied lust in every man around her (Marilyn Monroe was a big fan). And twisted, cruel, and manipulative as Johnny is, why should he trust her? It is because he desires her so intensely—that wonderful scene when he prevaricates verbally over how he must "confront" her "privately" for the "disrespect" to her husband, but it's obvious to the viewer he's just in love with her—that all the male attention she garners is a personal threat to him.



To state the obvious: Alain Delon is beautiful. Instinctive lust doesn't come naturally to me, but dear god! Plein Soleil does exploit Delon's rather cold-blooded charisma, as all movies do, but it merely accentuates the malevolence of his soul. Who would suspect him?

READING
I'm about halfway through The Name of the Rose.

SNIFFING
Citrusy numbers—Dior Eau Fraîche and Moustache, Cartier Déclaration, Cristalle, Ô de Lancome, Alpona, Eau d'Orange Verte, Eau de Guerlain, Thierry Mugler Cologne—have been my favorites of late, though they've never honestly appealed to me before. There's just something about how all that understated sunshine cuts through the dreariness of November; it's immensely appealing, when merely be banal for summer. The clear winner is Déclaration; it picks up compliments wherever it goes, and already my large bottle is half depleted, joining the ranks of more conscious favorites such as Mitsouko and Opium.

DAUBING



I have bitten my nails all my life. Growing out shitty nails is nearly futile, because they grow ragged and flattened and thin, and snick snick! you just put them out of their misery, and manicures abet nothing, because if you gnaw at your cuticles, you've no compunction to stop yourself from peeling off nailpolish—it's a vicious cycle. For the fun of it, I had bought some Chanel polish, including the easygoing but ever-so-expensive-looking Golden Sand, but the inevitable chipping meant that I would be back to picking at my nails within a few days. A good top coat is the obvious remedy, but Seche Vite has always stymied me because it is so pricey and dries out so quickly. I am truly grateful to The Face Shop's top coat: it's just 1000 won (about 80¢), ubiquitous throughout Korea, and the stuff penetrates through the layers of polish before drying into a mirror-like shine that resists chips for at least five days. I keep my manicure well nourished with Clarins Jeunesse de Mains Hand and Nail Treatment Cream ($30); I'm no hand cream expert, but this moisturizes well, absorbs rapidly, and is smells oddly like a combination of floral powder and Juicy Fruit.

WEARING

I am not one to wear clothes for comfort or practicality; these Roberto del Carlo boots are the closest thing to utilitarian shoes I own. I am accustomed to heels, so these are comfortable, but the color, a blue-tinged slate, is rather difficult to work around: I have in mind a pair of corduroys, in the hue of golden wheat.

LISTENING


For reasons I cannot put into words, considering it sounds oddly like a child tinkering clumsily at a keyboard, Nina Simone's rendition of "Good Bait" makes me ache deep inside. I don't know why; it hurts.

EATING


I can't remember the last time I had a Big Mac, but eating one again is a queer experience. It's perfectly calibrated: just the right proportions of bread, beef, cheese, ketchup, and lettuce, so soft and yielding before a gaping mouth that it's practically mash worthy of fattening a pig for slaughter. Goes down real easy, though.

WISHLIST
It's appalling, but I'm waiting for my monthly paycheck. Avarice is demanding. Too many things:
a pedicure I don't pay my feet any fanatical interest, but I would like them cleaned and groomed. I believe I've never, ever had a professional pedicure?
Giovanni Smooth as Silk Shampoo & Ren Moroccan Rose Otto Body Oil I switch shampoos more out of boredom than need, but I wouldn't mind trying out a new sulfate-free product. As for the Ren, I've always wanted it—I love oils on the ends of my hair, to soften and protect, and add bounce, texture, and sheen—this is more nutritive than others I've tried, with an elegant, slightly grassy rose extract.
an inexpensive coffeemaker Mine's broken, but I don't want to pay 50,000 won, which is what Hyundai demands for its cheapest model.
Laura Mercier St. Germain I don't wear greens easily; they are usually not cool enough to align into that perfect contrast zone with my coloring, as blues do, but St. Germain hits an intensity that's both vivid and flattering. Even restricted to liner, it is fully dimensional.
a fluffy bathrobe I don't really do casual wear; it's no real trouble to me to be so high maintenance (I don't own a single pair of shoes that require socks). So when I dress down, I'm just in underwear. So a bathrobe is necessary, for warmth and decency both.
a small bottle (1 oz or less) of Knize Ten I always covet whichever perfume I'm reviewing.
Shu Uemura Face Architect Remodeling Cream Foundation I'm so sick of the over-hyped Clé de Peau concealer. I don't wear foundation, but I've always liked cream foundations, and this one is certainly as nice as the long defunct Stephane Marais, for spot coverage. This stuff covers my (mild) undereye circles, and yet can be thinned out or layered for allover coverage.
Isabel Marant Anything, really. But I've my eye on a semi-sheer tee the color of a summer sky and golden-wheat corduroys (aforementioned) at the very least. I shouldn't, though.
a box from America From my friend Cathy, all the things I ordered online that don't ship to Korea: two Eres bras, a pink Steven Alan buttondown, Shiseido Future Solution Eye & Lip Contouer Cream, Estée Lauder Chelsea Pink Signature Lipstick, a vintage bottle of Dior Eau Fraîche, Tauer L'Air du Désert Marocain (with a slew of Luckyscent samples; new releases mostly), a mini of YSL Paris, a mini of Aramis, Sonia Kashuk hair brush, Pixi Flawless Vitamin Concealer, Weleda Skin Food, Tweezerman Slant Tweezers. I'm thinking of adding St. Germain cheap from ebay, too.
I know, I know. I TOLD YOU IT WAS BAD.

Labels: cartier, chanel, consumer diaries, gilda, giovanni, laura mercier, nina simone, plein soleil, ren, roberto del carlo, the face shop, umberto eco
11/30/2009 [1]
Beauty Notes: A Manifesto Against Clé de Peau
by Dain
Some reviews—or should I say, anti-review?—write themselves. The famed, the impeccable, the so-coveted-that-customers-and-even-SAs-steal-the-testers Clé de Peau concealer that has for the past half a dozen years been the uncontested undereye concealer of all time, is a fraud.

It wasn't always this way. When the original formula, the packaging at left, was offered, repute, though it bounds before reality like an overeager lover, was well founded, or at least truth was less offended than it usually is by human opinion. It covered all but the most severe discoloration, and yet looked assiduously natural, without requiring special tools to blend, or a powder to set—a boon from heaven for those not willing to put up with Laura Mercier's anal-retentive concealers. It is almost impossible to meet a product, even at $65, that meets the demands of perfection. This concealer was developed by makeup artist Stephane Marais, whose signature is an utter seamlessness, even with vivid color. Then, for whatever reason, Stephane Marais was dropped.

Some time afterwards, Clé de Peau began to change. Its singles were replaced by extraordinarily expensive quads, before impressive, jewel-like $45 singles with choppy pigmentation were introduced to the lineup. It came out with that moronic $60 gel liner with an unusual surface decoration in blue shimmer, but in actual performance pales in comparison to other, cheaper gel liners—no surprise, Jean Godfrey-June was all over this shit.


These two are outliers, however, the only outright ripoffs. The bulk of the line is composed of products that fulfill the requirements of their job description, and, to fulfill the requirements of the prices they command, are also quite "cosmetically elegant" (in the words of Paula Begoun). I'm personally fond of the Eye Contour Balm Anti-Wrinkle, a neat $135, though it's too active for my sensitive skin. Clé de Peau is after all owned by Shiseido, which also owns Serge Lutens and NARS, so there is no deficit of corporate wherewithal behind this rarefied iteration of Shiseido's main line.

Take, for example, the Gentle Cleansing Foam, which claims a modest fan base of its own. As a cleanser goes, it is quite excellent. A tiny pea-size dollop lathers into a fine, dense, creamy foam typical to Asian skincare—certainly this is among the best I've tried. It meets all the standards necessary to a good cleanser: it cleans well and rinses clean and does not strip dry skin. Again, it is an excellent product. Though the packaging declares French origin, mousse nettoyante tendre, the product is thoroughly Japanese, from Shiseido's funding to the delicate, snowy floral scent. But in the cosmetic world, pompous hype is nothing unusual. It is still an excellent product. The real problem is that the powers-that-be at Shiseido decided it was ethical for them to slap a $60 price tag on what is essentially an excellent basic: a foaming cleanser. What bullshit; you can get Shiseido's Benefiance for half the price.

These subterfuges, again, are typical. The beauty junkie, whether ignorant or jaded, barely bats an eye in the face of the subterfuges of the industry; genuine, worthwhile products are the exception rather than the rule. What makes me really angry at Clé de Peau is the concealer, THE concealer, the famous, revered concealer. They didn't just repackage it. They fucked with the formula. It cakes. It settles into fine lines. I have both old and new formulae on hand to make the comparison. I bet you anything it's cheaper to produce now; to add insult to injury, they increased the price to $70. And the Clé de Peau Concealer, let us face it, its reputation is secure. It might as well be accompanied with a halo. This stuff will continue to make a tidy profit.

If you are thinking of buying the famous Clé de Peau Concealer, because you've heard so much about it, don't. Don't. You're wasting your money.

Labels: beauty notes, cle de peau
11/27/2009 [4]
Lookbook: Green With Envy
by Dain

Ling Tan for François Nars Make Up Your Mind


Some claim to naturalism is possible with purples, but once we get into greens and blues, no such coy evasions are possible. Even with skin-friendly shades like the lime and murky forest featured above, they are an alien presence on the human complexion, even on olive skin. The neophyte must avoid any attempt to muzzle greens into something submissive—if you want natural, prettier-than-thou makeup, then just wear browns—but also control the equal and opposite urge to stress the exoticism. It already makes a statement; for everyday, drama is best when concise*. Like purples, greens are dosed with blue, the color that clashes most violently with nature, which is why they both "pop" on the skin, though both are somewhat mollified by a warm half. Yellow harbors less of an affinity for skin than red (imagine wearing yellow lipstick!), so overall, but not always (a brilliant royal purple is more difficult and intense than a desaturated olive) greens are less inclined to cooperate with neutrals, and create a sharper contrast than do purples.


It is in this view, as contrast, that greens are most appropriately treated. In the spectrum of pigments used on the eyes, contrast shades differ from complementary tones in that they directly oppose, rather than work in tandem with, naturally occurring fleshtones. Oddly enough, contrasts, when perfectly calibrated against your coloring, are more wearable than ill-judged neutrals; consider the smoky eye built on layers of silver and black, so sultry when well executed, but too frequently employed as a signifier of sexual availability within the ecosystem of bars. The danger of overapplication, though perhaps not of social stereotyping, is greater with contrasts. Therefore, a keen sense of balance is paramount. It is not a question of ability—this Shu Uemura advertisement is professional work with objectives rather different from reality's—but of judgement. Colors demand both confidence and technique, but they avail you nothing if the teleology of all makeup, regardless of idiom, is not fulfilled: if it's not pretty, then what is the point? A well chosen contrast can be beautiful and flattering; pigment orgasms ariot on the eye are just hungry for commentary. Your makeup may be impressive, if you so desire, but never to the point it upstages your face. As a contrast, greens invariably flatter warmer complexions better—tawny, golden skin and eyes are ideally suited. Peachy blushes or bronzer make excellent companions. If you are cool, you will be better served by blues, but if you insist, the bluer greens are good options: seafoam, or a teal like Laura Mercier St. Germain.

Even in its most demure form, the pastel mint, the presence of green is quite striking. On the model's huge, doll-like eyes, there's an interesting play between the uncompromisingly chalky finish and the delicacy of the candy colors, mint and sky blue, fused together, and for balance, a wine stain on the lips. To soften the look for everyday, a mint is perhaps more friendly when shot through with shimmer, such as Shiseido Clover Dew.
Celadons are light to medium greens, well muted, sometimes entirely desaturated, by grey. Consequently, the cult favorite Lancôme Erika F G40 wears essentially as a neutral, with only a subtle underpinning of green to lend an extra punch to the standard smoky eye (the shade is available only in Europe and Asia, but the shadow used in the image below is Shiseido Kombu, makeup by Dick Page). In some celadons, such as Urban Decay Urb, the green is merely softened, when combined with a rich brown liner, creates an look worthy of a woodland fairy.
Though this is a particularly vivid example, lime effects a fantastic poignancy; the chartreuse of NARS Rated R is more wearable than you'd imagine, like an edgier take on gold. If this much acidity frightens you, then pull it back into liner, or consider instead the freshness of a leafy green, like Shu Uemura P Green 450.
If you thought pastels served only the pale, this look testifies otherwise (it is possibly my favorite of them all), greens in all their forms adjust amiably to the higher melanin concentration in tanned or deeper skintones. Here, this matte green is softened by lemon yellow—when eyeshadows are combined horizontally, it's usually advisable to place the shade most dramatic, by virtue of brilliancy or depth, closest to the lashline—and tied together by the crucial element of black liquid liner.
This unusual taupe-inflected, steely mint is not a shade I could easily source (but NARS Habanera might do as well; or if you like more brown, MAC Club), but Hilary Swank here is an exemplar of dramatic eyes as a concise statement: pretty, and not the least bit clichéd, because the makeup artist has cannily avoided the temptation to pile on pigments that would disturb the pristine contrast with her skin, hair, and eyes, merely content to allow the mild frost of her lipstick to provide a quiet echo.





If you find, in the course of your experimentation, that greens wear as comfortably on you as a favorite pair of jeans, then why not go straight to the source, with an emerald like MAC Humid? Even more than acid brights, pure colors pose the greatest challenge of all (think of red lipstick), and they're so conspicuous that at most they lend themselves to one or two basic techniques, but then again, you shouldn't expect contrasts to be utilitarian. Round the inner corners, the richness of the green is well matched by an equally sumptuous gold, but the edges are muddied by a matte taupe, for a slightly worn, unkempt effect that averts the metallics from over-preciousness.
If you insist on an elaborate eye, do as François Nars has done, and keep the pigments compartmentalized and distinct from each other, deliberately exaggerating the slight dissonance between the colors. Those thoroughly conditioned to blend, blend, blend—why not resist the urge? This is more modern, more conscious, and completely unapologetic: hence the red lipstick.
Roughly correspondent to plums, the most practicable and therefore numerous of greens is olive, warmer and deeper than celadons. Some, like the mossy half of L'Oréal HIP in Gunmetal, are still quite verdant but muted by grey undertones, others, like Stila La Douce or Shu Uemura ME Olive 450, lean towards the golden-bronze spectrum. The classic smoky eye, when revisioned in greens, has an unexpected charm. What I like about this look is that the olive, which dominates the lid, is freshened by a brighter, mintier green, and the black liner is a minor note, for just a little depth; Gisele's makeup is not altogether far removed from the lead image of Ling, just reoriented slightly for differently shaped eyes.
Emerald again, this time flying solo.
Both yellows (golds) and blues provide natural counterpoints (exhibited by looks #1, #4, #6, and #7), since green is of course a combination of both, but purple, which shares that cold blue half in common and yet seems outwardly so different, is perhaps the most astute match of all. It surprises me, actually, that I was hard pressed to find an example—I'd have preferred jewel tones instead of pastels—but take my word for it, violet harmonizes well with nearly all manifestations of green, like a Monet painting.
* Unless, of course, you are extraordinarily beautiful, in which case rarely matters how much or how little makeup you wear.

Labels: l'oreal, lancome, laura mercier, lookbook, mac, shiseido, shu uemura, stila, urban decay
11/26/2009 [0]
Fashion Notes: The Versatile Handbag
by The Kindly One

My style generally veers in one of two directions. There is the lifelong affinity for Gothic touches, including lots of black, dramatic necklines, and a general dourness that warms my heart to depths unknown. Then there is the more universally appealing "conservative" look, in which the word "conservative" means "conservative for me." Its fundamentals revolve around true fashion fundamentals, those basic trousers, jackets, and shoes around which anyone can create a very distinctive style. This look evolves more consistently than the Gothic look and currently involves a mix of bright colors, visual depth, and well-fitted blazers and Keds. At the moment, "conservative" for me means something akin to a Scandinavian who's recently discovered vintage 70s Jamaican fashion and Balenciaga's Fall/Winter 2007/2008 show.

Given these somewhat disparate styles - which are not really so disparate when taking into the account of my own very consistent, somewhat eclectic method of putting things together - it can be very difficult to find a bag that accomodates both directions of my wardrobe. In the past, I've typically gone with bags I like and just put them with anything, regardless of whether or not they work with that day's style. I am somewhat pickier now about how I present myself. I am still not going to change out my bag any more than I absolutely have to, but I would prefer to go with a bag that compliments both directions of my style. That said, I have found a bag that very nearly meets that task, that being Louis Vuitton's SC Bag in calf leather.



Designed by Sofia Coppola in conjunction with Louis Vuitton, and at no less than $3,730.00, the SC Bag fits the criteria I set out for in a bag: a basic design that can rest in the background without calling attention to itself, that will not date itself now or in five years, and that, most importantly, has personality. The design is very basic indeed; there is none of the typical Louis Vuitton monogramming, overt branding, or overdesigning going on here. Simply put, had the LV PR machine not churned out its usual shill marketing this bag, a shopper could easily assume it came from one of the many anonymous, very good leather goods shops in Italy. Given the bag's very basic design, it has the ability to assume a good amount of personality depending upon what it's paired with. As seen in the top picture, the bag can go very casual, slung over the shoulder and slouched at the hip. As seen in the above picture, it can also go very expensive when paired with luxe clothing. This is a bag I can easily see slung over my own shoulder when worn with a shrunken leather jacket and Keds or simply handheld when worn with a shift and blazer.



While the SC is beautiful and nearly perfectly fits my criteria, I will not be buying it, though I would be happy to buy something similar. I do not have the budget to buy a nearly $4,000.00 handbag. Even if I did, I don't know that I'd invest in it. I am somewhat opposed to the vulgarity of Louis Vuitton's products, and I am very much opposed to the way in which the company markets the bag on its website. As seen above, the bag is airbrushed. I'm aware that airbrushing is a given in all mass media, including advertising, but the degree to which this bag - a handbag - is airbrushed is ridiculous. All the personality has been taken out of it, so much so that I would say the picture above makes this bag look ugly. It is only in the pictures with Coppola herself, as worn with real clothes and set in real life, that that bag takes on personality and dimension. That's where it's compelling, not in a sterile studio in front of green screen, airbrushed within an inch of its life. It may seem an odd thing to rage about the airbrushing of a luxury handbag, but there aren't that many things of beauty that I am so compelled by as to really take notice of them, and I take great exception to them being dummied down to a palatable, mediocre, middle-of-the-road, mass market level.

For more desirable looks at this bag, as well as the rest of the collection, check out ILVOELV, the irony of this post being that this site is titled "I Love LV."

Labels: fashion notes, louis vuitton, sofia coppola
11/24/2009 [3]
Culture Notes: Channel Surf (Anne)
by Anne
My family was an immigrant family, and consequentially, we marked such holidays as Thanksgiving or Christmas with minimal ceremony, if any, at the same time we had little occasion to celebrate Korean holidays, cut off from the "Motherland" as we were.

Which is a rambling way to say that turkey and gatherings, the traditional accoutrements associated with the winter holidays, were for me supplanted by TV marathons, there being little else to do on long stretches of blank days off. Therefore, most holidays are, to me, associated with one television series or another, especially since I rarely watch TV otherwise.

Thanksgiving: Hourglass




Probably every Korean over a certain age has seen Hourglass: indeed, such was it's popularity that, for the first time in possibly the history of urban life, people were hightailing it to home as soon as work let out just to catch the latest episode (it can be said that Hourglass nearly ruined pubs nationwide).

The storyline follows the lives of three young people from their youth in the late seventies and early eighties—at the height of a military dictatorship and a large-scale, mostly student-led countermovement, all the more furious for the persecution it suffered—to middle age in the turmoil of modernization, globalization, and political restructuring of the early nineties. Go Hyun-Jung's feisty revolutionary—later doing a complete about-face to follow in her father's footsteps as a casino mogul—is arguably the show's center, around whom the three main male characters seem to orbit. (On a totally unrelated note, I was often compared to Go Hyun-Jung's character when I was a little girl, both in terms of looks and personality.)

The trajectory of their lives shadow the history of Korea itself, coming to maturity as Korea "grows up" and develops its presence in the modern world. As such, Hourglass was the first network television show to directly deal with politically loaded topics such as the Gwangju massacre, kidnappings and torturing of dissidents, suppression of free speech and press, and other abuses of civil rights that the then-government would have swept under the rug. Such a history makes ripe fodder for melodrama, but Hourglass is the first of its kind to combine socially relevant criticism and much-needed reflection with good storytelling—following the success of Hourglass, 7080 history has been downgraded to clich&eacute in Korean drama, which attests to the lasting influence of this show. Which brings me to...

Summer Vacation: Friend, Our Legend

Americans are said to "root for the underdog"; in contrast, Koreans are underdogs. Maybe this is why Friend, Our Legend, the "hero" of which is an underdog like no other, feels so quintessentially Korean to me. Based on Friend, a hugely popular movie from the nineties, it follows Han Dongsoo from boyhood, as he comes of age under the stunting influences of prejudice, poverty, and the distant threat of political corruption and turmoil looming like a thunderhead in the background, to adulthood. His only comfort in such a bleak world is his best friend Joonsuk, and it is the vagaries and complexities of their relationship that the show focuses on. Ironically, Dongsoo's friends are no help to him, even proving to be a destabilizing influence in his life. It's a true tragedy that Dongsoo is helped on his way to a painful death by the strife of his relationship with his closest friend. There is no help or consolation in Dongsoo's life, whos as "unlucky a bastard" as they come.




Train Scene
Dongsoo: In the movies, they just jump straight down onto trains, from this height, you know?
Joongho: Yeah, but that's movies. You try that in real life, and you're gone, just like *that*.
Dongsoo: Would someone really die?
Joonsuk: [spits] Oh I dunno. Just the unlucky bastards.
Dongsoo: Unlucky bastards? Why, then I guess I'd die.
Joonsuk: You're not gonna die.
Dongsoo: Wanna bet?

Timeline and theme-wise, Friend follows in the footsteps of Hourglass, but it is more than just an Hourglass clone, for while Hourglass dealt mainly with the effects of large-scale historical movements on individuals, Friend focuses on the interplay of human relations within a certain historical context. This makes the latter series a more complex variation on the same theme, which is befitting, considering that the time gap between the the two series is 15 years.

Spring Break: Neon Genesis Evangelion

How's a little bit of psychobabble, scattered with references to the Bible as well as to obscure biology?



Neon Genesis Evangelion is most often seen through a lens of psychology, and yes, such a dysfunctional cast and a background so obviously Freudian, with religious overtones, = in its set-up (giant robots called "Eva", referred to with feminine pronouns, who house child pilots encased in phallic pods, and which go berserk in moments when the safety of their "children" is threatened, usually by equally monstrous "Angels"... and a Saturnian father figure seeming to control the strings in the background) make fertile ground indeed for shrinks to play in.

However, I personally like to interpret the themes of Evangelion from a biological angle. (Typical med student...) At the beginning, the angels are seen as heavenly destroyers, immortal and almost divine in their capacity for destruction, or alternately, lean and flawless fighting machines not too different from the robotic Evas. Slowly however, it is revealed that both the Angels and the Evas are not only mortal, but very much flesh-and-blood beings, not too different from humans themselves. Their final goal is survival, pure and simple, which in Evangelion is abstracted and conceptualized as "Instrumentality," a beatific state reserved for one species alone... correlating to the biological principle that the equilibrium between species sharing an ecological niche is unstable, that one must drive all the others to extinction in order to survive. Similarly, the angels and the human race are all competitors in the race to achieve instrumentality, which means eternal survival, which is only a step away from immortality.

The beauty of the biological view is that despite being a scientific concept, it meshes seamlessly with the psychological and religious themes of NGE: the garden of Eden, the trees of knowledge and life, salvation, separation from the mother figure and the lifelong yearning to reunite with some higher meaning.

Of course, my interpretation is only one of many. But that's why I like Evangelion so much: it offers a potent brain kick, and every time I watch it again I get something new out of it.

Childhood: The Magic School Bus

And lastly, my fondness for this one reveals all too clearly the fact that I am a child of the nineties. As may be inferred from my description of Evangelion above, I am a dyed-in-the-wool nerd. When I was little, I used to dream—both literally and figuratively—about being in Miss Frizzle's class, sharing sandwiches with dorky Arnold, trading lame jokes with Carlos, going head-to-head with resident bookie Dorothy, and in general, exploring the wonderful world of science with the rest of the gang. Explorations such as these:




How appetizing.

Labels: 7080, culture notes, go hyun-jung, neon genesis evangelion, the magic school bus
11/22/2009 [1]
Culture Notes: Channel Surf (The Kindly One)
by The Kindly One
This particular group post has been difficult for me to write because there have been so many shows that I really, really love. I struggled with narrowing the field until I started thinking about what type of shows I love. Current favorites include Dog the Bounty Hunter, Food Network Challenge and, as always, America's Next Top Model (I was on both Team Nicole and Team Laura). It cannot be said that my taste in television, or in much of anything, is classically "good." Rather than suffer the readers through the parade of eccentricity and manic energy I regularly flip to, I've chosen to highlight five shows that fall somewhere between "good" and "moderately okay."

MORAL OREL




This show is not for everyone. A tough opening sell, to be sure, but broad audience appeal does not come to mind when talking about Moral Orel. Set in Moralton, the "exact center" of the United States, Moral Orel follows the adventures of Orel Puppington as he navigates the world of conservative Christianity, slowly learning what being a Christian, and an adult, is all about. The show's main thematic content concerns the hypocrisy, religious and secular fundamentalism, and misuse and abuse of dogma ingrained in American culture. Satire and earnest questioning aside, the beating heart of the show is the raw emotion lurking beneath Moralton's actions, and it is raw stuff, indeed. I have very rarely seen the level of emotional depth and honesty displayed on Moral Orel, both in real life and in broadcast television. Moral Orel uses the mechanism of humor to guide viewers to and through the fundamental, emotional truths of the show, going deeper and darker with each successive season. It is this quality of the show that makes Moral Orel an engaging experience. In fact, the first time I watched the show, I was so disturbed, confused, and invested in what happened next that I immediately Googled it and learned as much as I could. It is really an exceptional show, both in quality and content. Don't be surprised if you finish an episode much quieter, more thoughtful, and more introverted than when you started it. I highly recommend it, but I'll say it again - this kind of content isn't for everyone.

LOVESPRING INTERNATIONAL




I am possibly the only person in this country who's ever seen this show, and I know I'm the only person who's watched every episode. Lovespring International takes place at a dating agency, following the disastrous attempts of the employees to keep the company, and their own lives, afloat. It's one of the many improv shows that have popped up, and this is possibly why I like this show so well. The actors are given the ability to take their characters' foibles and pathos to dire, extreme levels, as well the room to display genuine chemistry, no matter how poisonous or unhealthy. As a result, the show has an energy and immediateness that heavily scripted shows rarely have, and the actors have the room to more fully and deeply explore their characters' flaws than is the norm. The show is hilarious. It is also, sadly, cancelled, but videos can be found at Lifetime.

QVC





QVC beauty presentations are some of my favorite shows to watch. This stems from the days when I only had basic cable and my viewing choices were QVC, the TV Guide channel, and both Catholic and Baptist programming. The clear choice was QVC. It was a dark seven years.

QVC offers presentations on an extensive selection of high-end beauty brands, including Oscar Blandi, YSL, Philosophy, Smashbox, and most recently, NARS. Presentations generally last between one and three hours and give ample opportunity to get a good idea of a line's general range of products, as well as the chance to see items from brands that do not have widespread distribution (Lucy B., Dalton, Darac, etc.) Obviously, testing products yourself is the best way to go. Television simply cannot account for differences in skin tone, texture, and particular sensitivities. However, I find there is nothing more relaxing than sitting back and listening to the drone of hosts and pr reps shilling products while watching women apply eyeliner and look pretty. QVC beauty presentations don't require thought, interaction, or action of any kind, and really, sometimes that's what you need. At the end of a long day - and I have had many long, hard days recently - sometimes all you want is to hear the warm tone of the television, see pretty pictures, and zone out, and this provides the perfect opportunity to do just that.

RENO 911!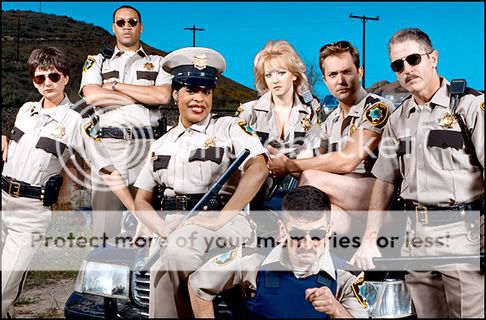 Reno 911! is easily one of my favorite shows of all time. Set in Reno, Nevada, the mock-documentary follows Reno's finest as they fumble every investigation, routine task, and breath they engage in. There are so many, many reasons I love this show, the first and foremost being it's cinematography. Joe Kessler films "Reno" (really, Los Angeles Metro) crisply, throwing all the things I love most about the West into the forefront - the expansive skies that go on forever, the space, the flatness. I am also quite fond of how the show's "boobery" (Dangle's quote, not mine), both intentional and otherwise. There are a lot of mistakes that happen on camera. The actors laugh and break character, and I like that those parts are left in. The show already has an intentionally informal feel, and these mistakes only add to that, leaving the viewer feeling part of a loose gathering of people bumbling along and having a great time. Parodoxically, the best thing about the show is the actors' commitment to character. I have never seen actors more committed to their characters, even keeping in mind the greats (De Niro, Blanchett, etc.) Unlike in scripted shows, in which character arcs are precisely prescribed and circumstances are specifically situational, Reno 911! throws its actors and their characters into a variety of situations and leaves them to their devices. Rather than filling in blanks with contrived dialogue, situations, and storylines we've all grown to loathe, the actors fill them with the characters themselves in all their flaws and frailties. The characters may not be deep, but we get to know them as regular people, just as we'd know our coworkers and friends. Travis Bickle may bring you glory, but I've learned more about acting from this show than I have anywhere else.

THE COSBY SHOW




No matter what else is on TV, I will almost always choose an episode of The Cosby Show over the other offerings. The Cosby Show provides some great memories (25 years of them), and the show is such a part of the American vernacular and cultural history that it's ageless. Yes, it clearly takes place in the 80s, but the specifics of the show are timeless events that happen to individuals and families every day, and I find it incredibly comforting to watch a show in which people like each other, treat each other more or less well, and in which everything is stable and going to be okay. So much of television currently relies on shock value, unstable relationships and settings, and the fear of things quickly falling apart that it's nice to watch something that will not stress me out, worry me, or overly tax my adrenal glands.

Beyond acting as a virtual security blanket, The Cosby Show is really, really funny. I take genuine enjoyment out of seeing Cliff laugh at his kids, Vanessa snoop around, and everything Cockroach. There is nothing harsh about the show or its humor, and while critics have consistently cited this as unrealistic, I would point to it as a truism: comedy doesn't have to be cynical, edgy, or angry to be funny. It has to be true, and there's as much truth to be found in a family - the foundational relationship in most people's lives - as there is in pathos and insecurity. In fact, there's more truth (and comedy) observed in The Cosby Show than in the million iterations of hip cynicism, glib soundbites, and personal insecurity masked as worldweariness that generally make up Comedy Central. The truth is that where there are five kids, there is chaos, misunderstanding, and frustration, and this is the stuff of comedy - pathos. The Cosby Show explores it well through the relationships between functionally healthy adults and children, and it's this point that separates this show from the examples above. As with life, so as in television, where is something completely stabilizing and calming about being in the company of capable people. So I turn on The Cosby Show for a good laugh and for enjoyment, and I turn it on so I can see the examples of solid, grounded people that can seem so rare to find in real life.

Labels: culture notes, lovespring international, moral orel, qvc, reno 911, the cosby show
11/21/2009 [2]
Culture Notes: Channel Surf (Dorothy)
by Dorothy
Like Dain, I don't own a television; I watch TV on my computer, mostly through streaming video. Honestly, I don't miss having a TV except on very rare occasions; while it's nice to be able to see every tiny detail of a shot, it doesn't feel necessary with most shows, and streaming video has improved greatly in the last few years.


It's a cliché to say this, but I love

The Wire.

It's the most engrossing, painful show I've ever watched. It's rightly compared to a novel in which each season is a chapter; the stories are nominally separate, but they build on and enrich each other. It rewards multiple viewings; I re-watched the second season, set at the Baltimore docks, after moving to Halifax, and being able to look out my window and see Halifax Harbour enriched the experience. The show goes a bit off the rails in the truncated fifth season, but the first four seasons are gorgeous, complex, beautifully written and acted, worthy of all the hype.

Breaking Bad
helps with my
Wire
withdrawal. Where
The Wire
is largely about entrenched drug empires,
Breaking Bad
is about the process of forming a drug empire, and about the slow, fascinating descent of an initially innocuous-seeming Walter White (Bryan Cranston). One begins the show sympathizing with Walter, and by the end of the second season one is horrified by him, wondering whether this monstrous human being was created by circumstance, or merely revealed by it. Besides
The Wire,
few other shows have haunted me so much, or for so long.

The third season of

Mad Men

recently wrapped up, leaving me bereft.

Mad Men

isn't a perfect show -- it tends to be a little on the nose -- but you can't beat the visuals: the sets, the costumes, the makeup.

Mad Men

portrays a pre-feminist reality in which sexual harassment, unequal pay, philandering husbands and a hundred other little indignities are widely tolerated. This gives it an unsavoury appeal to a certain number of people; however, at bottom I believe it's a deeply feminist show. I have a seemingly unpopular affection for Betty Draper, pictured here; she's truly awful on a number of levels, but the writing and January Jones' acting combine to create a sense of a woman who was groomed from babyhood to be a dependent housewife and mother, and who is heartbreakingly ill-suited for that role.



And while I love a whole lot of half-hour comedies --

Clone High, Arrested Development, 30 Rock,

the British and American versions of

The Office, Futurama,

and the first several seasons of

Roseanne,

just for starters -- I can't finish this post without a shout-out to the Halifax-made

Trailer Park Boys.

This show takes several episodes to warm up to, but after that, it's hilarious: the skeezy ingenuity of the leads, the absurd situations, the parodic yet still oddly effective sweetness. I try to watch the Christmas special every year.

Labels: breaking bad, culture notes, mad men, the wire, trailer park boys
11/21/2009 [0]
Culture Notes: Channel Surf (Daïn)
by Dain
People, when they come to visit my yet unfurnished apartment demand how I can "live" without TV. Well, I watch everything on Youtube, mostly, classic films. Who needs a real TV any more? The only aspect of regular programming that is absent is the compulsion to watch all the time. But it limits my selection somewhat, so this is a pretty predictable list.

Daria (I totally remember this issue of Seventeen.)

TV shows, I find, have a huge problem when it comes to the growth of characters. Often, it makes the show impossibly stale after the fourth season or so, especially in the case of a sitcom (viz. Friends), which can only add variety through switching couples around. A cartoon, in which many rules of reality are suspended, luckily can solve this problem with stasis, which is why Bart Simpson has been ten years old for decades. Daria, however, shows a real evolution in the principals. Even Daria realizes that her cynicism and anti-social behavior, her claim to fame and something she always considered justified, can sometimes cause problems for her family.

Six Feet Under


From the heart of the HBO-miniseries-boom. Six Feet Under operates on the premise of a family that owns a funeral home, and each episode begins with a death, but the series is all about life. At times, it's heavy on poignancy (for obvious reasons, it's about death), at others, throwing you into the most comically absurd scenarios (when Frederico reveals that he recreated the porn star's siliconage with tins of cat food), but it all seems so real, because each character possess an identity of his own, not just as part of a fomula. Plus, there's just something magnificent about Rachel Griffiths as Brenda Chenowith; I wish this clip included the explanatory scene before, when Brenda explains how she's "always found a random sample to be more reliable".

Samurai Champloo

For some reason, I feel like anime has a poor reputation. Shinichiro Wantanabe's work, however, transcends the admittedly laughable obvious wish fulfillment of buffed-up guys achieving the "next level" before kicking ass with swords and blue-haired chicks with a rack of double-Ds. Cowboy Bebop enjoys even more admiration, but I have a spot spot for Samurai Champloo because I saw it first.

Freaks and Geeks


Among the shows most frequently lamented for being "cancelled long before its time", largely due to scheduling issues, this is the one. Teenagers-and-their-problems is such common television fodder that it nearly seems impossible to breathe life into the genre, but though Freaks and Geeks walks that fine line between real characters you can relate to and the universal themes of adolescence. The Geeks, for example, are not hot sixteen-year-olds with no makeup and glasses; you can imagine these kids getting picked on anywhere. You can, however, watch the one extant season online: episodes 1-6, 7-12.

Blackadder

Really great British humor, and Blackadder is among the very best, never fails to lift my mood. There's too much wit and precious moments to choose just one, so just... watch them all.

South Park


I'm a big fan. I'm not sure why. I don't find it hilarious so much as self-gratifying. And then there are occasional moments like this, from "Woodland Critter Christmas" that are just outright shocking.



But my favorite TV show, hands down, has got to be The Boondocks. This episode happens to be my particular favorite, about how art can elevate even the most socially unpromising youth, while Huey simultaneously demonstrates how bad art can degrade the most conscious, cultured individuals. You can watch the entire first season (the second season is terrible) online.

Labels: blackadder, culture notes, daria, freaks and geeks, samurai champloo, six feet under, south park, the boondocks
11/21/2009 [3]
Fashion Notes: Affordable Shoes
by Dain
Every girl knows that nothing is more satisfying than a great pair of shoes. Nothing, however, makes for more frustrating shopping. The selection often defies your needs: when you're looking for silver gladiator sandals, nothing but ankle booties abound, and when it's a simple black pump you seek, none attains the classical form of your imagination, but veer into territories overly skanky or matronly. These problems are resolved if you're willing to shell out upwards of $500, which is hardly a tenable option for the majority of women. But when it comes to shoes, you tend to get what you pay for, and cheap shoes are very cheap indeed—they fall apart after fifty wearings. What's missing from the market are offerings in the intermediate price range: creative designs, perhaps not lit from within by divine inspiration, but enough to satisfy that craving for something pretty, and sturdy craftsmanship that merits the investment.

It's very difficult, except through chance, to source quality shoes below $200, so these range up to $300, except for boots which are more expensive. Generally, these brands are either known for a single aesthetic, much like Birkenstocks or Converse or Havaianas, which are iconic and therefore bypassed for the purposes of this post, or they absorb the trends from above and spin them out at gentler price points.



Stuart Weitzman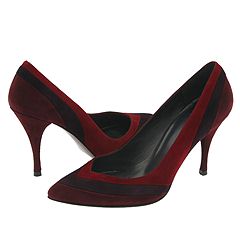 If you're in the market for a functional shoe—from festive evening sandals to study ankle boots to elegant flat loafers—Stuart Weitzman runs the gamut of basics, with just enough interest. Take the office-appropriate pump, a dreary thing to shop: Tweeting ($330) for your light summer skirt suits, while Stitchup ($178) would be all elegance peeking out of menswear trousers when the temperature drops.



Repetto


Every girl needs a pair of flats to run around in—and the ballet flat is its most classical iteration—and Repetto makes the original fits-like-a-glove ballet flat. They have no arch support however; if you've got high arches, beware.



Belle by Sigerson Morrison

Though the lower-priced diffusion line, Belle by Sigerson Morrison are somewhat pricier than the others on this page, but the line is consistently excellent. After all, you will be hard pressed to find boots ($495) of this caliber for less.



Jeffrey Campbell


If a more edgy aesthetic is what you desire—it pains you not to be "directionally" shod—then Jeffrey Campbell has your foot candy, whether it's the much coveted "unicorn heel" of Michelle ($120) or the punk-rock, shades-of-Balmain Mel ($165). And when, a season later, you're kicking yourself in embarrassment for such an obvious trend (these are very popular but objectively ugly to my eye), hey, at least you didn't succumb to those Balmain.



K. Jacques St. Tropez

If you're ready to upgrade from Havaianas, then K. Jacques St. Tropez is the Repetto of gladiator sandals. The Fregate ($320) is a somewhat more fanciful (and expensive) pair than usual, but what a delight for the summer months—I feel frisky just looking at them.



Sam Edelman

I've always harbored a special affinity for Sam Edelman: vintage inspirations with a quirky twist. Take, for example, the way that the ballet pointe has been confused with the Roger-Vivier pilgrim buckle (embossed with a snakeskin pattern) in the Geneva ($130), all in slightly off kilter shades. Myself, I'm salivating over the updated Doc-Marten Dupree ($320); the details are simply amazing.



Castañer

If you already know Castañer for its beautiful espadrilles, then you may gratified to know that the line seems to be in the process of updating and expanding into other shoe types—viz. these wonderful high-heeled loafers called Karol from the fall collection. I'd say, keep your eyes peeled.

Labels: belle by sigerson morrison, castaner, fashion notes, jeffrey campbell, k jacques st tropez, repetto, sam edelman, stuart weitzman
11/16/2009 [3]
Perfume Notes: Chanel Pour Monsieur
by Dain

Mark Shaw, early black & white studio outtakes (1950s).


Luca Turin once remarked (via Chandler Burr) that masculine perfumery is defined negatively, marked not by what is, but what is not, the absence of "feminine" notes like florals. Vetivers, lavenders, woods, and hesperides often exhibit masculine intentions and proclivities, but are so frequently appropriated by women that distinctions soon blur: Elle MacPherson is loyal to Guerlain Vetiver, Oprah Winfrey's lent her advocacy to Eau d'Hadrien, and Jicky claims everyone from Colette to Sean Connery*. Extremely dry woods are more clearly gendered, but even then there is no true prohibition; on a woman of sufficient self-assurance, Comme de Garçons Hinoki is a playful bid at androgyny, much like the leather garçonne scents of the flapper generation. Only that "sporty" fougère accord, most rarefied in Cool Water but extant in most masculines at varying dosages, is distinctively, exclusively male; alas that ubiquity has simultaneously reinforced and vulgarized the one olfactory claim to masculine identity. By contrast, women can switch at whim between personalities as disparate as A La Nuit or Tabac Blond or Idylle or Organza Indécence or Vent Vert; it hardly seems fair.


Thankfully, there's Pour Monsieur. That glitter of lemon and petitgrain, more pointedly sustained than in most chypres, initially suggests an eau de cologne, but once the hesperides burn off, the composition is the height of subdued elegance, even if, like a bespoke Savile-Row suit, it's the product of meticulous, neurotic, and laborious refinement. And like the finest menswear, all its complexity is trained to such subtlety, a balancing act of extreme difficulty, that it verges on bland: the aldehydes lend the citrus notes loft but don't dominate as they do in Chanel's feminines, the dry, herbaceous spice of cardamom (which picks up where lemon left off) and coriander is countered by a fresh, dewy carnation (which continues the powdery theme of the aldehydes), and the oakmoss, tempered by the resinous sweetness of amber and labdanum, lacks the animalic languor of Coty's Chypre, in spite of the comparisons. To noses trained on ultraviolence—or feminines—Pour Monsieur may come across as positively soulless. On a woman's skin, in fact, it is more likely incite boredom than dissonance; as if, after so many trials of patience and mortification, the conservative Austenian heroine of YSL Y has finally found her perfect and eligible match in Pour Monsieur. There's nothing assertive, as might be expected from such an arch-masculine, about the composition; even the opening, for all its brilliance, is assiduously traditional.

It is this very absence of histrionics, however, that makes Pour Monsieur a classic among masculines, the paramount example of negative space in perfumery. Let us face it, when a man walks out in a ridiculous, flashy get-up, whether it's a canary-yellow zootsuit from 1939 or jeans six-sizes too large pulled low over boxers from 1996, we laugh at him for his immature bid for attention—it seems desperate, somehow. Whereas, provided he has the charisma for it, a sober, perfectly cut suit, thoughtlessly rumpled by the end of the day, is madly sexy. Indeed, if masculine perfumery truly is defined negatively, there's nothing more aristocratic, or virile, than a clean, blank slate. After all, is that not the fundamental thrust of every feminist argument, to lodge a complaint against the infinite potentiality of the DWM, who can play every role, any role, and is limited only by ability?

OTHER REVIEWS
Pere de Pierre (Dane)
Pere de Pierre (Thomas)
Basenotes
Makeupalley
Fragrantica

* See the perfumeshrine list for verification.

Labels: cary grant, chanel, chypre, henri robert, mark shaw, perfume notes
11/07/2009 [2]
Beauty Notes: Fuss Free
by Dain
Sometimes, I harbor these fantasies about being low maintenance. I am anything but.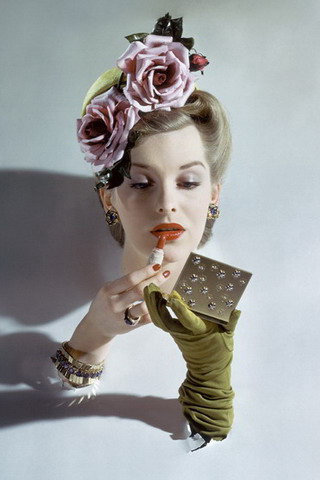 Since the age of thirteen, makeup has been my primary recreational pursuit, and I have paid it an obsessive, curatorial attention more commonly seen among lepidopterists. I'm not crazy, I don't buy simply to satisfy nesting instincts, as some do. Still, I have far more product than I can readily consume. At the same time, I find myself haunted by an alternate personality, whose life, I imagine, is simpler, and therefore more immediately connected to "what matters", than mine. She uses just soap, mascara, and Smith's Rosebud Salve, down to the last dab. She owns eyeshadow and lipstick, deployed for a kind of clumsy glamour on evenings out, but they've developed that neglected, crusty look that hangs around unloved makeup. She probably wears Premier Figuier.

This alter ego doesn't lack taste, you see, she just doesn't care.

Whereas I care too much. I am so terribly, terribly picky. To appease my alter ego, the best I can scrounge up is minimalism, which in truth has nothing whatever to do with being laidback, but is yet another escalation of the obsessive-compulsive behavior that typifies the beauty junkie. I do actually wash my face with soap, but it's artisanal Rhassoul soap from Daybreak Lavender Farms: $50 for a year's supply, from an organic company no one's ever heard of (ultra niche cache), with 1.5 ounces of precious, mineral-rich Rhassoul clay and 33% skin-pampering shea butter, fragranced with vetiver and mandarin. You may well inquire, at this point, why must it be so complicated. And I might retort that, for once, the stuff actually works, imparting a radiance to my skin unlike any product yet encountered, but I'd be missing the forest. The spirit of the objection isn't that I obsess over soap, it's that I obsess in such a highly detailed, complex fashion over... everything I own.


Plucking one example out of many, there's my Shu Uemura 5R Brush, a $58 investment crafted of kolinsky sable. Though soft on the skin, the bristles are firm enough to concentrate pigment but not so firm that it disturbs previous layers, and meticulously tapered to prevent any harsh edges—eyeshadow practically blends itself. Any self-respecting makeup junkie understands that these are merely the fulfillment of uncommon but not extraordinary expectations; what distinguishes 5R from all other quality eyeshadow brushes, and truly makes it worthy of each and every copper cent, is its width: exactly 1/3 of my insignificant eyelid, the perfect size. It's the only shadow brush I honestly use.

Somehow, this culture of taste, which this blog so amply documents, hits some queer intersection between an abiding interest in aesthetics and my own personal weaknesses as a neurotic control freak. Writing has always refined my intellectual analyses, but it also seems to feed some unhealthy emotional habits. Eyeshadow is manipulable—life is not—one serves as a refuge from the other. This is further complicated by the fact that, on the one hand, I'm absolutely aware of my own evasions, and on the other hand, I simultaneously embrace my own insanities as my own (whilst sneering at others who are less refined and/or incapable by virtue of mind or spirit to embrace their personal insanities) and harbor a guilty suspicion that if I cared less I'd be more in tune with the aforementioned "what matters", the quintessence of life or some shit like that. Minimalism embraces all these complications. It has nothing whatsoever to do with buying less; it may encourage you to buy more. It imposes deliberate and conscious restrictions on one very small and very concrete aspect of your life to fabricate the peace of mind which is almost impossible to acquire if you've got any realistic understanding of yourself, life, and humanity. It also lends immense gravitas to your power of choice—the critic who says no is more reliable than the enthusiast who says yes—which is why all cultures of taste, no matter their peculiar idiom, are so elitist by nature. Taste seeks to set itself apart.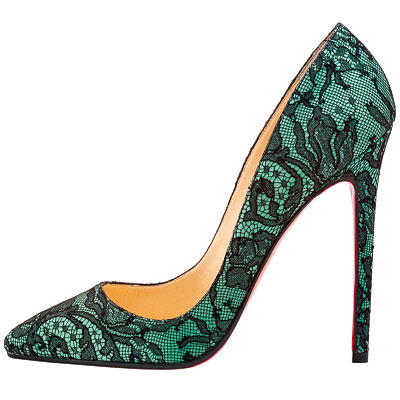 If this seems competitive to you—damn straight, it is. If I may commit such a broad generalization as "men strive, women pick"*, then it may be postulated that women compete with each other in terms of how well they choose, in terms of taste. Only princesses get to choose from the best. That's why, when we bitch about another woman's makeup or clothes, the language is confused with that of sex, "Omigod did you see her DRESS? It's so fucking slutty. It's so tight you can see EVERYTHING." Who cares? We just do. Why be so bitchy? We just are. Dressing for men is simple, after all. Only other women care about whether Louboutins have grown passé. If the intrepid inquisitor dares to ask what is wrong with these shoes, outside of the outrageous price of course, the answer is: nothing. Objectively, they're gorgeous shoes. I just wouldn't be caught dead in them, lest I be identified as a vulgar, B-list-starlet wannabe. The less commonly identifiable your choices are, the cooler and more knowledgeable you are; if you've ever noticed, most fashion editors assiduously wear anonymous, but probably Balenciaga or Margiela, black.

Me, I do yearn for an alternative to making a choice between the brainlessness of popular culture and the delusional pretensions of critique. That alter ego, a kind of noble savage, has no idea that Mitsouko signifies "wit" and "chic" but loves it for how it smells. She has an instinctive attraction to all that is good; it doesn't work that way in our lapsidarian (ultimate choice) reality, does it? After all, she would be wholly ignorant of how the peachy lactone suffuses that muttering, earth-bound, vegetal-rot must of oakmoss with the light of unfailing serenity. And I would rather know how my products tick, why they light that fire in my mind. There's something oddly hopeful in the assurance that there are other obsessives out there, obsessives who cared enough to create products with so many complicated parts.

* Men strive to choose the best variety of women, women choose the men who strive best and most variously. Still, a very, very broad generalization.

Labels: beauty notes, christian louboutin, daybreak lavender farms, guerlain, l'artisan parfumeur, minimalism, shu uemura, smith's rosebud company
11/02/2009 [0]
Subscribe to
Posts [Atom]. Or
follow on bloglovin'. If
you'd like to contact Dain,
feel free to email me.
I'm also on Pinterest.
Features

The Mnemonic Sense
Most Wanted
The Beauty Primer
Lookbook
Bestsellers
Consumer Diaries
Closet Confidential
On The Label
Beauty Notebook
The Hit List
Color Me In
The Makeup Artist
Wedding Bells
Globe Trotter
Desert Island
perfume notes
beauty notes
fashion notes
culture notes
minimalism
chypre arc
floral arc
fresh arc
masculines arc
gourmands
& orientals arc
Archives

August 2008
September 2008
October 2008
November 2008
December 2008
January 2009
February 2009
March 2009
April 2009
May 2009
June 2009
July 2009
August 2009
September 2009
October 2009
November 2009
December 2009
January 2010
February 2010
March 2010
April 2010
May 2010
June 2010
August 2010
September 2010
October 2010
November 2010
December 2010
January 2011
February 2011
March 2011
April 2011
May 2011
June 2011
July 2011
August 2011
September 2011
October 2011
November 2011
December 2011
January 2012
February 2012
April 2012
May 2012
June 2012
July 2012
August 2012
September 2012
October 2012
November 2012
December 2012
January 2013
February 2013
March 2013
June 2013
July 2013
Images

Photobucket