Announcements
If you're new to this blog, then read our guides to the basics: Skin (Part I), Skin (Part II), The Supernatural, Color Theory I, Color Theory II, Eyes, and Brushes.

Also, check out the blogsale.
Contents
· The Beauty Primer: Skin (Part I)

Favored

Art Tattler
the glamourai
The Non-Blonde
Perfume Shrine
Lisa Eldridge
Garance Doré
Smitten Kitchen
Into The Gloss
Grain de Musc
Lacquerized
Res Pulchrae
Drivel About Frivol
The Selfish Seamstress
Killer Colours
Bois de Jasmin
Glossed In Translation
Jak and Jil
Toto Kaelo
Worship at the House of Blues
I Smell Therefore I Am
Food Wishes
The Natural Haven
Messy Wands
1000 Fragrances
Moving Image Source
Wondegondigo
The Emperor's Old Clothes
M. Guerlain
Colin's Beauty Pages
Barney's jewelry department
Parfümrien
loodie loodie loodie
The Straight Dope
Sea of Shoes
London Makeup Girl
Sakecat's Scent Project
Asian Models
Ratzilla Cosme
Smart Skincare
Illustrated Obscurity
A.V. Club
Tom & Lorenzo: Mad Style
Eiderdown Press
Beauty and the Bullshit
La Garçonne
Flame Warriors
Everyday Beauty
Fashion Gone Rogue
Now Smell This
Dempeaux
Fashionista
The Cut
A Fevered Dictation
Nathan Branch
101 Cookbooks
The Beauty Primer: Skin (Part I)
by Dain
None of us are gifted with foreknowledge when it comes to skincare; it is always something of a gamble. Unless you've got the bank account generous enough to absorb every mistake—and nothing's quite so costly in the beauty world as a luxury face cream—there's no substitution for patience and diligence. You have to get to know your skin: starting with proper cleansing and hydration, and introducing products one at a time, taking at least two (ideally four) weeks to gauge their effects*. The same symptoms, break outs, for example, may very well be caused by insufficient exfoliation, but it could also be a nervous reaction to a harsh, stripping exfoliant. Or, it could be mineral oil. Or hormones in your meat. Trial and error is the only way to tell. Once you do determine your skin's preferences, it's a daily commitment, morning and evening, to take care of your skin.

Even then, you have to be fairly realistic. The influence of skincare is marginal, compared to the sway of genetic predispositions, habits, and diet—and everything gets worse with age. The primary objective of a good skincare routine is to keep the surface of the skin smooth and even, uncluttered of makeup, dirt, dead skin cells, and old oil, so that the functions deep below in the dermis are not disrupted. That's pretty much all it can do. But the execution is not so simple; perhaps nine out of ten women take care of their skin improperly. The problem lies in the desire for perfect skin, which magazines (most are glorified catalogs) and companies happily exploit for profit. I'm not Paula Begoun; I don't want to save your money. You may come across a product that's the right fit for your skin, and it very well may be expensive. It was worth it. But that doesn't mean you can buy perfect skin. As long as you disregard your skin's true needs and limitations, you may reap damage to your skin.

Then, fortune mocks us with people who needn't strive for perfect skin: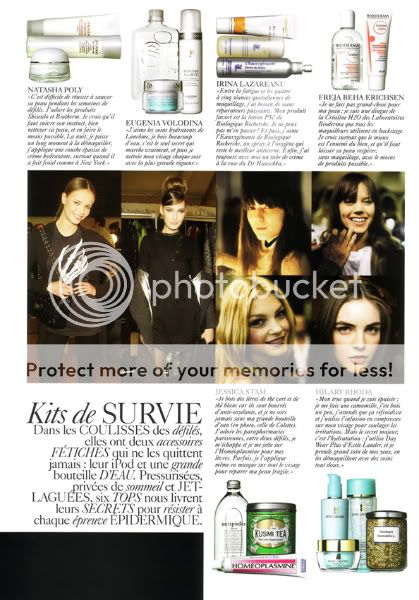 From French Vogue.


The models' approach, unlike the paranoid tune sung by celebrity dermatologists, clobbering the public prints with mexoryl SX and gamma-aminobutyric acid and the inexplicable popularity of Cetaphil, is more universally applicable: gentle but thorough cleansing, constant hydration within and without, monthly facials, and an aversion to wearing makeup. Most people don't have problematic skin, once it's given the care at the level of understanding it deserves. You may not yet be convinced of the fundamental importance of cleansing and moisturizing, in utter disregard for blackheads and sunscreen and the other minutiae of skincare. However, if you don't get your maintenance right, nothing else will work properly. Keep in mind they work in tandem, minimizing accumulated damage to your skin. In essence, aging is an accumulation of minute, invisible stresses, ranging from rubbing at your eyes, exposure to UV radiation, laughter, and sleeping in your makeup. A good cleanser thoroughly removes pollutants from the skin, without stripping or irritating the skin with harsh surfactants, while a good moisturizer has a restorative effect, making your skin smooth and supple so it bounces back more readily. It's a feat to source the perfect cleanser and moisturizer, across all skin types, and get the proportions right.

To assess your skin correctly, take a good hard look.

How much oil does it produce?
These are your three classic skin types of DRY, NORMAL, and OILY, with a nebulous fourth, COMBINATION, to accommodate the common reality of mixed skin types on different areas of the face. These are simplifications; every face has its own individual map of pores scattered throughout its surface. The factors are largely biological: genetics, age, and hormones. Though your skin type is not too difficult to determine, correct assessment can be complicated by the effects of dehydration and whatever skincare you use. By all means, observe the level of oil, but also take into consideration the size of your pores. Very often, many people incorrectly diagnose their skin as dry when it is actually dehydrated, or sometimes imagine themselves greasier because their cleanser stimulates the skin to produce more oil.

If your skin is already perfectly balanced, or NORMAL, then nothing elaborate is required. Hopefully, your skin will stay that way.

Imbalanced skin, whether dry or oily, is primarily corrected by adjusting your cleanser and moisturizer(s), though these measures are limited (mattifiers are notorious failures). Dry skin has fine to invisible pores, and the lack of sebum, which protects and conditions the skin, often correlates it to dehydration, hypersensitivity, faster aging, and dullness. Oily skin has enlarged, hyperactive pores, more easily blocked, and therefore more prone to acne, and a slick, shiny appearance. However, these characteristics are absolutely secondary: oily skin can be sensitive and dehydrated, and therefore would be badly served by anti-acne products, and dry skin can break out, the last thing you'd want in that case is an occlusive cream. Focus on the amount of oil your skin produces, whether too much or too little, and try to maintain balance.



Shiseido's foams are also very nice, clean but not stripping.


Oily skin may enjoy a nice lather without impunity, but take care not to overcleanse and thereby stimulate the skin into producing more. I quite like Vichy's Pureté Thermale Purifying Foaming Cream Cleanser ($16.50) and DHC Deep Cleansing Oil ($25) with its perverse drying effect. Once in a while, if you're very, very greasy, Sukí Transformative Cleansing Clay ($43.95) will help soak up the excess. Whatever you use, I would reserve potent cleansers for occasional use only; oily skin may seem tough, but detergents are damaging on a microscopic level. A moisturizer is not necessary for oily skin, but if your skin is largely reacting to drying products (it may be a necessity for other reasons), a face oil like plain jojoba may help inhibit more. To stave off dehydration, you may like an oil-free serum, aqua gel, or even a softener. The luxurious Eudermine ($50), from Shiseido, performs admirably on all skin types: alone on oily skin as a simple hydrator, or to aid absorption of heavy-duty moisturizers on dry skin. A less expensive option is Rohto Hadalabo, but it's sticky and you'll have to order online.



I have dry skin myself; these are personal favorites.


For dry skin, finding a water-soluble cleanser is rather tricky, as you want a product that's very noninvasive. If the possibility of congestion doesn't bother you, it may be better to tissue off a cleansing milk like Avène Gentle Milk Cleanser ($17) using a fine cotton wool. If rinsing is a must, Weleda Baby Calendula Shampoo and Bodywash ($10) has the mildest surfactant in a luxuriously creamy base. On dry skin, I recommend layering moisturizers, any combination of softener, serum, lotion, or cream, in that order. Emollient creams provide a protective barrier, but even on skin that needs it they are heavy and absorb slowly into the skin (it sometimes helps to warm it up in the palms of your hands, then pat it in). The water-binding properties of humectants enhance the performance of even the most indifferent moisturizer. For mild dryness, the midweight DHC Q10 Cream ($45) penetrates quickly and plumps up the skin, but if you are seriously dry and need something to stimulate your sebaceous glands instead of merely coating the skin, NARS Potent EFA ($70) is one of the few (the serum is equally nice).


Better for dehydration than dryness.


Dehydration is not a skin type—it's water loss, not oil imbalance—but it is so often confused with dry skin that it is best to address it here.

Any skin type can be dehydrated, even oily. The resemblance between truly dry skin, which is a chronic condition, and extreme dehydration, which is generally environmental, causes a great deal of confusion, so take a look at the texture of your pores before declaring your skin type. Otherwise, you might end up with highly nutritive emollients choking and congesting your skin, since companies are careless, at best, when it comes to labels. A thick cream may be enriched with oils or it may be silicones, but your skin can feel the difference. Use your own judgment. Unlike your oil output, dehydration is generally influenced by external factors, particularly by changes in humidity (climate). This is often why your skin feels oilier in summer; it's not the oil, it's the unnecessary oil. Dehydration can also be caused by potent skincare, which is often how oilier skin types experience dehydration: harsh cleansers and scrubs, benzoyl peroxide, tretinoin, alpha hydroxies, and vitamin C. At its worst, live cells near the epidermis will die and dry out, leaving behind a rough, chapped layer of skin that looks decidedly unhealthy. Since it's superficial, dehydration is far easier to address than oil imbalance: drink plenty of water, use a moisturizer (tailored to your skin type), layering if necessary, and buy a humidifier or an atomizer.



Embryolisse, a very simple but adjustable formula, suits most.


Combination skin gathers in everything else. Most people have combination skin, because the distribution of pores is uneven (there are none on your lips or your feet, for example), and since it accommodates any possible mixture, it is therefore the most variable. Still, it's unusual to encounter a patchwork of extremely dry and extremely oily skin that demand separate skincare; it would probably indicate an internal stress of some kind. The general strategy for combination skin is to look at the base skin type—slightly combination as normal, dry/combination as slightly dry, and oily/combination as slightly oily—and use gentle products that aren't particularly attuned to very dry or very oily skin. You need to use products more locally, but it needn't be too elaborate. For example, if you have an oily t-zone and dehydrated cheeks, then a cleansing foam, not too stripping, with a lightweight hydrator applied only where you need it, would do.

* Alternatively, you can come to similar conclusions by paying attention to which products you favor, i.e. use most frequently. According to the characteristics you like or don't like about that product, you can start the process of tweaking.

Labels: avene, dhc, embryolisse, shiseido, suki, the beauty primer, vichy, weleda
12/06/2010 [0]
Subscribe to
Posts [Atom]. Or
follow on bloglovin'. If
you'd like to contact Dain,
feel free to email me.
I'm also on Pinterest.
Features

The Mnemonic Sense
Most Wanted
The Beauty Primer
Lookbook
Bestsellers
Consumer Diaries
Closet Confidential
On The Label
Beauty Notebook
The Hit List
Color Me In
The Makeup Artist
Wedding Bells
Globe Trotter
Desert Island
perfume notes
beauty notes
fashion notes
culture notes
minimalism
chypre arc
floral arc
fresh arc
masculines arc
gourmands
& orientals arc
Archives

August 2008
September 2008
October 2008
November 2008
December 2008
January 2009
February 2009
March 2009
April 2009
May 2009
June 2009
July 2009
August 2009
September 2009
October 2009
November 2009
December 2009
January 2010
February 2010
March 2010
April 2010
May 2010
June 2010
August 2010
September 2010
October 2010
November 2010
December 2010
January 2011
February 2011
March 2011
April 2011
May 2011
June 2011
July 2011
August 2011
September 2011
October 2011
November 2011
December 2011
January 2012
February 2012
April 2012
May 2012
June 2012
July 2012
August 2012
September 2012
October 2012
November 2012
December 2012
January 2013
February 2013
March 2013
June 2013
July 2013
Images

Photobucket