Announcements
If you're new to this blog, then read our guides to the basics: Skin (Part I), Skin (Part II), The Supernatural, Color Theory I, Color Theory II, Eyes, and Brushes.

Also, check out the blogsale.
Contents
· Beauty Notes: Instant Gratification

· Culture Notes: On Ginger Rogers

· Fashion Notes: A Pop Of Color

· Bestsellers: Lancôme Définicils Mascara

· Fashion Notes: A New Winter Coat

· Beauty Notes: The Basic Eye

· Culture Notes: Toxic

· Most Wanted: The Name of the Rose

· Fashion Notes: Nina Garcia's The One Hundred

· Fashion Notes: Best in Show, Resort 2010 (Part II)

· Beauty Notes: Coloring Book

· Fashion Notes: Best in Show, Resort 2010 (Part I)

· Fashion Notes: Meow

Favored

Art Tattler
the glamourai
The Non-Blonde
Perfume Shrine
Lisa Eldridge
Garance Doré
Smitten Kitchen
Into The Gloss
Grain de Musc
Lacquerized
Res Pulchrae
Drivel About Frivol
The Selfish Seamstress
Killer Colours
Bois de Jasmin
Glossed In Translation
Jak and Jil
Toto Kaelo
Worship at the House of Blues
I Smell Therefore I Am
Food Wishes
The Natural Haven
Messy Wands
1000 Fragrances
Moving Image Source
Wondegondigo
The Emperor's Old Clothes
M. Guerlain
Colin's Beauty Pages
Barney's jewelry department
Parfümrien
loodie loodie loodie
The Straight Dope
Sea of Shoes
London Makeup Girl
Sakecat's Scent Project
Asian Models
Ratzilla Cosme
Smart Skincare
Illustrated Obscurity
A.V. Club
Tom & Lorenzo: Mad Style
Eiderdown Press
Beauty and the Bullshit
La Garçonne
Flame Warriors
Everyday Beauty
Fashion Gone Rogue
Now Smell This
Dempeaux
Fashionista
The Cut
A Fevered Dictation
Nathan Branch
101 Cookbooks
Beauty Notes: Instant Gratification
by Dain
To break in my new camera (at last!)...

Though a subject frequently reiterated in magazines, the ideal five-minute face is an abbreviated version of your everyday ritual. In more ways than one, makeup is a habit. Though flashy new products are frequently the center of intense hype, what we actually wear emerges from practice, a mixture of optimum yield and paths of least resistance: the lipstick that, in one swipe, brightens the face entire. For that reason, no "one size fits all", and therefore I present myself only as an example, not as a template.

Like most, I require undereye concealer and some definition on the brows—Clé de Peau and Shu Uemura Hard Formula, respectively—no serious attempt at neatness has been made, but these are products easy to apply. I've deliberately chosen products with creamy textures, which blend quickly, or pencils, which need no brushes.



On an extreme black-and-white coloring like mine, an infusion of vibrant color is not merely flattering, but necessary; the makeup prevents me from looking washed out. I've thrown on some rose-red pigment on the lips and cheeks, Stila Convertible Color in Rose. The creaminess of this particular product demands no great precision in blending, and the shade layers nicely beneath my cavalcade of red lipsticks, when time permits, as I've done here, with NARS Damned Velvet Matte Lip Pencil. On the eyes, which consume the most time, the critical product is MAC Pearlglide Eye Liner in Rave, sadly limited edition, a charcoal infused with cool violet shimmer and pink-violet flecks.


If necessary, I can skip the mascara and tightliner, which require rather more care: Shu Uemura Eyelash Curler, Lancôme Definicils, and Too Faced Liquid Lava Gloss Extreme Black Gloss. Normally, for the sake of longevity, I prefer to tightline with Laura Mercier's Flat Eye Liner Brush and Shu Uemura Painting Liner in Night Blue, but it is a very time-consuming process compared to the ease of a pencil, and if the Too Faced smears, this is a slightly sexy, slightly smoky eye in any case, no worse for the wear.

Eyeliner alone, particularly in a vibrant shade, is sufficient for my eyes, though admittedly I am loathe to give up mascara. For variety, I can switch around the color of the liner; this is Clio Eye Love You Shadow Pencil in 08 Dark Blue. On the lips and cheeks, it's Stila Rose Convertible Color again, this time left plain. On me, intense color provides a ready short cut.

For contrast, I have also attempted neutrals, assiduously natural and meticulously applied. Ironically, this aesthetic, nearly artificial in its pristine perfection, takes an enormous amount of product and nearly an hour and a half of time.



Here I am wearing:
Shu Uemura Face Architect Cream Foundation in 774, applied with a synthetic brush, and set with another foundation, Kanebo Lunasol Skinfusing Powder Foundation in O2. The result is absolutely flawless, whereas you can clearly see the discoloration and shine of my foundation-free skin above, but entirely discomfiting. This is spackle.
FOUR brow products, count 'em: Anastasia Perfect Brow Pencil in Medium Ash, Anastasia Brow Powder Duo in Medium Ash, Shu Uemura 6OB Natural Brush, and Anastasia Brow Gel.
MAC Ego Starflash Eyeshadow, a cool silvery pink sparkle, as a wash, applied with Shu Uemura 10 Natural Brush
Laura Mercier Matte Eye Colour in Deep Night, more natural on my cool complexion than any brown, in a very thin, crisp line thanks to the brilliantly tiny, angled liner brush from Etude House
Shu Uemura Eyelash Curler and Lancôme Definicils Mascara
tightlining with Shu Uemura Painting Liner in Night Blue and Laura Mercier Flat Eye Liner Brush
NARS Desire Blush, my standard go-to blush, applied with the Yachiyo brush
Estée Lauder Signature Lipstick in Chelsea Pink, which wears like a nude on my coloring.
You're lucky that I didn't have a lipliner to match. ; ) And yes, that's a mirror image; I have no idea how to take photos of myself.

This experiment should demonstrate that quick makeup should be a condensed version of what flatters you most as an individual, not necessarily what is considered "natural" makeup, which can be quite monstrous if you allow its full expression.

Labels: anastasia, beauty notes, cle de peau, clio, etude house, lancome, laura mercier, mac, nars, shu uemura, stila, too faced
2/27/2010 [8]
Culture Notes: On Ginger Rogers
by Dorothy
Ginger Rogers in costume for Swing Time (1936). Just

look

at all those perfect seams.

As I've mentioned before, I love Fred and Ginger, which is why I was so tickled to read

"Style Wars: Ginger vs. Marlene"

from Peter at Male Pattern Boldness. I'm not familiar with Ginger Rogers' work after 1939, with the exception of the "reunion" picture

The Barkleys of Broadway,

which I disliked. Peter uses the perfect word — "shellacked" — to describe the look Ginger developed in the '40s: that stiffness appeared in her dancing too.


But in those movies from the '30s, Ginger is always the pretty girl next door, a little smart-talking, a little vulnerable, a little no-nonsense, drawn into a fantasy world of perfect romance, Big White Sets and outfits that need never nod at practicality.





(I fear this video will be pulled, but enjoy it while it's here.)

Labels: culture notes, film, fred astaire, ginger rogers
2/24/2010 [1]
Fashion Notes: A Pop Of Color
by The Kindly One

Among the many issues recycled in women's magazines is the issue of color, specifically, how to incorporate color into a mostly black or neutral wardrobe. The answer, like the question, is usually recycled and both less thoughtful and more complicated than necessary, reciting the old line that the easiest way to incorporate color is through bright accessories that lend a pop of color. Really, it doesn't have to be so complicated. The idea of a pop of color is exactly that - taking a mostly neutral palette and letting one colored item stand out against it. Color will naturally stand out against neutrals, so it's unnecessary to specifically go out looking for bright accessories, not to mention potentially unwise. Some of them can be awfully bright. Likewise, a pop of color doesn't have to be reserved exclusively for accessories. A gold top against an otherwise black outfit will serve the same effect as a gold bag.

That said, I really like this look on Betty, who's incorporated a bright color to great effect against blacks and greys. Betty's chosen well, wearing a hue that's bright, not obnoxious, and pairing it with a spectrum of neutrals rather than just black. The spectrum of greys creates depth that juxtaposes nicely with the vibrancy of the scarf and shoes. What I particularly like about this outfit is I don't get the impression that these are Betty's "bright clothes." All too often in women's magazines, products specifically get promoted for adding a pop of color, and it's easy to see why. They're mostly obnoxiously bright to the point that no one could miss them. This is the fallacy in most magazines' promotion of a pop of color. What works well in editorials rarely translates to real life. It's better to take that bit of color you do have and work it in rather than try to apply editorial styling to real life.

Labels: fashion notes
2/23/2010 [0]
Bestsellers: Lancôme Définicils Mascara
by Dain

These days, when a mascara creates an absurd spectacle of itself simply to capture the public's attention, it is something of a relief to turn to Lancôme Définicils($24.50), which, in spite of its longstanding reputation, is positively demure in comparison. I can only echo Dick Page's bemusement; why is everyone so crazy about mascara? They've developed glamour beyond the reality (black gunk smeared on a brush), larger-than-life personalities that no doubt, dear reader, you'll have no difficulty placing: Great Lash, Faux Cils, Voluminous, DiorShow, Phenomen'Eyes, Full 'N Soft, Bad Gal, Lash Blast, Kiss Me. Perhaps like handbags and shoes, mascaras and foundations are what drive the profits of the company.

There is no hint of the diva about Définicils (no liner, just NARS All About Eve, below):

The brush is unusually adept at creating defined, separated lashes, so the sum effect is assiduously natural, but the formula is quite wet, though not quite so thick as a volumizing mascara, never drying out completely, and tends to soften a curl. I find it necessary to suppress years of conditioning—it's best not to wiggle the wand during application—or my lashes will stick together. It is not really the mascara most ideally suited to me; I prefer L'Oréal Voluminous. However, for those with thicker, less feeble lashes, and a taste for subtle enhancement over the mania for false-lash effects, this is the mascara to beat.

Labels: bestsellers, lancome
2/21/2010 [0]
Fashion Notes: A New Winter Coat
by Dain
Rachel, a reader of this blog, has sent us a query:
...I'm looking for a inexpensive, yet well made winter coat for our particularly cold, wet california weather. I'd like something with a hood, and that is lined so I don't have to layer too much. I have a classic, Audrey Hepburn style so I tend to be drawn towards peacoats and dresses with cinched waists, etc. I've seen a few options by BB Dakota on Modcloth.com that seem promising. There are so many options out there as to outerwear, but nothing that seems to be affordable for my lifestyle. I'm a college student with a full time schedule, and I work with a *very* tight budget. Any feedback is very greatly appreciated :)
–Rachel
Dorothy Your needs are so specific, that you're going to put in either time or money to get what you want.

The Kindly One I agree. It's important to be open to possibility.

Dain It's rare to find exactly what you're looking for, especially if you have very specific expectations, as the racks yield very uncertain results. But all the same, when I do seek to find, I generally suffer (thus why my closet is so compact) without the particular article in question until something I truly love, though it may not be what I originally planned, comes my way.



half-price Marc by Marc Jacobs, but still expensive


The Kindly One When you look exactly for a certain thing, you never find it. Keep in mind what you like about that shape, whether it's the proportions, the fit along the shoulders, the general style, the fabric, whatever—but let it guide you to something you may not even have thought of, and maybe like even more.

Dorothy I wonder about Tulle, as well; or trolling eBay for J. Crew or the like (I've found some deeply discounted J. Crew and Banana Republic stuff on there). There's also vintage and thrift, but that takes time and patience, even online.


The Kindly One I'd also say the very best thing to do is consignment shop/vintage/thrift store/ebay.

Dain Yes, secondhand is a good place to start looking, even if you lose in convenience. Quality construction and fabric are expensive. It's unavoidable, but you don't want a cheap-looking article. In the colder months, you wear them all the time, and nothing more effectively finishes off even the plainest outfit than a great coat. It's better to invest in a nice one and not worry about it afterward.

You just won't be able to find pieces like the Marc by Marc Jacobs for cheaper unless they're secondhand. But if nothing else, you can make do with a trench in a saturated color. A more neutral option, that does not stale so much as black, is a black-and-white pattern, which goes with everything but boasts more textural interest.

Labels: fashion notes
2/19/2010 [0]
Beauty Notes: The Basic Eye
by The Kindly One

It's rare to find a makeup tutorial that's so basic that it can be applied to a variety of looks, so when I found this video, I was thrilled. I love this video for its wide applicability and versatility. This lining technique can easily be modified to produce a smoky eye, a lock-tight line or shadow wash, or even a multi-color smoky eye. The technique isn't hard, and products used don't have to be expensive. What I like best of all, though, is the color Marlena used. I wouldn't have thought to use such a vibrant color with this technique, but it really adds interest to the look and opens up the possibilities of other colors and color combinations to be tried.

Labels: beauty notes, makeupgeektv
2/18/2010 [1]
Culture Notes: Toxic
by Dain
I'm not one for celebrity gossip; my tastes, if you haven't noticed, are outdated to the extreme. The euphemism, I suppose, is "classical". I like old books, old movies, old music, old people—you get the picture. But isn't it just nice to see her looking like this, so fresh and pretty?

It's also a great opportunity to repost two videos I enjoy for the stark contrast in aesthetics:


In these days of Lady Gaga, that "skin and beads" body stocking is so passé, but you've got to embrace the cheesiness of it. As I wrote last time, "I know it's fashionably hipster to shun Britney Spears in very absolute terms as an utter sellout, but damn, it is really hard to sell yourself that well." I fear this video may be pulled, but the official one isn't embeddable.



"The same song covered by Stevie Ann, as stripped down as the original is ostentatiously produced, a completely different song. Strange how it seems so haunting and bitter under this treatment."

Labels: britney spears, culture notes, stevie ann
2/15/2010 [1]
Most Wanted: The Name of the Rose
by Dain
To avoid the temptation towards medieval costume, natural for a novel so rich with symbols and allusions as it treats on the dangers of intellectual pride, I've opted instead for a lightly gothic Valentine's Day.


Let us eschew the purely visual for the tactile: some charmingly kitsch (and dirt cheap) Triple Lanolin Aloe Vera Hand & Body Lotion with Lavender ($2-8) for ultra soft, touchable skin all winter long. Apply right after your bath to lock in as much moisture as possible.



Jewelry often makes for beautiful photographs, but is rarely tenable for quotidian wear, as the occasion grand enough for the wearing is not often accorded to us mere mortals. But this Barbara Biffoli snake pendant ($795) manages a dramatic statement—a sinister charm that drags the eye downward—with the decidedly relaxed, but still naughty, rope of leather that binds the neck.



Almost all fashion, because it sells, espouses sex appeal of some kind, but I've opted for the simplest solution: as much skin as possible. Naked skin, however, lacks the requisite mystery for a proper seduction, so this robe from Carine Gilson ($1260), which truly hides nothing but makes such an exquisite game of it.


Shoes these days are so over-sexed I've opted for something these relatively ladylike Manolos. They are enough.


Candles for atmosphere are somewhat of a cliché—the way the flickering light casts warm highlights and shifting shadows—but if you're as picky about scents as I am, you can always call Voluspa Baltic Amber ($18) a room fragrance.

Labels: barbara biffoli, carine gilson, lancome, manolo blahnik, most wanted, umberto eco, voluspa
2/12/2010 [0]
Fashion Notes: Nina Garcia's The One Hundred
by Dorothy
I love browsing books on style. I've read a lot of them, although I usually only borrow them from the library -- how often is one really worth keeping? In my experience, the advice in style books doesn't really vary that much: buy quality, buy classics, buy pencil skirts.


I wonder about giving voice to my irritation with this book: it's a charming, fluffy, frivolous thing, obviously gimmicky (exactly one hundred essentials!) with adorable illustrations. Subtitle aside, it's clearly not meant to be a style bible, even for people who adore Nina Garcia. Complaining about this is like saying that America's Next Top Model is unrealistic about the fashion industry. Duh. But since being churlish is what I'm good at, I'm going to complain anyway.

Garcia herself writes that this is

not

meant to be a definitive list of garments every woman must own; this is a starting point, a guide to her personal style ("reading this book is...like walking you into my closet.") However, it's

written

as advice, probably because that's what her publisher wanted. I imagine Garcia and her publishers planning this as a quick follow-up to

The Little Black Book Of Style,

which I haven't read yet. The initial concept: an alphabet of fabulous pieces for fashionable women to own! Great, right? Except that at some point, they changed their minds -- maybe they realized no fashion essential starts with X, maybe

The One Hundred

sounded classier than

The Alphabet of Style,

who even knows (or cares) -- and they ended up with this padded-to-hell mishmash.

In my opinion, there simply

aren't

a hundred pieces "every stylish woman" must own. Garcia throws in some obvious choices (ballet flats, little black dress, cashmere sweater, jeans, red lipstick, pencil skirt), some nice things I'd hardly consider essential (real or fake fur, leather pants, Missoni knits, cape), some things I can't imagine ever wanting (caftan, Wayfarers, Havaianas) and some things that aren't clothing or accessories at all (iPod, BlackBerry).

A few more thoughts:

- Does anyone really need ankle booties, knee-high boots, Frye harness boots

and

cowboy boots? If you really love boots, sure. Otherwise this seems like overkill, especially the last two.

- I don't think the A-line dress is the universal flatterer Garcia seems to think it is. Perhaps this is the case if it's very well cut and made from good fabric. However, I am a size-0, just-this-side-of-petite woman with a flat chest, a small waist and curvy hips, and the A-line dresses I've tried on obscured my best features and made me look like a little girl. A pear-shaped little girl.

- Actually, while I'm navel-gazing, a lot of the advice in here is just inapplicable to a woman my size. Maybe if I read "Man's White Shirt" as "Little Boy's White Shirt"?

- M is for Mad Money, Q is for Quality Champagne (heaven forbid you should drink prosecco!), and V is for Valid Passport. (You know, just in case some aspiring fashionistas are walking around flashing

invalid

passports.) Sometimes you just gotta say

ferchrissakes.



- On nail polish: "Go for either the vamp red or a light, light pink. Maybe black satin if you feel like being goth or punk rock. But do not dip into a middle-ground palette. Corals and fuchsias are just asking for trouble." What kind of trouble? I'm assuming she's thinking that "middle-ground" shades look unpleasantly old-lady, but I don't think this is universally true.

- On perfume: Garcia recommends the signature scent, which, fine, but she also suggests wearing "any man's cologne." Oh no no no. I love wearing masculines -- I just bought a full bottle of Chanel Pour Monsieur -- but you do not want to wear just

any

man's cologne. Sheesh.

- On choosing red lipstick: "For fair skin, go for a red that has blue undertones." Nina, this pale orange woman is frowning at you.

I'm not sure it's possible to write a definitive guide to style, which

is so much about individual preferences and associations anyway. Certainly, I've yet to read one. This book is charming, but I wouldn't recommend it as anything more than eye candy.




Labels: books, fashion notes, nina garcia
2/10/2010 [2]
Fashion Notes: Best in Show, Resort 2010 (Part II)
by The Kindly One
BEST USE OF LACE



3.1 Phillip Lim wins this category hands down. Lace has been an occasional trend in fashion recently, spurred by Prada's Fall 2008/2009 all-lace show, and Phillip Lim shows a very approachable, wearable version of it here. Devoid of the more stuffy, starched, high fashion elements of late, this lacework is girly, youthful, and exceedingly pretty. As with the majority of Lim's work, these are pieces that can easily, almost intuitively, be incorporated into the rest of your wardrobe, adding that punch you lacked before without disrupting the flow of your ensemble.

BEST SKIRTS



Again, 3.1 Phillip Lim knocked it out of the park. Between his beautiful lacework and the fluidity in his tulip skirts, Lim has almost made a skirt believer out of me. His tulip skirts were what really sold me on his collection. Beautifully draped out of light, soft fabrics, these skirts provide an approachable, American form of elegance that will neither alienate nor intimidate those around you (or, for that matter, the wearer herself). In addition to tulip skirts, Lim featured both lace and cotton straight-cut skirts that lend instant youthfulness and cool, all of which were wearable and provided just enough fashion to keep things interesting.

BEST FOUNDATIONAL DRESS



Surprise, surprise - 3.1 Phillip Lim again (up until I saw Lanvin's collection, Phillip Lim was my pick for best collection). Foundational pieces are really the hardest to find, at least for me. They need enough interest in and of themselves that they can stand on their own (the draped waist, three-quarter sleeves), yet be quiet enough to blend into the background (neutral color, simple design). This dress achieves that rare task of being both neutral and interesting, maintaining the idea of the shift dress without drifting into a sartorial snooze. An additional plus - how often do you find a dress that looks dressed up, even complete, with the simple addition of a workaday brown belt?

BEST CUT DRESS



I cannot see how this dress would fail to flatter most figures. From the Yves Saint Laurent collection, this dress features enough flare at the bottom, width at the top, and definition at the waist to even out and flatter most figures (a feat that used to be what dresses were all about). In addition to beautiful figure flattery, the dress hits at just the right point, hovering around the knee. Between where this dress hits on the body and how it skims over it, this is an ideal cut for a dress.

BEST DRESS OVERALL



I absolutely love this dress. Also from YSL, this dress has the most beautiful racerback cut to flatter the shoulders. I also love the pattern, which came as a surprise to me. I'm not generally big on anything that hints at animal print, but the reddish tone to these browns, as well as the vertical print, got me. Overall, this dress achieves something the two before it cannot. While both of the previous dresses, and all the previous looks, have interesting details, this is the only look that actively draws your focus, but it still avoids ostentation and an obnoxious monopoly on your attention. It is the neutral for those who do not wear neutrals.

Labels: 3.1 philip lim, fashion notes, proenza schouler, ysl
2/09/2010 [0]
Beauty Notes: Coloring Book
by Dain
A few months ago, I was watching Sophie Marceau in Firelight, and it struck me that her features, oddly enough, approximated the Asian. Obviously, Marceau couldn't be more French. But the similitude is there, is it not? Especially when she's in profile*.

Ethnically bound makeup is a tricky subject to broach. It's impossible to be comprehensive, given the constraints of experience—what do I know about the best colors for black women? it'd be a guess, no more—thus why I've not extended the Lookbook further. But a few tricks about Asian makeup, I can readily share.

The salient characteristics are well known. The hair is dark brown-black to blue-black, stereotypically straight and sleek, though more wiry textures are not infrequent. The complexion is notoriously yellow in hue, exceptionally smooth at its best, often mixed with brown (melanin) and olive, and to much lesser degrees peachy and ruddy, undertones. Though the choice of foundation should be warm, that does not signify much in terms of product choice. Darker Asians boast a rich caramel skin, overlapping with Hispanic and lighter black women in the shades most flattering to them (but not Indian, who have stronger ruddier tones). There's a soft golden warmth to medium-skinned Asians, whose natural predilection for shades equally warm, like clove and apricot and olive, have given rise to the widespread myth that Asians are unilaterally warm. As a matter of fact, as the complexion lightens, most Asian women find that their best colors shift towards neutral, until, on the truly pale, whose skin tone takes on a near colorless translucence (quite different from Caucasian pallor), we find ourselves mired in determinedly cool pigments.

Then, there are the eyes, which provide a fountainhead of neuroses—those tiny slits! those short, sparse, stick-straight lashes! ah, only brown! no crease!—when Asian women flaunt muted pride at their double lids (i.e. epicanthic folds) what snide chuckles must be suppressed. And, just to complicate matters further, there are indeed Asian women with large eyes and deep sockets.

But more than anything else, the approach to Asian makeup is determined largely by one factor: the flatness of the features.


Du Juan for Vogue China, February 2010 (love that new haircut)


When compared to the image of Sophie Marceau above, you notice that, in spite of the different in ethnicity and coloring, it is the flatness that draws the two in common. For an Asian woman, Du Juan has sharper cheekbones, nose, and jawline, but the rounded softness of her face, its angles quite muted, are characteristically Asian. Therefore, unlike the chiaroscuro bent of Western makeup, of contouring and blending, Asian makeup is all about defining outlines, first and foremost, before one may move on to filling in with color; or, as Anne suggests, the aesthetics of anime are not too far removed.

Here, the makeup is assiduously natural, so the outlines are quite understated. But mark the flawless skin for a canvas, and the casually groomed eyebrows—critical points of the face for all, but more so for an Asian face—and the incredibly clean eyeliner. Though her eyes do not suffer from an overdose of mascara and liquid liner, as I see on many, this careful definition lends her face impact. Even her lips, though such a modest mauve, have crisp lines, especially that downturned curve to her pout. This is not a look that hinges on the depth created by contouring, in fact she's barely wearing color at all, save that delicious, unexpected yellow, but outlines carefully rendered.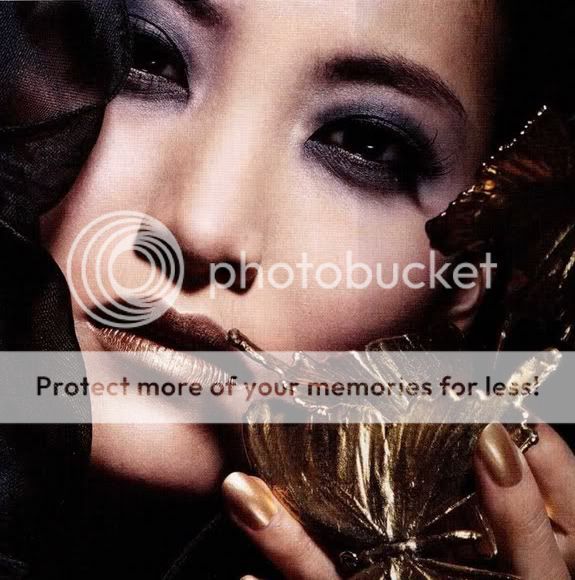 the late Daul Kim for Vogue Korea, December 2009


On the surface, this dramatic look represents an enormity of difference from the natural makeup of the previous image (both gathered from Asian Models Blog). And yet, the underlying principle does not alter; the outlines simply grow ever more exaggerated. Though the choice in colors, especially that exotic bronze lipstick, is bold and striking, these are not techniques that create depth, but simply, intensity. Personally, I live in eyeliner, from the humble tightliner (Shu Uemura Painting Liner + Laura Mercier Flat Eye Liner Brush) to the most vibrant pigments, dusted in a thickly smoked-out line over a MAC Eye Kohl. Other than light, rather sheer washes, eyeshadow for me is largely extended eyeliner, though some dimensionality can be created via a wet, sparkly highlight on the inner corner and a wedge of soft smoke on the outer corner.

Admittedly, this much black is difficult to pull off on most Asian lids, which can look hooded in too much eye makeup. Restrict your pigment to one third of your lid, and you will be safe—below a third, it still belongs to the jurisdiction of the outline.

* This is of course why I chose this picture, but how sexy are nipples through a sheer white cotton camisole? Remind me to get one of those for spring.

Labels: asiatica, beauty notes, daul kim, du juan, sophie marceau
2/06/2010 [1]
Fashion Notes: Best in Show, Resort 2010 (Part I)
by The Kindly One
It was easy to pick the best show from the resort collections. There were many great clothes shown in the collections - easy to wear, ready to transition from the store to your own wardrobe - but there was only one presentation that really breathed life, though, and that was Lanvin. Between the humor (which is rapidly evaporating from the world), the movement and youthfulness of the clothes, and the liveliness of the presentation itself (featuring a backdrop of fashion-obsessed spectators), both the presentation and the clothing had vitality, wit, and a sense of festivity that made me want to join that world. Besides being the most joyful presentation, the clothing revealed a side to Alber Elbaz's talent that I really appreciate. Despite his ability to cut beautiful clothing, there is something about Elbaz's work that has always struck me as being old. Maybe it's the 40s references or his insistent presentation of ladylike silhouettes - regardless, I've never quite jived with it. Here, though, all thoughts of old ladies and past decades were done away with as Elbaz presented brilliant shots of color, youthful cuts, and the most beautifully flowing clothes seen in all the resort collections. Here are a few of his show's key points.

TRENCHCOATS



In this collection, Elbaz adopted the current fervor for jackets by widely useing trenchcoats to formalize the youthfulness of the clothes, as well as to provide that finishing polish to the more sophisticated outfits, as seen here. Without the trench, this would be a nice dress, but the overall look would be a bit undone. Add the trench and suddenly the outfit seems finished, though no small part of that finished effect is derived from the beautiful cut and fabric of the trench.

In an unrelated sidenote, what initially piqued my interest in this collection were the Cuban heels, in particular, and the footwear at large. True, some of this footwear is dowdy, but all of it is wearable. None of it will elevate you into a human crane, nor does any of it require a whole new wardrobe just to match the shoes. I dearly, dearly hope this is a trend designers keep up, because it is nearly impossible to find good shoes these days.

VOLUME



Volume is a central theme for Elbaz, who has previously shown parachute dresses, puffy sleeves, and the ridiculously high heels aforementioned. In this collection, volume takes on a more youthful, festive feel in the form of circle skirts. There is a far more casual feel to the volume in these skirts than in previous collections, making them appropriate and wearable for day. It is almost as if the stuffy formality of previous formality has literally been ripped away from these skirts, leaving only a kind of casual looseness and informality perfect for wasting away the days aimlessly on vacation.

YOUTH



This is easily the most youthful presentation I've ever seen from Lanvin. Between the jolts of color, the styling, and the clothes themselves (jumpsuits, harem pants, hi-tops), this collection very easily and successfully combined the fluidity and luxury of Lanvin's cuts and fabrics with the playfulness and experimentation of youth. It's easy to see how the models were so able to get into character - these clothes are fun. What's more, they are so elegant in design that they may be both dressed up and played down, proving truly versatile and functional. Both the top and the trousers of this outfit are of a highly sophisticated cut and fabric, and either may be used in conjuction with more neutral foundational pieces to provide a punch of color and liveliness to the standard wardrobe. To my mind, though, this outfit is right as it is. I couldn't wear it, lime green and harem pants not being my most flattering looks, but I appreciate the playfulness of the color and the willingness to dress down multi-thousand dollar Lanvin with hi-tops (if there's anything I love, it's the unexpected).

COLOR



I cannot say it enough - this is the most colorful Lanvin presentation I've ever seen. Elbaz has used color before, but this intense saturation of neons, acid hues, and primary colors is something new. It can be particularly difficult to make a very bright, tonal look like this look sophisticated, but Elbaz achieved this through luxurious fabrics and a mature approach. Though bright, the trenchcoat keeps the outfit elegant and adult, leaving all eccentric touches to the accessories rather than the clothes themselves.

EVENING



Lanvin easily presented resort's most beautiful evening clothes. Full-length, fluid, and highly romantic, these are evening clothes that seem light enough, both in weight and mood, to carry into the day. These are beautiful, beautiful dresses, the best part of them being that they highlight the wearer than themselves. Though not usually a fan of prints for evening, I particularly like this dress. The print is muted enough that it maintains dignity, and it hasn't been so widely advertised as to immediately date itself. This is a dress that you could easily pull out of your closet for years to come.

Labels: fashion notes, lanvin
2/04/2010 [2]
Fashion Notes: Meow
by Dain
Always, there are ideas and plans for the next acquisition—a shopping list, according to the season. Inspired by Jane Aldridge of Sea of Shoes, I've got in mind a bold, expressive belt (though perhaps, as a novice to belts, in a somewhat tamer idiom) over a full-full-full skirt (a silhouette that flatters my figure better than nothing else) in a pale shell pink. Though not an accessory I've explored, I suspect that the relationship between belt and skirt is much like that between pant and shoe: if they complement each other, then the outfit will come together effortlessly. So I've got my eye out for a belt, preferably something a little rough to break up the conservatism of a 50s skirt: I love the slight creepiness (but impeccable details) of this Alexander McQueen piece, but even at a discount...

But sometimes, the best additions to your wardrobe are impulse buys, ones that leap out at you unexpectedly when browsing casually...

Above, this winter's coat, of no-name Korean manufacture, obviously faux. Never imagined I'd be able to pull off leopard—too via-Kate-Moss-rock-chic in my head—but the soft, bathrobe-like drape (as comfortable, too) is somehow quite wearable, and clashes to the perfect degree with my collection of frilly, lacy feminine clothes.

Sad. I just had this jacket stolen the other night.

Labels: alexander mcqueen, fashion notes, sea of shoes
2/03/2010 [1]
Subscribe to
Posts [Atom]. Or
follow on bloglovin'. If
you'd like to contact Dain,
feel free to email me.
I'm also on Pinterest.
Features

The Mnemonic Sense
Most Wanted
The Beauty Primer
Lookbook
Bestsellers
Consumer Diaries
Closet Confidential
On The Label
Beauty Notebook
The Hit List
Color Me In
The Makeup Artist
Wedding Bells
Globe Trotter
Desert Island
perfume notes
beauty notes
fashion notes
culture notes
minimalism
chypre arc
floral arc
fresh arc
masculines arc
gourmands
& orientals arc
Archives

August 2008
September 2008
October 2008
November 2008
December 2008
January 2009
February 2009
March 2009
April 2009
May 2009
June 2009
July 2009
August 2009
September 2009
October 2009
November 2009
December 2009
January 2010
February 2010
March 2010
April 2010
May 2010
June 2010
August 2010
September 2010
October 2010
November 2010
December 2010
January 2011
February 2011
March 2011
April 2011
May 2011
June 2011
July 2011
August 2011
September 2011
October 2011
November 2011
December 2011
January 2012
February 2012
April 2012
May 2012
June 2012
July 2012
August 2012
September 2012
October 2012
November 2012
December 2012
January 2013
February 2013
March 2013
June 2013
July 2013
Images

Photobucket