Announcements
If you're new to this blog, then read our guides to the basics: Skin (Part I), Skin (Part II), The Supernatural, Color Theory I, Color Theory II, Eyes, and Brushes.

Also, check out the blogsale.
Contents
· Culture Notes: That's Not a Bible He's Thumping

· Fashion Notes: Incomprehension

· Beauty Notes: Eau Vitae

· Fashion Notes: Concrete Jungle

· Beauty Notes: The Teen Scene

· Culture Notes: Film Noir

· Bestsellers: Smashbox Photo Finish Foundation Primer

· Bestsellers: Cetaphil Gentle Skin Cleanser

· Most Wanted: Moby Dick

· Bestsellers: Kérastase Masquintense

· Beauty Notes: Spring Trends

Favored

Art Tattler
the glamourai
The Non-Blonde
Perfume Shrine
Lisa Eldridge
Garance Doré
Smitten Kitchen
Into The Gloss
Grain de Musc
Lacquerized
Res Pulchrae
Drivel About Frivol
The Selfish Seamstress
Killer Colours
Bois de Jasmin
Glossed In Translation
Jak and Jil
Toto Kaelo
Worship at the House of Blues
I Smell Therefore I Am
Food Wishes
The Natural Haven
Messy Wands
1000 Fragrances
Moving Image Source
Wondegondigo
The Emperor's Old Clothes
M. Guerlain
Colin's Beauty Pages
Barney's jewelry department
Parfümrien
loodie loodie loodie
The Straight Dope
Sea of Shoes
London Makeup Girl
Sakecat's Scent Project
Asian Models
Ratzilla Cosme
Smart Skincare
Illustrated Obscurity
A.V. Club
Tom & Lorenzo: Mad Style
Eiderdown Press
Beauty and the Bullshit
La Garçonne
Flame Warriors
Everyday Beauty
Fashion Gone Rogue
Now Smell This
Dempeaux
Fashionista
The Cut
A Fevered Dictation
Nathan Branch
101 Cookbooks
Culture Notes: That's Not a Bible He's Thumping
by Dain
A bit behind on posts, but I wanted to share a quick one:




Such fresh talent. As she readies her face for the first closeup, you automatically prepare yourself for a smoldering, music-video leer, and get pop-eyed madness instead. And the only skin she bares is ankle. I love the mixture of early 60s and Dietrich-in-drag and of all things, a pimp stroll—very post-millennial, this scrapbook o' stylistic references from the past (see also Lady Gaga).

But mostly, it just looks like fun, not choreography: great dancers, enjoying what they do best.

Labels: culture notes, janelle monae
4/27/2010 [2]
Fashion Notes: Incomprehension
by The Kindly One
Can someone please explain all the recent J. Crew love for me? Oprah's recently interviewed creative director Jenna Lyons, Lucky raves over their clothes, and Fashionista regularly fawns over their offerings. I simply don't understand the gushing. Recent visits to J. Crew have only reinforced what I've always thought about the brand, which is that their clothes are uniformly boxy, cut large, and greatly overpriced given the quality of material and construction. So where does the love come from?

I have several theories:

-J. Crew is a major advertiser and source of revenue.

-Fashion editors are familiar with/fond of Jenna Lyons and trying to support their colleague.

-To improve their image, J. Crew have employed Gucci's-Tom-Ford-era media blitz approach to marketing, employing Lyons as a figurehead "personality" to head the brand and lend J. Crew the impression of fashion authority. Subsequently, fashion editors nationwide (and Oprah) have developed a major style crush on Lyons and are unconsciously working that out through gushing, imitation, and general overt crushing.

Of the three, I feel confident it's the last one that's proving true here. While J. Crew advertises widely, it does not advertise on the same level as giants like L'Oreal or the LVMH group. Any publication would hate to lose J. Crew's dollar, but many magazines could not afford to lose LVMH's. And while I'm sure nepotism still has a stronghold on the fashion industry, the above video offers a great example of the kind of blind gushing over Lyons and the brand that I see in an increasing number of media outlets. Just look at the way the video (and Lyons herself) presents her: smiley, friendly, unassuming and approachable, yet with a distinct point-of-view on fashion, with strong opinions, authority, and credibility. So you could have a drink with her and spend the whole time admiring her shoes. Laugh if you will, but by marketing figurehead Lyons as a sort of Everywoman's fashionista (she mixed J. Crew with Miu Miu!), her presence lends the idea of fashion to J. Crew.

And in fairness, the idea of fashion is there, if only as an idea. The store doesn't lack for on-trend military influences, ruffles, and easy layering pieces. The problem I have is the reality of fashion has yet to join up with its ideals. As many on-trend items as the store boasts, and as much as the marketing department bolsters the chain's fashion cred by placing Lyons as a fashion icon in leading, credible publications, the clothes still suck. The ruffles are droopy, the embellishments fade into the clothes rather than acting as visual relief, and the jackets lack enough structure to lay correctly on the body. What's on offer is the equivalent of handing an average teenager a box of pencils and a pad of paper and asking her to draw her dream wardrobe: all the ideas are there without any of the skill, knowledge, or craftsmanship to make those dreams a reality.

So, it's killing me: is all the gushing really over one woman's personality and hi-lo dress sense? Or do people really think they're investing in fashion at J. Crew? What do you think?


Labels: fashion notes, j crew, lucky
4/26/2010 [7]
Beauty Notes: Eau Vitae
by Dain
I used to wonder, what is with all the bloody steps to Asian skincare?


Is it a marketing gimmick? (Yes.) To appeal to culturally endemic OCD? (Yes.) A formulaic routine for the average consumer to follow? (Yes.) It seems like overkill: double-cleansing with a water-soluble oil (to remove makeup) then a dense microfoam (to remove makeup remover), followed by a humectant-rich softener AKA skin AKA lotion AKA toner, then come the battalion of moisturizers that vary according to skin type, season, concerns localized and all over, and whether it's day or night.

All the same, there is some methodology to layering multiple moisturizers in Asian skincare, beyond the drive for profits, some logic based on the technology of the formulations:

Shiseido is not only the oldest Asian skincare company, but the oldest cosmetics company, period. Its influence cannot be discounted. Its first product, Eudermine, though considerably updated from the original formula, is packaged with tender solicitude, a loving tribute to all that is gorgeous but impractical in elegant ruby-red glass, saturated even down to the corrugated cardboard that lines the box. Shiseido's pride is justified; the softener—not quite a toner, which clears leftover residue, but not quite an essence, which is a treatment—occupies a seminal position in Asian skincare. The softener is a cocktail of humectants (glycerin, sodium hyaluronate, propylene glycol, butylene glycol, betaine), to saturate the top layers of the skin and draw in moisture from the air, as well as whatever products you may layer on top.


Hence, the multiple moisturizers. The softener, sometimes called lotion and sometimes called skin but very rarely toner (which generally has more exfoliating/purifying properties in an Asian brand), primes the skin. The final step, for protection during the daytime, is sunscreen, which Asian brands do surpassing well. Sandwiched in between the softener and sunscreen are layers of moisturizer, depending on what type of skin you have: the basic steps are usually essence, emulsion, and cream, and often a separate product for the eye. An essence (AKA serum AKA concentrate AKA treatment), light in texture but high in hydration, usually comes first, to reinforce the effects of the softener. An emulsion (or lotion or milk), which is often offered in varying degrees among the bestselling lines—light, regular, or enriched, sometimes day versus night—is meant to suffice for most skin types. Creams, the richest of all, are reserved for the dry, not as an alternative to emulsions, but as an additional layer, incrementally more emollient, to lock in moisture. There's almost always an eye cream as well, if not an eye serum. From time to time, sheet masks provide intensive hydration, a fabric cut to fit your face and ensure total saturation with humectants, which I find provide an immensely enjoyable reason to take a short nap (at left, me in a Juju Aquamoist sheet mask). The emphasis is almost entirely on hydration, with nary a buttery, greasy, oily, emollient, thick cream in sight.


Innisfree Q10 Collagen Gel Mask, one of the more unusual, luxurious sheet masks with an agar-like, non-drip essence, Sana Nameraka Honpo Skin Lotion, fermented soy milk isoflavones, and Juju Aquamoist 100% Essence, hyaluronic acid in nearly its purest form.



The pattern is repeated throughout, whether high or low:
The Face Shop (Korean Neutrogena) Eco-Therapy Super-Repair line
Tonic with Essential
Essential Serum
New World Total Serum
Daily Moisturizer
Essential Cream
Sun Cream SPF 45 PA++
BB Cream SPF 20 PA++
SKII
Facial Treatment Clear Lotion
Facial Treatment Essence
Facial Treatment Repair C
Facial Treatment Facial Lift Emulsion
Signs Signature
Signs Eye Cream
Facial Treatment UV Protection SPF 25 PA++
Facial Treatment Mask
Etude House (Korean Clean & Clear) Moistfull
Toner
Essence
Child Essence (wtf?)
Eye Essence
Lotion
Cream
Mask Sheet
Massage Mask
Mist
Shiseido, nearly my current routine (sans wrinkle cream), spread over many lines
Eudermine
Bio-Performance Super Corrective Serum
The Skincare Multi-Energizing Cream
Future Solution Total Revitalizing Cream
White Lucent Brightening Eye Treatment
Anessa Milky Sunscreen (Town Use) SPF 32 PA+++
The steps for hydration are many, but the sole rich cream isn't highly emollient.



difference in textures from Skinfood: Cucumber & Lettuce Water Jelly Cream (aqua gel cream) versus Avocado. No question which is the better seller.


The habits of dry skin are difficult to shake; almost automatically, I reach for the heaviest, most emollient-rich cream, the kind that draws complaints about grease and clogged pores, and instead the companies in Korea were pushing their emulsions and aqua gel creams. For the longest time, I despaired of finding a cream that would be sufficiently emollient for skin as dry as mine—I still haven't found in an Asian brand, outside of the department store. Quality emollients (shea butter and seabuckthorn oil, for example) are expensive, while hydration is not only cheaper but requires multiple products to be fully effective, a decided increase in profit margins. If you are merely dehydrated, this strategy may be satisfactory, but the truly dry, whose skin produces insufficient sebum, it really isn't enough. Hydration remains the ideal, however, a complexion that's crystalline in purity: watery, pale, radiant, translucent, and supple to the touch.

Labels: asiatica, beauty notes, etude house, innisfree, juju, sana, shiseido, sk ii, skinfood
4/25/2010 [3]
Fashion Notes: Concrete Jungle
by Dain
Here is my new favorite outfit for spring:

I can't show you how it looks on me, since no one's around to take a photo, but this is a fair approximation.

I bought this linen Uniqlo buttondown, suppressing my instinct towards white or pale blue and selecting instead a safari khaki, to add a pleasing rustic texture, with the sleeves casually rumpled up. Though neutral enough to match near everything, I lack the instinctive pairings in my closet: soft coral, tonal cream and chocolate, rich forest green velvet, the shock of cobalt blue, military olive. This rock-grey plaid skirt, shot through with a plum/umber thread, is an unexpected match—more slightly dowdy 70s coed than the smug drawl of money on the Italian Riviera or the now-very-current military trend. The shirt fits loosely, which suits the linen material nicely, especially as it softens and conforms to the body better with wear, but it is nevertheless a departure from my trim, body-conscious tops. Voluminous shirts are for people with long legs. Full, high waisted, and hitting awkwardly at mid-calf, this skirt disguises my disproportions nicely, with this tooled leather belt to punctuate my waist at its narrowest point (confirming my hunch that a great belt pulls together skirt-based outfits).

This vintage Bally saddlebag completes the 70s reference, and for a little subtle sheen, in all readiness for summer, are these Emu Bellbrae Sandals ($89).

The blue-roses scarf, from So'Salt, is not always worn, but it makes a nice picture.

Labels: bally, emu, fashion notes, so'salt, uniqlo
4/21/2010 [0]
Beauty Notes: The Teen Scene
by The Kindly One


As it's prom season again,* I thought it fitting to share a prom makeup video. Clearly, this is not traditional prom makeup. In fact, this is more what some teens wear to the mall every day. However, I never wear this much makeup, and I find the major eyes much more suited to an event than to everyday life. Plus, there is a part of me that always wanted to live a day as "that" girl, the one who could straigten her hair, wear emo makeup, and get away with it by still looking pretty. The reality is that would never work for me. I don't have the right eye shape for that eye look, nor the right face shape for that makeup overall, and genetic determinants have ordained that never the straight, silky hair and I shall meet. This is okay. I don't really have the desire to become "that" girl who, in real life, often has few options for her makeup, hair, and overall appearance. But I'd like to pretend, and it seems to me there's no time to pretend such a thing as the time for fancy dress and out of the ordinary makeup and hair.

*That is so strange to me, that there should be a whole prom season. I can understand a prom night, but a prom season?

Labels: beauty notes, misschievous
4/20/2010 [0]
Culture Notes: Film Noir
by Dain
When John Huston picked up Dashiel Hammet's The Maltese Falcon to adapt, for the third time, for Hollywood, did he realize what he was doing? The classic archetype among thrillers, the film noir is an exercise in cynicism and style, matched only by the self-reflexive ire of movies-about-Hollywood. It is, without a doubt, my favorite genre. As with the tear jerkers, I've chosen five favorite films. Since it is under considerable debate, I'll keep my definition loose, with no attempt to be comprehensive: there are many stellar film-noir classics, but even they pale next to The Third Man.



Notorious


The femme fatale, a woman who uses wit and sex appeal and the whiff of sweet corruption to manipulate the men around her, is such a classic archetype that there are no end of memorable performances (see also Double Indemnity, Sunset Boulevard, Gilda, The Big Sleep, The Maltese Falcon) that quite outshine their male counterparts. In the end, I chose Ingrid Bergman (and my favorite Hitchcock film), because a sympathetic female character is something of a relief in a genre so overwhelmingly masculine in outlook.



Batman


This isn't a movie (though I watched the animated series obsessively as a kid), but as a pop-culture icon, the dark knight is concurrent to film noir, relying on a cool head and detective skills, to defeat his foes, who run the gamut from pathetic to psychotic, though the cartoon format lends them a charming levity.



Le Samouraï


When it comes to the cool, collected, enigmatic anti-hero, nobody does it with better flair than Alain Delon.



Fight Club


A Touch of Evil is generally credited as the last "official" film noir, that doesn't mean more modern movies can't channel the same gritty, world-weary, sordid textures. Taxi Driver and Pulp Fiction are more respected films, but I've got a soft spot for this one.



The Third Man


Perhaps my favorite movie, ever, though my acquaintance was formed only recently. It is pretty much flawless, a fact best conveyed through a montage of iconic scenes—the picky kitten that reveals all, the cables of the ferris wheel, the Cuckoo Clock speech, the balloon man, all the twisting stairs of Vienna, the boy with the ball (not shown), Orson Welles' silhouette in a sewer tunnel, Reed's fingers reaching for heaven through a grille, that long shot of Valli walking closer and closer and finally off the screen and out of Cotten's life (not shown)—set to Anton Karas' jaunty-but-not-cheerful zither.

Labels: batman, culture notes, fight club, le samourai, notorious, the third man
4/18/2010 [2]
Bestsellers: Smashbox Photo Finish Foundation Primer
by The Kindly One


For some reason, it is primer, along with mascara, that proves to be among the most contentious subjects of makeup discussion. People get dogmatic over their primers: which is the best, which is most popular, and whether primer is necessary at all. The fact is, the necessity and use of primer is entirely individual. Not everyone needs a primer or benefits from its use. Additionally, there is no right primer for every person or every need. People with oily skin will by and large require a different formulation than those with skin like the Sahara; likewise, the use of more hydrating products on top of the primer will necessitate a less hydrating formula. It is all very individual and there is no right answer, which is maybe why there is all the drama surrounding primers in the first place: without a "right" answer, people just have to fight and claw their way into being king of the hill.

Of the many, many primers out there, Smashbox's Photo Finish series is a strong contender for "most popular" in terms of recognizability, units sold, and samples tried. It is a widely referenced product offered in a range of formulations, including the Original shown, as well as color-correcting formulations and Light, a lighter weight formulation marketed for oily skin. The most easily recognizable formula must be the original, being the oldest on the market and potentially the most universally friendly. Photo Finish Original is a fairly thick, silicone-based, fragrance-free formula that applies clear. As promised, I find that it lasts all day, though after 12 hours, slight oiliness appears on my forehead. Photo Finish dries within a minute and allows for an even application of foundation or concealer, without streaking or pilling. I haven't had problems with skin sensitivity, though those who cannot tolerate silicones will not be able to use this formula.

Having oily skin, I have found that I need primer if I want to wear foundation. There is no other way that my makeup will be there ten minutes later, much less in a few hours. After trying many primers, I can say this is one out of two primers that have ever really worked for me (the other being Laura Geller's Spackle). While most other primers pill instantly, pill upon makeup application, streak, cause streaks in my makeup, and cause my makeup to slide all over my face, this primer really does the job, ensuring that my makeup is even, stays on all day, and remains intact. Simply put, I do not wear foundation or even light powder without Photo Finish Original.



That said, I cannot speak so highly of some of its offshoots. I was greatly disappointed by Photo Finish Light, enough so that I returned it within a week. Despite it's claims to be formulated specially for oily skin, I found Photo Finish Light wore off quickly, streaked on application, applied in the same whitish tint you see in the bottle, and pilled upon makeup application. I tried the Light formula for about five days, hoping to see better results with time, but it just never happened.

I had better results with Photo Finish Color Correcting Primer in Green. I became curious about this formulation after reading about The Non-Blonde's success with the product. While not as outstanding as the original formula, I am still pleased with this primer's ability to knock down slight redness in the skin without turning me green. This version doesn't have quite the lasting power of the Original formula, with oiliness starting to show through after about six hours. I would also say it doesn't quite stand up to really creamy products, which apply a little greasy over this primer. Overall, this version doesn't quite offer the staying power I need, but I still like to have it around for days when I need something extra to decrease the redness.

Labels: bestsellers, smashbox
4/13/2010 [1]
Bestsellers: Cetaphil Gentle Skin Cleanser
by Dorothy


Even looking at this photo brings me back to the mid-1990s, my junior high years. (The packaging has changed, but not that much.) My mother owned a copy of Paula Begoun's Blue Eyeshadow Should Still Be Illegal, and I flipped through it regularly. Paula Begoun loved Cetaphil. It was neither oily nor sudsy: it was a thin, gloppy translucent liquid with almost no scent, no irritating ingredients to speak of (and this is how Paula Begoun evaluated products -- by the ingredients), no gimmicks, no inflated price. She had, as far as I know, no financial stake in the company; she just loved the product.




So my mother used Cetaphil, and I used Cetaphil. Even my brother, who was maybe seven years old at the time, washed his face with Cetaphil because it didn't sting when it got in his eyes. I think my mother still uses it, but I have moved on. Cetaphil was gentle, yes, but it left an unpleasantly slimy film on my skin. It didn't remove makeup well. It probably didn't make my teenage acne any worse, but it didn't help, either. Despite claims that it rinsed clean with water, it really required a washcloth to remove. It didn't really moisturize, nor did it really clarify. All in all, it was mediocre.




It may well be that Cetaphil stood out in the skincare market of the early nineties. I'm too young to know for sure. I do know that I used it for years and it never particularly impressed me, and by now there are many other gentle, unscented cleansers on the market. I can't imagine going back to it at this point.

Labels: bestsellers, cetaphil, skin
4/11/2010 [3]
Most Wanted: Moby Dick
by Dain
The preppy American classic, with a view of the sea...


Often these Most Wanteds grow from a single germ, a compelling piece, in this case, this spare but eye-popping Jil Sander sandal ($245). If they don't put you in the mood for a carcinogenic overdose of sunshine, what would?


If I languish, here in Asia, from a poverty of perfumes, at least the perennial quest for an ultralight-texture-matte-finish-doesn't-stink sunscreen is so easily fulfilled at the average drugstore. Shiseido Anessa ($37) is not easy to source in the West (only online), but it is pretty fabulous.


"When you're rich in Greece," complained my friend Victoria, "you can always tell. They have hangbags. Jewelry. Here, everyone wears jeans. Only some of these jeans cost $300." In Puritan New England, where overt displays of vanity and avarice excite serious disapproval, expense is channeled into an aesthetic thoroughly casual, viz. Steven Alan Western Snap Shirt ($198), which look ever so relaxed and rumpled, like you've just rolled out of bed and thrown it on. The fit, however, flatters to such perfection that only assiduous tailoring may assure.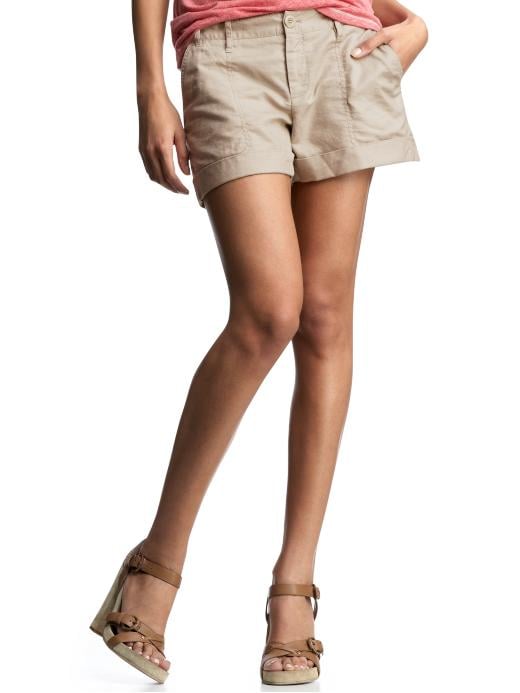 But not, in my mind, a pair of summer shorts: GAP ($34.50), in khaki, the preppy classic, in a breezy linen blend. Wear 'em everywhere, to ground everything, with easy, walkable sandals (why not be comfortable?), over a sopping-wet bikini, and never mind the tear.


This outfit is an exercise in shape and proportion, rather than dramatic statements, so let us not yield to the temptation to load up on accessories. This exquisite, gold-dipped lace ring from Aurélie Bidermann ($385) adds just a tiny dose of anti-effortless, almost like a secret.

Labels: aurelie bidermann, gap, jil sander, most wanted, shiseido, steven alan
4/06/2010 [4]
Bestsellers: Kérastase Masquintense
by Dain
Just as shoes and bags keep luxury fashion afloat, certain products—foundations that approximate a pristine complexion, blushes with provocative names, skincare that claims to turn you into lissome young flesh, strange and exquisite perfumes sold only in Paris—can always be depended on for profits. Likewise, a rich conditioner reels in consumer interest: more expensive per ounce, it's often a necessary adjunct to long, thick, curly, dry, colored, or frequently styled hair, and some of us go through bottles like water. Some brands, like Terax with its utterly indifferent shampoos, have built a reputation on a rich conditioner alone.


Kérastase is no exception. It all began with Masquintense ($58). When first it came out, the expense was phenomenal, but Madonna, of the ever-changing hair, swore by its restorative qualities. So did other celebrities, and celebrity hairstylists. Then the line expanded, to an extensive array of superior products, bolstered by the keen corporate technology of L'Oréal; for true damage repair, the Résistance duo of Bain de Force shampoo and Ciment Anti-Usure (better as a leave-in treatment) perform miracles.

By the time I could afford Kérastase, I had become heavily jaded. Most conditioners, I had discovered, were simply designed to disguise damage, the luxurious textures no more than a subterfuge via silicone fillers. Furthermore, I was the ideal test subject. Since no chemicals, styling product, blowdryer, curlers, or iron ever touches my hair, I only wanted products to soften and nourish my hair, not damage repair. It was not until I met PHYTO Phyto 7 ($26) that a light began to dawn: like dry skin, dry hair needs nourishment and protection throughout the day, not rinsed down the drain. Thus, I regard haircare in much the same vein as skincare. Just as one would layer skincare products—sunscreen over moisturizer over treatment—I layer my conditioners. And why not? There is more than one kind of moisturizer. To protect from the environment, like a sunscreen, I'm fond of Aesop Hair & Scalp Moisturising Masque. To soften and nourish, like a rich face cream, I stumbled upon L'Occitane's criminally underappreciated Rose Conditioner. But it was not until Masquintense entered the scene, however, that this curiously rose-focused combination fell into place.
water, cetearyl alcohol, behentrimonium chloride, glycerin, amodimethicone, cetyl esters, isopropyl alcohol, methylparaben, hydroxipropyltrimonium hydrolyzed wheat protein, trideceth-6, glyceryl linoleate, sunflower seed oil, glyceryl oleate, chlorohexidine dihydrochloride, cetrimonium chloride, linalool, hydroxycitronellal, hexyl cinnamal, citronellol, alpha-isomethyl ionone, coumarin, geraniol, safflower glucoside, glyceryl linolenate, fragrance
To repair damage (time alone causes damage) and bolster shine, a damage-repair conditioner, and Masquintense is among the very best, performs much like a concentrated treatment—not a conditioner. Serums are supplementary; concentration of active ingredients, which translate into results, is the primary criterion of evaluation. No serum worth its pump has the emollient weight of a proper moisturizer, which serves the more basic function of hydrating, nourishing, and softening the skin. This distinction between treatments and moisturizers, insofar as it applies to haircare, was not clear to me at first.

Longstanding habit drove me towards the formula for thick hair, and longstanding habit encourages an overdose, as well. Still, no quantity of Masquintense conditions my hair so well as the L'Occitane (also by L'Oréal). When dried, my hair, insufficiently nourished, tended towards staticky flyaways. And yet I could not deny how insanely healthy my hair looked. One day, with the idlest disinterest, I added the L'Occitane, and...

There it was! Perfect hair! Soft, shiny, silky (make sure to rinse well between each step):
a gentle, low-surfactant cleanser I currently use Giovanni Smooth as Silk Deep Moisture Shampoo, which smells of grapefruit. It breaks up the oils in my hairs for maximum saturation.
a shine-enhancing, damage-repairing treatment Kérastase Masquintense, just the tiniest amount, absorbed over some minutes while I go about the business of showering, the stuff is not only expensive but highly concentrated. There is no benefit to using more; it just coats my shower floors with greasy residue. I should add, this has a strong powdery fragrance.
softening, nourishing conditioner for a silky feel L'Occitane Rose Conditioner baffles me. It's utterly silicone-free (!), and hardly the most promising in prospect, but it softens deeply, better than any fancier conditioner I've tried. And, though I dislike perfumes that linger, its clean, rose-inflected fragrance is as pleasant as can be. And I don't even like rose.
a leave-in that locks in moisture, smooths flyaways, and protects against the environment I prefer Aesop Rose Hair & Scalp Mask to most so-called leave-in conditioners because there is no build up of silicones. A tiny dab (again, expensive) massaged into still damp hair absorbs readily; on dry hair, it's much too heavy. Oils will do here as well, even more protective and frizz-defeating, whilst enhancing natural waves, but I find them less expedient to use.
I highly recommend the routine if your hair, like mine is long and very dry, but otherwise healthy. Though these products are indeed expensive, I actually waste less product this way. I make sure to squeeze out as much water as possible, and massage the product into my hair. It also helps that, like anyone with long hair, I avoid washing my hair too frequently. No longer do I choke my hair with gallons of conditioner, hoping to make up for some deficiency in the formula. Each product manages only its own job, and when layered, achieve together exactly the results I want.

Labels: aesop, bestsellers, kerastase, l'occitane, phyto
4/02/2010 [7]
Beauty Notes: Spring Trends
by The Kindly One
I'm not usually too interested in seasonal makeup trends. Most of them are inappropriate to my skintone and features, not to mention mere iterations of the same old thing. However, this season has turned out a few makeup looks that have interested me enough to incite my imagination and cause me to revisit them again and again.




While I like the visual impact of red lipstick, I'm not the huge proponent of it that Dain and Dorothy are. With the pink in my constantly aggravated skin, red is just not a great option for me. However, I loved the carroty red lipstick Prada sent down her spring catwalk, with its undertone being orange rather than the typical coral. The color was both bright enough to brighten the models' skin and unique enough to stand out against all the other bright lip shades we've seen the past couple of years. It is not, though, the all-inclusive shade beauty writers would have you believe, nor is it appropriate for all venues. Instead, I've chosen to showcase this muted, bold, warm red worn by Amber Valletta in Allure's March edition as a more wearable, flattering option. Should it interest you, the original Prada red was created by Pat McGrath, with the more wearable version created by Dick Page.




I almost never pay attention to cosmetics ads, but I love everything about the Rouge Coco campaign. I love the expertly inexpert lipline, with the emphasis on the line and shape in and of themselves, with complete disregard for the natural lipline. I love how the matte texture and lip shape look like they've been smacked down on top of Vanessa Paradis's own lips with no nod to naturalism or reality. I love how the entire face is matte, the face as an image is completely flat, and yet the eyes and lips still manage to stand out. But most of all, I love that eyeshadow. That is the perfect taupe, so perfect that it inspired a minor taupe shopping spree, ending in the purchases of NYX's True Taupe and MAC's Patina before realizing that Dorothy's months-old gift of MAC Era was actually the perfect taupe for me.



I very, very rarely find spring makeup interesting. It's all so very flushed, bronzey, and beautiful, flipside being it's all so very flushed, bronzey, and beautiful. The lack of variation bores me, so when I started this video, I didn't expect much. I wasn't really interested in this look until Sam pulled out Too Faced's Pink Leopard, at which point my ears perked right up and I was enthralled. This is the perfect flush for fair skin, accurately mimicking the pink tone of a fair-skinned tan. I've never seen makeup give such a naturalistic, healthy glow before. I can't tell whether this is due to Sam's skill or the product itself, but if Pink Leopard turns out this well on everyone, I'm sold.

Labels: allure, beauty notes, pixiwoo, prada, too faced
4/01/2010 [8]
Subscribe to
Posts [Atom]. Or
follow on bloglovin'. If
you'd like to contact Dain,
feel free to email me.
I'm also on Pinterest.
Features

The Mnemonic Sense
Most Wanted
The Beauty Primer
Lookbook
Bestsellers
Consumer Diaries
Closet Confidential
On The Label
Beauty Notebook
The Hit List
Color Me In
The Makeup Artist
Wedding Bells
Globe Trotter
Desert Island
perfume notes
beauty notes
fashion notes
culture notes
minimalism
chypre arc
floral arc
fresh arc
masculines arc
gourmands
& orientals arc
Archives

August 2008
September 2008
October 2008
November 2008
December 2008
January 2009
February 2009
March 2009
April 2009
May 2009
June 2009
July 2009
August 2009
September 2009
October 2009
November 2009
December 2009
January 2010
February 2010
March 2010
April 2010
May 2010
June 2010
August 2010
September 2010
October 2010
November 2010
December 2010
January 2011
February 2011
March 2011
April 2011
May 2011
June 2011
July 2011
August 2011
September 2011
October 2011
November 2011
December 2011
January 2012
February 2012
April 2012
May 2012
June 2012
July 2012
August 2012
September 2012
October 2012
November 2012
December 2012
January 2013
February 2013
March 2013
June 2013
July 2013
Images

Photobucket