Announcements
If you're new to this blog, then read our guides to the basics: Skin (Part I), Skin (Part II), The Supernatural, Color Theory I, Color Theory II, Eyes, and Brushes.

Also, check out the blogsale.
Contents
· Beauty Notebook: Kahina Giving Beauty

Favored

Art Tattler
the glamourai
The Non-Blonde
Perfume Shrine
Lisa Eldridge
Garance Doré
Smitten Kitchen
Into The Gloss
Grain de Musc
Lacquerized
Res Pulchrae
Drivel About Frivol
The Selfish Seamstress
Killer Colours
Bois de Jasmin
Glossed In Translation
Jak and Jil
Toto Kaelo
Worship at the House of Blues
I Smell Therefore I Am
Food Wishes
The Natural Haven
Messy Wands
1000 Fragrances
Moving Image Source
Wondegondigo
The Emperor's Old Clothes
M. Guerlain
Colin's Beauty Pages
Barney's jewelry department
Parfümrien
loodie loodie loodie
The Straight Dope
Sea of Shoes
London Makeup Girl
Sakecat's Scent Project
Asian Models
Ratzilla Cosme
Smart Skincare
Illustrated Obscurity
A.V. Club
Tom & Lorenzo: Mad Style
Eiderdown Press
Beauty and the Bullshit
La Garçonne
Flame Warriors
Everyday Beauty
Fashion Gone Rogue
Now Smell This
Dempeaux
Fashionista
The Cut
A Fevered Dictation
Nathan Branch
101 Cookbooks
Beauty Notebook: Kahina Giving Beauty
by Dain
The world of beauty is shiny. It suspends before you a glittering illusion, a more attractive self surrounded by a treasure trove of precious objects. Once, this was the original definition of "glamour", a magic that cloaked you within an illusion of attractiveness, all the better to get what you want. A lipstick from Tom Ford is glamourous precisely because of the gimmicks: the expense, the exclusivity, the gorgeous gold-on-white packaging, the faint vanilla scent, the exotic ingredients, the smooth silicone base that hugs your lips just so. If there's a frisson of shock at dropping $45 on a lipstick, that's intrinsic to its appeal. It's like gambling, you know? Part of the thrill is the loss of self-control. By nature, lipstick is a luxury. A bargain Revlon matte is no less of a gimmick; it's still part our decadent, self-indulgent culture, only now you may preen yourself on your relative prudence. We buy things to realize our aspirations, our material possessions reflect an image on our self-perception. And for women, who live constantly in a world where image and identity are so closely aligned, part of the fun is being able to alter your self-perception with a lipstick. The healthiest approach, I think, is to keep what's frivolous, frivolous.

As a beauty trend, green is one of the more curious. Green is a serious commitment, and in many ways antithetical to self-indulgence. If your eye cream has natural ingredients, it's not license to be holier-than-thou, and yet it's a note so frequently heard in marketing (and reviews, let's be honest), it's become no more than a faintly nauseating drone. There's no basis for a tone of superiority: it's not like eating a salad, it's not like stopping driving, and it's not any significant contribution to society. So amidst the shameful hypocrisies in greenwashing, a brand like Kahina just shines.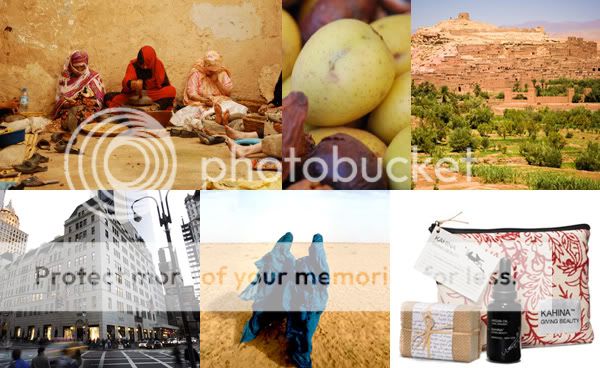 From Agadir, Morocco, to Bergdorf Goodman.


Kahina's founder, Katherine Phillips L'Heureux, lost her La Mer and Chantecaille while en route to Morocco (source: Vanity Fair Daily July 2009). There, she discovered argan oil, and amazed by the transformation in her skin, dedicated herself to a skincare brand centered around the oil. From top down, Kahina has attended to every single detail; natural ingredients, organic when possible, are only the beginning. Several times a year, L'Heureux travels to cooperatives in the Agadir region of Morocco, where the nuts are collected by the Berber women and the oil extracted by hand. Kahina buys their argan fair trade, and donates a full 25% of the profits to the women who made the oil, to fund literacy programs and improve the quality of life in this remote region. Back in New York, Kahina produces thoughtful, top-notch formulations in which every ingredient has been included for skin-beneficial properties. They are elegant, luxurious, sold at posh venues like Bergdorf Goodman (shown above), Spirit Beauty Lounge, and abc home. Even the packaging is socially conscious. The boxes are made in a wind-powered, carbon-neutral factory, the recyclable, near-black violet glass not filters out UV radiation that might degrade the delicate, minimally preserved product inside, it's also decorated with the signatures of the women who made the argan oil. Plus, it's a beautiful presentation.

It's a great company, differentiated in so many ways from the many brands that have capitalized on argan's popularity. Kahina integrates luxury with philanthropy; without compromising on efficacy, these products are self-indulgent and yet still back to others. Though the products are expensive, for once your purchase goes into something more than superficial. The Gift Set ($65), shown above, combines a 30-ml bottle of Kahina's fair-trade argan oil with an argan soap. The makeup bag is handcrafted by former prostitutes (some of them children) in India, a collaboration with NEST, a non-profit organization. Kahina is a rare and highly commendable company.


I'm a firm advocate of "softeners", the Asian variation on the toner step, a hydrating solution that saturates the surface with humectants. It sounds like a frivolous step, designed to separate you from your money with yet another unnecessary product, but I've found them indispensable for combating dehydration. Unlike a Western toner, the softener is not the least bit astringent, more closely aligned with moisturizing than cleansing. If you're quite oily, it might be all the moisture required. Otherwise, it preps the skin, enhancing the penetration and therefore the hydration of any serum, lotion, or cream you might layer on top. It's particularly helpful with a face oil. In spite of the many sensible argument in favor of oils, one of the drawbacks is that those nourishing, skin-beneficial emollients don't absorb that well. A spritz of face mist works wonders in this situation: the oil emulsifies better on your skin, diminishing its unctuous feel.

Until this point, there hasn't been an all-natural alternative, just alcohol-based herbal tinctures or pointless floral waters. With all those lovely organic antioxidants out there, you might think someone might have thought beyond the obvious and thrown some humectants in. Just contemplate the ingredients in Kahina's Toning Mist ($36):
aloe vera juice, water, rosewater, willowbark extract, aspen bark extact, alfalfa extract, sodium hyaluronate, argan leaf extract, rice seed extract, white tea extract, sodium PCA, glycerin, sodium levulinate, sodium anisate, maltodextrin, sodium benzoate
Gorgeous. This was the product that got me interested in Kahina. Natural skincare often goes luxe these days—practically dime a dozen. But when a toner makes you sit up and pay attention, simply because of its formulation, you've got to investigate further. Compared to a cleanser or moisturizer, it's still a toner, and therefore relatively ancillary, but as the layer that makes first contact with my skin, I couldn't ask for a better formulation. This is very well balanced for all skin types. Aloe vera and rosewater (also sourced from Morocco) soothe. It's mildly purifying and anti-inflammatory, from the salicylins in willow and aspen bark. It has a host of antioxidants: alfalfa, argan leaf, rice seed, white tea. Then there are sodium hyaluronate, sodium PCA, and glycerin—humectants all—to drive these lovely ingredients deeper into the skin. The texture is liquid enough for a fine mist, though I spray into my palms and press it in (standard procedure for softeners, not to bother with cotton). Personally, I hate it when natural brands overdose on essential oils, so I don't mind that the scent falls a little flat; it smells like ingredients, no added fragrance.

My sole complaint: this should come in a bigger bottle! I can already anticipate buying this over and over again, and I'm extraordinarily fickle over skincare.


Kahina's star product is a straight-up argan oil, generously sized at 100 ml ($84) or the smaller bottle from the gift set ($65). The quality is superb—cold-pressed, organic, unrefined, very faint on argan's characteristic nutty aroma—elegant and silky, with rapid absorption. Argan is especially high in tocopherols and squalane, with about 45% oleic (omega-9)/35% linoleic (omega-6)/15% palmitic/5% stearic fatty acids, which makes it a more nourishing, fattier oil, still delicate enough in texture for all skin types. To be absolutely honest, there are more impressive oils than argan out there. Rosehip boasts tretinoin, neem is powerfully antiseptic, seabuckthorn nearly bursts at the seams with antioxidants. By contrast, argan seems comparatively mundane, though currently it enjoys enormous cachet. But my skin loves, loves, loves argan oil. Something to do with its fatty-acid composition, a little richer than most. Whatever the reasons, I cannot argue with the glow.

Onto this promising but basic template, Kahina's Serum ($90) enhances argan's properties: lecithin, seabuckthorn, carrot seed, and coffee oils, calming bisabolol (from chamomile), with just enough lavender, chamomile, and neroli to mask any queer odors (seabuckthorn is naturally quite funky), but not overfragranced like too many natural brands.
argan oil, lecithin, bisabolol, seabuckthorn pulp extract, carrot seed oil, lavender extract, roman chamomile extract, neroli extract, ylang ylang extract, myrrh extract, coffee bean extract
This is brilliant on my skin. Though designed for dry, mature, sensitive skin (Kahina warns against using it on acne), it absorbs completely and leaves behind a complexion so luminous, so healthy, I can only call it "baby skin". There isn't commendation higher than that. In some cases, it's not possible to be objective about skincare; sometimes it's just a matter of individual affinity. I have no idea whether it would succeed on anyone else's skin. I switched to plain argan for a week, just to check, and it's clear the Serum is my perfect oil. During the summer, I've been using a couple drops of this over the Toning Mist, nothing else, and the quality of my skin has never been better. Once the weather shifts, my skin becomes too dehydrated to use an oil neat. It merely coats the surface, while my skin remains parched underneath; for obvious reasons, an oil cannot hydrate the skin. This does not obviate face oils for me, but proper application is key. I've learned to layer them over an emulsion. A good oil allows me to customize any moisturizer. I apply a softener first, which boosts absorption for deep-down hydration, then a rich emulsion, like Tata Harper's exquisite Rejuvenating Serum, and finally an oil, to lock everything in. It is so much more effective than a bland-but-greasy barrier cream, since the ingredients are so optimally layered.

With regular use I've noticed those waxy, hardened blackheads slowly dissolve. While nothing gets rid of congestion outright, the oil keeps my pores from congealing into dysfunction. If you've got thicker skin than I, be sure to exfoliate assiduously, so that whatever oil you use can act on pores free of debris.

Additionally, I was able to sample a few other products. The Facial Cleanser ($46), unfortunately, broke me out severely. I'm pretty sure it was a nervous response to its exfoliating fruit acids. The Eye Cream ($65) is soothing, creamy, and smells gorgeous; it hydrates deep down, substantive enough to last overnight, but light enough in texture to use under concealer. I tend to be bemused by the utility of eye creams, however, and this is no exception. For a moisturizing mask, Antioxidant Mask ($62) leaves the skin ever so soft. Though it features rhasshoul, a rare clay rich in trace minerals from the Atlas mountains, it's also generously loaded with aloe vera and argan oil, with pomegranate and açai to brighten. I'm saving to try this again in winter; at the moment, the Serum is so stellar on its own, it's hard to discern any significant changes. I hope some day Kahina formulates a night cream. That would be awesome.

Labels: beauty notebook, kahina
7/08/2011 [3]
Subscribe to
Posts [Atom]. Or
follow on bloglovin'. If
you'd like to contact Dain,
feel free to email me.
I'm also on Pinterest.
Features

The Mnemonic Sense
Most Wanted
The Beauty Primer
Lookbook
Bestsellers
Consumer Diaries
Closet Confidential
On The Label
Beauty Notebook
The Hit List
Color Me In
The Makeup Artist
Wedding Bells
Globe Trotter
Desert Island
perfume notes
beauty notes
fashion notes
culture notes
minimalism
chypre arc
floral arc
fresh arc
masculines arc
gourmands
& orientals arc
Archives

August 2008
September 2008
October 2008
November 2008
December 2008
January 2009
February 2009
March 2009
April 2009
May 2009
June 2009
July 2009
August 2009
September 2009
October 2009
November 2009
December 2009
January 2010
February 2010
March 2010
April 2010
May 2010
June 2010
August 2010
September 2010
October 2010
November 2010
December 2010
January 2011
February 2011
March 2011
April 2011
May 2011
June 2011
July 2011
August 2011
September 2011
October 2011
November 2011
December 2011
January 2012
February 2012
April 2012
May 2012
June 2012
July 2012
August 2012
September 2012
October 2012
November 2012
December 2012
January 2013
February 2013
March 2013
June 2013
July 2013
Images

Photobucket