Announcements
If you're new to this blog, then read our guides to the basics: Skin (Part I), Skin (Part II), The Supernatural, Color Theory I, Color Theory II, Eyes, and Brushes.

Also, check out the blogsale.
Contents
· Beauty Notes: Good Condition

· The Beauty Primer: The Supernatural

· Culture Notes: Visual Feast

· Culture Notes: Halifabulous

· Beauty Notes: Hakuhodo

· Most Wanted: Emma

· Bestsellers: Bioderma Créaline H2O / Sensibio H2O

Favored

Art Tattler
the glamourai
The Non-Blonde
Perfume Shrine
Lisa Eldridge
Garance Doré
Smitten Kitchen
Into The Gloss
Grain de Musc
Lacquerized
Res Pulchrae
Drivel About Frivol
The Selfish Seamstress
Killer Colours
Bois de Jasmin
Glossed In Translation
Jak and Jil
Toto Kaelo
Worship at the House of Blues
I Smell Therefore I Am
Food Wishes
The Natural Haven
Messy Wands
1000 Fragrances
Moving Image Source
Wondegondigo
The Emperor's Old Clothes
M. Guerlain
Colin's Beauty Pages
Barney's jewelry department
Parfümrien
loodie loodie loodie
The Straight Dope
Sea of Shoes
London Makeup Girl
Sakecat's Scent Project
Asian Models
Ratzilla Cosme
Smart Skincare
Illustrated Obscurity
A.V. Club
Tom & Lorenzo: Mad Style
Eiderdown Press
Beauty and the Bullshit
La Garçonne
Flame Warriors
Everyday Beauty
Fashion Gone Rogue
Now Smell This
Dempeaux
Fashionista
The Cut
A Fevered Dictation
Nathan Branch
101 Cookbooks
Beauty Notes: Good Condition
by Dain
You may have noticed I never write about my hair; the reason is simple, I don't do anything with it. Or, as Cristina Mueller writes in this month's Vogue, in a rather different context, a "strategy... of benevolent neglect: no coloring or highlighting, and no blow-drying (the most joyless of joyless enterprises)". It's pretty much exactly as I like it. Sometimes I get it cut, leaving the intimate decisions up to the stylist. Otherwise, I leave it alone. I try not to shampoo too often, and when I do I condition lavishly. Here are my current favorites.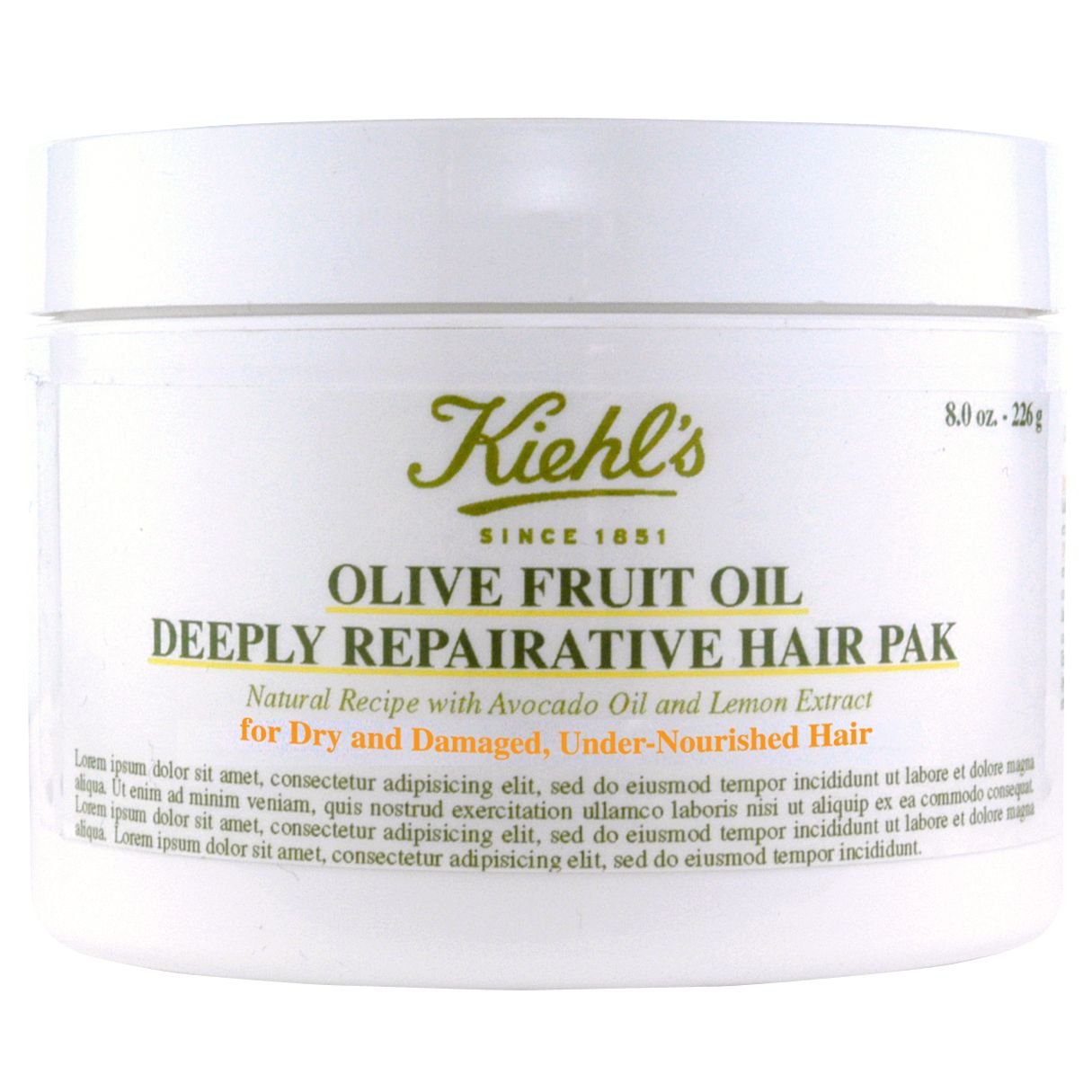 L'Oréal's deep conditioners are good to my hair; they're essentially the same formula, from Shu Uemura to Garnier. I began with the offensively priced, extremely perfumed (powdery, ick) Kerastasé Masquintense ($58), which leaves my hair very shiny but somewhat staticky, like a treatment serum that does wonders for the condition of your skin but doesn't provide sufficient moisture. I amended the problem by layering a second, rapidly-penetrating, pure-moisture conditioner like Alaffia Everyday Shea ($10). Gambling on L'Oréal's formulaic redundancy, I switched to Kiehl's Olive Fruit Oil Deeply Reparative Hair Pak ($25): a more pleasantly scented, silicone-free formula even more softening, requiring no second conditioner afterward.



My hair seems to like silicones, but if you're looking for a nourishing conditioner that absorbs into the strands instead of coating them, or a second conditioner to layer over a more treatment-oriented conditioner, then I highly recommend Alaffia Everyday Shea Moisturizing Conditioner in Vanilla Mint ($9.99). It smells incredible, and the texture is so light and free of residue, that if you're trained on silicone-heavy deep conditioners, you'll find yourself overdosing, out of nervous instinct. Don't. It's perfectly nourishing on its own, though not as softening as a more synthetic formula would be.



Neither pure oils nor pure silicones benefit my hair, but somehow the combination of both is magic. I have The Kindly One to thank for Neil George Indian Gooseberry Treatment Oil ($42); I'd never have discovered it otherwise. It adds softness and shine to the driest ends, and emphasizes the natural wave.

Labels: alaffia, beauty notes, kiehl's, neil george
1/31/2011 [0]
The Beauty Primer: The Supernatural
by Dain
Makeup artists are fond of saying, "there are no rules to makeup". Awfully glib, when you consider that beauty and fashion is the most viciously judgmental industry on the planet. Are there makeup artists who claim otherwise? What they mean of course is that makeup is largely self taught, a process of empiricism, constant refinement via trial and error; you never know whether your preferred lipcolor is nude-pink, mauve, berry rose, chocolate, or cherry red until you try them all. For the novitiate, the options are bewildering.

So start small: before all else, figure out how much makeup you need.

When we're not wearing makeup, we all look a little lackluster. For some women, statements are their preferred idiom (retro red lips, deep tans, smoky eyes, etc.), but what most are looking for is the prettiest version of themselves, a few products to incorporate into their daily ritual. It seems like such a simple idea—naturalistic, subtle enhancement—but in practice, it's complicated by the infinite variations of the human face. Women with a distinctive style to their makeup, like Jennifer Lopez or Anne Hathaway, know how best to emphasize their features and thus rarely deviate from an established formula. This idea, that one's "look" fit the individual's face, is quite modern, a discernible shift from legendary makeup of the past: Marilyn Monroe, not to be confused with the dowdy Norma Jeane Mortenson, is a public image fabricated out of hair and makeup, a mask you can replicate if you know how. Whereas you could buy J. Lo's favorite lipgloss, but without her glowing, tawny complexion you could never copy her look, certainly Anne Hathaway, a modern-day Snow White with striking features, could not.

We're all aware of the subterfuge. From invasive plastic surgery to a sheer powder to blot oil, it's all artifice of some kind. Sometimes, even the absence of makeup is a posture; I once had a woman boastfully demonstrate to me her low-maintenance status by running her finger across her eyes. In that sense, "natural" makeup is always an oxymoron; even a little mascara looks like makeup, only our eyes have adjusted to its ubiquity we no longer register its presence. Saturated as we are by these meticulously calibrated images, our parameters for what constitutes natural beauty is heavily distorted.



Natural makeup for the camera versus natural makeup for the human eye.


I cannot duplicate the effects of photoshop and studio lighting, but you get the idea: the makeup is worlds apart. It's a matter of degree. The same products were used throughout, except the lipcolor. The camera obviously favors the first, magazine-cover image; in real life, you'd recoil at the grotesque application. There are no colorful "statements", fond as I am of them. Rather, both looks are built out of the four basic elements of "natural" makeup:
quality of skin No one's complexion is perfectly uniform in tone (at left); naked skin is by nature imperfect (at right, no foundation). You always sacrifice naturalism for coverage. Depending on the needs of your complexion, it's up to you to decide where to strike the balance, but even if you've got a lot to cover, err on the side of less. Foundation technology has come a long way—often the pigments are luminous, multi-dimensional, and very fine, the base provides maximum slip, so it blends seamlessly as possible into the skin—but it never looks like you were genetically blessed with gorgeous skin, which boasts a lit-from-within radiance that no highlighters can quite mimic. Yes, my complexion is more even-toned with foundation, but you'll notice that without it, my skin has more dimension, a natural radiance.

If your skin is good, a little concealer is quite sufficient, to brighten the weakest points of the face: the darkness under the eyes and around the nostrils. A very sheer dusting of loose powder, either to blot shine or impart a glow, adds a polished texture without coverage. Neither registers as makeup to the human eye.

Tinted moisturizer, too, is relatively inoffensive. It's subtly perfecting, an excellent option for adding life to dull skin, but not quite fully evening out the complexion. Once you make the switch to a light-to-medium foundation, it starts to look like makeup, no longer so fresh. Foundation is not designed to cover everything. Instead, blend out foundation into thin, thin layers, over a primer to ease the process, so that there is no telltale trace of pigment on the skin. Then, deploy concealer, judiciously, only where it's needed. Even if you've got acne, don't slap on full coverage all over the face, in hopes of obliterating all offenses; that never looks natural.

making your eyes pop The eyes claim the greatest variation in techniques, but as with your complexion, play to your strengths, if you've got them. At minimum, everyone benefits from some impact at the lash line: tightlining, some dark pigment blended softly between the lashes themselves, and black mascara on curled lashes. Some women find themselves transformed by a thin flick of gel liner; it all depends on eye shape. In photographs, false lashes are the ubiquitous device to magnify eyes beyond their natural proportions, as you see above. Eyeshadow doesn't quite look natural, but you can get away with a sheer wash of very fine, flesh-toned shimmer, one that brightens and opens up the eye, or a satiny taupe swept into the crease (if you've got one), then blended well, to add dimension to the eyes. If you're lucky enough to have a striking eye color, they will hold their own against a complementary neutral: amber golds, peaches, plums, mauves, warm browns.

defined brows If your brows are quite distinctive, then all you need do is to keep them neatly groomed. Otherwise, tasteful maintenance best suits naturalism: find a brow shape that fits your face, not too distorted by overtweezing, and fill in any patches (powder is softer than pencil), or all over if your brows are fair, but never too strong. Unless you've got strong brows naturally, heavily drawn brows look very obvious.

the illusion of health Nothing perks up the face quite so well as blush. When chosen well, the perfect shade instantly, undeniably brings life to the skin, and yet it does not register as makeup. If people can tell you're wearing it, then you've miscalculated your color. Keep in mind that cream blushes meld better into the skin than powders, if you're not too oily, and that the same shade can be dabbed onto lips for some easy, natural color. Alternatively, a favorite lipstick can serve on the cheeks. It needn't be the same product, at long as both your cheeks and lips are within the same color family. Again, individual preferences do apply. Some people do have high color; their skin flushes easily and blush is redundant, while those whose lips are naturally quite pigmented may need only some lip balm. Others have richly pigmented skin, with lighter hair, and look better in bronzer.
Some women are lucky enough to have all four elements in extraordinary balance, and can pull off very little makeup: undereye concealer and cream blush and a lip balm, mascara if she's feeling adventurous. The rest of us make shift with what we've got. Maybe the skin needs more help, but long-lashed blue eyes require little more than Dior's Beige Massai to bring out the color. Or maybe you've got great bone structure but small, weak eyes, so you add a flick of liquid liner on softly contoured lids.



Naturalism, for me.


Or, in my case, I've got a very fine, fair complexion with dark hair that bears color very well, so I only wear enough to bring out the luminosity of my skin: a brightening concealer under my eyes, like Guerlain Precious Light Rejuvenating Illuminator ($48), sometimes the glow-enhacing Chanel Poudre Universelle ($54). My brows are tricky, but I like Laura Mercier's Brow Definer ($20) to fill them in. My features are very soft and quite small, but I take advantage of their symmetry in shape—rosebud lips and almond eyes—which is why I favor bold lips and colorful eyeliner when I do wear statements. For a natural look, I stick to a bare minimum of enhancement, as there's not much lid space for more elaborate techniques: for tightlining, the pigmented navy of Laura Mercier Deep Night ($22) plays well against my dark eyes, and sometimes I add a wash of Stellar ($22), the rare silvered (rather than golden) beige, better for brightening cool skin tones. My lashes are too insignificant for dramatic mascara; I very much like the clean, clump-free black of Cover Girl Lash Blast Volume ($8), applied lash by lash, root to tip, by looking down into a magnifying mirror. Strangely, my coloring neutralizes vivid colors, and I do need quite a lot of color; without blush or lipstick, I look terribly washed out, even ill. I've always got on some bright pink blush, such as Shiseido PK304 Carnation ($33), and frequently even stronger lipstick. Estée Lauder Chelsea Rose ($21) is the closest to a soft neutral in my arsenal; most people would considered it a subdued bright.

Labels: chanel, cover girl, estee lauder, guerlain, laura mercier, shiseido, the beauty primer
1/25/2011 [5]
Culture Notes: Visual Feast
by Dain
Unlike most art forms, films (and of course the theatre) represent a collaborative effort; inept editing can ruin a film, so can an off casting or a banal script. The image dominates, but unlike the vagaries of the human eye, a film is tightly controlled, not merely by a single directorial eye, but hundreds of people, each pursuing an art in its own right. See also Film Noir and Tear Jerkers.



Citizen Kane


The inexorable choice; every frame presents an idea. Like any work that merits superlatives, several highly conscious viewings are required to capture it in full dimension, and the more you know about film (and I know very little), the more you get out of Citizen Kane. Take this shot in the opening of the movie, in which the broken snow globe reflects the nurse entering the room, as the dead man lies on his bed. Or, the breakfast montage, which so brilliantly collapses nine years of marriage into three minutes, from enthusiastic newlyweds to estranged silence, down the well worn paths of established conversational grooves, scoring, and precise blocking. "A marriage just like any other".




The Nightmare Before Christmas



It is no surprise, with a medium so produced, that the production itself may be take prominence in a movie. You can take your pick, whether The Wizard of Oz or Star Wars, but this is especially true of animated films, which fabricate a fantasy world in which the normal rules of reality are slightly distorted or even suspended. It is no surprise that animation is the preferred genre of satirists. For me, The Nightmare Before Christmas, outside of its obvious charm, is the most painstaking example of production, one week of laborious stop-motion animation for a mere minute of film.




Dangerous Liasons



When an actor is questioned how "to get into the role" for a period film, he or she invariably answers that getting into costume is often enough, the clothes of the time shift your posture, the way you walk. Dangerous Liasons revels in the opulence of the period, the exquisite silks and laces and precious gems, and furthermore, uses the intricate ritual of dressing as a way to underscore the immense privilege and ennui that surrounds Valmont and Merveuil, the backdrop for their cruel games with people's lives.




Modern Times



Comedy is a rare gift. It may poke fun at what is superficial and absurd, but a good joke is hardest of all to pen, and physical comedy demands instincts for timing and execution that cannot seem deliberate, no matter how crude the humor is. When it comes to pure visual slapstick, Charlie Chaplin is still the greatest. Comedy is topical; it loses its potency over time, since what is superficial and absurd changes over time. Shakespeare's penis jokes require some contextual backpedaling, and Mel Brooks' classic comedies of a few decades past already seem dated. And yet this joke about cocaine, so simple and so silly, remains astonishingly fresh.




Raise the Red Lantern



For all the complaints about the plebeian dumbing down of "movies nowadays", movies that are wonderful, just to look at and experience, aren't exactly in short supply. There isn't time enough to see all of them. For beauty alone, my favorite is Zhang Yimou's Raise the Red Lantern. It's hard to believe the movie was made in 1991; somehow the three-strip technicolor process, now obsolete, which lends a radiance to the austere palette, splashed with unhealthy globules of red, suggests a much older film. It's only fitting. Though the story takes place in 1920, it explores a joyless world of an elite household, hopelessly antiquated, but its conservative influence never really goes away.

Labels: citizen kane, culture notes, dangerous liasons, modern times, raise the red lantern, the nightmare before christmas
1/18/2011 [1]
Culture Notes: Halifabulous
by Dorothy
Just a quick video, to show you some of what I love this little city I've moved to:





The damp streets, the brightly painted houses, the low-budget indie charm. There are other places like Halifax, but nowhere is quite the same.

Labels: culture notes
1/14/2011 [0]
Beauty Notes: Hakuhodo
by Dain
In the infinite layers to modern life, where even the humble supermarket apple represents centuries of horticulture, competing flavours, whether Granny Smith or Fuji, industrial farming and transport, and the socioethical issues behind migrant labor, consumer goods have lost their personal touch. It's easy enough to satisfy a simple acquisitive impulse, but most manufacturers take shortcuts, even luxury brands*. It's not a mere question of aesthetics—thoughtful design is only the most salient characteristic of quality craftsmanship—it's also an investment in resources: highly skilled artisans, the finest raw materials (all industries within themselves), and plenty of time to craft the item, mostly by hand.

When all the details count, as with makeup brushes, it's hard not to appreciate the craftsmanship. Hakuhodo manufactures its brushes in Kumano, bordering Hiroshima, a town renowned for brushmaking, a tradition extending two centuries, and still makes for traditional Japanese arts, such as lacquerware and silks and calligraphy. As times changed, the industry adapted; Hakuhodo now manufactures makeup brushes, primarily for other brands (rumor has it MAC is one such brand), for its own label it reserves the best quality materials. Most makeup brushes are cut by laser, making their manufacture considerably cheaper, but for Hakuhodo, the process is incredibly involved: they use only the uncut hair tips removed (cruelty free) from the animal, or noge, and meticulously reject all inferior hairs before bundling it carefully into the desired brush shapes, all by hand. The result is a brush that's exquisitely soft; the fineness of the tips leave behind no harsh edges, requiring little or no blending afterward.



On the left, a Large Eye Contour Brush ($41) from Giorgio Armani, on the right, a Shu Uemura 13G ($45).


At this extreme magnification, you may be able to discern the difference in quality: the luster of the hair and the softness of the edges (note how the shape of the GA brush is a hard line). Shu Uemura, like Hakuhodo, utilizes only the natural hair tips; Giorgio Armani's brushes are obviously cut by a machine. However subtly this may appear to the eye, the delicate skin on your face will detect the difference.



The six brushes I acquired from the Kokutan series, for better detail see the close up.


While not all of Hakuhodo's brushes are this expensive, I'm buying these brushes for no other reason than the absolute luxury of it, so I splurged in earnest, with a full set of the Kokutan brushes (excepting brush and brow), with their short, ebony handles and matte black ferrule, very handsome. Unfortunately, unless you can attend a trade show, these brushes can only be purchased online. As much as possible, anticipate what you are looking for. In size, they tend to be smaller than expected, and flat rather than fluffy. And yes, they boast an exquisite softness, but except for some of the denser brushes, they do deposit pigment more sheerly.



I really began perusing Hakuhodo for a small, pointed brush for detail work, when the Kokutan Eye Shadow Brush T E0183 ($42) caught my eye. I'd gotten the Smoky Eye Liner from Laura Mercier on Lisa Eldridge's recommendation; it was ok, but I'm not a fan of how synthetic fibers flop pigment around. There was the lovely Shu Uemura 5R, but its tip was rounded rather than pointed. This little nub of blue squirrel, fragile and extremely expensive, very soft on the skin but densely packed. It's a classic shape for contouring, if somewhat small, but I primarily use it for smoky liner, a favorite technique. Only the tip picks up pigment directly, but the brush is so well tapered it softens as you apply, like a liner brush with a q-tip built in for automatic smudging. If it were just a couple millimeters smaller, it'd be absolutely perfect, but it's good as it is.



I might miss my guess, but Hakuhodo's angled finishing brush is made with some pride; it's given a certain prominence in the product catalogue. The Kokutan Finishing Brush LAG E0173 ($82) is the most expensive, but it's also featured in the S100 series ($72) as well as the Basics series ($66). A generous amount of high-quality goat hair is carefully bundled into an unusual angled shape—I've never seen anything quite like it elsewhere—that fits neatly into the contours of the face no matter how clumsily you manipulate it. Because of its shape, you can manipulate the surface area, whether you're sweeping over tight corners or broad areas. The goat hair is cut long enough to be slightly floppy, rather than a squat, dense kabuki brush, and the tips are extremely fine, with some synthetic fibers woven in for extra delicacy. It's best for a diffuse application, or "finishing", a so-sheer-it's-invisible layer of powder to set foundation. A full base isn't my style, but I sometimes wear Chanel Poudre Universelle on its own, for a little luminosity, and this brush makes the process all that more luxurious. Not the most functional brush, but a beautiful one.



As a basic, all-purpose eyeshadow brush, the Kokutan Eye Shadow Brush WM E0186 ($54), thinner and longer than the Shu Uemura 10, is nothing short of perfection. In general, sable or weasel is my preference for eye brushes; it's often too expensive for most brands (Shu Uemura is the most notable exception). The hair is firm but pliant, so pigment applies in even layers, but extremely fine, and so practically blends itself, no harsh edges, without lifting off pigment already applied on the skin. When angled flat against the lid, you can pack on metallic pigments, but closer to the perpendicular, using mostly the tips, you get an ethereal wash of shimmer or do a little blending, and the sides can also smudge liner and even manage fairly decent creasework. My eye shape is relatively simple—they're symmetrically almond-shaped, wide-set, with no crease, and very little lid space—so the expense is well justified by its extreme usefulness.



If it were fluffier, it might serve as a blending brush, but Kokutan Eye Shadow SG E0188 ($28) performs similarly to the WM, slightly squatter in shape. Though not as expensive, its goat hair does not handle pigment quite as deftly as the weasel, so I find myself giving preference to the WM's precision and control. It does pair excellently with cream products; it's become my favorite brush to buff in my Laura Mercier Moisturizing Foundation, not all over but selectively, like a concealer, leaving most of the skin bare. The finish is so much more refined than a synthetic brush could ever yield.



I tend to pick up extra liner brushes out of habit; they deteriorate fast, especially the synthetic ones. The Kokutan Eye Shadow Brush SL E0189 ($32) went into my basket more for the sake of feeding my own profligacy than out of real interest. It was thicker than most liner brushes, only crafted of the same expensive weasel as my shadow brushes instead of the generic synthetic flat liners, with rounded, tapered edges. To my surprise, this is the perfect tightlining brush, and easily my favorite out of all the ones I bought. I didn't account for how fine the uncut tips would be, and unlike dirt-cheap synthetic fibers, the flexible weasel hairs actually maneuver pigment right between lashes, but looks perfectly soft, not harsh. If you're not so eager for the Kokutan finishings, the K005 ($15) from the K Series is the exact same brush, a brilliant deal.



I generally apply lipstick straight from the tube without difficulty, but it's nice to have the Kokutan Lip Brush RS E0194 ($32) for completeness' sake, all the same. It's quite wide, which I like in a lip brush, since it lifts off lipcolor and softens edges, if that's what you want, with a slightly pointed tip for crisp edges, if that's what you want.

* I'll point out, however, that in some products, pharmaceuticals or electronics for example, human error is best minimized. And you may be willing to pay premium prices for "artisanal" denim, but sometimes you just want a simple tee shirt.

Labels: beauty notes, hakuhodo
1/12/2011 [2]
Most Wanted: Emma
by Dain
I'm always slightly embarrassed to admit I like Jane Austen, as if it's some kind of dirty secret, altogether too girly-girl to be taken seriously.

Under objective consideration, this is the wrong approach. I'd never read an Asian writer as "an Asian writer"; Joy Luck Club sucks, while The Woman Warrior is raw, elegant, and altogether fully fleshed. Austen is of course a great novelist, particularly in her character studies. In a few deft strokes, she colors even minor characters with masterful accuracy:
Most grateful did Elinor feel to Lady Middleton for observing at this moment, "that it rained very hard," though she believed the interruption to proceed less from any attention to her, than from her ladyship's great dislike of all such inelegant subjects of raillery as delighted her husband and mother. The idea however started by her, was immediately pursued by Colonel Brandon, who was on every occasion mindful of the feelings of others; and much was said on the subject of rain by both of them.
Elinor finds herself under siege, her love life the subject of aggressive teasing. In this single moment, we know everything the Dashwoods themselves know about Lady Middleton. Her eagerness to bypass any conversation that's too personal is typical of British aristocratic conventions. Austen exploits it for humor, exposing the hollowness of Lady Middleton's mind, which no amount of polish can hide. She's not a character with much presence in Sense and Sensibility; this is perhaps her most forceful moment. We are given license to laugh, because Colonel Brandon, whose character is absolutely certain, takes up the same subject, only with a gentleman's sensitivity towards Elinor's embarrassment. Only extraordinary social insight and carefully cultivated wit can pen lines like these.

What sinks Austen is that her plots (never her strong point) depend on romance: her female protagonist always ends up with the right man in the end. It's not really what's important to her; the romance is just a convenient skeleton to hang her character studies on. This is particularly true of Mansfield Park, where she hastily throws together a wedding at the conclusion but devotes the bulk of the narrative to testing the moral fiber of Fanny: mousy, lethally shy, verbally and psychologically abused, poor, and submissive. The romance is just a part of that test and ultimately serves to demonstrate her conscience, especially in this time when the fates of women were determined by men. Emma, who is "handsome, clever, and rich", i.e. spoiled in every sense, manages to be as unattractive as Fanny. She's domineering, muddling poor dim Harriet's prospects in a most frightful way. She sneers at social inferiors. She reads everyone correctly—for example Mr. Elton, "too gallant to be in love" and "there was a sort of parade in his speeches which was very apt to incline her to laugh"—but ignores her observations by willfully imposing her own imaginations on them. Out of envy, Jane Fairfax is made the object of dirty and fabricated gossip, while she allows Frank Churchill to charm her vanity. Only Mr. Knightley, too brutally honest about himself to misread, remains undistorted.

What makes romances so satisfying is that they're not actually about two people, but rather about a single individual's growth and path to fulfillment. That brutal honesty which Mr. Knightley embodies is something Emma acquires herself. Nearly thirteen years her senior, he plays her critic and mentor and role model first, and love interest second. Her confidence in her judgement is a false one; she even boldly claims she has no "intention of ever marrying at all". Through her own ill judged words and ill judged actions, she learns she has neither the right nor the ability to control other people's lives, and is therefore forced into the uncomfortable task of evaluating herself objectively. Romantic fulfillment is merely a superficial device, which furthers the novel's progression towards Emma's maturation, the realization of the self. Only then, is she rewarded with "perfect happiness". She never actually falls in love; rather, she's been in love with Mr. Knightley all along.

A modern novel would have ended with the genuine achievement of recognizing an imperfect, flawed self, because irresolution and ambiguity is truthfully life's more common fare. Romantic fulfillment, i.e. adoration for an imperfect, flawed self, has the same saccharine comfort, at least to a contemporary palate, as a friend's automatic and meaningless "you're great, of course you'll find someone" to the lonely cry of "will I ever find the right person?". Loneliness is dreadfully real; modern literature prefers to be dreadfully real. But dreadful reality is also the inspiration for dreams, and in the same way that adult writers fashion dream worlds for children, romance spins a rainbow-hued thread of fantasy. We all inhabit a harsh reality, at least if we've got any sense we do, but writers provide an escape. That's why it's called fiction. If I instinctively class Austen as an overtly feminine stereotype, full of clingy yearnings and complex emotional analyses that ought to be hidden from men, then it's simply proof that she's done her job well. I read her privately, but voraciously, aware that association with Austen marks me as someone alone and vulnerable. Ultimately, nothing to do with gender at all.

This outfit's theme: the funky high-school girl has graduated and moved onto a prestigious coed university. Really, this is all an elaborate excuse to cobble together a 70s look.



Stella McCartney isn't the most original fashion—it's definitely recycled, in more ways than one—but her stuff is all so whimsically pretty that I could happily live in this one lone label. Case in point, I've carefully saved the Bella Wishing Camisole ($225) for the perfect Most Wanted, though long past availability: I just love the print that much. A real softness for rainbow prints here. The lingerie sheerness doesn't daunt me, but it's best braved on a slim petite figure, with the deliberate gesture of a soft-cup bra in colorful lace. And a cardigan of course.



Jeans are everywhere, but a pair as perfectly executed as J Brand Lovestory ($205): a clean dark rinse free of whiskering or sandblasting, and a modern low-rise, meticulously (and tightly) fit on the thighs and buttocks, before breaking into a massive bell at the knee.



How sweet are these Alex Monroe Daisy Stud Earrings ($150)?



In reputation, few perfumes get as patrician as Shalimar, but its composition is thoroughly the bohemian by habit: one part edible, one part floral, but most critically, though everyone remembers the vanilla, one part animalic funk (civet! castoreum!)—very Venus in furs.



Bags don't capture my heart quite the same way as shoes, but a girl needs an cavernous, sturdy, and extremely heavy leather bag for massive textbooks and the occasional handles of booze. The Celine Luggage ($2140) wasn't around when I was in college, but I'd surely lust after one all the same. I wouldn't have the temerity to splurge on such a bold hue, but in person it is the most luxurious lipstick red carmine, just a teensy bit orange, and the leather has more texture than the average conversation. Anyway, Emma's an alpha-female, so she'd pull it off nicely, no matter how much her arms ached.

Labels: alex monroe, celine, guerlain, j brand, jane austen, most wanted, stella mccartney
1/07/2011 [3]
Bestsellers: Bioderma Créaline H2O / Sensibio H2O
by Dain

It doesn't happen very often, but once in a while a skincare product truly delivers (on all reasonable expectations).

Bioderma doesn't look like much: a clear watery fluid, not unlike toner. You wouldn't expect it to cleanse so well, but it does, even tough mascara. It's not quite as thorough as oil or hot-cloth cleansers, but it never leaves the skin feeling stripped, no matter how delicate your skin. This accounts for its popularity with models and makeup artists, since it makes cycling through several looks as painless as possible, while still doing the necessary clean up. It is a tad bit drying, but nowhere near the level of dehydration as any competent rinse-off cleanser, and the texture of your cotton wool is rougher than the actual formula. The scent is minimal, and it doesn't sting your eyes or leave behind any greasy residue. Adjust according to your needs. If you're wearing quite a lot, then it will require some manipulation...




Lisa Eldridge showing off Bioderma's potential.


A quick sweep over makeup-free skin makes a gentle morning cleanse, for skin that doesn't need the aggravation of harsh cleansing except as a last resort. In a pinch, you can probably get away with using it alone, though it's no substitute for the real thing. It's really better as a first cleanse, especially if you can't muster the energy, right after coming home from work, to go through your entire skincare routine. A single generously saturated cotton will remove all your eye makeup, or allover light makeup. I've also discovered it's handy for makeup stains on fabric.


Cleansers are tricky to source for dry, intolerant skin (type II). The common detergents, which happily serve the majority of skin types, cause such severe dehydration on mine that it's actually damaged by cleansing. To keep in good condition, your skin needs both water and oil. The stratum corneum, or the outermost level of dead, keratinized skin cells, functions as a barrier, among other things, to prevent moisture loss from the deeper strata. It is in turn protected by a layer of a natural emulsion sebum (oil) and sweat (water), known as the acid mantle. Without it, your skin is thrown out of balance, and many (but not all) of the dysfunctional conditions documented by the medical discipline of dermatology make themselves known. Surface dehydration, literally "the state of being out of water", is what happens when that acid mantle has been stripped off, and the skin no longer retains proper amounts of water. My skin produces insufficient amounts of sebum to maintain the acid mantle, so anything that foams is much too aggressive. Organic surfactants are only a marginal improvement: decyl glucoside still dries out my skin. Even plain water, since its pH is more basic than the acid mantle, can be problematic. Milky cleansers provide no alternative; the selection is limited, and many products generally cut corners with cheap mineral oil, one of the few ingredients that clogs my pores. It is not clear to me why, as I can use highly emollient moisturizers without difficulty (though not ones with mineral oil).

I'm just grateful to find any cleanser that doesn't strip away the precious few oils on my skin, and yet doesn't leave behind an unctuous residue that inevitably causes congestion. Such ultra-gentle cleansers, such as the skin-loving CeraVe, often compromise on efficacy, the thorough removal of makeup and sunscreen (keep in mind however that performance is greatly improved by the friction of a few minutes of massage, or a washcloth). Bioderma, however, is both consummately gentle yet effective. I'd buy it in bulk!

Its ingredients are humble:
water, PEG-6 caprylic/capric glycerides, propylene glycol, cucumber extract, mannitol, xylitol, rhamnose, fructooligosaccharides, disodium EDTA, cetrimonium bromide
You may now be wondering, there must be some flaw, some caveat, that limits Bioderma in some way. There is. Limited availability. While in France Bioderma is both cheap and plentiful, in the US you're paying $28 for a measly 250 mL, in South Korea I've seen it in brick-and-mortar stores but similarly overpriced. For that reason, it only enjoys a cult following, when it ought to be enjoying ubiquity. Personally, I don't care to take the trouble of sourcing it, so I'm exploring other micellar solutions from other pharmacie brands. I've tried a sample of Uriage (not available in the US), which is gentler than Bioderma but not so effective at cleansing. My first purchase was La Roche-Posay's Physiological Micellar Solution ($19). This is quite decent, a little softer but otherwise approximate to Bioderma in performance. It features a light peppery-cucumber fragrance, but the glycerin, though it lends a hydrating boost, also adds a slightly obtrusive stickiness. Since I apply concentrated hyaluronic acid softeners on a daily basis, this is not a deal-breaker for me. My primary objection is the cost; it's not cheaper than Bioderma, only easier to source.

This particular product goes by Créaline (old name) and Sensibio (new name). Both are a clear fluid in a clear bottle with a pink-red cap. There is also a formula for oilier skin types, called Sebium H2O, which is a blue liquid.

Labels: bestsellers, bioderma, la roche-posay, lisa eldridge, uriage
1/02/2011 [0]
Subscribe to
Posts [Atom]. Or
follow on bloglovin'. If
you'd like to contact Dain,
feel free to email me.
I'm also on Pinterest.
Features

The Mnemonic Sense
Most Wanted
The Beauty Primer
Lookbook
Bestsellers
Consumer Diaries
Closet Confidential
On The Label
Beauty Notebook
The Hit List
Color Me In
The Makeup Artist
Wedding Bells
Globe Trotter
Desert Island
perfume notes
beauty notes
fashion notes
culture notes
minimalism
chypre arc
floral arc
fresh arc
masculines arc
gourmands
& orientals arc
Archives

August 2008
September 2008
October 2008
November 2008
December 2008
January 2009
February 2009
March 2009
April 2009
May 2009
June 2009
July 2009
August 2009
September 2009
October 2009
November 2009
December 2009
January 2010
February 2010
March 2010
April 2010
May 2010
June 2010
August 2010
September 2010
October 2010
November 2010
December 2010
January 2011
February 2011
March 2011
April 2011
May 2011
June 2011
July 2011
August 2011
September 2011
October 2011
November 2011
December 2011
January 2012
February 2012
April 2012
May 2012
June 2012
July 2012
August 2012
September 2012
October 2012
November 2012
December 2012
January 2013
February 2013
March 2013
June 2013
July 2013
Images

Photobucket