Announcements
If you're new to this blog, then read our guides to the basics: Skin (Part I), Skin (Part II), The Supernatural, Color Theory I, Color Theory II, Eyes, and Brushes.

Also, check out the blogsale.
Contents
· The Makeup Artist: Laura Mercier

Favored

Art Tattler
the glamourai
The Non-Blonde
Perfume Shrine
Lisa Eldridge
Garance Doré
Smitten Kitchen
Into The Gloss
Grain de Musc
Lacquerized
Res Pulchrae
Drivel About Frivol
The Selfish Seamstress
Killer Colours
Bois de Jasmin
Glossed In Translation
Jak and Jil
Toto Kaelo
Worship at the House of Blues
I Smell Therefore I Am
Food Wishes
The Natural Haven
Messy Wands
1000 Fragrances
Moving Image Source
Wondegondigo
The Emperor's Old Clothes
M. Guerlain
Colin's Beauty Pages
Barney's jewelry department
Parfümrien
loodie loodie loodie
The Straight Dope
Sea of Shoes
London Makeup Girl
Sakecat's Scent Project
Asian Models
Ratzilla Cosme
Smart Skincare
Illustrated Obscurity
A.V. Club
Tom & Lorenzo: Mad Style
Eiderdown Press
Beauty and the Bullshit
La Garçonne
Flame Warriors
Everyday Beauty
Fashion Gone Rogue
Now Smell This
Dempeaux
Fashionista
The Cut
A Fevered Dictation
Nathan Branch
101 Cookbooks
The Makeup Artist: Laura Mercier
by Dain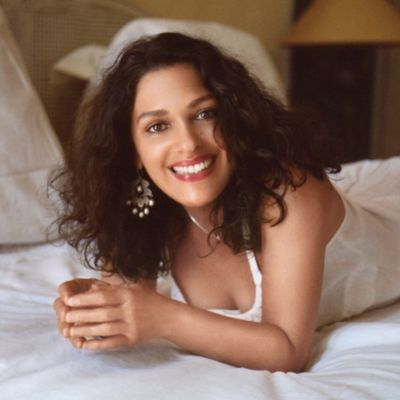 There is this great moment in The Women, when Mrs. Moorehead comforts her daughter, who's just found out about her unfaithful husband: "He's not tired of you, he's tired of himself. When we get tired of ourselves, we go shopping. We redecorate the house. Men never think of something so simple. They want to see themselves differently in the mirror of another woman's eyes." Whether this is true of cheaters in general, I don't know, but this is certainly the reason why women (and men) go shopping: the promise that you will see yourself differently in the mirror, trying on and discarding personalities, all at the swipe of a credit card.

There is one style, however, that the beauty enthusiast always has in her arsenal: the natural look. It may seem like nothing at all, the safe option that millions fall back on for work and school every day, those dreary bland bestsellers In Style hawks year after year. No matter. Naturalism is still the most fundamental form of makeup, the purest treatment of the face as a canvas. Good makeup is about the face. Even the most extreme editorial look is conscious of the face and which 'rules' can be broken. Indeed, makeup artists are evaluated by the seamless perfection of their 'zero face', as it is known in the industry, and perhaps none is more famous for hers than Laura Mercier.

Mercier was born a shy child, the "ugliest of ducklings", whose dream was to paint. She trained at the venerable, highly disciplined Carita school in Paris, the protegée of Thibault Vabre, then moving to New York in 1985 to help launch American Elle, landing all the major contracts, before becoming the favored makeup artist of Steven Meisel. Meisel's shoots were grueling, but subsuming herself to his vision cultivated an extreme professionalism in Mercier: "a make-up artist... [has] no ego, it's not about me" ("About Face", 2009). This is closer to the reality of the makeup artist, by nature a backstage profession, than we realize: it's about the person in the chair.



The iconic cover inaugarating the great Liz Tilberis as editor-in-chief of Bazaar, September 1992.


It is no wonder that Mercier is so closely identified with naturalism. When she launched her eponymous brand 1996, she explained, "this is not an aggressive line... Everything is subtle. It's like a fine screen for the face that puts your features into soft focus." ("Cover Girl", Vogue April 1996). Though Mercier has drama in her repertoire, her makeup never outshines the face. Instead, it contributes to impact of the image as a whole. "To me, beauty is not perfection—beauty is personality" (Glamour, December 2006). There is a keen sensitivity to the demands of the face, the photographer, the light, the textures and tones of the pigments—never her ego as a makeup artist—so that every stroke of the brush becomes part of a conscious strategy. Attention to technique separates the professional from the amateurs. Whether the look is bold or soft is not so much the issue: good makeup is about the face.

Subtlety is not to everyone's taste. Nevertheless, naturalism is a necessary skill for everyone to master, because it informs all other styles of makeup, and due credit should be given to the challenge it presents. It is surprisingly easy to make a misstep. Though many brands offer smooth textures and cleverly arranged palettes to ease the process, there are no true shortcuts. The deft execution of naturalism requires an experienced eye, a series of thoughtful, minute adjustments that bring out the features unique to each face. The more meticulous you are, the better the outcome.

For those who requested it, a more permanent link to "Well Groomed", an interview with Laura Mercier from Allure May 1998. Thank you for your patience while I wrote the rest, even if it did take a whole month.



Click to enlarge.


Even with a beautiful model, Mercier microscopic inspection of Braitman's face is very calculated. There is absolutely no theatre, and the skin is natural rather than perfect, with Braitman's pores and wrinkles left intact. In Mercier's deft hands, which developed their technique before aggressive digital retouching became commonplace, the illusion of a makeup-free face isn't broken until she does so deliberately, in the third, most finished look. It struck me so strongly at the time, this idea that editing is the most important—not product—that sometimes makeup can be as much about restraint as expression. I still believe it.

CREDITS
Most of these scans were shamelessly pilfered from ellastica, whose now defunct blog is much missed.

Labels: laura mercier, the makeup artist
6/30/2012 [10]
Subscribe to
Posts [Atom]. Or
follow on bloglovin'. If
you'd like to contact Dain,
feel free to email me.
I'm also on Pinterest.
Features

The Mnemonic Sense
Most Wanted
The Beauty Primer
Lookbook
Bestsellers
Consumer Diaries
Closet Confidential
On The Label
Beauty Notebook
The Hit List
Color Me In
The Makeup Artist
Wedding Bells
Globe Trotter
Desert Island
perfume notes
beauty notes
fashion notes
culture notes
minimalism
chypre arc
floral arc
fresh arc
masculines arc
gourmands
& orientals arc
Archives

August 2008
September 2008
October 2008
November 2008
December 2008
January 2009
February 2009
March 2009
April 2009
May 2009
June 2009
July 2009
August 2009
September 2009
October 2009
November 2009
December 2009
January 2010
February 2010
March 2010
April 2010
May 2010
June 2010
August 2010
September 2010
October 2010
November 2010
December 2010
January 2011
February 2011
March 2011
April 2011
May 2011
June 2011
July 2011
August 2011
September 2011
October 2011
November 2011
December 2011
January 2012
February 2012
April 2012
May 2012
June 2012
July 2012
August 2012
September 2012
October 2012
November 2012
December 2012
January 2013
February 2013
March 2013
June 2013
July 2013
Images

Photobucket