Announcements
If you're new to this blog, then read our guides to the basics: Skin (Part I), Skin (Part II), The Supernatural, Color Theory I, Color Theory II, Eyes, and Brushes.

Also, check out the blogsale.
Contents
· B L O G S A L E

· Consumer Diaries: February 2012 (Li Wen)

· Consumer Diaries: In The Interim (Dain)

· Beauty Notes: Shiseido Shimmering Rouge in RS619 Venus

· Culture Notes: What Every Woman Should Carry

Favored

Art Tattler
the glamourai
The Non-Blonde
Perfume Shrine
Lisa Eldridge
Garance Doré
Smitten Kitchen
Into The Gloss
Grain de Musc
Lacquerized
Res Pulchrae
Drivel About Frivol
The Selfish Seamstress
Killer Colours
Bois de Jasmin
Glossed In Translation
Jak and Jil
Toto Kaelo
Worship at the House of Blues
I Smell Therefore I Am
Food Wishes
The Natural Haven
Messy Wands
1000 Fragrances
Moving Image Source
Wondegondigo
The Emperor's Old Clothes
M. Guerlain
Colin's Beauty Pages
Barney's jewelry department
Parfümrien
loodie loodie loodie
The Straight Dope
Sea of Shoes
London Makeup Girl
Sakecat's Scent Project
Asian Models
Ratzilla Cosme
Smart Skincare
Illustrated Obscurity
A.V. Club
Tom & Lorenzo: Mad Style
Eiderdown Press
Beauty and the Bullshit
La Garçonne
Flame Warriors
Everyday Beauty
Fashion Gone Rogue
Now Smell This
Dempeaux
Fashionista
The Cut
A Fevered Dictation
Nathan Branch
101 Cookbooks
B L O G S A L E
by Dain
If you're interested, shoot me a request at dain.choi(at)gmail.com. I have done my utmost to represent colors as accurately as possible. International buyers are welcome. Shipping will be adjusted to size of order, using USPS: I estimate approximately $4 domestic, $8 international per each order. Each additional item will accrue an extra $1 for shipping. Paypal only, please.


JAPANESE and KOREAN BRANDS
Etude House LUCIDarling Fantastic Brush Eyeliner, NIB ($10)
Majolica Majorca Lash Expander Frame Plus, NIB ($13 each)
NARS ProPrime Smudgeproof Eye Shadow Base, NIB ($18)


Addiction Revenge, used 6x, original packaging available ($22)
Shu Uemura RD185 Supreme Shine, 90% left ($18)
Suqqu Creamy Glow Lipstick 02 Kyoganoko
Shiseido RS612 Gilded Wine, 65% left


Addiction Concrete Jungle, used 3x, original packging/box available ($16)
Addiction North Star, swatched, original packaging/box available ($18)
Addiction Fudge
Addiction Midnight Oasis, only swatched but small nick from depotting, original packaging/box available ($16)
Addiction Night Dive
Suqqu 08 Mizuaoi, lightly used, pink shade missing ($40)
Shiseido BL714 Fresco, 90% left ($16)


Hakuhodo Kokutan LAG ($70)
Hakuhodo Kokutan Cheek S
Hakuhodo Kokutan Eyeshadow WM
Hakuhodo 291

SKINCARE


Avène Hydrance Optimale UV SPF 20 Riche, Euro formula with Tinosorb, NIB ($10)
Avène Hydrance Optimale UV SPF 20 Legère, Euro formula with Tinosorb, NIB ($10)
Vive Sana Solar to Polar Baby SPF 45

BLUSHES


RMS Smile
Becca Amaryllis Creme Blush, NIB ($20)
Armani #5 Blush, used 5x ($28)
Vapour Impulse, used 4x ($22)
Besame Crimson Cream Rouge, used 6-7x ($10)
Rouge Bunny Rouge Florita
Tarte Flushed, swatched ($16)

LIPS


Besamé Red Velvet, new formula, swatched ($15)
Chanel Attitude Rouge Allure, 50% left ($16)
MAC Red Haute, 90% left ($8)
MAC Sundressing, damaged on one side, 85% left ($5)


EYESHADOWS


Armani #18
Laura Mercier Twilight Grey, used three times, old packaging ($10)
Laura Mercier Celestial, swatched ($15)
Edward Bess Soft Smoke Trio, used twice ($40)
Guerlain Pucci 13 Capri Quad, swatched ($50)
MAC Ego, 95% left ($8)
Estée Lauder Purple Haze, 90% left ($10)
Laura Mercier St. Germain, 95% left ($15)
Benefit Mermaid, 90% left ($12)
Paula Dorf 2+1 Trio Forbidden, 95% left ($15)

NAILPOLISH






PERFUME

2/28/2012 [0]
Consumer Diaries: February 2012 (Li Wen)
by Li Wen
As I make ready to return to Shanghai at the end of February - a more semi-permanent move this time, for the purposes of a new job - I have been sifting through the stacks of worldly belongs that have accumulated in my family home in Sydney, trying to decide what I need to take with me. This is obviously not the time to be buying still more stuff that will not fit into my 30kg luggage allowance, and yet I persist. What gives?
SNIFFING
China, and even the glittering fount of cosmopolitanism that is Shanghai, is a bit of a desert wasteland when it comes to perfumes. Another cause for distress: glass bottles full of alcohol are not the easiest (or most light-weight) things to take onto a plane. I shall have to hope that a few full-sized bottles of perennial favourites (Fille en Aiguilles, Vetiver Oriental, Bandit, Timbuktu) and a hefty cosmetics bag full of decants (many of them courtesy of Dain) and Travalos will serve until I can next spare the time for a trip back in Sydney. In the meantime, I am spraying myself with clouds of scents that didn't make the full-bottle cut, and rediscovering in the process perfumes that I haven't worn in ages (Like This by Etat Libre d'Orange), not to mention new purchases that I have not spent nearly enough time with (Juliette Has A Gun Vengeance Extreme).
LISTENING
Alberto Iglesias' incredibly atmospheric score for Tinker, Tailor, Soldier, Spy, which I really hope will win the Oscar for best score come February 26th. This is the second Le Carre adaptation that Iglesias has written the music for (the other was The Constant Gardener, a very differently flavoured soundtrack for which he also garnered an Oscar nomination), and he captures the paranoia and the elegiac tone of both book and film to perfection.
READING
I have no self-control when I step into a bookstore. My backlog of "new books I have yet to read" is so long, it could probably make for a small library in itself. Yet a book, I tell myself, is something that will never truly go to waste. What's more, I like to know that I'm doing my part in keeping the commercial publishing industry alive; the printed word, too, because, goodness knows, I spend a lot more on paper books than I do on new airplane-reading-material for my Kindle. Of the latest additions to my shelves (image below), I think the two volumes of Camus' notebooks (a gift from Melissa) will come with me to China.
The new (newish?) Daniel Mendelsohn translation of Constantine P. Cavafy's collected poetry ("The streets in which you pace/will be the same, you'll haunt the same familiar places,/and inside those same houses you'll grow old") is proving to be a delight, possibly even surpassing my abiding affection for the Rae Dalven translations ("Every effort of mine is a condemnation of fate;/and my heart is - like a corpse - buried"). But it will probably stay behind, purely on account of its size. The rest? Well, I guess I'd better get cracking reading.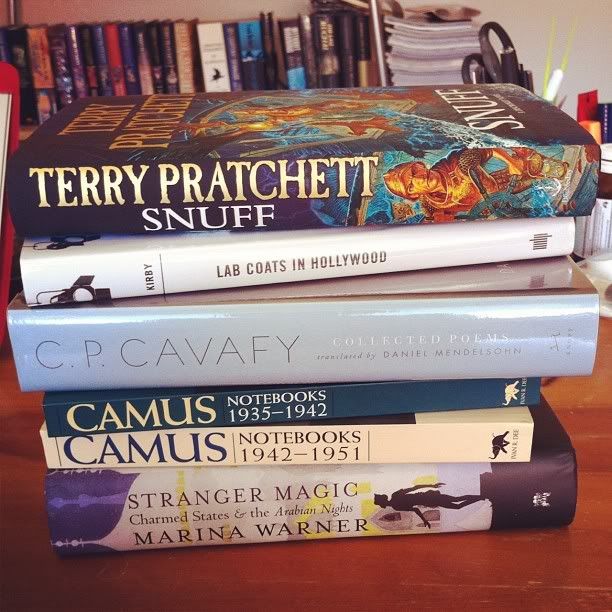 WEARING
Whether I'm pairing it with a cream kitten-bow blouse at work or a casual white tee (and a statement necklace in chunky, rough-hewn amber) over the weekend, my navy Brother Skirt from Les Prairies de Paris is all class in a relaxed sort of way, with its two side pockets, strip of black suede running down the front, and hem just skimming the knees.
I have been wearing wool pencil skirts a lot lately; and blazers; and knits. The funny thing is that the weather has been so peculiar this summer in Sydney that it will hardly be much of a shock to the system to fly across the equator and suddenly find myself in a northern winter rather than the chilliest southern summer in my own personal memory. I wouldn't have to do anything more than throw on a coat.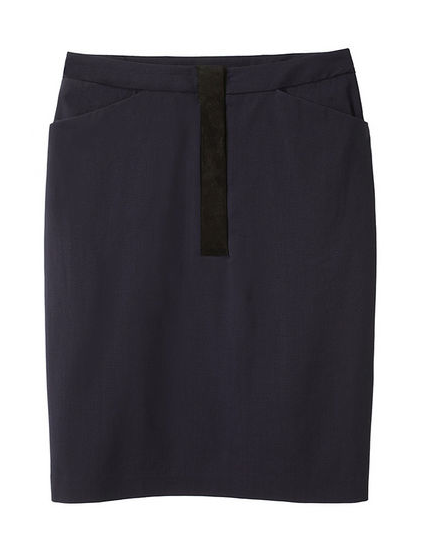 An even more satisfying acquisition than my Les Prairies skirt, is my new Ole Lynggaard Sweet Drops bracelet. Not three weeks after I wrote this post about the Sweet Drops, I added one to my small, extremely select collection of "every day" jewellery. After near half an hour looking through the selection at Jordan's Jewellers (Market Street, Sydney), I eventually picked out an olive wrap-around leather bracelet, and a white gold/moonstone "Dew Drop" and silver/black onyx "Sweet Drop" to wear on it. It was a tough decision to make. Seeing them in person, one cannot fail to appreciate how carefully and meticulously they have been crafted. Each of the "Dew Drops" and "Sweet Drops" have a clasp that allows them to hold tightly to the band without scratching the soft leather. Each is further designed to hang only at a certain angle; the charms have room for movement, but not so much that they can rotate 360 degrees around the band and irritate the wearer. My bracelet is easy, understated, and a joy to wear.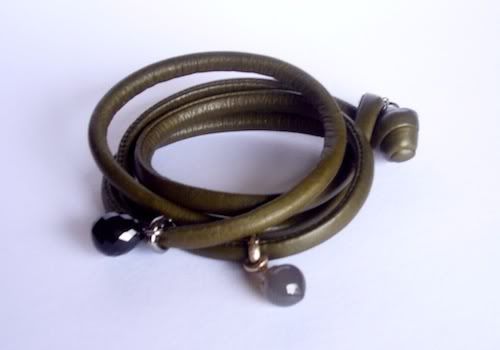 EATING
All the things that I will miss in China: fresh (and affordable) mangoes/figs/papaya/avocados, Australian yogurt, Whisk & Pin gluten-free muesli, an Italian-strength espresso, newly shucked oysters that don't cost an arm and a leg (and won't lead to food-poisoning), really good Lebanese food… I could go on and on.
Labels: albert camus, alberto iglesias, cavafy, consumer diaries, etat libre d'orange, juliette has a gun, les prairies de paris, ole lynggaard, shanghai
2/14/2012 [2]
Consumer Diaries: In The Interim (Dain)
by Dain
Or, what I've been up to during my hiatus.

A few of the Desert Island posts, namely Brushes, Skin, and Books have been revised. I've taken better, clearer pictures, and edited to reflect how I've settled more comfortably into my stash and a few new acquisitions. The changes are not drastic, but outdated blog posts do plague the mind.

And... it is time for me to hold a blog sale, don't you think?


DAUBING

RED & GREEN Addiction Revenge // Kanebo Poppy // Suqqu S // Guerlain Les Verts // Majolica Majorca Lash Expander Frame Plus Mascara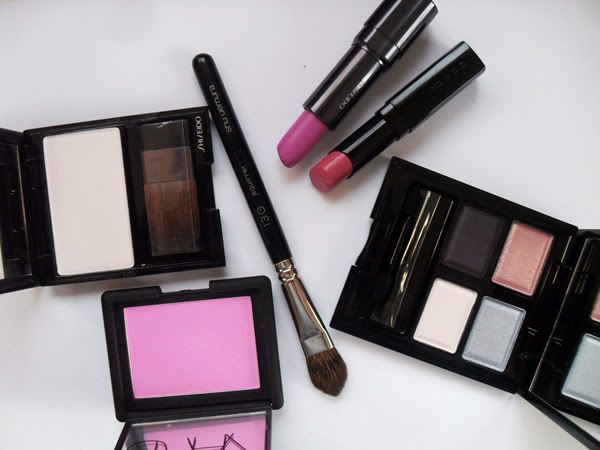 COOL PASTELS Shiseido High Beam White // NARS Gaiety // Shu Uemura 13G // Shiseido Fuschia // Suqqu 02 Kyoganoko // Suqqu 08 Mizuaoi


WEARING
I've been totally quiescent fashion-wise for the past year.


WATCHING



I wish someone had told me earlier (to be fair, my brother raved) how amazing a show is Breaking Bad. In spite of its overt topic—high-school chemistry teacher is diagnosed with terminal cancer and takes to cooking meth to fund his chemotherapy—it ultimately hinges on the father-son relationship between Jesse and Walter.

On youtube, I have also discovered Dusty Hunter (a colleague of mine who also posts on Temptalia). His videos are so thoughtful and well edited.


EATING

With some fish or pan-seared scallops, coriander-and-paprika spiced quinoa, with steamed vegetables (broccoli rabe, beets, carrots, corn) in a cilantro-lemon-soy sauce. I am not a well-balanced human being, but I am trying to eat more healthily. A Buddha bowl can be immensely satisfying.


READING
I've been on a major Dostoevsky kick. First, The Brothers Karamazov, now Crime and Punishment, next The Idiot. What makes reading Dostoevsky a unique experience (for me), considering how most authors operate as a shadowy puppeteer whose motivations can only be guessed at, is his transparency. There is no doubt regarding his religiosity. This places his many atheist characters, to whom he owes a sympathetic realization, at odds with his own beliefs. He is too conscientious to pass them off as stereotypes, thus empowering them with arguments he finds repugnant, while the the thread of morality remains largely oblique, even defeated: Sonya remains silent, Prince Myshkin is thoroughly abused, and Elder Zosimov's body stinks after death. To enter the world of his novels, is to stumble onto a debate on injustice and evil, not an uncommon theme in literature. The unique dimension in Dostoevsky's work is how that debate is concretized through characterization, in a way that borders on allegory.

The BBC recently made an excellent adaptation of Crime and Punishment, starring John Simm as Raskolnikov. The best version of The Idiot seems to be by TV Channel Russia; Yvgeny Mironov takes on the challenge of playing the saintly Prince Myshkin. They add extra dimension to the insipidity of reading in translation.


SNIFFING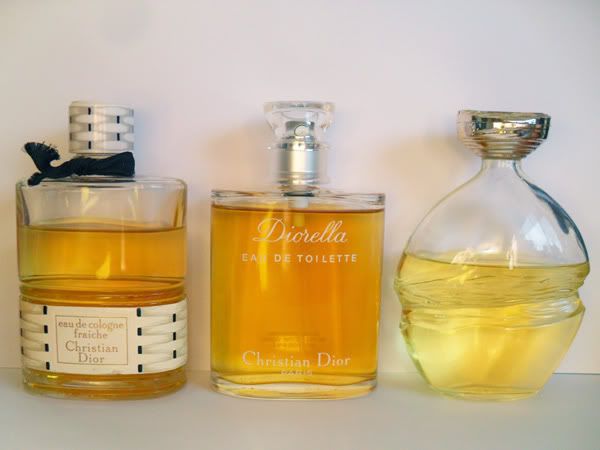 Citrus generally feels anemic to me in warm weather, but in winter it's just the dose of sunshine I crave. From left to right: vintage Dior Eau de Cologne Fraîche, Diorella, and Eau de Guerlain in the original Granai bottle.


WISHLIST
Ah, more Addiction.

Labels: addiction, christian dior, consumer diaries, dostoevsky, guerlain, kanebo, majolica majorca, nars, shiseido, shu uemura, suqqu
2/13/2012 [2]
Beauty Notes: Shiseido Shimmering Rouge in RS619 Venus
by Li Wen
Shiseido debuted their Shimmering Rouge Lip Colour with 13 shades last year, following the trend of lipstick/gloss hybrids which also multi-task as lip conditioners (Chanel Rouge Coco Shine, Dior Addict, Guerlain Rouge Automatique, etc.). The shades released in 2011 were mostly warm peachy/pinky nudes, and while they were nothing so demure as the Rouge Coco Shines (can you tell that those are not my favourites?), none really caught my eye in particular until RS619 Venus.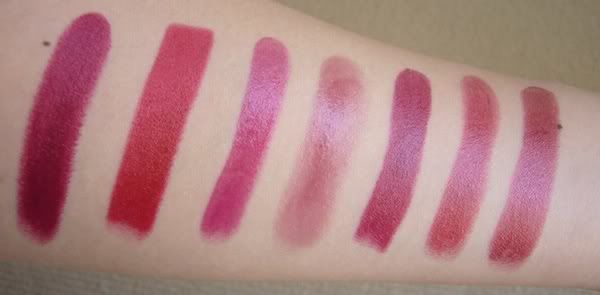 Guerlain Gigolo // Cle de Peau R1 Black Baccara // Shiseido Venus // Chantecaille Heirloom // Shu Uemura WN270 // Guerlain 124 Samsara // Giorgio Armani Armanisilk 30
Described accurately by Shiseido as a "profound reddish violet", Venus (3rd from left) is a newly released Shimmering Rouge from the SS12 collection. Bold and bright, it is fully as pigmented as most lipsticks - a single swipe delivering even, opaque colour - yet has a soft, balmy texture and slightly glossy finish. On me, the wear-time before reapplication is roughly 4 hours with drinks and smoking breaks, which is also similar to a lipstick. When the colour fades, it does so evenly and leaves a hint of a stain.
Comparison with the Chantecaille Lip Chics, my favourite lipstick/gloss hybrid formula, I'm pleased to say, is favourable. Both are extremely moisturising and comfortable to wear. Although the Shiseido Shimmering Rouge is considerably more pigmented and requires greater precision to apply than the Lip Chics (my go-to lipsticks to put on whilst driving or without a mirror), I appreciate its flexibility: you can easily sheer it out to create the effect of a stain, or layer it on to achieve an intense, dimensional look. And like the Lip Chics, the packaging of the Shimmering Rouge lipsticks is light, slim and discrete, ideal for the handbag.
I have worn Venus several times this week at work, and I am finding it to be the perfect pick-me-up for these drab, rainy days Sydney has been having this summer.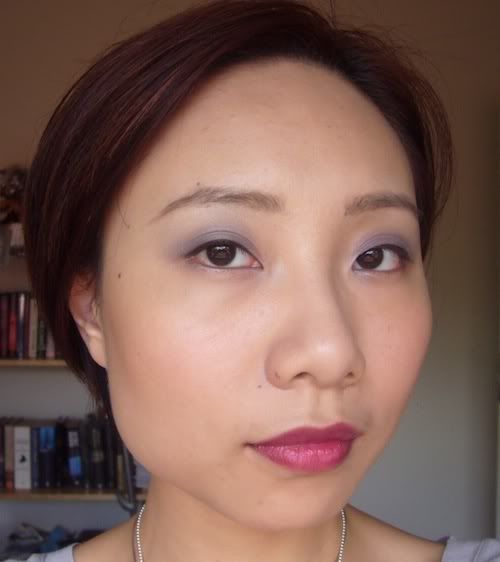 Eyes: NARS Jolie Poupee // Lips: Shiseido RS619 Venus
Floating images of my own disembodied lips somewhat creep me out, but you can see a close up lip swatch of Venus here.
Labels: beauty notes, chantecaille, shiseido
2/08/2012 [4]
Culture Notes: What Every Woman Should Carry
by Li Wen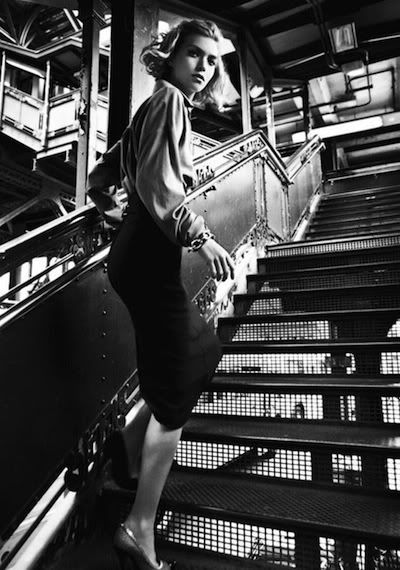 WHAT EVERY WOMAN SHOULD CARRY
My mother gave me the prayer to Saint Theresa.
I added a used tube ticket, kleenex,
several Polo mints (furry), a tampon, pesetas,
a florin. Not wishing to be presumptuous,
not trusting you either, a pack of 3.
I have a pen. There is space for my guardian
angel, she has to fold her wings. Passport.
A key. Anguish, at what I said/didn't say
when once you needed/didn't need me. Anadin.
A credit card. His face the last time,
my impatience, my useless youth.
That empty sack, my heart. A box of matches.
MAURA DOOLEY
Listen to Maura Dooley reading the poem; view my own poem inspired by it in the commentsPhotographer: Lachlan Bailey for Vogue UKModel: Arizona Muse

Labels: arizona muse, culture notes, lachlan bailey, maura dooley
2/01/2012 [7]
Subscribe to
Posts [Atom]. Or
follow on bloglovin'. If
you'd like to contact Dain,
feel free to email me.
I'm also on Pinterest.
Features

The Mnemonic Sense
Most Wanted
The Beauty Primer
Lookbook
Bestsellers
Consumer Diaries
Closet Confidential
On The Label
Beauty Notebook
The Hit List
Color Me In
The Makeup Artist
Wedding Bells
Globe Trotter
Desert Island
perfume notes
beauty notes
fashion notes
culture notes
minimalism
chypre arc
floral arc
fresh arc
masculines arc
gourmands
& orientals arc
Archives

August 2008
September 2008
October 2008
November 2008
December 2008
January 2009
February 2009
March 2009
April 2009
May 2009
June 2009
July 2009
August 2009
September 2009
October 2009
November 2009
December 2009
January 2010
February 2010
March 2010
April 2010
May 2010
June 2010
August 2010
September 2010
October 2010
November 2010
December 2010
January 2011
February 2011
March 2011
April 2011
May 2011
June 2011
July 2011
August 2011
September 2011
October 2011
November 2011
December 2011
January 2012
February 2012
April 2012
May 2012
June 2012
July 2012
August 2012
September 2012
October 2012
November 2012
December 2012
January 2013
February 2013
March 2013
June 2013
July 2013
Images

Photobucket