Announcements
If you're new to this blog, then read our guides to the basics: Skin (Part I), Skin (Part II), The Supernatural, Color Theory I, Color Theory II, Eyes, and Brushes.

Also, check out the blogsale.
Contents
· Perfume Notes: Another 2008 Retrospective

· Perfume Notes: Millot Crêpe de Chine

Favored

Art Tattler
the glamourai
The Non-Blonde
Perfume Shrine
Lisa Eldridge
Garance Doré
Smitten Kitchen
Into The Gloss
Grain de Musc
Lacquerized
Res Pulchrae
Drivel About Frivol
The Selfish Seamstress
Killer Colours
Bois de Jasmin
Glossed In Translation
Jak and Jil
Toto Kaelo
Worship at the House of Blues
I Smell Therefore I Am
Food Wishes
The Natural Haven
Messy Wands
1000 Fragrances
Moving Image Source
Wondegondigo
The Emperor's Old Clothes
M. Guerlain
Colin's Beauty Pages
Barney's jewelry department
Parfümrien
loodie loodie loodie
The Straight Dope
Sea of Shoes
London Makeup Girl
Sakecat's Scent Project
Asian Models
Ratzilla Cosme
Smart Skincare
Illustrated Obscurity
A.V. Club
Tom & Lorenzo: Mad Style
Eiderdown Press
Beauty and the Bullshit
La Garçonne
Flame Warriors
Everyday Beauty
Fashion Gone Rogue
Now Smell This
Dempeaux
Fashionista
The Cut
A Fevered Dictation
Nathan Branch
101 Cookbooks
Perfume Notes: Another 2008 Retrospective
by Dorothy
Unlike Dain, I

was

an ignorant fragrance noob before this year, and in many ways still am. Blogging about perfume has been not so much an effort at educating other people (who am I to do that, after all?) as a record of my own enthusiastic yet clumsy explorations. For other, more seasoned entries, read Dain's entry here, or check out the other Retrospectives:



1000fragrances
Ars Aromatica
A Rose Beyond the Thames
Bittergrace Notes
Grain de Musc
I Smell Therefore I Am
Legerdenez
The Non Blonde
Notes From the Ledge
Olfactarama
The Perfume Shrine
Savvy Thinker
Tuilleries


For years I wore single-note fragrances, if anything: most of these are now of little interest to me, although I retain a soft spot for Demeter's

Gin and Tonic;

it smells like Christmas at my grandparents' house, when my martini-drinking grandfather was still alive. My first "proper" perfume, a couple of years ago, was Tocca

Stella

, an uncomplicated thing despite the list of notes -- aquatic topnotes, musky drydown, orange, orange, orange. It claims to be blood orange, but for the real bitterness of blood orange one has to go to something like Fendi's much-mourned

Theorema

-- of which I just tracked down a full bottle (yes!).

Much of what I've learned has come directly from Dain, although I've also done plenty of lurking on the sites linked above.

What amazes me at the end of this year is how quickly the nose develops when you start smelling a lot of scents. After six months of exploration, I can now detect the orange in

Organza Indécence

; Bulgari

BLV Notte

, which I adored on first sniff, so much that I considered buying a full bottle before my mini was empty, is now oppressively sweet and heavy; I use words like "animalic" and "vetiver" with something approaching confidence, which I would not have done a year or even eight months ago.

Anyway, enough babbling; here is my Top Ten of 2008, the perfumes that I either fell hard for, learned from, or both.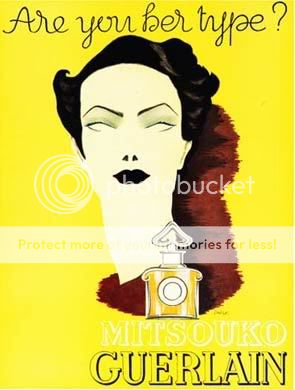 1.

Mitsouko.

Funny that even in this 1938 ad, Mitsouko is presented as something rather harsh, haughty and forbidding (if I read the image right), because it has never struck me as a difficult perfume. Mitsouko was what gave me an inkling that fumeheads might be on to something, since before that, almost everything smelled unpleasantly "like perfume" (read: alcohol and fake flowers) to me, and I imagined nothing complex would ever work on my skin. I put on a sample of the EDP, thinking "this is interesting, but not for me", and then, a couple of hours later, spontaneously noticed that I loved the way I smelled.

Mitsouko is an odd thing on me, chameleon-like, sometimes hinting at white flowers, sometimes at spice cake; usually it's recognizable as Mitsouko, though, a spiced-peach glow, the light that shines through autumn leaves in the late afternoon, in perfume form.



2.

Bandit.

On my skin, Bandit EDT is indeed (as Luca Turin calls it) a "dark and fresh" fragrance, reminiscent of under-lit streets and deep green leaves after an evening rain, no flowers, no fruits, no sugar. Bandit says "do not fuck with me." Bandit is really the ideal thing to wear out to small-town bars where unattractive and overly persistent frat boys follow you around; Bandit makes me feel like I can kick ass. Bandit might also be the first perfume I encountered that truly was not sweet.

3.

Tabac Blond.

I have only a decant of the extrait, but I think this is the sexiest perfume I own; I'm sharp-nosed and flat-chested, cleavage-in-a-bottle scents like Fracas make me feel silly, but Tabac Blond is dark, warm, a bouquet in a leather-bound study, half-hidden in a cloud of cigar smoke. Alas, it has apparently been messed with so much that even the recent version I like may be gone any minute.

4.

Theorema.

I still have an affection for gourmands; they work well on my skin, unlike most fruity florals, which tend to become loud and aggressive, projecting syrup for miles. Theorema is that marvellous thing, a grown-up gourmand, bitter orange, nutmeg and cream; why,

why

was this ever discontinued?

5.

Iris Poudre.

I thought I disliked aldehydes. I was wrong. Hell, I thought I disliked perfumes that smelled "like perfume", and I was wrong about that too. Probably the most "traditional", "ladylike" fragrance I've fallen for, so far.

6.

Songes.

I loved this on first sniff, but was sure I would tire of it. I haven't. It's sweet, yes, but it has complexity and balance; vanilla, banana, dark chocolate, and that full, blooming jasmine over all. My favourite comfort scent, by far.



7.

Bois des Îles.

I haven't had the greatest luck with Chanel scents; so far, they've all had a forbidding smoothness, too perfect, too luxurious, nothing to reach out and grab me. Bois des Îles is the exception; it is so strongly, recognizably sandalwood that the aldehydic touches are decorative rather than definitive; Tania Sanchez described it as being like No. 5's brunette sister, and I think she hit the nail on the head. It hints at gingerbread in the drydown. I could wear this all winter.

8.

Vétiver Extraordinaire.

Swoon. The most dusky, fresh, woodsy vetiver, without the fresh citrus-y touches of Guerlain's; I'd happily wear this myself, yes, but on a man it would be absurdly sexy.



9.

Une Fleur de Cassie.

I have a huge crush on the Frédéric Malle line; I've yet to smell one of these I disliked, and several of them (as you see) I adore already. To me, this one smells like a young cousin to L'Heure Bleue; that same almost-edible floral sweetness, lightened, freshened, and utterly radiant. It's nearly impossible for me to describe Une Fleur de Cassie; it's more of a chord than a succession of notes.


10.

Lolita Lempicka.

A certain lack of taste on my part? Maybe. But my skin seems to absorb most of the Angel-like super-sweetness in this fragrance, leaving only licorice, 7-Up fizz, baked apple, and a touch of salt. I couldn't decide on first wearing whether I loved this or hated it. Now I'm confident: it's love.




What next? I have entered a masculine/unisex phase; I love

Le 3ème Homme

and wear it frequently, Caron's

Pour Un Homme

has persuaded me that I actually do like lavender, and Dain has promised to send me a decant of my other Guerlain love-at-first-sniff,

Jicky.

Also, I think I shall have to buy a bottle of Mitsouko at some point; I've found a Canadian distributor I like (Enchante Perfumes) and I'm very tempted by the tiny bottles of parfum.

Labels: annick goutal, caron, chanel, fendi, frederic malle, guerlain, lolita lempicka, perfume notes, robert piguet
12/29/2008 [2]
Perfume Notes: Millot Crêpe de Chine
by Dorothy
I haven't posted in nearly a month! I plead law school exams. Now that I am done trying to wrap my head around

lex loci solutionis

, coverture, and the "kiddie tax", I can happily return to frivolities for a while.

One of Dain's marvellous series on perfume is called "The Mnemonic Sense", and indeed, one of the most enjoyable things about this newfound perfume habit of mine has been attaching names to memories. My father's female colleagues wear Coco and Chanel No. 19; Angel brought back vivid memories of high school; Poison is the unmistakable scent of office parties. I recently bought a mini of Jean Patou Cocktail (sadly discontinued), opened it, and was transported back to my grandmother's closet.



When I smelled Y by Yves Saint Laurent, I was immediately reminded of my mother, so strongly that I was sure she had worn it at some point in my childhood. When I asked, I found out she had never worn it; the perfumes she mentioned wearing were Jean Couturier Coriandre, which has apparently been reformulated, and Millot Crêpe de Chine, discontinued in 1968 and since re-launched by Long Lost Perfume.

My mother seldom wears perfume or makeup; aside from a fondness for L'Occitane, she isn't really interested in cosmetics at all. I buy my mother's stocking stuffers every year and I have bought her a small bottle of the re-launched Crêpe de Chine EDT, which I could not resist sniffing before I wrapped it. (My mother doesn't read this blog.) Although I can't compare it with the original, this is a recognizably old-fashioned scent; sparkling bergamot and orange rapidly give way to a velvety soft, powdery rose on a dusky woods base that reminds me of Habanita's. I smelled it and thought, of course my mother liked this. It's politely soft-spoken, classic, a scent for feminine introverts, and like Y, it's youthful (my mother must have worn it as a teenager, after all) without being sugary or childish. If Chanel No. 5 is a black sheath dress, this might be a soft green one.

To me the current Crêpe de Chine is a little too well-mannered; I prefer the slight sharpness of Y, the bitterness of Bandit, the spicy glow of Mitsouko. In context I suppose it isn't surprising; I'm quite similar to my mother, but I've always been more impulsive, more opinionated, sharper-tongued and hotter-tempered -- more than my mother was at my age, as she recalls. Amusing that our taste in perfume should follow.

More on the scent (vintage and re-release):

Now Smell This
Basenotes
Bois de Jasmin (brief mention)
Perfume-Smellin' Things (brief mention)
Makeupalley

Labels: long lost perfume, millot, perfume notes
12/24/2008 [0]
Subscribe to
Posts [Atom]. Or
follow on bloglovin'. If
you'd like to contact Dain,
feel free to email me.
I'm also on Pinterest.
Features

The Mnemonic Sense
Most Wanted
The Beauty Primer
Lookbook
Bestsellers
Consumer Diaries
Closet Confidential
On The Label
Beauty Notebook
The Hit List
Color Me In
The Makeup Artist
Wedding Bells
Globe Trotter
Desert Island
perfume notes
beauty notes
fashion notes
culture notes
minimalism
chypre arc
floral arc
fresh arc
masculines arc
gourmands
& orientals arc
Archives

August 2008
September 2008
October 2008
November 2008
December 2008
January 2009
February 2009
March 2009
April 2009
May 2009
June 2009
July 2009
August 2009
September 2009
October 2009
November 2009
December 2009
January 2010
February 2010
March 2010
April 2010
May 2010
August 2010
November 2010
December 2010
January 2011
March 2011
August 2011
September 2011
October 2011
November 2011
December 2011
January 2012
February 2012
June 2012
July 2012
August 2012
September 2012
October 2012
December 2012
January 2013
February 2013
March 2013
June 2013
July 2013
Images

Photobucket