Announcements
If you're new to this blog, then read our guides to the basics: Skin (Part I), Skin (Part II), The Supernatural, Color Theory I, Color Theory II, Eyes, and Brushes.

Also, check out the blogsale.
Contents
· Fashion Notes: Giddy Charms

· Beauty Notes: Lapoché Travel Toiletry Organiser

· Beauty Notes: ADDICTION by Ayako Eyeshadows in Shangri-La, Arabian Ruby, Keshi, and Cigarette

Favored

Art Tattler
the glamourai
The Non-Blonde
Perfume Shrine
Lisa Eldridge
Garance Doré
Smitten Kitchen
Into The Gloss
Grain de Musc
Lacquerized
Res Pulchrae
Drivel About Frivol
The Selfish Seamstress
Killer Colours
Bois de Jasmin
Glossed In Translation
Jak and Jil
Toto Kaelo
Worship at the House of Blues
I Smell Therefore I Am
Food Wishes
The Natural Haven
Messy Wands
1000 Fragrances
Moving Image Source
Wondegondigo
The Emperor's Old Clothes
M. Guerlain
Colin's Beauty Pages
Barney's jewelry department
Parfümrien
loodie loodie loodie
The Straight Dope
Sea of Shoes
London Makeup Girl
Sakecat's Scent Project
Asian Models
Ratzilla Cosme
Smart Skincare
Illustrated Obscurity
A.V. Club
Tom & Lorenzo: Mad Style
Eiderdown Press
Beauty and the Bullshit
La Garçonne
Flame Warriors
Everyday Beauty
Fashion Gone Rogue
Now Smell This
Dempeaux
Fashionista
The Cut
A Fevered Dictation
Nathan Branch
101 Cookbooks
Fashion Notes: Giddy Charms
by Li Wen
Bronzed goddess, Helena Christensen, in Ole Lynggaard Sweet Drops 2012 catalogue
While I tend to be easily distracted by the newest and shiniest in makeup, and as flighty and compulsive as a spring chick in acquiring updates to my wardrobe, when it comes to jewellery, my habits have always tended thus: find a signature piece that I love, elegant yet understated, flexible enough to hold its own with almost any outfit, and then wear it continuously (in the shower, if possible) until either loss or breakage necessitates the start of my search for a replacement.
My tastes in jewellery are not adventurous. In a purely aesthetic way, I can admire the sparkle of an ear lobe dripping with antique diamonds, the clink of bracelets stacked up the wrist like body armour, the goth-bohemian hardware of Abbey Lee - but they are not for me. All jewellery, in my case, is mostly sentimental, a physical anchor for me as I move through constantly shifting outward personas. Against the play of the ephemeral, my jewellery is something precious I wear next to my skin, like a secret. So it is a rare occasion that I start to daydream about a new addition.
I have been eying the Sweet Drops collection from the Danish jewellery house Ole Lynggaard for almost a year now. Customisable bracelets - the word "charm" is resolutely avoided, and indeed feels too slight to describe pieces with so much individual character - they combine the earthy minimalism of soft, exquisitely smooth calf leather with quietly lustrous drops of gold, silver, precious and semi-precious stones. The conceit is that there are no hard edges, no colours or shapes unfound in nature; the Sweet Drops take on the appearances of dew, pearls of caviar, sea-foam, and acorns. But they don't come cheap: a leather bracelet ($495 AUD) with two Sweet Drops can easily cost upward of $3000 AUD.
There are compromissory alternatives, of course. The Rapture collection from Najo, an Australian brand specialising in sterling silver jewellery, looks heavily modelled on Ole Lynggaard, and is a fraction of the price. But the addition of silver clasps, and their overwhelming "shininess", fail to capture the heart and the imagination the way the Sweet Drops do - the illusion that, like a creeping vine or a naked, fresh rose, they would be eternally graceful, and never out of place on any occasion.
Ole Lynggaard Sweet Drops are available from selected retailers around the world.
Labels: fashion notes, najo, ole lynggaard
1/24/2012 [2]
Beauty Notes: Lapoché Travel Toiletry Organiser
by Li Wen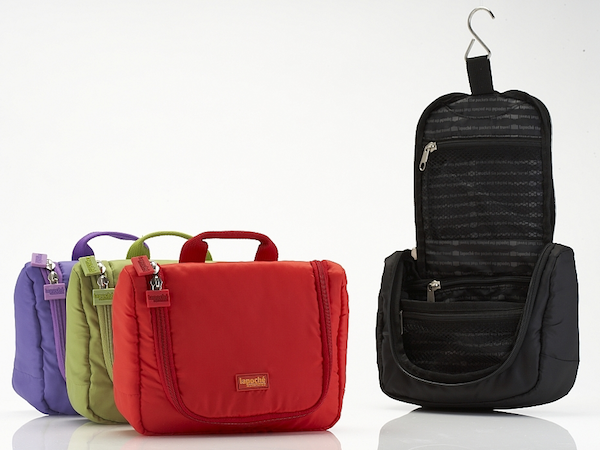 Exquisite design is often quiet and unobtrusive. It is bad (or severely restricted) design that always sticks out like a sore thumb: stairs that are an inconvenient width or height, roads that disorientate and enrage drivers, shoes too uncomfortable or too delicate to do any actual walking in. When physical objects and negative spaces are combined in a way that mimics the organic, responding to the intuitive way that we do things, we are in a designed environment that not only makes life easier and more pleasant, but which is also potentially directing your actions in a subtle manner by creating new patterns of behaviour.
Take my Travel Toiletry Organiser from Lapoché. Designed, and readily available in Australia, it is true to its name: a toiletries bag that actually helps you to get organised when you are travelling. The exterior is made of soft, durable fabric and reinforced with foam, so the contents are protected when it is in your suitcase. The bottom is flat to stand bottles upright, and to take up a minimum amount of table space; there is also a hook to allow you to hang it up, saving you even more space. The front unzips to display a very spacious central compartment surrounded by 3 zippered mesh pouches and 5 side pockets for bottles.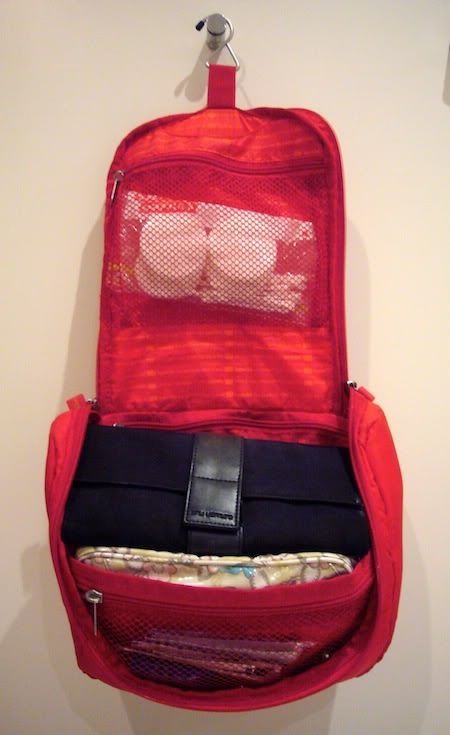 The beauty of the bag is that it is large enough to hold everything that you could possibly want to take on a trip, but it also suits the minimalists because it is both lightweight and compressible in itself. The large, open front means that everything you bring is easily visible and accessible, which helps you to realise when something is either superfluous or missing.
The way I use my Lapoché is to store my body/skincare and hair products directly in the central compartment, and to keep small, delicate or easily-lost items in two separate bags that are zipped into the Lapoché when I am on the go. All makeup goes into a Bloom makeup bag which rests upright, and my makeup brushes travel in a slim Shu Uemura travel roll. Everything - from tweezers to cotton buds to toothpaste - has its own place, and I can locate anything I want in a second.
When I arrive at a hotel, I take out my brush roll and makeup bag, un-pack only the bulkiest products, hang my Lapoché from the hook on the back of the bathroom door, and I'm done! Packing up to go is just as quick and hassle-free. In more than a dozen trips that I have taken with the Lapoché, I have never left a single thing behind in a hotel room.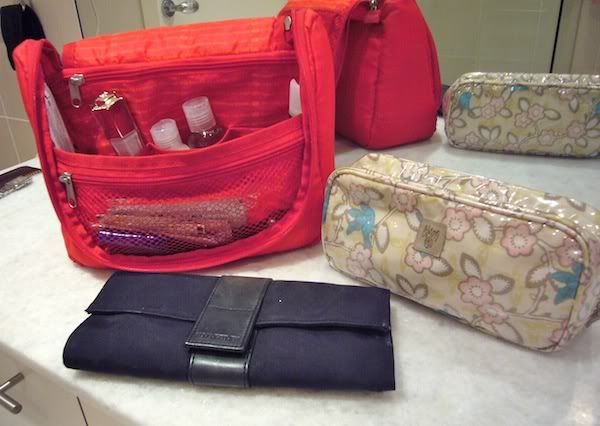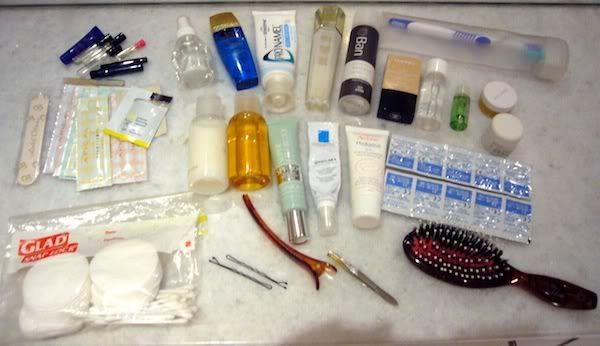 Pictured above is all the contents of the main bag:
Full-sized: Avene Hydrance Optimale Riche, La Roche Posay Effaclar K, Guerlain Abeille Royale Youth Serum, Clinique City Block, Chanel Vitalumiere Aqua, Pronamel (toothpaste) and toothbrush


Sample/travel sized: NARS Potent EFA Cream, Shu Uemura Cleansing Oil, Bioderma Sensibio H2O, deodorant, Hada Labo Super Hyaluronic Acid Moisturizing Lotion (in Guerlain lotion bottle), shampoo and conditioner, DAX Indian Hemp (in travel tub), rubbing alcohol for cleaning brushes (in refillable spray bottle), and various perfumes


Mason Pearson travel brush, tweezers, emery board, hair clip and pins


Zip-lock bag w/ cotton pads and cotton buds


Contact lenses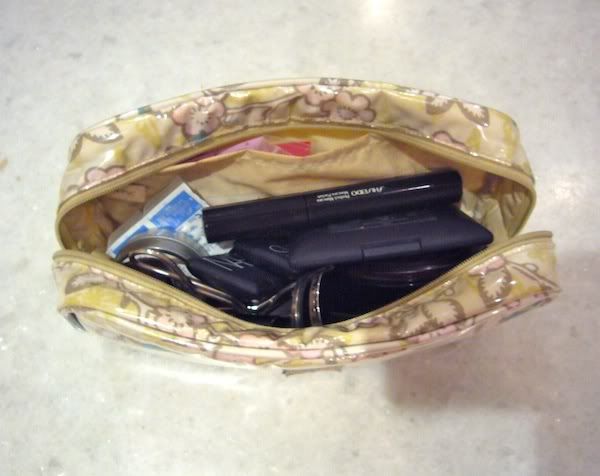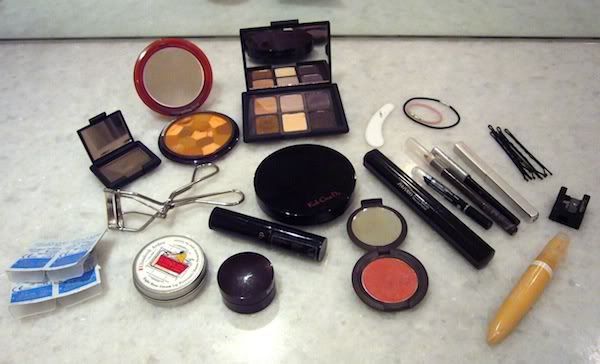 And that's not including everything in the smaller makeup bag:

Eyeshadow, bronzer, pressed powder, cream blush, concealer, under-eye concealer, lip balm


Mascara, eyeliner pencils, brow pencil, eyelash curler


Sharpener, hair elastics, spatula, lip brush, hairpins


Spare contact lenses
If you have noticed that something extremely vital is missing - do not fear! I keep lipsticks as the last, finishing step of my toilette, in a leather case that holds not one, but three tubes, and that fits in my handbag. I find that three (a natural/MLBB, a photo-friendly berry/clove, and a dramatic red) is usually enough to cover all events and situations on a single trip.
Labels: beauty notes, lapoché
1/18/2012 [10]
Beauty Notes: ADDICTION by Ayako Eyeshadows in Shangri-La, Arabian Ruby, Keshi, and Cigarette
by Li Wen
If the Christmas-New Year's period has found me somewhat quiet, blogging-wise, it's because I was travelling in Japan for nine days - visiting the Shiseido flagship store in The Ginza, feeding the sacred deer in Nara Park, walking around the Floating Garden Observatory in Osaka, and testing as many hard-to-find Japanese brands (ie. Suqqu, Hakuhodo, ADDICTION by Ayako, THREE Cosmetics, RMK, Elegance, and Paul & Joe) as I could get my hands on.
When it came to eyeshadows, the stand-out brand was ADDICTION. I am not a fan or a wearer of idealised East-Asian eye makeup: the combination of pale shimmer and barely-there colour with a very strongly defined lash line and extremely thick (often false) eyelashes. The ADDICTION eyeshadow range includes almost 60 colours, covering your basic neutrals but also many strong, fashion-forward colours, atypical of a Japanese brand. Most have pearl or metallic finishes, and the pigmentation and texture of these eyeshadows could give Shu Uemura (back when it was at its best) a run for its money. They are buttery-soft, and even when applied dry, have an intensity that appears almost wet.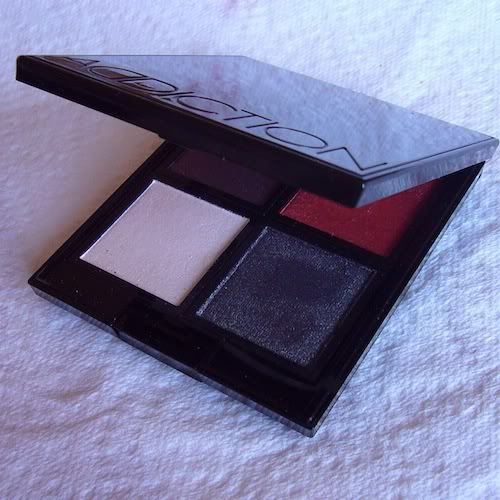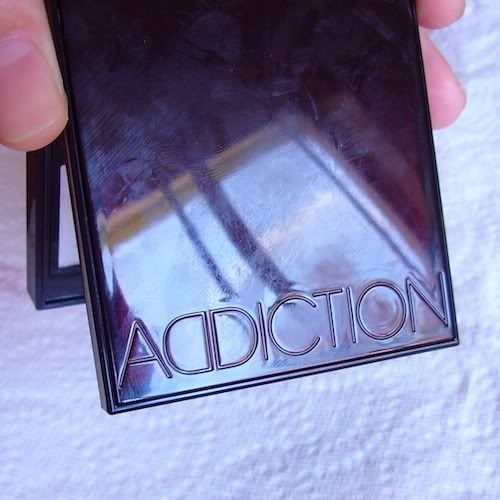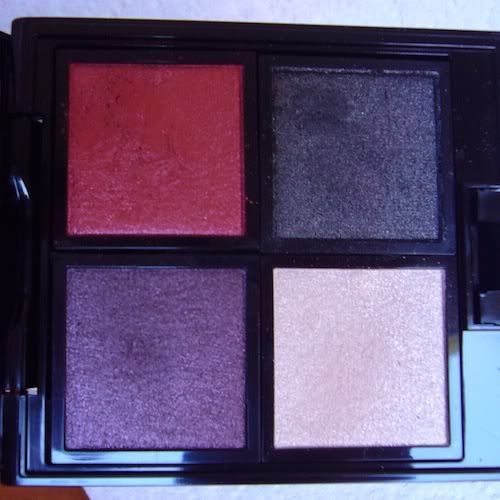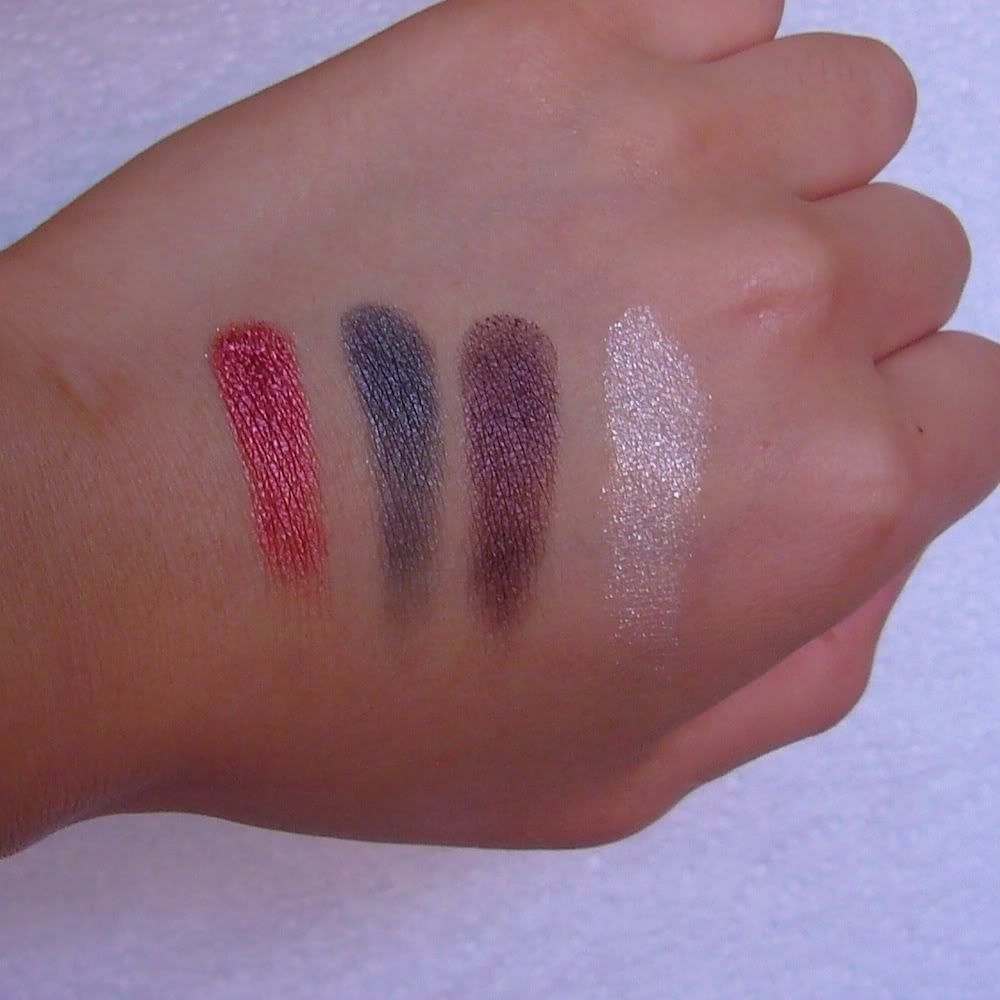 ADDICTION Eyeshadows in (L-R) Shangri-La, Keshi, Arabian Ruby, and Cigarette. All shadows have been swatched dry. Click to enlarge image.
ADDICTION pressed eyeshadows are available as singles (2000 Yen each) which you can fit into compact cases. There is also a wide range of designed eyeshadow quads (9000 Yen) and sextets (13500 Yen), not to mention eyeshadow/blush combinations. I already had my eye on some specific shades, and decided on buying an empty 4-pan compact case, which I then requested that the sales assistant fill with the eyeshadows in Shangri-La (metallic red), Keshi (pearly silver gunmetal), Arabian Ruby (metallic aubergine-brown), and Cigarette (frosty white glitter). There was also a matte pinky-red shade, Alice, that I nearly got instead of Shangri-La. In the end, however, the softness and richness of the metallic won me over.
Equally fascinated and terrified by pink/red eyeshadow, having bought and discarded NARS Carravaggio duo (Azaela pink and irridescent purple) in the past, I had been searching for a very deep, punchy red since November, when Lisa Eldridge posted her red eyeshadow look video. The trend was undeniable, and I was obstinate that there was a way I could make it work with my warm, yellowy-olive undertones.
My previous attempt to wear red on the eyes used a NARS brick-red cream blush, Constantinople, in lieu of an actual red eyeshadow - and it wasn't bad, as attempts go. The warm matte red is easier for me to wear, but did not have the sparkling alienness that I was going for. This time, I was able to build up the red to the point of creamy opaqueness with Shangri-La. The colour itself is slightly cool, but not to the extent of being unwearable on me, especially when applied heavily with a wet MAC 239 brush; on someone fair and cool-toned, Shangri-La would appear more pink than red. To give depth to the outer corner and the crease, I dipped the same MAC 239 in Arabian Ruby, removing most of the dark purple on the back of my hand, before blending it gently into the red. Finally, I used Cigarette to highlight the centre of the eye socket, and lined the upper lash line with a black pencil, and then Keshi (wet).
At the Thakoon F/W 2011 show, glowing red and orange eyeshadow was paired with desaturated lips. I preferred the opposite: a closely matched red or pinky shade on the lips, which was what Eldridge used in her video. For my version of the look, I layered a shockingly bright, jewel-toned fuchsia (Anna Sui V 360) under a pinky-rose with a more neutral base (Utowa Rose 55). Offset by pale cheeks untouched by blush, the result is weird and unapologetic, but oddly flattering.
Have you ever worn red eyeshadow in public? I noticed many older women in Japan wearing a very subtle hint of red around their eyes, and assumed it to be a vestige of traditional kabuki makeup. Certainly I hope this experiment of mine has convinced you that the NARS Hanamachi Eyeshadow Palette is not merely a collector's item to be admired and not used. You might be surprised - as I was - how wearable red eyeshadow can be.
Labels: addiction, anna sui, beauty notes, lisa eldridge, nars, utowa
1/07/2012 [18]
Subscribe to
Posts [Atom]. Or
follow on bloglovin'. If
you'd like to contact Dain,
feel free to email me.
I'm also on Pinterest.
Features

The Mnemonic Sense
Most Wanted
The Beauty Primer
Lookbook
Bestsellers
Consumer Diaries
Closet Confidential
On The Label
Beauty Notebook
The Hit List
Color Me In
The Makeup Artist
Wedding Bells
Globe Trotter
Desert Island
perfume notes
beauty notes
fashion notes
culture notes
minimalism
chypre arc
floral arc
fresh arc
masculines arc
gourmands
& orientals arc
Archives

August 2008
September 2008
October 2008
November 2008
December 2008
January 2009
February 2009
March 2009
April 2009
May 2009
June 2009
July 2009
August 2009
September 2009
October 2009
November 2009
December 2009
January 2010
February 2010
March 2010
April 2010
May 2010
August 2010
November 2010
December 2010
January 2011
March 2011
August 2011
September 2011
October 2011
November 2011
December 2011
January 2012
February 2012
June 2012
July 2012
August 2012
September 2012
October 2012
December 2012
January 2013
February 2013
March 2013
June 2013
July 2013
Images

Photobucket