Announcements
If you're new to this blog, then read our guides to the basics: Skin (Part I), Skin (Part II), The Supernatural, Color Theory I, Color Theory II, Eyes, and Brushes.

Also, check out the blogsale.
Contents
· Fashion Notes: Frost Warning

· Perfume Notes: Yves Rocher

· Fashion Notes: Ferragamo Vara Pumps

· Perfume Notes: Creation of a Fan

· Just Notes: The Last Days of Summer

Favored

Art Tattler
the glamourai
The Non-Blonde
Perfume Shrine
Lisa Eldridge
Garance Doré
Smitten Kitchen
Into The Gloss
Grain de Musc
Lacquerized
Res Pulchrae
Drivel About Frivol
The Selfish Seamstress
Killer Colours
Bois de Jasmin
Glossed In Translation
Jak and Jil
Toto Kaelo
Worship at the House of Blues
I Smell Therefore I Am
Food Wishes
The Natural Haven
Messy Wands
1000 Fragrances
Moving Image Source
Wondegondigo
The Emperor's Old Clothes
M. Guerlain
Colin's Beauty Pages
Barney's jewelry department
Parfümrien
loodie loodie loodie
The Straight Dope
Sea of Shoes
London Makeup Girl
Sakecat's Scent Project
Asian Models
Ratzilla Cosme
Smart Skincare
Illustrated Obscurity
A.V. Club
Tom & Lorenzo: Mad Style
Eiderdown Press
Beauty and the Bullshit
La Garçonne
Flame Warriors
Everyday Beauty
Fashion Gone Rogue
Now Smell This
Dempeaux
Fashionista
The Cut
A Fevered Dictation
Nathan Branch
101 Cookbooks
Fashion Notes: Frost Warning
by Dorothy
I come from Toronto, a part of the country that other Canadians sneer at for numerous reasons, not least of which that it's not all that cold. Being used to the mild temperatures below the 49th parallel, I have trouble adjusting when I return to the Maritime city where I attend school. Alas, not being on the ocean, this place has a fairly miserable climate: hot, humid summers, bitter winters, and every September, a frustrating season when the temperature fluctuates from about 30°F in the early morning to about 70°F in mid-afternoon. I always forget how cold it is here when I'm at home, and ask myself why I own so many sweaters.

J. Crew's clothes generally don't fit me, but I do like their knits. This is my latest acquisition, a lightweight wool-blend crewneck in a beautifully dark navy
($69.50)
. I layer it over white button-down shirts and dark jeans, and it is warm, neat and terribly preppy in an old-fashioned way, which I find I'm into these days. (Nouveau preppy, alas, is a loathsome style, all about wearing rugby shirts or hoodies with the correct aspirational logo blazoned across the chest; when I was in high school it was Tommy Hilfiger, these days it seems to be Hollister.)
Did I mention it's really cold in the mornings? I have a new pair of moccasins (actually they're like
these
, navy with grey fur); I feel a little guilt over the fur trim, but nothing else is as warm, as soft, as thoroughly comforting to wear while I guzzle coffee and ask myself why I thought it was a good idea to register for early morning classes. Also, my last pair lasted me twelve years.
It was my birthday yesterday, and I have a couple of indulgences: a light-as-air sleeveless silk blouse in a deep teal, from
Véronique Miljkovitch
(not pictured on her website, oddly enough), and these 1920s-inspired Savoy pumps from
Remix Vintage
. I love the low fluted heel, the wide strap, the lovely buttoned-up primness of them (although the era's a bit off, I think of Ginger Rogers in
The Gay Divorcée
, girlish and aloof, trying to maintain her composure with her dress caught in a trunk, or gleefully racing her Duesenberg through a park). One can just picture them with the wispy, flowing frocks of the era, although I will probably wear them with wide trousers or knee-length skirts; as much as I love the retro look, it can be overdone.
Labels: fashion notes, j crew
9/24/2008 [3]
Perfume Notes: Yves Rocher
by Dorothy
I've often walked by Yves Rocher in the mall (there are actual stores in Canada; I gather this is not the case in the States), but never had any interest in going in; I'm not sure why. I think I figured it for some kind of vaguely snooty spa right up until the day I started figuring it for a French Fruits & Passion. In fact it's rather like a French cross between The Body Shop, Avon, and Bonne Bell, with constant sales and a moderately priced salon in the back.


This amuses me: was there ever a makeup item more clearly intended for twelve-year-olds? LipSmackers, I suppose. This confirms for me that the innate good taste of the French is a half-truth. French good taste is fantastic, French bad taste is just...bad. (Nobody who has walked past the Moulin Rouge can be surprised by this. Yikes.)

Anyway, despite what Luca Turin calls its "resolutely downmarket" image, Yves Rocher actually has a decent reputation in fine fragrance; they often use famous noses (Annick Ménardo, Sofia Grojsman), and they're said to use better ingredients than you might expect from a cheap line. I tried a few of their offerings the other week, before I ran out of arm space; I have samples of a few more, although not much to say about all of them.



I'm not sure why I don't like patchouli; I should like the rich, spicy, vaguely dirty quality of it, but to me it has too many hippie associations, and my skin tends to amplify it unpleasantly. Cocoon has a patchouli drydown for patchouli-haters, very comforting and soft. Unfortunately, before I got to the drydown, I had to smell like a stale Dairy Milk bar for a couple of hours. Perhaps this is just me. A mini of this stuff sells for $4 CAD ($3 USD), and there are frequent sales, so trying it might be worthwhile if you like patchouli or gourmands.





Rose Absolue (Rose Absolute over here) was composed by Christine Nagel, who also composed Lancôme's lovely but stupidly overpriced Mille et Une Roses. Rose Absolue is not quite as soft as Mille et Une Roses; it's fruity, as most rose soliflores are, and the fruitiness of the rose is amplified by an apple note that I rather like. Smelling this on my skin, I was overcome by a wave of nostalgia; the first perfume I ever owned was The Body Shop's Tea Rose, and this put me in mind of that, but also of the rose garden my father doted on when I was a child. In October, around the time the Ontario apple harvest started to come in, the last flowers would be blooming, and he would pile straw around the rosebushes to protect them from the frost. I suppose for me this is an autumn fragrance.



Un Jour Se Lève (sold in North America as "A New Day Dawns" -- is the French name also a cliché?) is the EDT version of YR's Comme Une Evidence. I read on The Scented Salamander that this is one of the best-selling fragrances in France, up there with Chanel No. 5 and Angel, so I ordered some when it went on sale. It's billed as a chypre, but it doesn't smell like a chypre to me (at least not the chypres I know); it smells to me like a contemporary fresh/fruity floral, dominated by lily of the valley and an interesting rhubarb note. (If my nose is failing me and this really is a chypre, it is the chypre equivalent of a Marlborough Sauvignon Blanc: smoother, sweeter, less weird.) It's incredibly

nice

, though, neither cloying nor screechy, very long-lasting for an EDT, and pretty great for the price. It makes me think of a group of young mothers I saw in Paris, pushing tastefully sized strollers, dressed simply in well-fitted sweaters and neutral slacks, hair tidily pulled back: wholesomeness well done.

Labels: perfume notes, yves rocher
9/19/2008 [3]
Fashion Notes: Ferragamo Vara Pumps
by Dorothy
I still do not have Internet access in my apartment -- this being a student town in September, everyone is setting up services at the same time, and there are huge lineups. At present, I am taking advantage of the free wireless in a chain coffee shop and contemplating my Ferragamos.

I bought mine in a vintage store for $45; they don't look quite like these, being patent leather, but close enough. I hesitated to buy them, thinking I wouldn't ever wear something so sensible, so very seventies dress-for-success (the Vara pump first came out in 1978) and borderline dowdy. It turns out I wear them all the time. They make me feel like a WASP matriarch (more specifically, they make me feel like my grandmother), but I find I don't mind. They are very comfortable for what they are, and although I do think they'd look a bit dowdy with skirts, they go with almost any pair of trousers (and I wear trousers most of the time). I frequently wear them with my less ratty pairs of jeans because the contrast amuses me.

Salvatore Ferragamo produces shoes in a huge number of widths; if you have narrow feet (size A or narrower) and don't object to buying shoes without trying them on first, you can get them for a song on eBay.

Labels: fashion notes, salvatore ferragamo
9/14/2008 [2]
Perfume Notes: Creation of a Fan
by Dorothy
When I was in junior high, I rode a crowded, overheated city bus to school every morning. I was barely five feet tall, and being crammed into a series of business people's armpits at the beginning of every day gave me a lingering hatred for two things: solid deodorant and complex perfumes.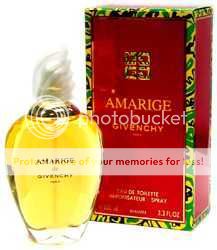 More specifically, it made me hate Amarige. This was 1993, and Amarige was near the height of its popularity, so some of the women on the bus were probably wearing it, but to me it became a catch-all designation for department-store perfumes, the kind with multiple "notes". I would say that no matter what the notes were supposed to be, they all just smelled "like perfume" to me: a stinging blast of alcohol followed by an obnoxious spicy sweetness that resembled nothing found in nature, and nothing you would

want

to find in nature.


I've never been an actual perfume-hater; I wore The Body Shop's Vanilla in high school (wow, that stuff was sweet) and Demeter colognes in undergrad, but I had no interest in anything but single-note and/or soapy fragrances until I started reading The Lipstick Page. I love reading about fashion history; the idea of smelling the fragrances women wore eighty or a hundred years ago was incredibly appealing. I ordered a couple of decants from The Perfumed Court: Worth's Dans La Nuit, which I liked wearing, and Guerlain's Après L'Ondée, which I did not. (I can appreciate it in the vial, and I believe it's beautiful on other women, but on me it smells of urinal cake.) Then, knowing that Dain loves Mitsouko, and Luca Turin had described it as "infinitely chic", I bought another tiny decant of the EDP, expecting to encounter another historical curiosity, or something a bit harsh and forbidding. Instead, I fell in love with it. (How boring, yet inevitable -- another Mitsouko lover!) It's been compared to a Tiffany lamp, and that's what it feels like: warm, glowing, multi-coloured, floral, fruity, spicy, but somehow more than the sum of its parts. It is amazing. It does something on me that makes me like it better -- it makes me think of that directive about pearls, to wear them frequently because they shine more brilliantly after exposure to skin oils.

I have turned into one of those people I used to roll my eyes at, people who will describe perfumes in terms of colour, emotions, references to music. (I was half inclined to mock this post until I realized my immediate reaction to it had been not "what a silly idea" but "what? Elizabeth Bennet would

not

wear Après L'Ondée!" Got me.) I fear I am on my way to perfumista status, which is ridiculous, as almost nobody around me wears or likes perfume and I spend a lot of time in buildings where it is actually forbidden (and having seen a classmate having an actual perfume-triggered asthma attack, I am not inclined to question this). Ah well. It wouldn't be the first time I've been ridiculous.

It's a weird pastime, trying to educate yourself about perfumes; you spend a lot of time skulking in department stores, spraying yourself with this and that, and then taking transit home in a cloud of scent that you rather hope no one else can smell. If your nose isn't well trained, as mine isn't, you may not be able to pick out more than a couple of notes. It's the emotional reactions I look for. I may not be able to explain exactly what Mitsouko smells like (or vintage Bandit, another scent I've fallen hard for), but I can describe the feelings it evokes, and send other people into fits of eye-rolling.

This is the context for anything I write about perfume on this blog. I don't have expertise, just personal experience, preferences and enthusiasms. But I suppose that's what a lot of bloggers would say about ourselves, isn't it.

Labels: givenchy, guerlain, perfume notes
9/07/2008 [0]
Just Notes: The Last Days of Summer
by Dorothy
I've not been blogging lately because I've been moving into my new apartment, which still does not have an Internet connection (sigh). Most of my plans in that regard are working out, although I am still trying to figure out how to slipcover the ugly furniture without access to a sewing machine.
We're having a last few warm days before the fall really sets in, so in honour of that, a few last summer things:
A little over a year ago, I spent *mumble* euros at one of the Les Néréides boutiques in Paris. Representational jewellery can come off kind of cutesy, especially if you overdo it and especially as you get older, and some of the stuff they sell is inadvisable for anyone old enough to vote, but I love their Les Violettes collection, all deep dusky blue and gold. (Image taken from Regencies, one of the rare businesses that ship Les Néréides within North America.)

Apparently I am on a deep blue kick. I covet this Véronique Miljkovitch dress; so very summery, with the filmy, wispy fabric and the draping, but the colour keeps it fairly grown-up.





I am new to perfume and my nose is not well developed, but I could swear my mother wore YSL Y when I was a small child, or something very like it. Anyway, I'm really loving it lately; it's green and a little chilly, a real white-blouse-and-pearls kind of fragrance, but it doesn't have the smooth, cold perfection of Chanel No. 19; there's a hint of honeysuckle that sweetens it, and something a little spiky and off in the composition (maybe a note of cumin?) that warms it up. I keep thinking of sunlight filtered through green leaves.

Labels: les néréides, notes, véronique miljkovitch, ysl
9/05/2008 [1]
Subscribe to
Posts [Atom]. Or
follow on bloglovin'. If
you'd like to contact Dain,
feel free to email me.
I'm also on Pinterest.
Features

The Mnemonic Sense
Most Wanted
The Beauty Primer
Lookbook
Bestsellers
Consumer Diaries
Closet Confidential
On The Label
Beauty Notebook
The Hit List
Color Me In
The Makeup Artist
Wedding Bells
Globe Trotter
Desert Island
perfume notes
beauty notes
fashion notes
culture notes
minimalism
chypre arc
floral arc
fresh arc
masculines arc
gourmands
& orientals arc
Archives

August 2008
September 2008
October 2008
November 2008
December 2008
January 2009
February 2009
March 2009
April 2009
May 2009
June 2009
July 2009
August 2009
September 2009
October 2009
November 2009
December 2009
January 2010
February 2010
March 2010
April 2010
May 2010
August 2010
November 2010
December 2010
January 2011
March 2011
August 2011
September 2011
October 2011
November 2011
December 2011
January 2012
February 2012
June 2012
July 2012
August 2012
September 2012
October 2012
December 2012
January 2013
February 2013
March 2013
June 2013
July 2013
Images

Photobucket