Announcements
If you're new to this blog, then read our guides to the basics: Skin (Part I), Skin (Part II), The Supernatural, Color Theory I, Color Theory II, Eyes, and Brushes.

Also, check out the blogsale.
Contents
· Perfume Notes: Lys Mediterranee

· Fashion Notes: Melissa Shoes

Favored

Art Tattler
the glamourai
The Non-Blonde
Perfume Shrine
Lisa Eldridge
Garance Doré
Smitten Kitchen
Into The Gloss
Grain de Musc
Lacquerized
Res Pulchrae
Drivel About Frivol
The Selfish Seamstress
Killer Colours
Bois de Jasmin
Glossed In Translation
Jak and Jil
Toto Kaelo
Worship at the House of Blues
I Smell Therefore I Am
Food Wishes
The Natural Haven
Messy Wands
1000 Fragrances
Moving Image Source
Wondegondigo
The Emperor's Old Clothes
M. Guerlain
Colin's Beauty Pages
Barney's jewelry department
Parfümrien
loodie loodie loodie
The Straight Dope
Sea of Shoes
London Makeup Girl
Sakecat's Scent Project
Asian Models
Ratzilla Cosme
Smart Skincare
Illustrated Obscurity
A.V. Club
Tom & Lorenzo: Mad Style
Eiderdown Press
Beauty and the Bullshit
La Garçonne
Flame Warriors
Everyday Beauty
Fashion Gone Rogue
Now Smell This
Dempeaux
Fashionista
The Cut
A Fevered Dictation
Nathan Branch
101 Cookbooks
Perfume Notes: Lys Mediterranee
by Anne


Had I been presented with the brief for Fr&eacuted&eacuteric Malle Lys M&eacutediterran&eacutee—a summery vision of lilies by the sea—the first thing coming to my mind would have been idyllic visions of semi-tropical locales in full bloom, and indeed, no perfume calls summer to mind like Lys M&eacutediterran&eacutee. Only, this "Mediterranean lily" is not true to its name at all, for the lily is, though powerful, a fleeting presence before the onslaught of seawater, the impression of nothing but water, taken out of its element (hah!) by mere decorative hints of the aforesaid flowers.

A familiar description, this is, and you'd be forgiven for immediately expecting yet another aquatic floral like the ones you can buy anywhere these days—including the drugstore. It was a smell that had never existed before, but were actually a mere riff on Coco Chanel's infamous sound-byte, a put-down of perfumes that smelled like something familiar (notwithstanding the complexity of many everyday "single-note" smells). Rather than the mineral aldehydes that dominated the 30's, however, the smell of the 90's was the cool and gentle pressure that is the sense of water flowing on the skin, only made cerebral rather than tactile, chemically realized. Enormously popular once—and still holding strong in the realm of masculines—ubiquity has now stripped this genre of all such evocative power, the web of associations that make up the very soul of a perfume.

So water in perfumery died before it ever really began, mainly done in by its very own abstractness—novel but infinitely replicable. Lys M&eacutediterran&eacutee may owe some of its heritage to its 90's predecessors, but sidesteps the same sad fate by being much, much more literal. Simply put, Lys M&eacutediterran&eacutee is seawater. Not bottled Evian, but bilgewater. This water you would not want to drink, for it is not entirely clear and so salty that it leaves a gamy, bitter taste in the mouth, the taste you feel when a wave knocks you over and you get a big mouthful and noseful of brine, with traces of scraps of seaweed sticking to hair and skin.

A seaside holiday in a bottle, if there ever was one, but if most tropical fragrances and white flower scents are pristine adverts in glossy travel agency leaflets—designed to stir the thirst for fantastic and exotic escapes— Lys M&eacutediterran&eacutee is a sensory panorama of an actual day at the beach, including unglamorous details like sunburn and sand in certain sensitive places: because even during summer, when the sun shines, flowers are in bloom, and the water beckons, no one ever fully manages to get away from the business of dealing with their lives and the attendant annoyances.




And yet, aren't your private memories—not the carefully edited photo albums you later share with your friends—all the more precious for those "imperfections"?

Lys M&eacutediterran&eacutee is unquestionably a masterpiece, and yet I sometimes feel that aquatic undertone, as textured as it is, is too unsettling for quotidian wear. Luckily, there is an alternative in Herm&egraves Vanille Galante—a sister if not a twin to Lys M&eacutediterran&eacutee where the soapy lily, dandelion-puff vanilla, and the aqueous contribution of melon come together in much the same patterns, only Vanille Galante feels domestic: the Totoro to Lys M&eacutediterran&eacutee's Mononoke Hime.

Labels: frederic malle, hermes
11/25/2011 [0]
Fashion Notes: Melissa Shoes
by Li Wen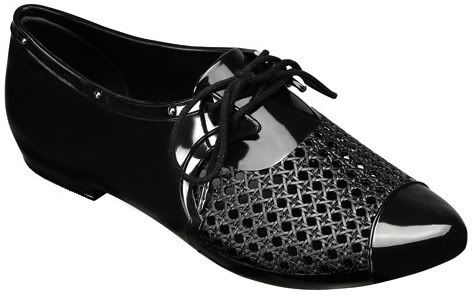 Enjoying, PVC lace-up with mesh and stud detail ($85 AUD)
I saw these smart-looking black brogues on a makeup artist at Mecca Cosmetic (Myer Sydney) yesterday. She had just finished doing my makeup (I was trying out the news NARS duo, Mandchourie, which has just hit the displays but which unfortunately is still not in stock) when I complimented her on her shoes and asked where she had gotten them.

To my surprise, she told me that they were from a company called Melissa Shoes which specialises in making eco-friendly, cruelty-free plastic footwear. A far cry from your ugly Crocs, their range includes thongs (that's flip-flops to your non-Aussies), heels, ballet flats, wedges, boots, and kids' shoes. Having been in business for over 30 years, Melissa Shoes has collaborated on capsule collections with designers like Vivienne Westwood and Jean Paul Gaultier. Two styles from a collaboration between Melissa and Jason Wu, including these adorable slingbacks, are scheduled to be released soon.
Would I buy these shoes myself over a pair of genuine leather equivalents? I don't think that I would. However, these are the first synthetic shoes I have seen that seem to make that compromise between ethics and fashion a little less painful.
While I cannot personally attest to their comfort, Melissa shoes are supposed to be both comfortable and breathable to wear. The plastic has been infused with a sweet bubblegum smell, which lasts for several months in a new pair.
Enjoying is $85 AUD from the Melissa Australia site, which will ship orders domestically as well as overseas. You can also find Melissa Shoes on various other online retailers.
Labels: ethical consumerism, jason wu, jean paul gaultier, melissa shoes, vivienne westwood
11/08/2011 [5]
Subscribe to
Posts [Atom]. Or
follow on bloglovin'. If
you'd like to contact Dain,
feel free to email me.
I'm also on Pinterest.
Features

The Mnemonic Sense
Most Wanted
The Beauty Primer
Lookbook
Bestsellers
Consumer Diaries
Closet Confidential
On The Label
Beauty Notebook
The Hit List
Color Me In
The Makeup Artist
Wedding Bells
Globe Trotter
Desert Island
perfume notes
beauty notes
fashion notes
culture notes
minimalism
chypre arc
floral arc
fresh arc
masculines arc
gourmands
& orientals arc
Archives

August 2008
September 2008
October 2008
November 2008
December 2008
January 2009
February 2009
March 2009
April 2009
May 2009
June 2009
July 2009
August 2009
September 2009
October 2009
November 2009
December 2009
January 2010
February 2010
March 2010
April 2010
May 2010
August 2010
November 2010
December 2010
January 2011
March 2011
August 2011
September 2011
October 2011
November 2011
December 2011
January 2012
February 2012
June 2012
July 2012
August 2012
September 2012
October 2012
December 2012
January 2013
February 2013
March 2013
June 2013
July 2013
Images

Photobucket