Announcements
If you're new to this blog, then read our guides to the basics: Skin (Part I), Skin (Part II), The Supernatural, Color Theory I, Color Theory II, Eyes, and Brushes.

Also, check out the blogsale.
Contents
· Culture Notes: Mirror Stage

· Beauty Notes: René Furterer Complexe 5 Regenerating Plant Extract

· Culture Notes: The Door is Open

Favored

Art Tattler
the glamourai
The Non-Blonde
Perfume Shrine
Lisa Eldridge
Garance Doré
Smitten Kitchen
Into The Gloss
Grain de Musc
Lacquerized
Res Pulchrae
Drivel About Frivol
The Selfish Seamstress
Killer Colours
Bois de Jasmin
Glossed In Translation
Jak and Jil
Toto Kaelo
Worship at the House of Blues
I Smell Therefore I Am
Food Wishes
The Natural Haven
Messy Wands
1000 Fragrances
Moving Image Source
Wondegondigo
The Emperor's Old Clothes
M. Guerlain
Colin's Beauty Pages
Barney's jewelry department
Parfümrien
loodie loodie loodie
The Straight Dope
Sea of Shoes
London Makeup Girl
Sakecat's Scent Project
Asian Models
Ratzilla Cosme
Smart Skincare
Illustrated Obscurity
A.V. Club
Tom & Lorenzo: Mad Style
Eiderdown Press
Beauty and the Bullshit
La Garçonne
Flame Warriors
Everyday Beauty
Fashion Gone Rogue
Now Smell This
Dempeaux
Fashionista
The Cut
A Fevered Dictation
Nathan Branch
101 Cookbooks
Culture Notes: Mirror Stage
by Li Wen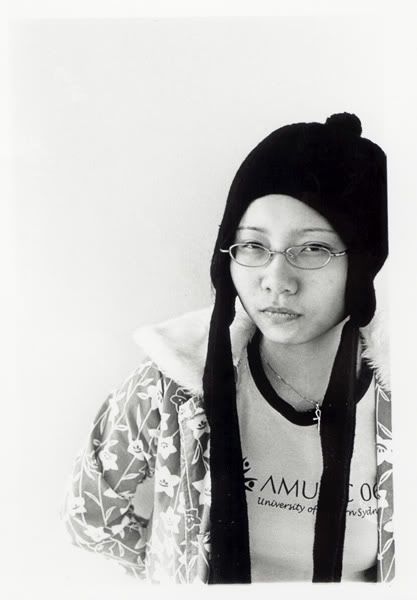 Sydney, August 2006
From one of my very first sessions with Melissa, shot on film and hand-developed. Mid-morning, sleep-deprived, I was wearing typical weekend gear: soft jeans, a t-shirt from AMUNC 2006, a light jacket to ward off the outdoor winter chill. Melissa's assignment from her teachers called for honesty, a set of portraits that could reveal the character of the subject, and so I presented my barest, truest and most curmudgeonly face to the world.
Between shots, I was sipping my first coffee of the day from a steaming Deadwood crew mug that I'd won off an internet competition, and I imagined myself trading insults with Charlie Utter, sharing tots of whiskey with Calamity Jane, before we all rode off on new (and smelly) adventures in the Black Hills. Yet even that is partly play-acting; the black scarf-beanie, which seems to suck in all the light from the picture, was not merely covering my unwashed and messy hair, but seemed to hint at a shyness, a willingness to disappear that cut against my direct gaze and tough-gal exterior.

* * *
Sydney, August 2009
The year before Wolf, my family's German Shepherd, passed away, he was going deaf, half-blind, and contending daily with pain in his hips, yet still the sweetest and most intelligent of creatures. There are few human beings toward whom I hold the depth of unreserved affection that I give my dogs, and fewer still that I am comfortable with demonstrating that affection with. The love of dogs is uncomplicated, undemanding, incapable of dishonesty; the love of adults anything but.

* * *
Hunter Valley, December 2010
Right after Christmas, six months after I had finished my MPolEc and started working full-time, Melissa, a friend visiting from Germany, and I went on a day-trip to the local wine region, about 2.5 hours drive away from Sydney. We lunched outdoors, sitting on benches and lying on giant beanbags strewn across the lawn. The aggressive asexuality of my early twenties had mellowed somewhat. I was relaxed, slightly buzzed from wine tastings, enjoying my first real holiday in over a year.

I wore a minimalist echo of the outfit from 2006: black skinny jeans (UNIQLO), a grey linen t-shirt with a slouchy fit (Country Road), black Converse, and sunglasses (Jac + Jack). The difference now being that I was wearing the clothes, the clothes weren't wearing me.

All photographs were taken by Melissa Graf.

Labels: culture notes
12/11/2011 [6]
Beauty Notes: René Furterer Complexe 5 Regenerating Plant Extract
by Li Wen
One of the foundational tenets of beauty and makeup: Just because you're born a certain way, it doesn't mean that you have to put up with it.
Have thick, slippery hair that doesn't stay put? Getting it cropped to your chin, I discovered when I was seventeen, simplifies things enormously. I barely need to run fingers, much less a brush, through my hair in the morning before stepping out the door.
And after years of telling myself that there was nothing to be done about my naturally oily hair and scalp, I recently had a mental turn-around. Constant travel and a hectic schedule was making it difficult for me to wash my hair with the frequency and regularity it needed if itching and build-up were not to set in - which was to say every other day. Skip a wash, and on the third day I would be a fidgeting ball of acutest misery; my hair lank and flat, too greasy to hold any volume. At about the same time, my skin had begun to clear up after months of hormonal breakouts, and I was conscious of the fact that transfer of dirt and oil from my hair to my face - via hands, fringes, and pillows - could very well reverse this improvement.
I decided to try an oil treatment - reasoning that, just as a rejuvenating face oil helped to get my excess sebum-producing combination skin under control, the same might hold true for my scalp. René Furterer Complexe 5 (400 RMB) was the only product that seemed to fit the bill in Sephora (Shanghai). A concentrated toning and deep-cleansing treatment containing 53% pure essential oils of orange and lavender, it stimulates microcirculation in the scalp to enhance growth and regeneration, and increases the effectiveness of other treatment products you use after it. You can literally feel it working, as your scalp starts to experience a warm and tingling sensation seconds after applying.

Step 1: Use the narrow nozzle to direct Complexe 5 to the roots of dry, unwashed hair, applying it to the scalp in sections and massaging it in as you go. I usually start from the right side of my head, drawing lines from front to back until I reach my other ear. You don't need much - a 50mL bottle will last me about 8-10 months.


Step 2: Continue massaging gently for a minute or so, and then leave for 5-10 minutes. Usually, I put on a face mask at the same and then leave both on for longer than the prescribed 10 minutes as I wander around preparing vegetables for dinner, hanging up laundry, washing my makeup brushes, etc.

Step 3: Shampoo and condition as normal, or follow with another treatment if desired. Complexe 5 does not feel thick or sticky, and should be easy to wash out without residue; the limonene presumably makes this possible, acting as a solvent for the essential oils.
I have been using Complexe 5 once or twice a week, for two months now, in concert with Kérastase Bain Chroma Riche and a sulfate-free conditioner. After the first fortnight, my hair had already passed the 4 days test: a hitherto unheard of 96 hours between washes before the itching started to drive me insane.

Two weeks ago, when I had my hair and scalp under a 300x microscopic camera at the Kérastase Institute in Sydney, Revo Hair Atelier - something I would have had neither the confidence nor the desire to do before I started using Complexe 5* - the professional diagnosis confirmed what I already knew: that my hair was very healthy, and that my scalp, though still a tiny bit oily, by no means constituted a problem. Instead of setting me on the regime for oily hair, the technicians at Revo washed, treated and conditioned my hair with products designed for the maintenance of colour-treated hair. If that's not evidence of effectiveness, I don't know what is.
INGREDIENTS: Limonene, Citrus Aurantium Dulcis Oil (Orange/Citrus Dulcis), Fragrance (Parfum), Ricinus Communis Seed Oil (Castor/Ricinus Communis), Hexylene Glycol, Glyceryl Linoleate, Lavandula Hybrida Oil (Lavandula Hybrida), Citral, Origanum Majorana Leef Oil (Origanum Majorana ). Thymus Vulgaris Oil (Thyme, Thymus Vulgaris), Linalool, PEG-40 Hydrogenated Castor Oil, Geraniol, Glyceryl Linolenate, Origanum Vulgare Leaf Extract (Origanum Vulgare).



* Going to a luxe salon or spa is a bit like having a cleaning lady come to your house. You put in extra work so as not to be seen as an embarrassing mess when you/they appear.
Labels: beauty notes, kerastase, rene furterer
12/07/2011 [2]
Culture Notes: The Door is Open
by Li Wen
THE DOOR IS OPEN

No, I don't want to tame you,
you'd lose your animal charm.
Your wiliness and nervousness
excite me,
they belong to your exotic breed.

You can't escape me
because the door is always open.
You can't betray me
because I don't demand fidelity.

Give me your hand,
we'll dance
through the laughing darkness.
With sacred bells
on our arms and legs,
the movement of the dance
as supple as ancient Arabic writing,
our hair singing
like a Greek chorus.

Elemental bliss
organised into a mystery play.
Only just domesticated,
like you.


ANNA SWIR

Translated from the Polish by Grazyna Baran and Margaret Marshment
Labels: anna swir, culture notes
12/03/2011 [8]
Subscribe to
Posts [Atom]. Or
follow on bloglovin'. If
you'd like to contact Dain,
feel free to email me.
I'm also on Pinterest.
Features

The Mnemonic Sense
Most Wanted
The Beauty Primer
Lookbook
Bestsellers
Consumer Diaries
Closet Confidential
On The Label
Beauty Notebook
The Hit List
Color Me In
The Makeup Artist
Wedding Bells
Globe Trotter
Desert Island
perfume notes
beauty notes
fashion notes
culture notes
minimalism
chypre arc
floral arc
fresh arc
masculines arc
gourmands
& orientals arc
Archives

August 2008
September 2008
October 2008
November 2008
December 2008
January 2009
February 2009
March 2009
April 2009
May 2009
June 2009
July 2009
August 2009
September 2009
October 2009
November 2009
December 2009
January 2010
February 2010
March 2010
April 2010
May 2010
August 2010
November 2010
December 2010
January 2011
March 2011
August 2011
September 2011
October 2011
November 2011
December 2011
January 2012
February 2012
June 2012
July 2012
August 2012
September 2012
October 2012
December 2012
January 2013
February 2013
March 2013
June 2013
July 2013
Images

Photobucket