Announcements
If you're new to this blog, then read our guides to the basics: Skin (Part I), Skin (Part II), The Supernatural, Color Theory I, Color Theory II, Eyes, and Brushes.

Also, check out the blogsale.
Contents
· Culture Notes: The 90s Redux

· Fashion Notes: Fall 2009 Shopping List (Dorothy)

· Fashion Notes: Fall 2009 Shopping List (The Kindly One)

· Fashion Notes: Essentials

· Beauty Notes: Jojoba Oil

Favored

Art Tattler
the glamourai
The Non-Blonde
Perfume Shrine
Lisa Eldridge
Garance Doré
Smitten Kitchen
Into The Gloss
Grain de Musc
Lacquerized
Res Pulchrae
Drivel About Frivol
The Selfish Seamstress
Killer Colours
Bois de Jasmin
Glossed In Translation
Jak and Jil
Toto Kaelo
Worship at the House of Blues
I Smell Therefore I Am
Food Wishes
The Natural Haven
Messy Wands
1000 Fragrances
Moving Image Source
Wondegondigo
The Emperor's Old Clothes
M. Guerlain
Colin's Beauty Pages
Barney's jewelry department
Parfümrien
loodie loodie loodie
The Straight Dope
Sea of Shoes
London Makeup Girl
Sakecat's Scent Project
Asian Models
Ratzilla Cosme
Smart Skincare
Illustrated Obscurity
A.V. Club
Tom & Lorenzo: Mad Style
Eiderdown Press
Beauty and the Bullshit
La Garçonne
Flame Warriors
Everyday Beauty
Fashion Gone Rogue
Now Smell This
Dempeaux
Fashionista
The Cut
A Fevered Dictation
Nathan Branch
101 Cookbooks
Culture Notes: The 90s Redux
by The Kindly One
As a belated response to Dain's 90s playlist, I wanted to create my own playlist of songs I enjoyed from the decade. The 90s are the first decade I was old enough to fully appreciate and remember; as a result, I spent the majority of this decade thinking the 90s were the only right way to go. Well, this is true and it isn't. The 90s certainly brought about the cultural relevance of rap, the rise of Radiohead, and Nirvana Unplugged. They also brought about Haddaway, Aqua, and boy-pop. The music gods, sometimes so generous, they give until it hurts.

Below is a pretty accurate list of what we were all listening. It's mostly in chronological order, though there might be discrepancies, as I compiled it from memory. I also gave some thought to arranging like a CD, and hopefully it has the variations in mood that any good CD has. Enjoy.



Labels: culture notes, music
9/28/2009 [0]
Fashion Notes: Fall 2009 Shopping List (Dorothy)
by Dorothy
I don't feel a great urge to shop this fall. I've become a little more experimental with makeup, especially since I started blogging about it, but as far as clothing goes, I've settled into a groove. But I recently moved to a town with lots of little boutiques, many of which showcase Canadian designers, and I find that hard to resist.

Fashion right now is a bit of a mixed bag for me. Voluminous styles, chunky knits, and long tunics overwhelm my frame, and anything without a defined waist makes me look dumpy. I live in one of the student ghettos here in Halifax and have been picking up ideas from the East Asian students in my building, many of whom seem to have mastered the art of wearing slouchy clothes on a petite body. The secret seems to be wearing very fine, drapey fabrics, and making sure that everything fits in the shoulders.



I recently bought this high-waisted skirt from Allison Wonderland on sale; while it's technically a summer item (that fabric reminds me of seersucker), I expect to be able to wear it for the next couple of months. It's a good way for me to wear volume, since the waist is clearly defined. The pleats and pockets are beautifully placed, and the dark grey makes it suitable for fall.



Another end-of-summer sale item: Odd Molly's Love A Lot blouse in ivory: a swingy, hippie-ish shape that I normally would avoid, but in such a fine, soft fabric that it works, even under sweaters and jackets.



The cotton cardigans from Kersh look boring, but I love this modified V-neck: it flatters more than a standard crewneck without flashing a lot of skin, and the cut is fitted without being tight. They're about equivalent to Gap sweaters in quality and price, and they come in a huge variety of colours. I own three of them (albeit with full-length sleeves, not the 3/4 sleeves pictured here), in black, teal, and plum.


The problem with living in ballet flats is that it makes you incredibly lazy about shoes: anything more complicated than a slipper starts to feel like too big a hassle. Still, I shall need some not-too-casual flats to wear once it gets too cold for ballet flats, and I think I'll look for some oxfords. I love the perforations on this Stuart Weitzman pair, but Zappos seems to have sold them out. The search continues.




And now, a fantasy item: I love trench coats and I cannot find one that fits. They're usually too big and too stiff and balloon out over my hips, which looks stupid. This A.P.C. trench probably would not fit me (unless their 34 is particularly small, I suppose) and is way out of my price range anyway, but I love the colour, so much nicer on me than a standard khaki, and the subtle herringbone print.

Labels: allison wonderland, apc, fashion notes, kersh, odd molly, stuart weitzman
9/25/2009 [3]
Fashion Notes: Fall 2009 Shopping List (The Kindly One)
by The Kindly One
As with most things I do, I've taken the charge to compile a fall shopping list less literally and more conceptually. Rather than specific items I intend to buy, my list focuses on the overall idea of what I want to purchase. I can get bogged down quickly in trying to find the "perfect" item, whether it be in clothing, makeup, decorating, whatever. While it's nice to find clothing that fits and flatters, obsessing to the inth degree on fit, fabric, and whether the item looks just like Ashley Olsen's (and makes me look like Ashley Olsen) isn't healthy or necessary. Clothing either fits or it doesn't, and beyond that, the thing is to find those things that make you smile and feel more like yourself when you put them on. The following are a list of items that have always flattered and made me smile and that I hope to find again.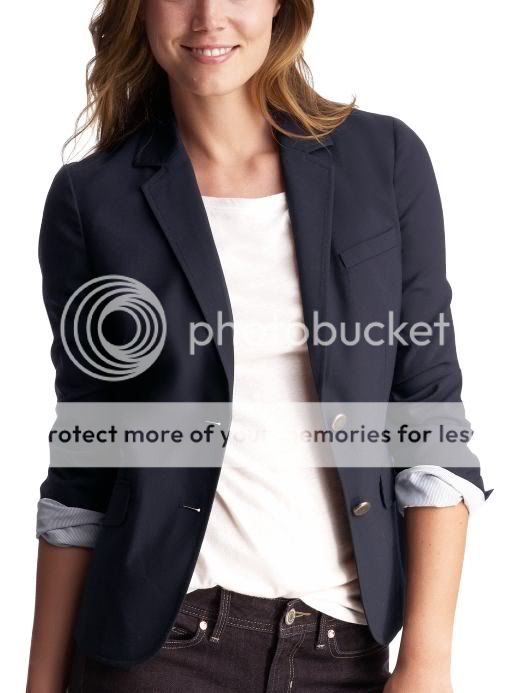 I tried this shrunked blazer on at the Gap and was amazed at how well it fit. Generally their clothes don't fit me - too baggy, too bulky, too much of an "American cut" (as if Americans have weird bulges and sags randomly popping out of their bodies). Regardless, this blazer avoids the typical Gap fit pitfalls. It's cut narrow to the torso, nicely giving my narrow shoulders definition without overemphasizing them (see: every Balmain collection). It falls square at my hip and looks good buttoned and unbuttoned, which I find remarkable rare in jackets of any kind. The catch? The Gap in my area didn't have my size, and I'm not too much of a blazer fan. So instead of reverting to my usual obsessing over trying to find another perfectly fitting blazer, I'm going to take this as inspiration: With a whole lot of effort, it is possible for me to find flattering jackets. I hope to carry this enthusiasm all the way into finding a jacket that fits and works for me.




I cannot be bothered to wear jewelry. I just don't like the weight of it, and I have so many skin sensitivities that it's easier to bypass wearing it in the hopes of staving off an allergic reaction. While I could try harder to work with jewelry, at some point you have to accept your limits. It just isn't a priority for me, no matter how dressed up I'm meant to be. However, I can always work a great scarf and often do, hence the inspiration taken from Ashley Olsen (back) in a scarf over her evening wear. It's easy enough to tell, even from this distance, that it's quite a posh scarf. As such, it works with her outfit, maintaining its general air of luxury and minimal elegance. It's now a fashion goal of mine to find an oversized, really nice scarf that can work on the level of evening wear. This excites me to a degree that could never possibly be matched by a fine jewelry purchase, plus this choice of accessory is far more "me" than jewelry.



I've been on the lookout for a great pair of knee-high boots for years. I'd like something a bit strappy like this. Essentially, when I find the right pair of boots, I'll know them when I see them. In addition to these, I'm pretty open to lace-up boots and very minimal pairs. Just no cowboy or motorcycle boots - the soles just kill me.



I'm also on the lookout for a very nice, nicely fitted "background" sweater, like the one Ashley Olsen wears here. Again, I'm open to a variety of options. Rather than finding a particular type of sweater, I'm more interested in finding a neutral sweater in a soft knit and texture (no ramies, no cable knits) that skims the torso, fits well, and serves as a nice, basic grounding piece for jackets and scarfs. It sounds simple. I am having a hell of a time acheiving this feat. There are masses of "basics with a twist" out there - sweaters with empire waists, puffed sleeves, strategic cutouts. However, try finding a simple, straight-down-the-line basic (even more difficult, one without animal fibers) and it's like looking into the abyss.



Here's how much I dislike wearing jewelry: should anyone ever propose to me, I don't want an engagement ring. Call me naive, but the engagement is enough, thanks. Jewelry would not help me to seal the deal.

The only jewelry I can stand to wear is a watch, without which I feel naked and lost. I've worn watches since I was six years old. I am used to having them to fiddle with and distract me. They are the only type of fine jewelry that excites me and catches my attention. My particular favorite is the Movado Museum style, black dial with gold detailing. This manages at once to be both a very posh looking watch and to blend into the background. It screams luxury, not bling. As such, it wouldn't be out of place with a laidback outfit or something a bit more posh, such as the elements laid out in the post. Worn oversized, I think it could even serve as a great offkey bracelet with evening wear, and unlike a diamond choker, chandelier earrings, or a cuff bracelets, I'd actually wear it. While I can't say I need a watch - I have two as it is - one this nice would allow me to incorporate jewelry to the limit of my interests and keep evening/party outfits from looking quite so bare.*

*Of course, these reasons are just conceits. I really just want a nice watch in black and gold. Desire: it is what it is.

Labels: ashley olsen, fashion notes, gap, movado, shoes
9/25/2009 [2]
Fashion Notes: Essentials
by Dorothy
I've been silent on this blog for ages, I realize. I recently moved from the student-hating student town where I went to law school to the much larger, friendlier student town of Halifax, Nova Scotia. I am still delighting in Halifax: the salt and pine in the air (it helps that I don't live near where the sewage filtration plant failed), the density, the friendliness, the cafés, the bookshops, the bus system that actually sort of works.

I frankly suck at minimalism: I can't resist colour, pattern, texture, subtle variations on the same themes. I wish it were otherwise, because I do think minimalism is a better way to go, but I'm not there yet. But there is nothing like living without the bulk of one's belongings for a week to figure out what one really needs.




SHOES





I bought my Repetto ballet flats last year; I think I got them for about $70 USD on eBay, which delighted me as they retail for at least twice that in Canada. Repetto ballet flats are classic (even clichéd), of course, but oh my, they deserve to be. I have lived in mine all spring and summer. They are supremely soft, and they work with almost everything. (This is a moment in fashion, of course; ten years ago I would have thought flats looked terribly dowdy with skirts.) Wearing these feels like walking around town in bedroom slippers, which means no arch support, but that hasn't bothered me. I really need to get them re-soled, but am not sure when I'll be able to do without them for that long.




JEANS




Oh, jeans. I have too many pairs of jeans. I would hang on to them, but I put on a bit of weight over the past year and that extra inch on my hips has rendered my smaller jeans...wearable, but not comfortable. Jeans should be comfortable.

I grew to like skinny jeans; I found them charmingly gamine, and since I am quite thin, my thighs aren't so much bigger than my calves as to throw the look off. But the moment has passed. I am keeping the jeans that are still comfortable -- a pair of super-soft Adriano Goldschmieds in a summery medium wash, bought on sale last year, and I still love my J Brand Love Story jeans; the bell bottom amuses me. (Please don't mention Paris Hilton.)




ONE BAG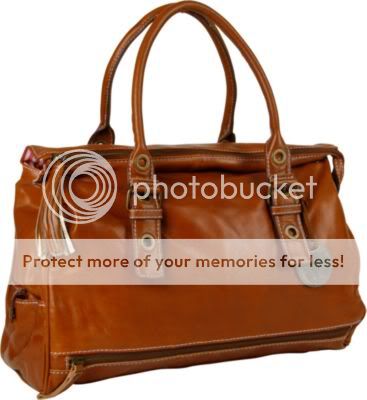 This -- a Tabitha Quinny bag -- may be the best impulse purchase I've ever made. During a trip to the U.K. two years ago, I happened upon this in an Oxford accessory shop and fell in love with it. It was more expensive than any purse I'd bought to that point (£175, as I recall), and I felt a bit unhinged as I laid down my credit card, but since then I have hardly used any other bag. I've come to realize that soft brown leather bags are very versatile: since they match almost nothing, they go with everything. The Quinny is made of decent quality leather, tricked out with lots of pockets and lined with an amusing pink-and-white stripe. I can't use this for very formal or businessy events, but for everything else, it's ideal.

Labels: adriano goldschmied, j brand, minimalism, repetto, tabitha
9/20/2009 [0]
Beauty Notes: Jojoba Oil
by The Kindly One


Having wavy, thick, course hair, I've spent a considerable amount of time trying to find products that can manage and improve the health of my hair. Very little works. Too many products are drying and, promises of manageability aside, I refuse to heat-dry and -style my hair. It takes enough work to make it healthy. I don't want to add more work to offset damage.

After finally giving jojoba oil a try, I've found that it works quite well to provide definition, softness, and manageability to my hair. Jojoba oil works by coating the hair, smoothing the surface and reducing surface friction/frizziness. In turn, my waves lose some of their blockiness and looks more defined. My hair feels softer, as well, due to the oil coating my hair.

However, jojoba oil isn't penetrative. Instead, it works something like silicone to coat the hair, preventing moisture from entering or leaving the hair shaft. This means that whatever positive effects are gained from jojoba use go down the drain, literally, when you shower. I've found no cumulative effect from jojoba use, either in terms of hair health or hair dryness. For all its similarity to silicones, it doesn't dry out or damage my hair the way silicones do.

Due to the success of this trial, I'm interested in trying other types of oils for my hair, particularly coconut and avocado, as these could potentially lead to healthier hair. However, this is no looking a gift horse in the mouth - I'm just pleased to have (finally) found an inexpensive option for keeping my hair healthy.

Labels: beauty notes, jojoba oil
9/01/2009 [3]
Subscribe to
Posts [Atom]. Or
follow on bloglovin'. If
you'd like to contact Dain,
feel free to email me.
I'm also on Pinterest.
Features

The Mnemonic Sense
Most Wanted
The Beauty Primer
Lookbook
Bestsellers
Consumer Diaries
Closet Confidential
On The Label
Beauty Notebook
The Hit List
Color Me In
The Makeup Artist
Wedding Bells
Globe Trotter
Desert Island
perfume notes
beauty notes
fashion notes
culture notes
minimalism
chypre arc
floral arc
fresh arc
masculines arc
gourmands
& orientals arc
Archives

August 2008
September 2008
October 2008
November 2008
December 2008
January 2009
February 2009
March 2009
April 2009
May 2009
June 2009
July 2009
August 2009
September 2009
October 2009
November 2009
December 2009
January 2010
February 2010
March 2010
April 2010
May 2010
August 2010
November 2010
December 2010
January 2011
March 2011
August 2011
September 2011
October 2011
November 2011
December 2011
January 2012
February 2012
June 2012
July 2012
August 2012
September 2012
October 2012
December 2012
January 2013
February 2013
March 2013
June 2013
July 2013
Images

Photobucket