Announcements
If you're new to this blog, then read our guides to the basics: Skin (Part I), Skin (Part II), The Supernatural, Color Theory I, Color Theory II, Eyes, and Brushes.

Also, check out the blogsale.
Contents
· Fashion Notes: The Versatile Handbag

· Culture Notes: Channel Surf (Anne)

· Culture Notes: Channel Surf (The Kindly One)

· Culture Notes: Channel Surf (Dorothy)

Favored

Art Tattler
the glamourai
The Non-Blonde
Perfume Shrine
Lisa Eldridge
Garance Doré
Smitten Kitchen
Into The Gloss
Grain de Musc
Lacquerized
Res Pulchrae
Drivel About Frivol
The Selfish Seamstress
Killer Colours
Bois de Jasmin
Glossed In Translation
Jak and Jil
Toto Kaelo
Worship at the House of Blues
I Smell Therefore I Am
Food Wishes
The Natural Haven
Messy Wands
1000 Fragrances
Moving Image Source
Wondegondigo
The Emperor's Old Clothes
M. Guerlain
Colin's Beauty Pages
Barney's jewelry department
Parfümrien
loodie loodie loodie
The Straight Dope
Sea of Shoes
London Makeup Girl
Sakecat's Scent Project
Asian Models
Ratzilla Cosme
Smart Skincare
Illustrated Obscurity
A.V. Club
Tom & Lorenzo: Mad Style
Eiderdown Press
Beauty and the Bullshit
La Garçonne
Flame Warriors
Everyday Beauty
Fashion Gone Rogue
Now Smell This
Dempeaux
Fashionista
The Cut
A Fevered Dictation
Nathan Branch
101 Cookbooks
Fashion Notes: The Versatile Handbag
by The Kindly One

My style generally veers in one of two directions. There is the lifelong affinity for Gothic touches, including lots of black, dramatic necklines, and a general dourness that warms my heart to depths unknown. Then there is the more universally appealing "conservative" look, in which the word "conservative" means "conservative for me." Its fundamentals revolve around true fashion fundamentals, those basic trousers, jackets, and shoes around which anyone can create a very distinctive style. This look evolves more consistently than the Gothic look and currently involves a mix of bright colors, visual depth, and well-fitted blazers and Keds. At the moment, "conservative" for me means something akin to a Scandinavian who's recently discovered vintage 70s Jamaican fashion and Balenciaga's Fall/Winter 2007/2008 show.

Given these somewhat disparate styles - which are not really so disparate when taking into the account of my own very consistent, somewhat eclectic method of putting things together - it can be very difficult to find a bag that accomodates both directions of my wardrobe. In the past, I've typically gone with bags I like and just put them with anything, regardless of whether or not they work with that day's style. I am somewhat pickier now about how I present myself. I am still not going to change out my bag any more than I absolutely have to, but I would prefer to go with a bag that compliments both directions of my style. That said, I have found a bag that very nearly meets that task, that being Louis Vuitton's SC Bag in calf leather.



Designed by Sofia Coppola in conjunction with Louis Vuitton, and at no less than $3,730.00, the SC Bag fits the criteria I set out for in a bag: a basic design that can rest in the background without calling attention to itself, that will not date itself now or in five years, and that, most importantly, has personality. The design is very basic indeed; there is none of the typical Louis Vuitton monogramming, overt branding, or overdesigning going on here. Simply put, had the LV PR machine not churned out its usual shill marketing this bag, a shopper could easily assume it came from one of the many anonymous, very good leather goods shops in Italy. Given the bag's very basic design, it has the ability to assume a good amount of personality depending upon what it's paired with. As seen in the top picture, the bag can go very casual, slung over the shoulder and slouched at the hip. As seen in the above picture, it can also go very expensive when paired with luxe clothing. This is a bag I can easily see slung over my own shoulder when worn with a shrunken leather jacket and Keds or simply handheld when worn with a shift and blazer.



While the SC is beautiful and nearly perfectly fits my criteria, I will not be buying it, though I would be happy to buy something similar. I do not have the budget to buy a nearly $4,000.00 handbag. Even if I did, I don't know that I'd invest in it. I am somewhat opposed to the vulgarity of Louis Vuitton's products, and I am very much opposed to the way in which the company markets the bag on its website. As seen above, the bag is airbrushed. I'm aware that airbrushing is a given in all mass media, including advertising, but the degree to which this bag - a handbag - is airbrushed is ridiculous. All the personality has been taken out of it, so much so that I would say the picture above makes this bag look ugly. It is only in the pictures with Coppola herself, as worn with real clothes and set in real life, that that bag takes on personality and dimension. That's where it's compelling, not in a sterile studio in front of green screen, airbrushed within an inch of its life. It may seem an odd thing to rage about the airbrushing of a luxury handbag, but there aren't that many things of beauty that I am so compelled by as to really take notice of them, and I take great exception to them being dummied down to a palatable, mediocre, middle-of-the-road, mass market level.

For more desirable looks at this bag, as well as the rest of the collection, check out ILVOELV, the irony of this post being that this site is titled "I Love LV."

Labels: fashion notes, louis vuitton, sofia coppola
11/24/2009 [3]
Culture Notes: Channel Surf (Anne)
by Anne
My family was an immigrant family, and consequentially, we marked such holidays as Thanksgiving or Christmas with minimal ceremony, if any, at the same time we had little occasion to celebrate Korean holidays, cut off from the "Motherland" as we were.

Which is a rambling way to say that turkey and gatherings, the traditional accoutrements associated with the winter holidays, were for me supplanted by TV marathons, there being little else to do on long stretches of blank days off. Therefore, most holidays are, to me, associated with one television series or another, especially since I rarely watch TV otherwise.

Thanksgiving: Hourglass




Probably every Korean over a certain age has seen Hourglass: indeed, such was it's popularity that, for the first time in possibly the history of urban life, people were hightailing it to home as soon as work let out just to catch the latest episode (it can be said that Hourglass nearly ruined pubs nationwide).

The storyline follows the lives of three young people from their youth in the late seventies and early eighties—at the height of a military dictatorship and a large-scale, mostly student-led countermovement, all the more furious for the persecution it suffered—to middle age in the turmoil of modernization, globalization, and political restructuring of the early nineties. Go Hyun-Jung's feisty revolutionary—later doing a complete about-face to follow in her father's footsteps as a casino mogul—is arguably the show's center, around whom the three main male characters seem to orbit. (On a totally unrelated note, I was often compared to Go Hyun-Jung's character when I was a little girl, both in terms of looks and personality.)

The trajectory of their lives shadow the history of Korea itself, coming to maturity as Korea "grows up" and develops its presence in the modern world. As such, Hourglass was the first network television show to directly deal with politically loaded topics such as the Gwangju massacre, kidnappings and torturing of dissidents, suppression of free speech and press, and other abuses of civil rights that the then-government would have swept under the rug. Such a history makes ripe fodder for melodrama, but Hourglass is the first of its kind to combine socially relevant criticism and much-needed reflection with good storytelling—following the success of Hourglass, 7080 history has been downgraded to clich&eacute in Korean drama, which attests to the lasting influence of this show. Which brings me to...

Summer Vacation: Friend, Our Legend

Americans are said to "root for the underdog"; in contrast, Koreans are underdogs. Maybe this is why Friend, Our Legend, the "hero" of which is an underdog like no other, feels so quintessentially Korean to me. Based on Friend, a hugely popular movie from the nineties, it follows Han Dongsoo from boyhood, as he comes of age under the stunting influences of prejudice, poverty, and the distant threat of political corruption and turmoil looming like a thunderhead in the background, to adulthood. His only comfort in such a bleak world is his best friend Joonsuk, and it is the vagaries and complexities of their relationship that the show focuses on. Ironically, Dongsoo's friends are no help to him, even proving to be a destabilizing influence in his life. It's a true tragedy that Dongsoo is helped on his way to a painful death by the strife of his relationship with his closest friend. There is no help or consolation in Dongsoo's life, whos as "unlucky a bastard" as they come.




Train Scene
Dongsoo: In the movies, they just jump straight down onto trains, from this height, you know?
Joongho: Yeah, but that's movies. You try that in real life, and you're gone, just like *that*.
Dongsoo: Would someone really die?
Joonsuk: [spits] Oh I dunno. Just the unlucky bastards.
Dongsoo: Unlucky bastards? Why, then I guess I'd die.
Joonsuk: You're not gonna die.
Dongsoo: Wanna bet?

Timeline and theme-wise, Friend follows in the footsteps of Hourglass, but it is more than just an Hourglass clone, for while Hourglass dealt mainly with the effects of large-scale historical movements on individuals, Friend focuses on the interplay of human relations within a certain historical context. This makes the latter series a more complex variation on the same theme, which is befitting, considering that the time gap between the the two series is 15 years.

Spring Break: Neon Genesis Evangelion

How's a little bit of psychobabble, scattered with references to the Bible as well as to obscure biology?



Neon Genesis Evangelion is most often seen through a lens of psychology, and yes, such a dysfunctional cast and a background so obviously Freudian, with religious overtones, = in its set-up (giant robots called "Eva", referred to with feminine pronouns, who house child pilots encased in phallic pods, and which go berserk in moments when the safety of their "children" is threatened, usually by equally monstrous "Angels"... and a Saturnian father figure seeming to control the strings in the background) make fertile ground indeed for shrinks to play in.

However, I personally like to interpret the themes of Evangelion from a biological angle. (Typical med student...) At the beginning, the angels are seen as heavenly destroyers, immortal and almost divine in their capacity for destruction, or alternately, lean and flawless fighting machines not too different from the robotic Evas. Slowly however, it is revealed that both the Angels and the Evas are not only mortal, but very much flesh-and-blood beings, not too different from humans themselves. Their final goal is survival, pure and simple, which in Evangelion is abstracted and conceptualized as "Instrumentality," a beatific state reserved for one species alone... correlating to the biological principle that the equilibrium between species sharing an ecological niche is unstable, that one must drive all the others to extinction in order to survive. Similarly, the angels and the human race are all competitors in the race to achieve instrumentality, which means eternal survival, which is only a step away from immortality.

The beauty of the biological view is that despite being a scientific concept, it meshes seamlessly with the psychological and religious themes of NGE: the garden of Eden, the trees of knowledge and life, salvation, separation from the mother figure and the lifelong yearning to reunite with some higher meaning.

Of course, my interpretation is only one of many. But that's why I like Evangelion so much: it offers a potent brain kick, and every time I watch it again I get something new out of it.

Childhood: The Magic School Bus

And lastly, my fondness for this one reveals all too clearly the fact that I am a child of the nineties. As may be inferred from my description of Evangelion above, I am a dyed-in-the-wool nerd. When I was little, I used to dream—both literally and figuratively—about being in Miss Frizzle's class, sharing sandwiches with dorky Arnold, trading lame jokes with Carlos, going head-to-head with resident bookie Dorothy, and in general, exploring the wonderful world of science with the rest of the gang. Explorations such as these:




How appetizing.

Labels: 7080, culture notes, go hyun-jung, neon genesis evangelion, the magic school bus
11/22/2009 [1]
Culture Notes: Channel Surf (The Kindly One)
by The Kindly One
This particular group post has been difficult for me to write because there have been so many shows that I really, really love. I struggled with narrowing the field until I started thinking about what type of shows I love. Current favorites include Dog the Bounty Hunter, Food Network Challenge and, as always, America's Next Top Model (I was on both Team Nicole and Team Laura). It cannot be said that my taste in television, or in much of anything, is classically "good." Rather than suffer the readers through the parade of eccentricity and manic energy I regularly flip to, I've chosen to highlight five shows that fall somewhere between "good" and "moderately okay."

MORAL OREL




This show is not for everyone. A tough opening sell, to be sure, but broad audience appeal does not come to mind when talking about Moral Orel. Set in Moralton, the "exact center" of the United States, Moral Orel follows the adventures of Orel Puppington as he navigates the world of conservative Christianity, slowly learning what being a Christian, and an adult, is all about. The show's main thematic content concerns the hypocrisy, religious and secular fundamentalism, and misuse and abuse of dogma ingrained in American culture. Satire and earnest questioning aside, the beating heart of the show is the raw emotion lurking beneath Moralton's actions, and it is raw stuff, indeed. I have very rarely seen the level of emotional depth and honesty displayed on Moral Orel, both in real life and in broadcast television. Moral Orel uses the mechanism of humor to guide viewers to and through the fundamental, emotional truths of the show, going deeper and darker with each successive season. It is this quality of the show that makes Moral Orel an engaging experience. In fact, the first time I watched the show, I was so disturbed, confused, and invested in what happened next that I immediately Googled it and learned as much as I could. It is really an exceptional show, both in quality and content. Don't be surprised if you finish an episode much quieter, more thoughtful, and more introverted than when you started it. I highly recommend it, but I'll say it again - this kind of content isn't for everyone.

LOVESPRING INTERNATIONAL




I am possibly the only person in this country who's ever seen this show, and I know I'm the only person who's watched every episode. Lovespring International takes place at a dating agency, following the disastrous attempts of the employees to keep the company, and their own lives, afloat. It's one of the many improv shows that have popped up, and this is possibly why I like this show so well. The actors are given the ability to take their characters' foibles and pathos to dire, extreme levels, as well the room to display genuine chemistry, no matter how poisonous or unhealthy. As a result, the show has an energy and immediateness that heavily scripted shows rarely have, and the actors have the room to more fully and deeply explore their characters' flaws than is the norm. The show is hilarious. It is also, sadly, cancelled, but videos can be found at Lifetime.

QVC





QVC beauty presentations are some of my favorite shows to watch. This stems from the days when I only had basic cable and my viewing choices were QVC, the TV Guide channel, and both Catholic and Baptist programming. The clear choice was QVC. It was a dark seven years.

QVC offers presentations on an extensive selection of high-end beauty brands, including Oscar Blandi, YSL, Philosophy, Smashbox, and most recently, NARS. Presentations generally last between one and three hours and give ample opportunity to get a good idea of a line's general range of products, as well as the chance to see items from brands that do not have widespread distribution (Lucy B., Dalton, Darac, etc.) Obviously, testing products yourself is the best way to go. Television simply cannot account for differences in skin tone, texture, and particular sensitivities. However, I find there is nothing more relaxing than sitting back and listening to the drone of hosts and pr reps shilling products while watching women apply eyeliner and look pretty. QVC beauty presentations don't require thought, interaction, or action of any kind, and really, sometimes that's what you need. At the end of a long day - and I have had many long, hard days recently - sometimes all you want is to hear the warm tone of the television, see pretty pictures, and zone out, and this provides the perfect opportunity to do just that.

RENO 911!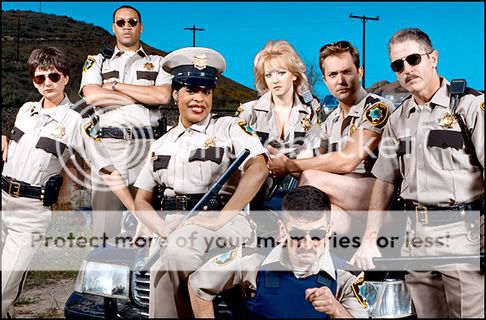 Reno 911! is easily one of my favorite shows of all time. Set in Reno, Nevada, the mock-documentary follows Reno's finest as they fumble every investigation, routine task, and breath they engage in. There are so many, many reasons I love this show, the first and foremost being it's cinematography. Joe Kessler films "Reno" (really, Los Angeles Metro) crisply, throwing all the things I love most about the West into the forefront - the expansive skies that go on forever, the space, the flatness. I am also quite fond of how the show's "boobery" (Dangle's quote, not mine), both intentional and otherwise. There are a lot of mistakes that happen on camera. The actors laugh and break character, and I like that those parts are left in. The show already has an intentionally informal feel, and these mistakes only add to that, leaving the viewer feeling part of a loose gathering of people bumbling along and having a great time. Parodoxically, the best thing about the show is the actors' commitment to character. I have never seen actors more committed to their characters, even keeping in mind the greats (De Niro, Blanchett, etc.) Unlike in scripted shows, in which character arcs are precisely prescribed and circumstances are specifically situational, Reno 911! throws its actors and their characters into a variety of situations and leaves them to their devices. Rather than filling in blanks with contrived dialogue, situations, and storylines we've all grown to loathe, the actors fill them with the characters themselves in all their flaws and frailties. The characters may not be deep, but we get to know them as regular people, just as we'd know our coworkers and friends. Travis Bickle may bring you glory, but I've learned more about acting from this show than I have anywhere else.

THE COSBY SHOW




No matter what else is on TV, I will almost always choose an episode of The Cosby Show over the other offerings. The Cosby Show provides some great memories (25 years of them), and the show is such a part of the American vernacular and cultural history that it's ageless. Yes, it clearly takes place in the 80s, but the specifics of the show are timeless events that happen to individuals and families every day, and I find it incredibly comforting to watch a show in which people like each other, treat each other more or less well, and in which everything is stable and going to be okay. So much of television currently relies on shock value, unstable relationships and settings, and the fear of things quickly falling apart that it's nice to watch something that will not stress me out, worry me, or overly tax my adrenal glands.

Beyond acting as a virtual security blanket, The Cosby Show is really, really funny. I take genuine enjoyment out of seeing Cliff laugh at his kids, Vanessa snoop around, and everything Cockroach. There is nothing harsh about the show or its humor, and while critics have consistently cited this as unrealistic, I would point to it as a truism: comedy doesn't have to be cynical, edgy, or angry to be funny. It has to be true, and there's as much truth to be found in a family - the foundational relationship in most people's lives - as there is in pathos and insecurity. In fact, there's more truth (and comedy) observed in The Cosby Show than in the million iterations of hip cynicism, glib soundbites, and personal insecurity masked as worldweariness that generally make up Comedy Central. The truth is that where there are five kids, there is chaos, misunderstanding, and frustration, and this is the stuff of comedy - pathos. The Cosby Show explores it well through the relationships between functionally healthy adults and children, and it's this point that separates this show from the examples above. As with life, so as in television, where is something completely stabilizing and calming about being in the company of capable people. So I turn on The Cosby Show for a good laugh and for enjoyment, and I turn it on so I can see the examples of solid, grounded people that can seem so rare to find in real life.

Labels: culture notes, lovespring international, moral orel, qvc, reno 911, the cosby show
11/21/2009 [2]
Culture Notes: Channel Surf (Dorothy)
by Dorothy
Like Dain, I don't own a television; I watch TV on my computer, mostly through streaming video. Honestly, I don't miss having a TV except on very rare occasions; while it's nice to be able to see every tiny detail of a shot, it doesn't feel necessary with most shows, and streaming video has improved greatly in the last few years.


It's a cliché to say this, but I love

The Wire.

It's the most engrossing, painful show I've ever watched. It's rightly compared to a novel in which each season is a chapter; the stories are nominally separate, but they build on and enrich each other. It rewards multiple viewings; I re-watched the second season, set at the Baltimore docks, after moving to Halifax, and being able to look out my window and see Halifax Harbour enriched the experience. The show goes a bit off the rails in the truncated fifth season, but the first four seasons are gorgeous, complex, beautifully written and acted, worthy of all the hype.

Breaking Bad
helps with my
Wire
withdrawal. Where
The Wire
is largely about entrenched drug empires,
Breaking Bad
is about the process of forming a drug empire, and about the slow, fascinating descent of an initially innocuous-seeming Walter White (Bryan Cranston). One begins the show sympathizing with Walter, and by the end of the second season one is horrified by him, wondering whether this monstrous human being was created by circumstance, or merely revealed by it. Besides
The Wire,
few other shows have haunted me so much, or for so long.

The third season of

Mad Men

recently wrapped up, leaving me bereft.

Mad Men

isn't a perfect show -- it tends to be a little on the nose -- but you can't beat the visuals: the sets, the costumes, the makeup.

Mad Men

portrays a pre-feminist reality in which sexual harassment, unequal pay, philandering husbands and a hundred other little indignities are widely tolerated. This gives it an unsavoury appeal to a certain number of people; however, at bottom I believe it's a deeply feminist show. I have a seemingly unpopular affection for Betty Draper, pictured here; she's truly awful on a number of levels, but the writing and January Jones' acting combine to create a sense of a woman who was groomed from babyhood to be a dependent housewife and mother, and who is heartbreakingly ill-suited for that role.



And while I love a whole lot of half-hour comedies --

Clone High, Arrested Development, 30 Rock,

the British and American versions of

The Office, Futurama,

and the first several seasons of

Roseanne,

just for starters -- I can't finish this post without a shout-out to the Halifax-made

Trailer Park Boys.

This show takes several episodes to warm up to, but after that, it's hilarious: the skeezy ingenuity of the leads, the absurd situations, the parodic yet still oddly effective sweetness. I try to watch the Christmas special every year.

Labels: breaking bad, culture notes, mad men, the wire, trailer park boys
11/21/2009 [0]
Subscribe to
Posts [Atom]. Or
follow on bloglovin'. If
you'd like to contact Dain,
feel free to email me.
I'm also on Pinterest.
Features

The Mnemonic Sense
Most Wanted
The Beauty Primer
Lookbook
Bestsellers
Consumer Diaries
Closet Confidential
On The Label
Beauty Notebook
The Hit List
Color Me In
The Makeup Artist
Wedding Bells
Globe Trotter
Desert Island
perfume notes
beauty notes
fashion notes
culture notes
minimalism
chypre arc
floral arc
fresh arc
masculines arc
gourmands
& orientals arc
Archives

August 2008
September 2008
October 2008
November 2008
December 2008
January 2009
February 2009
March 2009
April 2009
May 2009
June 2009
July 2009
August 2009
September 2009
October 2009
November 2009
December 2009
January 2010
February 2010
March 2010
April 2010
May 2010
August 2010
November 2010
December 2010
January 2011
March 2011
August 2011
September 2011
October 2011
November 2011
December 2011
January 2012
February 2012
June 2012
July 2012
August 2012
September 2012
October 2012
December 2012
January 2013
February 2013
March 2013
June 2013
July 2013
Images

Photobucket