Announcements
If you're new to this blog, then read our guides to the basics: Skin (Part I), Skin (Part II), The Supernatural, Color Theory I, Color Theory II, Eyes, and Brushes.

Also, check out the blogsale.
Contents
· Most Wanted: The Black Saint and the Sinner Lady

· Beauty Notes: From the Runway

· Globe Trotter: Finding Stillness in Shanghai

· Color Me In: Cassandra

· Beauty Notes: Bare Bones

Favored

Art Tattler
the glamourai
The Non-Blonde
Perfume Shrine
Lisa Eldridge
Garance Doré
Smitten Kitchen
Into The Gloss
Grain de Musc
Lacquerized
Res Pulchrae
Drivel About Frivol
The Selfish Seamstress
Killer Colours
Bois de Jasmin
Glossed In Translation
Jak and Jil
Toto Kaelo
Worship at the House of Blues
I Smell Therefore I Am
Food Wishes
The Natural Haven
Messy Wands
1000 Fragrances
Moving Image Source
Wondegondigo
The Emperor's Old Clothes
M. Guerlain
Colin's Beauty Pages
Barney's jewelry department
Parfümrien
loodie loodie loodie
The Straight Dope
Sea of Shoes
London Makeup Girl
Sakecat's Scent Project
Asian Models
Ratzilla Cosme
Smart Skincare
Illustrated Obscurity
A.V. Club
Tom & Lorenzo: Mad Style
Eiderdown Press
Beauty and the Bullshit
La Garçonne
Flame Warriors
Everyday Beauty
Fashion Gone Rogue
Now Smell This
Dempeaux
Fashionista
The Cut
A Fevered Dictation
Nathan Branch
101 Cookbooks
Most Wanted: The Black Saint and the Sinner Lady
by Li Wen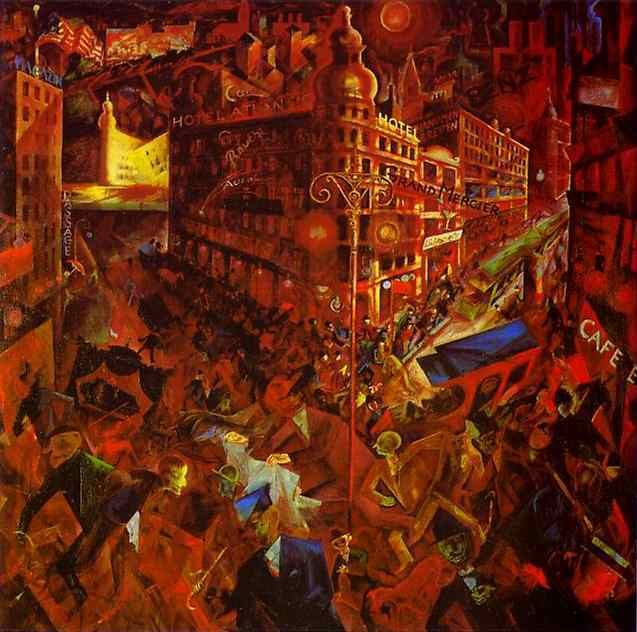 The City, George Grosz (1916/17)
The Black Saint and the Sinner Lady is an album that ought to come with a warning label: Do Not Play While Operating Heavy Machinery. The very antithesis of Norah Jones and Michael Buble - "easy-listening jazz" - dancing between tumult and rapture, overwhelming tenderness and exquisite anguish, it resists any attempts to cast it into the background. It is music so expansive and all-encompassing, you could throw yourself headlong into it and never be seen again. For your own safety, and the safety of your passengers, resist any temptation to play it on a car stereo.

"My music is evidence of my soul's will to live."

- Charles Mingus
Recorded on January 20, 1963 by an eleven-piece band, The Black Saint and the Sinner Lady feels like a spontaneous eruption, a revolution: Charlie Mariano and Booker Ervin on saxophone are the eloquent and virtuosic firebrands at the front of the fray, Rolf Ericson's trumpet an insistent crier, fists pounding the air, Jay Berliner's acoustic guitar the somber and reflexive outsider, the piano (Jaki Byard) a captivating, lyrical Romantic. Both intensely personal (Mingus himself considered The Black Saint and the Sinner Lady his defining masterpiece) and whole-heartedly collaborative, it is a testament to the imagination of the individual and the power of the collective.
While originally written as a ballet, it is difficult to imagine what breathless contortions of the body could further elevate - or keep up with - the shifting themes and tonal complexity of the music. Those 40 minutes, hot-blooded, sensuous and grandiose, scale every register of human emotion, unfolding and culminating in the final movement, "Of Love, Pain, and Passioned Revolt, then Farewell, My Beloved, 'til It's Freedom Day". Like Allen Ginsberg's Howl, that other roaring lament of the Beat era, nothing quite captures it but the experience of listening for yourself.

Track C: Group Dancers, The Black Saint and the Sinner Lady - Charles Mingus (1963)
* * *
The institutionalisation of Classical training led to a deification of the composer as artist and the expectation of strict adherence to the written score; anyone who played Bach out of turn was automatically regarded as "maverick" - or more dismissively, "unorthodox". Little surprise, then, that so many jazz players should be classically trained musicians looking to escape from its strictures. For in jazz - from simple, plaintive standards to the most elaborate freeform ensemble pieces - structure and extemporisation go hand in hand, with spontaneous riffs on a theme often regarded as the highest practice of the art.
The aim: to take what is practiced and familiar, and infuse it with a sense of real time, the contingencies of the moment and the personality of the performer.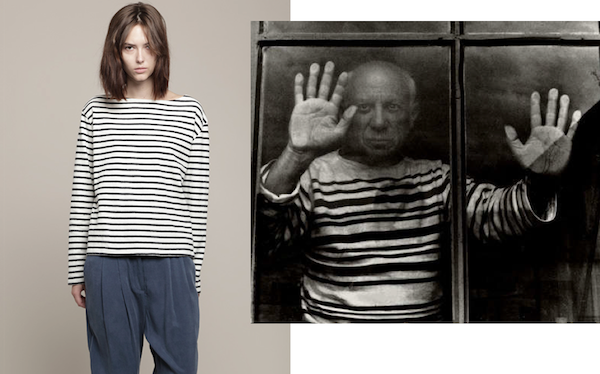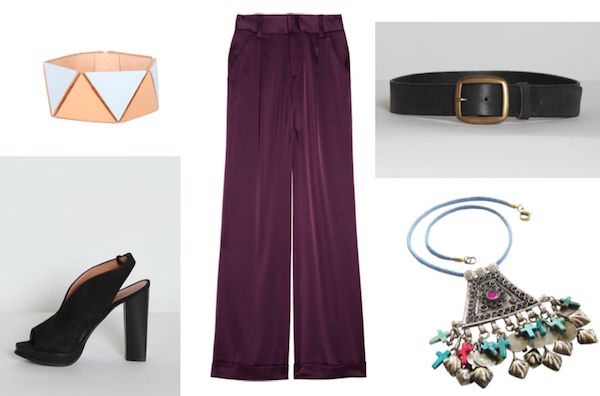 Wood Wood Adrien Striped Tee / Pablo Picasso photo / Isabel Marant Zonca Belt / Kelly Framel turquoise tassel necklace / Alice + Olivia pants / Costume National slingback heels / Lauren Manoogian Triangle Cuff
A modest, unadorned version of the long-sleeve striped shirt - or "Breton stripes", famously worn by Coco Chanel and Pablo Picasso (top right) - that's been a fashion staple for much of the twentieth century, the Wood Wood Adrien Striped Tee ($95 USD) in brushed heavy weight cotton jersey has an appealing, almost rustic, simplicity. Its length and cut is versatile; it can be worn hanging loose over the waist of a pair of tough corduroys, or tucked into a skirt or khaki shorts.
My instinct, though, would be to dress up the shirt a little. Pair it perhaps with Alice + Olivia high-rise wide-leg pants ($330 USD) in a rich burgundy satin, and cinched with a black Isabel Marant belt (right centre). A turquoise tassel necklace by Kelly Framel ($275 USD) and this leather Lauren Manoogian Triangle Cuff ($120 AUD) - with their tribal motif, like something you picked up on holiday - add a touch of the unexpected. And to lend height to the 40s silhouette, these understated Costume National suede slingback heels ($700 USD); they have an attractive casualness, reminiscent of slippers beneath pyjama bottoms, yet are still elegant with their open toe and cutouts at the sides.
Central to this outfit is the play of different textures: dark suede against reflective satin, antiqued silver on brushed cotton. A melange of pieces, each with their own distinctive identities, verging on the haphazard, but grounded by bold black and white stripes.
Labels: alice + olivia, charles mingus, costume national, isabel marant, kelly framel, lauren manoogian, most wanted, pablo picasso, wood wood
10/30/2011 [4]
Beauty Notes: From the Runway
by Li Wen
I love backstage photos of models' makeup from fashion shows, and frequently use them as sources of inspiration. Some looks are kooky and extreme, others are wearable and natural, easily emulated. While face-charts and beauty breakdowns are primarily released for the benefit of beauty editors, they are also an excellent resource for makeup fanatics and makeup artists, which is why you will commonly find them now posted on beauty blogs.
During the week-long Chinese National Day Holiday, I picked three photos from my album of inspiration images on my iPad, and tried to recreate them using only what I have on hand here in Shanghai*. Bear in mind that I am not a makeup artist, merely an enthusiast. Skill is something only acquired through practice and observation; all you need to arm yourself with is a sense of adventure, and a willingness to go a little out of your everyday comfort zone. Makeup, after all, is not permanent. If you don't like the result, just wash it off.
Since my original intention when I started these experiments was not to show the pictures online, but to merely have some fun on my day off, I did not research that were products used in any systematic way until after I had completed my own take on it. Nor was I aiming for perfect verisimilitude - if I knew a pale lip was going to be ghastly on me, I substituted it with a brighter pigment. However, I have included links to the breakdowns wherever I could identify the show and the makeup artist behind it.
Base used throughout: Chanel Vitalumiere Aqua (B30 Beige-Sable) and Cle de Peau Beaute Concealer (Beige). I was putting on and removing looks too quickly, however, to be bothered with powder, so pray excuse the shine.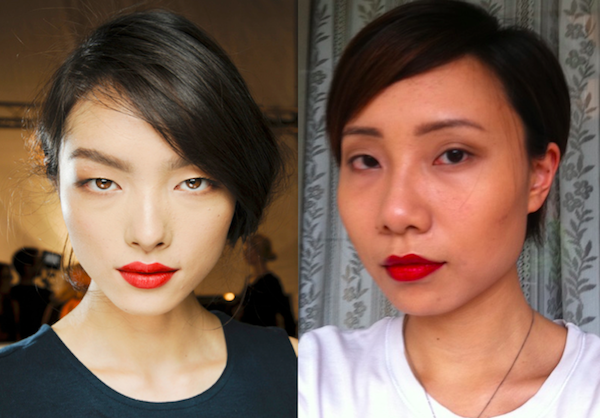 Look 1. Christian Dior S/S 2012 - Pat McGrath
An easy one to start with. The model is Sun Fei Fei, and there are some more images of the look here.

Eyes: Sun's eyebrows are pretty amazing to begin with; mine naturally needed more work, pencil and powder to make them thicker and darker. There appears to be some tan/golden brown eyeshadow on outer half of the model's eyes. Adapting slightly from the photo to suit my differently shaped eyes, I applied the middle shade from the Shiseido Strata trio into my crease. A dark brown pencil smudged into the lashline, then a layer of brown mascara finished off the eyes.

Cheeks: NARS Zen, a nude blush, to contour beneath the cheekbones.

Lips: An orangey-red lipstick, applied with a lipbrush. I only have one warm red with me in Shanghai, Cle de Peau Beaute R2, so I used that. Sun looks like she was wearing a gloss over the lipstick, but I couldn't find one so I left the lipstick fairly matte.

Wearability: 7/10. A slightly bolder variant of my normal day-off makeup.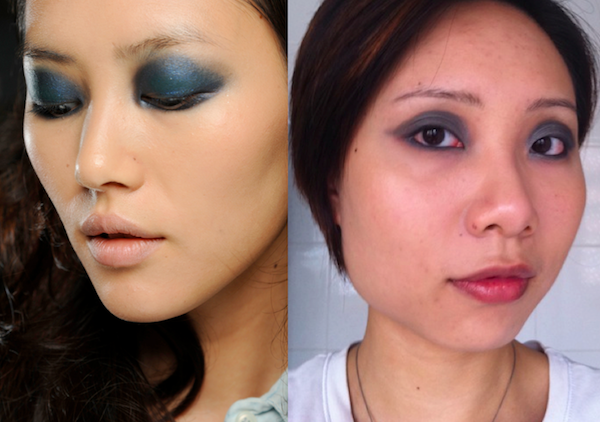 Look 2. Rodarte S/S 2011 - James Kaliardos for NARS
Round, navy-blue smokey eye with lavender lips. Beauty breakdown here, which shows the same look on a Caucasian model with deep-set eyes; the shape of my eyes are somewhere in between that and Liu Wen's monolid, so once again, I changed it from the inspiration photos.
Eyes: Instead of navy, I used a blackened teal (Chanel Murano quad), layered under a shimmery sky blue from Shu Uemura. A creamy black pencil went on my waterline, while mascara was neglected entirely. Brows had just the tiniest bit of NARS Bali brushed through them with the Shu Uemura 6OB to fill in gaps.

Cheeks: Skipped it. Kaliardos, however, used a NARS cream blush (Penny Lane).

Lips: Not having any nude or lavender lipsticks or glosses, I used the closest thing I had, a shimmering coral lipstick from NARS called Outsider. Ideally, though, I would have gone for something paler and more neutral, maybe a light mauve like Chanel Ingenue.

Wearability: 5/10. Strictly a night-time look, but not outrageous.
Look 3. Derek Lam S/S 2010 - Tom Pecheux for NARS
This circus-inspired makeup pre-dates Pecheux becoming the creative makeup director for Estee Lauder. A shame, because while his work is never less than gorgeous, I don't think he has done anything quite as weird and wonderful since going to Estee Lauder. This look he created with NARS products has stuck in my mind ever since I first saw it. Breakdown here.
Eyes: Here is where a few extra eyeshadow brushes would have come in handy, so all these colours didn't get muddied from being applied with dirty brushes.

Because I was working off just the image I had on my iPad, I had to guess at the colours and their placement. The purple I used was NARS Jolie Poupee (right side) mixed with MUFE 92, the blue in the inner corner a mixture of Jolie Poupee (left side) and the same light blue Shu Uemura shadow I used in Look 2. An orange shadow from Shu Uemura replaced NARS Mediteranee on the browbone, while a shimmery Shu Uemura green mixed with the olive side of NARS Nouveau Monde was my substitute for the emerald green from NARS Misfits under the eye. The lightest coat of brown mascara was used. Brows were left over from previous look.

Cheeks: I forgot about the cheeks, although checking the breakdown of the look now, I can see that Pecheux used a pink (Desire) and an orange (Taj Mahal) blush.

Lips: My lips are naturally quite dark, so I went with a sheer pink lipstick, Granville Dior Addict, instead of trying to tone them down with a lighter colour.

Wearability: 3/10 on me. I think this would be amazing on someone fairer, with light-coloured eyes, but with my features, it just makes me look unfocused and tired.
*My main residence and the larger part of my stash is in Sydney.
Labels: beauty notes, james kaliardos, nars, pat mcgrath, tom pecheux
10/15/2011 [7]
Globe Trotter: Finding Stillness in Shanghai
by Li Wen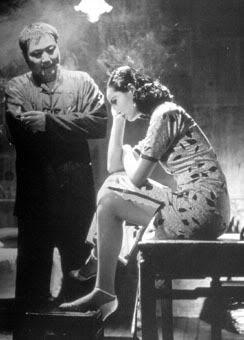 Scene from a silent film starring Ruan Lingyu (1910-1935)
A city of many faces, Shanghai is easy to describe in terms of cliches: crowded, materialistic, ruthless in business, giddy with self-admiration, cosmopolitan, fast-changing, obsessed with all that is new and foreign. Like most cliches, there are aspects of truth to all of these, woven deep into the reputation and the identity of the city.
Then there is also the fabled pre-revolutionary Shanghai of the 1920s-1940s, the "Paris of the Orient" (or, as it was also known, the "Whore of the Orient"), fictionalised so many times in the Hollywood imagination as an exotic, somewhat decrepit, shambles of treachery and vice, glamour and beauty - where East meets West, urban meets rural, and trouble and creative energies abound. A treaty port and a classic example of a colonial semi-periphery before 1949, Shanghai's fate and prosperity was always less synchronous with that of the rest of China. Spies, revolutionaries, gangsters and traitors pepper the city's cultural history and urban legend, contributing to much of its allure.
Though it has always been at the frontmost battle-lines of modernity in China, the Shanghai I left as a child in 1992 is very different to the city I return to now, two decades later. The most visible and striking signs of its recent development: elevated roads and Metro winding their way all over Shanghai, and the cluster of skyscrapers which map out the now-defining skyline of Pudong District, an area east of the Huangpu River that was sparsely populated farmland as recently as early 1990s.
Frequent trips to Shanghai since 2000 have kept me abreast of all the goings on, so that now, I can once again think of Shanghai as being "my city" - although it helps that I never lost my ability to speak Shanghainese. My apartment is located in the former French Concession, what people are usually referring to when they speak of "Old Shanghai", which has managed to retain a sizeable amount of its colonial-era architecture*. Within this little portion of the city, you will find live jazz, Shanghai's own international film festival, cafes and beer gardens, tailors and cobblers, and perhaps the only authentic French baguettes in mainland China.

"My Shanghai" is quaint, gaudy, a bit of the old and a bit of the new; it's charmingly savvy, undeniably elitist, but still refreshingly prone to quiet acts of class warfare. For every store attendant who is as polite and as helpful as service personnel in the United States, you will encounter one in Shanghai who will dump a handful of small change directly onto the counter rather than into your outstretched palm, just to derive some small pleasure in seeing you pick them up individually, like chopsticks scraping the bowl for the last grains of rice. And you have got to love that.
***
Grand Gateway at Xujiahui, where I do a lot of my grocery shopping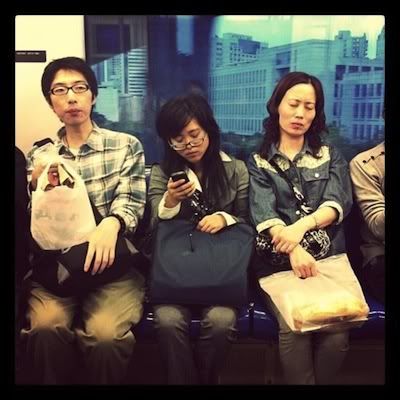 Afternoon commuters on Metro Line 3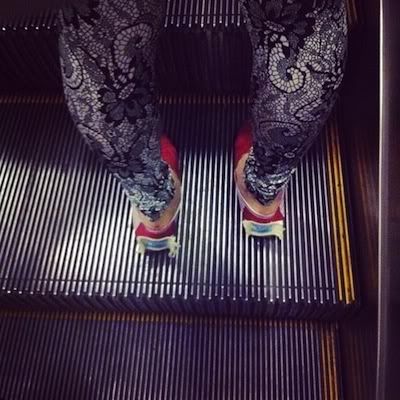 Spotted on the escalator at South Shanxi Road Metro Station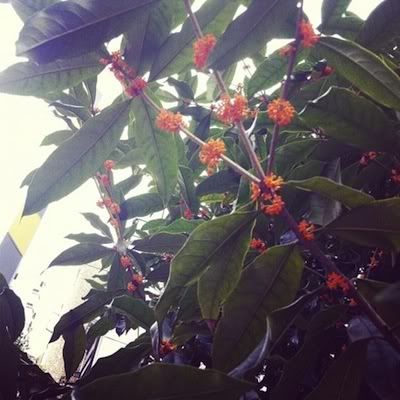 Flowers in the courtyard of my apartment complex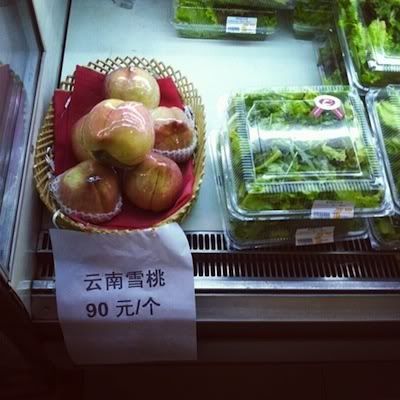 "Yunnan Snow Peaches 90RMB each" (at City Shop, Central Huaihai Road)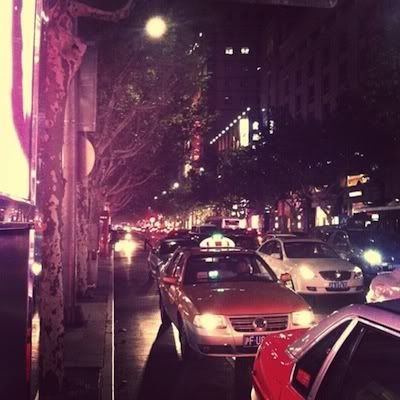 Huaihai Road, a major shopping boulevard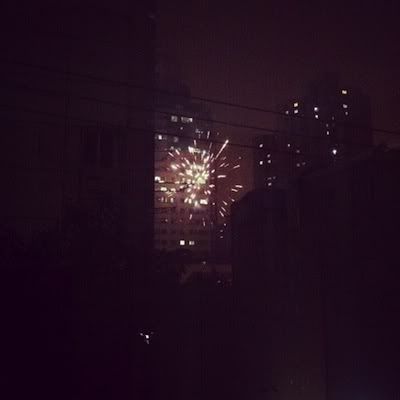 Fireworks seen from my bedroom window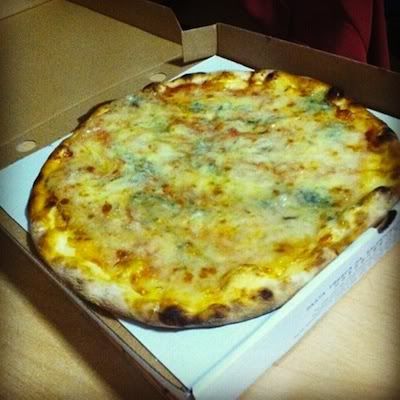 Pizza di quattro formaggi from Pasta Fresca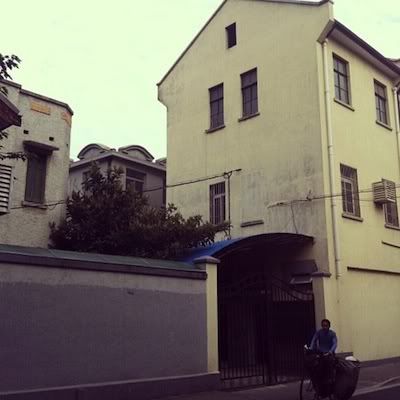 Huating Road, a quiet lane in the French Concession, running perpendicular to Huaihai Road and Changle Road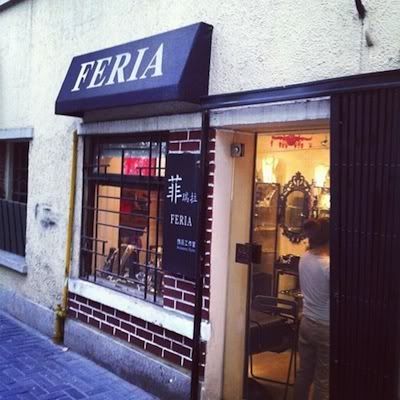 Feria boutique on Changle Road where I recently had some silk blouses made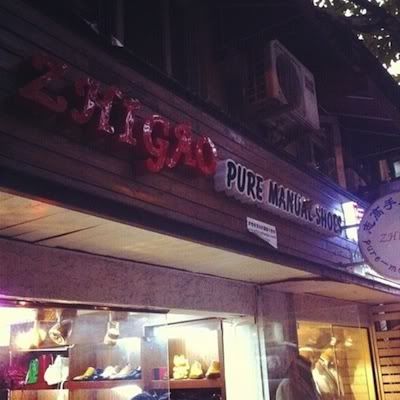 Zhigao Shoes, also on Changle Road, where you can order handmade shoes **
*One of the quirks of this part of the city is its underground: the colonial governments of the different occupying countries (among them France, United States, and England) each installed their own plumbing in their own concessions during the late-19th/early-20th centuries. Water and sewage pipes of different standardised widths and thicknesses still mark the leaky boundaries of those different occupied zones.**Expect a post later of my first experience with having shoes custom-made.
Parts of this article are adapted from the post "Shanghai girls" on Fire of Spring, 16 July 2011. Photos were taken on my iPhone using Instagram,.
Labels: globe trotter, ruan lingyu, shanghai
10/13/2011 [4]
Color Me In: Cassandra
by Dorothy
FIRST NAME Cassandra

HAIR COLOR Ranges from dark red to titian during a dye cycle - naturally medium blonde

SKIN TYPE Normal to a teeny bit dry, blackheads at nose, chin and hairline, sensitive, very minor breakouts, touch of pigmentation on the chin

SKIN TONE Fair, pretty even. Not a flusher or a blusher.

EYE COLOR Mostly blue

MAKEUP STYLE Minimalist, which is beginning to bore me. I dye my lashes and brows so I look alive in the mornings.

SPECIFIC CONCERNS Essentially, how to go a little bigger? I have a surprising quantity of makeup for a woman who's been wearing mostly lip balm, but work is very casual and I've fallen out of the habit. It took me till my 30s to understand I could use red lipstick, and now I wear a variation on red most days. I despise Nars Orgasm—gold glitter has no place on my face, and though the underlying color is very pretty there's something banal about the whole thing—but not sure about how to choose blush in general. I find anything beyond the simplest wash of eyeshadow with eyeliner really challenging. I feel like it all gets muddied up.

Basically, except for my affection for red lipstick, I am stuck in a very boring rut.

TOP THREE FAVORITE PRODUCTS Laventine normal/dry oil cleanser, Biologique Recherche P70V, and the Le Metier de Beauté Kaleidoscope I bought last week. I haven't used the last yet, but it isn't taupe. Which is very exciting.



***


As Cassandra likes her skin, there's not much point in covering it up. A bit of undereye concealer, the universal savior, and a blush that brightens her face, such as Shiseido RD401 Orchid ($30), should be sufficient to bring life to the skin.

Applied sheerly, the bright blush provides the perfect backdrop for her favorite reds, which can sometimes drain the face. To round out her collection, we recommend NARS Jungle Red ($24), a highly pigmented, retro-matte, bright cherry red. If you're going to do red, it might as well be unapologetically red. For a more mundane, easy-wearing alternative, we cannot choose lipsticks that skew too warm, like peachy nudes, as Cassandra's original coloring belongs to a blonde, her skin tone considerably cooler than a natural redhead's. We think a juicy pink with a bit of gloss to it, like Lipstick Queen Fly ($20), should flatter her better.



Cassandra has not experimented much with eye makeup, but with her big blue eyes and generous lid space, her options are practically limitless. Our first recommendation is a couple of fluffy blending brushes—Paula Dorf Sheer Crease ($30) is a good one for large eyes—to keep the pigments under control. If you're going to attempt more complicated eye looks, seamless diffusion is key.

With her cool complexion, it's no wonder that she often complains that taupes go "muddy" on her. So we chose, as the central pigment in Cassandra's eye palette, the blue-tinged graphite of Benefit Strut ($19). Since it's a cream shadow, it'll form the foundation for a quick smoky eye, when anchored by the bruised black of Laura Mercier Black Violet Eye Kohl ($19), with a surprising undertone of purple that's softer than your standard black. For an extra hit of color, she might layer a brighter pigment onto the center of the lid, a plum like Le Metier de Beauté Alexandrite ($30), for an intense tonal contrast of her blue eyes, though she could just as easily substitute a green or gold or sapphire blue, as the mood suits her. For a highlight, we suggest the crystalline mauve of Laura Mercier Dusk ($22). A thread of grey in its undertones ties it neatly to Strut and Black Violet, but there's enough pink-purple to pair, very simply, as an eye-opening wash on the lid with Alexandrite in the crease.

Labels: benefit, color me in, laura mercier, le metier de beaute, lipstick queen, nars, paula dorf, shiseido
10/12/2011 [3]
Beauty Notes: Bare Bones
by Li Wen
Thanks to some heavy guns which were recently added to my skincare arsenal (Guerlain Abeille Royale Youth Serum, Sisley Botanical Facial Mask with Tropical Resins, La Roche Posay Effaclar K and Effaclar A.I.), I have not suffered a major breakout in weeks. The scars and pigmentation from old blemishes will take a lot longer to clear, of course, but at least for the moment, I don't feel like cringing every time I look at my own unmade-up face in the mirror.
So, perfect time to show you what difference minimal coverage and, more importantly, brows can make.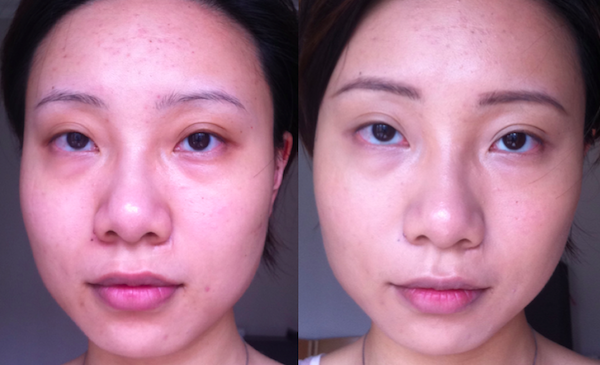 The above image on the left is me freshly washed, moisturised and prepped, but without any makeup on. Note the sallowness around the eyes (liver disease? or not enough sleep? the hypochondriac in me wonders), and the sparse and uneven brows.
Now look at the other photo of me (right), only minutes later with the bare essentials on:

Step 1: a light foundation (Chanel Vitalumiere Aqua) applied with my hands, concentrating on the T-zone;

Step 2: concealer (Cle de Peau), applied with fingertips under the eyes, on the eyelid and around the nose; and finally

Step 3: brow pencil (Shu Uemura Hard 9) to define and fill in my brows.
The difference is easily achieved and yet dramatic on a face like mine, enhancing the reality of my skin and features by compensating for their weaknesses, without giving the appearance of "visible" makeup. If not quite bright-eyed - this was before my morning coffee - I look instantly better, more polished, healthy and awake.
To complete the "minimal makeup" look, I would need only a hint of blush and some lip balm. Then, and only then, am I ready to pop outside for some breakfast and to pick up my dry cleaning.
* * *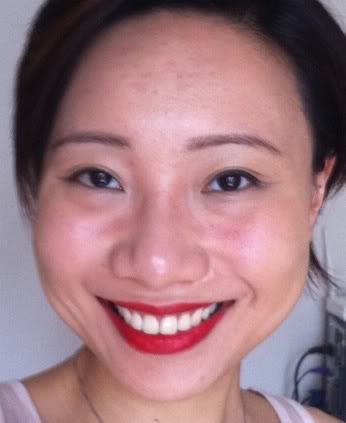 Edited to add:
Okay, that was a lie. This (left) is what I actually wore when I went out the door. With the bare bones of the look already in place, what is anything else really but the garnish? But for the sake of full disclosure, here is what I added:

A not-too-heavy balm on the eyelids for a bit of gloss, a trick taken from Dick Page's book. I used Elizabeth Arden 8 Hour Cream Lip Protectant.


Black eyeliner (MUFE Aqua Eyes 0L).


A light coat of a natural-looking mascara (Shiseido Perfect Mascara in brown). Although barely noticeable, if you're going to wear eyeliner, you may as well balance it with some subtle mascara.



Some pale pink eyeshadow, patted into the makeshift eye-gloss with a finger, to brighten the eyes. I used a pale blush/highlighter, Shu Uemura P42 Glow On.


Red lipstick, in this case Cle de Peau Beaute R2 Red Abundance Ultra Rich Lipstick.


After base and brows, red lipstick gives you the most bang for your buck, high impact for very little effort, or even the appearance of effort. And for a lazy Saturday morning, what more do you really need?

Image note: This is not a vanity post. All photos were taken on my iPhone 4, which is the only camera I can find at home. None of them have been retouched.
Labels: beauty notes, chanel, cle de peau, shu uemura
10/01/2011 [18]
Subscribe to
Posts [Atom]. Or
follow on bloglovin'. If
you'd like to contact Dain,
feel free to email me.
I'm also on Pinterest.
Features

The Mnemonic Sense
Most Wanted
The Beauty Primer
Lookbook
Bestsellers
Consumer Diaries
Closet Confidential
On The Label
Beauty Notebook
The Hit List
Color Me In
The Makeup Artist
Wedding Bells
Globe Trotter
Desert Island
perfume notes
beauty notes
fashion notes
culture notes
minimalism
chypre arc
floral arc
fresh arc
masculines arc
gourmands
& orientals arc
Archives

August 2008
September 2008
October 2008
November 2008
December 2008
January 2009
February 2009
March 2009
April 2009
May 2009
June 2009
July 2009
August 2009
September 2009
October 2009
November 2009
December 2009
January 2010
February 2010
March 2010
April 2010
May 2010
August 2010
November 2010
December 2010
January 2011
March 2011
August 2011
September 2011
October 2011
November 2011
December 2011
January 2012
February 2012
June 2012
July 2012
August 2012
September 2012
October 2012
December 2012
January 2013
February 2013
March 2013
June 2013
July 2013
Images

Photobucket