Announcements
If you're new to this blog, then read our guides to the basics: Skin (Part I), Skin (Part II), The Supernatural, Color Theory I, Color Theory II, Eyes, and Brushes.

Also, check out the blogsale.
Contents
· The Beauty Primer: Brushes

· Perfume Notes: Guerlain Habit Rouge

· Most Wanted: Macbeth

· On The Label: Coco Glucoside

· Beauty Notes: Narsissism

· The Makeup Artist: Bobbi Brown

· Culture Notes: Ain't No Grave

Favored

Art Tattler
the glamourai
The Non-Blonde
Perfume Shrine
Lisa Eldridge
Garance Doré
Smitten Kitchen
Into The Gloss
Grain de Musc
Lacquerized
Res Pulchrae
Drivel About Frivol
The Selfish Seamstress
Killer Colours
Bois de Jasmin
Glossed In Translation
Jak and Jil
Toto Kaelo
Worship at the House of Blues
I Smell Therefore I Am
Food Wishes
The Natural Haven
Messy Wands
1000 Fragrances
Moving Image Source
Wondegondigo
The Emperor's Old Clothes
M. Guerlain
Colin's Beauty Pages
Barney's jewelry department
Parfümrien
loodie loodie loodie
The Straight Dope
Sea of Shoes
London Makeup Girl
Sakecat's Scent Project
Asian Models
Ratzilla Cosme
Smart Skincare
Illustrated Obscurity
A.V. Club
Tom & Lorenzo: Mad Style
Eiderdown Press
Beauty and the Bullshit
La Garçonne
Flame Warriors
Everyday Beauty
Fashion Gone Rogue
Now Smell This
Dempeaux
Fashionista
The Cut
A Fevered Dictation
Nathan Branch
101 Cookbooks
The Beauty Primer: Brushes
by Dain
Picking foundations—and moisturizers and lipsticks and everything else—can be tricky business. It takes considerable trial and error before you figure out individual preferences, but with a little common sense it eventually resolves itself. For the most part, specific concerns are directly determined by anatomy. Someone with oily skin might find themselves gravitating towards a matte longwear foundation, alternating with a mineral powder for lighter coverage, while developing an aversion to dewy "illuminating" silicone bases. So, what then happens when you go shopping for the perfect brush to apply your beloved Colorstay?


Take your pick: flat synthetic filberts, dense flat-top kabukis, fluffy tapered goat hair, duofiber stipplers, sponges, or just your fingers. All of these methods are equally viable. In this case, a fast-setting longwear foundation is best suited to a damp sponge. The decision is ultimately settled by the properties of the product itself, rather than anatomical considerations like skin type or undertones or bone structure. It is simply the nature of a tool; its value lies in how it manipulates the material, and of course in the skill of the wielder.

Like any other product, brushes can be evaluated according to quality. A brush badly made is harsh against the skin, falls apart quickly, and generally fails to perform. They are also among the more expensive investments you will make; it's a disappointment if you choose unwisely. For that reason, it's advisable to choose for specific effects, keeping in mind that most brushes excel only at a limited number of techniques. For example, at right is the RMK Cheek Brush, a personal favorite. Manufactured by Chikuhodo in Kumano, Japan, this is a medium-sized face brush, full and tapered, with a short handle: a fairly basic shape. I was drawn in by the exquisitely soft hair: I'd guess uncut blue squirrel with hidden synthetic fibers to create extra fluff and volume, ideally suited to a sheer and subtle application of powder. Somewhat to my chagrin, I discovered it was much too soft, and I like my blush strong. Blue squirrel can build up pigmentation if densely bundled, but in this case the squirrel is even more than usually diffused. To make the most of this brush, I needed to make a switch. It's brilliant for loose powder, diffusing pigment so well that the finish is never cakey but featherlight, its small size an unexpected bonus, all more maneuverable around tricky corners. It's also my bronzer brush, not for contouring of course but for a naturalistic allover glow of summer sunshine. A sheer application of bronzer is the most my cool complexion can handle.

You see, you can't really eyeball a brush for quality, even if it's available for testing at the counters. Like all tools, you'll have to use it a few times before you can accurately assess its utility. You'll find that repeated use will change the shape, that it sheds like crazy after washing, that what might have felt soft against your hand scratches your eyelids, that you might have had one specific purpose in mind only to find it unexpectedly performs better at another. It's helpful to have a clear idea of the products and techniques you favor. Brushes interact first with pigment, then with the skin. If the products you tend to wear are sheer, shimmery, relatively neutral midtones, or a cream formula, you don't have to be so careful about the brush, but if they are pigmented, matte, dry powders, extremely dark or extremely pastel, you will need maximum precision and control. Indeed, precision and control, combined with ease of use, are the hallmarks of a good brush.

The performance of a brush depends on the combination of the type of the hair, or the raw material, and the way it has been shaped (size, density, tapering), which affects its movement against the skin. Especially for eye brushes, consider also the size.


HAIR
The type of hair will determine how the brush interacts with pigment: how it picks up pigment, then deposits it on the skin. Each type of hair has its own unique characteristics. At left are two brushes very similar in shape and size, but from the pressure of their own handles, it's clear that utilitarian goat hair retains its shape better than the decadently soft, yielding squirrel. The highest quality brushes utilize the noge, the ultrafine, uncut tips of natural hair. The expense is more than a question of rarity; noge must be shaped by hand before it's bundled, a labor-intensive process, unlike the vast majority of commercial brushes cut by lasers. Uncut hair is not only softer against the skin, it creates diffused edges that practically blend themselves. Most brands do not identify the type of hair, much less the grade used, but uncut hair, once you've experienced it, cannot be counterfeited.

Perhaps the most versatile natural hair is goat; it's neither too firm nor too soft, durable enough for cream products, and not too expensive. The way it fluffs out when bundled makes it ideal for diffusing pigments, i.e. blending, so it's great for blush and eyeshadow, as well as buffing in foundation and concealer. It's a particularly good match if you tend to wear heavier makeup, because it handles large amounts of pigment very deftly. Keep in mind, however, that goat hair comes in a wide range of quality. The highest grades, saikoho, sokoho, and ototsuho, can rival indifferent squirrel hair in softness, but uncut low-quality hair is quite rough. Raw goat hair is usually white, but it's often dyed; you can more readily identify it by its soft but firm texture.

Squirrel hair is undeniably the height of luxury; blue squirrel is a dark, ultrafine hair, soft as a breath of air on the skin, while canadian squirrel is a distinctive, variegated golden brown, thicker but also fragile. Though decadent, keep in mind that squirrel is not always the most versatile choice. It is is extremely delicate—the hair is yielding, rather than flexible—it should not be used with cream products and requires extra care when washing and drying. It's a great choice when a sheer application is warranted, such as loose powder or highlighter, but it does not manipulate pigment as efficiently as a stiffer hair would. If your design is to build up pigmentation, make sure that the brush is dense and compact; the smaller size compensates for the softness of the hair. Properly made, a squirrel brush is the superior choice for detail work: the hair is fine and without too much fluff, so a densely bundled brush can be tapered to a precision point.

Inexpensive pony hair is common, but its rough texture, too scratchy for the delicate skin around the eyes, relegates it to face or body use, even with brands for whom brushes are an afterthought. Badger is a very stiff, thick, flexible natural hair; it keeps its shape well. It excels with brow brushes, sometimes it's bundled in shaving brushes, but it's definitely too harsh for anything else.

In recent years, synthetic hair, sometimes called taklon, has become very popular. It's relatively inexpensive, cruelty free (though many of the better brush manufacturers use natural hair that's been gathered without harm to the animal), and is completely non-porous. For that reason, the majority of foundation, concealer, and eyeliner brushes are synthetic, many lip brushes too—pretty much anything that's likely to encounter cream products. The synthetic hairs are firm and straight as a pin, so while you can bundle a full kabuki-style brush, most brushes are usually flat. Unfortunately, synthetic hairs are inferior at manipulating dry pigment, no match for the finest uncut natural hair; you'll never get a truly polished effect with powders. Over continued washings, you'll find that they don't retain their shape so well. When synthetic hairs are incorporated into natural hairs, it applies with a softer, lighter, sheer touch.

Sable, or weasel, hair boasts the most well rounded performance: firmer than goat, flexibility equal to synthetic, durable enough for both cream and powder products, with squirrel's softness against the skin. Sable seems to respond sensitively to pigment, so that you have a great deal of control over application, even with the fine noge tips. Unfortunately, it is phenomenally expensive, and only very select brands offer sable. It's usually reserved for the smaller eye or lip brushes, in economically shaped filberts. All the same, sable brushes do return on the investment; not the lavish shadow brush that commands a phenomenal $280 perhaps (too large for anything but blending), but the more modestly proportioned ones, 10mm or less. Sable hair is nearly straight, so the filberts tend to be very flat, making it particularly useful for extracting the full potential out of pigment, whether it's the multifacted quality of a shimmer, the intensity of a dark matte, a precise, sculpted crease, or impact from an ethereal pastel.

SHAPES
Makeup application isn't static. From wiggling pigment back and forth between lashes (tightline), buffing in foundation with a kabuki, laying dark lipstick down flat, or dropping a concealer exactly onto a blemish, technique depends on movement. This is why the type of hair matters, since its strength and flexibility determines how a hair will move against a surface, how it manipulates pigment. But even more important is the shape of the brush. The highest quality hair in the world, if not properly shaped, will flop uselessly against your skin, while a well designed brush makes the most out of the hair's properties, even compensating for its deficiencies. Ultimately, the shape of the brush should work in concert with the type of hair.

Always, always check for the density, the amount of hair bundled into the brush. The density determines the amount of product that will be deposited on your skin. Don't select a diffuse, loosely bundled brush if you want to build coverage, but remember that a dense brush is more likely to scratch. If synthetic fibers have been integrated into natural hairs, it will also reduce the density. The size, measured according to the width of the ferrule, the thickness of the belly, and the length of the hair, should be appropriate for your needs. A large brush is more efficient, even luxurious, but it lacks precision. On the other hand, a too small brush may require blending afterward, especially with a dark matte. Take the type of hair into consideration: if a softer hair, like goat, has been left long, it should be fatter at the belly, denser, so there's some firmness to the brush overall. You don't want too compact a brush, however, as the pigment will go on too intense. Finally, unless you specifically want crisp edges, make sure that the brush has been well tapered, the hairs incrementally graduated to create soft, easily blended edges; if the hair is uncut, rather than tapered by lasers, the edges may be soft enough to blend as you apply. Some brushes are tapered to a point, for precision without any hard lines, but most brushes leave the sides or the top gently blunted, for a balance between surface area and softness of the edges.

I don't know if there is an official nomenclature for makeup brushes, so I've divided them into four major shapes.



Round


All the great masters painted their oils with round brushes. Indeed, script brushes—long, thin, and pointed for liquid liner or pinpoint concealing—aren't too different from what you would find at an art store. Most crease brushes are round because they fit so well into the socket. They tend to be quite full, so they'll either taper to a point, for a detail brush or precision crease, or lowered slightly in density and elongated, for a sheer but narrow crease. Some round brushes are angled; they're good for a strong cut crease. Occasionally, you'll see a round blush left blunt, especially face brushes intended for buffing: dense compact kabuki brushes, sheer flat-top stippling brushes, and contouring brushes.

RECOMMENDATIONS Laura Mercier Smoky Eye Liner (far left), Shu Uemura 5R (second from the right), Edward Bess Luxury Eye Brush, Paula Dorf Eye Contour, Paula Dorf Sheer Crease, Hakuhodo Kokutan Eye Shadow T E0183/G5528BkSL (center), Hakuhodo 210 E0108, Louise Young Super Foundation, Make Up For Ever HD Kabuki. For inexpensive script brushes, Hakuhodo offers several; it's not worth paying more than $10.



Flat


At the other extreme are flat brushes, with a crimped ferrule, used to create line effects on the brow or lashline. Whether flat or angled—a matter of personal preference—a flat brush should be thin, as thin as possible. It's not a lot of hair. Out of the hundreds of options out there, find one that's densely packed (unless it's a fan brush), with short, compact hairs that keep their shape, not a hair out of place. They may be ever so slightly tapered. Strength is a virtue here. You won't see a weak hair like squirrel, rather taklon, badger, and sable. Badger is the classic choice for brows, synthetic for eyeliner. Synthetic brushes excel with gel liner, but they grip powder poorly, so if you like to use shadow for lining, sable will prove a worthwhile investment. Finally, there are fan brushes; these are extremely diffuse, for a sheer, delicate application of highlighter. All flat brushes should be carefully washed and dried, particularly the synthetic ones, which have a tendency to lose their shape.

RECOMMENDATIONS Hakuhodo K005 E0158/Kokutan SL E0189 (far left), RMK Brow Brush (third from left), Laura Mercier Fan Powder Brush. Inexpensive synthetic flat brushes are everywhere, so I won't recommend one.



Full and tapered


More full than flat, this classic shape excels at techniques that depend on circular motions, such as blending, contouring, buffing in foundation or concealer, bronzer, and blush. Goat and squirrel, which have some fluff to them, are most commonly used, sometimes pony. Often generously tapered, the top is gently blunted, to cover more surface area. Though a more economical use of hair than round brushes, especially for the face, it can be manipulated just as easily in all directions. On occasion, a fluffy brush is angled, usually designed for contouring.

RECOMMENDATIONS MAC 217, Trish McEvoy 2B Sheer Blush, Hakuhodo Kokutan E0179 (second from right), Hakuhodo S110 E0007, Shu Uemura 18 Goat Foundation Brush.



Filberts


More flat than full, filberts lay pigment down flat, building up its intensity. Therefore, they are well suited to colors trickier than neutrals: pastels, brights, and dark shades. Depending on the size, they are also called thumbnail (eye) or paddle (foundation) brushes; some are even fan brushes. Some are blunt but most are tapered, sometimes tapered to a point, for lip or concealer. Usually, they're this softly rounded shape. One peculiarity of filberts is that, unlike flat, fluffy, or round brushes, you can use both the tips or the flat side equally, so you can manage both surface area and precision work, depending on how the brush is held. Perhaps for that reason, you will see the characteristics of the hair shine very clearly: the delicacy of squirrel, taklon's preference for cream rather than powder product, goat's middle range, sable's sensitivity to pigment. Though a shape known for its versatility, filberts are not ideally suited to blending, though well tapered noge shouldn't leave any harsh edges.

RECOMMENDATIONS Shu Uemura 6M Natural (far right), Shu Uemura 10 Natural, Hakuhodo's weasel filberts E0023/E0110/E0186 (second from left), Paula Dorf Smudge, Kevyn Aucoin Concealer Brush, Bobbi Brown Foundation Brush.

CARE
Dampen brush with running warm water—not too hot, not too cold—try to avoid getting too much water onto the ferrule, which might detach the glue. Then, in the palm of your hand, massage some liquid soap like Dr. Bronner's, which cuts through accumulated oil and makeup especially well, into the hairs. Be especially thorough with big or dense brushes, making sure the soap penetrates into the core of the brush; no point in just washing the outside. If the hair is rough or seems to shed inordinately, leave in some conditioner for a few minutes. Rinse thoroughly and well. Blot dry in a towel, then allow to dry. Sometimes, particularly with flat or fluffy brushes, you'll have to continue to shape it as it dries, so it retains its original shape. Synthetic or goat brushes used with cream or liquid product should be cleaned frequently, but delicate squirrel hair, which requires extra attention, should only be washed every month or two.

For storage, I recommend a large water goblet.

* Except for the first, all images are of my personal brush collection; I figured taking my own pictures would be more aesthetically consistent. However, they do reflect my personal preferences in brush shapes, so I've included recommendations that might be more inclusive.
** This one's for Anne, who requested a brush primer months ago. I'm sorry it took so long.

Labels: bobbi brown, edward bess, hakuhodo, kevyn aucoin, laura mercier, louise young, mac, make up for ever, paula dorf, rmk, shu uemura, the beauty primer, trish mcevoy
5/29/2011 [3]
Perfume Notes: Guerlain Habit Rouge
by Dain

Pierre-Auguste Renoir, On the Terrace (1881).


I used to sneak a spritz of Habit Rouge while I was living in Seoul. Maybe it was the smell of the city, maybe the soigné but mealymouthed feminine ideal, most likely it was Korean cuisine. Somehow, it wasn't the appropriate backdrop for grand orientals and enigmatic chypres. Instead, I found myself craving compositions I'd have dismissed as bloodless or even apologetic in New England: hesperides, rose soliflores, meditative sandalwood, aldehydic florals. I fell for the easygoing charm of Chant d'Arômes, admired Roudnitska's masterful eau de colognes, and treated myself to the modernism of BVLGARI Black. My palate learned to savor delicacy and understatement when previously it could only register broad flavours.

But now and again, I'd take some Habit Rouge, like a tonic. Even from Jean Paul, who infused his compositions with transparency and light, there's nothing to match a Guerlain for opulence.


Habit Rouge isn't modern; it does not try to be. Though released after Vetiver (1959) and Chant d'Arômes (1962), in spirit it feels far more old-fashioned, a period piece centered on an aristocratic estate, forgotten by time. Reorchestration has stripped Habit Rouge of its animalic base but left its patrician mannerisms intact. If we've left the stables of its equestrian mythos, the house still has its charms: leather-bound books, Horse and Hound, impeccable three-piece suits, and gentlemanly conversations over port and cigars.

In a direct quotation of Shalimar, Habit Rouge opens with the astringency of bergamot, followed closely by that distinctive musty vanilla. Though tweaked slightly for a masculine audience—the citrus more tart, augmented by candied zest, the vanilla a tad drier perhaps—the proportions are nevertheless very close to the original. In 1965, that would have been enough to trigger a half-conscious memory in every man of someone who had made Shalimar her signature. Eventually, Habit Rouge takes its own course, an emphasis on fragrant woods and rare oriental resins, the virile stereotype made intricate as a Dürer woodcut as only Guerlain knows how: curls of rosewood, a sandalwood box, leathery birch tar, cedar chips, vapours of burning incense from church-like frankincense and softly sweet benzoin, earthy patchouli leaves, cinnamon bark. Always that echo of Shalimar lingers, sweetly powdery. Generally Jean Paul Guerlain captures the aesthetic climate of the moment—his work in the 60s and 70s is fresh and green, like an invigorating breeze clearing away stale ideas—but Habit Rouge is firmly rooted in its own heritage and tradition. Largely an exercise in conservatism, to today's sensibilities it feels rather dated. But Habit Rouge also borrows its flamboyant, dominating personality, classically trained, from Shalimar. In that sense, Habit Rouge serves as a homage, perhaps a eulogy, for an opulence and glamour that even then was fading, just as The Lion In Winter belongs to Hollywood's Golden Age, with its formal, stage-like performances and contrived (but witty) dialogue, rather than the true-to-life realism of The Method.

OTHER REVIEWS
Now Smell This
M. Guerlain
Pere de Pierre
Basenotes
Makeupalley
Fragrantica

Labels: cedar, guerlain, incense, jean paul guerlain, oriental, perfume notes, peter o'toole, pierre auguste renoir, sandalwood, vanilla
5/24/2011 [0]
Most Wanted: Macbeth
by Dain
For all that love—or something nearly like it—is the favored theme in art, very little of it resembles the real thing. On romance Romeo & Juliet earned its eternity. And it is, absolutely, a celebration of love as an art form. Throughout the play, Shakespeare draws upon elements of chivalric romance, in particular its courtly language, a rich tradition still resonant to his Renaissance audience (approximately equivalent to today's Austen revival). The language of love, however, is not to be confused with love itself. Here is Romeo on Juliet:
O, she doth teach the torches to burn bright!
It seems she hangs upon the cheek of night
As a rich jewel in an Ethiop's ear —
Beauty too rich for use, for earth too dear. (I.v.41-44)
Even to a modern reader, for whom the High Medieval is something remote, Romeo's eloquence is transcendent, immortal. A further wonder: his lyrical ecstasy is real, not glib or honeyed. Romeo would defy his family, even die, for Juliet. You may not find his style appealing (a decision for the individual reader), but there is no doubting his sincerity. Still... it is not love. With painstaking care, Shakespeare deploys all the dramatic conventions of Romance, only to paint a facsimile. It is nothing short of masterful. When the reader penetrates past the luridly illumined surface of Romeo and Juliet, he finds only paint on a canvas. It is only art, after all. Romeo may have forgotten the agonies of unrequited love, but the reader will remember Rosaline:
O, she is rich in beauty, only poor
That when she dies, with beauty dies her store. (I.ii.208-209)
Isolated, these lines have much in common: a woman's beauty compared to earthly wealth, a typical chivalric conceit. It is poetic, it is romantic, if you care only to admire surfaces, as Romeo does. Dig deeper, and you'll wonder how Rosaline and Juliet, two unique human beings, could be so easily reduced into formulaic imagery. This is not Shakespeare, who can dodge clumsy repetition with ease, but Romeo, who does not know he is shallow. At this moment, Romeo does not even know Juliet's name. Is this love? No, says, Friar Lawrence, "Young men's love then lies/ Not truly in their hearts, but in their eyes." (II.ii.67-68) No, says Mercutio, whose cynical take is that lofty emotions merely disguise base physical lust. Satiate one, and the other will disappear: "If love be rough with you, be rough with love./ Prick love for pricking, and you beat love down." (I.iv.27-28).

Nevertheless, this is not the pungent satire of Don Quixote. Shakespeare believes in love, but he knows the real thing is rare, so he portions according to supply. Odd though it sounds, his most convincing depiction of love is between Macbeth and Lady Macbeth. In spite of its preoccupation with other matters, Macbeth is empowered by their dreadful union. Their relationship tracks the corrosive effects of power on the human psyche—Lady Macbeth's galvanizing effect on her neurotic husband, their slow disintegration into despair, until his chilly indifference in response to her death, Macbeth's celebrated monologue (V.v.16-27)—love subordinated to narrative imperatives. Cannily, Shakespeare decides against a chaste marriage, the kind sanctioned by society for the procreation of children rather than personal fulfillment. Instead, they form a bloodthirsty pair of soul mates, matched in ruthlessness and willpower. If there is a force on earth capable of harmonizing two massive egos as Macbeth and his Lady's, what else if not love?




Judi Dench's marvelously well judged reading, so natural you almost forget it's Shakespeare.


After watching Macbeth struggling to conceal his "black and deep desires" (I.iv.51) under a show of fealty, "The service and loyalty I owe,/ In doing it, pays itself" (I.iv.22-23), his full disclosure to Lady Macbeth automatically establishes the depth of trust that lies between them. She is so highly attuned to her husband that she exclaims, "Your face, my thane, is as a book where men/ May read strange matters." (I.v.60-61), in sharp contrast to Duncan's mournful complaint, "There's no art/ To find the mind's construction in the face." (I.iv.11-12). Their love is a partnership, built on profound mutual understanding. She anticipates his faltering resolve, and girds herself to greater viciousness, in order to "chastise [him] with the valour of [her] tongue" (I.v.25). Lady Macbeth may come off shrewish, but she knows what her husband needs to hear. They even think alike. Working themselves up to murder, Macbeth's "eye wink at the hand" (I.iv.52) is echoed by her "keen knife see not the wound it makes" (I.v.50).

To call it love might feel profane, but Shakespeare resists the idea that love is a panacea, an approach that reduces love into a cure for loneliness. His definition is plain but more profound: an intense empathetic bond. What one feels, so does the other. In Macbeth it becomes a device to amplify the ugliest of human desires: the lust for power. Even before death, they can feel damnation creeping on them to claim their souls, and with horror, they face despair.

Hm! Not the best material for a wedding Most Wanted. I'm not sure if these compositions are appropriate for a beauty blog; I feel like a schoolgirl. In any case, these are what I'd wear to my own wedding.



I love this dress. With Lanvin ($10,860), the exquisite drape is best shown off by movement, the grace with which it flows around a woman's body, but it's still got enough interest for a still image. The arts-'n'-craft embellishment manages to walk the fine line between glamour and ease.



An organic twist on the classic pavé, this Me & Ro band strikes an elegant balance: not so obtrusive it fatigues the eye, but still a very special ring. And the Lotus Mandala Amulet ($1150) awaits anniversaries.


I shouldn't like to saturate this dress with accessories. A diadem of gold leaves, such as this one from Asos featured on Le Blog de Betty, might be just enough magic.



Nothing coy here. For my wedding, I'd wear my favorite soliflore: tuberose. Carnal Flower ($320) by Dominic Ropion for Frédéric Malle. Yeah, the big bottle.


Manolo Blahnik Yambamod ($700ish) require no further description. They're my only party heels; never needed another pair.

Labels: asos, frederic malle, lanvin, manolo blahnik, me and ro, most wanted, shakespeare
5/20/2011 [1]
On The Label: Coco Glucoside
by Dain
Some ingredients, vitamin C and hyaluronic acid and collagen for example, hog the spotlight. In reality, skincare is built out of bases—water, oils, surfactants, thickeners, humectants, preservatives—with active ingredients at minute amounts. And when we evaluate a product, it's frequently for the base: cleansers both thorough and mild, creams stiff and unctuous in texture, lotions with good flow and rapid absorption, sunscreens easy to spread and rub into the skin. These qualities may seem purely cosmetic, but they are critical to performance.

The most basic components of skincare, water and oil, do not mix. Unless you're dealing with a water-based solution, like a toner, or pure lipids, as in the case of lip balm, an ingredient that interfaces with both water and oil proves very useful. The surfactant, a bipolar molecule with a hydrophilic head and a hydrophobic tail (see left), simultaneously attracted to and repelled by water, fulfills this crucial role. There are many ingredients classified as surfactants. The more powerful serve as detergents, the most famous being the much maligned sulfates, breaking up oil and dirt and makeup with ease, all the while providing a pleasant lather. Weaker surfactants, such as cetearyl alcohol, commonly function as emulsifiers. In our estimation, a sulfate-based shampoo Pantene seems far removed from the mild cleansing action of the cetearyl alcohol in CeraVe, but they act on the same chemical principle: the surfactant's ability to break surface tension.

For most people, a good lather equals clean. It's strange to think only a few centuries ago people believed bathing caused illness, the nakedness exposing you to devils. In the tepidarium, while they discussed love and business and politics, the Romans anointed their bodies in olive oil, which a flock of slaves scraped away with stirgils. Nowadays, we happily soap ourselves up from head to toe. Cleansing is so basic, it's closer to hygiene than beauty, and thanks to surfactants, it's so easy—lather, rinse, towel dry, clean—we sometimes get overzealous. Maybe it's Puritan conditioning, maybe it's because our first introduction to skincare generally occurs when the first outbreak of teenage acne startles us out of childlike unselfconsciousness, but many of us don't feel clean unless we're squeaky clean. On a routine basis, we purge ourselves of dirt, oil, sweat, makeup, hair gel, errant hairs, overgrown cuticles, body odor, dandruff, and dead skin cells; in a complete reversal, we are as obsessive about cleanliness as they were lax about it during the Age of Faith. We even have perfumes that smell fresh out of the shower.



Four cleansers at different price points: Weleda Calendula Baby Shampoo & Bodywash ($9),
Evanhealy Blue Lavender Cleansing Milk ($27.50), Stem Organics Gentle Cleansing Milk
($36), and Tata Harper Regenerating Cleanser ($50).


Unfortunately, many surfactants are known irritants. In today's frenzy for greenwashing, the worst offender, sodium lauryl sulfate, is frequently villanized as poison. It's not actually carcinogenic; nonetheless, it's better avoided, as it is quite harsh for facial use. Some surfactants are just too effective. With continued use, they strip the skin of oils, causing dehydration and stimulating sebaceous glands into hyperproductivity. Indeed, if excess oil is a concern, anecdotal evidence points instead to cleansing oils and (hot cloth) balms as far superior inhibitors. You can't beat DHC Deep Cleansing Oil ($26) for its simplicity of formula and effortless makeup removal.

However, if your skin is unusually fine and dry, as mine is, the options are really narrow. There are very few cleansers out there I can use regularly without impunity. Standard detergents like soaps, sulfates, cocomidopropyl betaine, and decyl glucoside are outright verboten; they're much too harsh. Cleansing oils too, though so different from the standard foaming cleanser, are also drying; when you're dry, you don't need your sebaceous glands suppressed. There aren't so many cleansing milks out there on the market, since most consumers, myself included, dislike a residue, but most of them (off the top of my head, Avène, Lancôme, Clarins, Sisley) feature mineral oil. By some quirk of fate, petrolatum is one of the rare comedogenic ingredients for me. Well, why not use a hot-cloth cleanser? No residue, and you can pick 'em for beautiful, skin-loving ingredients: Trilogy Cream Cleanser ($37) is practically a moisturizer masquerading as a cleanser. Alas, muslin cloth is too rough for my fragile, thin, intolerant skin. So for a long time, I had to settle for fatty-alcohol based cleansers, the most famous being Cetaphil (La Roche Posay, Avène, and CeraVe also make one). I still like them—CeraVe is particularly nice—but they require a little elbow grease, as they don't remove makeup or waterproof sunscreen well. But when CeraVe is massaged into the skin properly, it breaks up the oil and makeup and dirt that's settled into pores more effectively than a careless, lazy pass with a foaming cleanser. In my opinion, bubbles can lull you into a false sense of security. Eye makeup, I remove separately.

Then one day, I happened to buy Weleda Calendula Baby Shampoo & Bodywash. Though it proved too mild for my hair, for the face it was perfect: inexpensive, softly scented with oranges, with a soft, unctuous texture that recalled a cleansing milk, yet gently lathering, so it rinses clean. It sounds queer, but this is absolutely brilliant stuff. For anyone with particularly sensitive, dry, or dehydrated skin, coco glucoside is a savior, though of course it is amenable to every skin type. It's not a common surfactant, but I've encountered in a few other cleansers and been equally pleased by its performance: the Tata Harper is mildly purifying, with pomegranate enzymes, willowbark extract, and apricot granules, while the sebum-absorbent kaolin in Evanhealy's Cleansing Milks adapt coco glucoside to oilier skins*. It's so mild it's approved for babies, and yet not so weak as CeraVe. It conditions the skin, especially when combined with oils, but like a proper surfactant, it removes rather than deposits residue. Coco glucoside is also admirably green, if this is an important concern for you: "derived from renewable raw materials such as coconut oil and fruit sugars, and is completely biodegradable" (New Directions Aromatics).

* Disclaimer: I've tried the others, but not the Stem Organics product. Judging from the ingredients list, however, it's a likely product.

Labels: on the label, weleda
5/15/2011 [2]
Beauty Notes: Narsissism
by Dain
I don't normally copy-paste PR material, but this is such an interesting concept I thought it was worthwhile to pass on.



Coinciding with the new book Makeup Your Mind: Express Yourself, by Founder & Creative Director François Nars, NARS is excited to announce the launch of www.makeupyourmind.com, a community website featuring an interactive social game for all NARSissists!

www.makeupyourmind.com is a virtual global gallery that will showcase the users' personal interpretation of beauty by allowing them to recreate twelve selected looks from the book, upload their images, and garner votes on the best looks for the opportunity to win one of 13 prizes, including a trip to New York City to join NARS backstage during New York Fashion Week.

HOW IT WORKS:
Select one of 12 looks from the website and follow the onscreen step-by-step instructions (taken directly from the book) to achieve the look.
Post a picture of it to the website by connecting through Facebook Connect (and become a "NARSissist").
Vote on (or "heart") which look you think was personally interpreted in the best way
Once you upload your image, a post will be added to the "wall feed" on your Facebook page
Users can also participate by simply browsing the website and voting for their favorite "NARSissists"
The game will run for 4 months from May 6, 2011-August 31, 2011

THE PRIZE:
The user with the most hearts by September 1, 2011, will win the grand prize: a trip for two to New York City to join NARS backstage at Fashion Week in February 2012 (including two round-trip airfare tickets, two nights hotel accommodations, backstage access to select NARS shows, a makeup consultation at the NARS flagship boutique, and a gift certificate to a trendy NYC restaurant for each night)
Ten runners-up will receive secondary prizes—gift sets created exclusively for the launch of Makeup Your Mind: Express Yourself
Labels: beauty notes, nars
5/08/2011 [0]
The Makeup Artist: Bobbi Brown
by Dain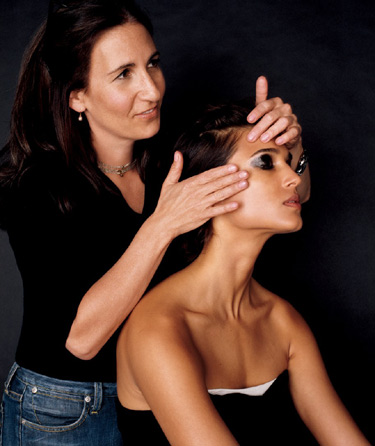 Bobbi Brown exemplifies a certain kind of makeup artist brand: the cult of personality. An aura of practical expertise, universal acceptance, and a preference for naturalism over theatricality surrounds Brown, whose public persona is quite unassuming and wholesome—and as far as I know, perfectly genuine. After seven years of struggling to establish herself in New York, she finally got her big break in 1990, making up Naomi Campbell for the cover of Vogue. A year later, frustrated by the high artifice of 80s makeup, Brown launched her ten original brown-based lipsticks at Bergdorf Goodman, all of which mimicked the natural lip tone. On the first day, they sold a hundred. In 1995, with Brown retaining creative control, Bobbi Brown became a jewel in Estée Lauder's corporate crown. Since the inception of her brand, Brown has identified herself as a champion of "real beauty", disseminating the now established standards of yellow-based foundations, peachy undereye correctors, brown-based neutrals for lips and eyes, a revitalizing "pop" of bright blush, professional grade brushes, and a series of how-to books. Makeup anyone can wear.

Above all, Brown is a consummate saleswoman, the best SA Estée Lauder ever had. Her products are accessible to the layman, mass with class, presented with a minimum of conceit. She possesses the rare qualities of the bellwether, able to popularize concepts that capture a broad audience, the instinct for knowing what women want before they realize it themselves. Above all, her aesthetic is pretty. Most women, I think, trust what the Bobbi Brown counter offers. Consequently, it's very difficult to identify Bobbi Brown with work that isn't tied into a sell. Every image done by her hand, is straight out of the pages of one of her books or promoting a seasonal collection. Every concept she espouses, borrowed from more innovative artists, is illustrated perfectly by one of her products. Even with other makeup artists with eponymous brands or consulting gigs, this degree of consistency is unusual: Pat McGrath of P&G is distinct from the Pat McGrath of Vogue Italia. Bobbi Brown, the makeup artist, is virtually indistinguishable from Bobbi Brown, the brand.

Perhaps it's just as well. Bobbi Brown is not a great makeup artist. Her technique is mediocre, heavy-handed, lacking the agile deftness of Laura Mercier, Brown's closest analogue. But Mercier is overly meticulous, using a dozen products where Brown might use three, and simplicity sells better. Nor is Bobbi Brown an original creative force; her strength has always been her ability to channel the zeitgeist. With the exception of the gel liner (an important contribution that changed the landscape of makeup), her brand represents a coherent vision that incorporates borrowed ideas. Though among the earliest makeup artist brands, she was not the first to launch an eponymous brand. For her palette, she copied heavily, as did MAC and Laura Mercier, from Kevyn Aucoin's groundbreaking 1984 The New Nakeds collection for Ultima II. In a sea of frosted blue eyeshadow, his yellow-based foundations and matte earth tones were revolutionary. Furthermore, these neutrals provided a simplification and embraced universality; browns worked on every race, every color. In Brown's work today, there remain vestiges of that early 90s look, more dated than timeless. In popular imagination today, it is Brown rather than Aucoin who is more closely associated with that earth-tone palette, so great are her powers of dissemination.



The original ten.


Fashion and beauty are not pure arts, and should be judged as such. They are businesses, driven by aesthetics, but businesses first and foremost. To me, it is not important that Bobbi Brown has deviated from her faith, the creed of neutrals that rejected all sparkle and artificial color. Originality, and fidelity to that idea, are only interesting from an academic standpoint. For all its innovation, Ultima II has faded into dust, while the intervention of Estée Lauder has kept Bobbi Brown relevant, tastefully updated, evolving with the times. But as a consumer of beauty products, I do take issue when a product does not deliver, as a brand Bobbi Brown fails its primary gimmick, with Bobbi Brown as a master of her craft. I don't dislike Bobbi Brown. It takes hard work to achieve that degree of success; it merits respect. In fact, I fully intended to write celebratory praise, but upon evaluation (I used her own books as evidence), her talents as a makeup artist are substandard. Natural makeup is measured according to its invisibility, known in the industry as the "zero face", but even with the advantages of studio lighting and a talented photographer, her work is obvious: masklike foundation, overpowdering, reverse raccoon eyes, too much blush, sometimes poorly blended eyeshadow. If you can see the makeup on a zero face, it's badly done. I also dislike the disingenuousness of her "real beauty" stance; her idea of flattering eye makeup on Asians (p. 109, Bobbi Brown: Makeup Manual) is so hideous it borders on insult.

But we've all got different reasons for buying the products that we do. If you're a fan of Bobbi Brown, why do you like it? Should I rethink my disinclination?

* Compared to her professional peers. She is obviously a better makeup artist than I am.

Labels: bobbi brown, the makeup artist
5/05/2011 [12]
Culture Notes: Ain't No Grave
by Dain

Favorite song at the moment. : )

Labels: culture notes, johnny cash
5/02/2011 [0]
Subscribe to
Posts [Atom]. Or
follow on bloglovin'. If
you'd like to contact Dain,
feel free to email me.
I'm also on Pinterest.
Features

The Mnemonic Sense
Most Wanted
The Beauty Primer
Lookbook
Bestsellers
Consumer Diaries
Closet Confidential
On The Label
Beauty Notebook
The Hit List
Color Me In
The Makeup Artist
Wedding Bells
Globe Trotter
Desert Island
perfume notes
beauty notes
fashion notes
culture notes
minimalism
chypre arc
floral arc
fresh arc
masculines arc
gourmands
& orientals arc
Archives

August 2008
September 2008
October 2008
November 2008
December 2008
January 2009
February 2009
March 2009
April 2009
May 2009
June 2009
July 2009
August 2009
September 2009
October 2009
November 2009
December 2009
January 2010
February 2010
March 2010
April 2010
May 2010
June 2010
August 2010
September 2010
October 2010
November 2010
December 2010
January 2011
February 2011
March 2011
April 2011
May 2011
June 2011
July 2011
August 2011
September 2011
October 2011
November 2011
December 2011
January 2012
February 2012
April 2012
May 2012
June 2012
July 2012
August 2012
September 2012
October 2012
November 2012
December 2012
January 2013
February 2013
March 2013
June 2013
July 2013
Images

Photobucket