Announcements
If you're new to this blog, then read our guides to the basics: Skin (Part I), Skin (Part II), The Supernatural, Color Theory I, Color Theory II, Eyes, and Brushes.

Also, check out the blogsale.
Contents
· On The Label: Mineral Oil

· The Makeup Artist: Dick Page

· Perfume Notes: Annick Goutal Encens Flamboyant

· Beauty Notes: French Twist

· Beauty Notebook: Vive Sana

· Beauty Notebook: Kahina Giving Beauty

· Fashion Notes: Blue Suede Shoes

Favored

Art Tattler
the glamourai
The Non-Blonde
Perfume Shrine
Lisa Eldridge
Garance Doré
Smitten Kitchen
Into The Gloss
Grain de Musc
Lacquerized
Res Pulchrae
Drivel About Frivol
The Selfish Seamstress
Killer Colours
Bois de Jasmin
Glossed In Translation
Jak and Jil
Toto Kaelo
Worship at the House of Blues
I Smell Therefore I Am
Food Wishes
The Natural Haven
Messy Wands
1000 Fragrances
Moving Image Source
Wondegondigo
The Emperor's Old Clothes
M. Guerlain
Colin's Beauty Pages
Barney's jewelry department
Parfümrien
loodie loodie loodie
The Straight Dope
Sea of Shoes
London Makeup Girl
Sakecat's Scent Project
Asian Models
Ratzilla Cosme
Smart Skincare
Illustrated Obscurity
A.V. Club
Tom & Lorenzo: Mad Style
Eiderdown Press
Beauty and the Bullshit
La Garçonne
Flame Warriors
Everyday Beauty
Fashion Gone Rogue
Now Smell This
Dempeaux
Fashionista
The Cut
A Fevered Dictation
Nathan Branch
101 Cookbooks
On The Label: Mineral Oil
by Dain
Mineral oil has a bad rap. When a product purports to be natural, it will inevitably claim, in big bold letters, the absence of petrochemicals and other blacklisted ingredients like sulfates, parabens, benzoyl peroxide, formaldehyde, avobenzone, silicones. In general, it is advantageous to have cosmetics driven by consumer demand—broad-spectrum sunscreens established as the norm, for example—certainly it is well within your rights to choose products according to its composition. Your reasons may be ethical, because mineral oil is a cheap byproduct of the petroleum industry, or purely cosmetic, if you're part of the minority for whom it's comedogenic (I am): these represent individual choices as a consumer. However, when people force the issue of toxicity, a pet vendetta in greenwashing, we find ourselves mired in controversy. It is particularly irresponsible* when companies exploit this false binary, on one side, suspiciously irritating synthetics of unsavory reputation, massed together on the axis of evil, and good-for-you, "safe" naturals on the other. That's exactly how NO PETROCHEMICALS is supposed to read on the label. Twisted logic. Furthermore, there's a world of difference between irritation (a rash) and toxicity (a tumor). When properly stabilized, avobenzone, the most common chemical UVA blocker, is a synthetic that prevents cancer, but on sensitive skin it is a notorious irritant. Ultimately, if a product is any good, all it needs is the chance to perform, not this fear-based marketing.

It's not my intention to take any sides here; this is simply a necessary preface, because mineral oil is controversial. In any case, toxicity should not be decided by a single individual, but by multiple, double-blind studies that document longterm effects—a matter of fact rather than opinion. Rather than partake in unnecessary paranoia, I am content with the general scientific consensus that a topical application of cosmetic-grade mineral oil has indeed demonstrated an excellent safety profile. I wouldn't mind it, were it not one of the rare ingredients that provokes nasty milia, which bars me from my favorite undereye concealer from Laura Mercier.



Vintage tins of Nivea.


Many cult products, from Creme de la Mer to Embryolisse to Nivea, feature mineral oil prominently. Most commonly seen in moisturizers, occasionally in cleansing oils and creamy makeup, it has a distinct unctuousness that most people would describe as greasy. Its properties are simple: mineral oil, low in molecular weight, it forms a fine occlusive film on the surface of the skin, preventing moisture loss. Since mineral oil is not absorbed by the skin, it is one of the best ingredients when you need to form a protective barrier. When used in quantity, it yields a cream noted for moisturizing properties. It is also absolutely inert. This makes it an excellent choice for babies, or alternatively, very sensitive skin. Perhaps the very best formulations based on mineral oil are by Avène, a French pharmacie brand that also specializes in retinaldehyde and tinosorb-based sunscreens, in addition to its core of basic targeted at intolerant skin. The main concern with mineral oil is not to pay too much; it's an inexpensive raw material.

If you've decided against mineral oil, then there are a dizzying array of vegetable oils worth your consideration. Their behavior on the skin differs in subtle but significant ways, and as a whole, I do feel they are superior to mineral oil in terms of performance. Since most vegetable oils do absorb into the skin, this makes them less effective at occlusion, but alternatively, they often feature a silkier, more pleasing texture. Nor is absorption a bad thing. Vegetable oils can be a rich source of fatty acids, which nourish the skin, as well as vitamins and powerful antioxidants. These benefits are superficial, of course, but anyone who's embraced face oils can attest to a lit-from-within glow. Your skin simply looks healthy. Vegetable oils especially high in fatty acids, such as rosehip or seabuckthorn berry or argan, do have a distinctive odor, and they are fragile, quickly going rancid within a few months. Mineral oil is as durable as plastic, as far as I know. Unlike mineral oil, which is homogenous, most vegetable oils are mixtures, especially when unrefined. As human sebum is also a mixture, natural oils are more likely to suppress hyperactive sebaceous glands, which largely explains the sheer volume of anecdotal evidence that face oils will restore sebum balance to combination skin. Hence the now familiar truism: "It sounds counterintuitive to use oils on oily skin..." How... HOW are they counterintuitive? Lipids are a natural function of your skin. They are intuitive. When you find the one that matches your skin—usually it's a matter of the fatty-acid composition—it should sink in almost immediately. In general, I find that oleic acid (omega-9) adds a well-conditioned glow to drier skin (but can clog pores), while there is some evidence that linoleic acid (omega-6) loosens up blackheads.

From the face oils I've tried**, these are my top four:
makeup/sunscreen removal We at Ars Aromatica adore DHC Deep Cleansing Oil ($25). Though the company is not green, it melts away makeup without stripping, a formulation remarkable for its efficacy and simplicity.
fade pigmentation, heal scars, and brighten overall tone, i.e. "the signs of aging" Any rosehip oil is recommended, but Pai Rosehip BioRegenerate ($35) is CO2-extracted for improved shelf life. If you're looking for a simple oil, this should please a variety of fractious, difficult-to-categorize skin types. Not recommended on open breakouts.
potent antioxidant cocktail Intelligent Nutrients Anti-Aging Serum ($60)... more information to come. Profoundly healing nighttime treatment on oilier skin. For drier skins, a potent free-radical scavenging boost under sunscreen. Not recommended for sensitive skin.
nourishment for sebum-starved skin Kahina Giving Beauty Serum ($90) is my personal favorite. When worst comes to worst, I suggest raw, unrefined shea butter; it heals like nobody's business. Not recommended for oily skin.
If anyone can recommend a purifying, sebum-balancing oil for skin prone to congestion, please leave a comment! Unfortunately, it is not my area of expertise. Neem? High-linoleic safflower? Borage? Grapeseed?

* Worse than irresponsible, really.
** Ready?: Decléor Aromaessence Rose d'Orient, Dr. Hauschka Normalizing Face Oil, Desert Essence Jojoba, Trilogy Rosehip Oil, Evanhealy Pomegranate Repair Serum with Seabuckthorn Berry, Rodin Olio Lusso, Badger Tata Harper Replenishing Nutrient Complex, Marie Veronique Anti-Aging Oil, Primavera Revitalizing Intensive Seed Oil Capsules, Weleda Rose/Birch/Calendula body oils, Kiehl's Midnight Recovery Concentrate, Liz Earle Superskin Concentrate, Pomega5 Daily Revitalizing Concentrate, Pai Rosehip BioRegenerate, Daybreak Only Face Feed, Kahina Argan Oil and Serum, Intelligent Nutrients Anti-Aging Serum, and Ila Face Oil for Glowing Radiance.

Labels: on the label
7/30/2011 [12]
The Makeup Artist: Dick Page
by Dain
Let me start by saying: I have nothing but unalloyed admiration for Dick Page.

Amid the cacophony of beauty editors, bloggers, makeup artists, hair stylists, youtube gurus, and celebrity dermatologists out there, all vying for your attention, Page's voice is a breath of fresh air. When informed of an emerging trend—blush-free faces—he tartly replies, "fuck that". In part, Page speaks from experience. As a veteran of the runways and editorials, he's seen every trend recycle itself a dozen times over. It is, furthermore, a vehement refusal to violate the beauty of the face. Page has been quoted, many times, extolling the virtues of blush, how it "immediately... animates the skin" (Australian Vogue September 2008)*. He even suggests applying it first, before lipstick or eyeshadow, because once it brightens the face, you may need less makeup than you might have imagined. In an industry driven by trends, where image counts for everything and everyone mindlessly parrots everyone else, while jaded appetites gorge on decadence and novelty, Dick Page remains adamantly loyal to his vision as an artist.

Now, like fashion makeup is not in itself an art, but a craft, a fusion of business and aesthetics, as Yves Saint Laurent once said, "While not exactly an art, it nonetheless requires an artist for it to exist." And good makeup does require an aesthete's eye, otherwise we'd be doomed to a limited palette of failsafe neutrals guaranteed to sell, but offering none of the excitement that can elevate a simple lipstick into a sublime pleasure. This is what the luxury brand—Chanel, Estée Lauder, Shiseido, Guerlain—strives to accomplish: the perfect balance between fashion-conscious colors and impeccable neutrals, worked in the most luxurious textures. Since 2007, when Page was installed as Artistic Director of Shiseido, he has slowly been reworking the brand into his "absolute ideal of a makeup line, the type of products I have always been searching for." (WWD, March 2007).

Page attributes his success to luck, being in the right place at the right time. Struggling on the outskirts of the fashion industry, taking any job he could get, he found himself in the company of up-and-coming photographers who were just under the radar, but would form the vanguard of 90s minimalism: David Sims, Corinne Day, Juergen Teller (p. 26, Makeup Artist, Issue #49). On a shoot with Day in 1993, he made up an unknown fifteen-year-old model by the name of Kate Moss (Voguepedia), and when she was later picked up by Calvin Klein, Page came along, too. His first show, the inexperienced Page dabbed lipstick onto the cheeks and bridge of nose, with minimal base, Vaseline on the lids, and no mascara (WWD March 2009). Now known as the king of no-makeup makeup, Page explains it was an aesthetic ill-received at first: "It was all [a moment of] high-glamour... and the stuff I was doing wasn't. It was Kate in a bra and panties, sitting around looking bored" (p. 27, Makeup Artist, Issue #49). To this day, Page's work tends to avoid theatrics. His advice is always practical to the point of anti-bullshit, with little patience for silly trends or overdone styling. When questioned about his strategy backstage at a show, he answers, "What am I doing? Not much; it depends on who [sic] I'm working on. [The models are] all beautiful. I'm just, you know, pointing that out." (Elle)

Snippets from Allure's The Makeup Guy:
Stop trying to fix your face with makeup! ("Why I Hate Makeovers", January 2003)
Lighten up already. Not the color, the texture—concealer looks awful when it's thick and cakey. ("The Essentials", June 2005)
It's called eyeliner, not lid liner. It's meant to go as close to the eyes as possible, not on the lids. ("Simply Done", June 2008)
Makeup ideas... work best in real life when not copied slavishly. An easy way to experiment is to visualize your fully made-up face divided into three horizontal sections (eyes, cheeks, lips) like a mix-and-match flip book—and then swap one element for something unexpected. ("Mix and Match", March 2011)
Brows can be tricky to get right. Maintenance is always important, but overmaintenance is disastrous. ("Raising Eyebrows", September 2003)
I can't recall the source, but his choice in brushes is rather unorthodox, for the softest possible edges. A natural blush brush to buff in foundation, a lip brush for eyeliner, a small rounded eye brush for a diffused modern lip, and two eye brushes, one larger, for blending/washes, and a small detail brush, for creasework and smudging liner.
For all his no-nonsense attitude towards makeup and restrained style, Page is not averse to bold color. Far from it: "When it comes to color, you should be able to see it from outer space." (New York Times, July 2010). Most of The Makeup is represented by classic neutrals, often with a unique-but-sure twist thanks to Page's instinct for how color should behave on the skin. His blushes have a pitch-perfect affinity for natural skin tones, with a glow that appears lit from within; Page recommends pairing them with the highlighters, which are delicate, transparent, possibly the best powder highlighters on the market. The Perfect Mascara, though its overly ambitious name garners a lot of hate, is clearly Page's idea of mascara: naturalistic, enhanced lashes, rather than visible mascara. But the range is also peppered by brights, from the ferocious orange Daylily to the trio in Punky Blues, and the new cream shadows, which are fantastic... It's in these outré shades that Page's painterly style most clearly manifests.

For him, color is just color, nothing more and nothing less, "it's fun and that's the whole point of makeup" (Allure March 2001). He neither attaches it a rhapsodic quality, but he also refuses to be intimidated by it. What matters is that the makeup is beautiful, but it should be fun, not something that has the power to define your identity. Really, this makes sense. Are you classy because you buy Chanel? Are you more interesting, vivacious because there's a MAC pigment orgasm on your lids? Are you somehow more humble and down-to-earth because you're a Bobbi Brown girl? Of course not. But that is certainly how these brands market themselves. We're playing with pigments, and Page understands this, "Makeup creates an illusion, and I believe that embracing the idea of illusion is very empowering and hugely enjoyable." (WWD, March 2007) Unlike most brands, Page's The Makeup doesn't sell us a prepackaged image; it's very much up to you to decide.

For example, here is OR302 Fire Trio (the lipstick is Guerlain Chamade):


Click here for closeup.


The first shade is a charcoal, a browned charcoal that mimics the blackened, burning wood. Perhaps it's the miniscule orange and green shimmers (look close, they're there) that break up the depths, but it has a warmth to it. The middle shade is a burnt orange metallic, an admittedly intimidating color to wear. Finally, the ember turns to ash: a muted dove grey shimmer with a faint lavender undertone. It takes on a fine platinum sheen when it catches the light, with a complex of shimmers golden peach, pink, and hint of green (the more complex the shimmer, the better it refracts light). The texture is superlatively creamy, but so soft the longevity is somewhat lacking, still it sheers out very smoothly without patchiness, and if intensity (or layering shades, as I've done here) is desired, it builds upon itself beautifully. Charcoal + Ember + Ash = Fire... Literally, a smoky eye. It's not easy to wear, but if you're like me, and you occasionally appreciate a beauty product for the sheer craftsmanship behind it, this is perhaps the most original, cutting-edge makeup design being produced right now. And it's mainstream.

In my opinion, Shiseido is such an underrated brand. Let's give it some blogger love. What are your favorite products?

* I would love for Page to write a book, but until that day, most of these articles and images have been culled from jedroot.com. For a behind-the-scenes look at his collaboration with designers, check out the "True Colors" (part 2) from Allure August 2004.

Labels: dick page, shiseido, the makeup artist
7/24/2011 [11]
Perfume Notes: Annick Goutal Encens Flamboyant
by Dain

Sisse Brimberg, the caves at Lascaux (~15,300 BCE) for National Geographic.


Perfumes are studies in time. The very idea of a composition, shifting from the first fleeting top notes to the long-lingering drydown, depends on evaporation rates. And of all our senses, smell is the most immediate evocation of memory. Think of bread baking. Your nose has already committed its warm-golden-crusty-moist-chewy-yeasty-grain aroma to memory, so simple to recall that there is a kitchen well known to you, filled with the savour of good things, already in your mind. This explains, to a large degree, why the reviewer of perfumes is often stimulated into lyrical ecstasies. Smell is powerfully associative. It's an easy leap, for me, from Encens Flamboyant to the mystical solipsism of Wordsworth, or perhaps a different memory, a road trip to Montréal. Of course, Encens Flamboyant smells nothing like these things; these associations reveal more about me than the perfume itself. A perfume can tell a story, but not a literal one. Instead, it mines experience itself: people we've known, places we've visited, periods of our life, things we've seen and heard.


Incense is an aromatic material of great antiquity, compounded of various plant resins: powdery vanilla-like benzoin and animalic labdanum, stridently green galbanum, and, inextricably linked with Catholic liturgy, frankincense and myrrh. Encens Flamboyant will disappoint the hardcore incense fanatic; it is not the truest rendition of the raw material. However, it manages a much more difficult feat. Frankincense sits front and center, and yet it never shares the murky fate of most incense-focused compositions, instead achieving a transparency full of color and light. If Encens Flamboyant is a church, it would be the cathedral at Chartres, magnificent with stained glass. At first glance, it would be easy to dismiss Encens Flamboyant as too tame, too wearable, too pretty. But most incense perfumes fall so flat of their soaring ambition to do credit to incense, that they ultimately affirm that its proper role is a supporting one, in the drydown. Annick Goutal's watercolor style proves the ideal treatment, like a daub of paint, not quite black, that yields surprising undertones in dilution that opacity would conceal.

For all its history, perfume is really a modern phenomenon, at least in the form we know it. Time, again. It has its own traditions, works that reference other works, and structure is more important than substance. What lends Encens Flamboyant its dimensionality is that Isabelle Doyen, like all noses, references other compositions. Most obvious is Annick Menardo's Black for BVLGARI, a tarry accord that conveys smoke without heat, allowing Doyen to use frankincense at a lower concentration without diminishment. Then, there are elements of the classic fougère, a trick first employed by the more rugged Serge Lutens Encens et Lavande. The dry heat of pepper and cardamom opens Encens Flamboyant, supported by a hint of lavender, which forms the perfect segue into its resinous heart. Lavender's honeyed, licorice-like undertones plays beautifully against the backdrop of spices and incense, but its herbaceousness allows Encens Flamboyant to pick up notes of hay, leather, tobacco, smoke, and evergreen fir. This rustic theme frames the main event, frankincense, removing from its usual connotations with the spiritual, but it is also a play on time: to freeze time, so that we smell both the living plant and its aromatic sap and its hardened resin and its burning smoke—simultaneously. Backwards and forwards, circular or linear, continuous or discrete, only perfume can do this.

OTHER REVIEWS
The Scented Salamander
Perfume-Smellin' Things
Nathan Branch
Pere de Pierre
Bois de Jasmin
Katie Puckrick
The Non-Blonde
Basenotes
Makeupalley
Fragrantica

Labels: annick goutal, incense, isabelle doyen, james mcavoy, leather, perfume notes, sisse brimberg
7/20/2011 [4]
Beauty Notes: French Twist
by Dain
Normally I dislike nail art, even the classic French manicure; I don't know why, but they seem tacky. But lately I've developed an obsession for the quirky French, unusual variations on color themes beyond the traditional white-on-sheer-pink. Somehow, a quirky French makes shades that might otherwise overwhelm all ten fingers, like a dark polish, much more sophisticated and wearable. It takes a little practice to do this freehand, a little more dexterity; you'll notice that my French tips are more wobbly and irregular than professional work would be. But I enjoy the challenge of coordinating the perfect pair, and I do think the right combination matters.

The perfect formula for a French tip should be smooth and streak-free, fluid but opaque. That's partly why there's so much Chanel here (practically my entire collection from Chanel), because I find the formula evens out well, while a thick formula like Essie's is far trickier. I usually wait for any polish on my skin to peel off naturally, as I avoid acetone whenever possible, so it's not quite as neat as it should be.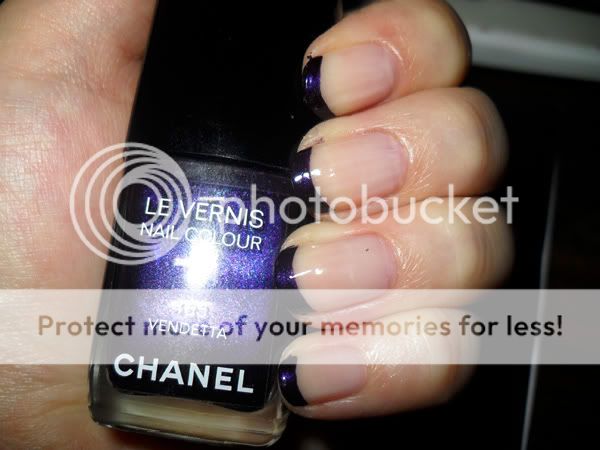 Chanel Ballerina / Chanel Vendetta


I bought these two together at duty free in Denpasar, specifically for a quirky French, which sparked my enthusiasm for the look. Vendetta is more bland than it appears in the bottle, so I spiced it up by adding pink and blue shimmers. Ballerina, for obvious reasons, is useful as the classic French manicure sheer pink, but you don't need to go to Chanel for a pedestrian shade like this.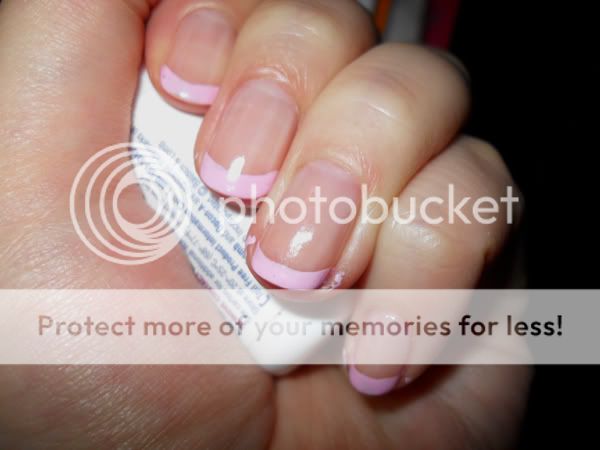 Chanel Ballerina / Essie French Affair


A pastel creme is not quite the traditional white but considerably less outré than the others shown here.



OPI Bare It In Trafalgar Square / Sonia Kashuk Taunting Teal


Any combination of shades work, as long as they're well considered to play off each other nicely, and I love how navy and nude work so well together. But do take formulations into consideration when switching things up. The chalky opaque nude was a nightmare of streakiness, requiring two coats (which means it'll take forever to dry, and it's particularly disheartening to mangle a French), the navy a trifle too watery, which means tracing the same trajectory exactly. It took me a few trials to get it right.



OPI Done Out In Deco / random Etude House silver glitter


When doing a glitter French, the effect should be very scattered. It's a little easier than a strip, but it takes some measure of control to achieve that kind of randomized pattern. I thought this slightly rainbowed silver married well with the grey undertone in Done Out In Deco.



Chanel Golden Sand / OPI Royal Ruby Rajah


Known as a "moon" manicure, a style from the 30s, where the base color is just a sliver at the base of the nail. This is perhaps trickiest to do freehand (mine are quite lopsided), requiring many more strokes than usual: one or two to outline the half moon, then your usual three-stroke over the nail bed. Make it easier on yourself and use guides.



Chanel Mica Rose / Chanel Black Pearl


One more for the road. Sometimes, I use a shimmery base. Since Black Pearl isn't that opaque, I wanted not so stark a contrast, and shimmer on shimmer is softer.

I tend to wear my nails quite oval, because it flatters my hand better. However, the more rounded the shape, the more curved your French tip must be. For beginners, a gently rounded square shape is usually the most flattering, and far easier to contend with. While I think bright or dark colors are better suited to short, rather than long nails, you do need a generous free edge to pull off a French manicure. Though my nails grow rapidly, they are so thin and brittle they shatter easily. I've been using Nail Tek II, both the Intensive Therapy, a clear "strengthener" (i.e. formaldehyde), and the Foundation, a ridge-filling basecoat. They've noticeably strengthened my nails within a couple of months. I get the best results when I layer: first a coat of Intensive Therapy, then Foundation, followed by polish as usual, with a final layer of Intensive Therapy as a topcoat.

Labels: beauty notes, chanel, essie, nail tek, opi, sonia kashuk
7/15/2011 [12]
Beauty Notebook: Vive Sana
by Dain
Imagine you're a chemist, well versed in lotions and potions, and the decision-makers at corporate give you this brief, which you read with escalating frustration: "Sunscreen. For the face. We'd like you to make it fluid, very light on the skin, but broad spectrum. NO nasty scent. NO white cast." Phew. A difficult task, but it's been managed before. Those nice milks at Shiseido, or maybe the La Roche-Posay "fluides", might be worth emulating, a selection of chemical filters in a complex, predominantly silicone base. Then, you scan the final addendum: "Oh, and can you make it all natural? Consumers are loving that angle these days!" Do you...
| | |
| --- | --- |
| Tear out your hair? | go to page 34 |
| Bitch to your colleagues? | go to page 5 |
| Write a ten-page memo on the history of use, manufacture, safety, and chemical properties of titanium dioxide? | go to page 72 |

But at no point will you turn to an ending where you come up with an all-mineral, broad-spectrum sunscreen that truly wears like nothing on the skin.

Of all the difficult things to formulate, a sunscreen is the worst. Consumers won't buy heavy sunscreens; no one likes how they feel on the skin. It's not that brands won't deliver—they'd love to match your demands—it's that they can't. It's an incontrovertible fact of the active ingredients themselves. Some ingredients, like silicones, enjoy ubiquity because they're superlatively cosmetic, and impart a light, smooth, silky texture, but active ingredients are obviously included for other reasons, sometimes in spite of their less-than-desirable cosmetic attributes. None of the good UVA filters are pleasant on the skin; a sunscreen may approximate the texture of a moisturizer, but it is not quite the same.


I discovered Vive Sana via other brands; Tata Harper raves hugely over the Solar to Polar Ultra SPF 40 ($29). I'd come to the realization that avobenzone, the most common UVA filter across most brands, irritates my skin—in general my preference for natural skincare stems from my sensitivities rather than concerns over toxicity. The solution therefore lay in mineral sunscreens, an unappetizing prospect.

If you're familiar with titanium dioxide or zinc oxide, you'll know that functionally, they form a physical barrier that scatters away UV radiation. A physical shield, in other words. Unlike chemical sun screens, they do not absorb into the skin, so they are effective immediately and are less likely to be reactive, since they sit on the surface. But this also means that they will always have some kind of texture, a presence on the skin. Even when formulators endeavour to make the experience more comfortable, you'll have to rub them in, to rid yourself of the white cast, the heavy texture... And at the end of the day, all-natural sunscreens offer less comprehensive (though still decent) protection than chemical sunscreens. So I don't want to mislead you; Solar to Polar Ultra is not going to absorb immediately. It has to be viewed in the context of my not-at-all-comprehensive experience with physical sunblocks, and by comparison, it is lighter and more elegant in texture. But if clean ingredients, sensitivities, or supporting socially-conscious, independent companies are important issues for you, then I'd recommend Vive Sana. They really know their product backwards and forwards.
ACTIVE INGREDIENTS titanium dioxide (8.5%), zinc oxide (3.5%)
INGREDIENTS soybean oil, safflower oil, beeswax, olive oil, avocado oil, jojoba oil, alumina, stearic acid, apricot kernel oil, glycerin, vitamin E, sunflower oil, gingko biloba extract, oat kernel extract, green tea leaf extract, chamomile extract, raspberry seed oil, natural green tea fragrance
Solar to Polar Ultra is a very thick, unctuous paste; difficult to squeeze out of the locally manufactured, recyclable aluminum tube (for convenience, Vive Sana offers an alternative plastic tube). It is obviously as the ingredients lists suggests: powdered titanium dioxide and zinc oxide, micronised but coated, mixed into vegetable oils—no water, no fillers. The scent is very minimal. It liquefies as you rub it in, akin to the queer moist-matte texture of antiperspirant, and the white cast disappears. At this point, it feels like a barrier cream; for that reason, I would hesitate to recommend this for oilier skin, but my dry skin appreciates its moisturizing properties (I am not a candidate for a matte sunblock). Eventually, the oils absorb into the skin, and I go about my day not noticing any kind of residue. In the summer, it imparts a dewy sheen that requires a dusting of powder, but in cooler weather, the finish is much more matte. These oils are rich in vitamin E, boosted by green tea, oat, gingko, and raspberry; a good sunscreen should integrate antioxidants with its filters. Because of its high percentage of zinc oxide, the same active ingredient in diaper cream, an unexpected bonus is that Vive Sana does a neat job calming irritated, inflamed, sensitive skin. You can even use it around your eyes and onto your lips without fear.

There's a trick to the application. Don't slap it on willy nilly; it's a concentrated formula. Squeeze out a little at a time; I find it useful to decant into a smaller pot. I go with tiny dabs. Then rub. Layer more as needed. It seems laborious, but truth be told, Anthélios requires just as much rubbing into the skin. It helps to apply on clean skin. Finally, since this product is designed to repel water (beeswax), to stand up to swimming and sport, so you may wish to remove thoroughly with a muslin cloth or cleansing oil. A regular cleanser has worked fine for me. One tube lasts a long time, so it's more economical than it seems at first, going further than a similarly priced sunscreen from Shiseido.

The Baby version, with SPF 42, is very similar in formulation. But it's subtly creamier, easier to spread onto the skin, with better absorption. So while I like the Ultra, I prefer Solar to Polar Baby. It's more comfortable in texture, at least on dry skin, good enough to let me forget it's there, rather than tolerating it for the sake of protection.

To find Vive Sana online, check out Better Beauty, Nubonau, Spirit Beauty Lounge, American Apparel, and Nature of Beauty.

Labels: beauty notebook, vive sana
7/12/2011 [0]
Beauty Notebook: Kahina Giving Beauty
by Dain
The world of beauty is shiny. It suspends before you a glittering illusion, a more attractive self surrounded by a treasure trove of precious objects. Once, this was the original definition of "glamour", a magic that cloaked you within an illusion of attractiveness, all the better to get what you want. A lipstick from Tom Ford is glamourous precisely because of the gimmicks: the expense, the exclusivity, the gorgeous gold-on-white packaging, the faint vanilla scent, the exotic ingredients, the smooth silicone base that hugs your lips just so. If there's a frisson of shock at dropping $45 on a lipstick, that's intrinsic to its appeal. It's like gambling, you know? Part of the thrill is the loss of self-control. By nature, lipstick is a luxury. A bargain Revlon matte is no less of a gimmick; it's still part our decadent, self-indulgent culture, only now you may preen yourself on your relative prudence. We buy things to realize our aspirations, our material possessions reflect an image on our self-perception. And for women, who live constantly in a world where image and identity are so closely aligned, part of the fun is being able to alter your self-perception with a lipstick. The healthiest approach, I think, is to keep what's frivolous, frivolous.

As a beauty trend, green is one of the more curious. Green is a serious commitment, and in many ways antithetical to self-indulgence. If your eye cream has natural ingredients, it's not license to be holier-than-thou, and yet it's a note so frequently heard in marketing (and reviews, let's be honest), it's become no more than a faintly nauseating drone. There's no basis for a tone of superiority: it's not like eating a salad, it's not like stopping driving, and it's not any significant contribution to society. So amidst the shameful hypocrisies in greenwashing, a brand like Kahina just shines.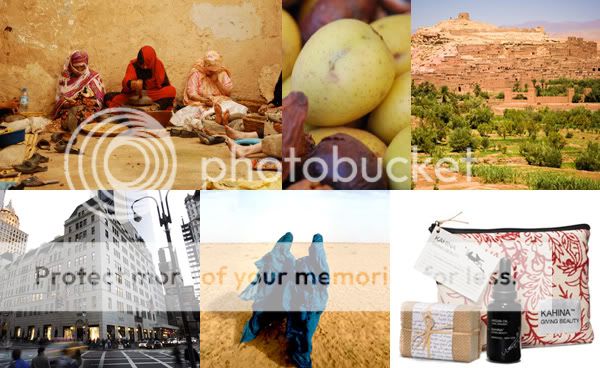 From Agadir, Morocco, to Bergdorf Goodman.


Kahina's founder, Katherine Phillips L'Heureux, lost her La Mer and Chantecaille while en route to Morocco (source: Vanity Fair Daily July 2009). There, she discovered argan oil, and amazed by the transformation in her skin, dedicated herself to a skincare brand centered around the oil. From top down, Kahina has attended to every single detail; natural ingredients, organic when possible, are only the beginning. Several times a year, L'Heureux travels to cooperatives in the Agadir region of Morocco, where the nuts are collected by the Berber women and the oil extracted by hand. Kahina buys their argan fair trade, and donates a full 25% of the profits to the women who made the oil, to fund literacy programs and improve the quality of life in this remote region. Back in New York, Kahina produces thoughtful, top-notch formulations in which every ingredient has been included for skin-beneficial properties. They are elegant, luxurious, sold at posh venues like Bergdorf Goodman (shown above), Spirit Beauty Lounge, and abc home. Even the packaging is socially conscious. The boxes are made in a wind-powered, carbon-neutral factory, the recyclable, near-black violet glass not filters out UV radiation that might degrade the delicate, minimally preserved product inside, it's also decorated with the signatures of the women who made the argan oil. Plus, it's a beautiful presentation.

It's a great company, differentiated in so many ways from the many brands that have capitalized on argan's popularity. Kahina integrates luxury with philanthropy; without compromising on efficacy, these products are self-indulgent and yet still back to others. Though the products are expensive, for once your purchase goes into something more than superficial. The Gift Set ($65), shown above, combines a 30-ml bottle of Kahina's fair-trade argan oil with an argan soap. The makeup bag is handcrafted by former prostitutes (some of them children) in India, a collaboration with NEST, a non-profit organization. Kahina is a rare and highly commendable company.


I'm a firm advocate of "softeners", the Asian variation on the toner step, a hydrating solution that saturates the surface with humectants. It sounds like a frivolous step, designed to separate you from your money with yet another unnecessary product, but I've found them indispensable for combating dehydration. Unlike a Western toner, the softener is not the least bit astringent, more closely aligned with moisturizing than cleansing. If you're quite oily, it might be all the moisture required. Otherwise, it preps the skin, enhancing the penetration and therefore the hydration of any serum, lotion, or cream you might layer on top. It's particularly helpful with a face oil. In spite of the many sensible argument in favor of oils, one of the drawbacks is that those nourishing, skin-beneficial emollients don't absorb that well. A spritz of face mist works wonders in this situation: the oil emulsifies better on your skin, diminishing its unctuous feel.

Until this point, there hasn't been an all-natural alternative, just alcohol-based herbal tinctures or pointless floral waters. With all those lovely organic antioxidants out there, you might think someone might have thought beyond the obvious and thrown some humectants in. Just contemplate the ingredients in Kahina's Toning Mist ($36):
aloe vera juice, water, rosewater, willowbark extract, aspen bark extact, alfalfa extract, sodium hyaluronate, argan leaf extract, rice seed extract, white tea extract, sodium PCA, glycerin, sodium levulinate, sodium anisate, maltodextrin, sodium benzoate
Gorgeous. This was the product that got me interested in Kahina. Natural skincare often goes luxe these days—practically dime a dozen. But when a toner makes you sit up and pay attention, simply because of its formulation, you've got to investigate further. Compared to a cleanser or moisturizer, it's still a toner, and therefore relatively ancillary, but as the layer that makes first contact with my skin, I couldn't ask for a better formulation. This is very well balanced for all skin types. Aloe vera and rosewater (also sourced from Morocco) soothe. It's mildly purifying and anti-inflammatory, from the salicylins in willow and aspen bark. It has a host of antioxidants: alfalfa, argan leaf, rice seed, white tea. Then there are sodium hyaluronate, sodium PCA, and glycerin—humectants all—to drive these lovely ingredients deeper into the skin. The texture is liquid enough for a fine mist, though I spray into my palms and press it in (standard procedure for softeners, not to bother with cotton). Personally, I hate it when natural brands overdose on essential oils, so I don't mind that the scent falls a little flat; it smells like ingredients, no added fragrance.

My sole complaint: this should come in a bigger bottle! I can already anticipate buying this over and over again, and I'm extraordinarily fickle over skincare.


Kahina's star product is a straight-up argan oil, generously sized at 100 ml ($84) or the smaller bottle from the gift set ($65). The quality is superb—cold-pressed, organic, unrefined, very faint on argan's characteristic nutty aroma—elegant and silky, with rapid absorption. Argan is especially high in tocopherols and squalane, with about 45% oleic (omega-9)/35% linoleic (omega-6)/15% palmitic/5% stearic fatty acids, which makes it a more nourishing, fattier oil, still delicate enough in texture for all skin types. To be absolutely honest, there are more impressive oils than argan out there. Rosehip boasts tretinoin, neem is powerfully antiseptic, seabuckthorn nearly bursts at the seams with antioxidants. By contrast, argan seems comparatively mundane, though currently it enjoys enormous cachet. But my skin loves, loves, loves argan oil. Something to do with its fatty-acid composition, a little richer than most. Whatever the reasons, I cannot argue with the glow.

Onto this promising but basic template, Kahina's Serum ($90) enhances argan's properties: lecithin, seabuckthorn, carrot seed, and coffee oils, calming bisabolol (from chamomile), with just enough lavender, chamomile, and neroli to mask any queer odors (seabuckthorn is naturally quite funky), but not overfragranced like too many natural brands.
argan oil, lecithin, bisabolol, seabuckthorn pulp extract, carrot seed oil, lavender extract, roman chamomile extract, neroli extract, ylang ylang extract, myrrh extract, coffee bean extract
This is brilliant on my skin. Though designed for dry, mature, sensitive skin (Kahina warns against using it on acne), it absorbs completely and leaves behind a complexion so luminous, so healthy, I can only call it "baby skin". There isn't commendation higher than that. In some cases, it's not possible to be objective about skincare; sometimes it's just a matter of individual affinity. I have no idea whether it would succeed on anyone else's skin. I switched to plain argan for a week, just to check, and it's clear the Serum is my perfect oil. During the summer, I've been using a couple drops of this over the Toning Mist, nothing else, and the quality of my skin has never been better. Once the weather shifts, my skin becomes too dehydrated to use an oil neat. It merely coats the surface, while my skin remains parched underneath; for obvious reasons, an oil cannot hydrate the skin. This does not obviate face oils for me, but proper application is key. I've learned to layer them over an emulsion. A good oil allows me to customize any moisturizer. I apply a softener first, which boosts absorption for deep-down hydration, then a rich emulsion, like Tata Harper's exquisite Rejuvenating Serum, and finally an oil, to lock everything in. It is so much more effective than a bland-but-greasy barrier cream, since the ingredients are so optimally layered.

With regular use I've noticed those waxy, hardened blackheads slowly dissolve. While nothing gets rid of congestion outright, the oil keeps my pores from congealing into dysfunction. If you've got thicker skin than I, be sure to exfoliate assiduously, so that whatever oil you use can act on pores free of debris.

Additionally, I was able to sample a few other products. The Facial Cleanser ($46), unfortunately, broke me out severely. I'm pretty sure it was a nervous response to its exfoliating fruit acids. The Eye Cream ($65) is soothing, creamy, and smells gorgeous; it hydrates deep down, substantive enough to last overnight, but light enough in texture to use under concealer. I tend to be bemused by the utility of eye creams, however, and this is no exception. For a moisturizing mask, Antioxidant Mask ($62) leaves the skin ever so soft. Though it features rhasshoul, a rare clay rich in trace minerals from the Atlas mountains, it's also generously loaded with aloe vera and argan oil, with pomegranate and açai to brighten. I'm saving to try this again in winter; at the moment, the Serum is so stellar on its own, it's hard to discern any significant changes. I hope some day Kahina formulates a night cream. That would be awesome.

Labels: beauty notebook, kahina
7/08/2011 [3]
Fashion Notes: Blue Suede Shoes
by Dain
First, a thank you to everyone who has mentioned and written about Ars Aromatica. We don't do any networking; it's up to you to decide whether the reading is worthwhile. Your support is deeply appreciated.



I've had these loafers from Sam Edelman, a maker of vintage-inflected designs at palatable prices, for ages and never worn them. Breaking in heavy platforms isn't my idea of fun. They're pretty shoes: the tassel detail, the unusual petrol color of the suede, the curve of the sole as it meets the chunky, well sculpted heel. Any suggestions for how to give them an airing? I rely on a formula, match a pair of shoes to the perfect bottom. Maybe grey menswear trousers... What silhouette of skirt?

I feel like this should be easy, and yet I've never worn them.

Labels: fashion notes, sam edelman
7/03/2011 [8]
Subscribe to
Posts [Atom]. Or
follow on bloglovin'. If
you'd like to contact Dain,
feel free to email me.
I'm also on Pinterest.
Features

The Mnemonic Sense
Most Wanted
The Beauty Primer
Lookbook
Bestsellers
Consumer Diaries
Closet Confidential
On The Label
Beauty Notebook
The Hit List
Color Me In
The Makeup Artist
Wedding Bells
Globe Trotter
Desert Island
perfume notes
beauty notes
fashion notes
culture notes
minimalism
chypre arc
floral arc
fresh arc
masculines arc
gourmands
& orientals arc
Archives

August 2008
September 2008
October 2008
November 2008
December 2008
January 2009
February 2009
March 2009
April 2009
May 2009
June 2009
July 2009
August 2009
September 2009
October 2009
November 2009
December 2009
January 2010
February 2010
March 2010
April 2010
May 2010
June 2010
August 2010
September 2010
October 2010
November 2010
December 2010
January 2011
February 2011
March 2011
April 2011
May 2011
June 2011
July 2011
August 2011
September 2011
October 2011
November 2011
December 2011
January 2012
February 2012
April 2012
May 2012
June 2012
July 2012
August 2012
September 2012
October 2012
November 2012
December 2012
January 2013
February 2013
March 2013
June 2013
July 2013
Images

Photobucket