Announcements
If you're new to this blog, then read our guides to the basics: Skin (Part I), Skin (Part II), The Supernatural, Color Theory I, Color Theory II, Eyes, and Brushes.

Also, check out the blogsale.
Contents
· Culture Notes: Sourcream Chocolate Chip & Walnut Coffeecake

· Beauty Notes: Wind Chill

· Beauty Notes: Squeaky Clean

· Perfume Notes: Frédéric Malle Une Fleur de Cassie

· Culture Notes: Computer Love

Favored

Art Tattler
the glamourai
The Non-Blonde
Perfume Shrine
Lisa Eldridge
Garance Doré
Smitten Kitchen
Into The Gloss
Grain de Musc
Lacquerized
Res Pulchrae
Drivel About Frivol
The Selfish Seamstress
Killer Colours
Bois de Jasmin
Glossed In Translation
Jak and Jil
Toto Kaelo
Worship at the House of Blues
I Smell Therefore I Am
Food Wishes
The Natural Haven
Messy Wands
1000 Fragrances
Moving Image Source
Wondegondigo
The Emperor's Old Clothes
M. Guerlain
Colin's Beauty Pages
Barney's jewelry department
Parfümrien
loodie loodie loodie
The Straight Dope
Sea of Shoes
London Makeup Girl
Sakecat's Scent Project
Asian Models
Ratzilla Cosme
Smart Skincare
Illustrated Obscurity
A.V. Club
Tom & Lorenzo: Mad Style
Eiderdown Press
Beauty and the Bullshit
La Garçonne
Flame Warriors
Everyday Beauty
Fashion Gone Rogue
Now Smell This
Dempeaux
Fashionista
The Cut
A Fevered Dictation
Nathan Branch
101 Cookbooks
Culture Notes: Sourcream Chocolate Chip & Walnut Coffeecake
by Dain
Closely adapted from Smitten Kitchen.

I don't have much of a sweet tooth, so I don't frequently bake. (I could eat french fries without end, however.) A cake needs to be particularly delicious to boast any kind of eternal return, as all recipes featured here are. There's something magical about those intensely sweet bites of chocolate chips and cinnamon sugar sandwiched between layers of tender sourcream batter. It is also possible, since it's a coffeecake, it's more toothsome because it's basically a snack, not accompanying a heavy meal. I've tweaked the original recipe to be less tooth-achingly sweet, halving the chocolate chips and replacing lost volume with chopped walnuts.


2 ⅓ cups all-purpose flour, sieved
1 tsp baking powder
1 ½ tsp baking soda
3/4 tsp salt
1 stick of unsalted butter, softened
1 cup sugar
3 large eggs, separated
1 ½ vanilla extract

⅔ cup cinnamon sugar
dark chocolate chips
chopped walnuts

Preheat oven to 350°. Sift together flour, baking powder, baking soda, and salt into a large bowl. In another bowl, cream butter with sugar, adding egg yolks and vanilla. Add flour mixture and sour cream, alternating, just a little at a time. Whisk egg whites till fluffy, fold into batter. Butter a 9' pan. Sprinkle the bottom of the pan with a fine layer of cinnamon sugar, which will caramelize in the most pleasing way as it bakes. Spread a half-inch layer of batter evenly in the pan. Dust cinnamon sugar on top, some chocolate chips, some walnuts. Add another layer of batter, as evenly as you can (or you'll get lopsided layers). Repeat with cinnamon sugar, chocolate chips, and walnuts. Once you've spooned on the final layer, dust the top with more cinnamon sugar.

Bake for about an hour, or until toothpick comes out clean. Good with strong black coffee, of course, which I like to serve in black teacups.

Labels: culture notes
1/31/2013 [0]
Beauty Notes: Wind Chill
by Dain
Though, more accurately, 'tis indoor heating at fault.



Hadalabo // LRP Toleriane Fluide // Avène Eluage, as eye cream // Trilogy Ultra Hydrating Cream


Very little has changed since I wrote up Desert Island: Skincare three years ago. Mainly, because of the obvious fact that experimenting with new products provokes sensitive skin—why I did not adopt this attitude earlier can only be attributed to a deficiency of common sense—but also because I'd settled. Even when I toyed with skincare frequently, it'd take a seismic shift to budge me from my staples, so I resolved not to try anything new unless I had used up something.

Trilogy Ultra Hydrating Face Cream is one such discovery. It is a thick, though not at all greasy, lavender-and-honey scented barrier cream—hands down, the best I've tried. As a stand-alone moisturizer, it's merely decent. Unlike most of Trilogy's moisturizers, which sink in almost immediately into the skin, the Ultra Hydrating was originally formulated as a mask, so it takes its time to absorb. If you layer moisturizers, as I do in winter, it creates a protective seal over hydration, the emulsion and softener combination of La Roche-Posay's Toleriane Fluide and Hadalabo, usually adding a second layer before bed. (There is not much to say about either of these two products: they are minimalist formulations designed to bypass sensitivities, with not much more weight than a serum on my skin type.) Best of all, the Trilogy Ultra Hydrating has broken me from my Tata Harper habit, at a mere $36 for 75ml rather than $150. I don't even need the addition of a face oil, it's just that effective, though I still use Dr. Alkaitis Nourishing Treatment Oil in summer when my skin is no longer dehydrated.
INGREDIENTS water, castor seed oil, ethylhexyl palmitate glceryl stearate, glycerin, cetearyl alcohol, manuka honey, rosehip seed oil, evening primrose oil, coconut oil, avocado oil, tocopheryl acetate, aloe vera, lavender oil, sodium stearoyl glutamate, parfum, phenoxyethanol, ethylhexylglycerin, geraniol, citronellol, limonene, linalool
Like much natural skincare, the Ultra Hydrating Cream is loaded with botanical extracts, i.e. potential irritants. I'd prefer if it were no-frills and unscented like the Toleriane Fluide and Hadalabo, but I've been fortunate. No reactions thus far. This three-part moisturizer has kept my skin very happy, almost as dewy as it looks in summer. Layering allows me to combine a high-functioning hydrator with a high-functioning barrier cream: the first two saturate my skin with moisture and humectants, the last seals it all in.

I've no dedicated eye cream—to be honest with you, I'm not entirely sure they do anything for me—but I use Avène Eluage now and again—though without much enthusiasm.

Labels: avene, beauty notes, hadalabo, la roche-posay, tata harper, trilogy
1/25/2013 [6]
Beauty Notes: Squeaky Clean
by Dain

The next time you find yourself at an HMart (or some comparable Asian market), check out the Korean-made toothbrushes. I'm quite serious; they are magic. The bristles are finer and softer than any toothbrushes I've found here, so they clean very efficiently between teeth, without tearing apart sensitive gums. I've actually seen a reduction in plaque. Mine are from O-Zone, about $7 for a pack of four, but I'm sure there are other brands just as good.

Labels: beauty notes
1/21/2013 [3]
Perfume Notes: Frédéric Malle Une Fleur de Cassie
by Dain

Salvador Dalí, The Temptation of St. Anthony (1946)


How do you approach an enigma? This is the quandary that confronts you with perfume: it cannot be quantified. Even with a glossary of aromaterials and cultural references at your disposal, even after its position in olfactory history has been defined, even if we all shared a common interpretation, the translation from the sense of smell to the audiovisual medium of language is an imperfect one. Not that this dampens our enthusiasm, not at all. There is great charm in unraveling a mystery. A perfume review sits somewhere in between anecdote, free association that dives into the chaos of personal experience, and ekphrasis, a cerebral deconstruction, like taking apart a watch to puzzle out its mechanism. We never comprehend the whole, and it does not matter.

A good perfume is strange and unfathomable. A poor one isn't so much repellent, as far too easily compassed, indistinguishable from a hundred others. The collective howl of rage against cheap mainstream fodder, however querulous to some ears, is grounded in genuine loss: when perfume loses its mystery, it is simply an odor.


Truth be told, I don't know how I feel about Une Fleur de Cassie. Don't get me wrong; my ambivalence means nothing. It is the only perfume I've ever bought after one sniff, without the intermediary of decants. Reactions to Une Fleur de Cassie, a perfume so complex it is better described in binaries, are sharply divided, and yet no one is ever likely to dismiss it as poorly made.

Ostensibly, it is a homage to a single raw material, the absolute of cassie, augmented by its close relation mimosa. There is a tendency in most compositions to tone down cassie's irregular features—buttery-rich pastry, damp paper, bitter almonds, sweaty flesh, fragrant balsams—rather like a face striking in its asymmetry. Ropion, by both harmonizing and exaggerating its quirks, manages a remarkable feat of engineering. Une Fleur de Cassie utilizes a decadent near-overdose of Acacia farnesiana, fully exposed in all its crude glory, but ever so delicately polished by its supporting notes: a tart, citrusy rose to brighten, violet and peachy aldehydes to emphasize the powdery tenderness, cinnamon set against the anisic tendencies, just the right measure of indolic jasmine and cumin for a lush erotic overtone, mushroomy cashmeran and sandalwood and hints of pepper to draw out the weird, harsh, bitter, damp smell of wood quickly returning to the earth.

As with any soliflore, Ropion has enhanced characteristics extant in the original essence, but it is anything but one-dimensional. Perhaps it is because the cassie is itself so odd, perhaps the materials selected by Ropion's discriminating hand have a modernizing touch. Une Fleur de Cassie most closely resembles L'Heure Bleue, a floriental (albeit based around heliotrope) in a very grand style. It is a study in contrasts: it holds the promise of both fruitfulness and decay.

And still, I cannot tell you how I feel about it. It evokes many thoughts and sensations, but also nameless things I cannot phrase because mystery is beyond expression. It is simply special.

OTHER REVIEWS
Bois de Jasmin
Scent Signals
Perfume Posse
Ayala Smelly Blog
Grain de Musc
Eiderdown Press
Mossy Loomings
Perfume Smellin' Things
Legerdenez
Basenotes
Makeupalley
Fragrantica


Labels: dominique ropion, frederic malle, nina simone, perfume notes, salvador dali
1/16/2013 [3]
Culture Notes: Computer Love
by Li Wen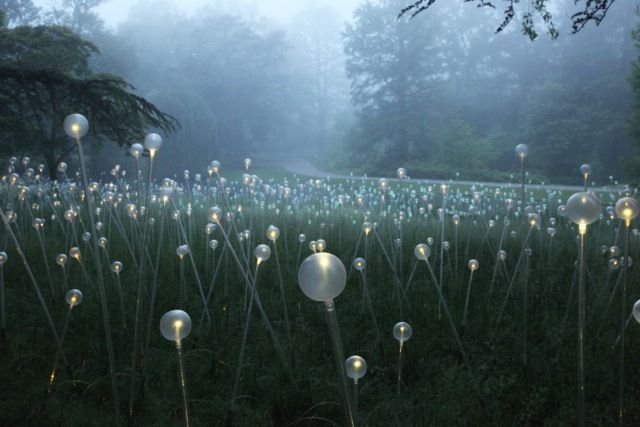 Light: Installations

by Bruce Munro at Longwood Gardens




Their name in German, Kraftwerk, means "power plant", and they are considered one of the most influential groups in modern music.

For the last four decades, they have been makers of Alltagsmusik ("everyday music"), dedicated to expressing the "quotidian landscape of a Mass Culture age" (Frieze Magazine). The style which they pioneered -- electronic music -- spawned techno, disco, house, synth pop, drum and bass, hip hop, and myriad genres: folk music of the man-machine world. The inescapable auditory patterns forming the soundtrack of our digital present. More than any other band, according to Tom Ewing at Pitchfork, "they...catch in music what interaction with machines really feels like -- sometimes glorious, sometimes lonely and frightening, occasionally very funny."

One of their most popular singles is "Computer Love" (Computer World, 1981):

another lonely night
stare at the tv screen
i don't know what to do
i need a rendezvous
A tender and wistful love song between a lonely protagonist and the computer which he is dependent upon for a "data date", this track about human longing at the organic/technical interface, with its completely synthesised instrumentation and 8 bit samples of consumer electronics, gets reinterpreted through the wood-and-resin prism of violin, viola and cello by the Balanescu Quartet in their 1992 album Possessed.




The Balanescu Quartet, "Computer Love" (Possessed, 1992)


Stripped of the alienation of synthesisers, the elegance and lyricism of the song become highlighted in the string quartet version, whilst retained are the achingly beautiful melodies, the precision of its staccato rhythms and the complex, layered counterpoint that characterises minimalism. The lively tonality of strings replace the gleaming warm/chilly alchemical textures of the original (surging, pounding, beeping, dissolving), coming at the same organic/robotic divide from a different angle. Then, as the song gradually progresses, harmonies shifting in and out of phase, twisting and transmuting in an endless web of connectivity, there is the undeniable joy of hearing a violin mimicking a slide down an electronic keyboard or the rapid bleeps and pings of a calculator.

Passion is still muted, the humour no less dry, but agitation and effort, more easily expressed on a stringed instrument, are an audible presence. A duet between singer and electronic keyboard in the Kraftwerk version, an exchange as much about intangible connection as it is about loneliness, loses some of its whimsicalness by becoming a pas de deux of violin and viola, the two voices no longer separated by a real/analog divide, but reflections of each other.

Yet even as this breach is overcome, the stirrings of desire are sharper, more desperate. Perhaps it is as simple as the fact that everything seems sadder on the violin, just as the simple sounds of the early decades of personalised computing cannot help but convey a sense of hope and naivety.


"It's like a drug to human ears. It can cure, it can crush. It can raise someone up, it can send one crumbling to the ground. A note to stir any hidden feeling in the core of our being."
- Laura Teodora Radulescu on YouTube, comment to the Balanescu Quartet's "Computer Love"

In fact, to my ears, by removing one reflecting glass (or perhaps by adding one) between the robotic and the real, the Balanescu Quartet's "Computer Love" is even more terrifying lovely than the original. It is easy to see how this music - with its catchy melodies, pristine and calming - could be adapted to more ominous effect; the moments that flutter and swoop like silvery birdsong, appropriated to set a soft, nostalgic gloss over every conceivable product of postmodern life: test-tube crops, a sparklingly efficient and impersonal train network, the mechanical slaughter of farm animals, a Sony notepad or digital TV.

"Trust me", it says, like the soothing, almost (but not quite) human female voices speaking corporate slogans on television ads. Eerie, but mesmerising. "You already know me. You can trust me."

Where the Kraftwerk original is about the experience of technology displacing real, tangible interaction in daily life, the Balanescu Quartet's cover of "Computer Love" seems to capture something more disturbing: how deeply and fundamentally radical technology is woven into the fabric of our daily experience, so that even as we sometimes feel a tingle of wrongness, of something being a little "off", we are often unable to see through to their ultimately foreign nature. And this subterfuge is not "natural", not empty of human purposefulness. The anthropomorphising is not spontaneously done at the user end.

The means of production, the way objects are designed and packaged and marketed, are not devoid of consideration. There is a human hand on the strings, a human mind that directs it. If Kraftwerk's message is: "Machines are doing this to Us", the message of the Balancescu Quartet's "Computer Love" is: "We are doing this to ourselves."

Labels: balanescu quartet, culture notes, kraftwerk
1/08/2013 [6]
Subscribe to
Posts [Atom]. Or
follow on bloglovin'. If
you'd like to contact Dain,
feel free to email me.
I'm also on Pinterest.
Features

The Mnemonic Sense
Most Wanted
The Beauty Primer
Lookbook
Bestsellers
Consumer Diaries
Closet Confidential
On The Label
Beauty Notebook
The Hit List
Color Me In
The Makeup Artist
Wedding Bells
Globe Trotter
Desert Island
perfume notes
beauty notes
fashion notes
culture notes
minimalism
chypre arc
floral arc
fresh arc
masculines arc
gourmands
& orientals arc
Archives

August 2008
September 2008
October 2008
November 2008
December 2008
January 2009
February 2009
March 2009
April 2009
May 2009
June 2009
July 2009
August 2009
September 2009
October 2009
November 2009
December 2009
January 2010
February 2010
March 2010
April 2010
May 2010
June 2010
August 2010
September 2010
October 2010
November 2010
December 2010
January 2011
February 2011
March 2011
April 2011
May 2011
June 2011
July 2011
August 2011
September 2011
October 2011
November 2011
December 2011
January 2012
February 2012
April 2012
May 2012
June 2012
July 2012
August 2012
September 2012
October 2012
November 2012
December 2012
January 2013
February 2013
March 2013
June 2013
July 2013
Images

Photobucket