Announcements
If you're new to this blog, then read our guides to the basics: Skin (Part I), Skin (Part II), The Supernatural, Color Theory I, Color Theory II, Eyes, and Brushes.

Also, check out the blogsale.
Contents
· Perfume Notes: Creation of a Fan

Favored

Art Tattler
the glamourai
The Non-Blonde
Perfume Shrine
Lisa Eldridge
Garance Doré
Smitten Kitchen
Into The Gloss
Grain de Musc
Lacquerized
Res Pulchrae
Drivel About Frivol
The Selfish Seamstress
Killer Colours
Bois de Jasmin
Glossed In Translation
Jak and Jil
Toto Kaelo
Worship at the House of Blues
I Smell Therefore I Am
Food Wishes
The Natural Haven
Messy Wands
1000 Fragrances
Moving Image Source
Wondegondigo
The Emperor's Old Clothes
M. Guerlain
Colin's Beauty Pages
Barney's jewelry department
Parfümrien
loodie loodie loodie
The Straight Dope
Sea of Shoes
London Makeup Girl
Sakecat's Scent Project
Asian Models
Ratzilla Cosme
Smart Skincare
Illustrated Obscurity
A.V. Club
Tom & Lorenzo: Mad Style
Eiderdown Press
Beauty and the Bullshit
La Garçonne
Flame Warriors
Everyday Beauty
Fashion Gone Rogue
Now Smell This
Dempeaux
Fashionista
The Cut
A Fevered Dictation
Nathan Branch
101 Cookbooks
Perfume Notes: Creation of a Fan
by Dorothy
When I was in junior high, I rode a crowded, overheated city bus to school every morning. I was barely five feet tall, and being crammed into a series of business people's armpits at the beginning of every day gave me a lingering hatred for two things: solid deodorant and complex perfumes.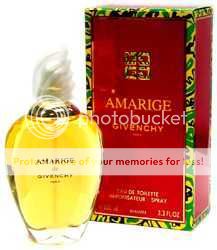 More specifically, it made me hate Amarige. This was 1993, and Amarige was near the height of its popularity, so some of the women on the bus were probably wearing it, but to me it became a catch-all designation for department-store perfumes, the kind with multiple "notes". I would say that no matter what the notes were supposed to be, they all just smelled "like perfume" to me: a stinging blast of alcohol followed by an obnoxious spicy sweetness that resembled nothing found in nature, and nothing you would

want

to find in nature.


I've never been an actual perfume-hater; I wore The Body Shop's Vanilla in high school (wow, that stuff was sweet) and Demeter colognes in undergrad, but I had no interest in anything but single-note and/or soapy fragrances until I started reading The Lipstick Page. I love reading about fashion history; the idea of smelling the fragrances women wore eighty or a hundred years ago was incredibly appealing. I ordered a couple of decants from The Perfumed Court: Worth's Dans La Nuit, which I liked wearing, and Guerlain's Après L'Ondée, which I did not. (I can appreciate it in the vial, and I believe it's beautiful on other women, but on me it smells of urinal cake.) Then, knowing that Dain loves Mitsouko, and Luca Turin had described it as "infinitely chic", I bought another tiny decant of the EDP, expecting to encounter another historical curiosity, or something a bit harsh and forbidding. Instead, I fell in love with it. (How boring, yet inevitable -- another Mitsouko lover!) It's been compared to a Tiffany lamp, and that's what it feels like: warm, glowing, multi-coloured, floral, fruity, spicy, but somehow more than the sum of its parts. It is amazing. It does something on me that makes me like it better -- it makes me think of that directive about pearls, to wear them frequently because they shine more brilliantly after exposure to skin oils.

I have turned into one of those people I used to roll my eyes at, people who will describe perfumes in terms of colour, emotions, references to music. (I was half inclined to mock this post until I realized my immediate reaction to it had been not "what a silly idea" but "what? Elizabeth Bennet would

not

wear Après L'Ondée!" Got me.) I fear I am on my way to perfumista status, which is ridiculous, as almost nobody around me wears or likes perfume and I spend a lot of time in buildings where it is actually forbidden (and having seen a classmate having an actual perfume-triggered asthma attack, I am not inclined to question this). Ah well. It wouldn't be the first time I've been ridiculous.

It's a weird pastime, trying to educate yourself about perfumes; you spend a lot of time skulking in department stores, spraying yourself with this and that, and then taking transit home in a cloud of scent that you rather hope no one else can smell. If your nose isn't well trained, as mine isn't, you may not be able to pick out more than a couple of notes. It's the emotional reactions I look for. I may not be able to explain exactly what Mitsouko smells like (or vintage Bandit, another scent I've fallen hard for), but I can describe the feelings it evokes, and send other people into fits of eye-rolling.

This is the context for anything I write about perfume on this blog. I don't have expertise, just personal experience, preferences and enthusiasms. But I suppose that's what a lot of bloggers would say about ourselves, isn't it.

Labels: givenchy, guerlain, perfume notes
9/07/2008 [0]
Subscribe to
Posts [Atom]. Or
follow on bloglovin'. If
you'd like to contact Dain,
feel free to email me.
I'm also on Pinterest.
Features

The Mnemonic Sense
Most Wanted
The Beauty Primer
Lookbook
Bestsellers
Consumer Diaries
Closet Confidential
On The Label
Beauty Notebook
The Hit List
Color Me In
The Makeup Artist
Wedding Bells
Globe Trotter
Desert Island
perfume notes
beauty notes
fashion notes
culture notes
minimalism
chypre arc
floral arc
fresh arc
masculines arc
gourmands
& orientals arc
Archives

August 2008
September 2008
October 2008
November 2008
December 2008
January 2009
February 2009
March 2009
April 2009
May 2009
June 2009
July 2009
August 2009
September 2009
October 2009
November 2009
December 2009
January 2010
February 2010
March 2010
April 2010
May 2010
August 2010
November 2010
December 2010
January 2011
March 2011
August 2011
September 2011
October 2011
November 2011
December 2011
January 2012
February 2012
June 2012
July 2012
August 2012
September 2012
October 2012
December 2012
January 2013
February 2013
March 2013
June 2013
July 2013
Images

Photobucket