Announcements
If you're new to this blog, then read our guides to the basics: Skin (Part I), Skin (Part II), The Supernatural, Color Theory I, Color Theory II, Eyes, and Brushes.

Also, check out the blogsale.
Contents
· Beauty Notebook: Julie Hewett

Favored

Art Tattler
the glamourai
The Non-Blonde
Perfume Shrine
Lisa Eldridge
Garance Doré
Smitten Kitchen
Into The Gloss
Grain de Musc
Lacquerized
Res Pulchrae
Drivel About Frivol
The Selfish Seamstress
Killer Colours
Bois de Jasmin
Glossed In Translation
Jak and Jil
Toto Kaelo
Worship at the House of Blues
I Smell Therefore I Am
Food Wishes
The Natural Haven
Messy Wands
1000 Fragrances
Moving Image Source
Wondegondigo
The Emperor's Old Clothes
M. Guerlain
Colin's Beauty Pages
Barney's jewelry department
Parfümrien
loodie loodie loodie
The Straight Dope
Sea of Shoes
London Makeup Girl
Sakecat's Scent Project
Asian Models
Ratzilla Cosme
Smart Skincare
Illustrated Obscurity
A.V. Club
Tom & Lorenzo: Mad Style
Eiderdown Press
Beauty and the Bullshit
La Garçonne
Flame Warriors
Everyday Beauty
Fashion Gone Rogue
Now Smell This
Dempeaux
Fashionista
The Cut
A Fevered Dictation
Nathan Branch
101 Cookbooks
Beauty Notebook: Julie Hewett
by Dorothy
Julie Hewett is a Hollywood makeup artist, best remembered, in my mind, for doing the gorgeous makeup in 2001's

Pearl Harbor

and setting off waves of envy in every makeup junkie who spotted Kate Beckinsale's lipstick. Hewett's makeup line is arguably best known for its lip products: the Noir line is well known among red lipstick fans, the Icon of Beauty lipsticks are named after individual Hollywood actresses, and the Camellia lip balm gets frequent mentions in magazines.

Up until doing this Beauty Notebook, I had only tried Julie Hewett's full-pigment Noir lipsticks, which are so superb that I was eager to explore more offerings from the brand.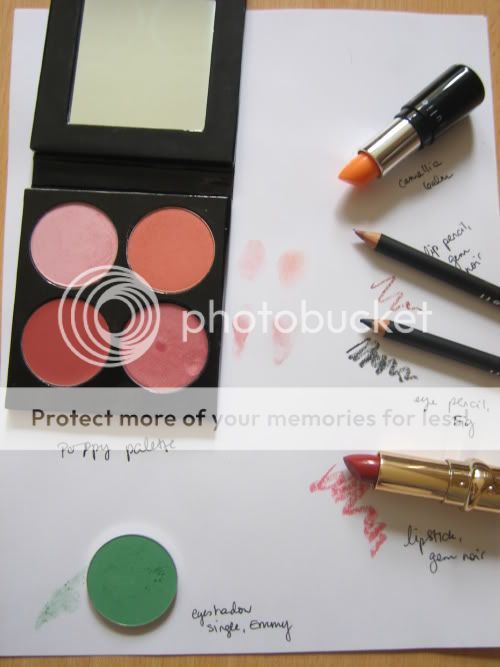 (For a larger version of the above image, click here.

Julie Hewett's Noir lipsticks and Camellia Balm are probably the best known of their products. The Camellia balm deserves all the accolades it gets: it has little scent or taste, is light and comfortable on the lips, but is significantly more emollient than similarly textured balms like Nivea's. Since I have the balm in lipstick-tube form, I tested it only as a lip balm, but it is also available in a pot for use on face, hands, etc.





I tend to shy away from pink makeup, but though the cream colours in Julie Hewett's Poppy palette (Jami, a rose-toned cream blush/lip gloss, and Mimi, a shimmery sugarplum/lavender gloss) are on the cool side for me, I love the powder shadow/blush shades: Flora is a soft, slightly shimmery, lavender-inflected pink that works surprisingly well with green eyes, and Clementine a bright matte peach that is a near-perfect dupe for Stila Blush.* Both are smooth and well pigmented. Above, Flora and Clementine on lids, Clementine on cheeks, Jami and Mimi on lips. There's little drama here, but it's a pretty look, and well worth trying if you're pale with fairly neutral colouring; I could have punched it up with eyeliner, but I enjoyed the delicacy of mascara alone.

Below, a more colourful look: Flora and Emmy shadows on lids, Fig eye pencil to line, Clementine on cheeks, Gem Noir lipstick and liner.




Julie Hewett has recently released eyeshadow singles, which can be purchased individually or loaded into a custom palette. The shades, alas, are only visible on the order page, and then only in rather tiny computer-generated swatches without accompanying descriptions. The shades included in the Poppy palette are of very high quality, and the prices are quite reasonable ($10 per shadow or $48 for a palette containing four), but for customers without a Julie Hewett counter nearby, online swatches and descriptions are the only way to figure out what a shadow looks like, and these aren't that helpful.


The Emmy shadow is an object lesson in choosing the right tools. A true, matte kelly green, it appealed to me immediately, but alas, its pigmentation and staying power are not the best, which is surprising given the excellent consistency of Flora. It requires primer (I used Urban Decay Primer Potion) and a small, dense eyeshadow brush. With these accessories, it went on and blended well; this is not the shadow you should choose for full-on

Hedwig and the Angry Inch

pride parade makeup, but that doesn't appear to be Julie Hewett's aesthetic, anyway.

I expected Fig eye pencil to be dark green; it's more of a teal-inflected charcoal. It applies smoothly, smudges easily but not too easily, and makes a good anchor for shadow; alas, the staying power is only average.

As I mentioned, it was Julie Hewett's full-pigment, semi-matte Noir lipsticks that first drew me to the brand. These are exceptional lipsticks, in every way: creamy, highly pigmented, not prone to bleeding, with colours that stay remarkably true on lips (at least on mine, and I can turn almost anything fuchsia), pretty, retro-chic packaging, and no discernible scent. In particular, Coco Noir, a deep, dramatic brick red, is widely loved and flattering to many skintones (see The Non-Blonde's review for more details). Gem Noir is the first sheer Noir lipstick I've tried, and being sheer, it does not have the intensely creamy texture of the semi-mattes. Instead, it feels light and balmlike. The colour is described on the Julie Hewett website as "rosy cheeks in the snow", which, despite being a bit fanciful, is accurate. It is a sheer rose-red, slightly warm, a flush of colour rather than a Proper Lipstick. It is simply pretty. It should be noted that the matching liner (which, like the eye pencil, is smooth and of high quality) does not, in fact, match, but is a muted pink/red/brown in the same colour family as MAC Spice. The combination of lipstick and liner is consequently warmer-toned than the lipstick alone.



*Yes, Stila makes a blush in a shade called Blush. Oy.

Labels: beauty notebook, julie hewett
6/25/2009 [3]
Subscribe to
Posts [Atom]. Or
follow on bloglovin'. If
you'd like to contact Dain,
feel free to email me.
I'm also on Pinterest.
Features

The Mnemonic Sense
Most Wanted
The Beauty Primer
Lookbook
Bestsellers
Consumer Diaries
Closet Confidential
On The Label
Beauty Notebook
The Hit List
Color Me In
The Makeup Artist
Wedding Bells
Globe Trotter
Desert Island
perfume notes
beauty notes
fashion notes
culture notes
minimalism
chypre arc
floral arc
fresh arc
masculines arc
gourmands
& orientals arc
Archives

August 2008
September 2008
October 2008
November 2008
December 2008
January 2009
February 2009
March 2009
April 2009
May 2009
June 2009
July 2009
August 2009
September 2009
October 2009
November 2009
December 2009
January 2010
February 2010
March 2010
April 2010
May 2010
August 2010
November 2010
December 2010
January 2011
March 2011
August 2011
September 2011
October 2011
November 2011
December 2011
January 2012
February 2012
June 2012
July 2012
August 2012
September 2012
October 2012
December 2012
January 2013
February 2013
March 2013
June 2013
July 2013
Images

Photobucket