Announcements
If you're new to this blog, then read our guides to the basics: Skin (Part I), Skin (Part II), The Supernatural, Color Theory I, Color Theory II, Eyes, and Brushes.

Also, check out the blogsale.
Contents
· Designer Index: Nicholas Ghesquiere for Balenciaga

Favored

Art Tattler
the glamourai
The Non-Blonde
Perfume Shrine
Lisa Eldridge
Garance Doré
Smitten Kitchen
Into The Gloss
Grain de Musc
Lacquerized
Res Pulchrae
Drivel About Frivol
The Selfish Seamstress
Killer Colours
Bois de Jasmin
Glossed In Translation
Jak and Jil
Toto Kaelo
Worship at the House of Blues
I Smell Therefore I Am
Food Wishes
The Natural Haven
Messy Wands
1000 Fragrances
Moving Image Source
Wondegondigo
The Emperor's Old Clothes
M. Guerlain
Colin's Beauty Pages
Barney's jewelry department
Parfümrien
loodie loodie loodie
The Straight Dope
Sea of Shoes
London Makeup Girl
Sakecat's Scent Project
Asian Models
Ratzilla Cosme
Smart Skincare
Illustrated Obscurity
A.V. Club
Tom & Lorenzo: Mad Style
Eiderdown Press
Beauty and the Bullshit
La Garçonne
Flame Warriors
Everyday Beauty
Fashion Gone Rogue
Now Smell This
Dempeaux
Fashionista
The Cut
A Fevered Dictation
Nathan Branch
101 Cookbooks
Designer Index: Nicholas Ghesquiere for Balenciaga
by The Kindly One
Every decade has its designers. Armani, Donna Karen, and Claude Montana led the eighties. John Galliano, Miuccia Prada, and Versace ruled the nineties. This decade's designers will turn out to be Lanvin's Albert Elbaz, YSL's Stefano Pilati, and Balenciaga's Nicolas Ghesquiere.

Nicolas Ghesquiere consistently produces collections that challenge the viewer's perceptions of proportion and fashion, introducing the viewer to technical innovation in fabric, a strong sense of structure and sculpture, and concepts that are often difficult to appreciate at first glance. It can take a full season of looking at Ghesquiere's designs in print and as worn by real women before the eye shifts to accept their proportions, just in time for Ghesquiere to upset them again. Along with only a handful of other designers, Ghesquiere propels fashion forward, plucking it from its everyday tedium and placing it directly in the future.

Despite the wide array of references Ghesquiere includes in his work, he consistently returns to only a few themes, including futurism and neo-sci-fi; structure and sculpture; blackness; neo-bohemianism; retro; menswear; and sportswear. These themes are explored below.

FUTURISM/NEO-SCI-FI



This is an extreme example of what is admittedly one of the more difficult design concepts in Ghesquiere's oeuvre. Ghesquiere explores futurism through both literal interpretion, as in these bubble glasses and gold-plated C3PO leggings, and through more gestural nods, as in the curve and overall cut of this blazer. Futurism/neo-sci-fi is also interpreted through material innovation, as when Ghesquiere introduced top-stitched neoprene as a jacket material in his S/S 2008 collection.

This look also illustrates the principle shape Ghesquiere designs for, which as I imagine is a pole. Ghesquiere's designs are often cut for very thin people, emphasizing a narrow hip and generally lean physique upon which Ghesquiere wraps his layers and bases his sculptures.

STRUCTURE AND SCULPTURE



As the pole is the foundational shape for Ghesquiere's designs, this allows for a certain amount of solid, linear structure upon which to lay a structural frame, and Ghesquiere consistently does so, creating garments that can literally stand on their own. Beyond the mere surface interest of stiff fabric and self-standing garments, Ghesquiere also literally carves out a shape from these structures, creating garments with interest and curvature independent of their wearers.

Along with structure and sculpture comes a lot of volume, another Ghesquiere staple. As the pole is the foundational shape of Ghesquiere's designs, this allows for large amounts of volume uncompromised by the wearer's own shape and particular needs. Though Ghesquiere often has presented massive skirts and shoes in past collections, there is always the element of something whittled away. A skirt and jacket may be voluminous, but a waist will be chipped out of those lines. Oversized boots will be balanced by a delicate wrist. There is always an element of proportion in Ghesquiere's designs, though often not in the standard sense.

BLACKNESS



There are very few designers who can legitimately claim to explore the color black, though there are many who would claim that yes, of course black makes a statement. Differing from this approach is Balenciaga, who explores the properties of the color black itself, whether in the bottomless depths of this top's inky black or how light reflects off black surfaces to create structure within a structure. Ghesquiere's use particularly of latex blacks reveals how integral the color black is in design itself, as the reflection off the color highlights and reveals the garment's structure.

NEO-BOHEMIANISM



Though better known for his more structural clothes, Ghesquiere neatly tucks neo-bohemianism into his designs through pattern and styling. His hugely influential F/W 2007 show featured regional prints and a mix of scarves layered over dresses and blazers that still influences the daily ensembles of tastemakers and wannabes. Ghesquiere's version of neo-bohemianism can be seen in Balenciaga's sari-influenced dresses and patterns, paisleys, floral-print dresses, and the ubiquitous It Bag, the slouchy Lariat.

RETRO



We can blame Marc Jacobs all we want for the continued retro influence in fashion, but Nicolas Ghesquiere has to take some of the blame. Ghesquiere's frequently invokes the ideas and shapes of 60s skirt suits, 70s pant suits, and Balenciaga's own archive of sculptural shapes and innovations. Most recently, Ghesquiere took a departure from his usual retro influences and directly referenced the 80s in his F/W 2009 collection, a look from which is seen here. Reviews of this collection have been mixed: some say it's genius, some say it's bland. Possibly the most succinct, and certainly my favorite, review can be found here.

MENSWEAR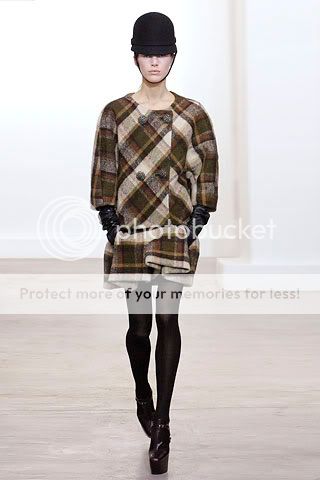 Ghesquiere takes the backbone of menswear - suiting fabrics, dowdy tweeds, and the principle of the matching suit - and repurposes them along razor-sharp lines, fashioning ultra-skinny pants, voluminous skirt suits, and slightly draped pants that recall Rick Owens. Never will you see Ghesquiere design menswear that's cut down for women or that even recalls the shape of proper menswear. There is always the something sharp to it: the sharp line of a narrowly cut pant, the crispness of the structural jacket above. Ghesquiere only rarely allows fluidity and ease into menswear.

SPORTSWEAR



As with menswear, sportswear is one of Ghesquiere's lesser themes, explored here through the literal racing stripe. Sportswear is usually more of an inspiration in fabric, as with Ghesquiere's use of neoprene, seen above in the second image. Ghesquiere's use of sportswear is also notable for its material absence, often more of an allusion than an actual design element, as seen in the above photos' wetsuit allusion and riding hat. The incorporation of sportswear maintains a certain youthfulness and vitality in Ghesquiere's designs, elevating the mood from intense conceptualism without giving in to gimmickry and cheap tricks.

REAL LIFE



Innovation in design is all well and good, but at the end of the day, a design can only be considered good if it can be used. Keeping that in mind, I've included this picture of Lauren Santo Domingo in a Balenciaga dress and jacket as proof that, yes, Nicholas Ghesquiere's designs can be worn to more than just a runway. Granted, Santo Domingo is very thin and, apparently, seven feet tall, but she doesn't look overdone or costumed, just like a lady in her favorite dress and jacket. The clothes do not overwhelm her. She looks more or less like herself who is ultimately wearing just a jacket and a t-shirt dress. Regardless of all the editorial fanfare, Ghesquiere's genius is in cutting very, very good basics that don't look it because, let's face it, a man cannot feed his family off of neoprene short suits alone.

Labels: balenciaga, designer index
6/17/2009 [0]
Subscribe to
Posts [Atom]. Or
follow on bloglovin'. If
you'd like to contact Dain,
feel free to email me.
I'm also on Pinterest.
Features

The Mnemonic Sense
Most Wanted
The Beauty Primer
Lookbook
Bestsellers
Consumer Diaries
Closet Confidential
On The Label
Beauty Notebook
The Hit List
Color Me In
The Makeup Artist
Wedding Bells
Globe Trotter
Desert Island
perfume notes
beauty notes
fashion notes
culture notes
minimalism
chypre arc
floral arc
fresh arc
masculines arc
gourmands
& orientals arc
Archives

August 2008
September 2008
October 2008
November 2008
December 2008
January 2009
February 2009
March 2009
April 2009
May 2009
June 2009
July 2009
August 2009
September 2009
October 2009
November 2009
December 2009
January 2010
February 2010
March 2010
April 2010
May 2010
August 2010
November 2010
December 2010
January 2011
March 2011
August 2011
September 2011
October 2011
November 2011
December 2011
January 2012
February 2012
June 2012
July 2012
August 2012
September 2012
October 2012
December 2012
January 2013
February 2013
March 2013
June 2013
July 2013
Images

Photobucket