Announcements
If you're new to this blog, then read our guides to the basics: Skin (Part I), Skin (Part II), The Supernatural, Color Theory I, Color Theory II, Eyes, and Brushes.

Also, check out the blogsale.
Contents
· Fashion Notes: Essentials

Favored

Art Tattler
the glamourai
The Non-Blonde
Perfume Shrine
Lisa Eldridge
Garance Doré
Smitten Kitchen
Into The Gloss
Grain de Musc
Lacquerized
Res Pulchrae
Drivel About Frivol
The Selfish Seamstress
Killer Colours
Bois de Jasmin
Glossed In Translation
Jak and Jil
Toto Kaelo
Worship at the House of Blues
I Smell Therefore I Am
Food Wishes
The Natural Haven
Messy Wands
1000 Fragrances
Moving Image Source
Wondegondigo
The Emperor's Old Clothes
M. Guerlain
Colin's Beauty Pages
Barney's jewelry department
Parfümrien
loodie loodie loodie
The Straight Dope
Sea of Shoes
London Makeup Girl
Sakecat's Scent Project
Asian Models
Ratzilla Cosme
Smart Skincare
Illustrated Obscurity
A.V. Club
Tom & Lorenzo: Mad Style
Eiderdown Press
Beauty and the Bullshit
La Garçonne
Flame Warriors
Everyday Beauty
Fashion Gone Rogue
Now Smell This
Dempeaux
Fashionista
The Cut
A Fevered Dictation
Nathan Branch
101 Cookbooks
Fashion Notes: Essentials
by Dorothy
I've been silent on this blog for ages, I realize. I recently moved from the student-hating student town where I went to law school to the much larger, friendlier student town of Halifax, Nova Scotia. I am still delighting in Halifax: the salt and pine in the air (it helps that I don't live near where the sewage filtration plant failed), the density, the friendliness, the cafés, the bookshops, the bus system that actually sort of works.

I frankly suck at minimalism: I can't resist colour, pattern, texture, subtle variations on the same themes. I wish it were otherwise, because I do think minimalism is a better way to go, but I'm not there yet. But there is nothing like living without the bulk of one's belongings for a week to figure out what one really needs.




SHOES





I bought my Repetto ballet flats last year; I think I got them for about $70 USD on eBay, which delighted me as they retail for at least twice that in Canada. Repetto ballet flats are classic (even clichéd), of course, but oh my, they deserve to be. I have lived in mine all spring and summer. They are supremely soft, and they work with almost everything. (This is a moment in fashion, of course; ten years ago I would have thought flats looked terribly dowdy with skirts.) Wearing these feels like walking around town in bedroom slippers, which means no arch support, but that hasn't bothered me. I really need to get them re-soled, but am not sure when I'll be able to do without them for that long.




JEANS




Oh, jeans. I have too many pairs of jeans. I would hang on to them, but I put on a bit of weight over the past year and that extra inch on my hips has rendered my smaller jeans...wearable, but not comfortable. Jeans should be comfortable.

I grew to like skinny jeans; I found them charmingly gamine, and since I am quite thin, my thighs aren't so much bigger than my calves as to throw the look off. But the moment has passed. I am keeping the jeans that are still comfortable -- a pair of super-soft Adriano Goldschmieds in a summery medium wash, bought on sale last year, and I still love my J Brand Love Story jeans; the bell bottom amuses me. (Please don't mention Paris Hilton.)




ONE BAG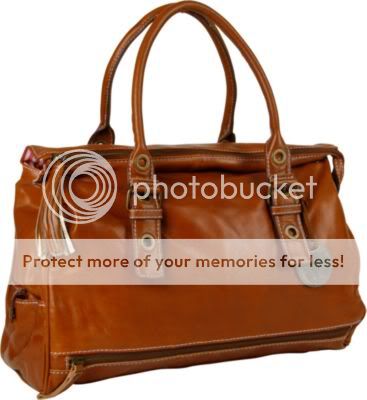 This -- a Tabitha Quinny bag -- may be the best impulse purchase I've ever made. During a trip to the U.K. two years ago, I happened upon this in an Oxford accessory shop and fell in love with it. It was more expensive than any purse I'd bought to that point (£175, as I recall), and I felt a bit unhinged as I laid down my credit card, but since then I have hardly used any other bag. I've come to realize that soft brown leather bags are very versatile: since they match almost nothing, they go with everything. The Quinny is made of decent quality leather, tricked out with lots of pockets and lined with an amusing pink-and-white stripe. I can't use this for very formal or businessy events, but for everything else, it's ideal.

Labels: adriano goldschmied, j brand, minimalism, repetto, tabitha
9/20/2009 [0]
Subscribe to
Posts [Atom]. Or
follow on bloglovin'. If
you'd like to contact Dain,
feel free to email me.
I'm also on Pinterest.
Features

The Mnemonic Sense
Most Wanted
The Beauty Primer
Lookbook
Bestsellers
Consumer Diaries
Closet Confidential
On The Label
Beauty Notebook
The Hit List
Color Me In
The Makeup Artist
Wedding Bells
Globe Trotter
Desert Island
perfume notes
beauty notes
fashion notes
culture notes
minimalism
chypre arc
floral arc
fresh arc
masculines arc
gourmands
& orientals arc
Archives

August 2008
September 2008
October 2008
November 2008
December 2008
January 2009
February 2009
March 2009
April 2009
May 2009
June 2009
July 2009
August 2009
September 2009
October 2009
November 2009
December 2009
January 2010
February 2010
March 2010
April 2010
May 2010
August 2010
November 2010
December 2010
January 2011
March 2011
August 2011
September 2011
October 2011
November 2011
December 2011
January 2012
February 2012
June 2012
July 2012
August 2012
September 2012
October 2012
December 2012
January 2013
February 2013
March 2013
June 2013
July 2013
Images

Photobucket