Announcements
If you're new to this blog, then read our guides to the basics: Skin (Part I), Skin (Part II), The Supernatural, Color Theory I, Color Theory II, Eyes, and Brushes.

Also, check out the blogsale.
Contents
· Culture Notes: Channel Surf (The Kindly One)

Favored

Art Tattler
the glamourai
The Non-Blonde
Perfume Shrine
Lisa Eldridge
Garance Doré
Smitten Kitchen
Into The Gloss
Grain de Musc
Lacquerized
Res Pulchrae
Drivel About Frivol
The Selfish Seamstress
Killer Colours
Bois de Jasmin
Glossed In Translation
Jak and Jil
Toto Kaelo
Worship at the House of Blues
I Smell Therefore I Am
Food Wishes
The Natural Haven
Messy Wands
1000 Fragrances
Moving Image Source
Wondegondigo
The Emperor's Old Clothes
M. Guerlain
Colin's Beauty Pages
Barney's jewelry department
Parfümrien
loodie loodie loodie
The Straight Dope
Sea of Shoes
London Makeup Girl
Sakecat's Scent Project
Asian Models
Ratzilla Cosme
Smart Skincare
Illustrated Obscurity
A.V. Club
Tom & Lorenzo: Mad Style
Eiderdown Press
Beauty and the Bullshit
La Garçonne
Flame Warriors
Everyday Beauty
Fashion Gone Rogue
Now Smell This
Dempeaux
Fashionista
The Cut
A Fevered Dictation
Nathan Branch
101 Cookbooks
Culture Notes: Channel Surf (The Kindly One)
by The Kindly One
This particular group post has been difficult for me to write because there have been so many shows that I really, really love. I struggled with narrowing the field until I started thinking about what type of shows I love. Current favorites include Dog the Bounty Hunter, Food Network Challenge and, as always, America's Next Top Model (I was on both Team Nicole and Team Laura). It cannot be said that my taste in television, or in much of anything, is classically "good." Rather than suffer the readers through the parade of eccentricity and manic energy I regularly flip to, I've chosen to highlight five shows that fall somewhere between "good" and "moderately okay."

MORAL OREL




This show is not for everyone. A tough opening sell, to be sure, but broad audience appeal does not come to mind when talking about Moral Orel. Set in Moralton, the "exact center" of the United States, Moral Orel follows the adventures of Orel Puppington as he navigates the world of conservative Christianity, slowly learning what being a Christian, and an adult, is all about. The show's main thematic content concerns the hypocrisy, religious and secular fundamentalism, and misuse and abuse of dogma ingrained in American culture. Satire and earnest questioning aside, the beating heart of the show is the raw emotion lurking beneath Moralton's actions, and it is raw stuff, indeed. I have very rarely seen the level of emotional depth and honesty displayed on Moral Orel, both in real life and in broadcast television. Moral Orel uses the mechanism of humor to guide viewers to and through the fundamental, emotional truths of the show, going deeper and darker with each successive season. It is this quality of the show that makes Moral Orel an engaging experience. In fact, the first time I watched the show, I was so disturbed, confused, and invested in what happened next that I immediately Googled it and learned as much as I could. It is really an exceptional show, both in quality and content. Don't be surprised if you finish an episode much quieter, more thoughtful, and more introverted than when you started it. I highly recommend it, but I'll say it again - this kind of content isn't for everyone.

LOVESPRING INTERNATIONAL




I am possibly the only person in this country who's ever seen this show, and I know I'm the only person who's watched every episode. Lovespring International takes place at a dating agency, following the disastrous attempts of the employees to keep the company, and their own lives, afloat. It's one of the many improv shows that have popped up, and this is possibly why I like this show so well. The actors are given the ability to take their characters' foibles and pathos to dire, extreme levels, as well the room to display genuine chemistry, no matter how poisonous or unhealthy. As a result, the show has an energy and immediateness that heavily scripted shows rarely have, and the actors have the room to more fully and deeply explore their characters' flaws than is the norm. The show is hilarious. It is also, sadly, cancelled, but videos can be found at Lifetime.

QVC





QVC beauty presentations are some of my favorite shows to watch. This stems from the days when I only had basic cable and my viewing choices were QVC, the TV Guide channel, and both Catholic and Baptist programming. The clear choice was QVC. It was a dark seven years.

QVC offers presentations on an extensive selection of high-end beauty brands, including Oscar Blandi, YSL, Philosophy, Smashbox, and most recently, NARS. Presentations generally last between one and three hours and give ample opportunity to get a good idea of a line's general range of products, as well as the chance to see items from brands that do not have widespread distribution (Lucy B., Dalton, Darac, etc.) Obviously, testing products yourself is the best way to go. Television simply cannot account for differences in skin tone, texture, and particular sensitivities. However, I find there is nothing more relaxing than sitting back and listening to the drone of hosts and pr reps shilling products while watching women apply eyeliner and look pretty. QVC beauty presentations don't require thought, interaction, or action of any kind, and really, sometimes that's what you need. At the end of a long day - and I have had many long, hard days recently - sometimes all you want is to hear the warm tone of the television, see pretty pictures, and zone out, and this provides the perfect opportunity to do just that.

RENO 911!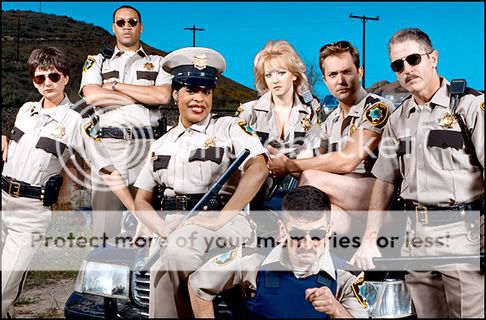 Reno 911! is easily one of my favorite shows of all time. Set in Reno, Nevada, the mock-documentary follows Reno's finest as they fumble every investigation, routine task, and breath they engage in. There are so many, many reasons I love this show, the first and foremost being it's cinematography. Joe Kessler films "Reno" (really, Los Angeles Metro) crisply, throwing all the things I love most about the West into the forefront - the expansive skies that go on forever, the space, the flatness. I am also quite fond of how the show's "boobery" (Dangle's quote, not mine), both intentional and otherwise. There are a lot of mistakes that happen on camera. The actors laugh and break character, and I like that those parts are left in. The show already has an intentionally informal feel, and these mistakes only add to that, leaving the viewer feeling part of a loose gathering of people bumbling along and having a great time. Parodoxically, the best thing about the show is the actors' commitment to character. I have never seen actors more committed to their characters, even keeping in mind the greats (De Niro, Blanchett, etc.) Unlike in scripted shows, in which character arcs are precisely prescribed and circumstances are specifically situational, Reno 911! throws its actors and their characters into a variety of situations and leaves them to their devices. Rather than filling in blanks with contrived dialogue, situations, and storylines we've all grown to loathe, the actors fill them with the characters themselves in all their flaws and frailties. The characters may not be deep, but we get to know them as regular people, just as we'd know our coworkers and friends. Travis Bickle may bring you glory, but I've learned more about acting from this show than I have anywhere else.

THE COSBY SHOW




No matter what else is on TV, I will almost always choose an episode of The Cosby Show over the other offerings. The Cosby Show provides some great memories (25 years of them), and the show is such a part of the American vernacular and cultural history that it's ageless. Yes, it clearly takes place in the 80s, but the specifics of the show are timeless events that happen to individuals and families every day, and I find it incredibly comforting to watch a show in which people like each other, treat each other more or less well, and in which everything is stable and going to be okay. So much of television currently relies on shock value, unstable relationships and settings, and the fear of things quickly falling apart that it's nice to watch something that will not stress me out, worry me, or overly tax my adrenal glands.

Beyond acting as a virtual security blanket, The Cosby Show is really, really funny. I take genuine enjoyment out of seeing Cliff laugh at his kids, Vanessa snoop around, and everything Cockroach. There is nothing harsh about the show or its humor, and while critics have consistently cited this as unrealistic, I would point to it as a truism: comedy doesn't have to be cynical, edgy, or angry to be funny. It has to be true, and there's as much truth to be found in a family - the foundational relationship in most people's lives - as there is in pathos and insecurity. In fact, there's more truth (and comedy) observed in The Cosby Show than in the million iterations of hip cynicism, glib soundbites, and personal insecurity masked as worldweariness that generally make up Comedy Central. The truth is that where there are five kids, there is chaos, misunderstanding, and frustration, and this is the stuff of comedy - pathos. The Cosby Show explores it well through the relationships between functionally healthy adults and children, and it's this point that separates this show from the examples above. As with life, so as in television, where is something completely stabilizing and calming about being in the company of capable people. So I turn on The Cosby Show for a good laugh and for enjoyment, and I turn it on so I can see the examples of solid, grounded people that can seem so rare to find in real life.

Labels: culture notes, lovespring international, moral orel, qvc, reno 911, the cosby show
11/21/2009 [2]
Subscribe to
Posts [Atom]. Or
follow on bloglovin'. If
you'd like to contact Dain,
feel free to email me.
I'm also on Pinterest.
Features

The Mnemonic Sense
Most Wanted
The Beauty Primer
Lookbook
Bestsellers
Consumer Diaries
Closet Confidential
On The Label
Beauty Notebook
The Hit List
Color Me In
The Makeup Artist
Wedding Bells
Globe Trotter
Desert Island
perfume notes
beauty notes
fashion notes
culture notes
minimalism
chypre arc
floral arc
fresh arc
masculines arc
gourmands
& orientals arc
Archives

August 2008
September 2008
October 2008
November 2008
December 2008
January 2009
February 2009
March 2009
April 2009
May 2009
June 2009
July 2009
August 2009
September 2009
October 2009
November 2009
December 2009
January 2010
February 2010
March 2010
April 2010
May 2010
August 2010
November 2010
December 2010
January 2011
March 2011
August 2011
September 2011
October 2011
November 2011
December 2011
January 2012
February 2012
June 2012
July 2012
August 2012
September 2012
October 2012
December 2012
January 2013
February 2013
March 2013
June 2013
July 2013
Images

Photobucket