Announcements
If you're new to this blog, then read our guides to the basics: Skin (Part I), Skin (Part II), The Supernatural, Color Theory I, Color Theory II, Eyes, and Brushes.

Also, check out the blogsale.
Contents
· Culture Notes: Sound Byte

· Consumer Diaries: Winter 2010

· Fashion Notes: A New Outfit

· The Beauty Primer: Skin (Part III)

· The Beauty Primer: Skin (Part II)

· The Beauty Primer: Skin (Part I)

· Closet Confidential: Focus

Favored

Art Tattler
the glamourai
The Non-Blonde
Perfume Shrine
Lisa Eldridge
Garance Doré
Smitten Kitchen
Into The Gloss
Grain de Musc
Lacquerized
Res Pulchrae
Drivel About Frivol
The Selfish Seamstress
Killer Colours
Bois de Jasmin
Glossed In Translation
Jak and Jil
Toto Kaelo
Worship at the House of Blues
I Smell Therefore I Am
Food Wishes
The Natural Haven
Messy Wands
1000 Fragrances
Moving Image Source
Wondegondigo
The Emperor's Old Clothes
M. Guerlain
Colin's Beauty Pages
Barney's jewelry department
Parfümrien
loodie loodie loodie
The Straight Dope
Sea of Shoes
London Makeup Girl
Sakecat's Scent Project
Asian Models
Ratzilla Cosme
Smart Skincare
Illustrated Obscurity
A.V. Club
Tom & Lorenzo: Mad Style
Eiderdown Press
Beauty and the Bullshit
La Garçonne
Flame Warriors
Everyday Beauty
Fashion Gone Rogue
Now Smell This
Dempeaux
Fashionista
The Cut
A Fevered Dictation
Nathan Branch
101 Cookbooks
Culture Notes: Sound Byte
by Dain

The streets of New York on a cold and rainy night.


Happy Holidays! I hope you're enjoying yourself as much as I am. There's just no place like home, and no people I love so much as my family. : )

Labels: charlie mingus, culture notes
12/24/2010 [0]
Consumer Diaries: Winter 2010
by Anne
I'm currently swamped by finals, so I'm jotting down this post as a chronicle of the material comforts that distract me from worthier pursuits at the moment, and a taste of (tentative) future blog posts to come.




I originally downloaded Songbird for Eva Cassidy's rendition of "Fields of Gold," which I had overheard at a caf&eacute and taken a liking to. Now "liking" doesn't begin to describe what her voice makes me feel: a week of cramming from morning to midnight, with breaks only for sleep and meals, had left me feeling numb and wrung dry of all emotion, so it took me quite aback to find my cheeks wet by the time I was done listening.



I've always had difficulty accepting the fashion dogma dictating that the right shoes are an essential investment. Honestly, can one expect a humble pair of shoes to be so modest and well-mannered as to be able to go with every outfit one owns (within reason, obviously one wouldn't wear strappy sandals with a parka in winter) but also to be classy enough to prevent said outfits from relapsing into incoherence, or worse, dowdiness? I believed that such shoes did not exist, at least not for me and my pocketbook... until I saw these babies, at which point my jaw immediately dropped to the floor. They aren't unattainable either, as the seller (whom I found through Gmarket) makes shoes to custom fit at a reasonable price point: 100,000~150,000 won for a pair of custom made shoes is not bad at all. If I can make myself wait until third year to splurge, I will probably make the excuse that I will need shoes to go with the dressy work-appropriate clothes required for clinical rounds.



There are some things that you don't even realize you've been missing until you come across them again, albeit in much reduced form. Snyders of Hanover and their smashed pretzel pieces, coated in an oily residue of intensely flavored powder, is one of these: I ran across these by chance in a Korean convenience store, picked a couple up for old-time's-sake... and was immediately overtaken by a wave of nostalgia. The little baggies sold in Korea are a far-cry from the larder-busting sacks I remember from my childhood, but at least the contents pass the All-American munchie purity test in their hypertension-inducing powerfully-seasoned goodness. My favorites are Garlic Bread (loaded with artificial butter and garlic pungent as the real thing), and Honey Mustard & Onion (the mordant quality of honey played up by vinegary mustard and the sulfuric bite of onion).




I've been a fan of Kirsten Lepore for quite some time now. She seems to be much like her work: sweet, creative, subtly subversive, and totally unpretentious.




I got my hair permed last August, but the job was done carelessly, it seems: after a few weeks the waves started appearing messy and disorganized. Then I tried Aesop Rose Hair & Scalp Moisturising Masque, and to my delight found that it not only softens coarse dry ends, but also gives wavy hair beautiful definition.



I admire people who can do anything creative... paint, sing, dance, throw pots, make movies, even program computers. So much so, that I've never been content to simply admire: it's always the talent I've coveted and jealously worshipped, the paraphernalia associated with the creative act that I fetishize more than the creation itself (aluminum tubes of oil paints made from ground-up minerals, rolls of film and the silver chemicals required to develop them, toe-shoes of creamy satin, among others). Something snapped recently, though, and I'm no longer content to simply sit by the sidelines worshipping (and envying) others for what I haven't created for myself. Life drawing is a manageable, flexible, and inexpensive hobby, as far as artistic hobbies go, and a sketchbook, drawing pencils, a kneaded eraser, and a paper cone for blending don't require much more than a moderate investment. I admit, buying new equipment is, on some level, just a way to satisfy my old obsession, but this time I'm determined to work at realizing my creative impulses rather than settle for vicarious and symbolic possession of something that can never be "possessed" to begin with, but only earned through constant effort.

Labels: aesop, animation, consumer diaries, eva cassidy, kirsten lepore, snyder's
12/20/2010 [1]
Fashion Notes: A New Outfit
by Anne
I was browsing around on the net (though I should have been studying!!!) when I found this Korean magazine scan from 10 or 15 years ago. It's an excellent example of the late 90's Korean take on both grunge and hip-hop*: plainness to the point of conservativism, somber neutrals, and a tendency toward oversized fits and unisex styling.



This girl accessorizes with little more than her shoes, a necklace, a watch, and a basic shoulder bag. The lines are very clean, with colors limited to brown and white. It doesn't seem like much, but in fact this kind of look is very difficult to pull off. When the details are tuned down to this low a volume, the smallest irregularities suddenly reverberate glaringly and the smallest alterations can cast the whole effect in a different light.

In short, everything must be taken into account, which the girl in the photo has done well, from the effect of the shoulder strap crossing her chest to the necklace—a delicately chunky silver that picks up on the oft-ignored decorative effect of the logo, white lettering against brown—to the doc martens—suitably muted in color and generic in design but with a distinctive shape that keeps the lower half of the outfit from degenerating into sloppy formlessness. The sleeves have been pushed up to show the slenderness of the arms, accentuated again by the watch encircling the wrist: if not for this last step, the overall silhouette would appear much bulkier.

Each element has an impact that would leave something lacking, were it to be taken away, yet none of them steal the stage for its own. This kind of synergy is easy to miss, all the more because you can't quite pinpoint a single piece that makes or breaks the effect. It's this kind of laid-back equilibrium that's also the most difficult to master, and which I think is the single most significant distinction separating the truly well-dressed from the average magpie connoisseur of fashion "items".

* The two aesthetics seem to be somewhat confused in this, but the Koreans and the Japanese are expert at a sort of post-modernist mishmash of foreign trends in total defiance—or rather, disregard—of their origins, to varying effect: there's a whole world of difference between T-shirts emblazoned with "Engrish" phrases and Samurai Champloo.

Labels: 90's, fashion notes
12/17/2010 [0]
The Beauty Primer: Skin (Part III)
by Dain
Maintenance—cleansers, moisturizers, and exfoliants—offers none of the excitement of a serum. But I've never encountered a serum that's changed my life, have you? Whereas when I stop fiddling around, and stick to a basic regimen of very gentle cleansing and adequate amounts of moisturizer (I can't exfoliate), my skin ultimately manages itself. I suspect the same principle holds true for nearly everyone, especially if you've got problematic skin; a treatment is more effective against a stable backdrop. Getting your maintenance down should be your first priority. Match products to the structure of your skin—its oil output (Part I), its resistance and regeneration rate (Part II), as well as which ingredients it likes and doesn't like—rather than desired textures or ready shortcuts. There's no point in aggravating dehydration further with a foam cleanser, simply because you prefer bubbles, when a proper massage with a low-surfactant cleanser is not only completely gentle but a much more thorough cleanse. Add a muslin cloth to the ceremony, and you've got daily exfoliation into the bargain. It may be more time consuming, compared to the rinse-and-go lifestyle, you have to conform your habits to your skin's needs, rather than expecting a change in its nature, at least from something as superficial as skincare.



$56 to help my moisturizer penetrate, mm!


Finally, pay what you want to pay. Most formulations are basic regardless of price, but I prefer the luxury of Shiseido Eudermine over Rohto Hadalabo, even if the effects are essentially the same. That's just how I am, and will be till the blowflies get me.

What are your specific concerns?
That said, maintenance doesn't cover everything. Most people would consider sunscreen an essential, and if you wear eye makeup, it's best to have a separate cleanser for its removal. Acne is a common complaint, aging worries everybody, and then there's rosacea, hyperpigmention, puffy eyes, etc. All of them have a battalion of specialized products, some of them specious (especially anti-aging), others legitimate. These FUNCTIONAL products have to evaluated on specific criteria gauging their efficacy, separately from MAINTENANCE, which are products that enhance your skin's natural functions. Most functional products, if they work, feature some active ingredient that has a direct result on the skin. They have to be used correctly, and at sufficient potency, and almost always have some negative side effect. Tretinoin, for example, is of high repute, clinically proven to stimulate collagen and elastin, but also incredibly harsh and drying. There are milder options, retinaldehyde, retinol, and retinyl palmitate, but the further away from the metabolic pathway of tretinoin you go, the less effective it becomes, even at high concentrations. Then, there's the problem of stability. By the time you've got a stable retinol of sufficient potency, you're easily paying $100 for half an ounce of eye cream—but at least it's not a standard moisturizer.

And that's for a well known, well studied ingredient.

The best way to approach functional products is to avoid being generic. Know your skin well. Be as specific as possible about your needs. Try not to purchase any products without knowing how exactly it will affect your skin. Research active ingredients for known issues with stability, pH, and concentration. If your criteria are vague, such as "sunscreen", you'll be flooded by thousands of similar products, each claiming to be groundbreaking, none exactly suited to your skin. Whereas you narrow the range of possibilities when you're exact: "I've got pale skin that's prone to pigmentation, and my family has a history of melanoma" versus "I want a daily, fragrance-free sunscreen that's light under makeup (but I don't get too oily), lowest SPF of 30".



What's more important, protection or texture?


It's very much a judgement call. People demand that their skincare work for them. No one expects a car to run without gas or satin shoes to wear indefinitely, and yet they unreasonably expect, if they've got a problem, there's a product to fix it. It doesn't help that the skincare industry feeds the hype. In some cases, there isn't a solution. You can prevent blackheads, within reason (you'll still get some), but preexisting clogs will only go away through professional extraction. Chronic acne is an incredibly multifacted condition; as anyone who's suffered knows, benzoyl peroxide and salicylic acid and tea tree oil aren't enough. Once you see the wrinkles forming, it's too late to do anything about them. Nothing gets rid of undereye circles except for plenty of rest. All sunscreens have a texture—some are nicer than others, always the expensive ones—but none are truly invisible. People will chase these goals to the edge of forever, but I've never heard of anything with even a 50% success rate. It's not fair, but those with beautiful skin were born that way; it's not really the skincare. It's no cause for despair. It's just better not to chase illusions. Someday, perhaps, technology will be able to provide a tenable answer, but until then, we've got concealer.

This is not supposed to be a comprehensive overview (for further information, check out The Beauty Primers on sunscreens and treatments), detailing the benefits of ecampsule versus avobenzone, but rather a buyer's guide, parameters of evaluation to keep in mind as you buy and review products. With functional products, finding what you want often comes with drawbacks, usually in terms of its cosmetic value—elegant textures, pleasant smells, easy use. If you find that a sunscreen doesn't sink into your skin like your normal moisturizer, don't reject it as an inferior product. These are sometimes characteristics intrinsic to the active ingredients themselves. If you insist on performance, you're likely (but not always) to get heavy sunscreens, greasy eye makeup removers, and harsh serums.

SUNSCREEN
There are so many, many sunscreens out there, each catering to a different customers, that you have to be pretty savvy about what you're looking for. Most manufacturers understand that a broad-spectrum SPF 15 is a minimum requirement—Neutrogena even goes up to a paranoid 110—but always check the label to see what you are getting. Not everyone needs the same level of protection. You'll also need different sunscreens for intense exposure, waterproof for the beach or for sports, as well as specific products for lips, eyes, hands, and body. Many sunscreens are difficult to remove, and improper cleansing can lead to breakouts. Some people can only tolerate physical blocks, others prefer chemical filters, most with disagreeable textures and odors, the main source of complaint. Often a lighter texture sacrifices on protection; fortunately, skincare companies are working hard to develop more elegantly-textured formulae with full coverage.

MAKEUP REMOVAL


No, I don't know why it's so hard to source outside of France. : (


If you wear heavy or long-wearing makeup, a cleansing oil or hot-cloth cleanser may be the best method of removal. Follow up with a second cleanse, if you're worried about the residue clogging pores. Or, you may only require an eye makeup remover; those bi-phase ones are thorough, but an oil-free ones don't leave a film behind. Make sure you saturate the cotton pad well, and press gently until makeup is fully dissolved. Never rub. Like many others, I'm a fan of Bioderma, a simple, non-irritating formula that gets most of the grime off when I haven't the energy for the full routine when I've just gotten home from work.

PUFFY EYES
Usually an eye gel, cooled in the fridge, will do the trick.

ACNE


Not so drying, also dislodges clogs nicely before extraction.


There's not a terrible lot you can do about current eruptions except disinfect, the basic idea behind benzoyl peroxide, tea tree oil, triclosan, sulfur, and oral antibiotics. If used incorrectly, disinfectants diminish in efficacy as the bacteria build up tolerance. If you get the errant pimple, rather than chronic acne, I'd suggest a 2% salicylic acid gel, to open up the pore and disinfect, layered with a clay mask to draw out the oil and pus. Topical, over-the-counter methods of treating acne are best when they're preventative: exfoliation to keep pores clear, but if your skin insists on breaking out, there's not much you can do with Clean & Clear and Proactiv. The major drawback to anti-acne products is how much they dehydrate the skin, which makes it difficult for drier, more sensitive skin types to deal with acne effectively. For very dry, intolerant skin, the focus should be on healing.

AGING


You know you want to. Even Johnny Depp uses it. The glass recalls seaweed,
the box is mother of pearl. Silver spoon (and definite article) included.


Prevention is the main cure (see sunscreens, above), avoiding irritants that cause microdamage to the skin: SD alcohol, hot water, cold wind, overexfoliating, harsh chemicals in skincare (hydroxy acids and cleansers with sulfates), makeup. For a more superficial measure, a rich moisturizer plumps up the skin, and the oils will keep the skin supple, by forming a barrier that minimizes further damage and replenishing diminishing sebum in mature skin. A gentle exfoliant exposes fresh, new skin, but don't be too aggressive on fragile skin. The most reputable ingredients to repair damage are peptides, vitamin C, alpha hydroxies (but only dermatological peels), and tretinoin, but high-quality options are extremely expensive. Olay has good peptide-based options at budget prices, much better at restoring skin than the mineral oil of Crème de la Mer.

HYPERPIGMENTATION
Due to my intolerant skin, this is not an area in which I've done any research, as I won't go near anything that claims to whiten my skin.

RASHES and SUNBURNS and other IRRITATIONS



The sunburn I got in Bali, right at the point when it began to heal


Sensitivities are largely a matter of avoidance. When my skin gets raw, I slather on Weleda Diaper Care Cream and wear it as a mask (the zinc oxide provides sun protection indoors), over a copious application of Rohto Hadalabo's hyaluronic acid softener, because irritated skin is often severely dehydrated, and this thick barrier cream takes some time to absorb. It also has a mild effect on acne, though the calendula extract is not at sufficient concentration to take advantage of its healing properties (check out Boiron). I prefer aloe vera for reddened painful irritations, such as rashes and sunburns, then rubbed down with oil to minimize scarring. The best healing agent, however, is time. Avoid hot water and overcleansing, and wait for your skin to heal.

CHAPPED LIPS
Slather on a rich eye cream first (waxes and oils don't hydrate), then seal it in with pure shea butter. It's best as an overnight treatment, when lip balms just won't cut it.

These these three Beauty Primers are demanding to write, but it's still impossible to be comprehensive. Every word here is rooted in personal experience; I am not a dermatologist, esthetician, nor chemical engineer. In my honest opinion, it's best to keep your expectations modest and your skincare simple. If it genuinely worked, the FDA would slap a prescription on it.

Labels: bioderma, la mer, la roche-posay, md skincare, nars, olay, shiseido, the beauty primer
12/11/2010 [0]
The Beauty Primer: Skin (Part II)
by Dain
Your skin type, determined by oil imbalance is generally not too difficult to identify, as long as you look at the structure of your skin, and don't allow dehydration to confuse things. But even more important than the surface of your skin, is its thickness. Since the purpose of skincare is to minimize damage, rather than cause it, knowing your skin's resistance is crucial, even more than its oil output. Most women can discern the difference between dry and oily, but it's ultimately the thickness of your skin determines its overall quality, as well as the efficacy of products. The same active ingredient, say, 10% glycolic acid, may burn thin, intolerant skin while making a barely noticeable impact on thick, resistant skin.

What's is your skin's resistance?

The skin is made up of layer upon layer of cells, but most of the living tissue, buried beneath a protective millefeuille of dead cells (stratum corneum, at left), never comes in contact with your skincare. The epidermis' main function is to prevent water loss and keep out pathogens, but there are outlets to the external world: hair follicles lubricated by sebaceous glands, where dead skin cells and bacteria may congregate. The thickness and composition of your skin varies considerably, from the soles of your feet to your eyelids, and it follows that there is variation from person to person, too. For some, the epidermis is quite thick, and it's a struggle to clear the skin of all that extra skin no matter how much you exfoliate, while others are thin-skinned and highly reactive, unable to bear the presence of anything harsh. For the lack of any other terminology, let us call this the skin's RESISTANCE, as it plays an important role in congestion, acne, sensitivity, aging, and dehydration. Down below, bordering the dermis, lies the basal layer, where skin cells multiply, differentiate, die, surface to the stratum corneum, and finally slough off, a process that takes on average four weeks. This is your skin's REGENERATION rate. The higher it is, the quicker your skin bounces back from damage. Since it's not so superficial, pretty much the only way to assess your skin's regenerative properties is by observing it under duress: does a large, inflamed pimple heal in a day, all by itself, or does it drag on forever, leaving behind a scar that take even longer to fade? Alternatively, nails are rooted the basal layer, so the speed of their growth will provide some indication.



Both your skin's resistance and its regeneration rate are predetermined by genetics, but both diminish significantly with age. It seems that fate is cruel, and we chase the skin we were born with, i.e. that of a baby. That ideal skin not only regenerates rapidly, but is also quite thin, a translucency that allows inner radiance to shine through. Beauty is fragile, however; skin like that is necessarily intolerant, irritated by the slightest provocation, as baby skincare easily testifies.

To recreate it, there is exfoliation. This is purely a superficial measure; with the exception of tretinoin (which are drugs, not cosmetics), there's little you can do to encourage regeneration, as skincare doesn't penetrate deep enough to affect the deepest layers. Instead, there's controlled destruction, which mimics the appearance of rapidly regenerating, fresh and healthy skin by destroying the top layers. Then the skin heals, stimulating new growth. Exfoliation is the most viable solution for a myriad of complaints. Pretty much any product that claims to make you glow, and actually delivers on its promise, performs its magic through exfoliation‐exposing, not adding. Exfoliation also clears away the excess dead skin cells, which can get trapped in pores, causing congestion (blackheads and whiteheads) and, if infected by bacteria, acne. But the chance is slim that you'll be rid of blackheads entirely. It also helps smooth out fine lines, and if dehydration is a major issue, exfoliation also boosts the efficacy of your moisturizer, since there is less of a barrier. And yet, you are causing deliberate harm to your skin. Such is the widespread inefficacy of skincare, at giving you the perfect skin you want, that a rough cloth rubbed over massage with a heavy emulsion (hello, Liz Earle) works better for most complexions than Crème de la Mer.

Cleansers are mostly surfactants (it doesn't necessarily have to lather, that's a detergent), moisturizers are silicones, humectants, oil, and water, but exfoliants have real range. There's a rough divide between chemical and physical exfoliants, but it's easy to get lost, and you want exactly the right degree and method that your skin requires, as it's best not to play too loose with anything designed to damage your skin, albeit very topically. Introduce an exfoliant slowly, just once a week, and accompanied by a good sunscreen. A powerful scrub should be used at maximum three times a week, a gentle one can be daily. The more aggressively you exfoliate, the more aggressively you should soothe, calm, and nourish, so that your skin heals properly from the damage. For the sake of discussion let's simplify into four categories, independent from your oil-determined skin type, to aid in narrowing the most eligible candidates. They are not distinct from each other (or even, "official"); if a scrub suits you better than glycolic acid, it's the results that atter.



I


Aspirin also comes in powdered form, the readier for masking.


If your skin is THICK, with a HIGH REGENERATION rate, you're suffering from a superfluity of dead skin cells. Throw hormones, dehydration (toughens skin), excess oil (glues it all together), and P. acnes bacteria into the mix, and you've got full-blown acne. It's best not to aggravate active infections with a scrub, as if rubbing salt into a wound; when your immune system is provoked, treat your skin like it's sensitive, even if it's tough enough for St. Ives. Instead, you've got both AHAs and BHAs at your disposal, both of which dissolve keratinized dead cells, but salicylic acid is generally preferred, for its ability to disinfect and penetrate into pores, though nowhere near as effective as an oral antibiotic. Salicylic acid is so standard that it's in everything from the costliest dermatological serum to your humble Clean & Clear, but the simplest and most powerful option may be the aspirin mask. If your skin is not so congested, but merely dull and flaky (congestion is really flaky skin with some oil thrown into the mix), glycolic and lactic acid are better overall exfoliants. Hydroxy acids are outrageously inexpensive, so unless you've got a specific cocktail in mind, it's not worth paying for Peter Thomas Roth or Dermalogica, when Alpha Hydrox offers a 12% AHA Soufflé ($16)*. I also think aggressive hydration, since it loosens up the stratum corneum, really helps with exfoliation (and vice versa).



II


Funny how often I recommend diaper cream.


It's surprising how much changes, even with the same HIGH REGENERATION, if your skin is THIN. Here you find skin so fragile, so intolerant, that it can't go near hot water and cold wind; 12% glycolic acid is asking for a chemical burn. Whereas thick skin is absolutely impervious, and the struggle is keeping up with it, thin skin can be irritated even by the particles of pigment in foundation. Depending on your level of sensitivity, exfoliation is generally not appropriate for your skin, as you want to preserve what little you have. This is highly problematic if flakes or congestion are involved—salicylic acid isn't too rough if you must clear out a pimple—a good massage with a cleansing emulsion softens the skin, then very, very gently lift away dead skin with muslin or cotton wool. For acne, treat it like a rash, with something healing, like Weleda Baby Calendula Diaper Care Cream ($11), also handy for contact dermatitis and allergic reactions. Overall, this skin condition is marked by avoidance, sticking to a nervously probed range of inert ingredients. If you've got rosacea, a tendency to pigmentation, or a family history of cancer, then extra precautions are necessary. Thin skin will also ages more rapidly, so that solicitude is a necessity.



III



Quality vitamin C is very expensive, like cashmere: Skinceuticals C E + Ferulic ($138)


Someone with THICK skin, with LOW REGENERATION, has quite sluggish, easily congested skin. It requires thorough exfoliation, but with a softer touch. There's no cause for alarm, but if you damage your skin, it won't bounce back so readily, and the focus should be on healing as much as on exfoliating. Skincare products will also take longer before you can claim results. If you prefer a chemical method, then choose a lower dosage, or prefer the milder lactic acid (see below). A mechanical exfoliant, as it's a physical sensation, is easier to gauge. There's a load of great scrubs out there, but I actually prefer a textured cloth, whether it's incredibly popular Liz Earle Cleanse & Polish ($23.50) or a viscose cloth from the Asian market ($0.99), because you get so much more control over fabric than random scrubby bits. Alternatively, it wouldn't hurt to try a vitamin C serum or tretinoin*;it might help stimulate the skin. Both are expensive, because of the difficulty of stabilising them, but their effects are clinically proven. Even on resistant skin, tretinoin is extremely irritating and does not require any other exfoliant.



IV


Lactic and salicylic acids in an attractive cream base.


THIN skin, with a LOW REGENERATION rate, should be treated as gingerly as possible. It doesn't recover easily from damage. It's fragile and reactive and needs to avoid irritants, but still benefits (at least superficially) from some mild, non-abrasive exfoliation. The trick is to find something with a buffer—hopefully you are not too oily—plenty of lubrication, or a gentle enzymatic action, like YSL's Natural Action Exfoliator ($44) or those queer almond-meal cleansers from Dr. Hauschka or Jurlique, which purportedly absorb loosening flakes without disturbing the others. If you're not too intolerant, lactic acid might be good for you—Dermalogica Gentle Cream Exfoliant ($36)* requires no rubbing or pulling—or you may be fine with a gentle scrub or a hot-cloth cleanser (remember, these categories are not discrete, but represent a whole range of possibilities). It's best not to exfoliate frequently, and follow with a nourishing, calming mask. Another good idea is a moisturizer high in peptides, as they have healing properties (I've not tried anything with peptides that I know of, save the infamous Boots, which was underwhelming).

From the days of one-cold-cream-fits-all, skincare has differentiated considerably. Skincare companies were quick to respond to consumer demands, and accommodate them with "acne-prone", "mature", and "sensitive" ranges, but in actuality lumping acne treatments with greasy teenagers (purity!) and gilding the bitter aging pill with luxury. No wonder people get confused. Imagine: "I'm 38 but I get blackheads all the time, and yet they're pushing heavy wrinkle creams on me." Whereas if you're looking at your skin's structure, it's much easier to target the proper skincare, "My regeneration rate has slowed, but I still get congestion. I guess I could use a gentle but persistent exfoliation and maybe some vitamin C for a boost of radiance. I don't think it'll sensitize me too much, as my skin is somewhat tougher." It's not fool proof, but at least there's improved accuracy.


* As I have intolerant skin, I have to recommend reference products for these particular actives. Sorry about that. I have tried everything else, however. : )

Labels: alpha hydrox, dermalogica, liz earle, skinceuticals, the beauty primer, weleda, ysl
12/08/2010 [4]
The Beauty Primer: Skin (Part I)
by Dain
None of us are gifted with foreknowledge when it comes to skincare; it is always something of a gamble. Unless you've got the bank account generous enough to absorb every mistake—and nothing's quite so costly in the beauty world as a luxury face cream—there's no substitution for patience and diligence. You have to get to know your skin: starting with proper cleansing and hydration, and introducing products one at a time, taking at least two (ideally four) weeks to gauge their effects*. The same symptoms, break outs, for example, may very well be caused by insufficient exfoliation, but it could also be a nervous reaction to a harsh, stripping exfoliant. Or, it could be mineral oil. Or hormones in your meat. Trial and error is the only way to tell. Once you do determine your skin's preferences, it's a daily commitment, morning and evening, to take care of your skin.

Even then, you have to be fairly realistic. The influence of skincare is marginal, compared to the sway of genetic predispositions, habits, and diet—and everything gets worse with age. The primary objective of a good skincare routine is to keep the surface of the skin smooth and even, uncluttered of makeup, dirt, dead skin cells, and old oil, so that the functions deep below in the dermis are not disrupted. That's pretty much all it can do. But the execution is not so simple; perhaps nine out of ten women take care of their skin improperly. The problem lies in the desire for perfect skin, which magazines (most are glorified catalogs) and companies happily exploit for profit. I'm not Paula Begoun; I don't want to save your money. You may come across a product that's the right fit for your skin, and it very well may be expensive. It was worth it. But that doesn't mean you can buy perfect skin. As long as you disregard your skin's true needs and limitations, you may reap damage to your skin.

Then, fortune mocks us with people who needn't strive for perfect skin: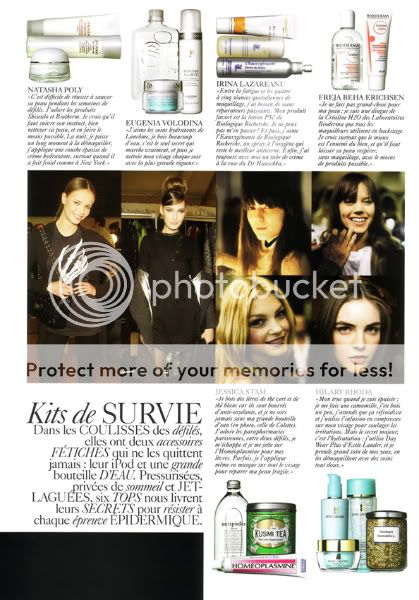 From French Vogue.


The models' approach, unlike the paranoid tune sung by celebrity dermatologists, clobbering the public prints with mexoryl SX and gamma-aminobutyric acid and the inexplicable popularity of Cetaphil, is more universally applicable: gentle but thorough cleansing, constant hydration within and without, monthly facials, and an aversion to wearing makeup. Most people don't have problematic skin, once it's given the care at the level of understanding it deserves. You may not yet be convinced of the fundamental importance of cleansing and moisturizing, in utter disregard for blackheads and sunscreen and the other minutiae of skincare. However, if you don't get your maintenance right, nothing else will work properly. Keep in mind they work in tandem, minimizing accumulated damage to your skin. In essence, aging is an accumulation of minute, invisible stresses, ranging from rubbing at your eyes, exposure to UV radiation, laughter, and sleeping in your makeup. A good cleanser thoroughly removes pollutants from the skin, without stripping or irritating the skin with harsh surfactants, while a good moisturizer has a restorative effect, making your skin smooth and supple so it bounces back more readily. It's a feat to source the perfect cleanser and moisturizer, across all skin types, and get the proportions right.

To assess your skin correctly, take a good hard look.

How much oil does it produce?
These are your three classic skin types of DRY, NORMAL, and OILY, with a nebulous fourth, COMBINATION, to accommodate the common reality of mixed skin types on different areas of the face. These are simplifications; every face has its own individual map of pores scattered throughout its surface. The factors are largely biological: genetics, age, and hormones. Though your skin type is not too difficult to determine, correct assessment can be complicated by the effects of dehydration and whatever skincare you use. By all means, observe the level of oil, but also take into consideration the size of your pores. Very often, many people incorrectly diagnose their skin as dry when it is actually dehydrated, or sometimes imagine themselves greasier because their cleanser stimulates the skin to produce more oil.

If your skin is already perfectly balanced, or NORMAL, then nothing elaborate is required. Hopefully, your skin will stay that way.

Imbalanced skin, whether dry or oily, is primarily corrected by adjusting your cleanser and moisturizer(s), though these measures are limited (mattifiers are notorious failures). Dry skin has fine to invisible pores, and the lack of sebum, which protects and conditions the skin, often correlates it to dehydration, hypersensitivity, faster aging, and dullness. Oily skin has enlarged, hyperactive pores, more easily blocked, and therefore more prone to acne, and a slick, shiny appearance. However, these characteristics are absolutely secondary: oily skin can be sensitive and dehydrated, and therefore would be badly served by anti-acne products, and dry skin can break out, the last thing you'd want in that case is an occlusive cream. Focus on the amount of oil your skin produces, whether too much or too little, and try to maintain balance.



Shiseido's foams are also very nice, clean but not stripping.


Oily skin may enjoy a nice lather without impunity, but take care not to overcleanse and thereby stimulate the skin into producing more. I quite like Vichy's Pureté Thermale Purifying Foaming Cream Cleanser ($16.50) and DHC Deep Cleansing Oil ($25) with its perverse drying effect. Once in a while, if you're very, very greasy, Sukí Transformative Cleansing Clay ($43.95) will help soak up the excess. Whatever you use, I would reserve potent cleansers for occasional use only; oily skin may seem tough, but detergents are damaging on a microscopic level. A moisturizer is not necessary for oily skin, but if your skin is largely reacting to drying products (it may be a necessity for other reasons), a face oil like plain jojoba may help inhibit more. To stave off dehydration, you may like an oil-free serum, aqua gel, or even a softener. The luxurious Eudermine ($50), from Shiseido, performs admirably on all skin types: alone on oily skin as a simple hydrator, or to aid absorption of heavy-duty moisturizers on dry skin. A less expensive option is Rohto Hadalabo, but it's sticky and you'll have to order online.



I have dry skin myself; these are personal favorites.


For dry skin, finding a water-soluble cleanser is rather tricky, as you want a product that's very noninvasive. If the possibility of congestion doesn't bother you, it may be better to tissue off a cleansing milk like Avène Gentle Milk Cleanser ($17) using a fine cotton wool. If rinsing is a must, Weleda Baby Calendula Shampoo and Bodywash ($10) has the mildest surfactant in a luxuriously creamy base. On dry skin, I recommend layering moisturizers, any combination of softener, serum, lotion, or cream, in that order. Emollient creams provide a protective barrier, but even on skin that needs it they are heavy and absorb slowly into the skin (it sometimes helps to warm it up in the palms of your hands, then pat it in). The water-binding properties of humectants enhance the performance of even the most indifferent moisturizer. For mild dryness, the midweight DHC Q10 Cream ($45) penetrates quickly and plumps up the skin, but if you are seriously dry and need something to stimulate your sebaceous glands instead of merely coating the skin, NARS Potent EFA ($70) is one of the few (the serum is equally nice).


Better for dehydration than dryness.


Dehydration is not a skin type—it's water loss, not oil imbalance—but it is so often confused with dry skin that it is best to address it here.

Any skin type can be dehydrated, even oily. The resemblance between truly dry skin, which is a chronic condition, and extreme dehydration, which is generally environmental, causes a great deal of confusion, so take a look at the texture of your pores before declaring your skin type. Otherwise, you might end up with highly nutritive emollients choking and congesting your skin, since companies are careless, at best, when it comes to labels. A thick cream may be enriched with oils or it may be silicones, but your skin can feel the difference. Use your own judgment. Unlike your oil output, dehydration is generally influenced by external factors, particularly by changes in humidity (climate). This is often why your skin feels oilier in summer; it's not the oil, it's the unnecessary oil. Dehydration can also be caused by potent skincare, which is often how oilier skin types experience dehydration: harsh cleansers and scrubs, benzoyl peroxide, tretinoin, alpha hydroxies, and vitamin C. At its worst, live cells near the epidermis will die and dry out, leaving behind a rough, chapped layer of skin that looks decidedly unhealthy. Since it's superficial, dehydration is far easier to address than oil imbalance: drink plenty of water, use a moisturizer (tailored to your skin type), layering if necessary, and buy a humidifier or an atomizer.



Embryolisse, a very simple but adjustable formula, suits most.


Combination skin gathers in everything else. Most people have combination skin, because the distribution of pores is uneven (there are none on your lips or your feet, for example), and since it accommodates any possible mixture, it is therefore the most variable. Still, it's unusual to encounter a patchwork of extremely dry and extremely oily skin that demand separate skincare; it would probably indicate an internal stress of some kind. The general strategy for combination skin is to look at the base skin type—slightly combination as normal, dry/combination as slightly dry, and oily/combination as slightly oily—and use gentle products that aren't particularly attuned to very dry or very oily skin. You need to use products more locally, but it needn't be too elaborate. For example, if you have an oily t-zone and dehydrated cheeks, then a cleansing foam, not too stripping, with a lightweight hydrator applied only where you need it, would do.

* Alternatively, you can come to similar conclusions by paying attention to which products you favor, i.e. use most frequently. According to the characteristics you like or don't like about that product, you can start the process of tweaking.

Labels: avene, dhc, embryolisse, shiseido, suki, the beauty primer, vichy, weleda
12/06/2010 [0]
Closet Confidential: Focus
by Dain

Huey blackmailed: in Kanye West aviators, nuthugger jeans, and LV driving shoes.


Why must accessories have names, as if they were REAL PEOPLE?

Fashion's gone wrong, somehow. It's not that people don't know how to dress. Quite the contrary, the days the question of style has grown infinitely more self-conscious: are your buttondowns from J. Crew Men, Charvet, Steven Alan? Each one tells its own story, whether whimsically plebeian, for those who inherited chateaux, or so indier-than-thou you don't have to try so hard. It's inevitable, that when an aesthetic craft turns the century mark, it begins to marvel at its own tradition. We've experienced almost nothing but revival since 2000, whether it was vintage-inspired boho, punk-rock 80s, and now Celine's fusion of 70s and 90s. It's always a paraphrase—new fabrics, twists on styling, updated hair and makeup—rather than a direct quotation, but still there's something stifling about it, as if one has never left the attic, mired in dust and nostalgia. If you're young and tall and skinny, it won't be obvious how unoriginal it is until decades later, when we realize how much we look like little girls playing dress up.



Big MEH: Refinery 29. I'm not hatin', don't know who she is, I just needed a visual.


In this spirit of revival, a woman is encouraged to mix and match vintage scores, meticulously tweaked basics by Isabel Marant, Acne, and Margiela, and "directional" "pieces" from edgy, achingly fresh talent. Given the hipster context of defining your style by mixing-and-matching according to your own instincts and inspirations, the central irony remains: we still dress by formula. Skinny jeans bracketed by massive "major" shoes and loose but body-conscious "textural" layers, framed by "imperfect" hair to keep it "modern". The scrapbook style is supposedly carefree, iconoclastic, even, but it only looks contrived, Kate Moss redux. There's no sense of personality, only fashion. Thank you, Lucky.

This is what passes for style these days? It just looks like narcissism and pretentious vocabulary to me, captured via photoblog.

The problem lies, not so much in the intent behind styling nowadays. It's great to take so much care proportion and quality tailoring, but the focus is overwhelmingly on the thing itself, a fetishism of it bags and artisanal denim and organic cotton tees and handmade lace bras and watches crafted as meticulously as cars, each projecting a heightened degree of self-awareness. Then the people around you, presumably, will spend all their time analyzing your outfit for revelatory insight about your personality. When in fact, nobody cares. No matter how elevated your building blocks, you're still looking at a formula, the scrapbook style.

Real style, by contrast, focuses on the wardrobe level, not the pieces. There's still a conscious decision that goes into the selection of the pieces, but when you style your outfits on the wardrobe level, you base your decisions according to reality, your habits of dressing, which is so easy to lose when the object alone is the focus. It's surprising how few clothes people actually wear per season; if you've gone through the trouble and expense of sourcing great clothes, why diminish their impact? Something special, either well beloved or brand new, enjoys frequent use. It may be an impulse buy, or something you stalked to the final sale, or an investment in a classic, but there's a strange ring of recognition that embodies them. If you buy only on that instinct, your closet will naturally embrace them: shoes with pants, coats with bags, dresses with cardigans, blouses with jackets—a kind of sartorial kismet. Everyone dresses this way, when they're not tarting up for chictopia, but because a wardrobe makes its impact in a diffuse way, over time, it's not always strongly perceived.



A camouflage (!) Prada backpack.


A beautiful example of an editing job is Tommy Ton's capsule wardrobe for Fall/Winter 2010 (all images shamelessly stolen, without permission, from Jak & Jil.). Interestingly enough, I emailed the others about this post, and they started picking apart the pieces and rejecting them as unwearable, because we're all conditioned by magazines to focus on the pieces (and run out and buy them)*. I'd never wear any of these clothes, save the Christopher Kane teal leopard scarf, much less together. That's not at all the point. This closet belongs to Tommy Ton, and only Tommy Ton. It's inimitable. It retains his personality even when modeled on a girl.



The backpack is given central position, partly because it is the one item that will be worn with everything, but mostly because it's special. The rest of his choices are an echoing chorus. Some of it picks up the schoolboy appeal (even the suit is quite boyish) of a backpack in a Helmut Lang tee, its Breton print whimsically blurred like ink lines covered in tears. Others reference the military print, whether in simple repetition via a rolled cuff or a more thematic evocation with a vintage Balenciaga aviator jacket. The result is flamboyant (he works with fashion, after all), but fully realisable: the kind of wardrobe that your coworkers, your favorite coffee shop, your friends would see on you all the time.

Between what's fashionable and what's chic is a very fine line indeed, but the distinction is an important one.

* Again, thank you, Lucky.

Labels: balenciaga, christopher kane, closet confidential, helmut lang, jak and jil, lucky, marc by marc jacobs, minimalism, prada, the boondocks
12/02/2010 [0]
Subscribe to
Posts [Atom]. Or
follow on bloglovin'. If
you'd like to contact Dain,
feel free to email me.
I'm also on Pinterest.
Features

The Mnemonic Sense
Most Wanted
The Beauty Primer
Lookbook
Bestsellers
Consumer Diaries
Closet Confidential
On The Label
Beauty Notebook
The Hit List
Color Me In
The Makeup Artist
Wedding Bells
Globe Trotter
Desert Island
perfume notes
beauty notes
fashion notes
culture notes
minimalism
chypre arc
floral arc
fresh arc
masculines arc
gourmands
& orientals arc
Archives

August 2008
September 2008
October 2008
November 2008
December 2008
January 2009
February 2009
March 2009
April 2009
May 2009
June 2009
July 2009
August 2009
September 2009
October 2009
November 2009
December 2009
January 2010
February 2010
March 2010
April 2010
May 2010
June 2010
August 2010
September 2010
October 2010
November 2010
December 2010
January 2011
February 2011
March 2011
April 2011
May 2011
June 2011
July 2011
August 2011
September 2011
October 2011
November 2011
December 2011
January 2012
February 2012
April 2012
May 2012
June 2012
July 2012
August 2012
September 2012
October 2012
November 2012
December 2012
January 2013
February 2013
March 2013
June 2013
July 2013
Images

Photobucket