Once the first-time thrill wears off, long distance air travel settles rapidly into the category of bloody nuisance. Unless you have the good fortune to be flying private or first class, it means hours or even days spent in queues, waiting rooms, packed into uncomfortable seats, breathing recycled air, and completing your toilette in a tiny cubicle roughly the size of a pantry. Hardly the glamourous Pan Am image of air travel.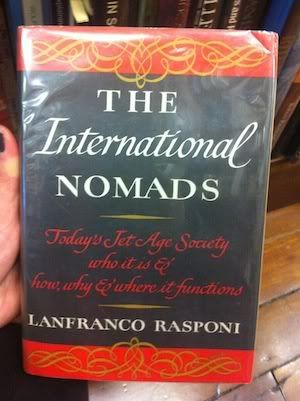 Nostalgia: The jet-setting life of 1960s aristocrats.
In the effort to combat stress and exhaustion, I find it exceedingly helpful to have a few basic rules when it comes to dress.
INNERWEAR
Basic common sense: wear comfortable lingerie, something that won't cause squirming, itching, tugging and adjusting. Carry a spare pair of briefs in a clean plastic bag in case of emergency (eg. lost luggage, delayed flights).

OUTERWEAR
Relaxed clothes in fabrics that breath and are difficult to wrinkle are preferable - nothing stiff, bulky, restrictive, or high maintenance. While it may be the height of summer where you board or disembark, airplanes are all uniformly chilly, so it's a good idea to carry a jacket or scarf. As an extra precaution against catching a cold while you're flying, drink plenty of water and use a nasal mist to keep your body's natural defences in good condition.

FOOTWEAR
Leave the high-heeled shoes and boots till after the flight; you don't want your footwear taking over what limited leg room you have on planes. Flat-heeled shoes, such as ballet flats and loafers, will pass through metal detectors nearly always without hiccup. Wear ones without laces, in case an over-zealous security officer asks you to remove them, or if you feel like slipping them off during the flight.

If your feet tend to get cold or sweaty in heavily air-conditioned spaces, avoid open-toed shoes and consider adding a pair of socks. Most airlines will provide you with disposable bed-socks if you fly overnight; bring your own if you are taking a daytime flight.

HANDBAG
The type of handbag you carry will depend on how much "stuff" you feel you need on the plane, the presence of any valuable items you intend to carry (such as jewellery), and how well you like to take care of your bags. It usually comes down to compromises:

A large tote will comfortably fit all the essentials (passport, phone, wallet, pen for filling out forms), as well as iPad/notebook/paperback, lip balm, makeup, the latest edition of Harper's Bazaar, tissues, and a snack; but a bag that is too oversized may not fit under the seat in front of you and have to go into the overhead rack, where it is at greater potential risk of theft. An expensive handbag in pale-colour leather might not be the best idea unless you intend to keep it on your lap for the entire flight.
Plan your travel clothes ahead of time, everything down to your shoes and bag. For one thing, it will help you to narrow down what else you still need to pack in your suitcase. For another, it will allow you to sleep a little while longer if you have to take a morning flight, which is a gift not to be dismissed if you find it difficult to rest on planes.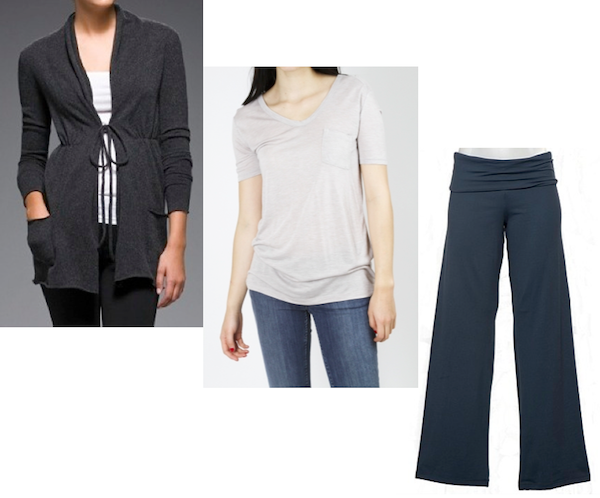 Tomorrow, on my trip from Sydney to Shanghai (with a 3-hour layover in Singapore), I will be wearing what has become my habitual outfit for long distance flights.
I get more wear-time out of my abi and joseph Relaxed Fit Pants ($115 AUD) whilst travelling than actually doing yoga. Made of Supplex, a type of nylon used frequently in fitness wear, they have the look and feel of cotton, but are much more easy to wash and maintain. The super-quick drying time with Supplex is also very useful if you have to wash your clothes on trips, and the straight, slim leg and low waistband keep the pants from looking dowdy. Over that, I throw on a soft t-shirt, like the T by Alexander Wang in Lavender ($95 AUD), or my sentimental favourite: a marl grey cotton Collette Dinnigan t-shirt that came free with an issue of Vogue Australia.
For warmth, I prefer a soft, heavy knit or sweater. My Carl Kapp Cashmere Cardigan ($720 AUD) is a tactile, understated luxury, like being wrapped in a hug. Last of all, my beloved Milani snakeskin loafers, so scuffed and well-worn by this stage, but still the ideal travelling shoe - my equivalent of wearing sneakers (which I do not favour for flying, what with all the shoe-laces). A more stylish (and pricy) alternative are Salvatore Ferragamo Ballet Flats in leather and linen ($393.51 AUD).
Image Credit: "The International Nomads" taken by me at Berkelouw's Paddington, Vince square neck cardigan from Nolita, abi and joseph pants from abi and joseph, T by Alexander from Incu
Labels: abi and joseph, alexander wang, carl kapp, closet confidential, milani, salvatore ferragamo