A young waitress with sleek, boyish hair and matter-of-fact grace applies lipstick in the bathroom mirror of a smoke-dimmed club.
Despite her youth, she has the air of someone who is never surprised by anything. Certainly not by the louche, middle-aged man sprawled all over the grimy floor tiles. Needle in one hand, he is injecting heroin into his other arm. He wears a shirt and pants that have seen far better days.

"You spyin' on me, kid?"

"No. I work here."

"Since when?" (1)
Not the most likely candidate for a knight in shining armour. Not that she will admits she needs saving.
Neil Jordan is a writer/director (and sometime-novelist) with a "big-hearted tolerance" and a particular talent for sympathetic, even Romantic, portrayals of characters that society ordinarily shuns or overlooks (2). His films - which include the Oscar-winning The Crying Game (1992), in which Stephen Rea played an IRA terrorist who falls in love with a transgender singer (Jaye Davidson), and Interview with the Vampire (1994), an adaptation of the Anne Rice novel which sparked a whole sub-genre of vampire-as-antihero - are about rebels and outsiders, defiers of conventional morality and customs, whether by fate or by choice.
There are two such loveable rogues at the heart of The Good Thief (2002): an ageing gambler/thief named Bob Montagnet, played by Nick Nolte at his most wrecked and beautiful, and 17-year-old Anne (Nutsa Kukhnianidze), a Bosnian immigrant. The setting is Nice, the French Riviera, where Europe and North Africa meet.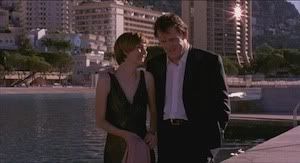 Gamine and tough-fragile, seemingly unaware of the sharks surrounding her, Anne inspires protectiveness in the world-weary Bob. Although the two have an undeniable chemistry, his relationship to Anne is paternal, not sexual. When they meet for the first time, Bob at the tail end of a long career peppered by addiction and incarceration, and Anne on the verge of a slippery slope that leads to unwilling prostitution, each brings about the other's redemption. Throughout the course of the film, Bob imparts lessons about life, art and gambling. In return, Anne becomes, in a whimsically magical realist fashion, his good luck charm.

Starting in the bowels of Remi's disreputable club, they gradually ascend through the stratas of this colourful and decadent underworld - cafes, boudoirs and Monte Carlo casinos. When at the end they emerge together, dazed and triumphant, stepping literally into the daylight, they are physically as well as mentally transformed; her in a glittering black sheath dress, he in an elegant tuxedo.
But whether winning or losing, this is that type of film where everything is done with style.
***

"The Good Thief splays out The Crying Game's neon-night seediness on an exotic European locale, specifically Nice and Monte Carlo but more accurately a foreigner's dreamy idealized conception of such a romantic liminal zone. The film looks ravishing, its dusky Christmas-lit set pieces bringing to mind Wong Kar-Wai, Alfonso Cuarón's Great Expectations, and the visual light games from certain scenes in Eyes Wide Shut."

- Justin Stewart, Reverse Shot (3)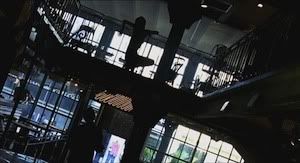 I have been enamoured with The Good Thief for as long as I have been a Neil Jordan fan; that is to say, for a considerable length of time, but not as long as those who first fell in love with him through The Company of Wolves (1984).

For me, the experience of (re)watching The Good Thief is like slipping back into a conversation with a much admired friend, someone who taught you how to become the person that you are, and whose words still have the power to stop your heart with desire and envy. The moment when "Parisien du Nord" starts to play, and the opening credits appear like an absinthe dream over the jewel-coloured neon of an alley behind a gambling den, is both a homecoming and a seduction.
The Good Thief, in other words, is to me what Breakfast at Tiffany's is to so many women, a jewel of pop culture that is my own beauty manifesto. Others point to Audrey Hepburn as the epitome of chic, but for me that iconic status is held jointly by Bob and Anne. (4)
Witty and sexy, with their never-gone-to-bed rumpled nonchalance, their smoke-roughened voices, the line-up of thieves and con-artists in The Good Thief, and the nocturnal world they inhabit, exude a cool and easy lyricism that is almost a life philosophy, a way of being. Its soundtrack, filled with Leonard Cohen and French-Algerian raï music, is a constant companion to my humdrum day-to-day. If I were Alice and could have my pick of rabbit holes, this darkly dazzling version of Nice would be my notion of Wonderland.
* * *
Early August is the pit of winter for those of us who live in the southern hemisphere. As the body shivers, neck huddling into furred collars and wrapping scarves against the cold wind, the mind longs for the Mediterranean.

Looking at Picasso's portraits of his wives and mistresses (one of which plays an important role in The Good Thief), one first notices the sensuality of their eyes, the curve of their breasts, the luxurious textures of their dark hair. This dress from Oscar de la Renta Resort 2012 collection (not yet in stores), with its sweetheart bodice and graphic, Cubist print, tailored to flair out slightly at the hips, is sophisticated without ever being staid, and exposes those most admired attributes to perfection. Turquoise is the colour of the tropics, the blue of warm, shallow seas; here it provides vivid accents against a palette of neutral beige, tan and charcoal grey. The slender straps and the horizontal stripes at the hem lend it a youthful coquetry, which can be dressed up for a night of sizzling jazz and cocktails, or down for a walk along the beach.

As always when wearing such a busy print, care must be taken that it doesn't wear you. Mixing prints and colours takes skill and a willingness to risk looking like this; if you would rather let the dress speak for itself, keep the rest of the outfit minimalist. Being comfortable, holding yourself in a way that is relaxed and fluid, goes a long way toward helping project the feeling that you belong in an outfit. If you find that this does not come naturally, try a glass or two of wine.
The runway look features mid-heel pumps and leather belt in exactly matching turquoise. These Reed Krakoff snakeskin and leather sandals (£504.17), on the other hand, in contrasting coral and pink would provide a pop of warmth without being too bottom-heavy or overwhelming, while the silver leather and snakeskin detail echoes the neutrals in the dress. A warm red or orange lipstick, such as NARS Heat Wave ($24 USD), or alternatively, a brightly saturated fuchsia like Anna Sui #360 Lip Rouge V, could then provide striking counterbalance.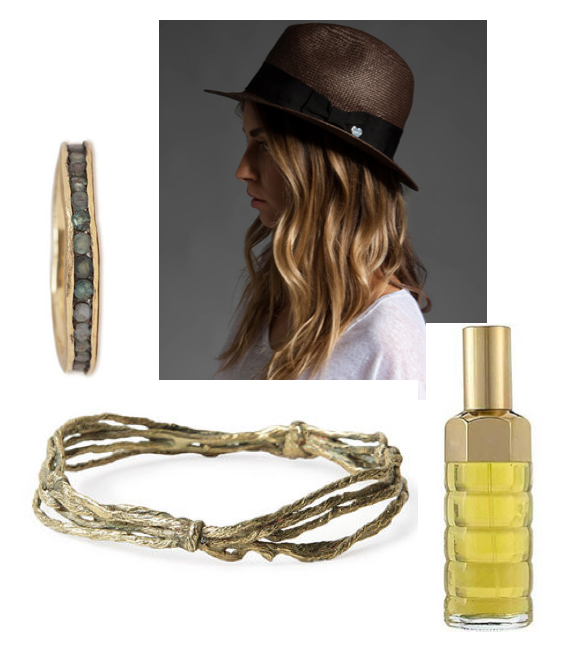 The Alexandrite Eternity Ring by Satomi Kawakita ($1440 USD) and the Four Knot Yarn Bracelet from Wendy Nichol ($345 USD) have a rough-cut, nautical flare that complements the resort theme without intruding. To finish, a touch of rakish masculinity with a classic broad-brimmed brown fedora, like this one from Juicy Couture ($56.92 USD), and a spritz or two of a citrusy leather chypre like
Estée Lauder
Azurée ($38 USD for 2.0 oz.), to juxtapose against the feminine dress and heels; an artful play on innocence and experience.
(1) Neil Jordan, "The Good Thief - Dialogue Transcript",
http://www.script-o-rama.com/movie_scripts/g/good-thief-script-transcript-nolte.html

(2) Eric Hynes (2006), "The Butcher Boy", Reverse Shot, http://www.reverseshot.com/legacy/winter06/jordan/butcherboy.html
(3) Justin Stewart (2006), "Chance Encounter", Reverse Shot, http://www.reverseshot.com/legacy/winter06/jordan/goodtheif.html
(4) Gong Li's character in Miami Vice (2006) also holds that place of influence over me, but that's another film, another column altogether.
Labels: estee lauder, most wanted, neil jordan, oscar de la renta, reed krakoff