Announcements
If you're new to this blog, then read our guides to the basics: Skin (Part I), Skin (Part II), The Supernatural, Color Theory I, Color Theory II, Eyes, and Brushes.

Also, check out the blogsale.
Contents
· Bestsellers: Shu Uemura Brushes

Favored

Art Tattler
the glamourai
The Non-Blonde
Perfume Shrine
Lisa Eldridge
Garance Doré
Smitten Kitchen
Into The Gloss
Grain de Musc
Lacquerized
Res Pulchrae
Drivel About Frivol
The Selfish Seamstress
Killer Colours
Bois de Jasmin
Glossed In Translation
Jak and Jil
Toto Kaelo
Worship at the House of Blues
I Smell Therefore I Am
Food Wishes
The Natural Haven
Messy Wands
1000 Fragrances
Moving Image Source
Wondegondigo
The Emperor's Old Clothes
M. Guerlain
Colin's Beauty Pages
Barney's jewelry department
Parfümrien
loodie loodie loodie
The Straight Dope
Sea of Shoes
London Makeup Girl
Sakecat's Scent Project
Asian Models
Ratzilla Cosme
Smart Skincare
Illustrated Obscurity
A.V. Club
Tom & Lorenzo: Mad Style
Eiderdown Press
Beauty and the Bullshit
La Garçonne
Flame Warriors
Everyday Beauty
Fashion Gone Rogue
Now Smell This
Dempeaux
Fashionista
The Cut
A Fevered Dictation
Nathan Branch
101 Cookbooks
Bestsellers: Shu Uemura Brushes
by Li Wen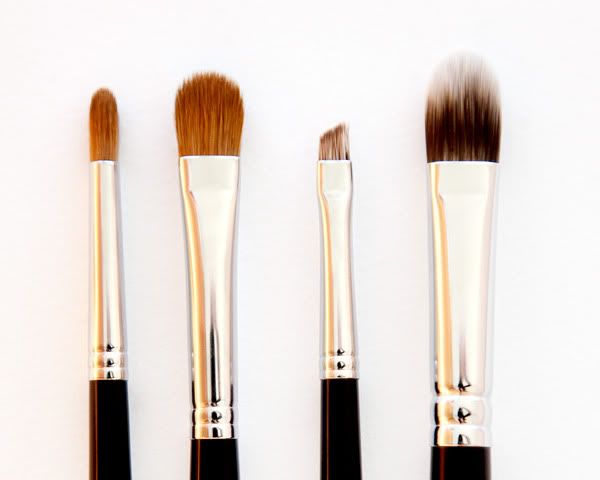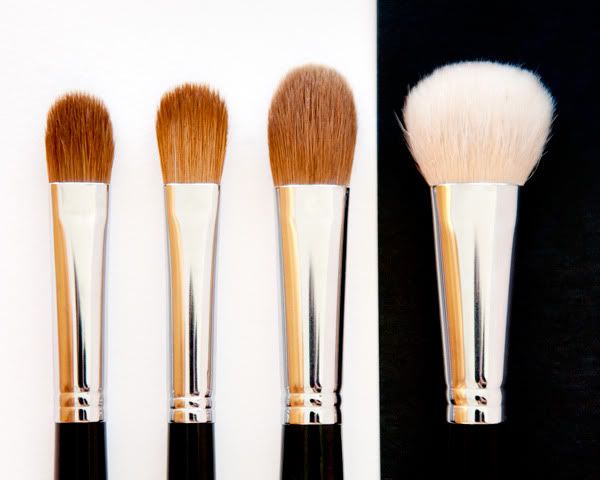 Top L-R: 5R Kolinsky, 10 Kolinsky/Sable, 6OB Badger, 12 Synthetic; Bottom L-R: 12 Kolinsky/Sable, 11 Kolinsky, 15 Kolinsky, 18 Goat


More so than with any item of cosmetics - with the possible exception of foundation - quality makeup brushes are best tested in person before purchasing. Unless you are a collector, the most highly rated and exquisitely handcrafted tool is not going to be of much use if it does not perform - if it is unable to conform to the demands of your preferred products, techniques, and your own face. And this can be a difficult judgement to make without having handled the brush, perhaps even taken it for a test drive. If you are going to spend upward of $100 AUD (or $300 AUD in the case of the Kolinsky 15) on a single brush, it would be shame if it went the way of those skis that have been lying in the back of the closet, still-new, for years, or those boots that you bought a size too small because it was on sale, and subsequently have never worn.

...Which, to those of you in North America, probably only compounds the frustration of seeing Shu Uemura pull its counters from your region.

MAC's line of brushes are more popular and extensive, Bobbi Brown's more accessible to laypersons, but the range of natural and synthetic brushes from Shu Uemura - with their slim, black varnished wooden handles - are tough to beat in terms of sheer quality, hardiness, practicality and quiet luxury. Hakuhoko is taking a pretty good stab at it, from all accounts, but I am in no great hurry to leap onto the bandwagon and order some of their brushes online when the ones I already own do all I could want from them, and more. Of those ten or so most frequently used brushes - the ones I carry in my brush roll when I travel overseas*, sometimes for months at a time - fully half are Shu Uemura.



* * *




Eight brushes are featured in this article, so let's get some generalities out of the way first. All these brushes are beautifully made - meticulously shaped and put-together, with not a hair out of place or a loose ferrule anywhere. The lettering on the handles does not fade over time, unlike with MAC brushes. All the natural brushes are made from the finest grade of hair (hence the price tag on some of them). While not all of them are what I would consider personal essentials, every Shu Uemura brush I have tried is a well-designed, functional tool. There is no unnecessary bulk around the handle to clutter up my brush roll, and properly cared for, they will last for years. (The 10, 5R and 11 brushes above are more than 4 years old, and look like new.) If I had to stick to one brand of brushes for the rest of my life, it would easily be Shu Uemura.

Before going on to look at each brush individually, a few comments about fakes. All the Shu Uemura brushes reviewed were bought in person at actual counters, either in Shanghai, Sydney, or in airport dutyfree. However, you will find a proliferation of fake Shu Uemura brushes on places like eBay and in less-reputable stores across Asia, at prices that would be a steal, if only they were anywhere as good as the real article. For the sake of comparison, I acquired a couple I suspected were fake. I can attest that, cosmetically, the ones I got are very similar to the genuine Shu Uemura brushes - both have "Made in Japan" stamped on the underside of the handles, and are roughly the same shape, if distinguishable by their difference in length (fakes have shorter handles) and other details (the lettering is smaller, more defined on the genuine brushes).

The biggest and more important differences are in quality: floppy and less densely crafted brush heads, coarser bristles, shortcomings that obviously affect the performance of the brush. To avoid disappointment, my advice is that you buy direct from Shu Uemura, either their website or one of their counters. If you are buying from an intermediate retailer, beware of bargains. If it sounds too good to be true, it probably is.





18 Goat ($42 USD) / Edward Bess Island Rose / Chantecaille Future Skin


Described on the website as a foundation brush, the 18 Goat looks nothing like your traditional synthetic paddle-shaped foundation brush. It is rather unassuming in real life, smaller than you'd expect, and there is a little bit of a learning curve to applying foundation with it (there are tutorials to help you on YouTube). But the porous and fluffy 18 Goat rewards by delivering a "skin-like" finish with cream and stick foundations that I find is nearly impossible to achieve with more conventional brushes or your fingers. The head of the brush is round, a flattened dome shape from the top, made from uncut goat hair. It is a very versatile tool - the perfect size for fitting the contour around the nose and under the eye, to buff in concealer, or to dip lightly into a cream blush to produce a soft, natural flush. It is slower to dry after washing than a synthetic brush, though, so between uses I usually just spot clean with the Shu Uemura's brush cleaner.

My 18 Goat does shed a bristle occasionally, and I have had mine for about 10 months now. It is the only one of my Shu Uemura brushes that experiences this problem, and I would be interested to know if it was common for this particular brush, or if mine just happened to be slightly inferior.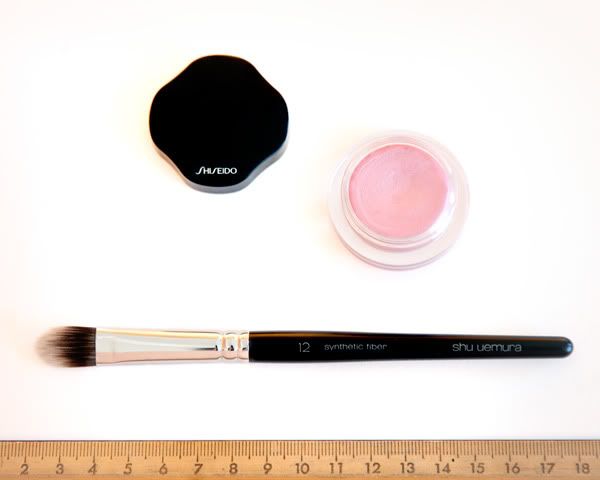 12 Synthetic ($42 USD) / Shiseido Magnolia Shimmering Cream Eye Color


The 10 Synthetic (which I don't have, but which Dain does) and the similarly-shaped but larger 12 Synthetic are concealer and cream shadow brushes - which I don't have much use for, to be honest, preferring to work with my fingers instead. The 12 Synthetic is too large for detail work on my lids, so mainly I use it to smooth on thin veils of cream shadow over the entire area above the eye. It is a flat, paddle-shaped brush, better suited to patting on product that blending it.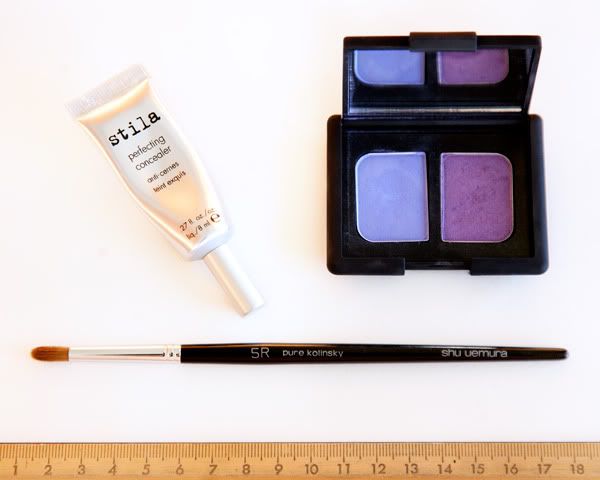 5R Kolinsky ($60 USD) / Stila Perfecting Concealer / NARS Jolie Poupee


When I bother with point concealing, I use the 5R Kolinsky. Circular at the base, coming to a soft point at the tip (not stabby at all), it is a great brush for those with small lids, or who prefer detail work - a touch of highlighter in the inner corner of the eye or the bow of the lip, a hazy rim of strong pigment behind the lashes. Not indispensable, but very nice to have.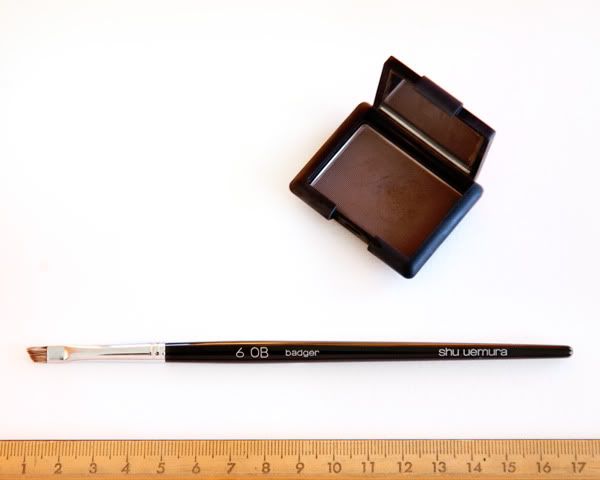 Now we come to the essentials, the brushes I cannot do without. The 6OB Badger, an angled brow brush, is a little smaller and shorter than the MAC 266, the only other brush of this kind I own. It draws a more subtle line than the 266, so the look is more natural, and since acquiring the 6OB, I never use any other brush to define and fill in my brows.





10 Kolinsky/Sable ($68 USD) / 11 Kolinsky ($140 USD) / 12 Kolinsky/Sable ($123.73 AUD) / Giorgio Armani 02 Nude Gold Maestro Eyeshadow / Shiseido Jungle Luminizing Satin Eye Color Trio


In the toss up between flexible, silky-but-firm kolinsky and whisper-soft squirrel hair, my strong preference is for kolinsky brushes, as they are easier to control and better suited for precision.

Between the pair of them, the 12 Kolinsky/Sable (base) and 10 Kolinsky/Sable (contour, outer corner) are up to almost any eyeshadow task you can throw at them, which is why they go with me everywhere and I have a back-up of each. Fuller and more tapered than the 11 Kolinsky, with the shorter, wavier sable fibres to give the brushes more "fluff", they pick up, deposit and smoothly blend both pressed and cream eyeshadow so quickly and so well, it is nearly impossible to go wrong with them, even if you happen to be doing your makeup in 2 minutes flat (which is the case for me most days). Nothing is real substitute for a practiced hand and a discerning eye, but the right tools will elevate even the work of an amateur.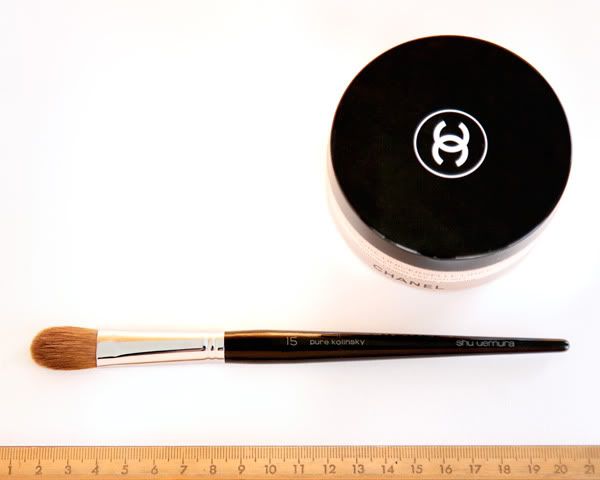 15 Kolinsky ($280 USD) / Chanel Poudre Universelle Libre


I had the 15 Kolinsky on my wish-list for nearly 3 years before I managed to find one (in Shanghai, last year) and finally worked up the resolve to buy it. Lavish, it most certainly is. As Dain deduced from photographs, it is too large to act as a common eyeshadow brush, as least on medium-sized eyes like mine.

Furthermore, what the photos on the website do not show you is how incredibly dense this brush is. At 10 mm, it is roughly twice as thick, looking from the side, as the 12 Kolinsky/Sable, despite being only about 5 mm longer from base to tip. A back-and-forward blending motion is clearly not what is intended for this brush. So what is it good for?

The reason that the 15 Kolinsky, like all the other brushes is in my travel brush roll, has a special place in my heart is that it does one thing better than any other brush I have, and that one thing, to me, is absolutely essential: the targeted application of powder. Unlike powder puffs, a kolinsky brush will never pick up too much loose powder, thus forcing you to blow (ew) or shake (messy) to remove the excess. To set concealer, I just dip the 15 Kolinsky lightly into my Poudre Universelle, and then press (not sweep!) the brush over the area that I have just concealed, before powdering the whole face diffusely with a conventional powder brush. It is the perfect size to cover my under-eye circles, and both its firmness and rotundness are assets when it comes to going around curves of the nose or the sides of the mouth. Is it extravagant to have a $280 USD brush for that dedicated purpose? Perhaps, but this was a case of "I never knew I needed this brush until I got it", because until I started experimenting with the 15 Kolinsky, I never thought to use my powder in that way, to make my concealer last longer.

Now, I am not by any means recommending this as the best (or even good) way to go about picking brushes to buy, but using this as an example of how, by playing around with something unfamiliar and new, you can make discoveries and establish new routines.

If you do not wear concealer very often, the 15 Kolinsky is also a good shape and size for highlighting the tops of the cheekbones. Dain has suggested using it with cream products - and I have in fact tried it with cream eyeshadow (it gives beautiful richness of colour and softly blurred edges) but ultimately balked at the thought of subjecting such an expensive brush to frequent washings.


*Here is the full list of its current contents: MGPin P5 Blue Squirrel (a softer dupe of the Shu Uemura 20 Natural), NARS Yachiyo, 15 Kolinsky, 12 Kolinsky/Sable, 11 Kolinsky, 10 Kolinsky/Sable, MAC 239, Chanel 12, 6OB Badger, MUFE Eyelash Brush.

My thanks to Melissa D. Graf for taking the product photographs.

Labels: bestsellers, brushes, shu uemura
9/16/2011 [12]
Subscribe to
Posts [Atom]. Or
follow on bloglovin'. If
you'd like to contact Dain,
feel free to email me.
I'm also on Pinterest.
Features

The Mnemonic Sense
Most Wanted
The Beauty Primer
Lookbook
Bestsellers
Consumer Diaries
Closet Confidential
On The Label
Beauty Notebook
The Hit List
Color Me In
The Makeup Artist
Wedding Bells
Globe Trotter
Desert Island
perfume notes
beauty notes
fashion notes
culture notes
minimalism
chypre arc
floral arc
fresh arc
masculines arc
gourmands
& orientals arc
Archives

August 2008
September 2008
October 2008
November 2008
December 2008
January 2009
February 2009
March 2009
April 2009
May 2009
June 2009
July 2009
August 2009
September 2009
October 2009
November 2009
December 2009
January 2010
February 2010
March 2010
April 2010
May 2010
August 2010
November 2010
December 2010
January 2011
March 2011
August 2011
September 2011
October 2011
November 2011
December 2011
January 2012
February 2012
June 2012
July 2012
August 2012
September 2012
October 2012
December 2012
January 2013
February 2013
March 2013
June 2013
July 2013
Images

Photobucket