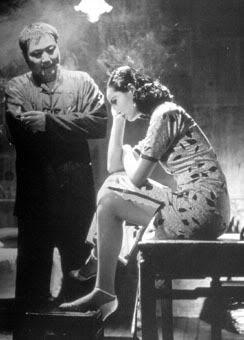 Scene from a silent film starring Ruan Lingyu (1910-1935)
A city of many faces, Shanghai is easy to describe in terms of cliches: crowded, materialistic, ruthless in business, giddy with self-admiration, cosmopolitan, fast-changing, obsessed with all that is new and foreign. Like most cliches, there are aspects of truth to all of these, woven deep into the reputation and the identity of the city.
Then there is also the fabled pre-revolutionary Shanghai of the 1920s-1940s, the "Paris of the Orient" (or, as it was also known, the "Whore of the Orient"), fictionalised so many times in the Hollywood imagination as an exotic, somewhat decrepit, shambles of treachery and vice, glamour and beauty - where East meets West, urban meets rural, and trouble and creative energies abound. A treaty port and a classic example of a colonial semi-periphery before 1949, Shanghai's fate and prosperity was always less synchronous with that of the rest of China. Spies, revolutionaries, gangsters and traitors pepper the city's cultural history and urban legend, contributing to much of its allure.
Though it has always been at the frontmost battle-lines of modernity in China, the Shanghai I left as a child in 1992 is very different to the city I return to now, two decades later. The most visible and striking signs of its recent development: elevated roads and Metro winding their way all over Shanghai, and the cluster of skyscrapers which map out the now-defining skyline of Pudong District, an area east of the Huangpu River that was sparsely populated farmland as recently as early 1990s.
Frequent trips to Shanghai since 2000 have kept me abreast of all the goings on, so that now, I can once again think of Shanghai as being "my city" - although it helps that I never lost my ability to speak Shanghainese. My apartment is located in the former French Concession, what people are usually referring to when they speak of "Old Shanghai", which has managed to retain a sizeable amount of its colonial-era architecture*. Within this little portion of the city, you will find live jazz, Shanghai's own international film festival, cafes and beer gardens, tailors and cobblers, and perhaps the only authentic French baguettes in mainland China.

"My Shanghai" is quaint, gaudy, a bit of the old and a bit of the new; it's charmingly savvy, undeniably elitist, but still refreshingly prone to quiet acts of class warfare. For every store attendant who is as polite and as helpful as service personnel in the United States, you will encounter one in Shanghai who will dump a handful of small change directly onto the counter rather than into your outstretched palm, just to derive some small pleasure in seeing you pick them up individually, like chopsticks scraping the bowl for the last grains of rice. And you have got to love that.
***
Grand Gateway at Xujiahui, where I do a lot of my grocery shopping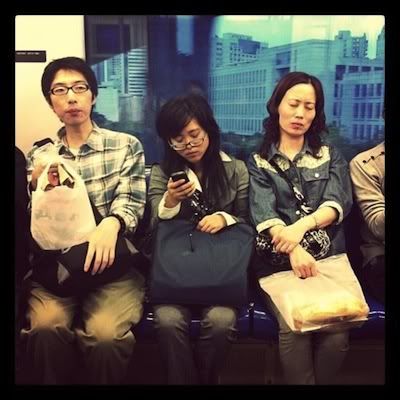 Afternoon commuters on Metro Line 3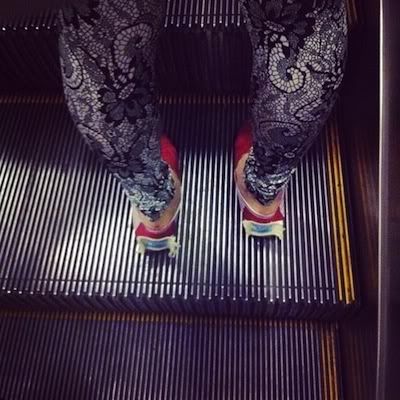 Spotted on the escalator at South Shanxi Road Metro Station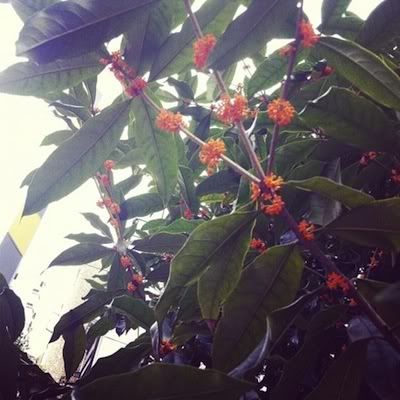 Flowers in the courtyard of my apartment complex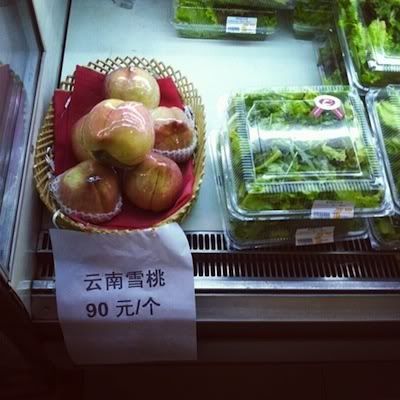 "Yunnan Snow Peaches 90RMB each" (at City Shop, Central Huaihai Road)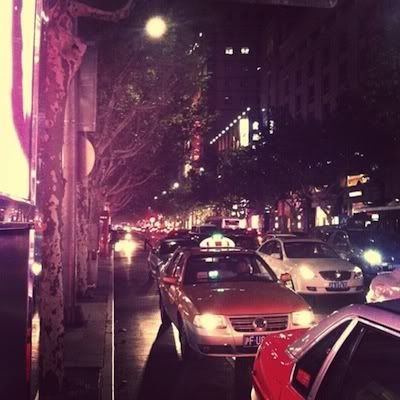 Huaihai Road, a major shopping boulevard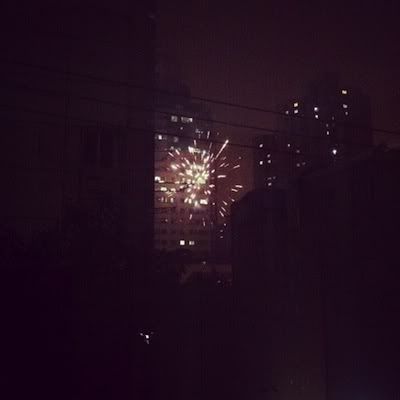 Fireworks seen from my bedroom window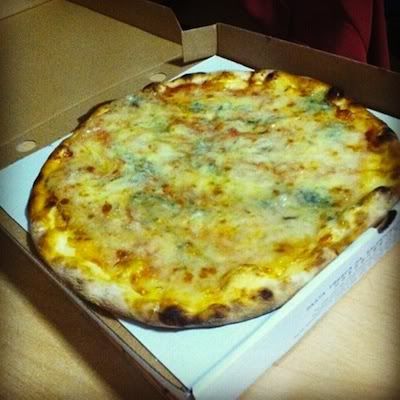 Pizza di quattro formaggi from Pasta Fresca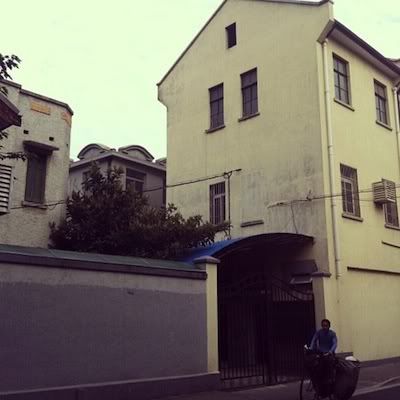 Huating Road, a quiet lane in the French Concession, running perpendicular to Huaihai Road and Changle Road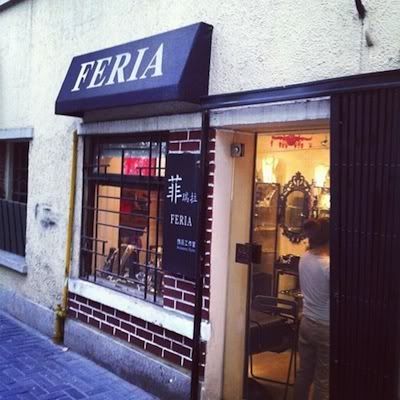 Feria boutique on Changle Road where I recently had some silk blouses made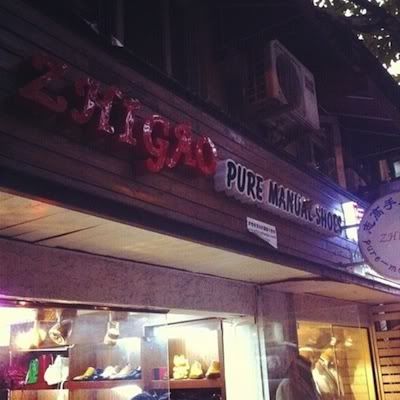 Zhigao Shoes, also on Changle Road, where you can order handmade shoes **
*One of the quirks of this part of the city is its underground: the colonial governments of the different occupying countries (among them France, United States, and England) each installed their own plumbing in their own concessions during the late-19th/early-20th centuries. Water and sewage pipes of different standardised widths and thicknesses still mark the leaky boundaries of those different occupied zones.**Expect a post later of my first experience with having shoes custom-made.
Parts of this article are adapted from the post "Shanghai girls" on Fire of Spring, 16 July 2011. Photos were taken on my iPhone using Instagram,.
Labels: globe trotter, ruan lingyu, shanghai