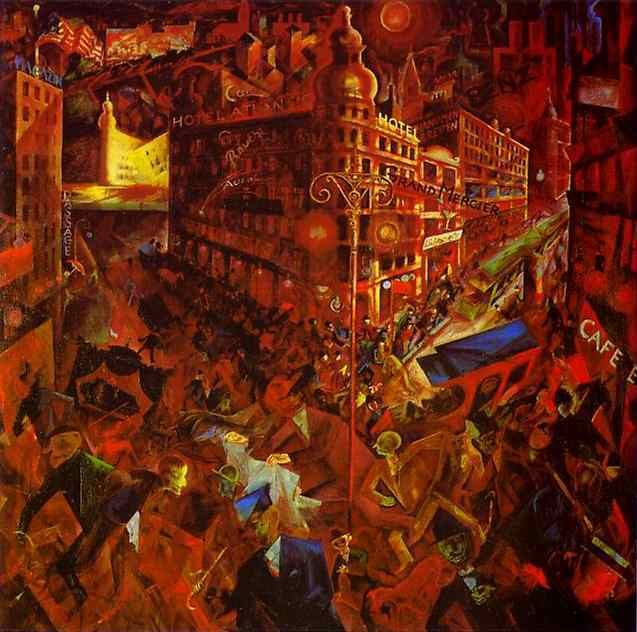 The City, George Grosz (1916/17)
The Black Saint and the Sinner Lady is an album that ought to come with a warning label: Do Not Play While Operating Heavy Machinery. The very antithesis of Norah Jones and Michael Buble - "easy-listening jazz" - dancing between tumult and rapture, overwhelming tenderness and exquisite anguish, it resists any attempts to cast it into the background. It is music so expansive and all-encompassing, you could throw yourself headlong into it and never be seen again. For your own safety, and the safety of your passengers, resist any temptation to play it on a car stereo.

"My music is evidence of my soul's will to live."

- Charles Mingus
Recorded on January 20, 1963 by an eleven-piece band, The Black Saint and the Sinner Lady feels like a spontaneous eruption, a revolution: Charlie Mariano and Booker Ervin on saxophone are the eloquent and virtuosic firebrands at the front of the fray, Rolf Ericson's trumpet an insistent crier, fists pounding the air, Jay Berliner's acoustic guitar the somber and reflexive outsider, the piano (Jaki Byard) a captivating, lyrical Romantic. Both intensely personal (Mingus himself considered The Black Saint and the Sinner Lady his defining masterpiece) and whole-heartedly collaborative, it is a testament to the imagination of the individual and the power of the collective.
While originally written as a ballet, it is difficult to imagine what breathless contortions of the body could further elevate - or keep up with - the shifting themes and tonal complexity of the music. Those 40 minutes, hot-blooded, sensuous and grandiose, scale every register of human emotion, unfolding and culminating in the final movement, "Of Love, Pain, and Passioned Revolt, then Farewell, My Beloved, 'til It's Freedom Day". Like Allen Ginsberg's Howl, that other roaring lament of the Beat era, nothing quite captures it but the experience of listening for yourself.

Track C: Group Dancers, The Black Saint and the Sinner Lady - Charles Mingus (1963)
* * *
The institutionalisation of Classical training led to a deification of the composer as artist and the expectation of strict adherence to the written score; anyone who played Bach out of turn was automatically regarded as "maverick" - or more dismissively, "unorthodox". Little surprise, then, that so many jazz players should be classically trained musicians looking to escape from its strictures. For in jazz - from simple, plaintive standards to the most elaborate freeform ensemble pieces - structure and extemporisation go hand in hand, with spontaneous riffs on a theme often regarded as the highest practice of the art.
The aim: to take what is practiced and familiar, and infuse it with a sense of real time, the contingencies of the moment and the personality of the performer.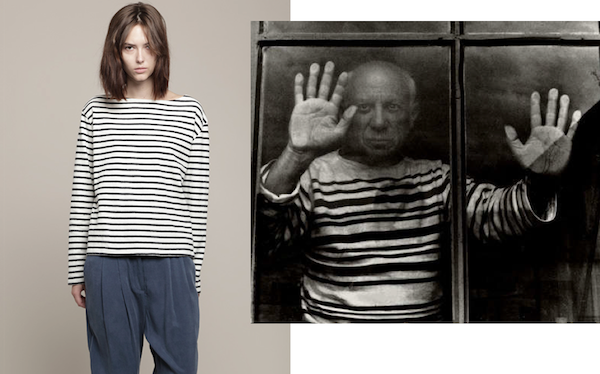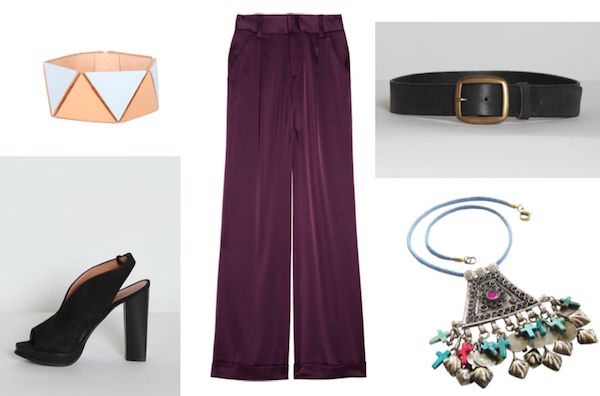 Wood Wood Adrien Striped Tee / Pablo Picasso photo / Isabel Marant Zonca Belt / Kelly Framel turquoise tassel necklace / Alice + Olivia pants / Costume National slingback heels / Lauren Manoogian Triangle Cuff
A modest, unadorned version of the long-sleeve striped shirt - or "Breton stripes", famously worn by Coco Chanel and Pablo Picasso (top right) - that's been a fashion staple for much of the twentieth century, the Wood Wood Adrien Striped Tee ($95 USD) in brushed heavy weight cotton jersey has an appealing, almost rustic, simplicity. Its length and cut is versatile; it can be worn hanging loose over the waist of a pair of tough corduroys, or tucked into a skirt or khaki shorts.
My instinct, though, would be to dress up the shirt a little. Pair it perhaps with Alice + Olivia high-rise wide-leg pants ($330 USD) in a rich burgundy satin, and cinched with a black Isabel Marant belt (right centre). A turquoise tassel necklace by Kelly Framel ($275 USD) and this leather Lauren Manoogian Triangle Cuff ($120 AUD) - with their tribal motif, like something you picked up on holiday - add a touch of the unexpected. And to lend height to the 40s silhouette, these understated Costume National suede slingback heels ($700 USD); they have an attractive casualness, reminiscent of slippers beneath pyjama bottoms, yet are still elegant with their open toe and cutouts at the sides.
Central to this outfit is the play of different textures: dark suede against reflective satin, antiqued silver on brushed cotton. A melange of pieces, each with their own distinctive identities, verging on the haphazard, but grounded by bold black and white stripes.
Labels: alice + olivia, charles mingus, costume national, isabel marant, kelly framel, lauren manoogian, most wanted, pablo picasso, wood wood