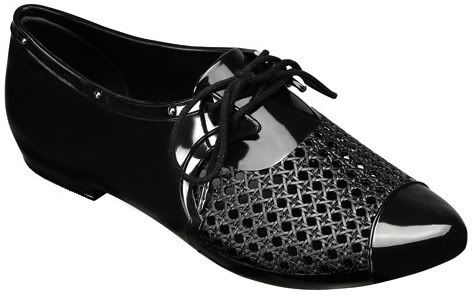 Enjoying, PVC lace-up with mesh and stud detail ($85 AUD)
I saw these smart-looking black brogues on a makeup artist at Mecca Cosmetic (Myer Sydney) yesterday. She had just finished doing my makeup (I was trying out the news NARS duo, Mandchourie, which has just hit the displays but which unfortunately is still not in stock) when I complimented her on her shoes and asked where she had gotten them.

To my surprise, she told me that they were from a company called Melissa Shoes which specialises in making eco-friendly, cruelty-free plastic footwear. A far cry from your ugly Crocs, their range includes thongs (that's flip-flops to your non-Aussies), heels, ballet flats, wedges, boots, and kids' shoes. Having been in business for over 30 years, Melissa Shoes has collaborated on capsule collections with designers like Vivienne Westwood and Jean Paul Gaultier. Two styles from a collaboration between Melissa and Jason Wu, including these adorable slingbacks, are scheduled to be released soon.
Would I buy these shoes myself over a pair of genuine leather equivalents? I don't think that I would. However, these are the first synthetic shoes I have seen that seem to make that compromise between ethics and fashion a little less painful.
While I cannot personally attest to their comfort, Melissa shoes are supposed to be both comfortable and breathable to wear. The plastic has been infused with a sweet bubblegum smell, which lasts for several months in a new pair.
Enjoying is $85 AUD from the Melissa Australia site, which will ship orders domestically as well as overseas. You can also find Melissa Shoes on various other online retailers.
Labels: ethical consumerism, jason wu, jean paul gaultier, melissa shoes, vivienne westwood