Announcements
If you're new to this blog, then read our guides to the basics: Skin (Part I), Skin (Part II), The Supernatural, Color Theory I, Color Theory II, Eyes, and Brushes.

Also, check out the blogsale.
Contents
· Culture Notes: Genshiken

· Perfume Notes: Lys Mediterranee

· Beauty Notes: Variations on a Theme

· Beauty Notes: How Men Understand Makeup

· Beauty Notes: Guerlain Les Verts Quad & L'Heure Bleue Rouge Automatique

· Fashion Notes: Melissa Shoes

· Perfume Notes: Caron Le Troisième Homme // The Third Man

Favored

Art Tattler
the glamourai
The Non-Blonde
Perfume Shrine
Lisa Eldridge
Garance Doré
Smitten Kitchen
Into The Gloss
Grain de Musc
Lacquerized
Res Pulchrae
Drivel About Frivol
The Selfish Seamstress
Killer Colours
Bois de Jasmin
Glossed In Translation
Jak and Jil
Toto Kaelo
Worship at the House of Blues
I Smell Therefore I Am
Food Wishes
The Natural Haven
Messy Wands
1000 Fragrances
Moving Image Source
Wondegondigo
The Emperor's Old Clothes
M. Guerlain
Colin's Beauty Pages
Barney's jewelry department
Parfümrien
loodie loodie loodie
The Straight Dope
Sea of Shoes
London Makeup Girl
Sakecat's Scent Project
Asian Models
Ratzilla Cosme
Smart Skincare
Illustrated Obscurity
A.V. Club
Tom & Lorenzo: Mad Style
Eiderdown Press
Beauty and the Bullshit
La Garçonne
Flame Warriors
Everyday Beauty
Fashion Gone Rogue
Now Smell This
Dempeaux
Fashionista
The Cut
A Fevered Dictation
Nathan Branch
101 Cookbooks
Culture Notes: Genshiken
by Dain
When most people look at makeup, all they see is "good" and "bad".

But chances are, dear reader, you are not one of those people. You may have stumbled onto this blog through the vagaries of fate, but if you've stuck around, it is because you see more than just a lipstick. You have opinions. And they all matter, these fine, exquisite nuances you are so sensitized to: pigmentation and finish, undertone and overshimmer, longevity versus slip, the subtly judged scent, all the way down to the satisfying click as the lid snaps shut, the weight of the tube signifying luxury in your hand. Thousands happily swipe on Dolce Vita, nary the wiser to anything more significant than a popular lipstick. While the beauty community resounds with a collective wail at the discontinuation of Dragon RAL, driving a mass hoarding frenzy, spawning FOTD challenges on MUA, inspiring rhapsodic odes on blogs, or, if you're a rancid snob like me, festering with petty insults flung ever so turd-like at the bourgeois aspiration that CHANEL, as a brand, so manifestly represents, it is a sobering realization that the world of commoners has registered no seismic disturbance whatsoever. To them, Dragon never even existed.

The Japanese have a wonderful term for this, one poorly captured by our English language, otaku, which William Gibson once defined as "the passionate obsessive, the information age's embodiment of the connoisseur", but in Japanese conveys a sense of reeking geekiness that borders on insult, usually ascribed to compulsive anime fanaticism.




As for myself, I've seen very little anime. I've mostly approached them as one would approach a foreign film, as if it were art: Miyazaki Hayao, Watanabe Shinichiro, and Otomo Katsuhiro limn the extent of my experience. So it was somewhat an accident that I stumbled on Genshiken, an oddly ekphrastic work by Kio Shimoko, an anime about anime, or more specifically otaku culture. Since Genshiken belongs to the "slice of life" genre, no one has blue hair or claims expertise with katana. The characters are drawn more or less accurate to real people—you can smell how geeky these guys are even in animated form—and they face mundane challenges, like finding a job after graduating from college. Certainly, Genshiken exploits the more outré and offputting aspects of otaku culture for broad comedy, such as Madarame's declaration he has no "regular porn" but only hentai. Since I'm not Japanese, I could hardly know how easily the stereotype of closet perverts who traffic in extreme anime porn could be misapplied. As Kasukabe (the girl), who represents the majority of the Japanese population, makes absolutely clear: it's considered equally weird in Japan.

Genshiken invites understanding. Down the line, Madarame, the most hardcore otaku of them all, ends up falling for Kasukabe, who is already dating one of his friends. Genshiken doesn't exploit the tension as dramatic device. It happens as it would happen in real life. He grapples with what limited emotional tools he has—revisioning himself and Kasukabe in an ero-game—before running away to the bathroom to face the facts. He knows it'll never happen. He would never try to make it happen. After the slapstick that has preceded it, the recognition of his emotions is quiet but intensely poignant. There is a huge difference, Genshiken points out, between pornography, which depends on fantasy, and the realities of human relationships. And you can only judge people on their behavior, not their interests.

Now, Genshiken did not inspire me to become an otaku. My interest in anime remains as circumscribed as ever. Nevertheless, its underlying theme, how people with shared interests can form a meaningful community, and use that community to act out defining moments of their lives, did ring true. Because, if I may appropriate otaku from its original context, it so perfectly describes the beauty community. In all our varied appetites and specialized jargon, typical of rarefied consumers, ultimately it's not the makeup that matters, but that we share a collective obsession. Some people specialize in vintage makeup, others in swatches and product porn, still more in tutorials, others in reviews, some in information. As Genshiken puts it, "Otaku isn't something you try to become. You just are one before you know it." There's a hierarchy—and I do not know what better confirms a social structure than a pecking order. You can join the currents of the hive mind, if solidarity is your desire, or go against them, just to hone your Ego—or both as the whim possesses you. For the "commoners" who judge our community, we've got haters and trolls, not to mention plenty of incestuous cattiness, both overt and hidden. I suppose we can be ridiculous, at times. But we find, too, surprising warmth and rewarding friendships.

We may be aligned, in a superficial interest, but we are not limited by it. The object of this obsession is quite beside the point; I don't usually wear makeup, and when I do, it's the boring naturalistic stuff, so the basis is hardly a concrete one. Makeup is simply a means. This has always been for me, a way to connect to you.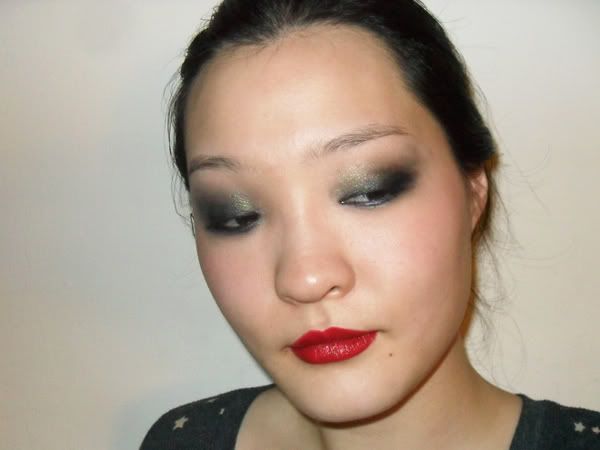 And if you do not believe we are otaku, I wonder how many of you instantly guessed my lipstick even without prompting? And if I continue further, and explain how I sought to balance the glamourous precision of Dragon with a messy, deconstructed black pearl eye, Shiseido Caviar, dabbed on haphazardly as a base, with Benefit Mermaid layered also haphazardly to pick up the subtle green thread in Caviar—why, you would all understand me.

To everyone who read me over so many years: thank you, thank you very much.

Labels: benefit, chanel, culture notes, genshiken, nars, shiseido
11/30/2011 [16]
Perfume Notes: Lys Mediterranee
by Anne


Had I been presented with the brief for Fr&eacuted&eacuteric Malle Lys M&eacutediterran&eacutee—a summery vision of lilies by the sea—the first thing coming to my mind would have been idyllic visions of semi-tropical locales in full bloom, and indeed, no perfume calls summer to mind like Lys M&eacutediterran&eacutee. Only, this "Mediterranean lily" is not true to its name at all, for the lily is, though powerful, a fleeting presence before the onslaught of seawater, the impression of nothing but water, taken out of its element (hah!) by mere decorative hints of the aforesaid flowers.

A familiar description, this is, and you'd be forgiven for immediately expecting yet another aquatic floral like the ones you can buy anywhere these days—including the drugstore. It was a smell that had never existed before, but were actually a mere riff on Coco Chanel's infamous sound-byte, a put-down of perfumes that smelled like something familiar (notwithstanding the complexity of many everyday "single-note" smells). Rather than the mineral aldehydes that dominated the 30's, however, the smell of the 90's was the cool and gentle pressure that is the sense of water flowing on the skin, only made cerebral rather than tactile, chemically realized. Enormously popular once—and still holding strong in the realm of masculines—ubiquity has now stripped this genre of all such evocative power, the web of associations that make up the very soul of a perfume.

So water in perfumery died before it ever really began, mainly done in by its very own abstractness—novel but infinitely replicable. Lys M&eacutediterran&eacutee may owe some of its heritage to its 90's predecessors, but sidesteps the same sad fate by being much, much more literal. Simply put, Lys M&eacutediterran&eacutee is seawater. Not bottled Evian, but bilgewater. This water you would not want to drink, for it is not entirely clear and so salty that it leaves a gamy, bitter taste in the mouth, the taste you feel when a wave knocks you over and you get a big mouthful and noseful of brine, with traces of scraps of seaweed sticking to hair and skin.

A seaside holiday in a bottle, if there ever was one, but if most tropical fragrances and white flower scents are pristine adverts in glossy travel agency leaflets—designed to stir the thirst for fantastic and exotic escapes— Lys M&eacutediterran&eacutee is a sensory panorama of an actual day at the beach, including unglamorous details like sunburn and sand in certain sensitive places: because even during summer, when the sun shines, flowers are in bloom, and the water beckons, no one ever fully manages to get away from the business of dealing with their lives and the attendant annoyances.




And yet, aren't your private memories—not the carefully edited photo albums you later share with your friends—all the more precious for those "imperfections"?

Lys M&eacutediterran&eacutee is unquestionably a masterpiece, and yet I sometimes feel that aquatic undertone, as textured as it is, is too unsettling for quotidian wear. Luckily, there is an alternative in Herm&egraves Vanille Galante—a sister if not a twin to Lys M&eacutediterran&eacutee where the soapy lily, dandelion-puff vanilla, and the aqueous contribution of melon come together in much the same patterns, only Vanille Galante feels domestic: the Totoro to Lys M&eacutediterran&eacutee's Mononoke Hime.

Labels: frederic malle, hermes
11/25/2011 [0]
Beauty Notes: Variations on a Theme
by Dain
Another reason why I rarely do product reviews, other than my latterly deficient photography skills, is because I like to savor my hauls slowly. Draw out the enjoyment for too long—and I like to play with my makeup—and they inevitably become outdated before it's ripe for publication. So before the fizz goes off the wine, here is Guerlain Les Verts ($59) in action. With a palette, one hopes to mine it for versatility, so I've constructed looks strongly differentiated from each other, from neutral to colorful, as my technique allows. Makeup is what you make of it, no pun intended. Another organizing principle was to make the most of my minimalist stash, so I've used these core products throughout: Make Up For Ever Lift Concealer in #3 Neutral Beige, Chanel Poudre Universelle in 20 Clair, Laura Mercier Brow Definer in Warm, Shiseido PK304 Carnation, Bobbi Brown Caviar Ink to tightline.



***


First, based off my own observations from living in Korea and after some time spent with Jung Saem Mool, the Asian iteration of Lisa Eldridge, I attempted what I'd define as conventionally East Asian makeup, with a few minor tweaks. I tried to be as authentic as possible without crossing into parody.



Half of the look hinges on an absolutely flawless, bright skin. I used Laura Mercier's Warm Ivory foundation, a concession to coverage rather more flattering than a blanket of BB cream. Plus, I'd picked at the blackheads on my nose, and Warm Ivory, somewhat yellower than my skin tone, helps tone down the ruddiness.

The other half, of course, is the eyes. Though the palette is assiduously neutral, a lot of detail work goes into making the eyes seem bigger. Laura Mercier Stellar highlights the inner corner, while the mushroom shade in Les Verts gives depth to the outer corner. To achieve the proper intensity, I layered the eyeliner: smudging Bobbi Brown Caviar Ink first between lashes, thickening at the outer corners, which was further softened by the expresso shade in Les Verts. It would have been more authentic to go for a sharp black flick, but this softer line, which disappears when my eyes are open, is far more flattering on me. Then a dose of individual lashes, applied between my natural lashes from below, like tightlining. I'm not good at them, so they're not aligned too well.

My girl friends in Seoul always pulled out sparkly pink glosses after lunch, a problematic proposition, since I desaturate the vibrancy from pigment. I opted for fairly opaque candy pinks: Estée Lauder Chelsea Rose topped by Chanel's Magnifique Glossimer.



***



Now, let's try a variation on smoky eyes using the khaki shade in Les Verts.

It's quite drab and murky on its own. Layer it over Shiseido WT901 Mist, a complex of silver, white gold, and pink glitters in a nearly clear, pale pink base, and it instantly takes on an exciting texture. Since it's a cream, it's perfect for layering, and unlike most glitters, there's no fallout. It's the most sophisticated glitter I've ever played with, like fairy dust for grown ups, and the powder on top incorporates the sparkle into the smoky base, for an effect more subdued and wearable than the Illusions d'Ombre. Unfortunately, I was unable to capture the exquisite dimensionality that this method yields; thanks to my uncooperative camera, it doesn't look much like a smoky eye here, other than the rim of black kohl.

I really cannot wear a nude lip, so a tinted lip balm will have to do.



***



At last, some color! In truth, Les Verts is not full-throttle green, but a neutral palette with a pop of green.

Pastels are home territory for me. I worked in a very light dusting of the Dior Aurora bronzer, paired with the coral-pink of Guerlain Chamade, since the warmth plays nicely against the icy tones of the eyeshadows. Since pastels can look washed out, I first (after tightlining) applied the khaki shade featured prominently above, in a lightly blended cat-eye shape, to add dimension to the outer corner. Layered on top, a wash of the fresh spring green all over the lid, but packed onto the inner corner so the shimmer catches light and provides a natural highlight. The edges were blended together. I took some of the spring green along the lower lashline. Right at the outer edge of that cloud of spring green, just to perk up the green, the powder blue of Shiseido Opera Trio, very sheerly applied. Blended again.



***


Here's a bonus: L'Heure Bleue on an otherwise minimal face, how I wear my makeup most days:


I find that the Rouge Automatique formula has a translucence to it, much like a jelly polish, so it does a disappearing act when photographed. If anyone's adept with cameras, any tips for capturing it in its full glory? Direct sunshine, unfortunately, is in short supply at this time of year.

Labels: beauty notes, bobbi brown, chanel, estee lauder, guerlain, laura mercier, make up for ever, shiseido
11/18/2011 [17]
Beauty Notes: How Men Understand Makeup
by Dain
Labels: beauty notes
11/15/2011 [12]
Beauty Notes: Guerlain Les Verts Quad & L'Heure Bleue Rouge Automatique
by Dain
I'm not really a "curator", the kind of blogger who takes beautifully lit, elegantly composed photographs of pristine luxury makeup, because honestly, there are people who are much better at it. My own photographs are indifferent. But I've been gearing up for my final posts (for a while), and I've been anxious to represent these beloved pigments with accuracy. I've been experimenting with my latest acquisitions from Guerlain, though as usual, my affinity to colors is very much on the cool side: the Les Verts quad ($59) and L'Heure Bleue Rouge Automatique ($35). I'm proud of the results, so I thought, for once, I would use pictures instead of words.



It's almost accurate.


Les Verts makes a sublime gateway green palette. Certainly, if you prefer a neutral eye, you can focus just on the shades at left and right. The expresso, a silky near-matte, has a hint of plum for a little extra richness. It might also double as brow powder on brunettes (not me, though). Though the mushroom-colored shade, with its delicate but complex iridescence, seems destined for highlighting, it has surprising substance (your mileage will vary on skin tone): it adds the subtlest depth to the lid.

Even if you're not comfortable with green, the khaki at bottom is an easy way to wear it. It adds the gradation of smokiness wherever it goes. In the pan, its murkiness is broken up by flecks of gold and blue, but barely transfer onto the lid. The final shade, a fresh and optimistic mint green, is the most flamboyant, though by no means is it eye-searing intensity. It has a fine metallic sheen, which, depending on the light, seems caught between silver and gold. Like most shimmers, the texture is softer than the drier matte and satin shades. Personally, I like this shot of color. Since makeup too neutral drives my face into a stricture of exhaustion, it provides just the right dose for a softly colorful eye. The color is soft and controlled, what I feel is Guerlain's signature aesthetic.






L'Heure Bleue, a berry-red base shot through with swirls of brighter red shimmer, wears as a soft redcurrant on my pigment-desaturating lips. I have a long history with redcurrants, so in my mind I compare it to Chanel Sexy (from 2008) and MAC Red Haute (from 2004). Well loved, once a upon a time, and discontinued. In this small family, L'Heure Bleue is definitely the most beautiful sister. On the lips, the shimmer merely adds dimension to L'Heure Bleue's cool berry depths, festive but sophisticated enough not to feel out of place at the office. When you're in the mood for drama, layering on the lipstick builds a deep, foiled red—a party lip without the glitter.

I absolutely love the formula of these Rouge Automatiques. I don't like glossy, creamy lips, so this kind of lightweight moisture is perfect.

Labels: beauty notes, guerlain
11/10/2011 [15]
Fashion Notes: Melissa Shoes
by Li Wen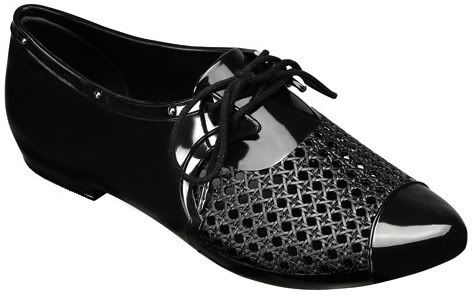 Enjoying, PVC lace-up with mesh and stud detail ($85 AUD)
I saw these smart-looking black brogues on a makeup artist at Mecca Cosmetic (Myer Sydney) yesterday. She had just finished doing my makeup (I was trying out the news NARS duo, Mandchourie, which has just hit the displays but which unfortunately is still not in stock) when I complimented her on her shoes and asked where she had gotten them.

To my surprise, she told me that they were from a company called Melissa Shoes which specialises in making eco-friendly, cruelty-free plastic footwear. A far cry from your ugly Crocs, their range includes thongs (that's flip-flops to your non-Aussies), heels, ballet flats, wedges, boots, and kids' shoes. Having been in business for over 30 years, Melissa Shoes has collaborated on capsule collections with designers like Vivienne Westwood and Jean Paul Gaultier. Two styles from a collaboration between Melissa and Jason Wu, including these adorable slingbacks, are scheduled to be released soon.
Would I buy these shoes myself over a pair of genuine leather equivalents? I don't think that I would. However, these are the first synthetic shoes I have seen that seem to make that compromise between ethics and fashion a little less painful.
While I cannot personally attest to their comfort, Melissa shoes are supposed to be both comfortable and breathable to wear. The plastic has been infused with a sweet bubblegum smell, which lasts for several months in a new pair.
Enjoying is $85 AUD from the Melissa Australia site, which will ship orders domestically as well as overseas. You can also find Melissa Shoes on various other online retailers.
Labels: ethical consumerism, jason wu, jean paul gaultier, melissa shoes, vivienne westwood
11/08/2011 [5]
Perfume Notes: Caron Le Troisième Homme // The Third Man
by Dain

Jan van Eyck, The Arnolfini Portrait (1434).


Among noses, the Serge Lutens are described, dismissively but shaded with obvious envy, as "bases", glorified raw materials rather than the intricate, highly structured compositions of classical perfumery. It seems a feckless position to take. Since the early 90s, all the great structures—the chypre, the cologne, the leather, the green floral, the aldehydic floral, and to a lesser degree, the oriental—have been marked by steady decline. It is too easy to blame the IFRA's vendetta against oakmoss and citrus. Frankly, if the chypre has faded into the dust, it reflects a lack of public interest in grand perfumes, and Serge Lutens' deconstructionism is not only savvy but profoundly influential. Perhaps the only genre left intact, so that it's possible to trace a direct progression from the origin, is the fougère.


So little does the fougère depart from its own tropes that it's apt to try a man's patience: the majority of masculines are drearily similar to each other. But if you are a woman, the most striking fact about masculines is how each seems to carry the weight of its own history, something feminines rarely do any more. In smelling Troisième Homme, even as the apotheosis of the fougère, you sense the burdens of its past crowding in upon you.

Like its predecessors, Troisième Homme is a meditation on lavender, teasing out its facets of floralcy, anise, menthol, herbaceousness, and honey. It is a more streamlined, deliberate composition than Jicky* perhaps; nevertheless the kinship is obvious, in spite of a generational gap of over a hundred years. In its outlines Troisième Homme resembles every other fougère, virtually indistinguishable from any number of masculines: the sparkle of bright bergamot, a nod to Guerlinade's bouquet garni with touches of rosemary and sage and geranium, the angular rasp of woody ambers that gender it, the nutty, caramellic richness of tonka bean, the sweetness of vanilla, and the animalic underpinning of oakmoss and civet. On the skin, however, it is a thing so unique and arresting it stops you in your tracks, all your senses electrified by its magnetic presence. It numbers among the handful of personal favorites, along with Mitsouko and Opium and Cuir de Russie and Chamade, that in their sublimity move me past the power of expression. I cannot describe to you, in words, what makes Troisième Homme special, but the fact is obvious without the telling.

Its claim to idiosyncrasy, the feminizing infusion of jasmine and rose, isn't all that poignant on a woman. Certainly it's not enough to take Troisième Homme into unisex territory; rather it shades in a softness and warmth not often seen in masculines. Nor is it sophisticated to the point of dandyism, just a confidence that opens up the fougère structure, like a man whose maturity has brought him a keen mind without any of the attendant bitterness that might cloud his resolve. "Pessimism," remarked Peter Ustinov once, "is completely out of date. I think it's a romantic indulgence."

For the record, The Third Man is my favorite film. Quite a few of my most admired things have come together in this post.

OTHER REVIEWS
Now Smell This
Legerdenez
Perfume Niche
Nathan Branch
I Smell Therefore I Am
Bois de Jasmin
Perfume Smellin' Things I
Perfume Smellin' Things II
Basenotes

* There is some debate whether Jicky or Fougère Royale is the origin of modern perfumery, but since I've never sniffed Houbigant so no comparison is currently possible.

Labels: caron, jan van eyck, malcolm x, perfume notes
11/04/2011 [0]
Subscribe to
Posts [Atom]. Or
follow on bloglovin'. If
you'd like to contact Dain,
feel free to email me.
I'm also on Pinterest.
Features

The Mnemonic Sense
Most Wanted
The Beauty Primer
Lookbook
Bestsellers
Consumer Diaries
Closet Confidential
On The Label
Beauty Notebook
The Hit List
Color Me In
The Makeup Artist
Wedding Bells
Globe Trotter
Desert Island
perfume notes
beauty notes
fashion notes
culture notes
minimalism
chypre arc
floral arc
fresh arc
masculines arc
gourmands
& orientals arc
Archives

August 2008
September 2008
October 2008
November 2008
December 2008
January 2009
February 2009
March 2009
April 2009
May 2009
June 2009
July 2009
August 2009
September 2009
October 2009
November 2009
December 2009
January 2010
February 2010
March 2010
April 2010
May 2010
June 2010
August 2010
September 2010
October 2010
November 2010
December 2010
January 2011
February 2011
March 2011
April 2011
May 2011
June 2011
July 2011
August 2011
September 2011
October 2011
November 2011
December 2011
January 2012
February 2012
April 2012
May 2012
June 2012
July 2012
August 2012
September 2012
October 2012
November 2012
December 2012
January 2013
February 2013
March 2013
June 2013
July 2013
Images

Photobucket