Announcements
If you're new to this blog, then read our guides to the basics: Skin (Part I), Skin (Part II), The Supernatural, Color Theory I, Color Theory II, Eyes, and Brushes.

Also, check out the blogsale.
Contents
· Desert Island: Makeup

· Fashion Notes: Design Error

· Culture Notes: Mirror Stage

· Beauty Notes: René Furterer Complexe 5 Regenerating Plant Extract

· Culture Notes: The Door is Open

Favored

Art Tattler
the glamourai
The Non-Blonde
Perfume Shrine
Lisa Eldridge
Garance Doré
Smitten Kitchen
Into The Gloss
Grain de Musc
Lacquerized
Res Pulchrae
Drivel About Frivol
The Selfish Seamstress
Killer Colours
Bois de Jasmin
Glossed In Translation
Jak and Jil
Toto Kaelo
Worship at the House of Blues
I Smell Therefore I Am
Food Wishes
The Natural Haven
Messy Wands
1000 Fragrances
Moving Image Source
Wondegondigo
The Emperor's Old Clothes
M. Guerlain
Colin's Beauty Pages
Barney's jewelry department
Parfümrien
loodie loodie loodie
The Straight Dope
Sea of Shoes
London Makeup Girl
Sakecat's Scent Project
Asian Models
Ratzilla Cosme
Smart Skincare
Illustrated Obscurity
A.V. Club
Tom & Lorenzo: Mad Style
Eiderdown Press
Beauty and the Bullshit
La Garçonne
Flame Warriors
Everyday Beauty
Fashion Gone Rogue
Now Smell This
Dempeaux
Fashionista
The Cut
A Fevered Dictation
Nathan Branch
101 Cookbooks
Desert Island: Makeup
by Dain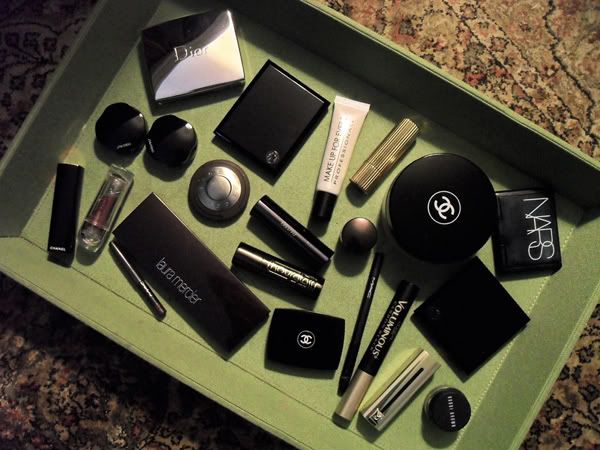 The final cut: here is where my makeup lives.


There are two schools of thought when it comes to makeup. The first exalts expression, everything we put on our face as a coded message, while the second is informed by social norms and strives to enhance without violating the integrity of the face. Glamour versus naturalism, if you will. In most cases, 'style' is an amalgam of both. One may borrow from the standards of naturalism when it comes to foundation but opt for glamour's unapologetic stance with red lipstick. You can pick and choose precisely because, although Laura Mercier and Illamasqua may seem worlds apart in their aesthetics, both operate on the same premise, that identity can be projected through the manipulation of one's image.

It has always been my tendency, however, to dissociate image from identity*.

Yes, we are judged by appearances. Nevertheless, image is no more than an incidental factor in our lives, with the exception of celebrities. People pick up only vague impressions: that you're wearing makeup, that there's too much, or, wow that's BLUE eyeshadow. Most of all, I assume people don't care. Whatever I look like, image is ultimately trivial enough that they will see through the façade in time. I cannot credit anyone who refuses to dig deeper. Unless my vanity imagines it, there is no audience. I do love makeup—that gambler's thrill of blowing through money, luxury in small doses, then the ritual of application, just me, a mirror, and some colors, and of course the community of makeup otaku who share my obsession—but above all, I love that makeup never has be anything other than frivolous fun. My philosophy towards makeup is brutally objective, based on pure superficial criteria, a series of individualized tweaks to my coloring, anatomy, preferred techniques, and taste, but it stays on the surface. I do not believe it is a revelation of the self. For my actions I am culpable and my opinions may require explanation, but a lipstick is just lipstick. It is an object, consumable yet aesthetic, its only office is to flatter. Otherwise, the mirror itself becomes subjective, reflecting only what I want (or fear) to see.

This is why I've got such a minimalistic approach to my own stash. For me, makeup never shifts from its fundamental reality as a frivolous pleasure, so I prefer to keep my appetite keen on the products most satisfying. I treat makeup as I would a poem: subjected to analysis, appraised for beauty, rejected for minor flaws, examined for its mechanisms. I do not, however, attach it the power to define my identity in ways not already shaped by my own will.



Here are the constants. They serve equally for my everyday standard—fresh skin punctuated by a slash of bold lipstick—as well as occasional high drama with blue eyeshadow.

When it comes to base, I prefer skin that looks clean rather than flawless. Naturalism depends on judgement, a frank assessment of your face as a canvas. Above all, it's that obscure instinct that kicks in and tells you when to stop, that the illusion has been broken and all you can see are the brushstrokes. I skip foundation outright. To my eye, the affectation of realism is more convincing when it stops short of perfection; even great skin has pores, unevenness, scars, blemishes. So most days, I wear nothing but undereye concealer. More brightening than concealing, the milky peach tone of Make Up For Ever Lift Concealer #3 Neutral Beige ($22) counteracts the sallow discoloration around my eyes but doesn't overload with too much coverage. If I'm feeling fancy, a sheer dusting of Chanel Poudre Universelle Libre in 20 Clair ($52) blurs over minor textural imperfections. It adds a subtle, sophisticated illumination that enhances the luminosity of the skin, especially under flash photography.

Since I've taken pains to preserve the integrity of the skin, my choice in blush (and lipstick) is governed by the same imperative: to brighten the face entire. I tend not to diversify for the sake of fashion. I like blush to hit exactly the right note against my (cool) pink+/yellow undertones—that's always been candy pink. Sometimes I use Becca Wild Orchid ($30), since a cream blush is easy to throw on when you're rushed for time, sometimes I want instead the delicate translucence of Shiseido PK304 Carnation ($30).

With lipstick, though the same requirement (brightening) applies, there is a little more room for experimentation, color for the sake of color. Some, like Hourglass Nocturnal ($30), closely echo my taste in blush. Poised between rose and berry, Nocturnal serves as an intensified version of Becca Wild Orchid, so it always feels right, brings my face to life much like the blush. I'm also an absolute fiend for red lipsticks—it took some ruthless editing indeed to narrow down to two—but they are distillations of oft-visited idioms in my red-lipstick addiction. Guerlain L'Heure Bleue ($35) is the softer, easy-wearing redcurrant, its berry base made festive by a brighter red sparkle. The high saturation and retro-matte finish of Shu Uemura RD 178M (disc) is more classical, the blue-red of a rose in bloom. Every color pulls warmer on my lips, so a cool undertone, a bit of mauve or berry, insinuates itself into most of these shades. Therefore, Guerlain Chamade ($35), a summery coral-pink with a little translucence, is a departure from my usual palette. Since I desaturate all vibrancy from lipsticks, I have a marked preference for high-calorie pigment. The closest I'll ever come to a nude is Estée Lauder Chelsea Rose (disc), a creamy good girl pink. I'm much more comfortable in bold colors, even when it gets as aggressive as Shiseido Fuschia ($25). Most bright pinks are tempered by red, but Fuschia leans on a lavender base shot through with a chalky bit of white. It's unapologetically kitsch, not for the faint of heart.



Optimally flattering on my coloring: Nocturnal and Wild Orchid.


This is essentially an exercise in playing to my strengths and weaknesses. I can calibrate my blush and lipstick (and base, too) to bring out the luminosity of my skin, but it's easy work, just swiping on a lipstick. By contrast, so much finicky detail work goes into my neutral eye, yet it yields only incremental improvement. Frankly, there's not much I can do. Throw on Laura Mercier Stellar ($22), a silvered cream with enough peach to marry it to the skin, but it's not as if I've acquired more lid space (shown with Rave below, not here). My feeble lashes might be bolstered by L'Oréal Carbon Black Voluminous ($8), but even with the wand wiped clean, I could never build up serious drama; the infrastructure simply can't handle the bulk of too much mascara. Better, I think, to rely on tightlining, to build up the illusion of a thicker lashline: Laura Mercier Deep Night ($22), a navy dark enough to register as an off-black, with a hint of eye-brightening blue. Powder is a little unorthodox for tightlining—it only works with a densely pigmented matte and a proper brush—but I like its softness compared to gel liner.

I grow my brows as full as I can, shaping in the merest hint of an arch, plucking mostly the strays that grow in the wrong direction (a common problem for Asians), though sometimes you'll see a wonky hair. Overdrawn brows drive me into conniptions, so I rely on Laura Mercier Brow Definer ($20) to fill them in, substantially more naturalistic than than any pencil or powder.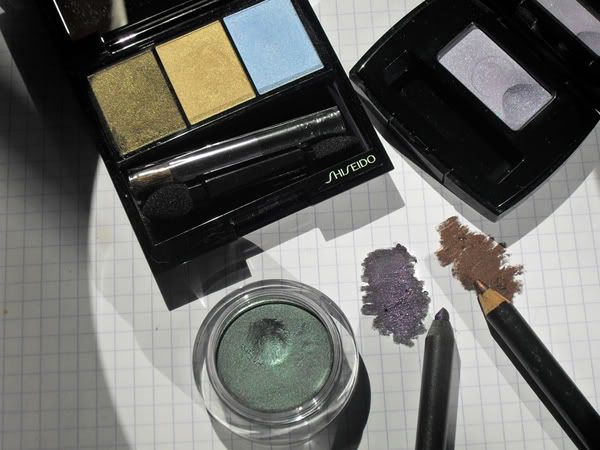 With statement makeup: go bold or go home. Other than tightlining and the most refined of highlights and a matte contour well blended, eye makeup is not playing the illusory game of naturalism: even a taupe looks like makeup. (Obviously, I abide by the same philosophy with lipstick.) By all means, you should feel comfortable about your choices, but if you embrace the fun of makeup, you might be surprised by the results of experimentation: blue flatters me far better than brown.

I split eye makeup into three categories, a basic set structured on my coloring. When a new purchase shifts the gravitational center of my stash like a passing meteorite, they are stable enough to accommodate my momentary obsession.

Complements either blend seamlessly onto the skin, like grey or taupe or black, or work in concert with the skin, such as pink or peach or plum. For me, because my coloring rejects earth tones, it's limited to a highlight and a liner: I don't need more than Stellar and Deep Night. Because they're complementary, they also coordinate with both contrasts or accents. Contrasts sit opposite your coloring. You can choose whether to contrast against your eyes and your skin, but like complements, it is individually defined. With my pink undertones, I've yet to meet a blue to dislike, but there's enough yellow that the ideal contrast leans slightly green: meet Shiseido SV810 Tin ($25), a shimmering sea blue in a grey base. If I want to tone down the sallowness instead, I reach for purple, a sheer pastel like Chanel Lavande (disc), which wears like an off-grey with a kick, or the controlled intensity of colorful kohl, MAC Rave Pearglide (disc), a jewelled violet. Accents may not flatter your skin, but they add dimension to complements and contrasts, pigment matched to pigment. While I cannot wear brown tones solo, Laura Mercier Brown Copper Kohl ($19), a doppelgänger for the original Teddy, builds a coppery-brown smoky-plum base beneath Lavande, while the crystalline gold and olive-bronze of Shiseido Opera Trio ($33) works in tandem with the powder blue, or Tin. I mix it up, as need dictates.

My eye shape is simplicity itself: too flat for contouring, no double lid to work around, no asymmetries to correct, no distinctive color, neither prohibitively small nor big, and brown tones leave me cold. I build pigment in rounded, diffused shapes to open them up vertically, and that, my friends, describes 98% of my eye looks. My skin is good, which affords me the latitude to play with a color, but when you ignore the rainbowed palette, you'll see that my bone structure limits my technique to three variations, all rounded and diffused.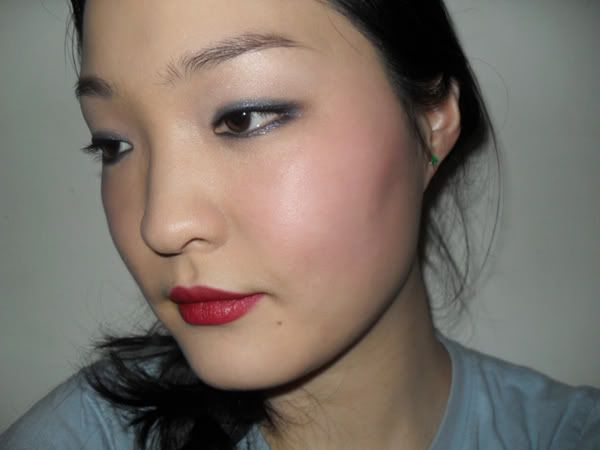 Faithful readers will know that pigment smudged thickly around the eyes is my most oft repeated technique, as reflexive as a graphic flick on other eye shapes. It's easy to fit onto my basic template, already so minimal—just add one product. Since my taste in lipsticks is bold, I don't try to underplay the fact I'm wearing makeup at all, pigments that can hold their own and match in vibrancy: Shiseido Tin and Rave (shown above, with Shu Uemura RD178M blotted down to a stain) are my absolute favorites. After all, eyeliner is limited in its impact, no matter how colorful. When I do reach for neutrals, it's specifically to play up the classicism of a red lip, say the navy matte of Deep Night smoked out.



Another option is colorblocking, a sheer wash of color, usually a pastel. Other than Lavande, which is not vibrant enough on me to qualify as aggressive color, I wear this technique less frequently, mostly when I want to showcase a pigment that has captured my admiration. For this look, I've used the powder blue of Shiseido Opera, with the gold serving as an accent on the lower lashline. Chamade as the lip, to complete the rich-bitch-on-the-Riviera effect.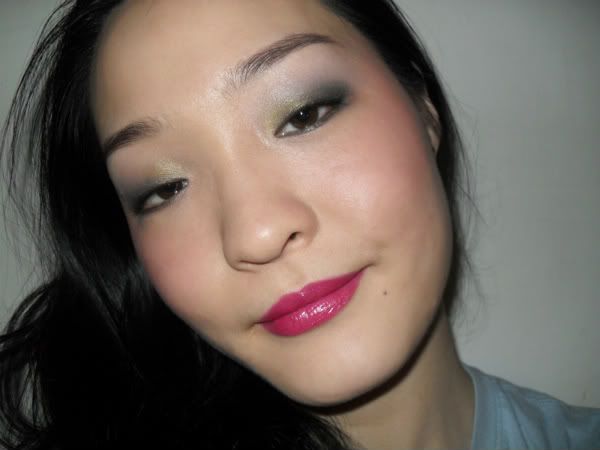 Here is my variation on the smoky eye, the most complex of the techniques thus far. Other than blending, the trick to a good smoky eye is to adapt it to your eye shape (thus the lack of tutorials on this blog), and mine is a particularly challenging one to execute well. The classic smoky eye is built on winged shapes; this is not ideally flattering on me, as it narrows my eyes. My smoky eye is designed to round out the shape, a vertical rather than horizontal effect.

The darkest shade, here the olive bronze from Opera, is smoked around the lashline, not too dissimilar from the first look but taken a little further up the lid and blended well. I might use Teddy, Rave, Deep Night, or even Tin, depending on my mood. It thickens slightly at the outer corner, but not by much. I often add a brighter color at the inner corner, here the faintest hint of the lime from Rated R (see below), to create some horizontal dimension to my flat lid space, but carefully, so the overall shape is still rounded. Then, I add a highlight: not a neutral but a pastel, sitting right on top of the smoke rather than on the brow bone. Switching to a pastel has two purposes. First, to brighten the murky darker shade, so it doesn't close the eye, and second, it adds to the rounded effect by pulling one's attention upwards, greater emphasis than a neutral shimmer would provide. Without a crease, it's not weird to place a pale shade there. I would pair this with Fuschia, but its white base captures inaccurately under flash photography, so I've made the substitution of a different bright pink (Estée Lauder Orchid Dream). No matter, the idea remains the same: I like how fuschia coordinates with the hint of lime on the inner corner.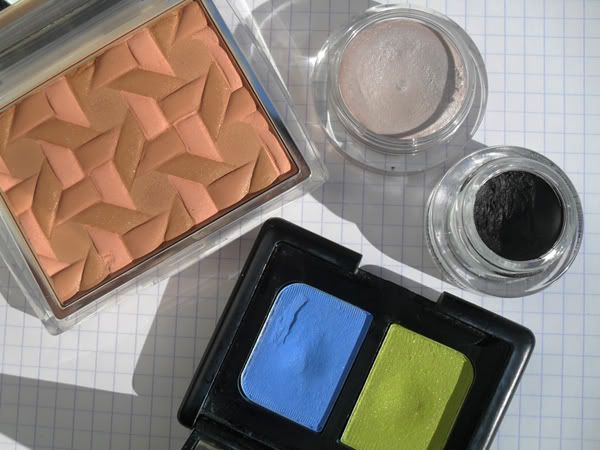 Finally, a handful of products I rarely use, but earn their place because their effects cannot be replicated otherwise. Occasionally, I add a light dusting of Dior Aurora (disc); the sunkissed warmth it adds to the skin plays up the icy pallor of pastels beautifully. Most looks don't demand glitter, but Shiseido WT901 Mist ($25), a complex of pink, silver, and gold fairydust, is as sophisticated as it gets. When layered, it transforms other shades into sparkles—if that's something I want. In spite of its popularity, I don't often use gel liner. In such a graphic form, neutrals tend to beautify bone structure, more work for me than experimenting with color, but it does add strength to the lashline. I'm more likely to employ Bobbi Brown Caviar Ink ($21) for tightlining, when I want a break from Deep Night. Though my pot is already two years old, the texture remains creamy as ever.

Purely for sentimental value, my very first investment: NARS Rated R ($33). It's largely a keepsake. Nothing in life will require me to wear acid lime or electric blue, but Rated R's complete embrace of makeup as an artifice reminds me not to take myself too seriously.



***


It goes without saying, but minimalism does not suit everyone. If, however, you are attracted to the idea of a tightly edited stash but worry it might limit your options, I have never found it to be so. A collection of a twenty taupes and fifty peachy-rosy nudes is more restricted in its imagination, an endless succession of tastefully neutral makeup. One naturalistic look is enough for me. I know you, reader: "But this one has an ashy undertone, while this has a subtle pink sparkle scattered throughout, and this is Rouge Bunny Rouge, a unicorn among unicorns, copy written by unicorns!" Bullshit. This is what the Buddha calls attachment, nothing more. If I get bored, I'll turn to makeup as a form of entertainment, but how will yet another taupe serve as any kind of palliative? Once you've got your neutrals covered (define a comfortable amount for yourself), let the rest go. Truth be told, you won't miss them.

And, as any poet can tell you, restrictions are the galvanizing force behind creativity. Fewer products place a greater obligation on how you manipulate them. With the exception of one random (Orchid Dream), all four looks were built exclusively from the products featured here; I've discovered new possibilities simply by putting them together. Makeup is fundamentally a consumer good, so why not make the most out of its use value? Besides, I'm perfectly free to flirt with new colors. It somehow liberates you to enjoy your diversions, those not quite at the same level of permanence, free of regrets.

Thank you again, for your patience and kind comments throughout the years. It seems somehow fitting to end on this note, with the favorites in my stash.

* N.B. Li Wen, Dorothy, and Anne do not share my opinions. This is what I believe.

Labels: becca, chanel, desert island, estee lauder, guerlain, hourglass, korres, make up for ever, shiseido, shu uemura
12/24/2011 [17]
Fashion Notes: Design Error
by Dain
While I'm finetuning my next post, I thought this monstrosity might amuse you guys, a pair of silk harem pants from Thomas Wylde.



Everything that could go wrong goes wrong here. The trainwreck begins with a dropped crotch, the worst idea in tailoring ever conceived, then continues with a ruffle on the cropped hem. In the front, it's pleated. The material is delicate silk, a savvy choice for torturing your servants with extra work, and the print looks like she squashed an endangered species with her butt. The brand trademark, the skull, has also been scattered onto the snow leopard background, which is SUCH AN AWESOME IDEA. Finally, the price: $625.

A tragic masterpiece. I want to stop looking, but I can't...

Labels: fashion notes, thomas wylde
12/18/2011 [3]
Culture Notes: Mirror Stage
by Li Wen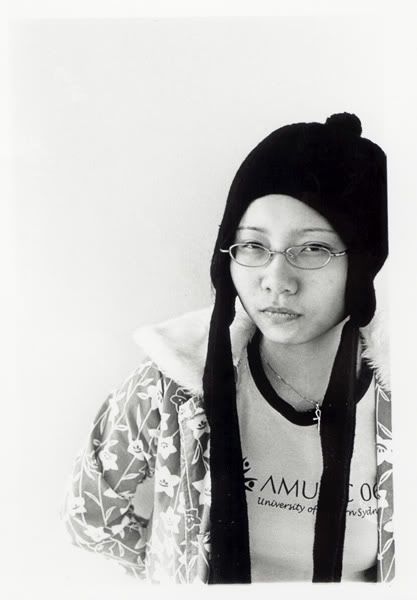 Sydney, August 2006
From one of my very first sessions with Melissa, shot on film and hand-developed. Mid-morning, sleep-deprived, I was wearing typical weekend gear: soft jeans, a t-shirt from AMUNC 2006, a light jacket to ward off the outdoor winter chill. Melissa's assignment from her teachers called for honesty, a set of portraits that could reveal the character of the subject, and so I presented my barest, truest and most curmudgeonly face to the world.
Between shots, I was sipping my first coffee of the day from a steaming Deadwood crew mug that I'd won off an internet competition, and I imagined myself trading insults with Charlie Utter, sharing tots of whiskey with Calamity Jane, before we all rode off on new (and smelly) adventures in the Black Hills. Yet even that is partly play-acting; the black scarf-beanie, which seems to suck in all the light from the picture, was not merely covering my unwashed and messy hair, but seemed to hint at a shyness, a willingness to disappear that cut against my direct gaze and tough-gal exterior.

* * *
Sydney, August 2009
The year before Wolf, my family's German Shepherd, passed away, he was going deaf, half-blind, and contending daily with pain in his hips, yet still the sweetest and most intelligent of creatures. There are few human beings toward whom I hold the depth of unreserved affection that I give my dogs, and fewer still that I am comfortable with demonstrating that affection with. The love of dogs is uncomplicated, undemanding, incapable of dishonesty; the love of adults anything but.

* * *
Hunter Valley, December 2010
Right after Christmas, six months after I had finished my MPolEc and started working full-time, Melissa, a friend visiting from Germany, and I went on a day-trip to the local wine region, about 2.5 hours drive away from Sydney. We lunched outdoors, sitting on benches and lying on giant beanbags strewn across the lawn. The aggressive asexuality of my early twenties had mellowed somewhat. I was relaxed, slightly buzzed from wine tastings, enjoying my first real holiday in over a year.

I wore a minimalist echo of the outfit from 2006: black skinny jeans (UNIQLO), a grey linen t-shirt with a slouchy fit (Country Road), black Converse, and sunglasses (Jac + Jack). The difference now being that I was wearing the clothes, the clothes weren't wearing me.

All photographs were taken by Melissa Graf.

Labels: culture notes
12/11/2011 [6]
Beauty Notes: René Furterer Complexe 5 Regenerating Plant Extract
by Li Wen
One of the foundational tenets of beauty and makeup: Just because you're born a certain way, it doesn't mean that you have to put up with it.
Have thick, slippery hair that doesn't stay put? Getting it cropped to your chin, I discovered when I was seventeen, simplifies things enormously. I barely need to run fingers, much less a brush, through my hair in the morning before stepping out the door.
And after years of telling myself that there was nothing to be done about my naturally oily hair and scalp, I recently had a mental turn-around. Constant travel and a hectic schedule was making it difficult for me to wash my hair with the frequency and regularity it needed if itching and build-up were not to set in - which was to say every other day. Skip a wash, and on the third day I would be a fidgeting ball of acutest misery; my hair lank and flat, too greasy to hold any volume. At about the same time, my skin had begun to clear up after months of hormonal breakouts, and I was conscious of the fact that transfer of dirt and oil from my hair to my face - via hands, fringes, and pillows - could very well reverse this improvement.
I decided to try an oil treatment - reasoning that, just as a rejuvenating face oil helped to get my excess sebum-producing combination skin under control, the same might hold true for my scalp. René Furterer Complexe 5 (400 RMB) was the only product that seemed to fit the bill in Sephora (Shanghai). A concentrated toning and deep-cleansing treatment containing 53% pure essential oils of orange and lavender, it stimulates microcirculation in the scalp to enhance growth and regeneration, and increases the effectiveness of other treatment products you use after it. You can literally feel it working, as your scalp starts to experience a warm and tingling sensation seconds after applying.

Step 1: Use the narrow nozzle to direct Complexe 5 to the roots of dry, unwashed hair, applying it to the scalp in sections and massaging it in as you go. I usually start from the right side of my head, drawing lines from front to back until I reach my other ear. You don't need much - a 50mL bottle will last me about 8-10 months.


Step 2: Continue massaging gently for a minute or so, and then leave for 5-10 minutes. Usually, I put on a face mask at the same and then leave both on for longer than the prescribed 10 minutes as I wander around preparing vegetables for dinner, hanging up laundry, washing my makeup brushes, etc.

Step 3: Shampoo and condition as normal, or follow with another treatment if desired. Complexe 5 does not feel thick or sticky, and should be easy to wash out without residue; the limonene presumably makes this possible, acting as a solvent for the essential oils.
I have been using Complexe 5 once or twice a week, for two months now, in concert with Kérastase Bain Chroma Riche and a sulfate-free conditioner. After the first fortnight, my hair had already passed the 4 days test: a hitherto unheard of 96 hours between washes before the itching started to drive me insane.

Two weeks ago, when I had my hair and scalp under a 300x microscopic camera at the Kérastase Institute in Sydney, Revo Hair Atelier - something I would have had neither the confidence nor the desire to do before I started using Complexe 5* - the professional diagnosis confirmed what I already knew: that my hair was very healthy, and that my scalp, though still a tiny bit oily, by no means constituted a problem. Instead of setting me on the regime for oily hair, the technicians at Revo washed, treated and conditioned my hair with products designed for the maintenance of colour-treated hair. If that's not evidence of effectiveness, I don't know what is.
INGREDIENTS: Limonene, Citrus Aurantium Dulcis Oil (Orange/Citrus Dulcis), Fragrance (Parfum), Ricinus Communis Seed Oil (Castor/Ricinus Communis), Hexylene Glycol, Glyceryl Linoleate, Lavandula Hybrida Oil (Lavandula Hybrida), Citral, Origanum Majorana Leef Oil (Origanum Majorana ). Thymus Vulgaris Oil (Thyme, Thymus Vulgaris), Linalool, PEG-40 Hydrogenated Castor Oil, Geraniol, Glyceryl Linolenate, Origanum Vulgare Leaf Extract (Origanum Vulgare).



* Going to a luxe salon or spa is a bit like having a cleaning lady come to your house. You put in extra work so as not to be seen as an embarrassing mess when you/they appear.
Labels: beauty notes, kerastase, rene furterer
12/07/2011 [2]
Culture Notes: The Door is Open
by Li Wen
THE DOOR IS OPEN

No, I don't want to tame you,
you'd lose your animal charm.
Your wiliness and nervousness
excite me,
they belong to your exotic breed.

You can't escape me
because the door is always open.
You can't betray me
because I don't demand fidelity.

Give me your hand,
we'll dance
through the laughing darkness.
With sacred bells
on our arms and legs,
the movement of the dance
as supple as ancient Arabic writing,
our hair singing
like a Greek chorus.

Elemental bliss
organised into a mystery play.
Only just domesticated,
like you.


ANNA SWIR

Translated from the Polish by Grazyna Baran and Margaret Marshment
Labels: anna swir, culture notes
12/03/2011 [8]
Subscribe to
Posts [Atom]. Or
follow on bloglovin'. If
you'd like to contact Dain,
feel free to email me.
I'm also on Pinterest.
Features

The Mnemonic Sense
Most Wanted
The Beauty Primer
Lookbook
Bestsellers
Consumer Diaries
Closet Confidential
On The Label
Beauty Notebook
The Hit List
Color Me In
The Makeup Artist
Wedding Bells
Globe Trotter
Desert Island
perfume notes
beauty notes
fashion notes
culture notes
minimalism
chypre arc
floral arc
fresh arc
masculines arc
gourmands
& orientals arc
Archives

August 2008
September 2008
October 2008
November 2008
December 2008
January 2009
February 2009
March 2009
April 2009
May 2009
June 2009
July 2009
August 2009
September 2009
October 2009
November 2009
December 2009
January 2010
February 2010
March 2010
April 2010
May 2010
June 2010
August 2010
September 2010
October 2010
November 2010
December 2010
January 2011
February 2011
March 2011
April 2011
May 2011
June 2011
July 2011
August 2011
September 2011
October 2011
November 2011
December 2011
January 2012
February 2012
April 2012
May 2012
June 2012
July 2012
August 2012
September 2012
October 2012
November 2012
December 2012
January 2013
February 2013
March 2013
June 2013
July 2013
Images

Photobucket