As I make ready to return to Shanghai at the end of February - a more semi-permanent move this time, for the purposes of a new job - I have been sifting through the stacks of worldly belongs that have accumulated in my family home in Sydney, trying to decide what I need to take with me. This is obviously not the time to be buying still more stuff that will not fit into my 30kg luggage allowance, and yet I persist. What gives?
SNIFFING
China, and even the glittering fount of cosmopolitanism that is Shanghai, is a bit of a desert wasteland when it comes to perfumes. Another cause for distress: glass bottles full of alcohol are not the easiest (or most light-weight) things to take onto a plane. I shall have to hope that a few full-sized bottles of perennial favourites (Fille en Aiguilles, Vetiver Oriental, Bandit, Timbuktu) and a hefty cosmetics bag full of decants (many of them courtesy of Dain) and Travalos will serve until I can next spare the time for a trip back in Sydney. In the meantime, I am spraying myself with clouds of scents that didn't make the full-bottle cut, and rediscovering in the process perfumes that I haven't worn in ages (Like This by Etat Libre d'Orange), not to mention new purchases that I have not spent nearly enough time with (Juliette Has A Gun Vengeance Extreme).
LISTENING
Alberto Iglesias' incredibly atmospheric score for Tinker, Tailor, Soldier, Spy, which I really hope will win the Oscar for best score come February 26th. This is the second Le Carre adaptation that Iglesias has written the music for (the other was The Constant Gardener, a very differently flavoured soundtrack for which he also garnered an Oscar nomination), and he captures the paranoia and the elegiac tone of both book and film to perfection.
READING
I have no self-control when I step into a bookstore. My backlog of "new books I have yet to read" is so long, it could probably make for a small library in itself. Yet a book, I tell myself, is something that will never truly go to waste. What's more, I like to know that I'm doing my part in keeping the commercial publishing industry alive; the printed word, too, because, goodness knows, I spend a lot more on paper books than I do on new airplane-reading-material for my Kindle. Of the latest additions to my shelves (image below), I think the two volumes of Camus' notebooks (a gift from Melissa) will come with me to China.
The new (newish?) Daniel Mendelsohn translation of Constantine P. Cavafy's collected poetry ("The streets in which you pace/will be the same, you'll haunt the same familiar places,/and inside those same houses you'll grow old") is proving to be a delight, possibly even surpassing my abiding affection for the Rae Dalven translations ("Every effort of mine is a condemnation of fate;/and my heart is - like a corpse - buried"). But it will probably stay behind, purely on account of its size. The rest? Well, I guess I'd better get cracking reading.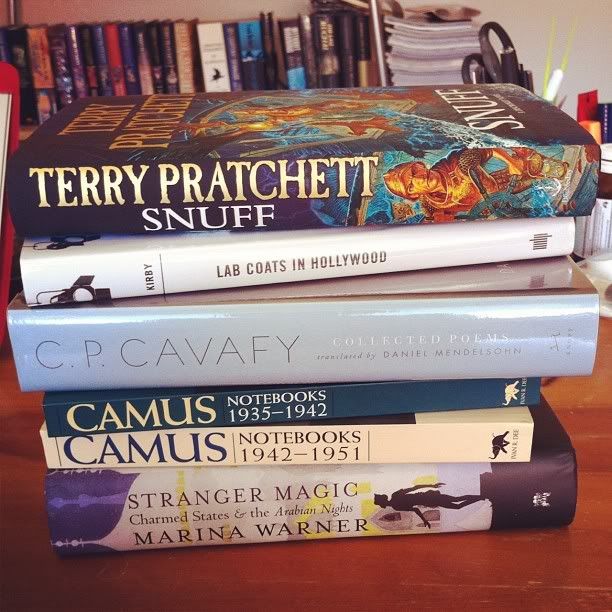 WEARING
Whether I'm pairing it with a cream kitten-bow blouse at work or a casual white tee (and a statement necklace in chunky, rough-hewn amber) over the weekend, my navy Brother Skirt from Les Prairies de Paris is all class in a relaxed sort of way, with its two side pockets, strip of black suede running down the front, and hem just skimming the knees.
I have been wearing wool pencil skirts a lot lately; and blazers; and knits. The funny thing is that the weather has been so peculiar this summer in Sydney that it will hardly be much of a shock to the system to fly across the equator and suddenly find myself in a northern winter rather than the chilliest southern summer in my own personal memory. I wouldn't have to do anything more than throw on a coat.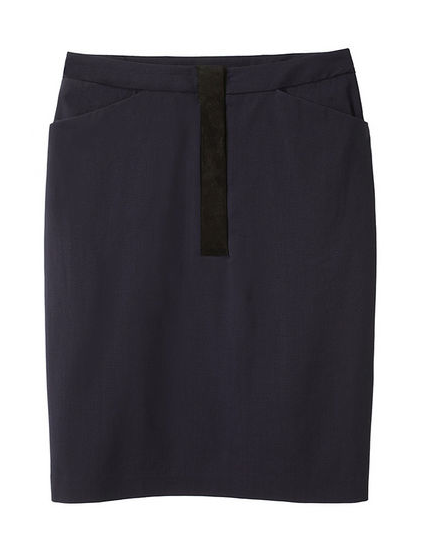 An even more satisfying acquisition than my Les Prairies skirt, is my new Ole Lynggaard Sweet Drops bracelet. Not three weeks after I wrote this post about the Sweet Drops, I added one to my small, extremely select collection of "every day" jewellery. After near half an hour looking through the selection at Jordan's Jewellers (Market Street, Sydney), I eventually picked out an olive wrap-around leather bracelet, and a white gold/moonstone "Dew Drop" and silver/black onyx "Sweet Drop" to wear on it. It was a tough decision to make. Seeing them in person, one cannot fail to appreciate how carefully and meticulously they have been crafted. Each of the "Dew Drops" and "Sweet Drops" have a clasp that allows them to hold tightly to the band without scratching the soft leather. Each is further designed to hang only at a certain angle; the charms have room for movement, but not so much that they can rotate 360 degrees around the band and irritate the wearer. My bracelet is easy, understated, and a joy to wear.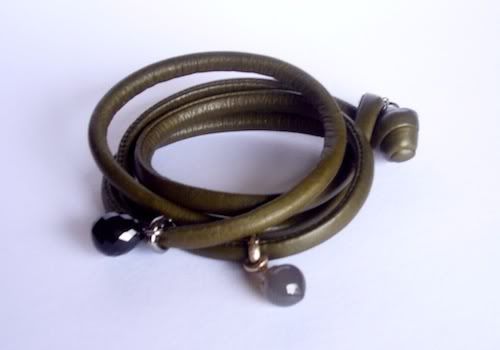 EATING
All the things that I will miss in China: fresh (and affordable) mangoes/figs/papaya/avocados, Australian yogurt, Whisk & Pin gluten-free muesli, an Italian-strength espresso, newly shucked oysters that don't cost an arm and a leg (and won't lead to food-poisoning), really good Lebanese food… I could go on and on.
Labels: albert camus, alberto iglesias, cavafy, consumer diaries, etat libre d'orange, juliette has a gun, les prairies de paris, ole lynggaard, shanghai