Announcements
If you're new to this blog, then read our guides to the basics: Skin (Part I), Skin (Part II), The Supernatural, Color Theory I, Color Theory II, Eyes, and Brushes.

Also, check out the blogsale.
Contents
· Beauty Notes: Shiseido Lacquer Rouge

· Beauty Notes: Deep Clean

· Fashion Notes: Flat Out

· Perfume Notes: YSL Yvresse

· Beauty Notes: Browned Down

· Fashion Notes: Modern Sculpture

· Beauty Notes: Neutral Territory

Favored

Art Tattler
the glamourai
The Non-Blonde
Perfume Shrine
Lisa Eldridge
Garance Doré
Smitten Kitchen
Into The Gloss
Grain de Musc
Lacquerized
Res Pulchrae
Drivel About Frivol
The Selfish Seamstress
Killer Colours
Bois de Jasmin
Glossed In Translation
Jak and Jil
Toto Kaelo
Worship at the House of Blues
I Smell Therefore I Am
Food Wishes
The Natural Haven
Messy Wands
1000 Fragrances
Moving Image Source
Wondegondigo
The Emperor's Old Clothes
M. Guerlain
Colin's Beauty Pages
Barney's jewelry department
Parfümrien
loodie loodie loodie
The Straight Dope
Sea of Shoes
London Makeup Girl
Sakecat's Scent Project
Asian Models
Ratzilla Cosme
Smart Skincare
Illustrated Obscurity
A.V. Club
Tom & Lorenzo: Mad Style
Eiderdown Press
Beauty and the Bullshit
La Garçonne
Flame Warriors
Everyday Beauty
Fashion Gone Rogue
Now Smell This
Dempeaux
Fashionista
The Cut
A Fevered Dictation
Nathan Branch
101 Cookbooks
Beauty Notes: Shiseido Lacquer Rouge
by Dain
Rough 'n' ready swatches for interested parties...



L to R: RD607 Nocturne // RD501 Drama // RD702 Savage // RD305 Nymph // RD203 Portrait // OR508 Blaze // RS404 Disco // BE306 Camel


Except for OR508 Blaze, which has some translucence, these combine opaque pigmentation with a glossy finish, though you can easily sheer down to a satiny stain. The longevity is excellent, with a texture somewhere in between the creaminess of Chanel Rouge Allure Lacques and the gel-like YSL Glossy Stains, but tackier than either. If a stain is desired, I recommend applying it over some balm (blotted down) for some extra slip, then working from the center and sheering out the product into an even layer with a flat lip brush. It's very comfortable once on the lips. They have no detectable fragrance.

The magenta RS404 Disco is slightly yellower in full sun. I do not have access to the four shades not released in the US. Personally, I'd be happy to see the expanded range in the future.

Labels: beauty notes, shiseido
7/28/2012 [4]
Beauty Notes: Deep Clean
by Dain
Of all Lisa Eldridge's many excellent tutorials, the one about how to take off your makeup is easily my favorite.




For eye makeup, I also use Bioderma. There are other micellar waters (La Roche-Posay, Absolution, Koh Gen Do, Lancôme, Caudalíe, Vichy), but, laced with glycerin, they leave behind a sticky residue on my skin. I soak Shiseido cotton, finer textured and less absorbent than most, and let the Bioderma do all the work. On its own, it'll melt off all but the most stubborn mascara.

For general facial cleansing (and any leftover eye makeup), I am faithful to Trilogy Cream Cleanser still. The simple formula is reminiscent of an old-fashioned cold cream: oils, water, emulsifiers, and utterly superfluous essential oils (if your skin reacts, another good one is Avène's). After massaging it onto dry skin, until the emollients break up the dirt and makeup, I rinse my hands to slowly introduce a little water, so that the emulsifier, milder than a buffered detergent, combines with water and gentle friction for a very thorough cleanse. You could use cotton wool or muslin cloths instead, as Eldridge does, but as much as possible, I avoid any additional abrasion on my physically sensitive skin. Then I splash my face with water, and that's done.

As Saeki Chizu argues in The Japanese Skincare Revolution, a good skincare routine depends more on technique than specific products. I've used this cleansing method for three or four years now, and find it most minimally invasive on my skin.

On days I do not wear makeup, I use plain water.

Labels: beauty notes, bioderma, shiseido, trilogy
7/26/2012 [4]
Fashion Notes: Flat Out
by Dain
I'm not particularly fashionable. I stopped following the shows long ago, and now rarely stray from a long-established uniform, an eternal return to the same make from the same brand if it happens to satisfy whatever vague operating principle that we call 'taste'. Dear reader, it is fortunate there are other writers on this blog, with more exciting taste. My closet would bore you to death.

Here is one such piece, repurchased ad infinitum: ballet flats from Azzedine Alaïa.



In traditional blush pink satin.


They cost the earth and rarely come in the rainbow array offered by Repetto or Lanvin, but to me, it is worth stalking the perfect Alaïa flat. They offer molds-to-the-foot comfort straight from the box—no breaking in required. Like any good shoe, they make my feet look better, neater. Another pair in zebra calfhair is so worn, I really ought to throw it away. But nothing finishes off navy better: a slim wool pant from Vanessa Bruno, vintage Japanese polka-dot shift, an embroidered skirt from Anthropologie.

Labels: azzedine alaia, fashion notes
7/23/2012 [4]
Perfume Notes: YSL Yvresse
by Dain

Marc Chagall, The Fall of Icarus (1975)


Among the many myths that surround Chanel No. 5, the one that always captured my imagination was Coco Chanel's assertion that 'a perfume must be abstract'. Her self-assurance flew in the face of those who were skeptical of her venture into fragrance. Nowadays, fashion houses regularly pander cheaply made juices, cocksure of profits rarely viable with couture, but in 1924(ish), fashion houses did not associate themselves with perfume. As always, Chanel was savvier than her critics; close to a hundred years later, No. 5 is still a bestseller. What her imitators, with their eye only on the profit margin, now neglect is the characteristic common every iconic composition, from Après L'Ondée to Bandit to Angel, which smell like nothing else on earth other than themselves, that it must be abstract.

Abstraction is not quite originality. Often, its impact can be more potent if its lens is focused on a tired and frequently revisited theme. As your nose picks up the familiar notes of citrus, queer fruit, florals, and leathery oakmoss, Yvresse ought to provoke comparisons with Colony, Jolie Madame, Mitsouko, Rochas Femme...


And indeed it does. Yvresse is a pastiche of every precedent established by the great fruity chypres. There, all comparison ends. Just as Trésor is Mitsouko revisioned as a blow-up doll, Calyx a crude riff on Diorella, and Paris takes Après L'Ondée into the whore house, Yvresse is loud and ostentatious, openly flaunting its bad taste. It's not what chypres are normally like. In particular, it features a bloated, monstrous peach gone to rot, just starting to pick up a boozy whiff, in line with Grojsman's ongoing fascination with the complexity of damascones, dense yet luminous. Closer to a sauternes than its original inspiration, the thick sweet fruit is laced with honeyed rose and blond woods and spices, with an aggressive sillage.

The provocateur is a necessary figure in fashion. Nothing is more prim and proper than a chypre, so Yvresse's deliberately overblown, wanton personality might read as a challenge to conventional feminity. It might have been a great moment in perfume. But it came too late... Are perfumes great because they smell great? And yet their success is inextricably wound up in image, marketing in just the right time and place. Yvresse is a well built composition. Had it emerged a decade sooner, it might have enjoyed greater notoriety, perfectly in tune as Opium and Y were in their own time. But in the context of CK One (also 1994), L'Eau d'Issey (1992), and Tommy Girl (1996), Yvresse reads slightly awkward and self-conscious, about to fade into the passé. As in fashion, timing is essential to satire, quick to lose its fascination over its audience.

OTHER REVIEWS
Bois de Jasmin
Now Smell This
Perfume Shrine
Pere de Pierre
The Non-Blonde
Basenotes
Makeupalley

Labels: madonna, marc chagall, perfume notes, sonja grossman, yves saint laurent
7/19/2012 [2]
Beauty Notes: Browned Down
by Dain
To further demonstrate how very individual 'neutrals' can be, I thought seeing them in action, on my face, would be illustrative. Other than the flick, placement is very nearly the same in both looks.



Dainty Doll // Dior Aurora (as blush) // Suqqu 02 Kyoganoko



Shiseido GD804 Opera // KATE BU-1 // NARS Gaiety // Julie Hewett Femme Noir


You may not agree with me that brown tones are unflattering—I've seen the elegantly wasted neutral look carried well by others—but note how my skin seems to shift from yellow to pink, simply by switching palettes. I'm a mix of both undertones, but I favor the pink because it's brightening, and after all my skin is better than my bone structure. Does this signify I must give up earth tones altogether? Not at all. If a color challenges you, finetune the execution until it becomes whole, polished, flattering. They may not be my preferred neutrals, so perhaps I'll never rely on them for a natural look, but they can be handled more aggressively: sparkle, black kohl, and a vampy lipstick. A somewhat softer, though not naturalistic, variation might be the glowy bronzed stereotype, here based around Shiseido RD711 Pink Sands Trio.



Shiseido Pink Sands // Dior Aurora // Shiseido Orchid // Nuxe Rose Légendaire


Certainly a silvery mauve taupe is easier to work with than the warm ruddy brown above, and its fine, glass-like sparkle also helps the brown from achieving too density. It was important to get the skin right: the perfect backdrop for Pink Sands. A sheer dusting of Dior Aurora all over*, not the targeted application of before, adds a warmth to my skin and deemphasizes the pink tones. A red blush, Shiseido RD402 Orchid, mimics the flush I acquire from a natural tan—or at least as much as artifice can ape nature. A spritz of Avène breaks down the many layers of pigment so they integrate more seamlessly into my skin. My natural lip tone is already peachy-warm, so a silvery pink gloss, Nuxe Rose Légendaire, takes it a shade more cool. I wasn't quite decided whether to echo the eyes or the cheeks; this hits a compromise between both.

The most significant tweak, by far, is a shot of the pink layered beneath the taupe, the paler peach at the inner corner. At the edges, where no pink boosts the dullness of brown on my skin, you can detect the sallowness that usually mars brown tones for me. This is a bit of an inversion for me: the pink accents the taupe instead of the other way around. Layering with Shiseido is supremely easy; the texture behaves more like a cream than a powder. As usual, Deep Night is there to tightline, as I wanted to keep all lines and edges soft.

* Except my neck. An oversight.

Labels: beauty notes, christian dior, dainty doll, julie hewett, kate, nars, nuxe, shiseido, suqqu
7/13/2012 [6]
Fashion Notes: Modern Sculpture
by Li Wen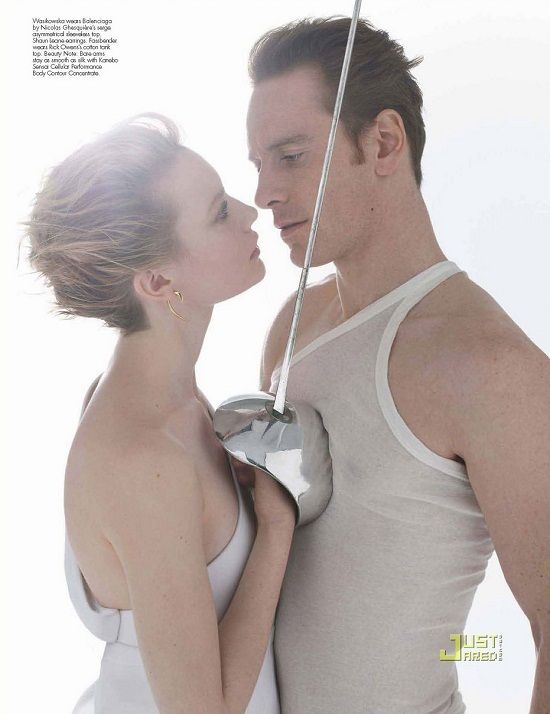 Mia Wasikowska and Michael Fassbender,

W Magazine

(April 2011)


As expounded before in my Ole Lynggaard Sweet Drops post, my taste in jewellery leans toward the clean, minimalist, and versatile; organic shapes with a modern sensibility. All of those notes - with the possible exception of versatility - are hit upon by Shaun Leane's Hook Earrings and the smaller, less dramatic Talon Earrings. I first saw them on Mia Wasikowska in her W Magazine photoshoot with Jane Eyre co-star Michael Fassbender, where I was captivated by how - like the gleaming rapier in Wasikowska's hand, with its lush, curvaceous hand-guard, set against the deadly steel blade - the earrings brought into balance the opposites of sharp and delicate, masculine and feminine, warning and invitation. These are earrings with serious attitude, as declarative as a tattoo, but requiring a great deal less in long-term commitment.

Available in either yellow gold, rose gold or silver, the Hook Earrings and Talon Earrings are weighty and substantial in the hand; gently framing the face, they are striking, decidedly sculptural in their multidimensionality. I have worn mine in all seasons, but find that they cohere most effortlessly with simple outfits that are not too riotous in colour or heavily ornamented.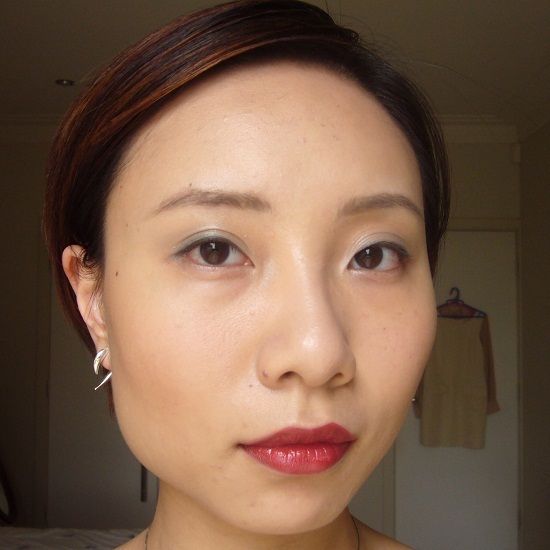 Shaun Leane Silver Talon Earrings from

Little15 Jewellery

, Shiseido Shimmering Cream Eye Colour in SV810 Tin and BL711 Angel, Shu Uemura RD198 and Cle de Peau R1 Black Baccara



Photo: JustJared

Labels: fashion notes, shaun leane
7/11/2012 [11]
Beauty Notes: Neutral Territory
by Dain
By now, reader, you are probably as familiar with my stash as I am. So, look! I hit pan on Stellar.

In spite of my tidy stash, I rarely use up anything. Like Becca Wild Rose or Chanel Lavande, this little peephole into heaven signifies that the pigment is balanced, in its undertones and finish, in pure and perfect harmony with my coloring. As if it were tailored, just for me.



When I consider neutrals, I always hope for this degree of fitness, though like everyone else, it mostly evolves through hindsight. Ten years ago, it was a wheaten gold that did me no favors. I then graduated to a peach-tinted beige, which better counteracted the sallowness around my eyes, with a complex shimmer (pearls of differing shape, size, and color) to scatter light, but too dense, too much shine. With Stellar, its silvery sheen is more refined, the hint of peach still brightens, but there is a transparency, so that the pigment integrates more seamlessly with my skin. There is nothing special about Stellar. We have this idea, sometimes, in our beauty blogger's argot, of exalting what is unique. Stellar isn't remotely unique; every brand has a shade like it, slightly different, perhaps far better for you. And yet I don't stray, though I've picked up other highlights through the spontaneous generation of palettes (the matte white from Suqqu Mizuaoi was a surprise hit), because it suits me. Like a good pair of pants, it's the fit that counts.

It seems so simple: good makeup starts with the face. This is the fundamental rule that, when followed assiduously, results in naturalism, but becomes daring and editorial, like the Tristan chord, when intentionally disregarded. In practice, however, finding your ideal neutral palette is anything but simple. Every face poses its own unique challenge, and neutrals most of all must be individually defined.

When a neutral is off, even by a fraction, it seems to err more deeply. I could always tell that earth tones looked odd on me—dirty, draining, muddy—it took me some time before I saw how pink undertones frequently revolt against brown. Even now, browns serve primarily as accents. Bronzes complement my favorite blues, a smudge of chocolate kohl grunges up ethereal pastels, or I embrace the clash unconditionally in a vampy look. But they are not neutrals, not on me. Instead, my preferred dark neutral is navy. Restricted to tightlining, Laura Mercier Deep Night brightens as well as the peach in Stellar, and in tandem, they make me look awake, but not too much like makeup. For a more graphic twist, I switch to KATE BU-1. A gel liner provides textural variation from the barely there softness of the ultrafine, matte powder of Deep Night. I only switch the charcoal browns if navy feels inappropriate—greens, for example. Even a subtle near-black like Caviar Ink is better when accenting other pigments, rather than my skin.



Now in context: all colors together.


I could stop there. Between the highlight and the liner, where others find a profusion of sexy, complex taupes to add dimension to bone structure, on my simple eye shape they are pretty much useless. I don't have a crease, you know? All I can do is a 'wedge', two-dimensional shading smoked at the outer corners. For that, I prefer greys, of course. The softest, Addiction Concrete Jungle, shown below (didn't want to depot it); it is a little more natural than Chanel Lavande, which neutralizes to a barely purple grey. My favorite straight grey is MAC Wolf, woefully discontinued, so I'm trying the considerably taupier Benefit Skinny Jeans as a replacement. Not the same, though.

Neutrals are the briefest portion of my eyeshadow collection. I give preference to colors, and for a natural look, it is simpler for me to skip eyeshadow altogether, with just a bit of Deep Night pushed between lashes to boost the effect of mascara. As long as a neutral performs its duty, I don't usually seek other options, unless a product has been discontinued.

Labels: beauty notes, benefit, laura mercier, mac
7/05/2012 [11]
Subscribe to
Posts [Atom]. Or
follow on bloglovin'. If
you'd like to contact Dain,
feel free to email me.
I'm also on Pinterest.
Features

The Mnemonic Sense
Most Wanted
The Beauty Primer
Lookbook
Bestsellers
Consumer Diaries
Closet Confidential
On The Label
Beauty Notebook
The Hit List
Color Me In
The Makeup Artist
Wedding Bells
Globe Trotter
Desert Island
perfume notes
beauty notes
fashion notes
culture notes
minimalism
chypre arc
floral arc
fresh arc
masculines arc
gourmands
& orientals arc
Archives

August 2008
September 2008
October 2008
November 2008
December 2008
January 2009
February 2009
March 2009
April 2009
May 2009
June 2009
July 2009
August 2009
September 2009
October 2009
November 2009
December 2009
January 2010
February 2010
March 2010
April 2010
May 2010
June 2010
August 2010
September 2010
October 2010
November 2010
December 2010
January 2011
February 2011
March 2011
April 2011
May 2011
June 2011
July 2011
August 2011
September 2011
October 2011
November 2011
December 2011
January 2012
February 2012
April 2012
May 2012
June 2012
July 2012
August 2012
September 2012
October 2012
November 2012
December 2012
January 2013
February 2013
March 2013
June 2013
July 2013
Images

Photobucket