Announcements
If you're new to this blog, then read our guides to the basics: Skin (Part I), Skin (Part II), The Supernatural, Color Theory I, Color Theory II, Eyes, and Brushes.

Also, check out the blogsale.
Contents
· Beauty Notes: Lipstick Page

· Beauty Notes: Shutter Speed

· Fashion Notes: Native Textiles

· Beauty Notes: Back To Basics

· Culture Notes: Ginger-Soy Salmon

· Beauty Notes: Hi-Contrast

Favored

Art Tattler
the glamourai
The Non-Blonde
Perfume Shrine
Lisa Eldridge
Garance Doré
Smitten Kitchen
Into The Gloss
Grain de Musc
Lacquerized
Res Pulchrae
Drivel About Frivol
The Selfish Seamstress
Killer Colours
Bois de Jasmin
Glossed In Translation
Jak and Jil
Toto Kaelo
Worship at the House of Blues
I Smell Therefore I Am
Food Wishes
The Natural Haven
Messy Wands
1000 Fragrances
Moving Image Source
Wondegondigo
The Emperor's Old Clothes
M. Guerlain
Colin's Beauty Pages
Barney's jewelry department
Parfümrien
loodie loodie loodie
The Straight Dope
Sea of Shoes
London Makeup Girl
Sakecat's Scent Project
Asian Models
Ratzilla Cosme
Smart Skincare
Illustrated Obscurity
A.V. Club
Tom & Lorenzo: Mad Style
Eiderdown Press
Beauty and the Bullshit
La Garçonne
Flame Warriors
Everyday Beauty
Fashion Gone Rogue
Now Smell This
Dempeaux
Fashionista
The Cut
A Fevered Dictation
Nathan Branch
101 Cookbooks
Beauty Notes: Lipstick Page
by Dain

L to R: Nocturnal // Chelsea Rose // Fuschia // Strumpet // L'Heure Bleue // #48
RD178M // Rouge Passion // Poppy // Chamade // Smile


Next up in my stash overview (unmakeup covered here), my lipstick collection.

I buy only one shade from each brand—I'm peculiarly fussy about redundant packaging—so that it's easy to pick out the right color. (That I have two from Guerlain's Rouge Automatique range is a testament to how much I love both.) This is generally not an issue, because my lips desaturate, warm up, and enhance browntones in pigment to such an extent that I'm limited to a very specific color range: richer, cooler, clearer more opaque lipsticks that brighten my skin tone. (There are no lipglosses, for these reasons.) Bright midtones like RMS Smile and Estée Lauder Chelsea Rose (disc) wear like nudes (one pink, the other peach), whilst Hourglass Nocturnal, quite vampy on most, is a pitch-perfect rose, and the warm pink of Guerlain Chamade is my idea of a soft coral lip. So be warned, all my descriptions reflect how they look on, and will most likely register entirely different on you, as cool-toned lips are more commonly seen.

Dramatic colors always appeal to me, so I've got some hot pinks, and a vamp, too. There's blue-leaning Shiseido Fuschia, with its unusual white base, and the ruddier magenta of OCC Strumpet. They're great when I'm a little less sure of my eyeshadow; the aggression behind a hot pink makes the clashing colors seem deliberate. Though not quite as smooth as one wishes from a vamp, the berry undertone makes Make Up For Ever #48 the most wearable of vamps, less draining than shades too purple or too brown.

I'm fondest of reds, and, finding it nearly impossible to resist their siren song, I do my best to vary undertones and finishes. For a pure, classic cherry red, Sisley Rouge Passion takes no prisoners. If I want a vermilion, leaning slightly orange, there's Kanebo Poppy with its luscious, lacquer-like finish. It's great with bronzer and a summery palette. Because my lips do cancel out the blue in most lipsticks, I've got two berry-reds, the velvety, moodier Shu Uemura RD178M (disc) and L'Heure Bleue, made more festive with some sparkle. And, when a brown-based oxblood feels most appropriate, I've got YSL Grenat Satisfaction. It desaturates once it hits my lips, so it's not quite dark enough to be considered a true vamp, though by blotting and applying multiple layers I can approximate the depth in the tube.



I am not too picky about texture. My lips are dry and cracked all year round, so not even a creamy, high-silicone formulation will moisturize them (though they feel nice). Consequently, lip balm is a necessity, perhaps as important as the lipsticks themselves. My favorite lip balm, Dr. Hauschka Lip Care Stick, is expensive for a constant repurchase, but it is extremely kind to my lips, even when they are sore. I love the oddly herbaceous rose fragrance, too. A generous layer of pure lanolin, sometimes layered over eye cream, works best as a heavy-duty overnight treatment. For daytime, I like Avene Cold Cream Lip Cream, for reasons unknown not available in the US. Though not so protective, it's lightweight and absorbs well, ideal as prep for lipstick application (I never wear them without balm). It also doubles as a cuticle cream in my purse.



Also designed for travel, I depot my favorite colors into a slim Japonesque palette. I do prefer to apply straight from the bullet, but I can't argue with convenience.

Labels: avene, beauty notes, dr. hauschka, estee lauder, guerlain, hourglass, japonesque, kanebo, lansinoh, make up for ever, obsessive compulsive cosmetics, rms, shiseido, shu uemura, sisley, yves saint laurent
12/31/2012 [7]
Beauty Notes: Shutter Speed
by Dain
"What camera do you use?" This may be, to my mind, the oddest request I get; my photographs are merely passable. The short answer: Samsung VLUU PL50, a fairly standard point-and-shoot that's outdated by some years.



Extreme asymmetry and my winter palette: rosy lips and cheeks, metallic eyeliner.


Though there's a noticeable improvement in quality if you invest in a DSLR, for me a good photograph depends less on the camera itself; other factors, such as lighting and composition, come first. I prefer indirect morning light, less yellow than full sun and no harsh shadows, taking the time to position the elements of the still life into an arresting composition. Photography is no different than painting: just as eye contact will add visual impact to a portrait, composition will add strength to a still life. I take a few shots, playing with different angles. My camera is set to macro, no flash, usually with self-adjusting white balance.

For a background, I use plain white paper. Later, in post, when I brighten (curves) and white-balance, it's generally a useful guide. My photographs rarely boast pure-white clarity, but I reason it's better to have a greyish background than an oversaturated, overbrightened image. (In fact, I just barely desaturate.)

That's all there is to it.
12/25/2012 [3]
Fashion Notes: Native Textiles
by Li Wen
As the birthplace of the China's modern textiles industry, the originating port of Chinese silks to the outside world, Shanghai has the reputation of being the country's fashion capital (barring Hong Kong, whose return from British rule belongs to recent memory).

So it is ironic that for decades in the latter half of the 20th century, Shanghai was reduced to low-cost processing for international clothing and footwear brands. Its tailors flocked overseas, many to HK, finding little native market for their handiwork during the austere years of the Cultural Revolution. Its mills and factories turned out workmanlike, unflattering garments indistinguishable from one another by the container-full.

Taste languished. And I fear, discernment, too. It was a sad, sad time for lovers of fashion.

But no more, it seems.

Whereas a mere decade ago, my parents and I would be hard pressed to find anything to wear in Shanghai that was both to our taste and not from a foreign brand, I have been delighted to discover in the last few years an increasing number of exciting, locally designed fashion labels.

Here are my top three favourite Chinese boutique brands, all of which combine beautiful natural fabrics with elegance, comfort, and youthfulness.




* * *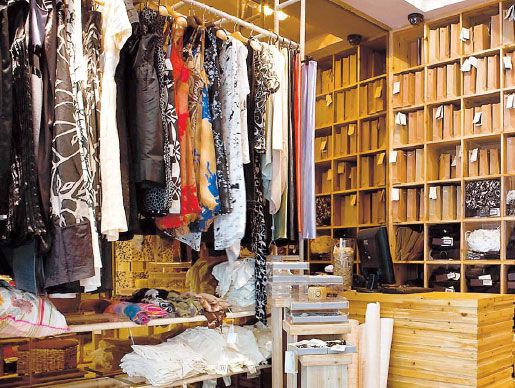 Aesthetic: casual staples with Chinese influenced detailing
Features: ethical business model, focus on natural and sustainable materials
Fabrics: cotton, modal, silk, bamboo, wool, cashmere
Personal favourites: silk blouses, cashmere jumpers, maxi dresses
NuoMi is currently having its
holiday sale
, with clothing up to 50% off. So if you happen to be in Shanghai, think about checking it out at Xinle Lu, Biyun Lu, Wujiang Lu or Changning Lu.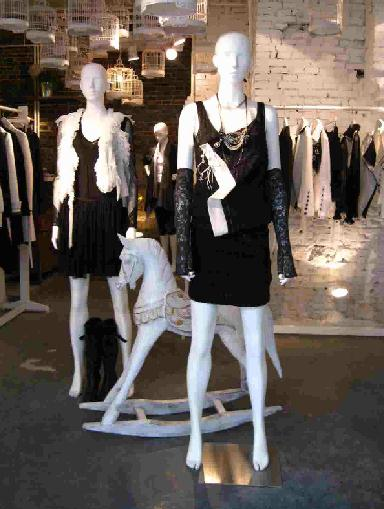 Aesthetic: monochromatic urban chic, Balmain meets Haider Ackermann
Features: draping and layering, unconventional and asymmetric cuts
Fabrics: silk, cotton, lots and lots of wool
Personal favourites: extremely well-tailored trousers, fitted silk dresses, long-sleeved tops for layering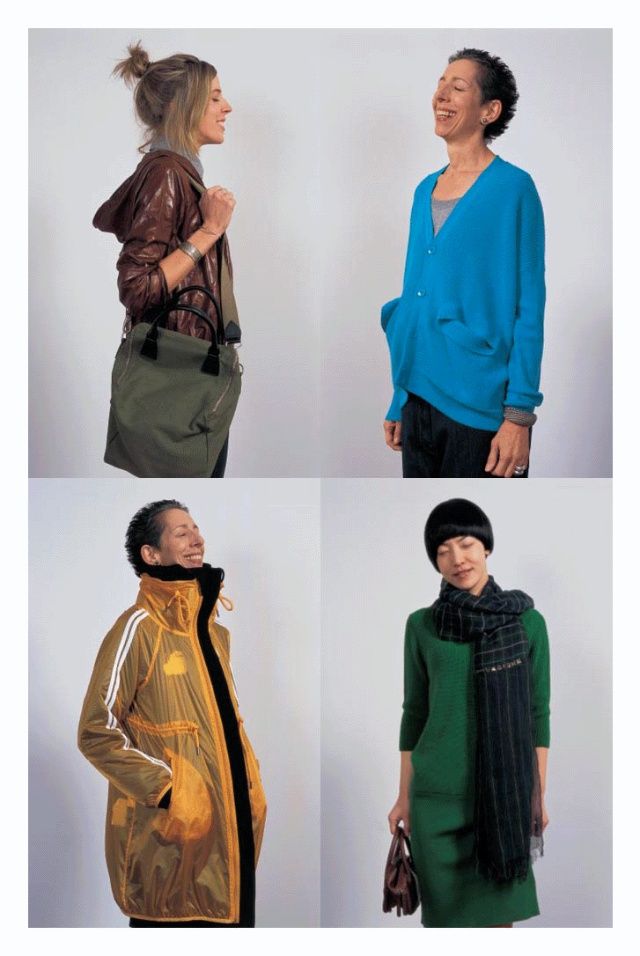 Features: bright primary and secondary colours; fun, graphic prints
Fabrics: wool, camel, organic cotton, silk
Personal favourites: colourful winter coats, sportswear-inspired dresses
Noteworthy mention:
Silk King
, which carries on Shanghai's tradition of silk and garment trade. Its branches are ubiquitous across Shanghai, but I especially recommend its multi-story flagship store on Nanjing Road, which offers the widest range of products - including fabrics, bedding, scarves, readymade and tailored clothing, sleepwear, etc. - and the best service.
Labels: fashion notes, jade en plus, nuomi shanghai, shanghai, silk king, zuczug
12/21/2012 [4]
Beauty Notes: Back To Basics
by Dain
These are the products that go into my 'zero face', the unmakeup.



Chanel Poudre Universelle // Dermablend Cover Creme // Make Up For Ever Lift Concealer // Laura
Mercier Brow Definer // Majolica Majorca mascara // Stila brow pen // RMS Smile // Becca Wild Orchid


At minimum, I dab Make Up For Ever Lift Concealer around my eyes. Functionally, it's not very different from Touche Eclat, the brightener that spawned all others, only more economical—the white pigment, peachy undertone, slightly dewy finish—to counteract the olive-tinged sallowness I get. Sometimes, I add a sheer dusting of Chanel Poudre Universelle, which diffuses textural imperfections and just barely brightens my skin. It's particularly nice under flash photography.

And that's it, most days. Because I'm sensitive to a number of silicones, I cannot wear the majority of foundations, every day. Luckily, my skin is good—not perfect—but good enough I can skip foundation, though this means my skin will never look as even and polished. It helps if I stay away from liquid formulations. Even if the formula contains some silicone, as Lunasol Skinfusing Powder Foundation (not shown) does, it's less reactive in a dry powder than in an aqueous solution, plus it makes up for my lack of skill when it comes to application. The finish on Lunasol Skinfusing is softer and creamier than most, and after a few moments it settles into the skin beautifully, looking much like a liquid. To my eye, it's not absolutely naturalistic, because to my eye a uniformity of tone isn't natural, but to give a very formal, editorial look to the skin, it serves a purpose (work, for example), and the yellower-than-an-exact-match knocks back ruddiness and blends into my much yellower neck better.

Call it concealer or cream foundation, high coverage is my preferred weapon of choice. Poudre Universelle is my 'whatever, no one cares' base, Lunasol Skinfusing, a concession to formality, but Dermablend Cover Creme is serious, proper makeup. It's time-consuming: carefully targeting all those little marks, buffing in product with the Laura Mercier Finishing Eye, then blending the edges (and softening any cakiness) with a damp Beauty Blender. It also gives the illusion of evenness, as allover foundation does, yet looks far more natural since most of the skin is left bare. The trick is to find an exact textural match to your skin, so it blends invisibly, luckily the case for me and Dermablend.

I'm fussiest when it comes to brows. I pluck around the natural shape, every elimination a considered decision. Since the hairs do not grow in the same direction, if I'm overzealous, the downward-pointing hairs become obvious. I've long been a fan of Laura Mercier Brow Definer, a brow wax that tints the hairs for subtle definition, but lately I've been Stila Stay All Day Waterproof Brow Color, which allows me to draw in individual shadows: it fills in sparse areas better.

By contrast, I could care less which mascara I use. As long as it holds a curl, I'm satisfied.

Somewhere in between makeup and unmakeup, the right shade of blush, in a cream formula for ease of use, brightens the skin. Like most people, I'm a mix of undertones, namely pink and yellow (peach, overall), so I'll flip flop between the cool rose of Becca Wild Orchid, my longtime favorite, and RMS Smile, a dewy coral, as my lipstick dictates.



Labels: beauty notes, becca, chanel, dermablend, laura mercier, lunasol, make up for ever, rms, stila
12/17/2012 [1]
Culture Notes: Ginger-Soy Salmon
by Dain
This is adapted from the traditional Korean marinade of soy sauce and sugar; I've added ginger and lime to add extra brightness to the fish. It's dead simple, barely a recipe at all.



Makes enough for two servings.
fillets of salmon, 1-1 ½ lbs
1 tbsp olive oil

1 tbsp sugar
2 tbsp thinly sliced ginger
2 tbsp rice wine, use sake or mirin
2 tbsp soy sauce
the juice of 1 lime
Be generous with the ginger, the lime. Even if their presence seems strong when you taste, it will barely cut through the soy sauce once the salmon is fully cooked. Bring the ingredients for the marinade to a boil, until slightly reduced. Fifteen minutes should be sufficient. Remove the ginger.

You may use frozen fillets for convenience. Though fresh is optimal for flavour, the marinade is potent enough it does not matter, especially if you're in the mood for a quick and easy dinner. There is sufficient salt from the soy sauce, so sprinkle with pepper only. Add fresh herbs (dill, cilantro, parsley, lemon zest) if you so desire. Oil the pan. Place salmon in a single layer, pour in the marinade, then cover with foil to seal in moisture. Bake at 350° for twenty minutes, then five minutes at 400° just to brown, keeping your eye on the fish that it not dry out.

I usually make some brown rice and a simple salad, as the fish will come out very flavourful. Another good addition is broccoli soup: steamed broccoli and a handful of parsley blended with lashings of olive oil.

Labels: culture notes
12/11/2012 [2]
Beauty Notes: Hi-Contrast
by Dain

Laura Mercier Deep Night // Fyrinnae Shenanigans // Sleek Pink Parfait // Hourglass Nocturnal


You can't get much simpler than my eye shape. There's nothing to enhance, nothing to correct. For years, I've relied on a drearily narrow range of techniques—a rounded wash or or a smudge of eyeliner—with most of the variation deriving from a colorful palette, rather than placement. That's why I'm excited to share this: for once it's something new. While playing idly with brush and pigment one day, I shaded the inner corner with an inky matte, instead of the usual highlight.

Now, I have no reason to highlight the inner corner. My eyes are wide set, the inner corner shallowly recessed, so highlighting does me no favors, and looks rather awkward. Even so, a darkened inner corner goes against the grain of convention; the number of looks that take advantage of an inner-corner highlight, which balance smoky eyes and gradations both, is beyond count. But on my eye shape, a central highlight is most flattering, and darkening that inner corner emphasizes that. It creates the illusion of dimension (along the z-axis), far more effectively than contouring, while opening up and rounding out the eye (y-axis).



I draw the outer corner first, which, as you can see, resembles a classic wing, its bottom edge following an extension of the lower lashline, much like a flick or winged eyeshadow. Blend, if necessary. Towards the inner corner, I line as I would for a gradation—covering the mobile lid, barely peeking out as liner once the eyes are open, all the edges soft and smoky. Then, I start to shade the inner corner. Until you add the central contrast, this will look extremely odd. Don't fret. As long as the curves of the top edges connect, it'll work out.

Drop a contrasting pigment onto the center of the lid. You'll build the sharpest contrast if using both color and finish to your advantage. The antique bronze of Fyrinnae Shenanigans is certainly a tonal contrast to Deep Night, a navy, but it is also a textural contrast, since one is a metallic laced with rainbow sparkles and the other an absolute matte.

There isn't much to say about the bottom lashline, though it should be noted you can move the accent wherever you'd like.



Laura Mercier Black Plum // Sleek Guipure // YSL #206 Grenat Satisfaction


Personally, I prefer high contrast. It allows me to play with a dramatic two-tone eye, instead of a single wash or smudge of vibrant liner. Furthermore, since the darker pigment is usually quite neutral and matte, it makes experimenting with difficult colors, such as the golden coral Sleek Guipure, infinitely more wearable.



the expresso from Guerlain Les Verts // Stila Diamond Lil //
the powder blue from Shiseido Opera // Sleek Crochet // Guerlain Chamade


When the pigments are similar in tone and texture, the effect is subtler. Though blue and brown are contrasting colors, I used a taupe, Diamond Lil, as a transition shade. Since the degree of shimmer is roughly equivalent, between Diamond Lil and Opera, the final look loses some visual impact, but it also makes a seamless shift from brown to pastel blue—not an easy transition under normal circumstances. Even so, I think this picture illustrates that this placement works best with strong contrasts.

A final possibility, which I've not attempted, this placement done entirely in neutrals, but with high-contrast finishes.

Labels: beauty notes, fyrinnae, guerlain, hourglass, laura mer, shiseido, sleek, stila, ysl
12/06/2012 [1]
Subscribe to
Posts [Atom]. Or
follow on bloglovin'. If
you'd like to contact Dain,
feel free to email me.
I'm also on Pinterest.
Features

The Mnemonic Sense
Most Wanted
The Beauty Primer
Lookbook
Bestsellers
Consumer Diaries
Closet Confidential
On The Label
Beauty Notebook
The Hit List
Color Me In
The Makeup Artist
Wedding Bells
Globe Trotter
Desert Island
perfume notes
beauty notes
fashion notes
culture notes
minimalism
chypre arc
floral arc
fresh arc
masculines arc
gourmands
& orientals arc
Archives

August 2008
September 2008
October 2008
November 2008
December 2008
January 2009
February 2009
March 2009
April 2009
May 2009
June 2009
July 2009
August 2009
September 2009
October 2009
November 2009
December 2009
January 2010
February 2010
March 2010
April 2010
May 2010
June 2010
August 2010
September 2010
October 2010
November 2010
December 2010
January 2011
February 2011
March 2011
April 2011
May 2011
June 2011
July 2011
August 2011
September 2011
October 2011
November 2011
December 2011
January 2012
February 2012
April 2012
May 2012
June 2012
July 2012
August 2012
September 2012
October 2012
November 2012
December 2012
January 2013
February 2013
March 2013
June 2013
July 2013
Images

Photobucket