Announcements
If you're new to this blog, then read our guides to the basics: Skin (Part I), Skin (Part II), The Supernatural, Color Theory I, Color Theory II, Eyes, and Brushes.

Also, check out the blogsale.
Contents
· Desert Island: My Ideal Bookshelf (Li Wen)

Favored

Art Tattler
the glamourai
The Non-Blonde
Perfume Shrine
Lisa Eldridge
Garance Doré
Smitten Kitchen
Into The Gloss
Grain de Musc
Lacquerized
Res Pulchrae
Drivel About Frivol
The Selfish Seamstress
Killer Colours
Bois de Jasmin
Glossed In Translation
Jak and Jil
Toto Kaelo
Worship at the House of Blues
I Smell Therefore I Am
Food Wishes
The Natural Haven
Messy Wands
1000 Fragrances
Moving Image Source
Wondegondigo
The Emperor's Old Clothes
M. Guerlain
Colin's Beauty Pages
Barney's jewelry department
Parfümrien
loodie loodie loodie
The Straight Dope
Sea of Shoes
London Makeup Girl
Sakecat's Scent Project
Asian Models
Ratzilla Cosme
Smart Skincare
Illustrated Obscurity
A.V. Club
Tom & Lorenzo: Mad Style
Eiderdown Press
Beauty and the Bullshit
La Garçonne
Flame Warriors
Everyday Beauty
Fashion Gone Rogue
Now Smell This
Dempeaux
Fashionista
The Cut
A Fevered Dictation
Nathan Branch
101 Cookbooks
Desert Island: My Ideal Bookshelf (Li Wen)
by Li Wen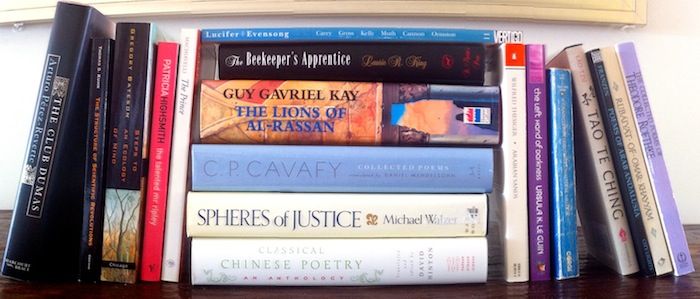 The earliest books I read in English were Mr. Men and Little Miss.* It was December 1992, and I had just moved from Shanghai to Sydney to live with my father. My command of English was basic; I had not yet started primary school. Every trip to the supermarket, I would pick up a couple of these plainly illustrated children's books at check-out (a dollar each), then cajole dad to read them aloud to me when we got home. Within a year, I'd graduated to Enid Blyton and C.S. Lewis; they were my window into how this Anglo society I was now living in functioned, my first measuring stick for the known world. I retain, to this day, a fondness for proper afternoon teas and sardines on toast.

Books are disarmingly like people**. Some are invaluable companions and guides. Others make you laugh, or feel less alone. Some books are charlatans, luring you in with false promises, only to try to fool you with lies and bad logic. Exposure to liars is useful, helping to develop reasoning and argumentation, but you don't want those liars near you for too long, even if they are popular. From those closest to you, you want to be moved. You want to be enlightened and challenged. You want to be surprised.

I went to an Anglican girls' school, where there was little room for history that wasn't the Reformation and the Tudor kings and queens, so the first time that I read The Lions of Al-Rassan, and learnt about Moorish Spain, it was like I had discovered a world that was previously unknown. Through the accounts of early 20th century European explorers who fell in love with Arabia (Freya Stark, Wilfred Thesiger), I too became smitten. I rebelled against Western-centric history and responded to my resentment over its brushing over of China by wanting to learn about the Others in their own words. Classical poetry - songs of the individual and the everyday - was one avenue.



Donna Quesada, Daoism (1/9)


I am not religious, or even remotely interested in mysticism in the conventional sense. The philosophical ideas of Daoism (or Taoism) came into my life when I was disillusioned with the binary thinking that characterised all the legal and political philosophy that I'd studied at university. All the while that my mind felt trapped and besieged, I was still thinking within a paradigm that didn't have the words to express my struggle, until I started to read Tao Te Ching and its commentaries. For a crash course on Daoism that doesn't reduce the philosophy to soft mysticism (as many comparative religion courses do in the West, I've discovered), I recommend Donna Quesada's lectures on the subject. Cybernetics (Gregory Bateson, Norbert Wiener) and systems theory (Ludwig von Bertalanffy, Varela and Maturana), interdisciplinary fields that constitute a post-Newtonian science, seemed to be logical progressions from that line of thought.

My interests are very broad, so I read from a lot of different subjects and genres. Romantic love and sex, and angst about the same, is a notable exception. It was in my late teens that I started to understand my own asexuality. Tom Ripley (as Highsmith wrote him, not as he was portrayed in the Minghella film), murderer and sociopath though he is, remains one of my literary heroes; the first character I came upon that I recognised, in sweet relief, that Yes, he is like me. Laurie R. King's heroine, in A Monstrous Regiment of Women, articulated another side of it: "For me, for always, the paramount organ of passion was the mind. Unnatural, unbalanced, perhaps, but it was true: Without intellect, there could be no love." My bookshelf is a microcosm of how I think and love.


Left: The Club Dumas,

Arturo Perez-Reverte;

The Structure of Scientific Revolutions,

Thomas S. Kuhn;

Steps to an Ecology of Mind,

Gregory Bateson;

The Talented Mr. Ripley,

Patricia Highsmith;

The Prince,

Niccolo Machiavelli


Centre: Lucifer, Mike Carey and Peter Gross; The Beekeeper's Apprentice, Laurie R. King; The Lions of Al-Rassan, Guy Gavriel Kay; Collected Poems of C. P. Cavafy, translated by Daniel Mendelsohn; Spheres of Justice, Michael Walzer; Classical Chinese Poetry: An Anthology, translated by David Hinton
Right: Arabian Sands

, Wilfred Thesiger;

The Left Hand of Darkness

, Ursula K. Le Guin;

A Canticle for Leibowitz

, Walter M. Miller Jr.;

Tao Te Ching

, translated by Stephen Addiss and Stanley Lombard;

Poems of Arab Andalusia

, translated by Cola Franzen;

The Rubaiyat of Omar Khayyam

, Edward Fitzgerald;

The Collected Poems of Theodore Roethke

*This series is based on My Ideal Bookshelf, edited by Thessaly La Force and illustrated by Jane Mount.
**And books should be treated as such. While I stand vehemently against censorship in principle, I maintain that there is a vast gulf between "having the right to say something" and "saying something that is right".

Labels: desert island, guy gavriel kay, laurie r. king, patricia highsmith
2/02/2013 [12]
Subscribe to
Posts [Atom]. Or
follow on bloglovin'. If
you'd like to contact Dain,
feel free to email me.
I'm also on Pinterest.
Features

The Mnemonic Sense
Most Wanted
The Beauty Primer
Lookbook
Bestsellers
Consumer Diaries
Closet Confidential
On The Label
Beauty Notebook
The Hit List
Color Me In
The Makeup Artist
Wedding Bells
Globe Trotter
Desert Island
perfume notes
beauty notes
fashion notes
culture notes
minimalism
chypre arc
floral arc
fresh arc
masculines arc
gourmands
& orientals arc
Archives

August 2008
September 2008
October 2008
November 2008
December 2008
January 2009
February 2009
March 2009
April 2009
May 2009
June 2009
July 2009
August 2009
September 2009
October 2009
November 2009
December 2009
January 2010
February 2010
March 2010
April 2010
May 2010
August 2010
November 2010
December 2010
January 2011
March 2011
August 2011
September 2011
October 2011
November 2011
December 2011
January 2012
February 2012
June 2012
July 2012
August 2012
September 2012
October 2012
December 2012
January 2013
February 2013
March 2013
June 2013
July 2013
Images

Photobucket