Announcements
If you're new to this blog, then read our guides to the basics: Skin (Part I), Skin (Part II), The Supernatural, Color Theory I, Color Theory II, Eyes, and Brushes.

Also, check out the blogsale.
Contents
· Glossies: Lucky

Favored

Art Tattler
the glamourai
The Non-Blonde
Perfume Shrine
Lisa Eldridge
Garance Doré
Smitten Kitchen
Into The Gloss
Grain de Musc
Lacquerized
Res Pulchrae
Drivel About Frivol
The Selfish Seamstress
Killer Colours
Bois de Jasmin
Glossed In Translation
Jak and Jil
Toto Kaelo
Worship at the House of Blues
I Smell Therefore I Am
Food Wishes
The Natural Haven
Messy Wands
1000 Fragrances
Moving Image Source
Wondegondigo
The Emperor's Old Clothes
M. Guerlain
Colin's Beauty Pages
Barney's jewelry department
Parfümrien
loodie loodie loodie
The Straight Dope
Sea of Shoes
London Makeup Girl
Sakecat's Scent Project
Asian Models
Ratzilla Cosme
Smart Skincare
Illustrated Obscurity
A.V. Club
Tom & Lorenzo: Mad Style
Eiderdown Press
Beauty and the Bullshit
La Garçonne
Flame Warriors
Everyday Beauty
Fashion Gone Rogue
Now Smell This
Dempeaux
Fashionista
The Cut
A Fevered Dictation
Nathan Branch
101 Cookbooks
Glossies: Lucky
by Dorothy


I grew up reading fashion magazines -- as, I expect, did many if not most women. As I've mentioned before, I'm fascinated by the way people write about fashion and beauty, how we conceptualize it, how we imagine it fitting into our lives. Also, I like to bitch about writing. Hence, a new series.

Lucky is put down as a "magalog", something less worthy than the ordinary run of women's magazines, but honestly,

all

women's magazines push product after product, they are beholden to advertisers after all, and I don't want to read much of what's in the ordinary run of women's magazines. I don't want to learn about new parts of my body that need "sculpting". I don't want to read sex tips aimed at barely post-virginal 18-year-olds (guess what, you can do it in more than one position!), learn what 21-year-old Mike from Oklahoma thinks about jealousy, or take quizzes for which the "correct" answers are both painfully obvious and stiflingly normative. More fashion-oriented magazines, like

Vogue,

have more appeal, but I tend to want to read about clothes I might actually, conceivably wear, they occasionally seem to fetishize the extremely long, lean bodies of their models, and the pretentiousness can get wearing; trends that last all of six months are not art nor do they signal major shifts in cultural consciousness.

No, when I buy a fashion magazine I want to look at pretty things I can't afford but might conceivably want, and

Lucky

provides that. To me,

Lucky

is the magazine equivalent of "fun" makeup lines like Tarte, Too Faced, BeneFit, and even MAC -- it presents fashion and beauty as pleasures, without the focus on shaming and correction that comes with more "traditional" lines and magazines. (My mother has and has always had beautiful skin, but decades ago a cosmetics saleswoman reduced her to tears by corralling her and pointing out "flaws" and "aging" she didn't know she had. I am pretty confident that this will never happen to me, and thank goodness.)

And I will say, if you like the

Lucky

aesthetic, the magazine does a very good job.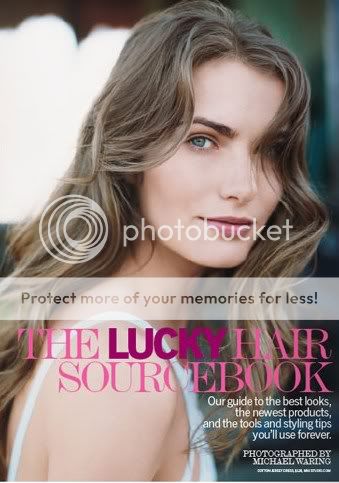 Above, from the May 2009 issue, an example of the

Lucky

beauty aesthetic.

Lucky

very seldom strays from this look: tousled hair, minimal or "natural" makeup. Even when promoting bright colours,

Lucky

sticks to its script. From the April issue: "Since full-throttle red [lipstick] is best on a practically bare face, you can skip other makeup almost entirely."

Fine, but this is not the

only

way to wear red lipstick, not to mention that red lipstick tends to necessitate at least some concealer and brow definition.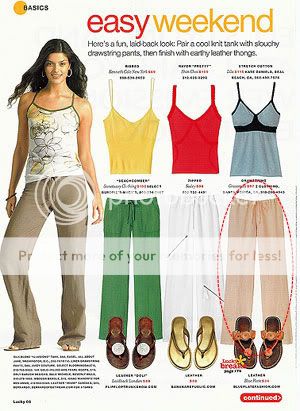 Leaving aside the mild absurdity of explaining how to wear drawstring pants and flip-flops (oh no, am I doing it wrong?), I

do

like the way Lucky lays out their fashion spreads; it's tremendously appealing eye candy. I don't want to look at models, I want to look at clothes, and it appears a lot of women feel the same way. The

Lucky

fashion aesthetic, however, is somewhat frustrating. The magazine tends to promote very loose, baggy clothing, often bizarrely layered; as Erin at Dress A Day once put it, "their stylists are colorblind pranksters hellbent on playing 'exquisite corpse,' only with innocent clothes." The

Lucky

editors flock to anything oversized, especially if it's unflattering. I'm sorry, no adult woman should wear a romper, and I refuse to pretend that clothes that obscure the waist or radically enlarge the hips -- harem pants, giant blousons, oversized shift dresses -- are anything but awful on the vast majority of us.





Then there are the verbal tics. I would love to see a

Lucky

issue that didn't abuse any of the following words: "so", "perfect", "Parisian", "French-girl", "British", "twist", "timeless", "so, so", "universally flattering", "chic", "brilliant[ly]", and I'm sure there are half a dozen I've missed. Virtually synonymous with this silliness (everything is not Parisian!) is the name of Jean Godfrey-June,

Lucky's

beauty director.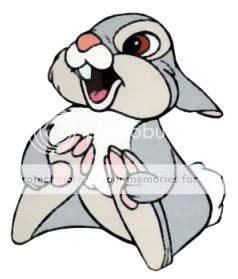 Writing about beauty can be really challenging, and must be especially so when one has advertisers to please and is therefore duty-bound to say something nice. But Jean Godfrey-June's flights of vaguely positive fancy are particularly transparent and therefore particularly annoying. For example, here's her mini-review of Chanel's UV Essentiel sunscreen, again, from the April 2009 issue:

"Tinier and chicer than even an iPod, this throw-it-in-your-bag-and-you're-suddenly-10,000-times-more-fabulous sunscreen is bound to increase 'compliance' (as dermatologists like to say) by about six trillion percent."

What I get from this is that for $48 USD, you get a tiny amount of product so unremarkable that she couldn't even be bothered to mention anything but the packaging. Great. Also, the reason I don't tend to reapply sunscreen as often as I should has nothing to do with the absence of "fabulous" packaging and everything to do with the fact that I don't relish the idea of walking around with multiple layers of grease and powder on my face, nor do I want to re-do my makeup in the middle of the day. In conclusion, what the hell.

And yet I continue to buy the magazine, when I buy fashion magazines at all, which these days is pretty rare. I think it's because of what I noted above; I might not like the

Lucky

aesthetic or vocabulary, but I like the basic attitude, and it's rare that I can say that about a mainstream fashion magazine.
4/06/2009 [11]
Subscribe to
Posts [Atom]. Or
follow on bloglovin'. If
you'd like to contact Dain,
feel free to email me.
I'm also on Pinterest.
Features

The Mnemonic Sense
Most Wanted
The Beauty Primer
Lookbook
Bestsellers
Consumer Diaries
Closet Confidential
On The Label
Beauty Notebook
The Hit List
Color Me In
The Makeup Artist
Wedding Bells
Globe Trotter
Desert Island
perfume notes
beauty notes
fashion notes
culture notes
minimalism
chypre arc
floral arc
fresh arc
masculines arc
gourmands
& orientals arc
Archives

August 2008
September 2008
October 2008
November 2008
December 2008
January 2009
February 2009
March 2009
April 2009
May 2009
June 2009
July 2009
August 2009
September 2009
October 2009
November 2009
December 2009
January 2010
February 2010
March 2010
April 2010
May 2010
August 2010
November 2010
December 2010
January 2011
March 2011
August 2011
September 2011
October 2011
November 2011
December 2011
January 2012
February 2012
June 2012
July 2012
August 2012
September 2012
October 2012
December 2012
January 2013
February 2013
March 2013
June 2013
July 2013
Images

Photobucket