Announcements
If you're new to this blog, then read our guides to the basics: Skin (Part I), Skin (Part II), The Supernatural, Color Theory I, Color Theory II, Eyes, and Brushes.

Also, check out the blogsale.
Contents
· Fashion Notes: Fall 2009 Shopping List (The Kindly One)

Favored

Art Tattler
the glamourai
The Non-Blonde
Perfume Shrine
Lisa Eldridge
Garance Doré
Smitten Kitchen
Into The Gloss
Grain de Musc
Lacquerized
Res Pulchrae
Drivel About Frivol
The Selfish Seamstress
Killer Colours
Bois de Jasmin
Glossed In Translation
Jak and Jil
Toto Kaelo
Worship at the House of Blues
I Smell Therefore I Am
Food Wishes
The Natural Haven
Messy Wands
1000 Fragrances
Moving Image Source
Wondegondigo
The Emperor's Old Clothes
M. Guerlain
Colin's Beauty Pages
Barney's jewelry department
Parfümrien
loodie loodie loodie
The Straight Dope
Sea of Shoes
London Makeup Girl
Sakecat's Scent Project
Asian Models
Ratzilla Cosme
Smart Skincare
Illustrated Obscurity
A.V. Club
Tom & Lorenzo: Mad Style
Eiderdown Press
Beauty and the Bullshit
La Garçonne
Flame Warriors
Everyday Beauty
Fashion Gone Rogue
Now Smell This
Dempeaux
Fashionista
The Cut
A Fevered Dictation
Nathan Branch
101 Cookbooks
Fashion Notes: Fall 2009 Shopping List (The Kindly One)
by The Kindly One
As with most things I do, I've taken the charge to compile a fall shopping list less literally and more conceptually. Rather than specific items I intend to buy, my list focuses on the overall idea of what I want to purchase. I can get bogged down quickly in trying to find the "perfect" item, whether it be in clothing, makeup, decorating, whatever. While it's nice to find clothing that fits and flatters, obsessing to the inth degree on fit, fabric, and whether the item looks just like Ashley Olsen's (and makes me look like Ashley Olsen) isn't healthy or necessary. Clothing either fits or it doesn't, and beyond that, the thing is to find those things that make you smile and feel more like yourself when you put them on. The following are a list of items that have always flattered and made me smile and that I hope to find again.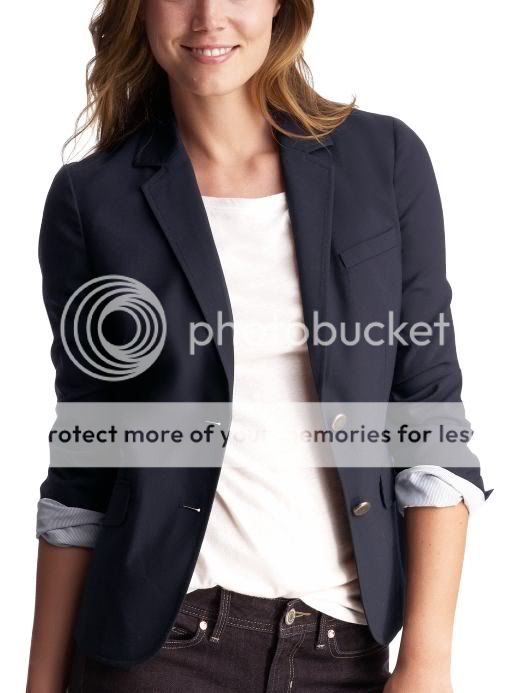 I tried this shrunked blazer on at the Gap and was amazed at how well it fit. Generally their clothes don't fit me - too baggy, too bulky, too much of an "American cut" (as if Americans have weird bulges and sags randomly popping out of their bodies). Regardless, this blazer avoids the typical Gap fit pitfalls. It's cut narrow to the torso, nicely giving my narrow shoulders definition without overemphasizing them (see: every Balmain collection). It falls square at my hip and looks good buttoned and unbuttoned, which I find remarkable rare in jackets of any kind. The catch? The Gap in my area didn't have my size, and I'm not too much of a blazer fan. So instead of reverting to my usual obsessing over trying to find another perfectly fitting blazer, I'm going to take this as inspiration: With a whole lot of effort, it is possible for me to find flattering jackets. I hope to carry this enthusiasm all the way into finding a jacket that fits and works for me.




I cannot be bothered to wear jewelry. I just don't like the weight of it, and I have so many skin sensitivities that it's easier to bypass wearing it in the hopes of staving off an allergic reaction. While I could try harder to work with jewelry, at some point you have to accept your limits. It just isn't a priority for me, no matter how dressed up I'm meant to be. However, I can always work a great scarf and often do, hence the inspiration taken from Ashley Olsen (back) in a scarf over her evening wear. It's easy enough to tell, even from this distance, that it's quite a posh scarf. As such, it works with her outfit, maintaining its general air of luxury and minimal elegance. It's now a fashion goal of mine to find an oversized, really nice scarf that can work on the level of evening wear. This excites me to a degree that could never possibly be matched by a fine jewelry purchase, plus this choice of accessory is far more "me" than jewelry.



I've been on the lookout for a great pair of knee-high boots for years. I'd like something a bit strappy like this. Essentially, when I find the right pair of boots, I'll know them when I see them. In addition to these, I'm pretty open to lace-up boots and very minimal pairs. Just no cowboy or motorcycle boots - the soles just kill me.



I'm also on the lookout for a very nice, nicely fitted "background" sweater, like the one Ashley Olsen wears here. Again, I'm open to a variety of options. Rather than finding a particular type of sweater, I'm more interested in finding a neutral sweater in a soft knit and texture (no ramies, no cable knits) that skims the torso, fits well, and serves as a nice, basic grounding piece for jackets and scarfs. It sounds simple. I am having a hell of a time acheiving this feat. There are masses of "basics with a twist" out there - sweaters with empire waists, puffed sleeves, strategic cutouts. However, try finding a simple, straight-down-the-line basic (even more difficult, one without animal fibers) and it's like looking into the abyss.



Here's how much I dislike wearing jewelry: should anyone ever propose to me, I don't want an engagement ring. Call me naive, but the engagement is enough, thanks. Jewelry would not help me to seal the deal.

The only jewelry I can stand to wear is a watch, without which I feel naked and lost. I've worn watches since I was six years old. I am used to having them to fiddle with and distract me. They are the only type of fine jewelry that excites me and catches my attention. My particular favorite is the Movado Museum style, black dial with gold detailing. This manages at once to be both a very posh looking watch and to blend into the background. It screams luxury, not bling. As such, it wouldn't be out of place with a laidback outfit or something a bit more posh, such as the elements laid out in the post. Worn oversized, I think it could even serve as a great offkey bracelet with evening wear, and unlike a diamond choker, chandelier earrings, or a cuff bracelets, I'd actually wear it. While I can't say I need a watch - I have two as it is - one this nice would allow me to incorporate jewelry to the limit of my interests and keep evening/party outfits from looking quite so bare.*

*Of course, these reasons are just conceits. I really just want a nice watch in black and gold. Desire: it is what it is.

Labels: ashley olsen, fashion notes, gap, movado, shoes
9/25/2009 [2]
Subscribe to
Posts [Atom]. Or
follow on bloglovin'. If
you'd like to contact Dain,
feel free to email me.
I'm also on Pinterest.
Features

The Mnemonic Sense
Most Wanted
The Beauty Primer
Lookbook
Bestsellers
Consumer Diaries
Closet Confidential
On The Label
Beauty Notebook
The Hit List
Color Me In
The Makeup Artist
Wedding Bells
Globe Trotter
Desert Island
perfume notes
beauty notes
fashion notes
culture notes
minimalism
chypre arc
floral arc
fresh arc
masculines arc
gourmands
& orientals arc
Archives

August 2008
September 2008
October 2008
November 2008
December 2008
January 2009
February 2009
March 2009
April 2009
May 2009
June 2009
July 2009
August 2009
September 2009
October 2009
November 2009
December 2009
January 2010
February 2010
March 2010
April 2010
May 2010
August 2010
November 2010
December 2010
January 2011
March 2011
August 2011
September 2011
October 2011
November 2011
December 2011
January 2012
February 2012
June 2012
July 2012
August 2012
September 2012
October 2012
December 2012
January 2013
February 2013
March 2013
June 2013
July 2013
Images

Photobucket