Announcements
If you're new to this blog, then read our guides to the basics: Skin (Part I), Skin (Part II), The Supernatural, Color Theory I, Color Theory II, Eyes, and Brushes.

Also, check out the blogsale.
Contents
· Consumer Diaries: February 2009

· Culture Notes: The 90s

· Culture Notes: The Hills

· Most Wanted: The Portrait of a Lady

· Beauty Notebook: Los Angeles, I'm Yours

· Perfume Notes: Guerlain Vol de Nuit

· Beauty Notes: How To Look Good Smiling

· Beauty Notes: Promised Land

· Beauty Notes: Let The Right Ones In

· The Mnemonic Sense: Arts and Crafts

· NARS: The Agony and the Ecstasy

· Beauty Notes: Hair Days

· Fashion Notes: The Best of Spring/Summer 2009

· Perfume Notes: YSL Opium

· Lookbook: Pure Mattes

· Beauty Notebook: Vero Profumo

· Sketchbook: The Kindly One

Favored

Art Tattler
the glamourai
The Non-Blonde
Perfume Shrine
Lisa Eldridge
Garance Doré
Smitten Kitchen
Into The Gloss
Grain de Musc
Lacquerized
Res Pulchrae
Drivel About Frivol
The Selfish Seamstress
Killer Colours
Bois de Jasmin
Glossed In Translation
Jak and Jil
Toto Kaelo
Worship at the House of Blues
I Smell Therefore I Am
Food Wishes
The Natural Haven
Messy Wands
1000 Fragrances
Moving Image Source
Wondegondigo
The Emperor's Old Clothes
M. Guerlain
Colin's Beauty Pages
Barney's jewelry department
Parfümrien
loodie loodie loodie
The Straight Dope
Sea of Shoes
London Makeup Girl
Sakecat's Scent Project
Asian Models
Ratzilla Cosme
Smart Skincare
Illustrated Obscurity
A.V. Club
Tom & Lorenzo: Mad Style
Eiderdown Press
Beauty and the Bullshit
La Garçonne
Flame Warriors
Everyday Beauty
Fashion Gone Rogue
Now Smell This
Dempeaux
Fashionista
The Cut
A Fevered Dictation
Nathan Branch
101 Cookbooks
Consumer Diaries: February 2009
by Dain
READING

It is a strange feeling to hold Rabbit, Run in my hands, with its author so recently dead. This is in itself a strange sentiment, considering that most writers are dead. But I feel solemn in a way that another, less remote passing would not muster, for he belongs to them now. Why is that writers, men of words, of eloquence and ideas, of rhetoric and conversation, gain their true power when the worms have robbed them of their power to utter a defense, an explanation, a thanks? Is it a kind of embarrassment, to acknowledge in the real and flesh-bound living a power which is, after all, the only immortality of our kind? Or perhaps, a simpler explanation is better suited here, that it takes us a few generations to listen well.

Once my roommate's retort cut off a stream of complaints about the people we had to deal with, "You prefer dead people anyway."

Whatever the case may be, RIP, John Updike.


DAUBING
Dorothy has mentioned the Velvet Matte Lip Pencils ($24) before, and beauty junkie that I am, I went a-seeking. These are fat pencils with excellent color payoff, which is a great combination (major drama + precise application), with a smooth silicone formula that lasts very long indeed. I got Damned (at left), a wonderful vibrant raspberry, which is pretty much my kind of red. Only caveats: the drier formula tends to drag on flakes, and it would be nice if it were self-sharpening (so you don't waste any). All the same, this shot to the top of heap as the definitive dramatic red lip in my arsenal. If I don't watch out, I might end up using NARS exclusively.

I'm really enjoying L'Occitane Shea Butter Ultra Rich Conditioner ($17). I don't quite understand why ultra-French grooming often smells of powder, and ultra-French powder smells like flowers, and why American brands have it the other way around, but I prefer it this way. Cheap fruity-floral fragrances piss me off. Oh yes, this conditioner. It works as quite well as other stuff in this price range that I've tried, mais il faut convaincre. My only real complaint is the fact that you can't put something that watery into a tube, because you will always squeeze out more than you need. It needs to go into a liter-sized pump.

EATING
I have finally crossed over to the dark side: I drink my coffee black now.


SNIFFING
Whatever Jolie Madame was once originally, the vintage never made a lasting impression on me (it may not be so now that my nose is better educated), but I've quite fallen in love with the reformulation. I know, I know anathema; both Tania Sanchez and Victoria of BoisdeJasmin make it abundantly plain that Jolie Madame is today a diminished creature, and I believe it, but all the same, I'm quite satisfied with this new one, especially at such surpassingly agreeable prices. It's not so important that I'll be willing to hunt down and then fight for the vintage. And the scent itself—sunshine, violets, and blond leather—is somehow both gorgeous and very polite.

Another mannerly leather favorite: Chanel Cuir de Russie. It's got plenty of birch tar, which is satisfyingly bitter on my sweet-amplifying skin (which makes things a little difficult in these sweets-loving times), then it shifts between iris-powder and warm-dirty-animalic that somehow hits all the right notes for me—my ultimate skin scent. Even leather lite reminds me how much more I prefer them to florals, and I am glad that that particular arc is approaching its end.

WEARING
No doubt my sniffings have been influenced by my latest acquisition:

I have this candy pink ruffled umbrella with a jagged, broken handle, which was once filled with a glitter-in-water suspension. It has provoked this response from a five-year-old girl, "Oh mommy, she has a pretty umbrella!" and this response from my good friend Ryan, "What, do you stab people with it?" It's true, there's a disjunct between my manners (frosty, aggressive) and my appearance (lace, chiffon, pastels, flowers, heels). All things considered, it is far easier to change your appearance than your manners. Consequently, I own very little that's "edgy" in my wardrobe. This grey leather jacket from the GAP makes a nice change. I've worn it over sharply tailored tweedy trousers and boots among these endless snows, but come spring, I'd like to update to a slim white jean—but from where?

WATCHING
Instructional, how-to videos are one thing, but uck, beauty reviews on youtube are sooo bad. It's not a topic, admittedly, for which the main attraction is an intellectual one, but somehow vlogging just brings the illiterate fucktards out of the woodwork. It's easy to be rude on the internet, but come on, Google doesn't make you an expert!

I've seen rather a lot of movies recently:
The Witches I remember watching this as a kid. "Chiiiiild..... is a mouse!"
The Phantom Tollbooth A much beloved book from childhood, reworked into trippy 70s animation, an excellent example of its kind. It's a book that lends itself well to animation, so it's relatively effective, even if they've changed the story around.
Marie Antoinette People I know, often the people with broad taste in movies, piss on this with such fervor I was expecting so much worse. It's just extremely shallow. Even if it's supposed to portraying a shallow existence, it's poorly executed for all its lush production values
Sex and the Single Girl The casting on this movie is almost pitch perfect: Lauren Bacall is an absolute joy as a jealous wife, Henry Fonda as her put-upon husband, Tony Curtis as a slimy, manipulative man whore, and Natalie Wood, bless her, I love her, but she's hardly convincing as a cold, career-driven psychologist (she might as well be wearing a "fuck me" sign).
Party Girl On the surface, it's all Old Hollywood: the costumes, the cinematographic montages, Cyd Charisse's dance numbers, the manner of speech, and Robert Taylor in his maturity reminds me a little of William Powell with less charm (I did like him in Camille, but by this late date (1958) the plot has become rather tacky. But its explicit treatment of violence and sex seems to anticipate things like The Godfather.
Belle de Jour French erotica is a curious phenomenon; for the most part, it seems like the equally blonde Brigitte Bardot essentially built a career showing body parts and behavior that would have been censored in Hollywood, which, when you return back to it within the context of a culture even more loose, seems an asinine way to do porno. So I was expecting visual titillation and very little else from this film, but I'm delighted to say this is honestly good. Not only is it eminently rewatchable, reinterpretable, but unlike Brigitte Bardot, Catherine Deneuve understands that eroticism is a whole different game from the sexual act itself. Though... she really wears too much makeup. It's rather alarming when you find that she's only 23, because that much greasepaint is really aging.
LISTENING


Billy Taylor explains some of the basic elements of jazz, and plays "Groovin' High", too. It's pretty funny when he says "it's gotta swing, no matter what else you do", and the white guy's like, yeeeeaaah. It reminds me of when Snoop Dogg lectured Larry King on the pronunciation of "gangsta".

WISHLIST

Only a little while ago, I wrote out my irritations about the general unreliability and indifferent performance of hair products. Somewhat to my surprise, I discovered I was not the only who was feeling frustrated, so here's a brief update.

Browsing in the local Blue Mercury, I was drawn to Thymes Sweetleaf Baby Body Wash and Shampoo ($16) because of its adorable bottle, its promises to be gentle (no sulfates, no parabens), and because it was on sale. Would this leave my thick, long adult hair a mess? Indeed, no, for an impulse buy I am very pleasantly surprised. For all its low lather, my hair emerged as clean and pristine as a nun, and when some accidentally dripped into my eyes, no adverse reaction whatsoever. The scent is powdery, which I'm not wild about, but it doesn't particularly bother me. The only real caveat is that I suspect it may flatten fine hair. I also discovered Ren Moroccan Rose Otto Ultra-Nourishing Body Oil ($65). It breaks me to say this, because the price is absurd, but this stuff rocks my world. More than a conditioner, I depend on a leave-in conditioner, but I've been stymied by petrochemicals and silicones that never get the job done correctly. This is an elegant, fast-absorbing, super softening blend of coconut (caprylic/capric triglyceride, more or less), rice germ, jojoba, macadamia, rose hip, argan, cranberry seed, sea buckthorn, and vitamin E oils, with a hearty dose of excellent rose extract among others. The price point turned me off a purchase at the time, so I went home with a sample, and found I may have to justify it. Very little is required to turn my hair instantly to silk, right there in my very hands, which are themselves made beautifully soft yet not at all greasy. The effects, furthermore, seem to be cumulative (but without build-up, it's just oil, not so-called "rinseable" silicones). An endless supply of this stuff, please.

Labels: balmain, billy taylor, chanel, consumer diaries, gap, john updike, l'occitane, nars, ren, thymes
2/28/2009 [6]
Culture Notes: The 90s
by Dain
I was born in 1985, which makes me 23 now. My first memory of history is a fuzzy image of the Berlin Wall going down, which means I belong to the first generation that has no real memory of the Cold War. Since we've seen a resurgence of all things 80s (walk into a Wet Seal some time and you'll see what I mean), the tacky retro thing is now the 90s, but in the past few months I've really gotten into Daria and it is such a 90s show, and it surprised me how good some of this stuff is. 90s music really saw the emergence of hip hop as a major cultural force, female musicians (as opposed to merely stars), and of course, all the new variations on rock, from heavy metal to garage bands to depressive acoustic.






I've collected about a CD's worth of songs (think of it as a mix from me to you) that demonstrate some of the best ideas to come out of the 90s, though technically some of them were released in the early noughties. Some of these songs have been chosen for pure nostalgic value and very little else, but others can stand proudly next to music from any era.

Labels: culture notes
2/25/2009 [4]
Culture Notes: The Hills
by The Kindly One
In my sketchbook, I listed The Hills as one of my favorite shows. There is a part of me that enjoys it for the pretty clothes and the general pretty girl vibe of the show. I don't have those elements in any other part of my life, and this show is really my only outlet for that. The other reason I watch the show is because I'm fascinated with the disconnect between what's ostensibly for show and what is really being revealed.

One of the most fascinating elements of The Hills is the cinematography. That show would not have reached the astronomical success it enjoys were its production level that of shows like The Bachelor. Cheap production values can be alienating and often devalue a story. Watch a high school version of West Side Story and you get the idea. The rich cinematography of The Hills works in an opposite way to draw viewers into the show. The photography is beautiful and compelling (I would watch it for that alone), and its lushness feeds into the idea of the whole upper middle class spectacle the show draws upon. I would argue that the cinematography, as well as the Los Angeles it films, are characters just as vital to the show as its stars, and when I watch the show, I always have a desire to ask the producers, "How did you know? How did you know the production value was key to transmitting the message of the show, or did you just stumble upon a lucrative coincidence?"

The Hills has also proven to be an educational show for me. Growing up in predominantly upper middle class environments without being a part of the culture myself, there were certain behaviors I observed that I never understood and, in ignorance and intimidation, always found irksome. Some of these include communicating in call-and-response (the listener repeating what you just said - "I got new Jimmy Choos." "Jimmy Choos."), wearing a constant, seemingly fake smile, and a resistance toward philosophical conversations. I always thought these behaviors were indication of a lack of intelligence or erudition and tended to dismiss people with these behavioral traits as fake and unfeeling. These observations might be true about some people. However, after a sad, pitiful excuse for a birthday last year which was marked primarily by wine and a Hills marathon, something clicked. After watching four episodes of The Hills in a row, I was able to get past the forms of behavior and see more into the actual people themselves. This is something bound to happen with anyone with whom you spend significant amounts of time, and there was something about watching back-to-back episodes without interruption that allowed me to see behavioral patterns as what they were, cultural indicators that facilitate the flow of communication. Whereas call-and-response was something I'd previously considered annoying, seeing it communicated over and over again helped me get past what I'd always considered to be the superficial nature of it to realize it's simply a way that this culture communicates. It's an affirmation, a signal that you're listening and share similar interests. Same with the other behaviors. There are many cultures that don't value externalizing feelings and deeper currents, and I'd say the upper middle class is one of them, hence the perma smiles and diversion from deeper conversation.

I also developed a realization regarding the depth of the characters.
One of my long-term assumptions has been that anyone who doesn't speak about his or her depths doesn't have them. Not necessarily so. There is an episode in the fourth season in which Audrina speaks about not being sure who she is anymore. She may have a smile on her face the whole time, but she's crying, and given her decisions leading up to this moment, I believe it. What struck me so much in that moment was the admission that she had an inner life and a personal depth unrelated to the shallow projections of the world around her. Had she not said this, it would not have occurred to me to think that of her. All her smiles mean nothing. They're just a way of facing the world.

Having had these insights, I've started watching The Hills in a different light. For one, I can now watch it (I had to give it up for all the stress of the drama). I am also watching less in judgement and more to see what I can learn and question. It's a lot more relaxing to go in with that attitude, I can tell you, and I doubt that has so much to do with that one show as it does with the attitude of judgement. There's very little relaxing about standing in strict disregard of another. So I enjoy watching it for the pretty sky, the color saturation, and the fluff of it. And I also watch it for those deeper notes, the ones under the surface describing the people within, who may or may not be the people on the outside.
Credit:MTV

Labels: culture notes, the hills
2/24/2009 [2]
Most Wanted: The Portrait of a Lady
by Dain
Dry, ponderous intellectuals, especially those who are dead, are normally my preferred company, but there is a slippery opacity to James' prose that leaves me at the bottom of a page, wondering what the hell just happened. When this kind of thing happens, one expects the abstruse, but when I circle back and reread, the language itself is actually remarkable legible, meticulously rendered with almost photographic accuracy. Displaying an unusual preference for a Victorian writer, Pound was a great champion of James, and it's easy to see why: his powers of observation are extraordinary, but if the images that unfold before the reader enjoy a unparalleled resonance and style, it is at the price of momentum. (Sometimes, too, James is too descriptive, too magisterial, to the point that his opinion of his characters gets in the way of the readers' forming their own opinions.)

This is the main difficulty behind the reading of The Portrait of a Lady. Though the skeleton traces an arc of conflict familiar to readers, Isabel Archer's lessons of experience achieve, neither failure nor glory (though within the context of fiction, failure is actually a kind of glory), but stasis. When we choose unwisely in the big decisions in life, especially if you're a woman in the 19th century, it is sometimes necessary to live with it as best we can. Yes, stasis offends our sense of self-importance, and also our sense of how a story ought to develop, it is perhaps a more accurate portrayal of reality (always James' strong point), because it is simplicity that is dynamic and free. Anyone who can live with the complexities of life and maintain a freedom of movement, as Madame Merle, does so at the expense of her character, something Isabel, to the very end, is unwilling to comprise. If her potential has been ruined by an unsatisfying marriage to Gilbert Osmond and the cold-blooded machinations of Madame Merle, she can still maintain her dignity. The irony, of course, is that The Portrait of a Lady begins as a story of a young woman of immense promise, Isabel Archer is kind, sensitive, beautiful, and above all, clever, and her taste for personal independence leads her, almost within the first few chapters to reject two dazzlingly worthy suitors. Her cousin Ralph Touchett, perhaps the only character in the novel whose relationship with her is not tinged by exploitation but genuine regard, actively supports her in this mantra of independence, we share his approval. Though much is made of the novel's ambiguous ending, largely because we wish a better fate for Isabel, it is this optimistic beginning that draws out the poignancy of her ruined potential, her blighted future, and her moral resilience. Isabel's attraction to dynamism leads to her insistence on personal freedom. She attracts, and is attracted to, dynamic men, but she is threatened by their dynamism. This explains her initially mystifying choice of the utterly worthless, shallow, insecure, disingenuous, parasitical, selfish, lazy Gilbert Osmond instead, who has nothing but his "exquisite taste" to offer.

The difference between Isabel's intentions and her actions seem to explore that thin divide between desire and fear. So conscious is she of her unusually high idealism, she ultimately confirms not dynamism but stasis. Like all good writers, James allows the structure to strengthen the world of his novel. With all her youth and eagerness for experience, Isabel journeys across the continent, from her home in America, the Touchett estate in England, London, Paris, the South of France, Venice, Rome, and so forth, to a final return to England, but each shift in locale is never recorded by movement. Suddenly, we are there on location, every detail described with painterly attention, but somehow their sum effect is not clarity, but a vague sense of claustrophobia, like there's no escape. It is notable that the novel's "conscience", Ralph Touchett, the only person in the entire novel whose relations with Isabel are both loving and selfless, is afflicted by a terminal illness, and his actions are always mindful of his own mortality.


The idea behind this look is to build on the outfit from last time, which effects a kind of casual ease, but on the premise that you can wear a nicely tailored pair of pants and a fantastic coat just as easily as jeans and a sweatshirt. If you fill in the blanks with a t-shirt and sneakers, you're as comfortable as you'll ever need to be, but there's no danger of veering into sloppiness. These pieces, though not necessarily these exact forms, also function as a starting point for any well appointed wardrobe, one that grows organically out of pieces you love independently. It's one thing for the editors of Lucky to pull incoherent outfits together out of their corporate closets, but in real life most women abide by the laws of consumerism: they buy what flatters their taste, their figure, and their wallet, and they wear it more than once. So let's take it up a notch in formality: from the weekend to the office.


The allure of this Stella McCartney blouse ($560) is deceptive. On the rack, unexciting—cream silk buttondown? Meh. But the proof is in the wearing: it looks great, wherever, whenever, tucked or untucked, or as a showcase for a great belt. There's plenty of volume for comfort, with tailored touches that evoke the primness of the secretarial blouse (the ruching at the collarbone, the breezy, semi-sheer delicacy of the fabric, the cinched sleeves at the hem) while leaving the neck and armholes open for easy movement. I want one in every color!


Watching Belle de Jour has created in me a nagging desire, like an itch you can't reach, for a pair of Roger Vivier's Pilgrim Flats ($496).


If you wear mascara every day, it may seem the most quotidian of cosmetics, but on the contrary, it is quite divisive. Women who are low-maintenance never bother, or only on special occasions, since the application (an acquired skill), tricky removal, and constant replacement of mascara are a day-to-day hassle in a way that red lipstick is not. If you wear mascara, you've committed yourself to a routine, especially if you've got lashes as sparse as mine. Here's my routine, but there's no real attachment behind it: Shu Uemura Eyelash Curler ($19), L'Oréal Carbon Black Voluminous Mascara ($6.99), and Too Faced Lava Gloss ($14.50).


There is an enormous sense of well being in wearing quality lingerie, such as this Eres Eden Underwire Triangle Bra ($310) and Boyshort ($165), not only because of the better support and comfort, but just the idea of wearing luxury that is yours alone is just a wonderful thing.




I like to include a visible dose of high glamour in every outfit, because the whole point of fashion is to infuse the quotidian with a sense of magic. It doesn't have to be a huge statement—and all things considered, that's not exactly office appropriate—so long as it's potent. An anticipation of happy hour: Cathy Waterman amethyst earrings ($2420).

Labels: cathy waterman, eres, henry james, most wanted, roger vivier, stella mccartney, thelonious monk
2/23/2009 [0]
Beauty Notebook: Los Angeles, I'm Yours
by Dain

Funny little video from The Decemberists.


There is something very bracing, often instructive, about breaking out of your routine, so this spring I have attempted a California girl look: soft nude lips with a lovely apple green on the eyes.

Here are the products I used:

Zen Blush, Chelsea Girls Lip Lacquer, Rebecca Duo, Yachiyo Brush, and Bali Single.

Considering my proclivity for red lipstick and blue eyeshadow, this pairing proved to be something of a challenge, made considerably easier by the complexity, delicacy, and balance of these products (thank you, NARS). As it turns out, getting this look right was more about the supporting cast, so to speak, than the star players.

First, I needed an absolutely pitch-perfect nude, and this may be no surprise to its many fans, but Chelsea Girls Lip Lacquer ($24) is the ultimate pouty bombshell lip, a look I never, ever thought to pull off. A soft glossy sheen and just the right amount of peach-mauve tone cuts the flat deadness that seems so native to almost all nudes, especially on my lips. Since a vivid blush would likely upstage quiet lips, I opted for the muted toasty warmth of Zen Blush ($25), which also makes an ideal bronzer on pale skin, or swept up below the cheekbones for a sculpted effect. (Zen barely shows up in the photo, in spite of a generous application, but it does make wearing such light, warm shades a great deal easier for me.)


Normally, one needs two different tools for this, a full, appropriately sized, nicely tapered brush for an allover dusting of blush or bronzer, and a smaller, angled brush for contouring, but the beautifully handcrafted Yachiyo Brush ($50) manages both with ease, nary a hard stripe in sight. As the picture suggests, this normally functions as your average upmarket blush brush, but seen from its side, it has been slightly flattened, so it works very handily as a contouring brush as well. Only caveat: it's a wee bit too scratchy.

The eyes were trickiest (it took three trials to get the overall effect right). I was hoping to work with both sides of the Rebecca Duo ($32), but it soon became clear that the amber-apricot half, in spite of its subtly silvery sheen, was point blank too warm for me to be even remotely wearable. But since the initial concept was to pair green with nude, it was the other half that mattered: a gorgeous, springtime apple green shimmer with a yellow-gold sheen, and an infinitesimal silvery pink pearl to break up the overall shimmer. A warm green is a poor fit for my complexion, however; it needed something else. I decided to throw on some black liquid liner (my own, actually my sister's), which always give a a vague, formless, heavy pastel wash the graphic punch it requires, and as you can see, it all fell nicely into place. I'm only wearing mascara here, but false lashes might also be appropriate.

Last but not least, this look definitely required well defined brows, a little thicker and heavier than usual, to tie it all together (in my opinion the most crucial element here). The deep ash brown matte of Bali Single ($22) fills in my dark brows nicely, and a final quick swipe of brow gel.

Here's a couple of close-ups for you:

As you can see, I'm not really adept with liquid liner (I tried), but otherwise, it's a simple look. Chelsea Girls is flat-out pretty, though the flash here makes it out to be far glossier than it is (I know it's called lacquer but in real life, this particular shade is low gloss).

Labels: beauty notebook, nars, the decemberists
2/20/2009 [11]
Perfume Notes: Guerlain Vol de Nuit
by Dain
Elihu Vedder, Listening to the Sphinx (1863).


There's a wonderful phrase in French, "les parfums fourrure", that seems to capture the odd synthesis of beauty and vulgarity that is so intrinsic to the cult of luxury. All luxury flouts common sense with its wastefulness, but then, utility is quite beside the point. If ever there was a perfume that captured the feeling of sinking your fingers into the yielding softness of fur, Vol de Nuit is that perfume. It is not merely the animalic hints of castoreum and civet in its drydown, for this lacks the overt raunchiness of its cousin Jicky, but in how it provokes such divergent responses from the senses and the intellect: an opulence of sublime ingredients expressed in a manner disturbingly strange and bitter.

Much is made of its romantic association with aviation and adventure, but ignoring Guerlain's poorly constructed metaphor, it becomes increasingly obvious that a kind of stasis grips the heart of Vol de Nuit, anchoring it firmly to this blighted earth. Even the metallic vitriol of petrol fumes, recreated by the corrosive, medicinal sulfuric, terpene-rich galbanum, hints at a cthonic origin. In one respect, the name is entirely just; it is best worn in the chill winter night, not to comfort as Shalimar would, but to belong. No other perfume so perfectly captures the very substance of darkness itself—opaque, vague, and lonely. There is only starlight in Vol de Nuit, a brief twinkle of bergamot and mandarin, quickly shuttered by that bitter cloud of galbanum, poor illumination against the dense backdrop of resinous woods and earthy aromatics: an abundance of narcissus and iris (these are not actually floral), agarwood, cinnamon (though perhaps more accurately a spice), rosewood, cedar, sandalwood, vetiver, oakmoss, benzoin, and tonka bean.


Vol de Nuit serves in perfume history as the prototypical bittersweet, caught between attraction and repulsion, and counts in its lineage perfumes such as Bandit and Vent Vert (themselves very influential), as if Cellier dehydrated the sepia-toned original of its Guerlinade and then split it in two halves, one black, the other green. Bittersweet is a common enough theme in art—the grit and heartache in Billie Holiday's voice, that sinister tendency behind Kubrick's films, Hamlet generally fucking everyone up with his eloquence, the Amazonian custom of cutting off a breast to ease archery, Goya's black paintings—it is a little more unexpected from a perfume. If a spirit of adventure guides this composition, it is not, as the name may imply, informed by the rash heroism of youth, but by a mature confidence, leading us on an inward journey, deeper into the heart of darkness.

I often think that Guerlain's perfumes are essays on human frailty, and this is what makes them so fascinating. But Vol de Nuit is a homage, not to frailty, but to human strength, the only one we have, the ability to weather horrible, mindless, meaningless adversity, to face that endless night, know it is there, and still live. If that isn't bittersweet, I don't know what is.

OTHER REVIEWS
M. Guerlain
Perfume Shrine
Ayala SmellyBlog
Bois de Jasmin
Now Smell This
Pink Manhattan
I Smell Therefore I Am
Sweet Diva
Basenotes
Makeupalley
Fragantica

Labels: billie holiday, elihu vedder, galbanum, guerlain, iris, jacques guerlain, leather, narcissus, orientals, perfume notes, rebecca
2/18/2009 [3]
Beauty Notes: How To Look Good Smiling
by The Kindly One
I cannot wear dark lip colors. I have tried and tried, and they invariably do not suit me. Anything more pigmented than a sheer lipstick is truly unflattering to my face, even jarring. The reason for this is that I have full lips, but not wide ones. They're the definition of pouty, with all the meat in the middle. As dark colors recede, the corners of my mouth look even smaller, resulting in a fish face. On top of this, when I gain weight, I tend to gain it in the lower part of my face. Having fish lips on a fuller lower face does not result in balance, and as any good makeup artist will tell you, good makeup equals balance.


To acheive balance, I go with the ubiquitous darker eye/lighter mouth. The colors I use tend to be sheer peach or sheer lilac-pink. Used with a pink lipstick as a base, peach colors brighten up my face, adding color without throwing the balance off, while lilac colors impart a slightly deeper hue of my natural lip color. I have to be careful with both colors, though. With my yellow undertones, most peaches turn orange on me, and lilacs often turn too deep and cool toned. I've found that MAC Tendertone Lip Balm works well for what I like. For the more lilac tone, I use the Tendertone in Softnote. Layered over lipstick, it makes the lipstick color pinker. Honey Bare looks peachy-orange in the pot (it's the orangest one in the picture) but layers beautifully with pink.


I used to use Clinique Colour Surge Bare Brilliance in Waterviolet for the base layer of my lips. It's a pinked-down violet that's almost the exact shade of my lips, just slightly deeper. It's now only available in the Butter Shine formula, which is denser and heavier on the lips. I'm not crazy about the change in formulation. It works well as a base but looks awful on its own. The varying pigments aren't blended well, so it looks like an inexpert application of multiple layers of lipstick, plus the gel texture dries out my lips. Thankfully, I found a couple of BB Waterviolets at a Cosmetics Company Outlet, but I'll need a replacement when these run out. Any dupe suggestions are welcome.
Credit: Face Candy

Labels: beauty notes, clinique, mac
2/16/2009 [1]
Beauty Notes: Promised Land
by Dain
If you're a faithful reader of this blog, you've probably already heard that term "holy grail", and you'll also have noticed that a beauty fanatic lives for finding the ultimate foundation/mascara/YLBB/green-tinged blue with gold flecks/whatever. Some products are undeniably a question of searching, but we've realized that some things are beyond the limits of current technology. So I've asked my fellow bloggers, Dorothy and The Kindly One, what they've sought but have not found.




I saw this first on Perfume Shrine.


HAIR & SKIN FORMULATIONS
There must be a hundred products out there that claims to eliminate undereye circles, certainly we'd be delighted to find one that is effective enough to render concealer obsolete and yet is gentle enough on delicate skin, but we've never actually met a treatment that lives up to its claims.
The eternal sunscreen problem: an invisible and odorless UVA blocker that disappears once applied to the skin.
A leave-in conditioner that truly nourishes the ends of parched hair, rather than a silicone-rich protectant that disguises the tortures of heat styling. They make good moisturizers, surely it's possible for hair?
A product that really, truly eliminates blackheads. Dorothy: "I haven't encountered anything—anything!—that does."

PIGMENT HUNTS
Dorothy: "A lavender shadow with gold shimmer (like the lavender in NARS Sugarland) that actually stays on."
The Kindly One: "A powder shadow the color of Jane Brownie Points - deep, warm, matte chocolate brown - with gold glitter. Also, a shadow the same color, without the glitter, in a metallic finish, although on second thought, this might have to be a liner."
Dain: The one thing I'd really like is a thin, flat automatic pencil with a semi-fluid gel texture so that it's soft enough for lining the inner rim of the lashline, spreading easily between the base of the lashes, and yet does not smear.

DESIGN & MARKETING
Why don't palettes ever make sense? Though pretty in the pan, there's always at least one shade that's completely useless.
Since niche has risen to prominence, you'd think they'd understand that their customer base consists of people who'd appreciate small amounts of juice, and are the last people on earth to buy one huge bottle of a signature scent. Dorothy: "The increase in the number of 'airplane approved' bottles is the ONE thing I really appreciate about those idiotic liquid/gel restrictions."
Recycling programs like Back to MAC. The Kindly One: "Customer who faithfully purchase from high-priced brands deserve some sort of reward for coming back again and again, and I would be happy to know that all those containers of pomade aren't just being chucked in the trash."

PET PEEVES
Excessive fake-bake tans—how is this at all attractive?
The IFRA needs to stop messing with crucial aroma materials: oakmoss, citrus, lilial, and ISO E Super.
The Kindly One: "Women trying to outwax each other [and then bragging about it]. I just think that's a particularly bizarre form of one-upmanship. What kind of victory do you get out of that?"
But we all agree that the worst faux pas is just wearing too much in general, whether it's cakey powder or glittery blushes ("glow" be damned, no one blushes in shimmer!) or my personal favorite, too much mascara; basically, if you resemble a MAC SA, you're in troubled waters.

What are you still looking for?

Labels: beauty notes
2/15/2009 [2]
Beauty Notes: Let The Right Ones In
by The Kindly One
My particular beauty addiction is eyeshadow. I keep buying it, and I don't need anymore. I have what is essentially the perfect shade for me, Jane Eye Zing Browny Points (I don't go in for non-capitalization). It's a matte, warm chocolate brown and performs the function of defining my eye shape while playing up the golden notes, leaving my eyes looking amber. I look my best in it and receive compliments while wearing it. And yet, I keep going out and buying more, less than I used to, but still more than I need.
Along with Browny Points, I also own NARS Galapagos, a matte mid-tone brown with gold glitter; MAC Trax, a dusky rose-violet shade with orange glitter; and NARS Night Clubbing, a deep matte black with gold glitter. This isn't all, these are just the ones I use for lining. I haven't deliberately worked to accumulate glitter shadows, though I have found the glitter mimics the gold tones in my eyes, making them even more amber than does Browny Points. Plus, having eyes light enough to reflect color and shine, the glitter makes my eyes look bright and sparkly.
While I absolutely follow a minimalist philosophy - I hate having excess or unused products around - I could still never stand having just one eyeliner. That would be too boring, and part of the point of beauty is to have fun. If I had to wear Browny Points all the time, no matter how perfect it is, I'd get sick of it. I would inevitably go out and buy something else like it just as a break from the nauseating routine.
At this point, I no longer want to keep around products that don't work for me. I don't have the mentality that maybe someday I'll use them. I won't, and I don't want anything in my stash that isn't me. That said, what's me is having colors that flatter and enough variety that I don't look in my makeup case every day and collapse in a heap from the boredom of it all.
Credit: drugstore.com
Labels: beauty notes, j.a.n.e., mac, nars
2/14/2009 [2]
The Mnemonic Sense: Arts and Crafts
by Dain
When Yves Saint Laurent announced his retirement in 2002, he said, "While not exactly an art, it nonetheless requires an artist for it to exist." Though Saint Laurent was talking about fashion, I think his assessment applies very well to perfumes. As with fashion, the refrain that perfume is an art is so frequently and insistently averred by people who take perfume seriously, as if their interest needs to be justified and defended against those who would scoff at it as a frivolous commodity. As with most things in life, the truth lies somewhere in the middle. It's rather silly to claim that fashion and perfume constitute art (and honestly, plain stupid, but I've got conservative definitions on art in general), because at the end of the day, perfume is a consumer product, something you first buy and then use up. Art endures. It is not functional. Even when the technologies and cultures that support a work of art have long turned to dust and ashes, art endures. It does not so much transcend time as defy mortality. As long as humanity endures, so too will art. Perfume is not like that. It belongs to our lives, woven indelibly into the very fabric of our identities, personal or cultural.


This is no small thing. Perfumes enhance the quality of our lives, as do fine fashion, fine food, fine jewels, fine cars, fine furniture, fine wines, and so forth do, but it is a material expression of who we are and not an ontological revelation. They do not propose essential human truths, and by this I mean generic humanity and not individuals. It certainly requires aesthetic sensitivity to create perfume well, as well as to appreciate it, and Yves Saint Laurent himself was famous for incorporating over references to the art world in his fashion, just as perfumes are thick with similar references, but beauty without truth is not art. If anything, I would define perfume as a craft first, and a luxury secondarily, though in effect these two are often reversed. I realize there are bourgeois connotations here that seem to cheapen the value of perfumery, but let us be honest, perfume is highly bourgeois, and this quality does not change whether it's Mitsouko or Pink Sugar. While one pays for art, the history of arts is ostensibly not one driven by consumer demands.

There's nothing mean or ordinary about the creation of beauty, indeed I prefer the craftsman to the artist. There is less pretension, because the pursuit of beauty is more constrained by functionality than the pursuit of truth. We need intelligent, gifted artisans to set the standards of elegance, and without their guidance, so much of that gives culture its dazzle and wonder is lost, and I would never deny that the contribution of perfumers is deserving of anything less than real respect. I do not know how, but perfumes seem to call forth the forms of the past more vividly than paint, more substantively than words, and more poignantly than music. This is no small thing. Great perfumes seem to trace a shape in the air, and the opening a vial draws us into people and places we've known, or indeed, never knew. For example?



Here's Fracas:

My friend Monique once said of Monroe, "just to look at her is the promise of an orgasm."

Après L'Ondée:

Letter From An Unknown Woman was incidentally Joan Fontaine's favorite film.

Chamade:

I must apologize for the absence of subtitles, but I exhort, on the strongest possible terms, that you watch Cinema Paradiso in full anyway. Your life will be richer for it. Except for the beginning, where Alfredo tells the story (perhaps one of my favorite moments in film), it's largely obvious what is happening.

And Tabac Blond:

With poor outraged Jean Arthur in prim, matronly Bellodgia.


It's bottled culture, that's what it is. But still, it is not philosophy, and it is not art. The way that people play fast and loose with definitions sets my teeth on edge. To call Yves Saint Laurent a genius (which places him in the category of the likes of Isaac Newton and Goethe, an absurd conceit) seems extremely far fetched to me, an insult to language and I think also to the magic couturiers and perfumers both perform, because such inaccuracy reveals more about the elitist principles of those who prate thus than a true understanding of the work itself.

Labels: cinema paradiso, jean arthur, joan fontaine, marilyn manroe, marlene dietrich, the mnemonic sense, yves saint laurent
2/12/2009 [6]
NARS: The Agony and the Ecstasy
by The Kindly One
When I was younger, it always seemed that no matter how much I spoke or spent time with a person, there was never any real invitation to grow closer until one question was asked, and it was phrased in the same way every time: "So, what kind of music do you like?" There would always be a sly cut of the eyes, some fidgeting, and then real conversation would resume. There is an equivalent type of question that must eventually be addressed to invite inclusion on most beauty forums, in this case outlining the newbie's stance on MAC. But this website is different. Here, I don't feel the task before me is to prove my cosmetics mettle. No, here the question is different, it is one of individuality and preference. Once answered, I will officially feel like part of the team. It is: "Where do you stand on NARS?"

I have greatly envied Dain and Dorothy for some time for their appreciation and use of NARS. I've always found the NARS posts the most exciting. Each one of them is a gem and, like a NARS product itself, reveals the complexity and mystery of the products. If it weren't for these reviews, I probably would not have approached NARS myself, remaining intimidated by the mystique, the weird colors in the pans, and the price point. Fortunately, I found my feet and have sampled a variety of NARS shadows, liners, lipsticks, glosses, and lip stain glosses, and I have come to a conclusion. I can't wear NARS.

It's not for lack of trying or an inability to wear the colors. In the case of shadows, I find it's impossible for me to wear them as a wash. I have impossibly oily eyelids, and the shadows are finely milled. Even with industrial strength MAC Paint, they last maybe four hours on me. They don't really work well as liners on me, either, with the exception of Galapagos (above), which I have to layer over a proper eyeliner for it to last.

I like NARS's lipstick collection well. I just don't find most of it useful to me. I have medium tone lips and prefer sheerer shades, and most of NARS's sheer shades (Venice, Viva Las Vegas) don't show up on me. While I like the deeper shades, I can't wear them without looking dead or like I have an unbalanced face. As for the lip glosses and lip stain glosses, I really prefer a gel texture to my gloss, something I haven't seen in a NARS formulation (though I haven't tried a lot of these). I've found the glosses to be a lot thinner than I'm used to. As I constantly have some kind of drink in my hand, they last about two hours on me, if I'm lucky. The lip stain glosses are also beautiful, but a bit more pigment than I'm looking for. I don't want to change the color of my lips, just add something to enhance it and bring it out.

I have to say, NARS liners are long-lasting. Having a drier texture, they work well for oily eyelids. The flipside is that they tug more than I like when applying. Besides this, I rarely use proper eyeliner anymore except to keep powder shadow on.

Thanks to the posts on this site, I may not be able to wear NARS, but I have developed a real appreciation for it. In terms of complexity of color, there isn't a cosmetics company out there that can beat it. There is real innovation in the line. Look at the chartreuse shade of Rated R - crazy in the pan, truly a neutral on the eye. Plus, I would argue this is a better line to experiment with than drugstore brands. It's pricey, but due to color complexity, the colors are more likely to agree with and flatter the wearer than a $3 shadow. That said, for all the appreciation I have for the line, the products simply don't work for what I want and need them to do, and that is ultimately the bottom line when it comes to purchasing cosmetics.

Labels: beauty notes, nars
2/11/2009 [4]
Beauty Notes: Hair Days
by Dain
My hair, it must be admitted, gives me no cause for complaint. It's thick, silky, shiny, soft, grows like a weed, and I never, ever have bad hair days. I catch people grabbing it sneakily all the time, which is pretty creepy. The funny thing is, it annoys the hell out of me. It's very heavy. I have to take care of it with gallons of conditioner. It gets in my face, so it's almost always thrown back into a bun. It inevitably gets grimy. And it just keeps growing. I wear my hair long because I hate to bother with haircuts, and long hair requires no real styling, just the aforementioned gallons of conditioner. I don't even own a hair brush. People get all worked up about hair, but I'll admit I've never been able to work up any enthusiasm for this particular sect of beauty obsessions. (Crown of glory, my ass.) Though, to be a perfect hypocrite about it, I quite enjoy shaking it down in a bar; it's about the only concession to flirtation I ever make.

Consequently, my haircare strategies are resolved around doing as little as possible, and my only goal is that it's soft to the touch, not perfect to the eye.

Allow me to illustrate. Below are two examples of achingly beautiful hair:

It is also completely plastic, like their smiles. You can trace the imprint of the curling/straightening iron, the meticulous relaxing/dye job, the costly weaves, and if you were there, very close, you might pass out from the fumes of the very expensive products with which these hairdos are loaded up to the follicles. This is hair for the paparazzi, not for a lover's gentle games, and, as beautiful as these women are, how unattractive is that?

Contrast this image:

Somehow, I suspect Kate Moss is worshipped as she is, not because she's so complicated or interesting, but because she's got a fairly no-bullshit attitude about everything. For someone who is paid for how she looks, there's no real dressing up or dressing down (she seems to like fashion for its own sake), no effort to make eye contact, or smile, and that hair, it looks real. Same deal: dye, weave, products, expense, and time. And to what effect? Something known fashionably as "hip, cool, and undone, rock 'n' roll bedhead", which is perhaps even more pretentious than "glamorous perfection". It's not that. It's that this hair looks like she grew it honestly, as opposed to the painted-on effect shown above—Beyoncé might as well be wearing a wig.

No wonder women think their hair ought to look like Hollywood; it only looks like that after serious torture. Then, to make it look as if it grew that way, you've got this battalion of high-tech silicones and whatnot to make hair look healthy again.

Theoretically, my hair should be the easiest thing in the world in terms of care. It falls under no shadow, not of chemical processing, heat styling, product build up, I don't even wash it that often, it's essentially what's known as "virgin hair". The ends get dry, that's it. And yet, in spite of all these conditioners that claim to be deeply hydrating, they are unilaterally ineffectual, from L'Oréal to Terax. The best thing, I've found, to soften and protect my hair, has been a few drops of humble olive oil, but it's hardly a cosmetically elegant option. It's not as if I'm expecting a miracle, just simple products that properly maintain what is essentially healthy hair. I can't help thinking there's a gap somewhere. The obvious answer is, most of these are products intended to deal with damage, not dryness, but at the same time, damage to hair is not unlike wrinkles on skin, you can't actually reverse it, only improve its appearance, and again, theoretically, dryness should be easier to address. And perhaps this is exactly my problem. There are hundreds of products designed to calm frizz, add volume and texture, and return a healthy luster after you've blasted it with chemicals and heat, but what I want are products that take care of my hair. I don't want to fuss over its appearance; I just want it to be healthy.

Surely this is not demanding too much? I don't pay attention to haircare with as much alacrity as, say, perfumes, but I've certainly explored most of the feasible contenders, all the way up to Kérastase. I've also trained myself away from the consumer expectations that shampoos must lather like crazy and that conditioners must feel as thick and rich as cream, because those products will inevitably be loaded with sulfates and silicones, which are cheap but are certainly not the ingredients most beneficial to your hair. I don't require a militant avoidance of these ingredients, and it's important to add that quite a few non-sulfates are just as harsh on hair, while silicones are almost impossible to avoid because consumers will either complain that it feels watery, and in low doses pose no serious problems to my hair, it only becomes a problem when it functions as a filler.

My favorite shampoo is currently PHYTO Phytonectar, which does have sulfates (SLES and ALS but no SLS) but is nevertheless rich and gentle, but I'm largely attached to it because it smells like those hugely indolic orange blossom soliflores, and is otherwise more expensive than it needs to be (it's half as expensive in France). One I particularly want to try is Avalon Organics Olive/Grape Seed Moisturizing Shampoo, which is sulfate-free and has any number of friendly oils thrown in. I'm a good candidate for the condition-only technique, since I assume my primary problem is that my hair is too long for the oils to reach the tips, but I don't have any patience for cheap, $20/gallon fragrances (why they can't just throw in some nice lemon oil and leave it at that, I have no idea).

When it comes to conditioning, I've resigned myself that no rinse-off conditioner alone will cut it. I've tried quite a few, perhaps the one I've liked best is L'Occitane Shea Butter Ultra Rich Conditioner, which I tried because the even longer-haired Gaia likes it, one of those misleadingly lightweight-in-feel conditioners (in spite of its massive silicones), because it seems to penetrate better than most conditioners I've tried. But ultimately, a conditioner is a conditioner is a conditioner, as far as I'm concerned, unless it sucks. None of them go that extra mile, no matter how expensive. What I need is a products that stays in my hair, like a moisturizer does on your skin. It is probable that the dehydration of my skin and hair is especially chronic, only that, given how much varied are the offerings for skincare, I've been able to find more amenable solutions. So the crucial product, for me, is a leave-in conditioner. Here's a quick run-through of products I've tried:

Kérastase Résistance Ciment Anti-Usure This is great stuff, but it's really for damage, not dehydration. Its high cost is misleading, if used as a leave-in, very little is required.
PHYTO 7 It's got a bit of a cumulative effect, but by the end of a month of consistent use, the ends of my hair do feel as supple as they should, and entirely without silicones. The only drawback is that I've finished most of a tube by the end of that month, and that's an expensive monthly purchase.
Bumble & Bumble Dehydration Therapy Complex Fried my hair, and though the bottle is generous, the stuff is sooo expensive, and the ingredient list looks tremendously toxic (one of the longest I've seen). Without a doubt, one of my worst purchases. I could have gotten perfume instead!
olive oil I return to this when I get sick of the other crap, for one reason or another. It is not, as I've mentioned, not the most elegant option, but it has the one virtue that matters: it works.
Kiehl's Creme with Silk Groom Though designed to bridge the gap between leave-in and styling cream, it's definitely more of the latter. Don't need a frizz-fighter or a heat protectant, and I don't like the way it makes my hair feel.
Opalis L'Huile Beautiful bottle, beautiful smell, way too expensive for something so basic.
Badger Evolving Body Care Oil It's pretty much a fancified version of olive oil, but mixed with jojoba for a lighter texture (in my experience, mixed oils are more cosmetically elegant), and a delightful lavender-rose scent. The pump keeps the mess at a minimum, and $15 is certainly reasonable.
The revelation that a leave-in conditioner is more important than a rinse-off conditioner has been fairly recent, so that's pretty much all I've tried thus far. Next? Maybe Rene Furterer Karite No Rinse Nutritive Concentrate...

Labels: avalon organics, badger, beauty notes, bumble and bumble, kerastase, kiehl's, l'occitane, opalis, phyto
2/10/2009 [9]
Fashion Notes: The Best of Spring/Summer 2009
by Dain
Budget-permitting (it does not, in my case), these are my favorites from the shows. Evidently, the big trend for spring is beige tonality, because while this is a small selection, it's not so submerged into the subjectivity of personal taste that it fails to be representative. Anyway, I don't really wear beige, so it was hardly purposive on my part.

BEST DRESSED-UP ENSEMBLE

Class act, just a beautiful, beautiful blouse. I'd probably wear them with a pair of voluminous slacks (maybe in sapphire blue), however, as a masculine counterbalance. Love the colors as well: nude, ivory, black, black, black, nude.

BEST DRESSED-DOWN ENSEMBLE

This is very close to what I wear at home—chemise + loose, deep v-neck boyfriend sweater—only here the frou-frou effect of silk and lace has been transubstantiated into club-worthy sequins.

BEST ACCESSORY

Hermès meets cowgirl fringe = madcap luxe.

BEST SEASONAL MOOD ENHANCER

Normally, Erin Fetherston's pieces are a little frilly for my taste, and I'm a girl who normally loves frills, but I find this little number captivating. The soothing pastels, the breezy shape of the chiffon, you can practically imagine yourself lounging about in this dress on the hottest day of the year, waiting for that damn waiter to bring you your mimosa.

BEST SUIT

Normally, I don't have any real use for suits, but this one from Akris, in a marvelous, semi-metallic, semi-sheer, obviously expensive fabric is somehow more exciting than a runway full of goddess gowns—let's face it, pieces like that are more about putting on a show—all its proportions are beautifully well judged, but the fit of that jacket! Yum.

Labels: akris, erin fetherston, fashion notes, lanvin, stella mccartney
2/09/2009 [0]
Perfume Notes: YSL Opium
by Dain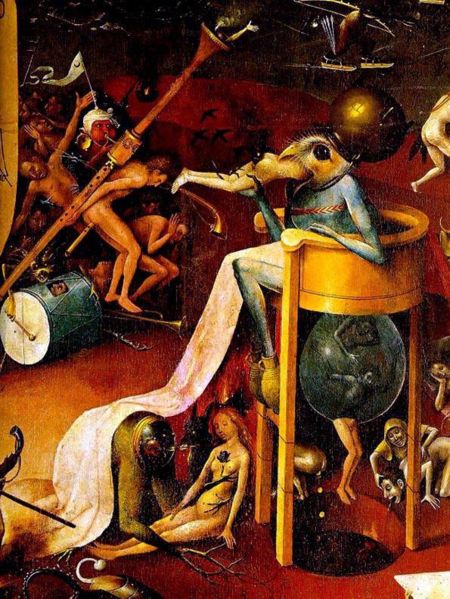 Hieronymous Bosch, detail from right "Hell" panel in
The Garden of Earthly Delights (1503-1504).


It's a slippery slope into hell. One rotten, ill-judged misstep and there you are, watching Odysseus in a wreath of flame, or in the case of the 'fumehead, doomed to read Luca Turin raving on loop about some olfactory gem that's been discontinued since the days of the October Revolution—we claim a fate akin to that of Tantalus. Many perfumes tempt us with forbidden fruit, but a few, like Opium, cut the bullshit and coy hints and transport us directly into the heart of the inferno, and, as befits the devil, perhaps mankind's most stylish invention, it's done with perfect éclat.


In many ways, Opium is more extreme than the gold standard of orientals, Shalimar: the spices are spicier, like film dialogue that positively crackles with wit*, though this is not the brave, naked blaze of the more frenetic Caron Coup de Fouet (the screwball comedy to Opium's film noir). The cacophony of notes is almost a deafening assault: pepper, orange (I sometimes enjoy a touch of Theorema with this), coriander, cloves, carnation, lesser amounts of jasmine and rose, plum, cedar, patchouli, and the balsamic resins of oppoponax, myrrh, sandalwood, and benzoin. Far from downplaying the smoldering opulence of the eugenol-rich carnations and cloves, Opium's intensity takes on the quality of hyperbole, in a way that feels distinctly macabre, with a sillage that takes no prisoners. Such calculated aggression cannot be but a deliberate distancing from the Bianca-in-L'Air-du-Temps ideology of pale, obedient, demure, passive, simple, angelic, silent femininity; this is Katherina's reasoning that the best defense is a good offense, and heavy-hitting spices run a similar risk of coming off as angry and incoherent, which may explain why they tend to sell poorly on the open market. Lest they collapse from their own weight, spices require a solid foundation, traditionally the fleshy contours of amber and vanilla. But though Opium takes full advantage of the mysterious, seductive appeal of spices, it is only lightly sweetened, to smooth its many complicated angles, not to provide architectural support. Consequently, it should be a total mess, ready to cave in at the advent of a soft footfall.

Far from it. This is strong perfume for a strong woman, which somehow retains its sarcastic, angular carnality without making apologies (an extra spoonful of sugar). The secret, as it turns out, is a huge slug of fragrant soap, a pristine inner core of lily of the valley, easy to miss in the chaos, invisible wires that perform a miracle of suspension. Yes, Opium is big, bad, and gorgeous, but she's also got a brain, hidden behind her spare flesh like a spine, that's what makes her so dangerous.

OTHER REVIEWS
Perfume Shrine
Ayala Smellyblog
Perfume-Smellin' Things
Basenotes
Makeupalley
Fragrantica

* Ok, how bizarre is this coincidence? I've linked Bogey to Jicky, and that too features a garden of earthly delight as its visual reference. It wasn't intentional, I swear.

Labels: bosch, carnation, caron, guerlain, jean-louis sieuzac, lauren bacall, orientals, perfume notes, the taming of the shrew, ysl
2/07/2009 [5]
Lookbook: Pure Mattes
by Dain

François Nars, Make Up Your Mind.


When I first got into makeup, back when the internet was only for geeks, Stila was the poshest, biggest thing around. I used to dream about which shades I'd own, all the elegantly nuanced shimmers like Holly Go Lightly, Diamond Lil, and Kitten. How much has changed in the intervening years, but old habits die hard, and I still cling to the practice of soft and complex shimmers. Boredom occasionally drives me to acid brights (NARS Rated R and Schiap, not for the faint of heart), but I also find myself meditating on mattes, which strike me as a fresh alternative for summer. Strong and attention-grabbing, they are not, but it's a departure from the instinct towards brights that mark the warmer months. Mattes are a careful, studied look, and like Jean-Claude Ellena's olfactory watercolors or an elegant suit crafted out of perfectly pressed linen, coolly luxurious in the sticky humidity. They are also of course the examplar of eternally tasteful, non-makeup makeup that steps so easily into the office, but they need not necessarily be boring. Mattes are a softer way to wear more than one color, as shown above, or provide an elegant backdrop for a rich, creamy lip. Either way, they add depth and sculpt the eye in the most subtle way; major makeup, without the major attitude.


After all, there is nothing staid about these mattes. The colors are delicate but substantial, and what they lack in shimmer they make up in creamy, rich texture. It is the woman herself, not her makeup, that glows. The fragile, butterfly-wing effect above sets off sugary pinks on the lips and cheeks (a little overdone on the blush, perhaps), while the mushroomy mattes (NARS Portobello would be a good bet) of the look by Alice Grendhih at left bring out the exotic greens of her eyes. Feathery lashes draw out the natural delicacy of matte shadows—these are not your heavy, stolid mattes but transparent veils of pigment—for a classic but not exactly retro feel. Lips can run a gamut from demure to high drama, but since this is ultimately a look about beautiful features (skin, eyes, hair, etc.), it is better to keep blush and foundation to an absolute minimum, with only judicious dab of concealer wherever needed and a light dusting of powder to give the skin its cool and velvety texture (shiny skin would admittedly look a little queer here).



Another, even more ethereal, restrained look, by Dick Page for July
2007 Allure. Again, a delicate touch is what drives this look.


Recommended products: Urban Decay Primer Potion ($16), to give pigment some longevity and heft, Chanel Les Mattes Divines Quad ($56), sheer and neutral for most skin tones, the marvelous Korres Lip Butter ($9) for a soft, comfortable tint, Shu Uemura Mascara Basic ($27.50) for those naturalistic, feathery lashes, and the face powder without peer, Caron Poudre Peau Fine ($45).

Labels: caron, chanel, korres, lookbook, nars, shu uemura, stila, urban decay
2/05/2009 [4]
Beauty Notebook: Vero Profumo
by Dain
Swiss perfumer Vero Kern apparently read what I had to say about Onda, and how I wished to sample her other perfumes, during the 2008 Retrospective, and she kindly offered me a sample set. I was initially astonished by such a degree of solicitude, but sniffing her work, I shouldn't be astonished at all—honestly, it shows. The Vero Profumo range is as yet only three in number, but nothing has been watered down, each is painstakingly, meticulously crafted out of the finest materials, and are available only in parfum concentration (about $145 for 7.5 mL, $230 for 15 mL from the Vero Profumo site). Clearly, we are watching a perfectionist at work*. There's a kind of bold, retrograde feel to these three, otherwise quite dissimilar, that I felt I wasn't making too fantastic a leap by pairing them with these with an aesthetic built on brass. It suits Vero Kern, too, who cites Jacques Guerlain, Germaine Cellier, Jean Carl, and Ernest Daltroff as influences, in that jazz was typified (and ultimately doomed) by its commitment to instrumentality, innovation, and live performance, but will live on in a way that the hackneyed studio performances of our desperate pop age, like those mawkish juices at Sephora, will not. Sniffing these perfumes gives me an ache I never knew I had, after living so constantly in a world of cheap formulae. I highly recommend ordering a sample set from her site.



RUBJ

"Fly Me to the Moon", sung by the bossa-nova stylings of Astrud
Gilberto and the big-band swagger of Frank Sinatra, for the rather
underappreciated, slickly designed, witty pastiche of those Doris-
Day-and-Rock-Hudson sex movies of the 50s. A beautiful example
of softcore jazz (white people singing).


In many ways the most accessible of Vero Kern's perfumes, and this must necessarily follow, perhaps the least interesting. It is immensely appealing, and when I cracked open the sample my sister, my brother, and my mother all insisted on having a little on their skin. It's a never stated, but widely accepted, fact that all serious perfumes houses need to do a grand white floral, for the simple reason that it is immensely appealing. Rubj has got more heft than most, with quirky twists that hit you on a subconscious level, but it does resemble those orange-sweet, jasmine-indolic orange blossom "soliflores" that may be had for less expense: candied orange zest segues into a sonorous orange blossom bolstered by a gently indolic jasmine, pure sunshine throughout, that dries down into a skin scent as white florals often do, with a musky finish. What makes Rubj technically impressive is its longevity (orange blossom tends to be flighty), and a drydown so luxurious and tactile that it manages, in spite of first impressions, to escape that not-another-white-floral cliché. Perhaps it is a little cheesy, but happiness tends to be: purring kittens, summer breezes, first love's kiss, The Beach Boys, etc. Behind that semi-solid wall of good vibes, there lurk slightly more complicated floral notes—that nutty, clean-sweat note of mimosa-heliotropin, that huge, winey pink rose, that moistly fruity violet, each as fully rounded as a complete perfume but considerably reduced in volume—which suggests to me that Rubj ought to be worn in a tongue-in-cheek humor, the kind of bride who shows up to a big ole church wedding in a white suit.



Kiki

"Parker's Mood", Charlie Parker, the only clip I could find with the
original recording, about as sublime an example of classic blues
improvisation as can be desired.


Few pleasures on this earth surpass the aroma of lavender in nature, a smell so vibrant and multifaceted that it beggars belief, that this humble plant, which grows like a weed, can rival, through the accidents of evolution, all the clumsy and self-conscious endeavours of human design. Lavender smells like endless blue skies, somehow both luminous and opaque at once, and as any painter can tell you, almost impossible to approximate on canvas. The great treatments of lavender blunt its vegetative ecstasy with a heavy infusion of vanilla and musks, from the pared-down simplicity of Pour Un Homme to the suavely confident Jicky (Caron and Guerlain respectively). Though unquestionably wonderful, these are high-calorie perfumes, with plots that smack of hubris (great man thinks too highly of himself).

Enter Kiki. Given lavender's prime role in the history of masculine perfumery, there's a tweed and shined-shoes character to this that, in an ideal world, is what men ought to wear instead of Acqua di Giò, and it might linger most delightfully on us women after an impromptu morning romp (though it is perfectly acceptable as a feminine in my opinion). But Kiki is fully updated, modernized, and sleek, as if the patrician, Savile-Row bespoke sensibility were somehow informed by the rock 'n' roll flair of a leather jacket—Tory snobbery and Brit punk in the same room! It sounds like a mess, especially if you attempt to reconstruct the notes in your imagination (lavender, caramel, cassis, blackberry), but quite simply it is a genuine marvel. Like its great predecessors, Kiki employs confectioner's notes as a counterpoint, but the main sweet that my nose detects is maltol (verified by Ms. Kern), a caramelized version of that fluffy cotton-candy note that makes Angel tick, and here has a wonderfully unsaturated, artificial-sweetener effect. The contrast between the superb natural lavender and the high artifice of its spun sugar notes gives Kiki a surreal spin, even as geranium and patchouli echo the oldest formal structure in modern perfumery, the fougère.



Onda

"Bitches Brew", Miles Davis. Fairly advanced, experimental jazz
that teeters so far into dissonance it's alienating, an exploration
of the ambiguous divide between music and noise, though it
begins to soften slightly into a semblance of melody at 2:50.


Onda was my introduction to Vero Kern's work, and it positively reeks of malice. A handful of perfumes masquerade as transgressors, but their reputation precedes them, and I am invariably disappointed. Even Djedi, which is fantastically bizarre in its own way, obscures its bestial instincts with thick cinnamon dust. Onda blithely gives the most evil, raucous smells full expression—the iridescent spill of motor oil on a slick black road, a phenolic mutter that vibrates between honey and old piss, the raw, mutilated earth texture of patchouli, and plenty of sumptuous, wicked leather—a sort of Lady Macbeth in black leather, somehow managing to say horrible things with an absolutely straight face. It smells remarkably like a compost heap, with meaty animalics thrown in for good measure, and my guess is, 19 out of 20 women would find it vile. But for the remaining 5%, Onda is a recognition that it is the villains who possess the greatest share of eloquence, that musicians and painters invariably go to hell, of what is probably my favorite line from Stevens, "the death of Satan / Was a tragedy for the imagination" (Notes to a Supreme Fiction).

Because Onda is surprisingly elegant, in spite of all its downward-spiral antics of chaos and decay, and this makes sense, once you realize it takes total conviction to carry off something so uncompromising: no prim florals (this stuff would make Fracas cross its legs), no appeasing sweets. An extraordinarily fine vetiver extract, its muttering licorice-like tendencies drawn out by a searing crackle of mace and ginger, provides an organizing principle, as if Onda has taken a good hard look at the human soul, and in spite of its age-old evils, decided against the garden-variety hypocrisies of political correctness. Onda seems to violate all the rules of propriety, but no flicker of doubt mars the serenity of her countenance, and we like her the better for it.

* I hesitate to use such free-and-easy labels as "genius" or "master" given how they've cheapened from overuse in the fashion and beauty world, where it rarely, rarely belongs, and I am loathe hate to attach this now tawdry word to someone who makes such genuine craft as Vero Kern does.

Labels: astrud gilberto, beauty notebook, caramel, charlie parker, fougere, frank sinatra, jasmine, lavender, leather, miles davis, orange blossom, vero profumo, vetiver
2/03/2009 [3]
Sketchbook: The Kindly One
by The Kindly One
I'm on the right, my friend Harry is on the left. I arrived at hers with sweets she'd requested and one or the other of us came up with the idea to take pictures of the sweets being "presented," like a key to the city. It was a game, like "A, My Name Is Alice."
BASICS
age & location: 27, American South
affiliations: Japanese, Cherokee, German, Dutch; no religious affliation, but attended a Southern Baptist high school; Sagittarius/Aries Rising
education: The King's Academy, 2000; The University of Helsinki, 2003; The University of Tennessee, 2004
skin type: extremely sensitive and pre-rosacea, slightly oily, can get slightly dry around the nose and mouth in the winter
coloring: pale, with a mix of both warm and cool tones. I can wear both black and brown well, but navy doesn't do much for me. I have hazel eyes (brown, green, and gold) and medium brown hair with both golden and red highlights.
FAVORITES
books: Invisible Man, Beloved, Black Boy, The Crying of Lot 49, Alice in Wonderland & Through the Looking Glass, Brief Lives & The Kindly Ones, Fear and Loathing in Las Vegas
music: Radiohead, classic Bowie, Pink Floyd, Led Zeppelin, Kanye West, Jay-Z, Justin Timberlake (but I can't stand his persona), early N.E.R.D., glam rock, M.I.A., Asian Dub Foundation
films: Children of Men, Cabaret, Safe, The Matrix, Sean of the Dead, Little Miss Sunshine
tv: Extras, The Hills (more on that later), America's Next Top Model, Daria, Reno 911!, The Tracey Ullman Show, Saturday Night Live (seasons 15-25), Mad TV (with cast members Jordan Peele, Keegan Michael Key, and Bobby Lee), The Office, Reaper, Gossip Girl, The Kids in the Hall, Lovespring International
brands: Bumble & Bumble, Target, Old Navy, MAC, Sephora. Realistically, this is where I buy the majority of my personal goods. For aspirational brands, I'd pick John Galliano (but not his work for Dior), Daryl K, Balenciaga and YSL for basics (not for theatrics), Ann Demeulemeester, Jun Takahashi, and Junya Watanabe.
color: I don't have a favorite color. I look best in brights and jewel tones.
Q&A
What are three things you'd like to do before you die? Find work that I really enjoy doing; get comfortable with myself; more traveling (India, Indonesia, Vienna, Belgium, French Polynesia, American West).
How did you get into beauty and fashion? Great question, because no one would have pegged me for the one to get into these things. I always had a defensive, anti-girly posture in school. Maybe that's what drew me in. I liked the imagery of fashion magazines (but can't stand women's magazines like Glamour), and at that time, the imagery was heavily influenced by heroin chic and alternative culture, which was nothing but defensive posturing. So, I would say I was drawn in by the photography and probably the marketing of "fashion," which I think has a little to do with the industry and more to do with fantasy and desire. Fashion File is to fashion as Entertainment Tonight is to Hollywood. And man, have I sucked a lot of my life away watching those two shows.
Which ten products would you bring to a desert island? Tazorac, MetroGel, Olay Complete Defense Daily UV Moisturizer SPF 30 Sensitive Skin, L'oreal Age Perfect Eye Cream (for puffy eyes), Boots Experts Anti-Redness Serum, MAC Brownborder Technakohl for tightlining, B&B Super Rich Conditioner, B&B Grooming Creme for leave-in conditioning, John Frieda Sheer Blonde Tousled Tresses Fine-Mist Wax for wave enhancement and definition, and a good sunscreen for the body. I don't have any real preferences in brand and usually pick Coppertone or Banana Boat for their UVA/UVB protection and non-irritating ingredients.
What were you in another life? Given the challenges in this one, probably an asshole.
How do you take your coffee? I rarely drink coffee. I will crave a cafe au lait maybe three times a year.
What is your biggest pet peeve? I hate noise.
What do you admire the most? People who can be honest and at peace with themselves and more or less with others.
You are a Prober! (Dominant Introverted Concrete Feeler)
You are a PROBER (DICF)— curious, passionate, driven, and probing. You're the kind of person who can't leave well enough alone. You have a very strong personality and a sense of adventure. And you'd rather go out and experience things for yourself than take someone else's word for it. Some people probably think you're a maniac.
People have a hard time believing you're an intelligent person. Perhaps there's a reason for this? Time will tell.
Labels: sketchbook
2/01/2009 [3]
Subscribe to
Posts [Atom]. Or
follow on bloglovin'. If
you'd like to contact Dain,
feel free to email me.
I'm also on Pinterest.
Features

The Mnemonic Sense
Most Wanted
The Beauty Primer
Lookbook
Bestsellers
Consumer Diaries
Closet Confidential
On The Label
Beauty Notebook
The Hit List
Color Me In
The Makeup Artist
Wedding Bells
Globe Trotter
Desert Island
perfume notes
beauty notes
fashion notes
culture notes
minimalism
chypre arc
floral arc
fresh arc
masculines arc
gourmands
& orientals arc
Archives

August 2008
September 2008
October 2008
November 2008
December 2008
January 2009
February 2009
March 2009
April 2009
May 2009
June 2009
July 2009
August 2009
September 2009
October 2009
November 2009
December 2009
January 2010
February 2010
March 2010
April 2010
May 2010
June 2010
August 2010
September 2010
October 2010
November 2010
December 2010
January 2011
February 2011
March 2011
April 2011
May 2011
June 2011
July 2011
August 2011
September 2011
October 2011
November 2011
December 2011
January 2012
February 2012
April 2012
May 2012
June 2012
July 2012
August 2012
September 2012
October 2012
November 2012
December 2012
January 2013
February 2013
March 2013
June 2013
July 2013
Images

Photobucket