Announcements
If you're new to this blog, then read our guides to the basics: Skin (Part I), Skin (Part II), The Supernatural, Color Theory I, Color Theory II, Eyes, and Brushes.

Also, check out the blogsale.
Contents
· Beauty Notes: Red Lips and Bold Eyes

Favored

Art Tattler
the glamourai
The Non-Blonde
Perfume Shrine
Lisa Eldridge
Garance Doré
Smitten Kitchen
Into The Gloss
Grain de Musc
Lacquerized
Res Pulchrae
Drivel About Frivol
The Selfish Seamstress
Killer Colours
Bois de Jasmin
Glossed In Translation
Jak and Jil
Toto Kaelo
Worship at the House of Blues
I Smell Therefore I Am
Food Wishes
The Natural Haven
Messy Wands
1000 Fragrances
Moving Image Source
Wondegondigo
The Emperor's Old Clothes
M. Guerlain
Colin's Beauty Pages
Barney's jewelry department
Parfümrien
loodie loodie loodie
The Straight Dope
Sea of Shoes
London Makeup Girl
Sakecat's Scent Project
Asian Models
Ratzilla Cosme
Smart Skincare
Illustrated Obscurity
A.V. Club
Tom & Lorenzo: Mad Style
Eiderdown Press
Beauty and the Bullshit
La Garçonne
Flame Warriors
Everyday Beauty
Fashion Gone Rogue
Now Smell This
Dempeaux
Fashionista
The Cut
A Fevered Dictation
Nathan Branch
101 Cookbooks
Beauty Notes: Red Lips and Bold Eyes
by Li Wen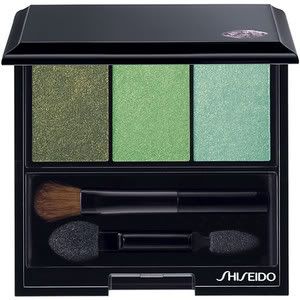 The Shiseido Luminizing Satin Eye Color Trios are the brainchild of Dick Page, creative director for the Shiseido cosmetics, who was featured in this recent article by Dain. All the trios are top quality, exquisite in design, highly covetable (not to mention, they come with a miniature natural hair brush that - brace yourselves! - you can actually use). Though they look intimidatingly bright in the pan, there is not a single one that I don't think I could realistically wear.

Case in point: GR305 Jungle (above left).

Three greens. One neutral golden khaki (left), one slightly cooler/bluer (right), and one slightly warmer/yellower (centre). My local Myer was so understaffed today that the SA at the Shiseido counter literally handed me a couple of clean eyeshadow brushes (Shiseido #4 brushes, by the way), eye makeup remover, some tissues, and told me to go away and play by myself.

I wasn't expecting to fall in love with Jungle, it was more of an experiment. I wanted to see if I could wear those three bright greens in combination, with nothing else. But the quick look I ended up producing with it was so soft and pretty, I could not help but think about the possibilities that could be achieved with more time and better tools at my disposal.



This was my inspiration image, a jewel-toned smokey eye from an editorial in the September 2011 issue of Harper's Bazaar Australia (1). The makeup was by Amanda Reardon at Viviens Creative.

Finding no iridescent emerald in my stash, it was impossible for me to attempt to recreate this look entirely. So I followed my whimsy, and added red lips to the look.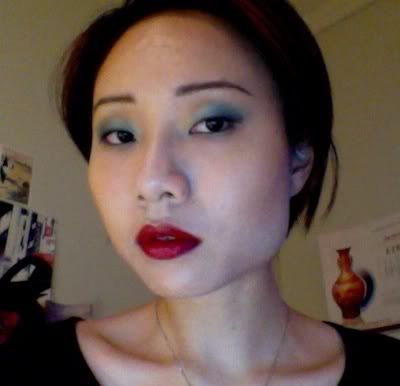 First came the base:

Giorgio Armani Designer Shaping Cream Foundation

in #4, which is about two shades lighter than my present complexion, to contrast more strongly with the lips. Having just gotten back from Shanghai and Singapore, I am far more tanned than I would normally be in the winter here in Sydney. There is no blush, just a hint of bronzer to contour.

For the lipstick, I wanted a matte: Shu Uemura RD178M Rouge Unlimited Creme Matte is a dark red with brown and purple undertones. For greater precision, I layered it with a brush over

NARS lipliner in Amazon

. On the eyes, all three greens from the Jungle trio, applied with a damp brush, the coolest shade in the inner corner graduating outward to the khaki near the temples. Then a blackened lame green from the

Yves Saint Laurent Ombre Duo Lumiere No. 11

to deepen the crease, and

Stila Cloud

on the ball of the eye, creating a highlight.

Perhaps not the most wearable of looks, but given that it was created in the spirit of fun, I think Dick Page would approve.

Like the other writers on staff, I am all for giving Shiseido the better blogosphere attention and credit it deserves. Next trio to tackle when I am again in the mood to splurge: BL310 Punky Blues...


(1) Scan by Visual Optimism

Labels: beauty notes, nars, shiseido, shu uemura, yves saint laurent
8/13/2011 [16]
Subscribe to
Posts [Atom]. Or
follow on bloglovin'. If
you'd like to contact Dain,
feel free to email me.
I'm also on Pinterest.
Features

The Mnemonic Sense
Most Wanted
The Beauty Primer
Lookbook
Bestsellers
Consumer Diaries
Closet Confidential
On The Label
Beauty Notebook
The Hit List
Color Me In
The Makeup Artist
Wedding Bells
Globe Trotter
Desert Island
perfume notes
beauty notes
fashion notes
culture notes
minimalism
chypre arc
floral arc
fresh arc
masculines arc
gourmands
& orientals arc
Archives

August 2008
September 2008
October 2008
November 2008
December 2008
January 2009
February 2009
March 2009
April 2009
May 2009
June 2009
July 2009
August 2009
September 2009
October 2009
November 2009
December 2009
January 2010
February 2010
March 2010
April 2010
May 2010
August 2010
November 2010
December 2010
January 2011
March 2011
August 2011
September 2011
October 2011
November 2011
December 2011
January 2012
February 2012
June 2012
July 2012
August 2012
September 2012
October 2012
December 2012
January 2013
February 2013
March 2013
June 2013
July 2013
Images

Photobucket