Announcements
If you're new to this blog, then read our guides to the basics: Skin (Part I), Skin (Part II), The Supernatural, Color Theory I, Color Theory II, Eyes, and Brushes.

Also, check out the blogsale.
Contents
· The Sketchbook: Twenty Answers (Li Wen)

Favored

Art Tattler
the glamourai
The Non-Blonde
Perfume Shrine
Lisa Eldridge
Garance Doré
Smitten Kitchen
Into The Gloss
Grain de Musc
Lacquerized
Res Pulchrae
Drivel About Frivol
The Selfish Seamstress
Killer Colours
Bois de Jasmin
Glossed In Translation
Jak and Jil
Toto Kaelo
Worship at the House of Blues
I Smell Therefore I Am
Food Wishes
The Natural Haven
Messy Wands
1000 Fragrances
Moving Image Source
Wondegondigo
The Emperor's Old Clothes
M. Guerlain
Colin's Beauty Pages
Barney's jewelry department
Parfümrien
loodie loodie loodie
The Straight Dope
Sea of Shoes
London Makeup Girl
Sakecat's Scent Project
Asian Models
Ratzilla Cosme
Smart Skincare
Illustrated Obscurity
A.V. Club
Tom & Lorenzo: Mad Style
Eiderdown Press
Beauty and the Bullshit
La Garçonne
Flame Warriors
Everyday Beauty
Fashion Gone Rogue
Now Smell This
Dempeaux
Fashionista
The Cut
A Fevered Dictation
Nathan Branch
101 Cookbooks
The Sketchbook: Twenty Answers (Li Wen)
by Li Wen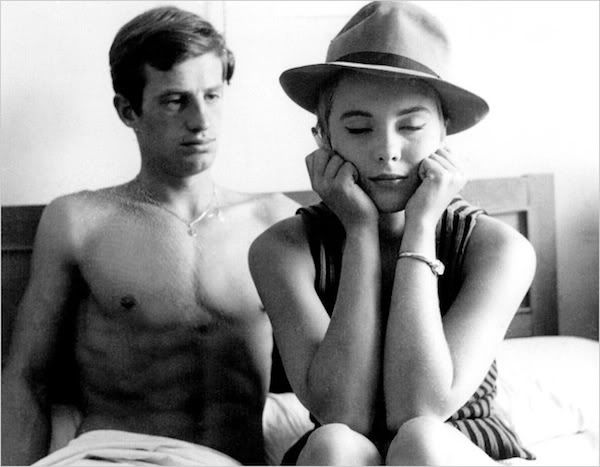 Jean Seberg wears Jean-Paul Belmondo's hat in a scene from "Breathless," by Godard.


1. Favorite book?
The Left Hand of Darkness by Ursula K. Le Guin and A Canticle for Leibowitz by Walter M. Miller, Jr. I have an unabashed love of "soft" sci-fi, or what is also called speculative fiction.

2. Country of origin:
Born in the city of Shanghai in China. Lived in Australia since I was 6.

3. How many red lipsticks do you own?
22 or so lipsticks, 2 lipliners and 2 glosses. My current favourites are Cle de Peau Beaute R1 Black Baccara and R3 Leonardis, one a dark burgundy skating the boundary of purple and red, the other a reddish-rose.

4. Most worn, beloved item of clothing in your closet?
Right now, it's probably my beige snakeskin loafers from Milani for David Jones. I have had them for about 9 months, and they are scuffed, dirty, and have already been re-soled. I have a somewhat "out of sight, out of mind" attitude about things, so I am never precious with them. I tend to lose, tear, or otherwise destroy beloved items of clothing - for instance my red and white paisley jacket with faux shearing collar from Nu+Nan (disappeared, probably left on a train somewhere), the dusty pink silk blouse from Saba (bleach stained), or the white blouse with ruffled collar from Cue (cigarette burn).

5. How do you take your coffee?
Soy cappuccino with half a teaspoon of sugar. First thing in the morning, I drink a big mug of watery coffee made with a Robert Timms coffee bag, some raw sugar, and a dash of soy milk.

6. Pet peeve, beauty-related:
People who equate self-proclaimed lack of concern about their appearance - "Oh, what do I care what I wear when there are starving children in Africa!" - with moral superiority. To me, it shows in nearly all cases a blissful lack of awareness of what true monk-like lack of judgement and simplicity is.

7. Which product has kept your loyalty for longest?
Blistex Lip Conditioner with SPF 20. I've been using it continuously since high school.

8. Skin type:
Combination, tending to dryness on the cheeks in Winter.

9. What was your undergraduate major?
I had three: economics, political economy, and philosophy.

10. Have you ever cut your own hair?
No, I have no skills in that department at all, and my hair is too thick and too short to mess around with.

11. What blogs do you check daily?
The Non-Blonde, The Playlist, Red Carpet Fashion Awards, Kottke.org, Tumblr, and my reading list on LiveJournal.

12. The five most extravagant things on your wishlist (but still intend to buy some day):
Loewe Amazona, a classic, structured lady-like bag large enough to hold everything I need; Ormonde Jayne Champaca parfum; Ole Lynggaard sweet drops bracelet in olive or navy; a large framed print of Falls Creek III by Melissa; a bottle of 2001 Consorzio del Vino Brunello di Montalcino.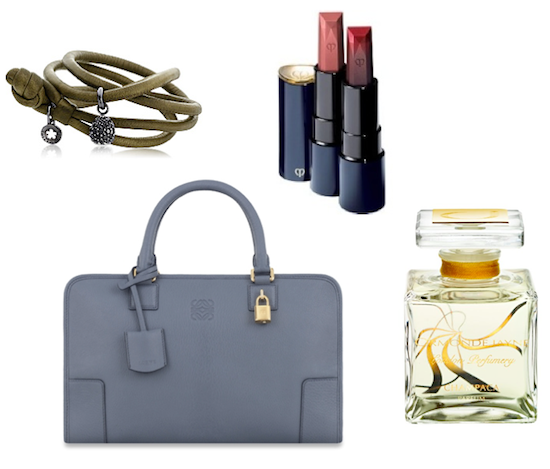 Ole Lynggaard Sweet Drops Bracelet / Cle de Peau Beaute Ultra Rich Lipstick / Ormonde Jayne Champaca /

Loewe Bolso Amazona


13. Signature scent:
Serge Lutens Vetiver Oriental, although this year I have also been wearing a lot of Fille en Aiguilles and Azuree.

14. Fashion and film---which inspires you most?
Jean-Luc Godard's À bout de souffle (Breathless) and Jean-Jacques Annaud's L'Amant (The Lover), both of which I saw in my early teens. You can find most of the important elements of my personal style in them: the boyish cool and insouciance of Jean Seberg and Jean-Paul Belmondo's characters, the love of vintage men's brimmed hats, a minimalist aesthetic that pares accessories down to the basics in their unembellished form (shoes, bag, ring, watch). And French chic, always - ironic, nonconformist, and above all, "not aspirational", as Luca Turin defines it - underpinning everything.

15. When you binge on snacks, do you prefer salt or sweet?
I don't normally snack, and usually only on fruit - citrus and stoned fruits in particular. I am, however, very partial to dessert.

16. How do you highlight your best feature?
Objectively, my lips are probably my best feature - full, near-symmetrical and in well-maintained condition - so I wear rich, vibrant lip colours well. Brighter lip colours also help divert attention away from my skin, which lately has been less than perfect.

17. Where is your favorite place to shop for makeup?
Tangs at Orchard, Singapore and Mecca Cosmetica in Myer Sydney. Between them, they stock most of my favourite brands that are available in the Asia-Pacific region, and they get new collections fairly early. I value friendly and unobtrusive service, professional knowledge, and the patience/willingness to let me try products on.

18. Dream vacation:
The route taken by William Dalrymple in "From the Holy Mountain", across the former Byzantine Empire.

19. Worst habit:
Smoking. It's terrible for the skin (among other things), but then it apparently also improves your sense of smell, so I suppose that's some consolation.

20. The beauty maxim you live by:
Never wear something that you don't feel comfortable in.

Labels: blistex, cle de peau, loewe, milani, nu + nan, ole lynggaard, ormonde jayne, saba, serge lutens, the sketchbook, ursula k. leguin, walter m. miller jr., william dalrymple
9/26/2011 [5]
Subscribe to
Posts [Atom]. Or
follow on bloglovin'. If
you'd like to contact Dain,
feel free to email me.
I'm also on Pinterest.
Features

The Mnemonic Sense
Most Wanted
The Beauty Primer
Lookbook
Bestsellers
Consumer Diaries
Closet Confidential
On The Label
Beauty Notebook
The Hit List
Color Me In
The Makeup Artist
Wedding Bells
Globe Trotter
Desert Island
perfume notes
beauty notes
fashion notes
culture notes
minimalism
chypre arc
floral arc
fresh arc
masculines arc
gourmands
& orientals arc
Archives

August 2008
September 2008
October 2008
November 2008
December 2008
January 2009
February 2009
March 2009
April 2009
May 2009
June 2009
July 2009
August 2009
September 2009
October 2009
November 2009
December 2009
January 2010
February 2010
March 2010
April 2010
May 2010
August 2010
November 2010
December 2010
January 2011
March 2011
August 2011
September 2011
October 2011
November 2011
December 2011
January 2012
February 2012
June 2012
July 2012
August 2012
September 2012
October 2012
December 2012
January 2013
February 2013
March 2013
June 2013
July 2013
Images

Photobucket