Thanks to some heavy guns which were recently added to my skincare arsenal (Guerlain Abeille Royale Youth Serum, Sisley Botanical Facial Mask with Tropical Resins, La Roche Posay Effaclar K and Effaclar A.I.), I have not suffered a major breakout in weeks. The scars and pigmentation from old blemishes will take a lot longer to clear, of course, but at least for the moment, I don't feel like cringing every time I look at my own unmade-up face in the mirror.
So, perfect time to show you what difference minimal coverage and, more importantly, brows can make.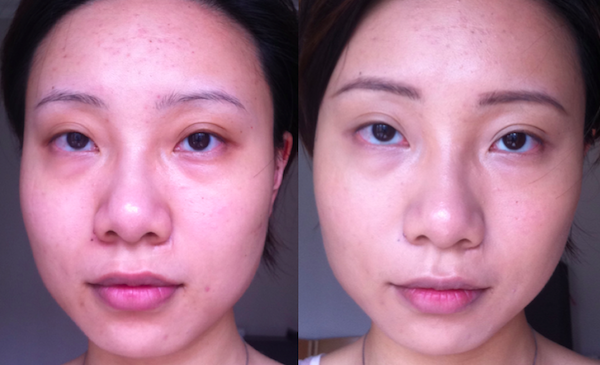 The above image on the left is me freshly washed, moisturised and prepped, but without any makeup on. Note the sallowness around the eyes (liver disease? or not enough sleep? the hypochondriac in me wonders), and the sparse and uneven brows.
Now look at the other photo of me (right), only minutes later with the bare essentials on:

Step 1: a light foundation (Chanel Vitalumiere Aqua) applied with my hands, concentrating on the T-zone;

Step 2: concealer (Cle de Peau), applied with fingertips under the eyes, on the eyelid and around the nose; and finally

Step 3: brow pencil (Shu Uemura Hard 9) to define and fill in my brows.
The difference is easily achieved and yet dramatic on a face like mine, enhancing the reality of my skin and features by compensating for their weaknesses, without giving the appearance of "visible" makeup. If not quite bright-eyed - this was before my morning coffee - I look instantly better, more polished, healthy and awake.
To complete the "minimal makeup" look, I would need only a hint of blush and some lip balm. Then, and only then, am I ready to pop outside for some breakfast and to pick up my dry cleaning.
* * *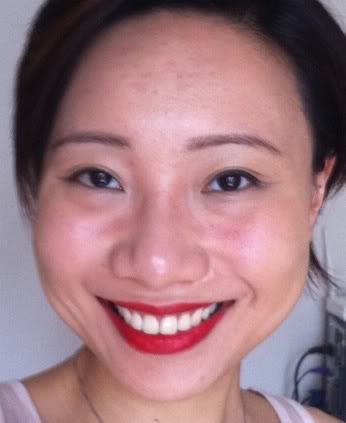 Edited to add:
Okay, that was a lie. This (left) is what I actually wore when I went out the door. With the bare bones of the look already in place, what is anything else really but the garnish? But for the sake of full disclosure, here is what I added:

A not-too-heavy balm on the eyelids for a bit of gloss, a trick taken from Dick Page's book. I used Elizabeth Arden 8 Hour Cream Lip Protectant.


Black eyeliner (MUFE Aqua Eyes 0L).


A light coat of a natural-looking mascara (Shiseido Perfect Mascara in brown). Although barely noticeable, if you're going to wear eyeliner, you may as well balance it with some subtle mascara.



Some pale pink eyeshadow, patted into the makeshift eye-gloss with a finger, to brighten the eyes. I used a pale blush/highlighter, Shu Uemura P42 Glow On.


Red lipstick, in this case Cle de Peau Beaute R2 Red Abundance Ultra Rich Lipstick.


After base and brows, red lipstick gives you the most bang for your buck, high impact for very little effort, or even the appearance of effort. And for a lazy Saturday morning, what more do you really need?

Image note: This is not a vanity post. All photos were taken on my iPhone 4, which is the only camera I can find at home. None of them have been retouched.
Labels: beauty notes, chanel, cle de peau, shu uemura