If the Christmas-New Year's period has found me somewhat quiet, blogging-wise, it's because I was travelling in Japan for nine days - visiting the Shiseido flagship store in The Ginza, feeding the sacred deer in Nara Park, walking around the Floating Garden Observatory in Osaka, and testing as many hard-to-find Japanese brands (ie. Suqqu, Hakuhodo, ADDICTION by Ayako, THREE Cosmetics, RMK, Elegance, and Paul & Joe) as I could get my hands on.
When it came to eyeshadows, the stand-out brand was ADDICTION. I am not a fan or a wearer of idealised East-Asian eye makeup: the combination of pale shimmer and barely-there colour with a very strongly defined lash line and extremely thick (often false) eyelashes. The ADDICTION eyeshadow range includes almost 60 colours, covering your basic neutrals but also many strong, fashion-forward colours, atypical of a Japanese brand. Most have pearl or metallic finishes, and the pigmentation and texture of these eyeshadows could give Shu Uemura (back when it was at its best) a run for its money. They are buttery-soft, and even when applied dry, have an intensity that appears almost wet.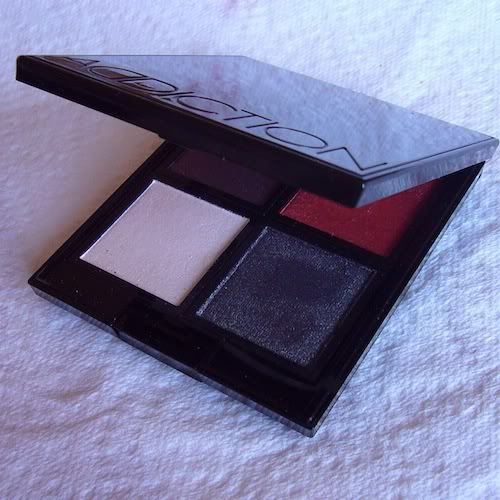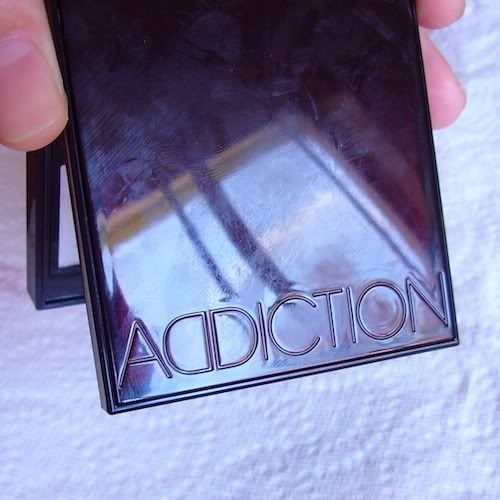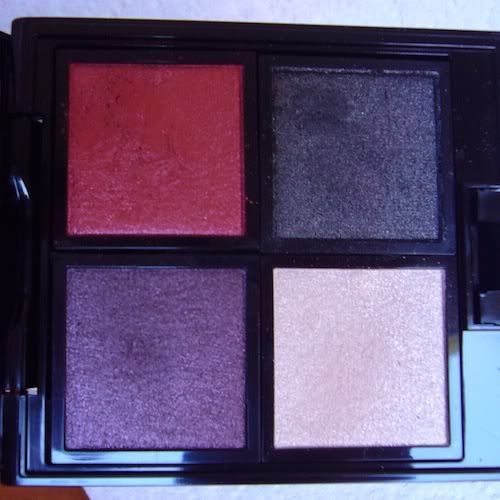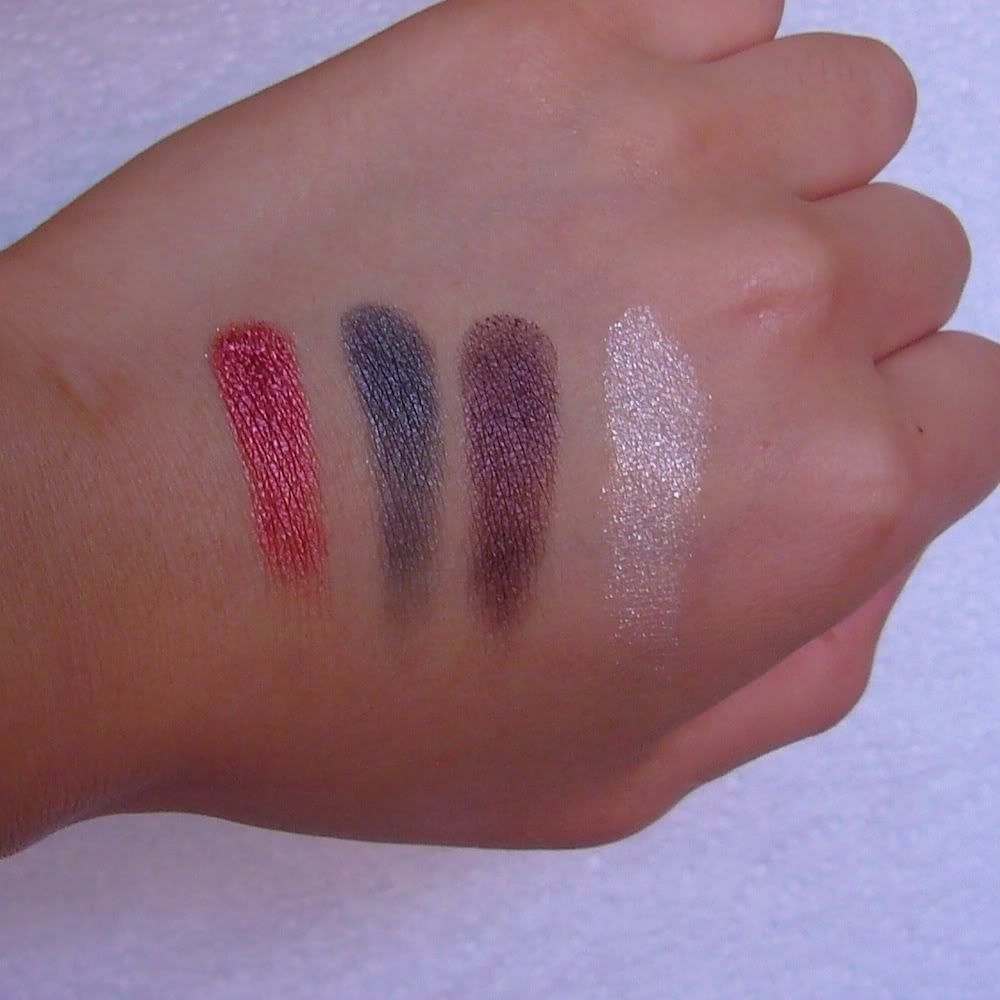 ADDICTION Eyeshadows in (L-R) Shangri-La, Keshi, Arabian Ruby, and Cigarette. All shadows have been swatched dry. Click to enlarge image.
ADDICTION pressed eyeshadows are available as singles (2000 Yen each) which you can fit into compact cases. There is also a wide range of designed eyeshadow quads (9000 Yen) and sextets (13500 Yen), not to mention eyeshadow/blush combinations. I already had my eye on some specific shades, and decided on buying an empty 4-pan compact case, which I then requested that the sales assistant fill with the eyeshadows in Shangri-La (metallic red), Keshi (pearly silver gunmetal), Arabian Ruby (metallic aubergine-brown), and Cigarette (frosty white glitter). There was also a matte pinky-red shade, Alice, that I nearly got instead of Shangri-La. In the end, however, the softness and richness of the metallic won me over.
Equally fascinated and terrified by pink/red eyeshadow, having bought and discarded NARS Carravaggio duo (Azaela pink and irridescent purple) in the past, I had been searching for a very deep, punchy red since November, when Lisa Eldridge posted her red eyeshadow look video. The trend was undeniable, and I was obstinate that there was a way I could make it work with my warm, yellowy-olive undertones.
My previous attempt to wear red on the eyes used a NARS brick-red cream blush, Constantinople, in lieu of an actual red eyeshadow - and it wasn't bad, as attempts go. The warm matte red is easier for me to wear, but did not have the sparkling alienness that I was going for. This time, I was able to build up the red to the point of creamy opaqueness with Shangri-La. The colour itself is slightly cool, but not to the extent of being unwearable on me, especially when applied heavily with a wet MAC 239 brush; on someone fair and cool-toned, Shangri-La would appear more pink than red. To give depth to the outer corner and the crease, I dipped the same MAC 239 in Arabian Ruby, removing most of the dark purple on the back of my hand, before blending it gently into the red. Finally, I used Cigarette to highlight the centre of the eye socket, and lined the upper lash line with a black pencil, and then Keshi (wet).
At the Thakoon F/W 2011 show, glowing red and orange eyeshadow was paired with desaturated lips. I preferred the opposite: a closely matched red or pinky shade on the lips, which was what Eldridge used in her video. For my version of the look, I layered a shockingly bright, jewel-toned fuchsia (Anna Sui V 360) under a pinky-rose with a more neutral base (Utowa Rose 55). Offset by pale cheeks untouched by blush, the result is weird and unapologetic, but oddly flattering.
Have you ever worn red eyeshadow in public? I noticed many older women in Japan wearing a very subtle hint of red around their eyes, and assumed it to be a vestige of traditional kabuki makeup. Certainly I hope this experiment of mine has convinced you that the NARS Hanamachi Eyeshadow Palette is not merely a collector's item to be admired and not used. You might be surprised - as I was - how wearable red eyeshadow can be.
Labels: addiction, anna sui, beauty notes, lisa eldridge, nars, utowa